A new scheme to discover functional associations and regulatory networks of E3 ubiquitin ligases
BMC Systems Biology
BMC series – open, inclusive and trusted
2016
10(Suppl 1):S3
Published: 11 January 2016
Abstract
Background
Protein ubiquitination catalyzed by E3 ubiquitin ligases play important modulatory roles in various biological processes. With the emergence of high-throughput mass spectrometry technology, the proteomics research community embraced the development of numerous experimental methods for the determination of ubiquitination sites. The result is an accumulation of ubiquitinome data, coupled with a lack of available resources for investigating the regulatory networks among E3 ligases and ubiquitinated proteins. In this study, by integrating existing ubiquitinome data, experimentally validated E3 ligases and established protein-protein interactions, we have devised a strategy to construct a comprehensive map of protein ubiquitination networks.
Results
In total, 41,392 experimentally verified ubiquitination sites from 12,786 ubiquitinated proteins of humans have been obtained for this study. Additional 494 E3 ligases along with 1220 functional annotations and 28588 protein domains were manually curated. To characterize the regulatory networks among E3 ligases and ubiquitinated proteins, a well-established network viewer was utilized for the exploration of ubiquitination networks from 40892 protein-protein interactions. The effectiveness of the proposed approach was demonstrated in a case study examining E3 ligases involved in the ubiquitination of tumor suppressor p53. In addition to Mdm2, a known regulator of p53, the investigation also revealed other potential E3 ligases that may participate in the ubiquitination of p53.
Conclusion
Aside from the ability to facilitate comprehensive investigations of protein ubiquitination networks, by integrating information regarding protein-protein interactions and substrate specificities, the proposed method could discover potential E3 ligases for ubiquitinated proteins. Our strategy presents an efficient means for the preliminary screen of ubiquitination networks and overcomes the challenge as a result of limited knowledge about E3 ligase-regulated ubiquitination.
Keywords
UbiquitinationUbiquitinE3 ubiquitin ligaseProtein-protein interactionUbiquitination network
Introduction
Protein ubiquitination involves a series of enzymatic reactions such as E1 activation, E2 conjugation, and E3 ligation, resulting in the conjugation of single or multiple ubiquitin proteins at a target lysine residue [1]. Numerous substrate proteins with ubiquitination sites have been characterized to date, owing to the emergence of high-throughput mass spectrometry-based proteomics approaches [2]–[4]. Identified to play key roles in transcriptional regulation, signal transduction, development, apoptosis, endocytosis, cell proliferation and cancers, ubiquitination of the lysine residue has been regarded as an essential mediator of various biological processes [5]–[7]. Among the enzymes that catalyze protein ubiquitination, E3 ligases are particularly important for the recognition of substrate sites to facilitate ubiquitin-mediated protein degradation [8]. The relationships between E3 ligase and substrates are complex. Multiple substrates could be targeted by a single E3 ligase; alternatively, multiple E3 ligases could catalyze the ubiquitination of a single substrate [9]. These substrate-enzyme correlations could be used to construct E3-specific regulatory networks and map to the associated cellular pathways, making possible the characterization of complex cellular processes and functional analysis of E3-sbustrate relationships [9]. This approach has allowed the discovery of the role that anaphase-promoting complex (APC)/cyclosome plays in modulating key targets of the cell cycle, such as cyclins and their related E3 ligases [10]–[12].
To date, a significant amount of research efforts have been invested towards the characterization of E3 structures and examination of the mechanisms underlying E3-mediated regulatory networks, as well as E3-related diseases [13]–[21]. Based on their catalytic mechanisms in the ubiquitination process, E3 ligases can be classified into three major types: the HECT (homologous to E6-AP C-terminus), the RING (really interesting new gene), and U-box domain types [22]. The HECT-type is responsible for catalyzing the attachment of ubiquitin to substrate proteins. In contrast, the RING-type and U-box-type, similar in both structure and function, facilitate the interaction between an E2 enzyme and the target proteins. Regardless of the types, the significance of E3-mediated ubiquitination is obvious from their association with diseases [23]. Several studies have suggested that the inhibition of E3 ligases may cause growth suppression or cell death, as evidenced by the over-expression of Mdm2/Hdm2, IAPs, and SCF in various human cancers [24]. Therefore, regulation of E3 ligase activities and functions may be a promising approach for cancer treatments.
Many databases and tools have been developed to aid in the study of E3 ligases. For example, E3Miner [25] offers a text mining approach to identify ubiquitin-protein ligases, whereas E3Net [9] allows users to search through a collection of 1671 E3-substrate relationships among 493 E3s and 1277 substrates in 42 organisms. In contrast, by analyzing protein sequence similarities, domains, and distributions across different species, Sakiyama et al. [26] constructed a useful database for the exploration of proteins involved in the ubiquitin signaling cascade. Unfortunately, the present accumulation of large-scale ubiquitinome data demands for the development of tools that investigate the regulatory networks of E3 ligases and their substrates. Here, we present a new strategy that utilizes an interactive network viewer to assist with the discovery of novel protein ubiquitination networks. Furthermore, to effectively investigate the relationships between E3 ligases and their substrates, metabolic pathways and protein-protein interactions (PPIs) were integrated to construct comprehensive protein ubiquitination networks. The ability of the proposed method to identify E3 ligase-mediated ubiquitination networks and their biological significance was demonstrated by case studies. The results indicated that, despite the current limited knowledge about regulatory relationship between E3 ligases and ubiquitinated proteins, our approach could uncover potential E3 ligase-substrate relationships based on based on protein-protein interaction information and substrate site specificities.
Materials and method
Construction of the protein ubiquitination networks involved collection of E3 ligase and ubiquitinated protein data, integration of ubiquitinated proteins' functional data, computational identification of ubiquitination sites based on substrate motifs, as well as network construction using protein-protein interactions and metabolic pathways (Fig.
1
). A network viewer was employed to provide a visualization of the ubiquitination regulatory network, with implemented functional information, for a group of proteins of interest. The detailed workflow is described as follows.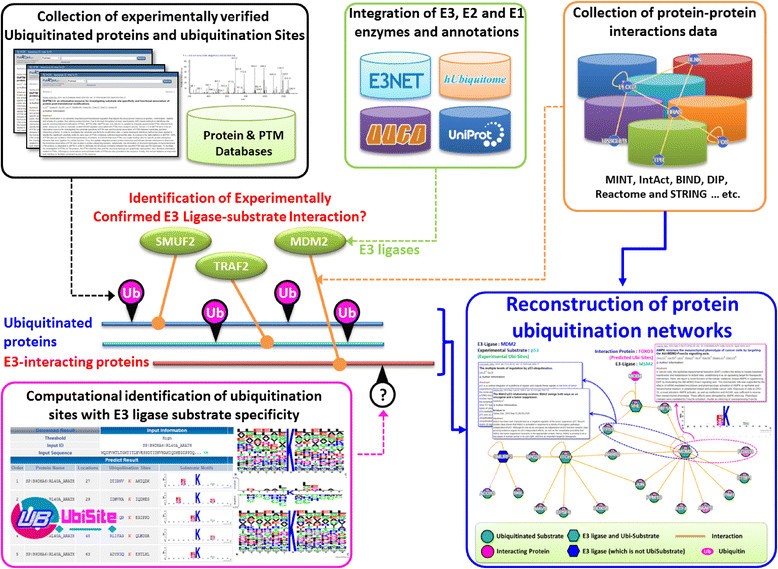 Conclusion
In an attempt to characterize the regulatory role protein ubiquitination plays in a variety of biological processes, we combined the information of E3 ligases, ubiquitinated proteins, and protein-protein interactions to construct a comprehensive network of E3 ligases and their ubiquitinated substrates. Designed to serve as not only a meaningful platform for investigating E3-substrate regulatory networks but also a new strategy to uncover potential E3 ligases for ubiquitinated substrates, the proposed approach allows for the efficient characterization of protein ubiquitination networks from large-scale ubiquitinome data. With access to more updated data, the proposed scheme can be further refined for the study of E1 activating enzymes, E2 conjugating enzymes, and E3 ubiquitin ligases. Also, recent publications regarding the structural environment of experimentally validated ubiquitination sites based on protein tertiary structures [73]–[76] could be incorporated to infer the functional interactions between the enzymes and substrates. Finally, confirmed functional annotations of ubiquitination sites could be extracted from the literature via a more advanced information retrieval system to collect more adequate information required for further functional analyses.
Declarations
Acknowledgements
The authors sincerely appreciate the Ministry of Science and Technology of Taiwan for financially supporting this research under Contract Number of MOST 103-2221-E-155-020-MY3, MOST 103-2633-E-155-002 and MOST104-2221-E-155-036-MY2.
Declarations
Publication charge for this work was funded by MOST grant under contract number of MOST 103-2221-E-155-020-MY3 and MOST 104-2221-E-155-036-MY2 to TYL.
Authors' Affiliations
(1)
Department of Computer Science and Engineering, Yuan Ze University, Taoyuan, Taiwan
(2)
Innovation Center for Big Data and Digital Convergence, Yuan Ze University, Taoyuan, Taiwan
(3)
Department of Obstetrics and Gynecology, Hsinchu Mackay Memorial Hospital, Hsin-Chu, Taiwan
(4)
Mackay Junior College of Medicine, Nursing and Management, Taipei, Taiwan
(5)
Department of Medicine, Mackay Medical College, New Taipei City, Taiwan
Copyright
© Huang et al. 2015
This article is published under license to BioMed Central Ltd. Open AccessThis article is distributed under the terms of the Creative Commons Attribution 4.0 International License (http://creativecommons.org/licenses/by/4.0/), which permits unrestricted use, distribution, and reproduction in any medium, provided you give appropriate credit to the original author(s) and the source, provide a link to the Creative Commons license, and indicate if changes were made. The Creative Commons Public Domain Dedication waiver (http://creativecommons.org/publicdomain/zero/1.0/) applies to the data made available in this article, unless otherwise stated.