Research Article
Open Access
Identification of key player genes in gene regulatory networks
BMC Systems Biology
BMC series – open, inclusive and trusted
2016
10:88
Received: 1 July 2016
Accepted: 19 August 2016
Published: 6 September 2016
Abstract
Background
Identifying the gene regulatory networks governing the workings and identity of cells is one of the main challenges in understanding processes such as cellular differentiation, reprogramming or cancerogenesis. One particular challenge is to identify the main drivers and master regulatory genes that control such cell fate transitions. In this work, we reformulate this problem as the optimization problems of computing a Minimum Dominating Set and a Minimum Connected Dominating Set for directed graphs.
Results
Both MDS and MCDS are applied to the well-studied gene regulatory networks of the model organisms E. coli and S. cerevisiae and to a pluripotency network for mouse embryonic stem cells. The results show that MCDS can capture most of the known key player genes identified so far in the model organisms. Moreover, this method suggests an additional small set of transcription factors as novel key players for governing the cell-specific gene regulatory network which can also be investigated with regard to diseases. To this aim, we investigated the ability of MCDS to define key drivers in breast cancer. The method identified many known drug targets as members of the MDS and MCDS.
Conclusions
This paper proposes a new method to identify key player genes in gene regulatory networks. The Java implementation of the heuristic algorithm explained in this paper is available as a Cytoscape plugin at http://apps.cytoscape.org/apps/mcds. The SageMath programs for solving integer linear programming formulations used in the paper are available at https://github.com/maryamNazarieh/KeyRegulatoryGenesand as supplementary material.
Keywords
Minimum dominating setMinimum connected dominating setGene regulatory networkInteger linear programmingHeuristic algorithm
Background
Although all the cells in multicellular organisms basically share the same DNA sequence with the same set of genes, in each cell type only a particular set of genes is actively expressed which then defines its specific morphology and function. Thus, different types of cells are controlled by different sets of active genes and by the interactions between them [1–4]. Inside each cell, a set of target genes and regulatory genes, namely the transcription factors (TFs), interacts with each other and forms a gene regulatory network (GRN). GRNs topologically comprise a highly connected component and a few nodes with low connectivity [5]. Embryonic stem cells (ESCs), for example, can be distinguished from other cells mainly based on their pluripotency network. This network in ESCs is spanned up by few connected TFs which share many target genes [6]. A slight change in the expression levels of such a tightly interwoven network of TFs leads to ESC differentiation [6].
Of particular interest are the groups of key driver genes and master regulatory genes in condition-specific and unspecific gene regulatory networks. Key driver genes are basically those genes that control the state of the network [7–9]. The term master regulatory gene was introduced by Susumu Ohno over 30 years ago. According to his definition, a master regulator is a gene which stands at the top of a regulatory hierarchy and is not regulated by any other gene [10]. Later on, this term was redefined to involve a set of genes which either directly govern the particular cellular identity or are at the inception of developmental lineages and regulate a cascade of gene expressions to form specific lineages [11].
To address the problem of computational identification of key and master regulatory genes, we have modeled and solved two optimization problems named Minimum Dominating Set (MDS) and Minimum Connected Dominating Set (MCDS) on the GRNs. We compared these sets against well-known centrality measures such as degree, betweenness and closeness centrality as described in [12]. These attribute the importance of genes to their centrality in the networks. However, it is unclear whether high centrality genes provide a full control of the underlying network.
A recent study derived a minimum input theorem based on structural control theory which can be applied to directed graphs to fully control the network [7]. For this, the authors introduced a deep relation between structural controllability and maximum matching. The idea is to control the whole network by covering all the regulatory interactions with a minimum number of genes. Their results show that a few nodes are sufficient to control dense and homogeneous networks, but this number increases dramatically when the nodes in the network are sparsely connected.
An MDS is a related concept in which the goal is to control the network by covering all expressed genes with a minimum number of TFs. Since each node that does not belong to the MDS is adjacent to at least one node in the MDS, full control over the network is provided by the MDS solution. Our group has previously applied the concept of MDS to the area of complex diseases. The results showed that this method can capture several important disease and drug target genes [
9
,
13
]. The MDS method can be applied to any connected or disconnected regulatory network to identify key dominator nodes. In this work, we use MDS in directed graphs to identify key driver genes. Besides the MDS concept, we suggest to also consider the task of identifying a set of master regulatory genes as an analogue of another optimization problem, namely that of constructing an MCDS. We suggest to apply MCDS mainly to networks that are related to cell fate transitions such as the pluripotency network of an embryonic stem cell. This idea is motivated by the observation that the pluripotency network in mouse ESCs is maintained by a few connected TFs which share many target genes [
6
]. The concepts of MDS and MCDS are visualized for a small toy network in Fig.
1
.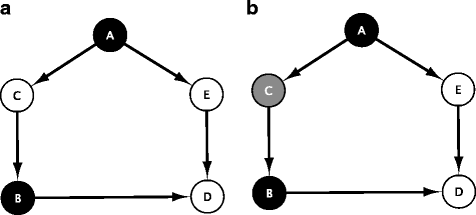 The concept of MCDS has already been applied to protein-protein interaction networks (which are represented by undirected graphs). There, the proteins which compose a MCDS solution contributed significantly to related biological processes [14]. In this work, we show how the MCDS concept can be applied to GRNs (represented by directed graphs) to detect the TFs and target genes which determine a specific cellular identity. We start with the model organisms E. coli and S. cerevisiae because their GRNs have been extensively characterized in experimental studies. Then, we present applications to a mouse pluripotency network and to a breast cancer regulatory network.
Conclusions
Experimental identification of a set of key regulatory genes among large sets of genes is very time-consuming and costly. Therefore, computational methods such as the ones presented here are helpful to condense and shape a list of candidate genes to more promising candidates before planning and starting expensive experimental work. Such follow-up works could e.g. validate the regulatory roles of these genes by siRNA knockdown experiments, by over-expressing genes e.g. under the control of the highly inducible GAL1 promoter in yeast, or by CRISPR-type genome editing of promoter sequences containing TF binding sites. We presented three novel approaches (ILP formulation for the directed form of MDS, ILP formulation for the directed form of MCDS and heuristic algorithm for the directed form of MCDS) to identify driver genes and master regulatory genes responsible for a particular cellular identity. In the notion of network controllability, MDSs and MCDSs of biologicals networks are likely enriched in key regulatory genes. The results of these optimization problems can thus aid in pruning the network to the potentially more important nodes. We applied our method to the established GRNs of E. coli and S. cerevisiae and also to a pluripotency network of mouse ESC. The characteristics of these methods appear to be well suited, on the one hand, to the topology of approximately scale-free biological networks that contain a small number of high degree hub nodes and, on the other hand, to the observed tendency of these hubs to interact with each other. We showed that the networks can be controlled by a fairly small set of dominating TFs. A notable number of known master regulatory genes are detected in the connected dominating set of the components.
The number of driver genes obtained by the directed form of MDS and MCDS depends on the connectivity of the network. Networks with low connectivity yield a higher number of driver genes compared to networks with higher connectivity. The application of the MCDS method to modules of a regulatory network for a breast cancer network identified 70 key driver genes that could possibly drive the tumorigenesis process. Twenty of them are already known targets of available cancer drugs. The remaining dominating genes may be suitable candidates as news drug targets that may warrant further experimental validation.
Abbreviations
TF:

Transcription factor
GRN:

Gene regulatory network
ESC:

Embryonic stem cell
MDS:

Minimum dominating set
MCDS:

Minimum connected dominating set
ILP:

Integer linear programming
SCC:

Strongly connected component
LCC:

Largest connected component
BFS:

Breadth first search
LSCC:

Largest strongly connected component
BH:

Benjamini & Hochberg
GO:

Gene ontology
BP:

Biological process
KS:

Kolmogorov-Smirnov
coli:

Escherichia coli
YPA:

Yeast promoter atlas
Declarations
Acknowledgments
The authors thank Christian Spaniol for technical advise.
Funding
MN was supported by a graduate fellowship from the Graduate School for Computer Science at Saarland University and subsequently by SFB 1027 funded through the DFG. TW was supported by SFB 1027. MH was supported by the German Academic Exchange Service (DAAD) and by SFB 1027.
Availability of data and material
The Java implementation of the heuristic algorithm explained in this paper is available as a Cytoscape plugin at http://apps.cytoscape.org/apps/mcds. The network data used in this study are all selected from public databases. The mentioned data and our implemented SageMath programs for solving integer linear programming formulations used in the paper are available at https://github.com/maryamNazarieh/KeyRegulatoryGenesand as supplementary material.
Authors' contributions
MN initiated this study, designed and implemented the algorithms, performed data analysis and wrote the manuscript. AW extended the established the ILP formulations and edited the manuscript. TW developed the Cytoscape plugin for the heuristic approach of MCDS and improved the implementation of the algorithm. MH assisted with the functional enrichment analysis. VH proposed the biological motivation of the paper and helped with designing this study, data analysis and the manuscript. All authors read and approved the final manuscript.
Authors' information
MN is a PhD student at the Center for Bioinformatics, Department of Computer Science, Saarland University. AW is a Senior Researcher at the Max Planck Institute for Informatics, Saarbruecken. TW is a PhD student at the Center for Bioinformatics, Department of Computer Science, Saarland University. MH is a Postdoc at the Institute for Biostatistics and Informatics in Medicine and Ageing Research, University of Rostock. VH is a Professor at the Center for Bioinformatics, Saarland University.
Competing interests
The authors declare that they have no competing interests.
Consent for publication
Not applicable.
Ethics approval and consent to participate
Not applicable.
Open Access This article is distributed under the terms of the Creative Commons Attribution 4.0 International License(http://creativecommons.org/licenses/by/4.0/), which permits unrestricted use, distribution, and reproduction in any medium, provided you give appropriate credit to the original author(s) and the source, provide a link to the Creative Commons license, and indicate if changes were made. The Creative Commons Public Domain Dedication waiver(http://creativecommons.org/publicdomain/zero/1.0/) applies to the data made available in this article, unless otherwise stated.
Authors' Affiliations
(1)
Center for Bioinformatics, Saarland University, Saarbruecken, Germany
(2)
Graduate School of Computer Science, Saarland University, Saarbruecken, Germany
(3)
Max Planck Institut fuer Informatik (MPII), Saarbruecken, Germany
(4)
Institute for Biostatistics and Informatics in Medicine and Ageing Research, University of Rostock, Rostock, Germany