Research Article

Open Access
A computational method for the investigation of multistable systems and its application to genetic switches
BMC Systems Biology
BMC series – open, inclusive and trusted
2016
10:130
Received: 3 August 2016
Accepted: 13 November 2016
Published: 7 December 2016
Abstract
Background
Genetic switches exhibit multistability, form the basis of epigenetic memory, and are found in natural decision making systems, such as cell fate determination in developmental pathways. Synthetic genetic switches can be used for recording the presence of different environmental signals, for changing phenotype using synthetic inputs and as building blocks for higher-level sequential logic circuits. Understanding how multistable switches can be constructed and how they function within larger biological systems is therefore key to synthetic biology.
Results
Here we present a new computational tool, called StabilityFinder, that takes advantage of sequential Monte Carlo methods to identify regions of parameter space capable of producing multistable behaviour, while handling uncertainty in biochemical rate constants and initial conditions. The algorithm works by clustering trajectories in phase space, and iteratively minimizing a distance metric. Here we examine a collection of models of genetic switches, ranging from the deterministic Gardner toggle switch to stochastic models containing different positive feedback connections. We uncover the design principles behind making bistable, tristable and quadristable switches, and find that rate of gene expression is a key parameter. We demonstrate the ability of the framework to examine more complex systems and examine the design principles of a three gene switch. Our framework allows us to relax the assumptions that are often used in genetic switch models and we show that more complex abstractions are still capable of multistable behaviour.
Conclusions
Our results suggest many ways in which genetic switches can be enhanced and offer designs for the construction of novel switches. Our analysis also highlights subtle changes in correlation of experimentally tunable parameters that can lead to bifurcations in deterministic and stochastic systems. Overall we demonstrate that StabilityFinder will be a valuable tool in the future design and construction of novel gene networks.
Keywords
Genetic switches
Sequential Monte Carlo
Design of genetic circuits
Background
Synthetic biology has seen the development of many simple gene circuits such as switches [1–6], oscillators [7–9] and pulse generators [10]. Larger systems have been constructed [11], but the leap from building low-level circuits to assembling them into complex networks is still a major challenge [12, 13]. Efforts to do so are plagued by circuit crosstalk, retroactivity, chassis loading effects, and cellular noise, which can render synthetic networks non-functional in vivo [14, 15]. Although standardization and better part design can partially lower this barrier [12, 16–19], design processes that enable the informed selection of appropriate parts are crucial [11, 20, 21].
One of the foundational constructs in synthetic biology is the genetic toggle switch. The toggle switch consists of a set of transcription factors that mutually repress each other [1, 22–24]. Genetic switches play a major role in binary cell fate decisions such as stem cell differentiation, as they are capable of exhibiting bistable behaviour, which gives rise to the existence of two distinct phenotypic states. This allows populations of cells to maintain a heterogeneous response to environmental cues and can increase fitness by bet-hedging [25]. Switches are powerful building blocks; they underlie electronics and logic systems, and have great potential in synthetic biology. The genetic toggle switch has been used for a number of applications including the construction of a synthetic genetic clock [22], the regulation of mammalian gene expression [2, 5], the development of a predictable genetic timer [26], and the formation of biofilms in response to engineered stimuli [27].
The stability of the toggle switch has been investigated extensively in the literature, but the conclusions drawn vary according to model abstraction. Numerous studies have concluded that cooperativity is a necessary condition for bistability to arise [1, 28–31]. However, Lipshtat et al. found that stochastic effects can give rise to bistability even without cooperativity [32]. In another study, Ma et al. found that stochastic fluctuations can stabilize the unstable steady state in the deterministic system, giving rise to tristability [33]. In addition, Biancalani et al. identified multiplicative noise as the source of bistability in the stochastic case [34]. As is clear from the above, there is yet to exist a consensus on the stability a switch is capable of, and the most appropriate method of modelling it. Most of these studies assumed the quasi-steady state approximation (QSSA) [35], which cannot always be assumed to hold in vivo [36].
In terms of system design, extensions of the basic toggle switch motif, including additional positive feedback mechanisms, have been investigated [37, 38], and optimization methods have been used to identify topologies and parameter values for bistable and tristable genetic switches [39–42]. For stochastic switch design, control theoretic approaches [43], and simulation-based frameworks [44], have been developed. However, none of these existing approaches can be be applied to reasonably sized models, under the assumption of deterministic and stochastic dynamics, and identify regions of parameter space for which switching occurs, which we argue is critical in designing systems under considerable uncertainty.
Here we present a computational framework based on sequential Monte Carlo [
45
] that can determine the parameter region for a given model to produce a given number of (stable) steady states. Uniquely, multistable parameter regions can be identified for both deterministic and stochastic systems, and also complex models with many parameters, thus removing the need for simplifying assumptions. Our framework can be used for comparing the conclusions drawn by various modelling approaches and thus provides a way to investigate appropriate abstractions. This framework is available as a Python package, called StabilityFinder. We investigate genetic toggle switches and uncover the design principles behind making bistable and tristable switches (all models used in this study are summarised in Table
1
.) We find that both production and degradation rates of transcription factors are key parameters for bistability, and outline how the addition of positive autoregulation, combined with particular parameter combinations, can create multistable switching behaviour. Finally we demonstrate the ability of the framework to examine more complex systems and examine the design principles of a three gene switch. These examples demonstrate that StabilityFinder will be a valuable tool in the future design and construction of novel gene networks.
Methods
StabilityFinder is based on a statistical inference method that combines approximate Bayesian computation (ABC) with sequential Monte Carlo [46]. This simulation-based method uses an iterative process to arrive at a distribution of parameter values that can give rise to observed data or a desired system behaviour [44]. ABC methods are used for inferring the posterior distribution in cases where the likelihood is intractable or is too computationally expensive to evaluate. Instead of computing the likelihood, ABC methods simulate the data and then compare the simulated and observed data through a distance function [46]. Given the prior distribution π(θ) we can approximate the posterior distribution, π (θ|x)∝f(x|θ)π (θ), where f(x|θ) is the likelihood of a parameter, θ, given the data, x. There are a number of different variations of the ABC algorithm depending on how the approximate posterior distribution is sampled.
The simplest ABC algorithm is the ABC rejection sampler [47]. In this method, parameters are sampled from the prior and data simulated through the data generating model. For each simulated data set, x ∗, a distance from that of the desired behaviour is calculated, ρ(x ∗,y), and if greater than a threshold, ε, the sample is rejected, otherwise it is accepted.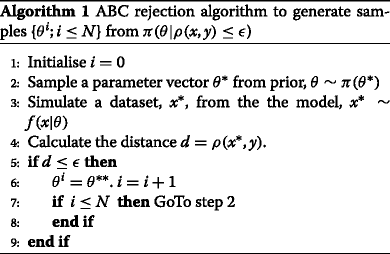 The main disadvantage of this method is that if the prior distribution is very different from the posterior, the acceptance rate is very low [46]. An alternative method is ABC Markov Chain Monte Carlo (MCMC) [48]. The disadvantage of this method is that if it gets stuck in an area of low probability it can be very slow to converge [49]. The method used here is based on sequential Monte Carlo, which avoids both issues faced by the rejection and MCMC methods. It propagates the prior through a series of intermediate distributions in order to arrive at an approximation of the posterior. The tolerance, ε, for the distance of the simulated data to the desired data is made smaller at each iteration. When ε is sufficiently small, the result will approximate the posterior distribution [46].
To investigate the multistable behaviour of systems, a number of extensions to existing approaches are required. For a given set of parameter values, sample points are taken across initial conditions using latin hypercube sampling [50], and the ensemble system simulated in time until steady state. The distance function in ABC is replaced by a distance on the desired stability of the simulated model. To do this we cluster the steady state coordinates using K-means clustering [51] and use the Gap statistic to determine the number of clusters [52]. At each iteration, the number of steady states is determined by the number of clusters in phase space. A particle is accepted only if the number of clusters present is within an acceptable distance from the threshold ε. The algorithm is summarised below.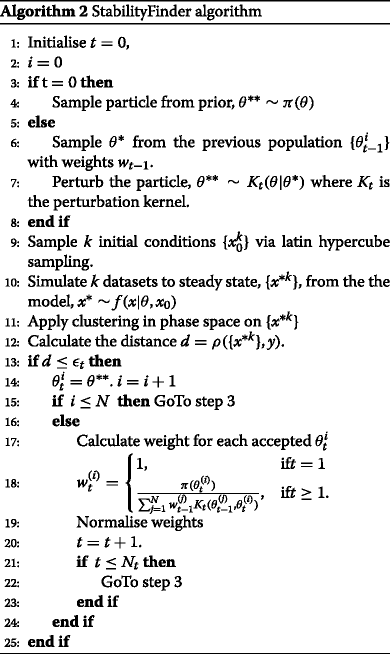 This algorithm is available as a Python package, called StabilityFinder. The user provides an SBML model file [
53
,
54
] and an input file that contains all the necessary information to run the algorithm, including the desired stability and the final tolerance,
ε
, for the distance from the desired behaviour necessary for the algorithm to terminate. The flow of execution is illustrated in Fig.
1
. Since the algorithm is computationally intensive, all deterministic and stochastic simulations are performed using algorithms implemented on Graphics Processing Units (GPUs), which are used for mutli-threaded computation [
55
]. The algorithm returns the final accepted particles and their associated weights, as well as the initial conditions sampled and the steady state values obtained. The final accepted particles can be used to study the characteristics of the posterior distribution. The sampled initial conditions and the resulting steady state values can be used to study the basins of attraction of the system.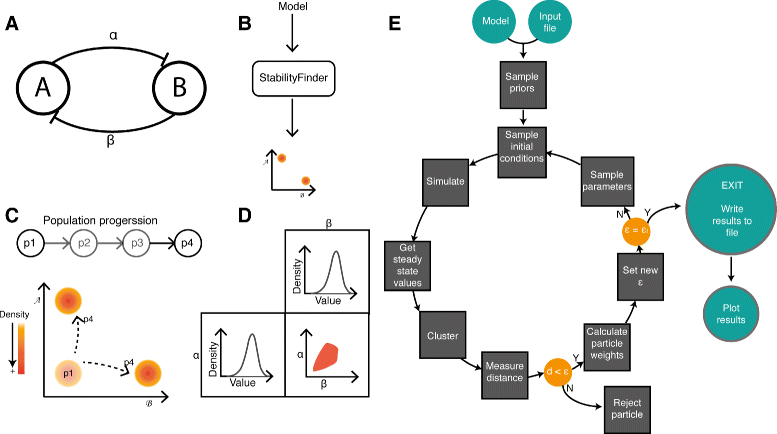 Conclusions
We have developed an algorithm that can identify the parameter regions necessary for a model to achieve a given number of stable steady states. The novelty in our framework over existing methodology is that complex models can be analyzed assuming both deterministic and stochastic dynamics. We have shown that the algorithm can be used to infer the parameter ranges that give rise to specific behaviour in various models. We uncovered the design principles that make a bistable, a tristable and a quadristable switch. We also found that a three-node switch is capable of hexastability. Importantly, we removed assumptions made to simplify the switch models and showed that they are still capable of bistable and tristable behaviour.
Although we only examined models containing combined transcription and translation, our approach could be applied to any models of switching behaviour, including more detailed kinetic models and more complex multistable switches that exist in natural biological systems, such as developmental pathways. We also limited our framework to the objective behaviour of a given number of stable steady states. However, this approach is extremely flexible, and could be extended to find systems with a given switching rate, or systems robust to a particular set of perturbations, both of which could be of great importance for building more complex genetic circuits.
One limitation of our approach is that we cannot rule out a specific behaviour; it is always possible that some part of parameter space remains unexplored, or because the search space must be predefined, interesting regions are not included in the search. In the Bayesian sense, this predefined space is the prior distribution for the parameters that give rise to the stability under investigation. In principle, once our knowledge of these biochemical rate constants grows, we can incorporate these data into the prior regions for exploration. Another limitation is that of scalability. Our framework can currently be applied to small and medium size gene networks since the computational time is exponential in size, whereas optimization methods are more scalable [39–41]. This is a manifestation of a general tradeoff between finding an optimal value and exploring a parameter space. However, we argue that for current and relevant problems in synthetic biology, this computational burden is acceptable.
Approaches based on parameter space exploration are indispensible tools for providing understanding of general system properties and guiding more detailed experimental and theoretical studies. They will also be key for the design and construction of synthetic gene networks. By selecting standardized parts accordingly, such as promoters, RBS sequences and other untranslated regions [18, 63–65], in vivo systems can be matched to parameter regions with a high probability of function.
More generally our results highlight that changing the level of abstraction, in addition to the modification of the feedback structure and parameter values, can significantly alter the qualitative behaviour of a system model. These results advocate the need for a programme of experimental work, combined with systems modelling, to understand the rules of thumb for abstraction in model based design of synthetic biological systems.
Declarations
Acknowledgements
All the authors would like to acknowledge that the work presented here made use of the Emerald High Performance Computing facility made available by the Centre for Innovation. The Centre is formed by the universities of Oxford, Southampton, Bristol, and University College London in partnership with the STFC Rutherford-Appleton Laboratory.
Funding
CPB and MLW acknowledge funding from the Wellcome Trust through a Research Career Development Fellowship (097319/Z/11/Z). ML and AJHF acknowledge funding through the UCL Impact Award scheme and the UCL CoMPLEX doctoral training centre respectively.
Availability of supporting data
The data sets supporting the results of this article are included within the article and its Additional file 1. The StabilityFinder package and the models run in this analysis can be found in the public GitHub repository ucl-cssb (https://github.com/ucl-cssb).
Authors' contributions
The project was conceived by CPB. ML developed the StabilityFinder code, developed the switch models, ran the Monte Carlo analyses and interpreted the results. MLW, AJHF and CPB performed additional analysis of the results. ML and CPB wrote the manuscript. All authors read and approved the final manuscript.
Competing interests
The authors declare that they have no competing interests.
Consent for publication
Not applicable
Ethics approval and consent to participate
Not applicable
Open Access This article is distributed under the terms of the Creative Commons Attribution 4.0 International License (http://creativecommons.org/licenses/by/4.0/), which permits unrestricted use, distribution, and reproduction in any medium, provided you give appropriate credit to the original author(s) and the source, provide a link to the Creative Commons license, and indicate if changes were made. The Creative Commons Public Domain Dedication waiver(http://creativecommons.org/publicdomain/zero/1.0/) applies to the data made available in this article, unless otherwise stated.
Authors' Affiliations
(1)
Department of Cell and Developmental Biology, University College London, London, UK
(2)
Department of Genetics, Evolution and Environment, University College London, London, UK