Research Article

Open Access
A scalable metabolite supplementation strategy against antibiotic resistant pathogen Chromobacterium violaceum induced by NAD+/NADH+ imbalance
BMC Systems Biology
BMC series – open, inclusive and trusted
2017
11:51
Received: 9 December 2016
Accepted: 21 April 2017
Published: 26 April 2017
Background
The leading edge of the global problem of antibiotic resistance necessitates novel therapeutic strategies. This study develops a novel systems biology driven approach for killing antibiotic resistant pathogens using benign metabolites.
Results
Controlled laboratory evolutions established chloramphenicol and streptomycin resistant pathogens of Chromobacterium. These resistant pathogens showed higher growth rates and required higher lethal doses of antibiotic. Growth and viability testing identified malate, maleate, succinate, pyruvate and oxoadipate as resensitising agents for antibiotic therapy. Resistant genes were catalogued through whole genome sequencing. Intracellular metabolomic profiling identified violacein as a potential biomarker for resistance. The temporal variance of metabolites captured the linearized dynamics around the steady state and correlated to growth rate. A constraints-based flux balance model of the core metabolism was used to predict the metabolic basis of antibiotic susceptibility and resistance.
Conclusions
The model predicts electron imbalance and skewed NAD/NADH ratios as a result of antibiotics – chloramphenicol and streptomycin. The resistant pathogen rewired its metabolic networks to compensate for disruption of redox homeostasis. We foresee the utility of such scalable workflows in identifying metabolites for clinical isolates as inevitable solutions to mitigate antibiotic resistance.
Antibiotic resistance
Metabolomic
Flux balance analysis
Flux variability analysis
Redox homeostasis
NAD
NADH
Metabolism
A post-antibiotic apocalypse portends the utility of antibiotics being massively compromised through evolution of antibiotic resistance. The genetic basis of several antibiotic resistant populations have been delineated via whole genome sequencing to the level of identifying resistance genes [1–4]. Antibiotic resistance genes catalogued through these efforts have rarely provided individualized therapies. Penicillin resistance in Streptococcus pneumoniae is a consequence of mutations in putative iron transport systems [1]. Stress pathways contribute to glycopeptide resistance in Staphylococcus aureus [5]. The evolution of antibiotic resistance in pathogens is characterized by uncontrolled proliferation even in the presence of drugs. Growth and energy generation are two principal dimensions of cell function and proliferation. This duality of cell function, orchestrated by metabolic networks, is critical for survival and governs resistance. Redox homeostasis is important to effectively harness reducing power produced through the catabolism of various substrates and to utilize this power in the anabolism of cellular components such as DNA, lipids and proteins. Metabolic regulation and gene expression modulation are now recognized as major players in antibiotic resistance [6–9]. β-Lactamases are amongst the most common causes of bacterial resistance to β-Lactam antimicrobial agents [10]. Derepression of secondary metabolism in Nocardiopsis, identified through metabolome characterization, was a consequence of acquired resistance [9]. In E. coli it was reported that overflow metabolism and reactive oxygen species (ROS) formation are inherent cellular response to antibiotic lethality [11]. A recent study implicates accelerating cellular respiration rates in the bactericidal mode of action [2]. Specific metabolites have been associated with varying degrees of killing antibiotic tolerant pathogens (persisters) by stimulating proton motive force (PMF) and increasing antibiotic uptake [12, 13]. Promoting Tricarboxylic acid cycle (TCA)/Krebs cycle by glucose/alanine activation that subsequently also increase PMF stimulating uptake of antibiotic have initiated death in multi-drug resistant Edwardisiella tarda [13]. Stoichiometric flux balance models based on evolutionary optimality predict outcomes of single environment evolution accurately and can compute operational flux states, growth and energy phenotypes of resistant/susceptible cells [14–18]. Investigating altered metabolism and connecting to evolved resistant genotypes may provide simple strategies to overcome drug resistance and induce susceptibility to existing antibiotics.
In this study, we have identified benign metabolites to stimulate antibiotic action and death of streptomycin and chloramphenicol resistant pathogen
Chromobacterium violaceum
. Primarily a zoonotic pathogen, it is opportunistic in humans and converts the essential amino acid tryptophan to violacein, a blue-violet pigment [
19
]. The oxidative dimerization of two tryptophan molecules is an essential and regulatory step for the synthesis of violacein scaffold [
20
–
22
].
Chromobacterium violaceum
is also reported sensitive to aminoglycosides, chloramphenicol, and tetracycline and resistant to ampicillin, penicillin, and first-generation cephalosporins [
23
,
24
]. Our work highlights for the first time that differential violacein levels could act as a potential biomarker for resistance to two distinct classes of antibiotics. Here we pioneer a scalable workflow (Fig.
1
) from controlled evolution of resistance to rationally identifying metabolites that induce drug susceptibility using systems biology approaches. Constraints-based flux balance modeling, being an integral part of systems biology approach, was used for the first time to predict that disruption of redox homeostasis was causal for antibiotic action. Compensatory metabolic reprogramming to overcome redox cofactor imbalance was delineated. In addition the
in silico
resistant growth phenotype was predicted to be a function of the rigidity of flux network.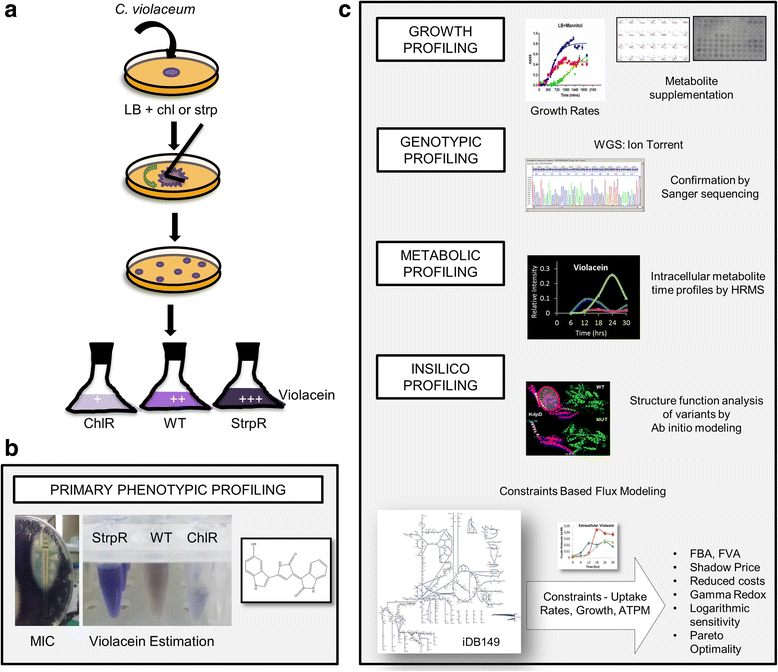 The advent of genome-scale experimentation allows acquisition of heterogeneous data-types that are critical to delineating the genotype-phenotype relationship [1–4]. However, the mechanistic basis for the killing of antibiotic resistant populations only partially emerges through such data and requires integration of multiple data-types into a predictive scalable model. In this work we show that an integrative approach is able to predict the underlying mechanism related to redox and energy homeostasis operational at the level of cellular metabolism in C. violaceum. The model explains/predicts how benign metabolites in combination with antibiotics could potentially kill antibiotic resistant Chromobacterium populations by driving metabolism in a direction causing imbalance and disruption of the delicate redox or energy balance needed for the organism to survive.
Changed kinetic parameters (Table 1) of the two resistant populations in comparison to the susceptible wild type on several substrates indicated differential utilization and metabolic patterns resultant from altered genotypes and physiology via adaptive evolution of C. violaceum. Interestingly, fitness costs associated with the acquired resistance only manifested during growth on carbon sources and not in the environment used for evolution. The identification of four metabolites pyruvate, maleate, succinate and oxoadipate, potentially all electron donors, do not support growth across both the ChlR and StrpR resistant populations. The null post treatment viability count (Fig. 3e and f) make them ideal candidates for antibiotic therapy for resistant populations.
Also, these metabolites with the exception of maleate are electron donors and enter catabolism in central metabolism as glycolytic or TCA intermediates (Additional file 1: Figure S5). Each of the substrates is taken up and metabolized via specific dehydrogenases that involve the cofactor couple NAD/NADH. The results obtained highlight the importance of measuring fitness costs under multiple micro-environmental conditions. They provide a more relevant estimate of fitness in Chromobacterium and also reveal novel physiological weaknesses exploitable for drug development such as the redox homeostasis. Knowledge of such associated fitness costs in other pathogens can identify microenvironment metabolites that in combination with the antibiotic can target reduction of pathogen fitness.
The evolutionary fitness landscape of Chromobacterium can be viewed as a random adaptive (weighted) walk dictated by the drugs in the regime of strong selection and weak mutation (SSWM) [72, 73]. Such weighted walks in space of genotypes in the presence of chloramphenicol may have resulted in mutations in acrR, the transcription repressor of the tripartite AcrAB-TolC multidrug efflux pump and marC another multidrug efflux pump and may be potentially commutative. The continuous activity of the tripartite AcrAB-TolC multidrug efflux pump, which is proton dependent, could result in membrane potential changes due to efflux of small molecules like violacein. Antibiotics are known to activate the AcRAB-TolC pumps [62] and hence continuous de-repression may be a mechanism for evolution. The relatively few changes in genome sequence observed with chloramphenicol as selection pressure indicate a role beyond genetic causality in the resistant phenotypes.
Previously implicated mutations in rpsL (R86S; Fig. 4b) related to streptomycin resistance [63, 74] dictate an "error-restrictive", hyper-accurate translation phenotype, accurate ribosomal function [65] and could explain the long lags and lowered growth rates observed for this population on specific carbon sources. Enhanced growth of the StrpR in poor carbon sources like glycerol probably occurs due to lower levels of the transcription factor, σS [75]. Lack of growth on pyruvate, succinate and maleate indicate potential induction of rpoS [76]. The mutated PabC protein involved in de novo folate biosynthesis via PABA could potentially lead to excess PLP known to perturb amino acid metabolism [77], including the observed tryptophan synthesis as observed in LC-HRMS with MS/MS profiles for StrpR intracellular temporal extracts. Streptomycin is known to cause leakage of low molecular weight antibiotic, ions and amino acids by damaging the permeability barrier creating potential secondary selection pressure [78]. This implies low cytoplasmic K+ could shape the evolution as a secondary selection pressure specifically based on the mutated cytoplasmic domain of KdpD TCS regulator. On genotypic profiling and protein functional analysis we reach a hypothesis that the antibiotic adapted landscape of C. violaceum with a few beneficial mutations and fitness distributions potentially supports the Gillespie [72, 73] landscape model for evolution of resistance. Whether these genome changes are causal or correlational need to be investigated.
Violacein with its differential abundances (Fig. 5a) as compared to wild type in the StrpR (>50% increase) and ChlR populations (~50% reduction) could be a potential biomarker for resistance. This could be potentially due to indole known to be shared in antibiotic resistant E. coli to provide cover for more susceptible bacteria [79]. C. violaceum accumulates tryptophan (downstream of indole) that is converted subsequently to virulence factor violacein. Potentially, developing a synthetic operon to convert tryptophan (found in all pathogens) to violacein may be useful as a visual reporter/biosensor of emergent resistance in even other infectious diseases. Reports exist that chloramphenicol lower intracellular indole and accumulation of tryptophan as observed [80]. Further exploration is needed to connect violacein to strategic intracellular communication and resistant growth phenotypes of the pathogen.
Using the in silico central metabolic network reconstruction representing C. violaceum, iDB149, we were able to understand emergent properties of redox and energy homeostasis across susceptible and resistant populations. On shadow price and reduced costs analysis of growth limiting metabolites and reactions, AKGDH and ICL were identified in ChlR and and StrpR respectively. The alpha-keto glutarate dehydrogenase (AKGDH) reaction is known to regulate oxidative phosphorylation, lysine and tryptophan synthesis. Isocitrate lyase (ICL) reaction on the other hand, has been implicated in pathogenesis and persistence in Salmonella and resistance in Mycobacterium [81]. The use of ICL involves shunting isocitrate through the glyoxylate shunt and bypassing part of the TCA cycle. This potential mechanistic difference between ChlR and StrpR in glucose metabolism is also evident in the intracellular metabolite profile (Additional file 1: Figure S2). AKGDH is also a known modulator for oxidative phosphorylation and dependent on the ADP/ATP ratios [82]. The flux through the ATP synthase is higher in the StrpR strain (Additional file 5) suggesting a potential increase in respiration rates as previously described [2]. The apparent lowering of ATP synthase flux potentially suggests a mechanism for decoupling of electron transfer from proton pumping in oxidative phosphorylation in the resistant populations. The StrpR population with mutations in rpsL may need a model of regulation and metabolic to explain the big change in growth rates and yields in presence of streptomycin. Flux variability analysis showed reactions that have flux category change in resistant strains compared to WT as a function of antibiotic involved redox cofactor balancing (NADH/NAD and NADPH/NADP ratios); increased TCA cycle/Oxidation Phosphorylation in the StrpR population and increased overflow metabolism population diverting from TCA cycle in the ChlR population. The wild type growth on pyruvate, malate and succinate also indicates the increase in NADH levels as a mechanism for survival in the presence of antibiotics (data not shown). The metabolism of these substrates after their uptake, all involve the use of the cofactor couple NAD/NADH [70]. The pareto front analysis of the added NADH/NADPH oxidase to the ChlR and StrpR strains potentially show an increase in NADH as a mechanism of evolution to become resistant. The addition of the above mentioned compounds potentially increase the NADH levels further causing major redox imbalance. This cofactor imbalance prevents the maintenance of a rigid core flux distribution, through certain control nodes, eventually preventing minimal cellular function of the metabolic network for energy and biomass formation. The model thus predicts the emergence of NAD/NADH ratios and electron imbalance to be critical to survival and susceptibility of the antibiotic resistant phenotype and can be leveraged to make the resistant pathogens susceptible to antibiotics again.
Taken together, our data unveiled that disruption of redox homeostasis by certain benign metabolites as key to killing antibiotic resistant pathogens. To distinguish between causal and correlational factors in the evolution of antibiotic resistance more rigorous experiments and comprehensive genome-scale models may be needed. Reversing the phenotype by perturbing metabolism through modulating micro-environments could be one way of subverting the onset of the post antibiotic era. Determining the genetic and metabolic basis of ribosome targeting antibiotic's resistance helps address the 'fourth dimension' of how heterogeneous networks in cells evolve simultaneously in space and time. This could lead to scalable pipelines integrating growth/metabolite/MIC profiling and constraints-based flux balance models for clinical isolates, ultimately leading to personalized treatment and individualized therapy.
Abbreviations
2,5-DHB:

2,5-dihydroxybenzoic acid
2OXOADP:

Oxoadipic acid
3PG:

3-phosphoglyceric acid
ACALD:

Acetaldehyde dehydrogenase (acetylating)
AGC:

Automated gain control
AKGDH:

2-Oxogluterate dehydrogenase
ALA:

Alanine
ALCD2x:

Alcohol dehydrogenase (ethanol)
ALE:

Adaptive laboratory evolutions
AM-XIC:

Accurate mass - extracted ion chromatogram
AP-MALDI:

Atmospheric Pressure - Matrix-assisted Laser Desorption/ionization
ARA:

L-Arabinose
ASCB:

Ascorbic acid
ASP:

Aspartate
ATCC:

American type culture collection
ATP:

Adenosine triphosphate
ATP4Sr:

ATP synthase (four protons for one ATP)
ATV:

Atorvastatin
BP:

Base pairs
CAT:

Category
CFU/ML:

Colony-forming units per milliliter
CHCA:

2-cyano-4-hydroxycinnamic acid
CHL:

Chloramphenicol
ChlR:

Chloramphenicol resistant population of Chromobacterium violaceum
CIT:

Citric acid
COBRA:

Constraints based reconstruction and analysis
D-MAL:

D-Malic acid
DNA:

Deoxyribose nucleic acid
EX_ETOH(e):

Ethanol exchange
FBA:

Flux Balance Analysis
FDP:

Fructose 1,6-bisphosphate
FORTi:

Formate transport via diffusion
FUM:

Fumarate
FVA:

Flux variability analysis
FWHM:

Full width at half maximum
G3P:

Glyceraldehyde-3-phosphate
G6P:

Glucose 6-phosphate
GDW:

Grams dry weight
GLC:

Glucose
GLN:

Glutamine
GLU:

Glutamate
GLYC:

Glycerol
HESI:

Heated electrospray ion source
HPLC:

High performance liquid chromatography
HRMS:

High-resolution mass spectrometry
ICIT:

Isocitric acid
KGA:

Ketoglutaric acid
LACT:

L-Lactic acid
LB:

Luria Bertani
LBA:

Luria Bertani Agar
LC-MS:

Liquid chromatography–mass spectrometry
LP:

Linear Programming
M/Z:

Mass by charge ratio
M6P:

Manose-6-phosphate
MAL:

Maleate or Maleic acid
MAN:

Mannitol
MDH:

Malate dehydrogenase
MEW:

Mass extraction window
MIC:

Minimum inhibitory concentration
MLO:

Malonic acid
MS/MS:

Tandem mass spectrometry
NAD+:

Nicotinamide adenine dinucleotide (oxidised form)
NADH:

Nicotinamide adenine dinucleotide (reduced form)
NADP+:

Nicotinamide adenine dinucleotide phosphate (oxidised form)
NADPH:

Nicotinamide adenine dinucleotide phosphate (reduced form)
NADTRHD:

NAD transhydrogenase
NGS:

Next generation sequencing
OD600 :

Optical Density at 600 nanometre
OXA:

Oxalic acid
PCR:

Polymerase chain reaction
PDF:

Pulse dynamic focussing
PDH:

Pyruvate dehydrogenase
PFL:

Pyruvate formate lyase
PIt2r:

Phosphate reversible transport via symport
PPC:

Phosphoenolpyruvate carboxylase
PYR:

Pyruvate or Pyruvic acid
QC:

Quality control
R5P:

Ribose 5-phosphate
Sbt:

D-Sorbitol
Strp:

Streptomycin
StrpR:

Streptomycin resistant population of Chromobacterium violaceum
SUCC:

Succinate or Succinic acid
SUCOAS:

Succinyl-CoA synthetase (ADP-forming)
TCA:

Tricarboxylic acid Cycle
TCS:

Two-component system
THD2:

NAD(P) transhydrogenase
TRP:

Tryptophan
VAL:

Valine
WT:

Wild Type Chromobacterium violaceum
ZIC-HILIC:

Zwitterionic hydrophillic interaction Liquid Chromatography.
Acknowledgements
We would like to acknowledge Priyanka P. Sadhukhan and Sudeepa Nandi for their initial involvement in conceptualization of the metabolic core model, FVA categorization algorithm and ALE experiments.
Funding
This work was supported in part by grants from Department of Science and Technology (GAP292826, SERB grant EMR/2016/000167), CSIR India (network grant HCP003, TFYP CMET grant CSC0110 and infrastructure grant) DB is supported through a DST INSPIRE (Ph. D.) Fellowship. VP further acknowledges Department of Biotechnology for Ramalingawami Fellowship and RGYI award.
Availability of data and materials
The genome sequence data generated for the current study is available in Sequence Read Archive (SRA) repository under accession number SRP072862 (http://www.ncbi.nlm.nih.gov/sra/?term=SRP072862). All other data generated or analysed during this study are included in this published article and its supplementary information files.
Competing interests
The authors declare that they have no competing interests.
Authors' contributions
AR and DB conceptualized & designed the study, analyzed & interpreted the data and wrote the final manuscript. DB performed all experiments related to growth, evolution, genotyping and phenotyping; performed all constraints-based simulations & worked on data visualization. VP, DP and NB were involved in development of methods for mass spectrometric analysis and performed the analysis. AG was involved majorly in MS data analysis that included statistical tools among others. All authors read the manuscript and approve the content.
Consent for publication
Not applicable
Ethics approval
Not applicable
Publisher's Note
Springer Nature remains neutral with regard to jurisdictional claims in published maps and institutional affiliations.
Open AccessThis article is distributed under the terms of the Creative Commons Attribution 4.0 International License (http://creativecommons.org/licenses/by/4.0/), which permits unrestricted use, distribution, and reproduction in any medium, provided you give appropriate credit to the original author(s) and the source, provide a link to the Creative Commons license, and indicate if changes were made. The Creative Commons Public Domain Dedication waiver (http://creativecommons.org/publicdomain/zero/1.0/) applies to the data made available in this article, unless otherwise stated.
(1)
Chemical Engineering Division, CSIR-National Chemical Laboratory, Pune, India