Research article

Open Access
In silico pathway reconstruction: Iron-sulfur cluster biogenesis in Saccharomyces cerevisiae
BMC Systems Biology
2007
1:10
Received: 25 September 2006
Accepted: 31 January 2007
Published: 31 January 2007
Abstract
Background
Current advances in genomics, proteomics and other areas of molecular biology make the identification and reconstruction of novel pathways an emerging area of great interest. One such class of pathways is involved in the biogenesis of Iron-Sulfur Clusters (ISC).
Results
Our goal is the development of a new approach based on the use and combination of mathematical, theoretical and computational methods to identify the topology of a target network. In this approach, mathematical models play a central role for the evaluation of the alternative network structures that arise from literature data-mining, phylogenetic profiling, structural methods, and human curation. As a test case, we reconstruct the topology of the reaction and regulatory network for the mitochondrial ISC biogenesis pathway in S. cerevisiae. Predictions regarding how proteins act in ISC biogenesis are validated by comparison with published experimental results. For example, the predicted role of Arh1 and Yah1 and some of the interactions we predict for Grx5 both matches experimental evidence. A putative role for frataxin in directly regulating mitochondrial iron import is discarded from our analysis, which agrees with also published experimental results. Additionally, we propose a number of experiments for testing other predictions and further improve the identification of the network structure.
Conclusion
We propose and apply an iterative in silico procedure for predictive reconstruction of the network topology of metabolic pathways. The procedure combines structural bioinformatics tools and mathematical modeling techniques that allow the reconstruction of biochemical networks. Using the Iron Sulfur cluster biogenesis in S. cerevisiae as a test case we indicate how this procedure can be used to analyze and validate the network model against experimental results. Critical evaluation of the obtained results through this procedure allows devising new wet lab experiments to confirm its predictions or provide alternative explanations for further improving the models.
Keywords
Docking Score
Phylogenetic Profile
Supplementary Appendix
Protein Docking
Sideroblastic Anemia
Background
Increasing amounts of data that can be mined for information about how proteins in cells assemble as metabolic pathways, signal transduction pathways, and gene circuits, are generated each day. Datasets available for such tasks include the primary literature, large scale micro array experiments, whole genome two hybrid screenings, full genome sequences, and the patterns of conserved/non-conserved homologues and orthologues in them. Theoretical and computational methods are being developed and used to analyze these different types of data and infer networks of proteins or genes that are involved in the same cellular process(es) (e.g. [1–10]).
In general, the networks derived by the computational analysis of these data are static, in the sense that they provide little information, if any, about the flow of causality and events in the process and no information about the dynamics of the processes and its regulation (however, see [11]). For example, the involvement of proteins X, Y and Z in a process does not elucidate if X catalyzes a reaction that produces a substrate for another reaction catalyzed by Z or by Y, or if X modulates Y or Z activity. This can be an important problem while assembling the network structure of either novel pathways (e.g. Iron-Sulfur Cluster biogenesis) or complex pathways with an unclear reaction and regulation network, (e. g. cell cycle). Thus, it is a challenge to transform the network of interactions inferred from the analysis of static data into a causal network that allows for the creation of mathematical models whose dynamic behavior can be analyzed and tested against experimental observations.
To achieve such a goal, strategies that combine the different theoretical and computational methods to identify proteins and generate a set of plausible alternative network topologies for the process of interest are needed. Such networks can then be translated into mathematical models whose dynamic behavior can be analyzed and compared to that of the real system, thus discriminating against some of the proposed topologies when they do not reproduce the expected behavior. Such an analytical process integrates omics data and provides testable predictions and information about systemic behavior.
The more than likely absence of known mechanistic and kinetic data for each of the individual proteins in a novel pathway hinders the process of translating network topology into a mathematical model. A way around the problem is by using approximation theory [12]. This well-established methodology approximates the continuous functions that typically describe the kinetics of protein processes by using, for example, truncated Taylor series, either in linear or non-linear spaces (see e.g. [13–19]). Among the non-linear approximations, the power-law formalism provides a useful representation that comes associated with powerful and eclectic analytical methods (see e.g. [20–24]).
In this paper, we shall focus on defining and applying a global strategy combining bioinformatics tools and mathematical modeling to reconstruct the network structure of a pathway. Computational tools will be used for a) obtaining relevant information on genes and proteins that are identified as playing a role in the target pathway, b) checking putative interactions between proteins, c) testing the co-evolution of different proteins, and d) for setting-up alternative networks that accommodate all this information. Then, expert knowledge is used to curate the set of alternative network structures. Finally, mathematical models are used to explore the systemic behavior of each alternative network and comparing it with existing experimental data.
As a benchmark problem we shall focus on the Iron-Sulfur Cluster (ISC) biogenesis pathway. ISC are widespread cofactors of proteins that work as catalytic mediators, as electron transport mediators, and as sensors for the oxidation state of the cell and of its environment [25–32]. Although ISC have been known to assemble autonomously in proteins, in recent years, an evolutionarily conserved set of proteins that controls this assembly has been identified [29, 33, 34]. In eukaryotes, initial ISC biogenesis is mitochondrial [35]. Deregulation of ISC biogenesis in humans can create different pathological effects, leading to diseases such as Friedreich's ataxia, X-linked sideroblastic anemia, or hypochromic anemia. In yeast, deleting one ISC biogenesis gene creates cells that accumulate iron and have a decrease/deregulation in the activity of ISC dependent proteins. The extent of the phenotype ranges from mild (e.g. ΔGRX5 strains [36]) to lethal (e.g. ΔARH1 strains [37]), depending on the protein that is mutated. Friedreich's ataxia is linked to mutations in one of the ISC biogenesis proteins (Frataxin) which has as a homologous protein in yeast the proteinYfh1 (Yeast Frataxin Homologue 1). Additionally, iron accumulation can lead to cellular aging and its associated diseases.
Although spontaneous assembly of ISC has been known to occur both
in vivo
and
in vitro
, it has been observed that mutations in a set of proteins that are evolutionarily conserved cause defects in ISC biogenesis. These proteins are evolutionarily conserved and form a putative ISC biogenesis pathway. The details and topology of this pathway are still not fully understood. In
S. cerevisiae
, the eukaryotic organism in which the ISC biogenesis has been more extensively studied, the following proteins are involved: Arh1, Yah1, Yfh1, Isu1, Isu2, Isa1, Isa2, Nfu1, Nfs1, Isd11, Mge1, Ssq1, Jac1, Atm1 and Grx5 (Table
1
). The current dogma in the field assumes that Isu1, Isu2, Isa1, Isa2 and Nfu1 are somehow the scaffolds where the ISC initially assembles before being transferred to the appropriate ISC dependent apo-proteins. However, recent results may be casting some doubt into this, as there appears to be some involvement of Isa1/Isa2 in Fe supply for the clusters of specific ISC dependent apo-proteins. Furthermore, the role of Nfu1 is unclear. Atm1 is likely to be the transporter involved in exporting ISC to the cytoplasm. Arh1 and Yah1 are a feredoxin reductase-feredoxin pair that probably regulates electron transfer during the initial assembly of the cluster. Nfs1 is a cysteine desulfurase that provides the sulfur for the clusters and Isd11 is fundamental for Nfs1 to fulfill its role. It is unclear how Isd11 facilitates the functions of Nfs1. In bacteria, some cysteine desulfurases also have an assistant protein that facilitates the transfer of sulfur to the clusters via formation of and S-S bond. However, Isd11 does not have cysteine residues, which precludes such a mechanism for its action. Ssq1 (HSP 70 like protein), Jac1 (HSP 40 like protein) and Mge1 (Nucleotide exchange factor) are protein chaperones that are involved in assisting the pathway, although their exact role is unclear. It has been shown that Isu1 activates the ATPase activity of the HSP70 type chaperone Ssq1. Atm1 appears to participate in the exporting of the ISC clusters from the mitochondrial matrix to the cytoplasm. Again, the exact substrate of Atm1 is unknown. Grx5 is a monothyolic glutaredoxin whose function in ISC biogenesis is unclear. In prokaryotes this biogenesis is cytoplasmatic. In some cases more than one system is involved in the biogenesis of ISC. For example in
E. coli
, the ISC system (homologue to that of
S. cerevisiae
) [
38
–
42
] and the Suf system [
43
] are parallel systems that are involved in the biosynthesis of ISC. While the ISC system is the one responsible for regular assembly of ISC, the Suf system becomes important when the bacteria are under oxidative stress.
Table 1
Proteins involved in ISC synthesis in Saccharomyces cerevisiae.
| Proteins | Protein Function | Type of evidence for Protein Function | Suggested Function In ISC Assembly | Type of evidence for suggested systemic role |
| --- | --- | --- | --- | --- |
| Arh1 | Ferredoxin Reductase | Homology to known ferredoxin/adrenodoxin reductases | Reduces Yah1/Provides electrons for ISC assembly/transfer/repair | Homology, Physiological, Genetic |
| Yah1 | Ferredoxin | Homology to known ferredoxin/adrenodoxin | Provides electrons for ISC assembly/transfer/repair | Physiological, Genetic |
| Yfh1 | Frataxin | Homology, Biochemical; Structural | Stores/Provides Fe directly to ISC assembly and Heme synthesis | Physiological, Structural, Genetic |
| Grx5 | Glutaredoxin | Homology, Biochemical | Regulates glutathionylation state of protein cysteinyl residues | Physiological, Biochemical |
| Isa1 | Scaffold | | As dimer scaffolds initial ISC assembly between two monomers and then transfers it to apo-proteins | Biochemical, Spectroscopic, Direct transfer observation |
| Isa2 | Scaffold | | As dimer scaffolds initial ISC assembly between two monomers and then transfers it to apo-proteins | Biochemical, Spectroscopic, Direct transfer observation |
| Isu1 | Scaffold | | As dimer scaffolds initial ISC assembly between two monomers and then transfers it to apo-proteins | Biochemical, Spectroscopic, Direct transfer observation |
| Isu2 | Scaffold | | As dimer scaffolds initial ISC assembly between two monomers and then transfers it to apo-proteins | Biochemical, Spectroscopic, Direct transfer observation |
| Nfu1 | Scaffold | | As dimer scaffolds initial ISC assembly between two monomers and then transfers it to apo-proteins | Biochemical, Spectroscopic |
| Ssq1 | Hsp70 Chaperone | Homology, Biochemical, Genetic, Structural | Assists in proper folding of ISC biosynthetic proteins, namely Yfh1 and Isa-Isu proteins/Assists in maintaining ISC assembled in scaffold dimer for proper transfer | Biochemical, Structural |
| Jac1 | Hsp40 Co- chaperone | Homology, Biochemical, Genetic, Structural | Assists Ssq1 in interacting with Isu/Isa proteins | Biochemical, Genetic, Structural |
| Mge1 | Co- chaperone/Nucleotide exchange factor | Homology, Biochemical, Genetic, Structural | Assists Ssq1 | Biochemical, Genetic, Structural |
| Nfs1 | Cysteine Desulfurase | Homology, Biochemical | Provides sulphur for ISC assembly in scaffold dimers or in situ ISC assembly/repair | Physiological, Biochemical, Genetics |
| Atm1 | ABC transporter | Homology | Involved in ISC export for cytoplasm and nuclear proteins | Physiological, Genetic |
| Isd11 | unknown | Biochemical, Genetic | Fundamental for Nfs1 action | Physiological, Genetic |
As mentioned in the previous paragraph, there is enough information to attribute a function to some of the proteins involved in ISC biogenesis in S. cerevisiae. This is the case for example of Nfs1, Isu1, Isu2, or Atm1. However, the role of other proteins is still not clear. For example, what do Isa1, Isa2 or Nfu1 do in the process? What is the role of the chaperones Ssq1-Jac1-Mge1 or of Grx5 in ISC biogenesis? Thus ISC biogenesis is a good benchmark problem for the application of the methodology we describe, as it will provide the chance to validate some of the prediction with published experimental results. Simultaneously, the methodology will generate biological insight regarding some of the proteins with an unclear role, thus creating an added value from the methodological and from the biological point of view. In previous papers [34, 44, 45] we combined structural bioinformatics with experiments and kinetic modeling to investigate the possible role of proteins Arh1, Yah1 and Grx5 in mitochondrial ISC biogenesis. In this paper we present a structured computational approach that is used to infer and analyze probable topologies for the global network of mitochondrial ISC biogenesis. We analyze seven of the proteins involved in the process (Arh1, Yah1, Yfh1, Grx5, Nfs1, Ssq1 and Jac1), proposing likely systemic roles for their action in ISC biogenesis.
Results
The proteins that are known to be involved in ISC mitochondrial biogenesis in S. cerevisiae are shown in Table 1. We shall first describe how the different large scale datasets are analyzed and combined, using different computational tools in order to infer initial alternatives for the network assembly of the pathway. Then, we use mathematical modeling strategies to further analyze the different alternative and identify the most reliable network structure, based on comparing the dynamic behavior of the models to experimental observations.
Discussion
The identification and reconstruction of novel pathways is an emerging area of great interest. The accumulation of data from different origins and the development of methods and software to mine that data create an opportunity to bridge the gap between the fragmentary view of genes and proteins and the more integrated approach of Systems Biology. In this paper we use a combination of theoretical, mathematical, and computational methods to reconstruct the topology of the reaction and regulatory network for the mitochondrial ISC biogenesis pathway in
S. cerevisiae
. The network elements (proteins) are identified and a network of interactions between them is predicted using automated literature mining, genomic data, structural bioinformatics data and evolutionary analysis. Although automatic tools do provide a first approximation of the network structure, human analysis remains necessary for curating all the relevant information. In fact, human curation of the network is a critical step for the derivation of possible alternative reaction schemes for the ISC biogenesis. At this point, mathematical models are needed to predict and validate the systemic behavior of each alternative network by comparing it to experimental data. Table
3
shows the likely roles for the proteins that have been analyzed. This eliminates some of the alternative network structures and assists in refining the remaining, by suggesting experiments that can further differentiate between them. These experiments are summarized in Table
4
. As in any scientific approach, the process should continue iteratively.
Table 3
Roles for the proteins in ISC biogenesis. Likely roles for the different proteins in the scheme shown in Figure 2 are indicated by a '+' sign. The letter codes refer to the blocks in Figure 2. Entries not in bold are not likely due to Occam's razor rule, although they reproduce the experimental results.
Proteins

Arh1-Yah1

Yfh1

Nfs1

Ssq1-Jac1

Grx5

Roles

S

S

S

F

D

ST

T

SR

St

I

ST

FSt

N

FR

DI

RSt

FRSt

DN

IN

DIN

ADIN
Table 4
Experimental validation of the predictions and suggested experiments. See text for details on the suggested experiments.
| Prediction | Experimental Validation | Suggested experiments |
| --- | --- | --- |
| Grx5 acts in recovering the activity of Nfs1 or of the scaffold proteins | Experimentally detected interaction with the scaffolds [34] | Use of kinetic assays and TAP assays to pinpoint the most likely targets for Grx5 |
| Arh1-Yah1 act on S or ST | Yes [73, 74] | |
| Arh1-Yah1 interact in a similar way to their bovine homologues | No | Point Mutants and use of TAP assays combined with measurements of ISC dependent protein activity and Fe accumulation in mutant strains |
| Yfh1 acts on S, T or ST | Yes [76-79] | |
| Yfh1 storage of Fe is not important for its ISC biogenesis role | Yes [86] | |
| Nfs1 role in synthesis is sufficient to justify Δnfs1 phenotype | No | |
| Chaperone role in F or St | Yes for F [94] | In vitro systems with and without chaperones to compare rate of assembly of ISC onto the scaffold would provide some evidence for or against St. |
As shown is this paper, bioinformatics tools, expert knowledge, and modeling techniques can thus be used to assist in the predictive analysis of the system, and in suggesting experimental test for the predictions. Another useful aspect of our approach is that it can be used in reassessing the interpretation of experimental data. For example, if Yfh1 had an important role in accumulating a mitochondrial Fe pool, then our model predicts that Δyfh1 mutants would have less mitochondrial iron, which is opposite to what is observed. It is our goal to continue to refine our model and to apply this analysis to other organisms, thus assisting in the understanding of how the ISC biogenesis pathways have evolved.
In principle, the combination of approaches presented here could be used in a flexible way to analyze similar problems in other molecular biological systems. In summary, the full procedure would be the following (Figure
4
):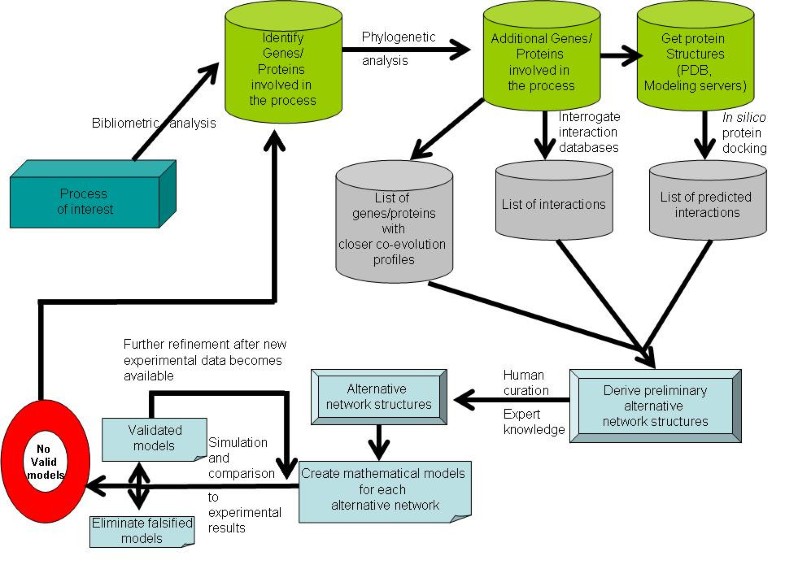 1) Choose the biological process of interest (in our benchmark example the proteins involved in ISC assembly in Saccharomyces cerevisiae)
2) Determine the proteins and metabolites of interest that are thought to be involved in the process (Bibliomic analysis and Phylogenetic profiling). Use phylogenetic profiling as a first indicator of which proteins may be acting together in the process of interest.
3) Interrogate available databases for physical interactions between the proteins of interest.
4) If possible, obtain structures for the proteins. If no structure is available, obtain structural models from homologue proteins (Structural bioinformatics)
5) Use all against all protein docking to derive the most likely interactions (Structural bioinformatics). Analyze those interactions (Protein-protein data sets).
6) Derive a degenerate/incomplete set of possible network structures based on the interactions obtained from 4).
7) Eliminate from/add to 5) any interactions that are eliminated/suggested from known data (Expert knowledge)
8) Identify alternative models corresponding to different hypothesis for the component elements and processes.
9) Derive mathematical models for the selected schemes using the GMA approach (Mathematical modeling)
10) Normalize the models and scan parameters over large permissible ranges to determine which alternative networks are able to reproduce known experimental behavior of the system.
11) If some of the alternatives reproduce known experimental results, devise thought experiments that can also be executed experimentally and that could differentiate between the behavior of the alternatives. Go back to step 6).
12) If none of the alternative networks is able to reproduce the known experimental behavior use Phylogenetic profiling to determine new potential components of the system of interest. Go back to step 3).
In certain cases, some of the steps proposed here can be avoided, as they would add no extra information. It is likely that, by applying this procedure to the reconstruction of different metabolic processes, the various methods will contribute differently for the reconstruction. In some cases, there will be overlap of the network of interactions that are predicted by each data set, while in others the analysis of the different datasets will provide different and sometimes contradictory networks of interactions. This emphasizes the need for expert curation of the networks at this stage of the methodology's development. Any program/server/software package that would allow the implementation of such a procedure would have to be sufficiently flexible so that the use of only certain parts of the procedure would be possible for non expert users. It is also critical that such an application is flexible enough to allow the researcher to modify the pathway topology interactively, using expert knowledge. Once the alternative pathways are identified, the use of GMA models greatly facilitates the mathematical modeling. These models can automatically be derived from the reaction scheme and dynamic simulations can be performed by scanning parameters of the normalized models. When it comes to ill-defined pathways with almost no parameter determination studies available, the scanning procedure is a limiting step, as tens of hundreds to a few millions of simulation curves may be needed even for fairly small pathways. The scanning of the parameter space can be bounded by the availability of good measurements for at least some of the parameter values. This is for example what happens in reference [70].
Conclusion
The ISC biogenesis pathway of S. cerevisiae is partially reconstructed using a flexible in silico methodology that combines sequence analysis, literature analysis and structural bioinformatics methods. The role of different S. cerevisiae proteins in ISC biogenesis is predicted. Some predictions are validated by published experimental results. Other predictions need further experimental work to validate. The methodology proposed here is flexible and is applicable to the reconstruction of other systems. This methodology could be a step forward in integrating different types of data to a) obtain systemic knowledge about novel pathways, and b) clarify how current models of known pathways would work, generating rational hypothesis for testing.
Declarations
Acknowledgements
This work has been partially supported by grant BFU2005-0234BMC of the Spanish Ministerio de Educación y Ciencia. RA was supported by a Ramon y Cajal award from the Spanish Ministerio de Educacion y Ciencia. We thank the anonymous reviewers for suggestions that greatly improved the paper.
Authors' Affiliations
(1)
Departament de Ciencies Mediques Basiques, Universidad de Lleida, Lleida, Spain
Copyright
© Alves and Sorribas; licensee BioMed Central Ltd. 2007
This article is published under license to BioMed Central Ltd. This is an Open Access article distributed under the terms of the Creative Commons Attribution License (http://creativecommons.org/licenses/by/2.0), which permits unrestricted use, distribution, and reproduction in any medium, provided the original work is properly cited.