Research article
Open Access
RNA silencing can explain chlorotic infection patterns on plant leaves
BMC Systems Biology
2008
2:105
Received: 08 July 2008
Accepted: 30 November 2008
Published: 30 November 2008
Abstract
Background
RNA silencing has been implicated in virus symptom development in plants. One common infection symptom in plants is the formation of chlorotic tissue in leaves. Chlorotic and healthy tissue co-occur on a single leaf and form patterns. It has been shown that virus levels in chlorotic tissue are high, while they are low in healthy tissue. Additionally, the presence of siRNAs is confined to the chlorotic spots and the boundaries between healthy and infected tissue. These results strongly indicate that the interaction between virus growth and RNA silencing plays a role in the formation of infection patterns on leaves. However, how RNA silencing leads to the intricate patterns is not known.
Results
Here we elucidate the mechanisms leading to infection patterns and the conditions which lead to the various patterns observed. We present a modeling approach in which we combine intra- and inter-cellular dynamics of RNA silencing and viral growth. We observe that, due to the spread of viruses and the RNA silencing response, parts of the tissue become infected while other parts remain healthy. As is observed in experiments high virus levels coincide with high levels of siRNAs, and siRNAs are also present in the boundaries between infected and healthy tissue. We study how single- and double-stranded cleavage by Dicer and amplification by RNA-dependent RNA polymerase can affect the patterns formed.
Conclusion
This work shows that RNA silencing and virus growth within a cell, and the local spread of virions and siRNAs between cells can explain the heterogeneous spread of virus in leaf tissue, and therewith the observed infection patterns in plants.
Keywords
Bifurcation DiagramSpeckle PatternHigh EquilibriumVirus LevelSilence Strength
Background
RNA silencing is an evolutionary conserved mechanism in eukaryotes that has a major role in gene regulation, development, transposon control and defense against viruses.
Antiviral RNA silencing is induced by virus double-stranded RNA (dsRNA) or by specific single-stranded RNA (ssRNA) structures. Double- or single-stranded RNA is cleaved into small interfering RNA (siRNA) by RNase III-like enzymes such as Dicer and Dicer-like [1, 2]. siRNAs associate with the RNA-induced silencing complex (RISC) and guide the complex to complementary sequences that are then destroyed. In addition to the primary response, siRNAs can be produced through a secondary pathway that involves synthesis of dsRNA or siRNA by host encoded RNA-dependent RNA polymerase (RDR) [3–5].
The antiviral role of RNA silencing is extensively studied in plants [1, 6, 7]. Virus spread through the plant results in diverse symptoms, for example leaf curling, abnormal leaf or flower development, and patterns on infected leaves. These patterns consist of both chlorotic or necrotic tissue in combination with healthy looking tissue. Different types of patterns that occur are concentric circles or rings, mosaic patterns, vein clearing and spots. Interestingly, virus levels are high in yellow, chlorotic tissue and low in the green, healthy tissue [8]. This means that virus accumulation varies from cell to cell. It has been hypothesized that RNA silencing may play a role in the development of leaf patterns resulting from virus infections [9–12]. Recent observations by Hirai et al. [13] on mosaic patterns support this hypothesis. They have shown that RNA silencing activity is confined to the yellow spots and the marginal regions of the green spots. Reduced expression of RDR, which is part of the secondary pathway of the silencing response, resulted in smaller or no green tissue. These results strongly suggest that RNA silencing plays a major role in the development of plant symptoms.
Previously we developed a mathematical model of RNA silencing and its interaction with viral growth within a cell [14]. We found that depending on the strength of the silencing response the virus equilibrium can be almost unaffected, oscillations can occur, or the virus can be cleared. Additionally, we found that a change in Dicer cleavage rate is representative for a general change in silencing strength. For a low Dicer cleavage rate the equilibrium amount of virus is slightly decreased and the virus grows slower than without silencing. For high Dicer cleavage rate the virus is not able to grow and is cleared directly after introduction. For intermediate Dicer cleavage rates oscillations in virus levels can occur. When a secondary response is added these oscillations can be enlarged to such extend that the virus is cleared after a single growth peak.
We here study how RNA silencing can explain the development of leaf patterns resulting from viral infection. To this end we use a detailed modeling approach in which we combine an intra-cellular model of viral growth and the RNA silencing pathway with inter-cellular tissue dynamics.
We observe that RNA silencing and virus growth on a tissue can result in a discontinuous spread of the virus: the virus reaches high levels in some cells, while it is suppressed in other cells. We study the conditions for different type of patterns. These patterns could be the basis of plant symptom development. We elucidate the mechanisms leading to these patterns and how increased silencing efficiency, siRNA movement and the occurrence of a secondary response relate to the pattern formation.
Methods
To investigate the formation of infection patterns in plants we model an area of plant tissue on a grid. Each grid point represents a plant cell. Within each cell we calculate virus levels and levels of RNA silencing proteins with a detailed model. Virions and siRNAs can move from cell-to-cell. A schematic representation of the model is shown in Figure
1
.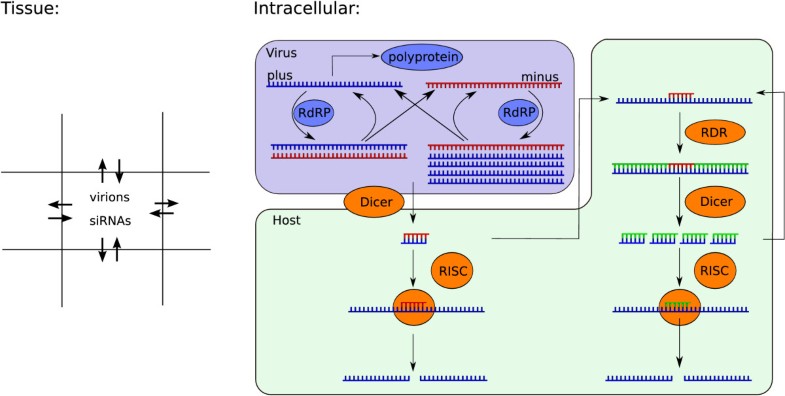 Intracellular model
The number of molecules in each cell is calculated with our previously described model of the antiviral RNA silencing pathway and a replicating plus-strand RNA virus [14].
The intracellular model consists of coupled differential equations, representing viral plus- and minus-strand RNA, dsRNA, virions, RdRP, siRNA targeting plus or minus-stranded RNA, and free and active RISC. The virus replication cycle starts with the translation of plus-stranded RNA into a poly-protein. After auto-cleavage one of the products is RNA-dependent RNA polymerase (RdRP) that associates with plus-strand RNA to synthesize a complementary strand. The formed dsRNA separates into a plus- and minus-strand that can both associate with RdRP again. We assume that the minus-strand is the preferred template for dsRNA synthesis. Semi-conservative synthesis of multiple plus-strands from a single minus-strand template is incorporated in the model, resulting in a biased plus-to-minus ratio. The virus produces virions that consist of plus-stranded RNA and coat proteins. We simplify here by using the number of plus-stranded RNA instead of modeling a separate coat protein.
Viral double- or single-stranded RNA is degraded by host encoded Dicer into siRNAs, that have a plus- or minus-strand polarity. siRNAs cleaved from dsRNA have a 50% chance of targeting either the plus or the minus strand. siRNAs cleaved from a ssRNA hairpin automatically target strands with the opposite polarity. Via RISC the siRNAs cause degradation of either plus- or minus-stranded viral RNA.
Secondary siRNAs can be synthesized through the amplification pathway that involves synthesis of dsRNA by host encoded RDR. We implement unprimed, primed and guided amplification. Each type of amplification can be studied separately.
All equations are integrated using a timestep of 3.6 seconds. Simulations run for 300 hours, unless indicated otherwise. The equations can be found in the Appendix.
Tissue level model
To study RNA silencing and viral infection in a tissue we use a spatial model. Each grid point represents a cell for which the intracellular dynamics are calculated with the model described above.
Viruses encode movement proteins that enable the movement of virions from cell-to-cell through plasmodesmata. We implement the movement of virions to the four neighboring cells in our model. Virions can be unpacked in each cell into naked plus-strand RNA. We chose a 4 neighborhood because cells share almost no surface area with the diagonal neighbors.
For movement we shift to a particle based system, because we do not want incomplete particles to trigger a reaction in a neighboring cell. Movement of particles occurs every timestep (3.6 seconds). A fraction of the total number of virions in the cell is evenly distributed among the four neighbors, and excess virions are distributed randomly among the neighbors. When the number of moving virions is smaller than one, we draw a random number to decide if one virion moves to a random neighbor. With this method we underestimate the heterogeneity of viral spread as compared to Brownian motion. This method is therefore a good worst-case scenario for the study of heterogeneous spread of virus particles.
The silencing response is able to spread from cell-to-cell with a short range silencing signal, most likely siRNAs [15]. We implement the spread of siRNAs in the same way virions move. There is also a long-range silencing signal [16, 17]. Because of the elusive nature of the long range silencing signal, and because we here take only a tissue or leaf area into account we do not include a long range silencing signal.
Results and discussion
We vary Dicer cleavage rates as representative for silencing strength to study the effect of RNA silencing on the spread of virus particles over the tissue.
Within the cell three different behaviors can be observed [14]. High Dicer cleavage rate results in fast clearance of the virus. Low Dicer cleavage rate delays viral growth but hardly decreases the virus levels in equilibrium. Intermediate cleavage rate results in oscillating virus levels.
Conclusion
We have shown that RNA silencing causes local differences in virus accumulation that can be the basis of different virus symptoms developed in plants. We have studied all qualitatively different patterns that can occur for different parameter values.
When siRNAs spread from cell to cell, we observe patterns that can spread over the entire tissue and consist of alternating healthy and infected tissue. When siRNAs are able to spread quickly we observe localized spots around the infection site. The presence of a secondary response can result in transient patterns that leave healthy tissue behind. In accordance with our results, it has been shown that in absence of a secondary response tissue can get fully infected, while with secondary response patterns develop [23, 24]. The initial appearance of patterns that slowly fade until the entire tissue is infected occurs only when ssRNA is cleaved by Dicer.
In plants a variety of chlorotic patterns caused by viral infection have been observed. Chlorotic tissue contains high virus levels [27]. Some of the patterns of our model resemble infection patterns in plants. When silencing is weak the entire leaf area becomes infected, corresponding to chlorosis of the entire leaf.
When silencing is stronger we observe a mosaic-like pattern that resembles symptoms observed for many mosaic viruses. A difference with the experimentally observed patterns and our simulated patterns is the scale. We only observe larger scale mosaic when silencing strength is low. When silencing strength is high or when the secondary response is active we observe a small scale mosaic pattern. Our model, however, does not include growth of the tissue, and it has been shown that the healthy spots in mosaic-like patterns come about from cell division of single cells or a cluster of a few cells (reviewed in [27]). Development and growth of our small scale mosaic-like pattern could result in the experimentally observed large scale patterns.
In our model local spots occur when siRNA movement and silencing strength are sufficiently high. The virus infection stays localized to the area around the initially infected cell. We observe two types of spots: spots that are completely infected and ring spots that have a circle of low virus levels in between high levels. Lesions and ring spots are very common local symptoms after inoculation.
Ring patterns similar to our concentric rings have been observed for Tomato ringspot virus [28]. Ringspot viruses can also give rise to a large single ring-like spot that resembles the single growing ring that we observed. Tissue at the leading edge of virus infection is infected, tissue in the center of the ring is healthy. We observe this pattern only when there is a very strong feedback, as for example a secondary response. In contrast to our rings, the observed ring patterns do not spread over the entire tissue. This could be due to a long range silencing signal that we have not included in our model. The effect of such signal could be tested by adding an influx of siRNA or dsRNA at a specific site on the grid. This site represents the presence of the vascular system of the plant through which the silencing signal spreads. In this way the effect of different candidates for the long-range silencing signal could be tested.
We have used a detailed model of both intra- and inter-cellular dynamics of virus replication and RNA silencing. Nevertheless we were able to analyze mathematically (by bifurcation diagram) the intracellular dynamics that lead to alternative equilibria underlying the formation of infection patterns in plants. We have shown that siRNA movement is the driving force behind the pattern formation observed. Data of Hirai et al. [13] on siRNA location strongly support our model. Further experiments and parameter validation is necessary to study specific cases, and we hope to inspire researchers to further investigate how the chlorotic patterns on plant leaves relate to virus and siRNA levels. Additionally, it would be very interesting to study the development of these patterns and local virus and siRNA levels in time-series.
In conclusion, we have shown that the interplay of RNA silencing and virus growth within a cell, and the spread of virions and siRNAs between cells can explain the variety of viral infection patterns observed in plants.
Appendix
Intracellular dynamics
The entire intracellular model:
The biological meaning of the variables is mentioned to the left of the equations. Multiple RdRPs can bind to minus-strand RNA, we refer to these as 'active RdRPs'. +RISC and -RISC are RISC loaded with siRNA with a plus- or minus-strand polarity. The abbreviation 'sec.' stands for secondary and is used to indicate siRNA that is produced through a secondary amplification pathway. Secondary RISC is loaded with secondary siRNA.
All parameter values can be found in Table
1
, as well as a short description of each parameter. The other terms , and are functions for the complex formation between RdRP and RNA strands, Dicer cleavage and amplification, respectively.
Table 1
Parameter values used. #mol is number of molecules.
| Model | Par. | Meaning | Value | units |
| --- | --- | --- | --- | --- |
| Intracellular | r | maximum translation rate × #ribosomes | 15*5000 | #mol hr-1 |
| | o | max rate of complex formation ssRNA | 1 | hr-1 |
| | o d | max rate of complex formation dsRNA | 100 | hr-1 |
| | f | ratio of binding plus or minus RNA | 0.9 | - |
| | h | dsRNA-RDR splitting rate | 10 | hr-1 |
| | v | max virion production rate | 500 | #mol hr-1 |
| | D i | number of Dicer molecules | 500 | #mol |
| | c d | max Dicer cleavage rate for dsRNA | 0–15 | #mol hr-1 |
| | c s | max Dicer cleavage rate for ssRNA | 0–10 | #mol hr-1 |
| | b 1 | rate of RISC activation | 0.005 | #mol -1 hr-1 |
| | b 2 | RISC target cleavage rate | 20 | #mol -1 hr-1 |
| | i | translation of RISC | 100 | #mol hr-1 |
| | a | amplification (a u , a p and a g ) | 100 | #mol hr-1 |
| | d r | decay RdRP and RISC | 0.1 | hr-1 |
| | D | decay viral ssRNA | 0.5 | hr-1 |
| | d si | decay siRNA | 2 | hr-1 |
| | d v | decay virions | 0.1 | hr-1 |
| | k v | saturation of virion production | 10,000 | #mol |
| | k d | saturation of Dicer cleavage | 10,000 | #mol |
| | k t | saturation constant for translation | 1,000 | #mol |
| | k ri | saturation of RISC cleavage | 1,000 | #mol |
| | k r | saturation of complex formation | 1,000 | #mol |
| | k a | saturation amplification | 1000 | #mol |
| Spatial | ΔSi | percentage of siRNAs exiting the cell | 0–10 | hr-1 |
| | ΔV | percentage of virions exiting the cell | 1 | hr-1 |
| | u | unpacking rate of virions | 2 | #mol hr-1 |
The complex formation () between RdRP and RNA strands is saturated for both viral RNA and RdRP (the Beddington-DeAngelis functional response [
29
,
30
]):
Dicer can cleave double-stranded and single stranded RNA and is saturated for
D
e
,
D
p
,
D
m
,
P
and
M
. The Dicer cleavage functions, one for cleaving dsRNA and one for ssRNA, are saturated according to the ratio between single- and double-stranded RNA cleavage (
q
) by Dicer:
The amplification terms are:
Where is unprimed amplification, is primed amplification and is guided amplification. We study the amplification pathways separately. In the case of guided amplification, the siRNAs are not removed when they guide amplification, in contrast to primed amplification. Amplification produces dsRNA that is not used for virus replication (D e ). This dsRNA is degraded into secondary siRNAs with a plus- or minus-strand polarity; Sis p and Sis m respectively.
Parameters
For the intracellular dynamics we use the parameters previously described [14]. Parameter values can be found in Table 1. The only intracellular parameter that we vary in this study is the cleavage rate by Dicer (0 to 15 cleavages per Dicer per hour), because it is representative for a general increase in strength of the silencing response [14].
The extra parameters of the spatial model are the percentages of siRNAs and virions that move out of a cell (0 to 10% per hour), and virion unpacking rate.
Declarations
Acknowledgements
The authors thank Milan van Hoek and Stan Marée for valuable discussions. This work ' was supported by the Netherlands Organisation for Scientific Research (NWO) through Grant 050.50.202 of the BioMolecular Informatics program.
Authors' Affiliations
(1)
Theoretical Biology and Bioinformatics, University of Utrecht, Utrecht, the Netherlands
Copyright
© Groenenboom and Hogeweg; licensee BioMed Central Ltd. 2008
This article is published under license to BioMed Central Ltd. This is an Open Access article distributed under the terms of the Creative Commons Attribution License (http://creativecommons.org/licenses/by/2.0), which permits unrestricted use, distribution, and reproduction in any medium, provided the original work is properly cited.