Research article

Open Access
Seeded Bayesian Networks: Constructing genetic networks from microarray data
BMC Systems Biology
2008
2:57
Received: 03 December 2007
Accepted: 04 July 2008
Published: 04 July 2008
Abstract
Background
DNA microarrays and other genomics-inspired technologies provide large datasets that often include hidden patterns of correlation between genes reflecting the complex processes that underlie cellular metabolism and physiology. The challenge in analyzing large-scale expression data has been to extract biologically meaningful inferences regarding these processes – often represented as networks – in an environment where the datasets are often imperfect and biological noise can obscure the actual signal. Although many techniques have been developed in an attempt to address these issues, to date their ability to extract meaningful and predictive network relationships has been limited. Here we describe a method that draws on prior information about gene-gene interactions to infer biologically relevant pathways from microarray data. Our approach consists of using preliminary networks derived from the literature and/or protein-protein interaction data as seeds for a Bayesian network analysis of microarray results.
Results
Through a bootstrap analysis of gene expression data derived from a number of leukemia studies, we demonstrate that seeded Bayesian Networks have the ability to identify high-confidence gene-gene interactions which can then be validated by comparison to other sources of pathway data.
Conclusion
The use of network seeds greatly improves the ability of Bayesian Network analysis to learn gene interaction networks from gene expression data. We demonstrate that the use of seeds derived from the biomedical literature or high-throughput protein-protein interaction data, or the combination, provides improvement over a standard Bayesian Network analysis, allowing networks involving dynamic processes to be deduced from the static snapshots of biological systems that represent the most common source of microarray data. Software implementing these methods has been included in the widely used TM4 microarray analysis package.
Keywords
Acute Myeloid LeukemiaAcute Lymphoblastic LeukemiaPositive Predictive ValueBayesian NetworkDirected Acyclic Graph
Background
DNA microarrays and other genome-inspired, high-throughput technologies allow us to capture information regarding gene expression across the entire collection of genes in an organism. While it has long been argued that such genome-wide profiles should allow the identification of networks and pathways, deducing such interactions for even a small number of genes remains a daunting task. Although several gene network modeling techniques have been applied to microarray data, including weight matrices [1], Boolean networks [2], and differential equations [3], Bayesian Networks (BNs), BN seemed to show the greatest promise in the analysis of expression data as they provided the ability to learn network structures and develop predictive models of system response [4].
In the BN formalism, a network of interacting genes is represented as a graph in which the genes are "nodes" and interactions between genes are "edges"; the terms network and graph are often used interchangeably and in a BN framework, the edges are directed. As an example, consider a simple graph in which a node, Gene1, is the only parent of a second node, Gene2 (Figure
1
). Associated with the edge between them is a conditional probability table that provides estimates of the likelihood of the state of Gene2 given the state of Gene1. For instance, the probability of Gene2 being over-expressed given that Gene1 is over-expressed is 0.7, which may be interpreted as implying Gene1 activates Gene2. Placing this into a formal context, a Bayesian Network is defined to be a pair
(G, θ)
where
G
is a directed acyclic graph (DAG) whose vertices are random variables
X
1
,...,
X
n
and
θ
is the conditional distribution for each variable given its parents
P(X
i
|
Parents(X
i
))
. Bayesian networks only allow dependencies between a node and its parents and conditional independence statements encoded by the network structure define the conditional probability distributions; in the case of genes, the factors that influence its expression.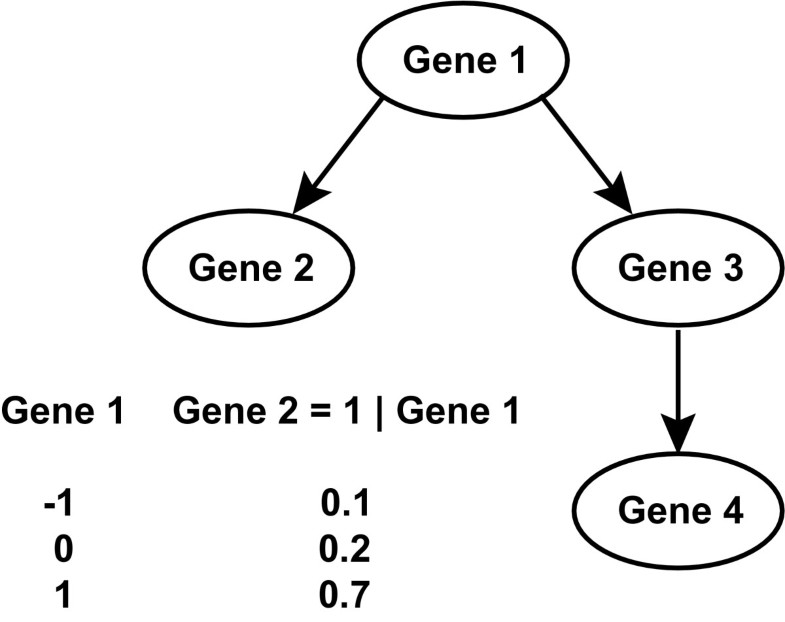 BNs were first applied to gene expression studies in the analysis of the yeast cell cycle [4], a dataset that consisted of expression data collected over a carefully planned time-course [5]. Friedman and colleagues were able to deduce a predictive model of the cell cycle machinery in yeast from this data, a result that generated a great deal of excitement within the research community. However, application of BN analysis to more "realistic" datasets (i.e. tumor vs. normal, treated vs. control) failed to provide similarly useful insight and as such is rarely applied in analysis of expression profiling data.
Application of Bayesian Network analysis in genomics is challenging for a number of reasons. The first problem is that learning BNs is computationally expensive as, ideally, one must assess all potential network topologies corresponding to all possible sets of directed acyclic graphs linking the genes. This results in a combinatorial explosion of the number of possible structures and parameters; formally this has been shown to be an NP-Complete problem [6]. As an alternative, general purpose heuristic search algorithms, such as greedy hill climbing, can be used to explore the "state space" of the problem (here, the relative expression state for each gene in each sample) in an attempt to optimize some scoring function. The problem with these approaches is that they often find local maxima and do not converge to the globally optimal solution. This accounts, in most instances, for the failure of BN analysis to find "realistic" networks in datasets that lacked the richness of the cell cycle time course.
A potential solution to the limitations of the type of general-purpose search algorithms was proposed by Wolpert and Macready, who noted that the use of domain-specific knowledge can provide a useful bias that can lead to near-optimal solutions in exploring the state space of a particular problem [7]. In the context of BN analysis of microarray data, a useful bias can be introduced through the use of preliminary network topologies as soft constraints to seed the search for a network graph [8–10], an approach that has been applied in a variety of related problems [11–15]. Although a network seed biases the search for the best topology, it does not limit it so that new potential interactions between genes can be identified.
A number of possibilities exist to provide prior seeds for the network topologies, including pathway/interaction databases, networks deduced from the published biomedical literature indexed in PubMed, and those constructed from high-throughput interaction screens such as the protein-protein interaction (PPI) described by Rual and colleagues [16]. As our goal, in part, is to discover new interactions, we chose to concentrate on prior networks deduced from the literature and PPI data which often include potential interactions not yet annotated in curated pathway databases. As such, this approach has potential to discover new interactions by combining diverse sources of data and information.
A second challenge in the application of methods such as BN analysis to microarrays is the typical design of genomics studies. As noted previously, most microarray studies do not involve uniform temporal sampling of the state of a system where inferred relationships in the gene expression state space of genes can more easily be detected. Rather, typical studies involve static comparisons of different phenotypic or treatment groups where relationships between gene states can be much more subtle. Further, and possibly more importantly, the large number of genes assayed on a single array and the relatively small number of samples profiled generally provide too few measurements to constrain potential models, and arrive at an optimal solution. To address this, we implement model averaging through bootstrapping which allows us to compute confidence estimates for network features in the models we derive.
Ultimately, the question we must resolve is whether application of BN analysis to gene expression data can reveal useful networks that can lead to testable hypotheses about the state and response of the systems under study. In particular, our goal in this manuscript is to assess the use of prior network structures as seeds for a search of the gene expression state space. To do this, we present an analysis of two leukemia datasets [17–19]. As described below, we find that by combining microarray data with prior network structures deduced from the literature, PPI, or a combination of these, we can better recover known pathways and relationships between genes than when analyzing microarray data without a network seed. To estimate the robustness of our approach, we compare the learned networks to known networks from the KEGG database [20] and show that networks constructed with high confidence edges have a very small false-positive rate, but at the expense of missing true edges. This suggests that even when applied to imperfect data, our approach provides a conservative way of recovering pathways and of identifying potential new interactions that can be further evaluated in the laboratory.
Results
Our analytical pipeline closely follows that outlined by Friedman and colleagues [4], with important modifications. One starts with normalized DNA microarray data from an appropriate study and identifies a set of candidate genes that will be further analyzed. For example, one might use a variety of statistical methods to identify genes correlating with the various phenotypic states under study or select a set of genes representing a particular pathway or process thought relevant to the system being analyzed. The expression data for these genes are then discretized using a multinomial model [4] and assigned to three mutually exclusive and exhaustive bins (under-expressed, unchanged, and over-expressed) by equal-width binning. This discretized data then provides the "raw material" that is subsequently used to learn a Bayesian Network. Our modifications of the Friedman et al. approach involve the introduction of a prior network seed to initiate the learning stage and the use of bootstrapping to estimate confidence in the equivalence classes of final networks. As a means of comparing a BN analysis both with and without network seeds, we compared the resulting networks to "known" pathways and evaluated our ability to reproduce documented interactions between genes.
Discussion
Much of the excitement generated by microarrays and other high-throughput technologies was based on the expectation that they would lead us to uncover the pathways and networks that provide the link between genotype and phenotype. Application of Bayesian Network analysis, although computationally expensive, represented one possible way to discover these important links in expression data, but failed to provide much insight when applied to the vast majority of expression datasets. Here we present a way to recover at least some of that lost promise.
In an analysis of two gene expression datasets, both representing the types of class-comparisons that are typical in microarray studies, we established that the use of domain-specific knowledge in the form of prior network seeds can improve the ability of Bayesian Network analyses to learn known interactions between genes. We demonstrated this by showing improvements in recovery of known pairwise interactions between gene products as defined by pathways in the KEGG database. Through the use of bootstrapping, we are able to assign confidence values to the individual interactions. Finally, these interactions, represented by an edge between two gene nodes, can be used to reconstruct predictive networks at any confidence level.
Generally, one would hope to use such an analysis to discover new potential interactions and to build testable models that can be validated. Not surprisingly, we find a tradeoff between sensitivity and specificity in detecting interactions when varying the bootstrap confidence threshold. Networks constructed with high confidence edges give high specificity but miss many interactions, resulting in lower sensitivity and fewer potentially novel interactions. Setting the confidence threshold too low, on the other hand, may lead to the identification of many spurious edges and limit the ultimate utility of any network model. Managing this tradeoff must, therefore, be done in the context of the experimental problem being investigated and one's ability to validate the results.
There are a number of potential limitations to what we present here. First, in the analysis of the Ross data, we chose to focus on genes within the cell cycle regulatory pathway rather than looking at the entire collection of genes in the array. However, even with this focused collection of genes, we were able to validate our hypothesis, that prior network seeds derived from the literature and PPI data improve our ability to detect known interactions relative to a standard, unseeded BN analysis. What is most exciting about the work we present here is that we were able to learn the structure of a dynamic process, the cell cycle, from a dataset consisting of static snapshots of two phenotypic states. This suggests that directed experiments where a particular network or pathway is perturbed and followed over time may further improve the overall performance of a BN approach. Using such an approach in an iterative manner, in which a network is first learned, then perturbed and the resulting data used to refine the predicted network structure, may allow us to discover novel players in many known networks and to learn previously unknown networks from DNA microarray expression profiles.
Second, it should be noted that the networks we learn from BN analysis do not represent physical networks but instead capture subtle relationships between the states of various genes and their ability to influence the states of others. Nevertheless, in our evaluation of BN performance, we compared our results to physical interaction networks between proteins represented in the KEGG database. We believe this is justified as the hypothesis underlying our work is that the physical relationship captured in gene-product interactions is reflected in transcriptional response and the results we present, showing good correlation between the physical and BN networks provide some validation for this hypothesis.
Finally, one may consider whether the use of seeds biases us toward simply re-learning known networks documented in the literature. While we believe the evidence presented in this manuscript suggests otherwise, even if it were the case, our approach represents an automated way of extracting network graphs from a gene list, refining the graph through the use of expression data, and learning conditional probabilities that can be used to make predictions as to how the system may respond to perturbations. The implications of this for a wide range of problems ranging from mechanistic studies to drug target prioritization remain to be explored.
Conclusion
Ultimately, the value of what we present here will be judged based on its utility. The goal of most systems biology research is the development of predictive, testable models that can be used to infer the properties of biological systems. The seeded BN approach we describe here yields such models and the data we present indicates that the networks we learn do, indeed, reflect the properties of biological systems. While we await further validation of the approach, we believe that seeded Bayesian Networks will be an important new approach for the analysis of genome-scale expression data.
Abbreviations
ALL:

Acute Lymphoblastic Leukemia
AML:

Acute Myeloid Leukemia
BNs:

Bayesian Networks
CPDAG:

complete partially directed acyclic graph
DAG:

directed acyclic graph
DFS:

depth-first search
FN:

false negatives
FP:

false positives
KEGG:

Kyoto Encyclopedia of Genes and Genomes
PPI:

protein-protein interaction
PPV:

positive predictive value
ROC:

Receiver-Operator Characteristic
TP:

true positives
TN:

true negatives.
Declarations
Acknowledgements
The authors would like to thank Simon Berkovich and Fenglong Liu for useful discussions. We would also like to thank Weidong (Wendy) Wong, Eleanor Howe, Joseph White, and Raktim Sinha for assistance with MeV Graphical User Interface implementation and Remco Bouckaert of the WEKA team for helpful guidance with software implementation. This work was supported by grants from the National Heart, Lung, and Blood Institute of the National Institutes of Health, the National Library of Medicine of the National Institutes of Health, and from the Dana-Farber Cancer Institute High Tech Fund.
Authors' Affiliations
(1)
Department of Biostatistics and Computational Biology, Dana-Farber Cancer Institute and Department of Biostatistics, Harvard School of Public Health, Boston, USA
Copyright
© Djebbari and Quackenbush; licensee BioMed Central Ltd. 2008
This article is published under license to BioMed Central Ltd. This is an Open Access article distributed under the terms of the Creative Commons Attribution License (http://creativecommons.org/licenses/by/2.0), which permits unrestricted use, distribution, and reproduction in any medium, provided the original work is properly cited.