Research article

Open Access
Detecting coordinated regulation of multi-protein complexes using logic analysis of gene expression
BMC Systems Biology
2009
3:115
Received: 15 June 2009
Accepted: 14 December 2009
Published: 14 December 2009
Abstract
Background
Many of the functional units in cells are multi-protein complexes such as RNA polymerase, the ribosome, and the proteasome. For such units to work together, one might expect a high level of regulation to enable co-appearance or repression of sets of complexes at the required time. However, this type of coordinated regulation between whole complexes is difficult to detect by existing methods for analyzing mRNA co-expression. We propose a new methodology that is able to detect such higher order relationships.
Results
We detect coordinated regulation of multiple protein complexes using logic analysis of gene expression data. Specifically, we identify gene triplets composed of genes whose expression profiles are found to be related by various types of logic functions. In order to focus on complexes, we associate the members of a gene triplet with the distinct protein complexes to which they belong. In this way, we identify complexes related by specific kinds of regulatory relationships. For example, we may find that the transcription of complex C is increased only if the transcription of both complex A AND complex B is repressed. We identify hundreds of examples of coordinated regulation among complexes under various stress conditions. Many of these examples involve the ribosome. Some of our examples have been previously identified in the literature, while others are novel. One notable example is the relationship between the transcription of the ribosome, RNA polymerase and mannosyltransferase II, which is involved in N-linked glycan processing in the Golgi.
Conclusions
The analysis proposed here focuses on relationships among triplets of genes that are not evident when genes are examined in a pairwise fashion as in typical clustering methods. By grouping gene triplets, we are able to decipher coordinated regulation among sets of three complexes. Moreover, using all triplets that involve coordinated regulation with the ribosome, we derive a large network involving this essential cellular complex. In this network we find that all multi-protein complexes that belong to the same functional class are regulated in the same direction as a group (either induced or repressed).
Keywords
Logic Function
Ribosome Biogenesis
Logic Combination
Gene Triplet
Uncertainty Coefficient
Background
In recent years, systematic experimental studies, such as those using TAP tag Mass-Spec techniques, have provided a draft map of yeast multi-protein complexes [1, 2]. This map shows the composition of the quaternary protein structures in this model organism. The next challenge is to uncover which complexes work together to perform particular cellular tasks. One way to accomplish this is to detect the synchronized regulation of multi-protein complexes.
Coordinated regulation may be defined as a synchronous pattern of increased or reduced mRNA transcription of several cellular multi-protein complexes in response to a given perturbation. Such coordinated regulation of complexes is found when cellular function requires several complexes to be co-expressed or when other complexes need to be repressed for a given complex to function. For example, to achieve proper initiation of the translation process in eukaryotes, numerous cellular multi-protein complexes are regulated in a coordinated fashion. In this process, the initiation factor complexes eIF2, eIF3, and the cap-binding protein complex (eIF4f) associate to bind the ribosomal small subunit complex (40S) (reviewed in [3]). Another example involves the TOR complex 1 (Target Of Rapamycin), a conserved Ser/Thr kinase that regulates cell growth and metabolism in response to nutrients and stress. When nutrients are available, TOR activates complexes related to ribosome biogenesis, translation and nutrient import. In contrast, starvation inhibits TOR activity, thereby inducing various cellular responses such as cell arrest in the early G1 phase, inhibition of protein synthesis, nutrient transporter turnover, transcriptional changes, and autophagy. These responses are all mediated by multi-protein complexes [4, 5].
Intricate relationships among genes and groups of genes (multi-protein complexes) are not captured by simple pairwise correlations; rather, higher order analysis is necessary to derive more detailed relationships. In the past few years diverse methods, such as binary and Bayesian networks, have been developed to derive gene networks (reviewed in [6]). However, these approaches aim to detect co-regulated expression modules among individual genes, while methods to detect co-regulation among groups of genes, such as multi-protein complexes, still need to be developed. In the present study, we apply logic analysis to gene expression data to identify gene triplets related by various types of logic functions [7]. Next, we combine these to study coordinated relationships among multi-protein complexes.
Logic analysis is a method to relate triplets of genes/proteins by certain logic functions based on genomic data. All eight possible logic functions among triplets of genes can be found in Figure
1
and Additional file
1
: Table S1. The triplet logic approach was introduced by Bowers
et al
. [
7
] and applied to genomic data in the form of phylogenetic profiles (described in [
8
]). Subsequently, logic analysis was also applied to find relations between the expression of two genes and disease state phenotypes [
9
]. In the current study, logic analysis is extended and modified for application to gene expression data. The original approach assigned a binary value (0 or 1) to a gene for each organism or gene expression experiment. In this work we use a three state model that describes genes as induced, repressed, or non-regulated. We construct two separate regulatory state vectors for each gene, where one vector describes whether a gene is induced or not over the set of experiments, while the other describes whether the gene is repressed or not (Figure
2
). These vectors are then used to identify gene triplets whose regulation obeys logic functions [
7
]. For example: gene C is induced/repressed if and only if (iff) gene A is induced/repressed and gene B is induced/repressed. We also introduce a P-value for each gene triplet that quantifies the likelihood of obtaining this triplet by chance (see Methods). Next we grouped genes with the same logic function that mapped to the same set of three multi-protein complexes. This type of grouping enables us to infer how the coordinated regulation of these complexes occurs in the cell (Figure
1
).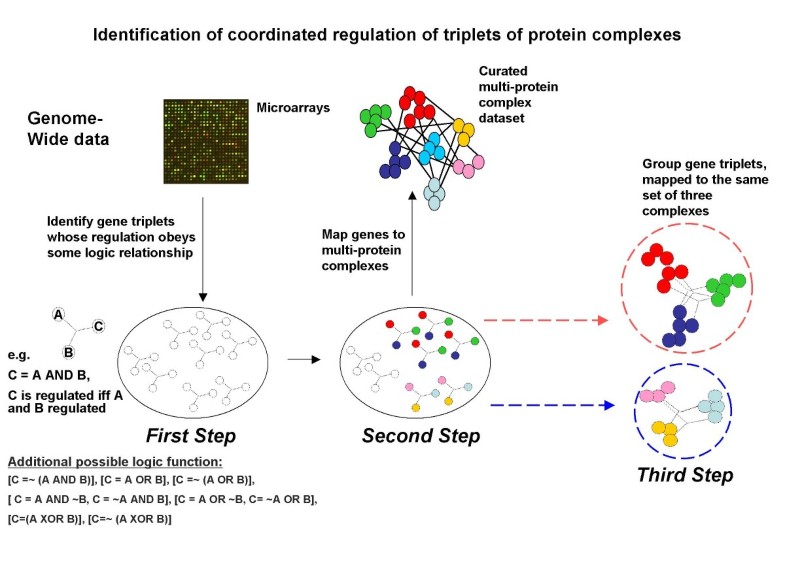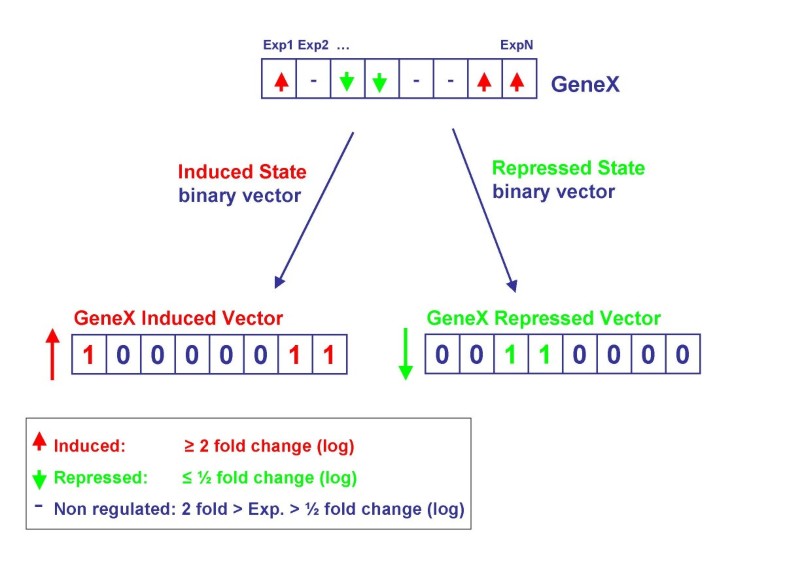 To explore the utility of our approach, we applied triplet logic analysis to yeast microarray data that measures the response of gene expression levels to environmental changes [10]. We identified genes whose regulation obeys triplet logic functions, and mapped these genes to distinct, multi-subunit complexes to infer coordinated regulation between the complexes. Among the many complexes inferred to have coordinated regulation, we discuss examples related to the biogenesis of the ribosome and support them with known regulatory data. In addition, we derive a cellular network of all complexes that have different triplet relationships with the ribosome. This network reveals that in stress conditions, all complexes belonging to the same functional classes are regulated in the same direction (induced/repressed). This observation may suggest the existence of global regulation of numerous cellular multi-protein complexes that belong to the same functional class.
Discussion
In the current study we present a method that offers insights into how the regulation of numerous multi-protein complexes is coordinated. In this method, we apply logic analysis to microarray data to identify gene triplets whose transcription obeys logic functions. We then map these gene triplets to consistent sets of protein complexes. This approach allows us to infer statistically significant coordinated regulation among triplets of protein complexes. This mapping reduces the complexity associated with the analysis of gene triplets and increases the significance in our triplet identifications.
Typically, in the triplets of protein complexes we identify, only subsets of experiments are coordinately regulated among all complexes. Several approaches were previously used to identify genes which function together in subsets of experiments. Ihmels et al. developed the "signature algorithm", a clustering approach, to identify gene regulatory modules [20]. Segal et al. identified regulatory modules and their condition-specific regulators from gene expression data using a probabilistic method [21]. However, unlike these previous methods, the present work identifies higher order relationships between genes. In our work, we specifically focus on relationships between triplets of genes that are not evident when genes are examined in a pairwise fashion. To confirm this point, we analyzed pairwise correlations between the genes in our triplets of complexes and detected significant correlations (P ≤ 0.05) only between pairs of complexes but not among all three. This result was further confirmed by analyzing the rank of the three correlation coefficients among all possible pair-wise complex relations (see Additional file 6: Table S5).
The examples of triplets we discussed demonstrate the biological relevance of our findings. However it is difficult to find a suitable benchmark to globally validate our results since the complexes within our triplets may have distinct biological functions. One possible way to validate our approach is to use synthetic data. To this end, we generated synthetic triplets by creating two random 0/1 vectors and a third vector that matches one of the logical combinations of the pair. A thousand such synthetic triplets were generated to match one of the logic functions AND and XOR and uncertainty coefficients and P-values for each triplet were calculated using our program. As expected, all synthetic triplets were identified as significant (Additional file 7: Table S6). In order to study the robustness of our method, we measured the number of significant complex triplet relations that could be identified based on random subsets of the gene triplets. We found that for both logic types XOR and AND, the drop in significant complex triplets we identified is proportional to the size of the random fraction of logic gene triplet used (Additional file 8: Figure S2).
The microarray data we used in this study measures mRNA levels in yeast cells in response to environmental changes [10]. A recent study using affinity purification of endogenously formed ribosmes and the analysis of associated mRNAs with DNA microarray shows that in stress dependent conditions there is a coordination of transcriptome and translatome in yeast [22]. This recent finding indicates that the coordinated regulation we identified between triplets of complexes based on the mRNA levels of the encoding subunits, may also extend to their protein levels. By focusing on microarray data of environmental stresses we detected coordinated regulation among complexes centering on the ribosome. Because the ribosome is responsible for protein translation, a variety of mechanisms are required to regulate its biogenesis, especially under stress conditions. Similar results were reported in another study by Levy et al. which found that ribosome biogenesis genes responded more to changes in the environment and less to longer-term changes in growth rates [23]. Since the ribosomal subunits 40S and 60S (small and large subunits) are large complexes composed of 57 and 81 subunits respectively [19], the fact that we found many gene triplets that involve the ribosome is not surprising. Although these two subunits function together in the translation machinery, they are usually defined as two separate complexes that are not permanently associated throughout the entire translation process (reviewed in [24]). In addition, we find that these two subunits are independently regulated in different conditions (Figures 5 and 6).
Using all triplets that involve complexes associated with the ribosome (small and large subunits), we derived a network. We found that all multi-protein complexes that belong to the same functional class are regulated in the same direction (either induced or repressed) (Results and Figure 7). This result suggests that the regulation of different complexes may be determined by a master regulatory mechanism that differentially controls multi-protein complex expression, based on function.
In a study by Lichtenberg et al. the authors analyzed the dynamics of complex formation during the yeast cell cycle. The authors found that in many cases (mainly complexes related to replication transcription and cell cycle) only a few subunits of each complex are transcriptionally regulated in order to control the timing of the final assembly. The authors claimed that this general design principle of "just-in-time" assembly would have an advantage over "just-in-time" synthesis of entire complexes since only a few components need to be tightly regulated in order to control the timing of the final complex assembly [25]. In our study many of the complexes which we identified to have coordinated regulation with the ribosome are involved in transcription, translation and energy. When we measured the level of co-expression among the subunits of these complexes (Additional file 3: Table S2), we found that many of them exhibit highly coherent transcription (similar findings reported by Simonis et al. [26]). This may indicate that for complexes that are active across larger time scales, transcriptional regulation affects most subunits. This is different from the regulation observed in complexes involved in cell-cycle activity which need to function during specific time frames, and for which a "just-in-time" assembly mechanism is more suitable. In another study by Teichman et al. the authors found that for a few complexes (e.g. Ribosome, RNA Polymerase, Proteasome) subsets of subunits have conserved co-regulation between yeast and worm [27]. This evolutionary conservation may indicate that although those complexes exhibit highly coherent transcription regulation, tighter regulation might exist between a subset of all the subunits.
Conclusions
The importance of studying relationships between different modules in a cell such as multi-protein complexes has been demonstrated in different studies [28–31]. In our approach we used pre-defined modules in the cell-- multi-protein complexes-- [1, 2] and identified triplets of these whose regulation obeys logic functions. This approach allows us to uncover coordinated regulation among complexes. Understanding this regulation allows us to infer higher-level modes of cellular function and also provides insight into the biological mechanisms underlying coordination between complexes. Our logic analysis can be applied to any transcriptional profiling data. Furthermore, this same methodology may be applied to other types of pre-defined functional modules, such as metabolic pathways.
Methods
Identification of gene triplets whose regulation obeys one of the eight possible logic functions
The uncertainty coefficient U is bounded between 0 and 1. When U = 0, X and Y are not related (independent) and when U = 1 it means that X is fully related to Y. More intuitively we can say that U is the fraction of information about X which can be learned if we know Y.
We also computed P-values which estimate the significance of the uncertainty coefficients (U) compared to those of random triplets. Our random model consisted of shuffled vectors with pair wise distributions maintained. Given three genes A, B and C whose regulation obeys a logic function with a specific U(C|f(A,B)) score, all three vectors A, B and C were randomized while keeping pairwise vector distributions of CA and CB constant.
We require that the pair-wise uncertainty coefficients U(C|A) and U(C|B) be smaller by an amount X than the triplet uncertainty coefficient U(C|f(a,b)). This criterion was chosen in order to identify gene triplets which are not related by pair-wise correlations, as in the approach of Bowers et al. [7]. In this study we chose X = 0.1. Using a Bonferroni correction, P-value ≤ 10-5 corresponds to a false discovery rate of 7.3%.
An extra filtering step was added to find more meaningful gene triplets whose co-expression was identified in a minimum of 10 experiments (5%) which match the logic combination of A and B, f(A,B) and vector C. We also required that this minimum number of experiments be higher than the number of experiments where only gene C or f(A,B) are regulated, to increase our confidence in the ternary over the pairwise relationships.
As some of the gene triplets matched to more than one type of logic function, we retained for each gene triplet only the logic function with the higher U(C|f(A,B)).
More details and exact mathematical formulation can be found in the Additional file 9: Supplemental methods.
The code for identifying logic triplets was implemented in C++ running on OS X and is available upon request.
Mapping gene triplets to the same set of three complexes
In order to identify coordinated regulation among complexes using gene triplets, we first mapped genes onto complexes. For this mapping we used the MIPS curated complex database [19] and added non-redundant curated complexes (unpublished data) from the IntAct group [32]. We removed ambiguous complexes from this data, leaving us with 324 multi-proteins complexes involving 1,462 genes. In the next step we identified multiple gene triplets that mapped to the same set of three complexes (Figure 1, second and third step). The data from MIPS is based on the concept of complexes as static entities, and has a low number of subunits which are shared by more then one complex.
Identifying significant triplets of protein complexes predicted to have coordinated regulation
In order to check how significant the complex triplets are, we calculated the probability of obtaining the same number of gene triplets by chance using the hyper-geometric distribution:
Where x is the number of gene triplets that map to the same set of three complexes, N is the total number of gene triplets whose regulation obeys a logic function, k is the number of all theoretically possible gene triplets mapped to the same set of three complexes and M is all possible (theoretical) gene triplets mapped to any one of all possible sets of three complexes. We then computed the cumulative probability of observing x or more triplets.
Yeast ChIP-chip data
In order to identify genes that bind the same transcription factors, we used ChIP-chip data [33]. The data contain measurements of transcription factor (TFs) target genes which were identified by binding assays. In order to extract out the more reliable TF binding data, we have used MacIsaac et al. [34] filtered data which identifies genes with conserved sequence elements among three Saccharomyces species. The subset we have used (P < = 0.005) includes 116 transcription factors and their 5,752 gene targets.
Abbreviations
TF:

transcription factor
IFF:

if and only if
ChIP-chip:

Chromatin ImmunoPrecipitation-chip
TOR:

Target Of Rapamycin
Declarations
Acknowledgements
We thank Esti Yeger-Lotem, Ruth Hershberg, Lukasz Salwinski, James Stroud, Debnath Pal and David Sprinzak for useful suggestions and NIH, DOE, and HHMI for support. E.S. was supported by Ruth L. Kirschstein NRSA fellowship (NIH)
Authors' Affiliations
(1)
UCLA-DOE Institute for Genomics and Proteomics, University of California Los Angeles, Los Angeles, USA
(2)
Department of Molecular, Cell, and Developmental Biology, University of California Los Angeles, Los Angeles, USA
(3)
Department of Chemistry and Biochemistry, University of California Los Angeles, Los Angeles, USA
(4)
Howard Hughes Medical Institute, University of California Los Angeles, Los Angeles, USA
Copyright
© Sprinzak et al; licensee BioMed Central Ltd. 2009
This article is published under license to BioMed Central Ltd. This is an Open Access article distributed under the terms of the Creative Commons Attribution License (http://creativecommons.org/licenses/by/2.0), which permits unrestricted use, distribution, and reproduction in any medium, provided the original work is properly cited.