Research article

Open Access
mRNA stability and the unfolding of gene expression in the long-period yeast metabolic cycle
BMC Systems Biology
2009
3:18
Received: 11 July 2008
Accepted: 06 February 2009
Published: 06 February 2009
Abstract
Background
In yeast, genome-wide periodic patterns associated with energy-metabolic oscillations have been shown recently for both short (approx. 40 min) and long (approx. 300 min) periods.
Results
The dynamical regulation due to mRNA stability is found to be an important aspect of the genome-wide coordination of the long-period yeast metabolic cycle. It is shown that for periodic genes, arranged in classes according either to expression profile or to function, the pulses of mRNA abundance have phase and width which are directly proportional to the corresponding turnover rates.
Conclusion
The cascade of events occurring during the yeast metabolic cycle (and their correlation with mRNA turnover) reflects to a large extent the gene expression program observable in other dynamical contexts such as the response to stresses/stimuli.
Keywords
Transfer Function
Half Life
Gene Expression Program
mRNA Concentration
Laplace Domain
Background
Ultradian self-sustaining energy-metabolic oscillations arising spontaneously in high density Saccharomyces cerevisiae continuous cultures exposed to glucose-limited growth have been known and studied for decades [1, 2], and have more recently been observed to induce genome-wide periodic patterns in different series of microarray experiments [3, 4], although with widely different periodicities, ~40 min for [3] and ~300 min for [4].
Many studies aim at understanding the mechanisms inducing these sustained oscillations and the rigorous temporal compartmentalization they induce, see [5, 6] for surveys. Suggested causes range from a single critical pathway (like the feedback effect of cysteine on the sulfur assimilation pathway [7]) to the alternation of aerobic and anaerobic respiratory modes (as deduced by the fluctuations in the concentration of dissolved O2 and of other observed metabolites [4]), from the interaction with cell cycle [8, 9] to the mutual incompatibility of different redox biochemical processes [10, 11].
The scope of this work is to emphasize a different aspect, intrinsically dynamical and post-transcriptional, which is likely to play an important role in the coordination of the "slower" yeast metabolic cycle (YMC) of [4], namely mRNA stability. We will show that there is a roughly linear relationship between the average half life (HL) of the transcripts, clustered according to expression or function, and the phase at which their concentration peaks in the cycle. More generally, there seems to be a strong correlation between HL and the shape of the pulses of gene expression: genes with short HL have short and sharp (almost impulsive in the time scale considered) pulses, while genes with long HL have pulses that are not only delayed but also broader and with more gentle slopes.
In recent years, post-transcriptional control is being recognized as an important aspect of gene regulation, especially in eukaryotic DNA, which lacks operonal structure [12–15]. It can occur in many guises, through mRNA turnover [16–20], or through "RNA regulons" [21] i.e., groups of genes coordinately guided in the RNA processing, localization and protein synthesis by RNA-binding proteins (RBPs) [22, 23], or even through the mediation of a metabolic substrate (typically a nutrient [24–26] or an enzyme [27]). Our result confirms the importance of post-transcriptional control, and points at mRNA turnover as a regulatory mechanism at a genome-wide level. Its peculiarity consists in putting the time axis into the picture in an intrinsically dynamical way. Consequently, in order to be observed, it requires times series sampled at a sufficiently high frequency and dynamics in the right time window, a combination seldom occurring in current expression profiling datasets. So for example the correlation between HL and phase/shape of the oscillations cannot be observed in the much faster YMC of [3], where HL and the period are of comparable duration, hence the system has no time to decay before the arrival of the next wavefront.
In order to emphasize the dynamical aspects, we shall treat the YMC as the time response of a genome-wide dynamical system to a sequence of impulsive "inputs" of transcription activation. We will show that grouping genes in terms of progressively delayed and broadened responses to a sequence of "input pulses" of transcriptional activation allows to see in a remarkably fine detail the causal chain of events constituting the transcriptional program of the cell. The few ambiguities resulting from this classification can be interpreted in terms of some other annotation, typically compartmental localization.
In the following we shall proceed in two complementary ways: first the YMC time series are clustered in a completely unsupervised manner, only according to gene expression. The linear relationship between pulse phase (also pulse width) and HL then emerges in a straightforward way. Next, we consider families of genes whose products share some common annotation, for example genes on the same pathway or genes that are subunits of the same protein complex, and look at the type of time series they produce and at their "position" along the YMC.
Both approaches confirm that the YMC represents an organized cascade of events, in response to precisely equispaced bursts of transcriptional activation, with the temporal order reflecting the transcript turnover rate. Extrapolating from the specific YMC context, this cascade of events is observable to a good extent also in other gene expression time series (such as the response to a pulse of nutrient of [28], or the stress responses of [29]), suggesting it might reflect a prototypical dynamical mode of action of transcriptional response.
Results and discussion
The ~2000 genes labeled as periodic by a periodogram test are subdivided into 16 clusters, see Fig.
1
. In Fig.
1(a)
the clusters are sorted in increasing order of HL (computed as the average of the HLs of the cluster elements). It is immediately evident that the typical profiles, both in terms of the phase of the peaks (for each gene the phase is computed maximizing the correlation with respect to a train of shifted sinusoids) and of their width (although in a less regular way) is modified in an almost continuous manner as we move along the clusters figures. Notice in particular how the peaks of the first clusters match the "valleys" of the last ones. For the average phase on each cluster, the phase/HL relationship is almost linear (Fig.
1(b)
). The scatter plot in (d) confirms this linear proportionality, but also shows a growing variance along the HL axis (see Table
1
for details). The deviations from linearity of clusters 6 and 9 admit a reasonable explanation, mostly in terms of compartmental localization. Cluster 6 is essentially composed of retrotransposons (all Ty1 and Ty2) and long term repeat mRNAs (mostly of
δ
type) for a total of 73 out of 102 genes. For most of these genes (59) an HL measure is missing. Hence the average HL for this cluster (and this cluster alone) may be biased or unreliable. Cluster 9 instead is almost entirely composed of cytoplasmic ribosomal subunits (109 out of 151 genes). In between, Clusters 7 and 8 contain to a large extent genes with mitochondrial localization and/or function (mitochondria organization and biogenesis, protein import into mitochondrial matrix, oxidoreductase activity for Cluster 7, mitochondrial ribosomes, envelope and membranes for Cluster 8). As is explained in detail in the next paragraph, the large deviation from linearity seen in Cluster 9 can be due to an extremely fast and short lived response of the mRNAs deputed to the biosynthesis of the cytoplasmic ribosomal complexes, not deducible from the available HL data, neither from the current literature (in [
30
] it is affirmed that cytoplasmic ribosomal genes tend to be stabilized by nutrient uptake). Although less precise, also the relation between HL and pulse width on each cluster (Fig.
1(c)
) is approximately linear. Unlike the phase/HL proportionality, this last result is expected from simple dynamical considerations, as longer HL means longer "kernel width", see also the dynamical model explanation below. The emergence of a linear relation between HL and phase once the genes are arranged in classes according to profile similarity suggests that a corresponding cascade of causally organized events may be taking place during the YMC. To some extent this is already visible through an ontological analysis of the clusters of Fig.
1
(see Table
1
), but in order to investigate more in detail the biological meaning and significance of such a genomic "assembly line" we computed HLs, phases and pulse widths along the main yeast pathways and for some of the annotated yeast protein complexes. The data for the pathways (see Fig. S2 in Additional file
1
) are then lumped together into the 15 functional macrocategories shown in Fig.
2
. In terms of these macrocategories (sorted by phase), the result is that the mRNAs activation reflects tightly the gene expression program expected to take place in the cell, especially for the "fast" categories, i.e., transcription, nucleotide metabolism and translation starting essentially synchronously in the time scale of the YMC, followed by DNA replication and repair and amino acid metabolism. Progressing further toward the slow processes, one encounters the metabolism of energy, carbohydrates and lipids. Also for this classification, the progression in terms of phase along the cycle is substantially faithful to the increase in HL (in the top plot of Fig.
2(b)
the most significant outlier is still the category "translation" already mentioned, see also Fig.
3
), and the progression in phase is paralleled by an increase in pulse width (see bottom plot of Fig.
2(b)
).
Table 1
Statistics for the 16 clusters for Fig. 1
cl.

genes

HL

phase

width

ontology

mean

std

mean

std

mean

std

1

101

13.26

(9.54)

32.4

(9.4)

2.2

(0.56)

RNA, rRNA, and tRNA processing and metabolism, ribosome biogenesis and assembly

2

58

16.02

(19.07)

26.3

(7.6)

2.3

(0.66)

RNA, rRNA and tRNA processing and metabolism, RNA helicase, ribosome assembly

3

101

16.46

(8.65)

43.3

(15.4)

2.1

(0.65)

RNA polymerase, translation initiation, regulation, and termination, nucleotide biosynthesis

4

34

19.44

(10.19)

98.2

(9.7)

6.3

(3.54)

transferase activity, DNA replication, cell cycle

5

102

22.99

(10.27)

67.7

(11.8)

3.3

(1.95)

glycine metabolism, nitrogen and sulfur metabolism, amino acid biosynthesis

6

102

24.59

(11.67)

177.4

(51.0)

5.2

(3.43)

retrotransposons, long term repeats

7

124

24.59

(13.45)

109.6

(15.8)

5.0

(2.88)

mitochondrial membrane organization and biogenesis, mitochondrial transport

8

151

24.72

(11.80)

128.3

(9.4)

7.6

(2.96)

mitochondrial ribosome, envelope, and membranes

9

232

25.76

(13.78)

44.8

(22.5)

2.6

(1.46)

cytoplasmic ribosomes, translation processes

10

154

28.34

(16.36)

169.7

(20.3)

6.0

(3.59)

ion/cation transmembrane transport, electron transport, oxidative phosphorylation

11

230

31.99

(19.05)

246.7

(35.5)

5.4

(3.90)

endopeptidase activity, protein catabolic process, proteasome, actin filament organization, glycolysis, gluconeogenesis

12

65

32.69

(18.68)

214.8

(14.8)

5.5

(2.28)

lipid and alcohol metabolic process, peroxisome

13

223

38.24

(28.35)

245.8

(12.6)

9.2

(3.71)

kinase activity, vacuolar transport, membrane organization and biogenesis

14

128

39.10

(29.27)

285.5

(16.1)

10.1

(4.19)

arginine biosynthesis, protein folding

15

117

42.83

(28.02)

258.7

(11.5)

10.2

(4.59)

hydrolase activity, fatty acid oxidation, cytokinesis

16

29

45.74

(26.30)

307.8

(15.1)

8.7

(2.84)

catalytic activity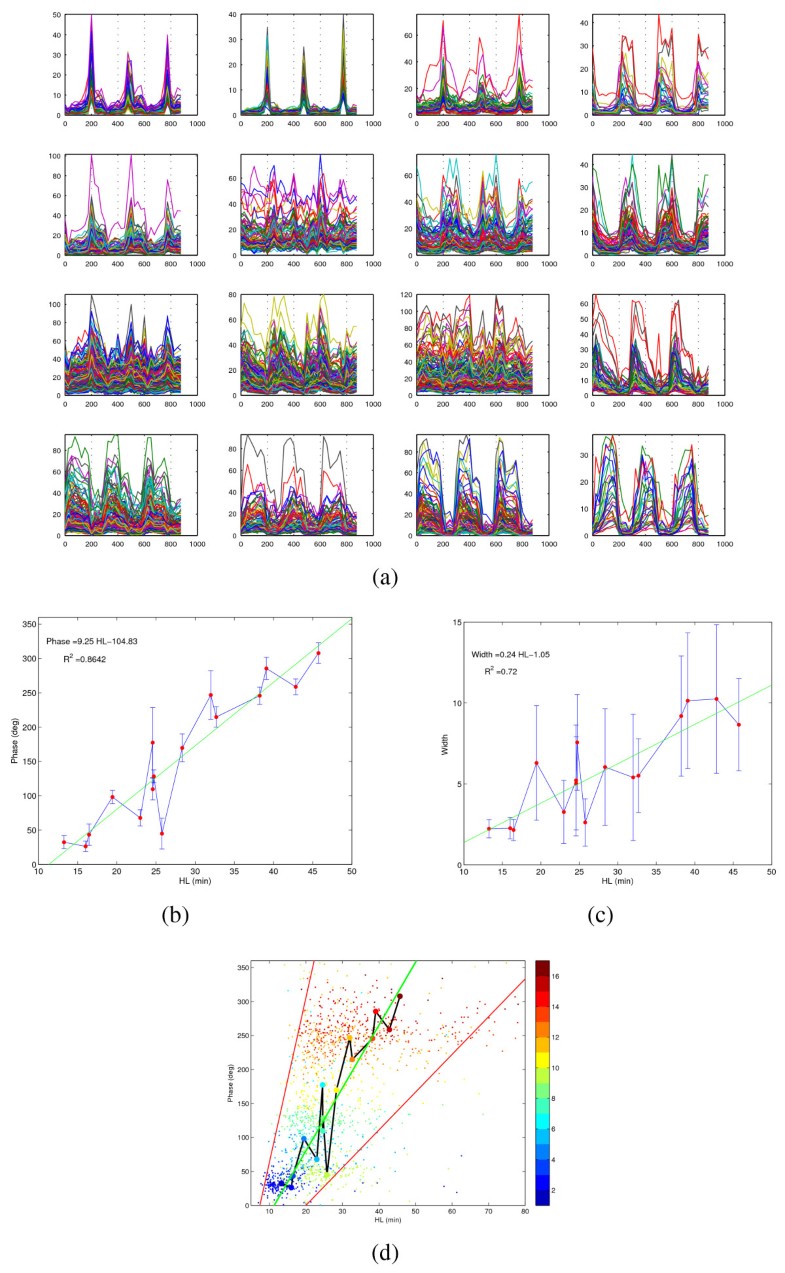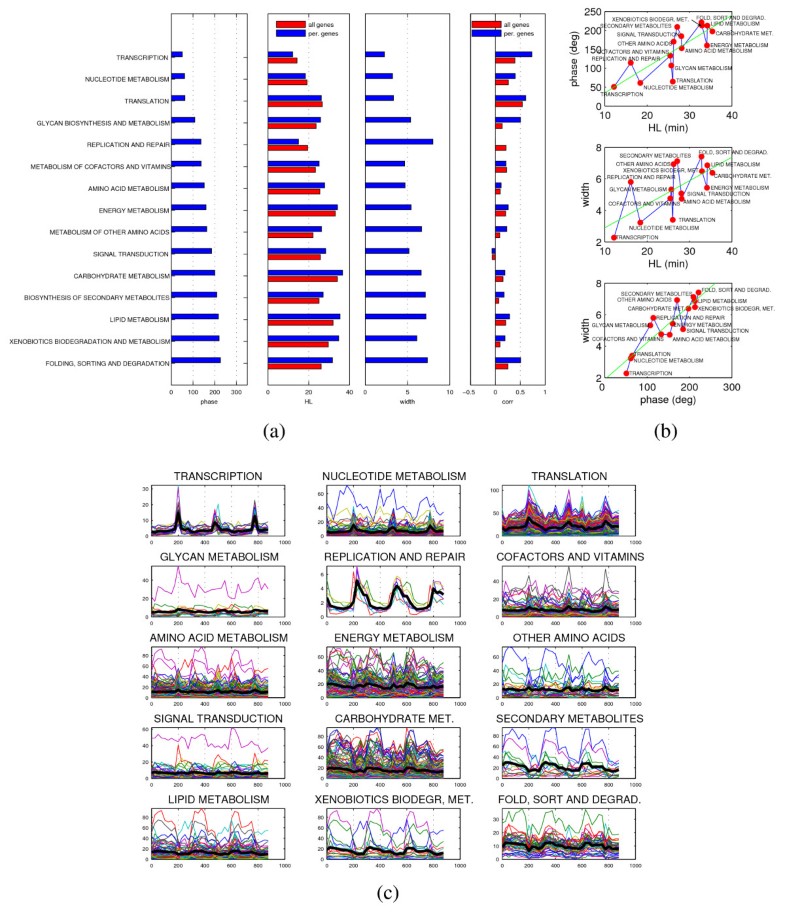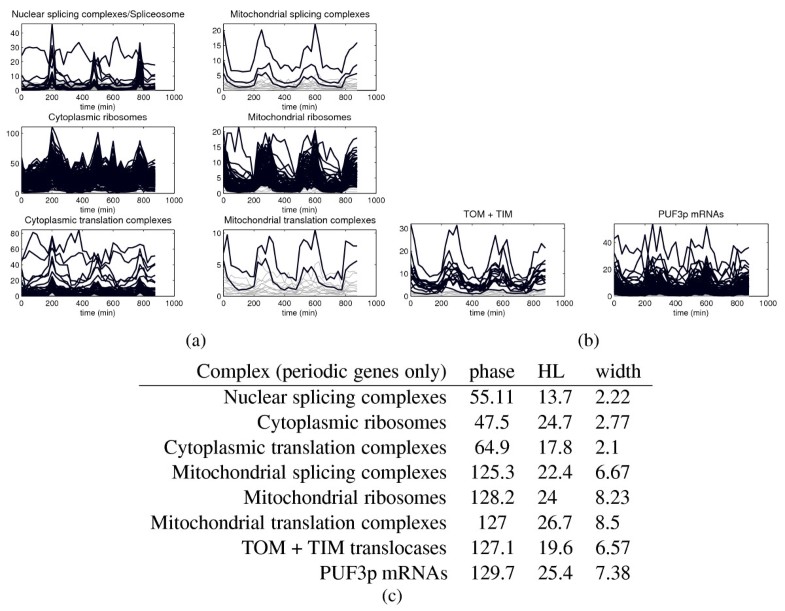 Conclusion
In [4, 39] the time compartmentalization of the cycle is interpreted in terms of the need to accumulate sufficient products from the metabolic reactions in order to move on to the next phase of the cycle and to autoinduce further cycles of oscillations. This picture is not contradicted by our observations.
If, as we do in this paper, rather than looking at the YMC merely as cyclic oscillations, we study it as a highly organized dynamical response to pulses of transcriptional activation, then this response can be analyzed in much more detail at genome-wide level and we can observe how an important role in the coordination seems to be played by the mRNA turnover rate. The self-sustained character of what we consider the most upstream event of the cycle, the transcriptional activation burst, can still be conditioned to the accumulation of the required metabolites, while the unfolding of the cycle, which from the analysis of [4] is already known to be functional to the distribution of e.g. the redox load of the cells, is enriched of an extra, intrinsically dynamical feature. This feature is a fine-graded detail of our notion that genes with a fast turnover are typically regulatory, while slow genes are enzymatic and metabolic [15, 19]. It can be used to describe the sequence of events occurring in the YMC as a "natural" gene expression program.
Extrapolating from the specific YMC context, the ordered pattern of events described for the YMC is to a good extent similar to that found on other intrinsically dynamical contexts such as the stress/stimuli responses. Whether the mRNA stability is the cause of this coherent behavior or is simply another effect of a more profound regulatory mechanism is a question to which we cannot provide a definitive answer at the moment.
Abbreviations
HL:

half life
KEGG:

Kyoto Encyclopedia of Genes and Genomes
RBP:

RNA-binding protein
TF:

transcription factor
YMC:

yeast metabolic cycle.
Authors' Affiliations
(2)
Università degli Studi di Roma "La Sapienza", Roma, Italy
Copyright
© Soranzo et al; licensee BioMed Central Ltd. 2009
This article is published under license to BioMed Central Ltd. This is an Open Access article distributed under the terms of the Creative Commons Attribution License (http://creativecommons.org/licenses/by/2.0), which permits unrestricted use, distribution, and reproduction in any medium, provided the original work is properly cited.