Research article

Open Access
Kinetic modeling and exploratory numerical simulation of chloroplastic starch degradation
BMC Systems Biology
2011
5:94
Received: 11 November 2010
Accepted: 18 June 2011
Published: 18 June 2011
Abstract
Background
Higher plants and algae are able to fix atmospheric carbon dioxide through photosynthesis and store this fixed carbon in large quantities as starch, which can be hydrolyzed into sugars serving as feedstock for fermentation to biofuels and precursors. Rational engineering of carbon flow in plant cells requires a greater understanding of how starch breakdown fluxes respond to variations in enzyme concentrations, kinetic parameters, and metabolite concentrations. We have therefore developed and simulated a detailed kinetic ordinary differential equation model of the degradation pathways for starch synthesized in plants and green algae, which to our knowledge is the most complete such model reported to date.
Results
Simulation with 9 internal metabolites and 8 external metabolites, the concentrations of the latter fixed at reasonable biochemical values, leads to a single reference solution showing β-amylase activity to be the rate-limiting step in carbon flow from starch degradation. Additionally, the response coefficients for stromal glucose to the glucose transporter kcat and KM are substantial, whereas those for cytosolic glucose are not, consistent with a kinetic bottleneck due to transport. Response coefficient norms show stromal maltopentaose and cytosolic glucosylated arabinogalactan to be the most and least globally sensitive metabolites, respectively, and β-amylase kcat and KM for starch to be the kinetic parameters with the largest aggregate effect on metabolite concentrations as a whole. The latter kinetic parameters, together with those for glucose transport, have the greatest effect on stromal glucose, which is a precursor for biofuel synthetic pathways. Exploration of the steady-state solution space with respect to concentrations of 6 external metabolites and 8 dynamic metabolite concentrations show that stromal metabolism is strongly coupled to starch levels, and that transport between compartments serves to lower coupling between metabolic subsystems in different compartments.
Conclusions
We find that in the reference steady state, starch cleavage is the most significant determinant of carbon flux, with turnover of oligosaccharides playing a secondary role. Independence of stationary point with respect to initial dynamic variable values confirms a unique stationary point in the phase space of dynamically varying concentrations of the model network. Stromal maltooligosaccharide metabolism was highly coupled to the available starch concentration. From the most highly converged trajectories, distances between unique fixed points of phase spaces show that cytosolic maltose levels depend on the total concentrations of arabinogalactan and glucose present in the cytosol. In addition, cellular compartmentalization serves to dampen much, but not all, of the effects of one subnetwork on another, such that kinetic modeling of single compartments would likely capture most dynamics that are fast on the timescale of the transport reactions.
Keywords
MaltoseStarch GranuleMaltotrioseStarch DegradationResponse Coefficient
Background
Insolation is the dominating contributor to a sustainable terrestrial energy balance, whether directly captured or transformed into secondary sources such as wind or biomass. Plants have evolved to use this resource to provide themselves with the low-potential carbon necessary for growth by splitting water and fixing carbon dioxide, a known greenhouse gas. During the light photosynthetic reactions, more carbon can be fixed than can be productively marshalled for growth, and cells store this excess carbon in compact polymers such as starch. Chloroplastic starch is stored in the form of granules [1] that consist of both linear and branched polymers of glucose; the process of phase transfer between the granule and the aqueous chloroplast stroma is not known in great detail, although phosphorylation by glucan water dikinase [2, 3] and phosphoglucan water dikinase [4, 5] may be involved. Amylopectin, the major component of starch, is moderately branched, comprises the majority of starch mass, and is responsible for the crystallinity of starch granules. Essentially unbranched amylose, on the other hand, is amorphous and constitutes up to 30% by weight of starch, depending on culture status [6]. The backbone of both polymers arises from α-1,4 glycosidic bonds; the α-1,6 branches of amylopectin occur every 24 to 30 glucose units.
Much remains unknown about the biochemical pathway for starch degradation in plants and algae. Smith, et al. have proposed a pathway of starch degradation in Arabidopsis thaliana leaves, whereby starch is released from the granule in a soluble form, then debranched to yield soluble linear glucans in the chloroplast stroma [1, 7]. Two mutually alternative degradation pathways can then cleave the linear glucans. In the first, chloroplastic glucan phosphorylase catalyzes the phosphorolytic release of glucose-1-phosphate [8, 9], which is cleaved to triose phosphate and the latter antiported in exchange with cytosolic inorganic phosphate [10]. In the second, β-amylase hydrolyzes linear glucans to maltose and maltotriose. Recent results show this second pathway to be more usual in the Arabidopsis thaliana chloroplast [1, 11, 12]. β-amylase releases maltose from the non-reducing ends of linear glucan chains at each catalytic turnover [1], but cannot act on chains of less than four glucosyl units, leading to maltotriose as a by-product of β-amylolytic degradation. Although generally functioning as a predominantly hydrolytic enzyme in vivo, β-amylase from sweet potato has been shown to catalyze the condensation of maltose to maltotetraose in vitro[13].
Once liberated, maltose and maltotriose can enter chloroplastic and cytosolic carbon pathways. Strong experimental evidence suggests that maltose is exported from the chloroplast stroma to the cytosol by the MEX1 transporter [14]. Cytosolic transglucosidase DPE2 [15–17] can split the transported sugar, glucosylating a soluble endogenous acceptor [1] and freeing glucose. A possible candidate for this acceptor is a soluble arabinogalactan [18, 19] that serves as a glucosylation substrate of cytosolic glucan phosphorylase in vitro with glucose-1-phosphate as the donor [1, 18]. DPE2 and reversible glucan phosphorylase acting together may therefore result in maltose-derived glucose-1-phosphate. The maltotriose product of chloroplastic β-amylase may be acted upon by a disproportionating enzyme (α-1,4 glucanotransferase, DPE1) [20] catalyzing the disproportionation of two maltotriose molecules to glucose and maltopentaose, that can in turn be cleaved by β-amylase to produce maltotriose to re-enter the disproportionation reaction and maltose to be transported out of the stroma. At the catabolic end of starch degradation, cytosolic glucose is phosphorylated at C6 by hexokinase [1, 21] for entry into general cellular metabolism.
There currently exists no mathematical model of starch degradation pathways that includes the details discussed in the previous paragraphs. We therefore report the development of a detailed ordinary differential equation (ODE) model that includes most of the biochemical reactions discussed above, and detailed kinetic mechanisms captured from the scientific literature, presumed by direct comparisons, or postulated within the range of characterized mechanisms and parameter values. This approach of hypothesizing unknown values differs from flux balance [22, 23] or energy balance [24, 25] approaches, where extrema in carefully crafted (i.e., the setting of lower and upper bounds, and construction of the objective function(s)) flux spaces are evaluated. Almost all biochemical reactions are catalyzed by enzymes that can saturate, respond non-linearly to changes in metabolite concentrations, and comprise components of a reaction network capable of dynamic evolution outside of the steady-state assumption. Although insightful results have been obtained from several studies [26–28] on specific metabolic pathways incorporating known enzyme kinetics, the most promising features of the current modeling approach are a greater understanding of potential nonlinear network dynamics, and the possibility of characterizing the high-dimensional space of metabolic responses with respect to enzyme concentrations and parameters using modern high-performance computing.
The current model focuses on steady-state solubilized starch catabolism. A starch degradation model previously postulated [
1
] did not include the effective competition for β-amylase of maltose condensation to maltotetraose [
13
]; the effects of this alternative sink reaction on β-amylase turnover have been included in the present model by inclusion of an inhibition term as previously formulated by Shiraishi and coworkers [
29
]. The biochemical reactions in the current starch degradation model have been schematically represented in Figure
1
. Enzyme kinetic parameters are taken from reported values, calculated from Haldane relations [
30
], or assigned reasonable values within the relatively limited range of known values for the particular parameter in question.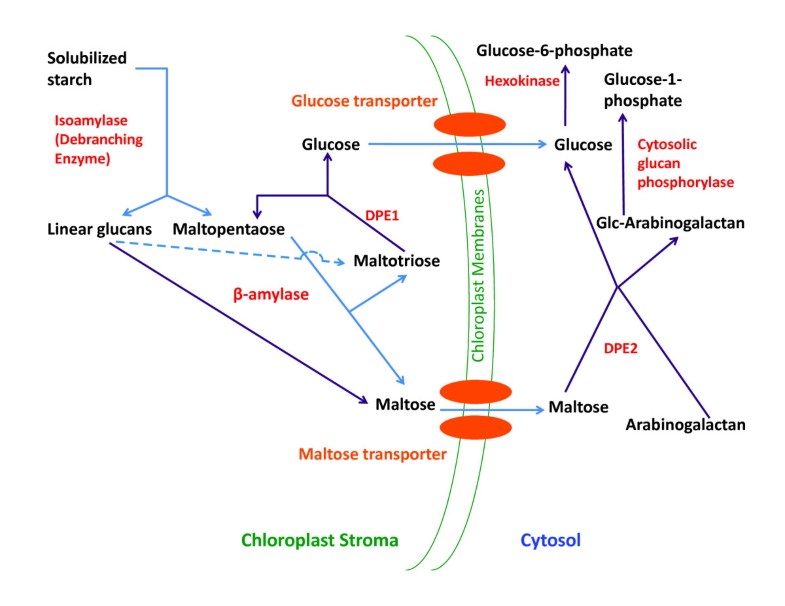 Discussion
Several observations arise about starch biochemistry and general metabolic simulation from the modeling and simulation of soluble starch degradation kinetics described above. First, reversible β-amylase action on starch should be incorporated to account for lower starch hydrolysis rates upon maltose accumulation, such as that seen in the A. thaliana mex1 mutant lacking the maltose transporter (MEX) that accumulates abnormally high levels of maltose and has reduced rates of starch degradation [1, 34]. Maltose has also been reported to inhibit some β-amylases at high concentration [35]. Alternatively, the reduction in starch degradation rate in the mex1 mutant might arise from multi-oligosaccharides inhibiting an enzyme involved in the attack on the starch granule, possibly by competing with granular starch for a starch-binding domain required for attack on the granule [1, 36]. This is supported by experimental observations that the Arabidopsis dpe1 mutant, lacking the chloroplastic disproportionating enzyme required for maltotriose metabolism, also exhibits reduced starch degradation rate [1, 20]. This mode of inhibition is outside the scope of the model, but is effectively captured by the reversibility of β-amylase kinetics acting on soluble starch.
The model herein is based on the starch degradation pathway postulated by Smith, et al. [1], which suggests that starch granules are solubilised to yield soluble branched glucans that are then degraded by debranching and β-amylase enzymes. The mechanism by which the solubilization occurs is not well understood and is likely to involve two dikinases—glucan water dikinase (GWD) [2, 3] and phosphoglucan water dikinase (PWD) [4, 5]. An alternative pathway might involve the direct attack on the starch granule by β-amylase [1]. Although β-amylase cannot hydrolyze linkages beyond branch points, it could act in tandem with a debranching enzyme to degrade starch granules gradually and directly to maltose and maltotriose. In such a case, the actions of the two dikinases GWD and PWD would determine the extent to which β-amylase can attack chains at the granule surface, since the distribution of the phosphate groups added to amylopectin by these enzymes would reduce the degree of crystalline packing of chains inside the starch granules [37]. Such a pathway would result in formation of solution-phase malto-oligosaccharides directly from insoluble starch granules without the intermediacy of soluble branched and linear glucans. Although earlier studies indicate that β-amylase is incapable of degrading native starch granules [38, 39], a chloroplastic β-amylase from potato leaves was recently shown [40] to release malto-oligosaccharides from potato tuber starch granules, which lends credibility to the alternative starch degradation pathway. If β-amylase catalysis of insoluble starch cleavage is possible, the current model can be interpreted as capturing this in an effective way; however, the β-amylase kinetics would need to be re-examined and likely reformulated to accurately capture all the subtlety of this more physically complex process.
A second related conclusion is that flow from soluble photosynthetically fixed carbon stores into metabolic pathways of interest in biofuel production is likely primarily limited by the cleavage of the linear polymer to oligomers, and not by subsequent reactions or debranching. This conclusion certainly depends on expression levels and characteristics of enzymes in particular cases, but is supported by our best estimate of biochemically relevant conditions herein, as well as the correlations among simulation end-points representing a reasonably wide range of conditions (100 nM to 1 mM of 8 free initial and 6 fixed concentrations). Experimental investigations have suggested that the solubilisation of starch granules, rather than the hydrolysis of solubilised starch, might constitute the overall limiting step in starch degradation at low temperature [39, 41, 42]. Although potentially capturing such direct starch cleavage qualitatively as noted above, the model herein focuses on biochemical processes after starch solubilization. The β-amylase rate limitation identified is thus relative to subsequent solution processes only. This conclusion is supported by experimental observations [1, 43] that β-amylase activity is strongly correlated to a decrease in starch during fruit ripening in banana plants, and that knockout mutants in A. thaliana lacking one of the chloroplastic β-amylases show lowered rates of starch degradation.
A third observation is that transport reactions can serve as a kinetic bottleneck, as seen in the strong negative response coefficients of stromal glucose with respect to the glucose transporter k cat (Figure 2) and concentration (Figure 8), and strong positive response coefficients versus K M (Figure 2). Stromal glucose response stands in contrast to that of cytosolic glucose, which is insensitive to any parameters other than the hexokinase equilibrium constant. The latter behavior arises as a consequence of rapid equilibration of cytosolic glucose with the glucose 6-phosphate pool mediated by hexokinase, which mimics rapid glucose flux into downstream carbon sinks. The relative sluggishness of transport can thereby dampen the sensitivity of metabolite concentrations in one compartment from the effects on reactions in another organelle. Such a conclusion is intuitive from topological considerations (two networks are connected by few edges, so requiring perturbations to propagate linearly through at least one reaction step), as well as kinetic ones (to the extent that transport is limiting, fast dynamics on one side of the reaction will not be visible to the other). One can surely devise exceptional cases, and a quantitative elucidation of this statement requires further exploration, but the results here lend support to the validity of a "divide-and-conquer" approach to cellular dynamical studies, with explicit consideration of single membrane-bound compartments or phases coupled by an effective variation of transport flux at the network boundaries, rather than explicitly by large-scale, multicompartment dynamics. It should be noted that the irreversible formulation of transport we have employed naturally limits the degree to which this model can be generalized—situations without strong downstream cytosolic glucose demand would not be well represented, nor special cases in which dynamic glucose or maltose transients in the cytosol occur, since these effects could not be communicated through the transporters to the stromal metabolite pools.
A fourth conclusion may be summarized as a critique of what appears to be an implicit assumption that a single steady state resembling a handful of observations is necessarily the most important. To the degree that enzyme kinetics measured in vitro reflects turnover response to metabolite concentrations in vivo, kinetic models similar to that presented here are large dynamical systems linear in flux, but nonlinear in concentration. Such dynamical systems potentially possess great complexity, not only with respect to bifurcations as parameters vary, but also with respect to the phase space of concentrations under a single assumed set of parameters. A system infinitely "robust" with respect to temporally varying metabolite concentrations would indeed evolve toward a single unique steady state starting from anywhere in the relevant phase space dictated by catalyst concentrations and kinetic properties. The system explored herein behaves robustly with respect to the initial concentrations of internal metabolites, and with respect to perturbation of kinetic parameters and enzyme concentrations. Changing the latter for β-amylase and MEX by up to 10-fold resulted in quantitatively similar steady-state response coefficients. From a biological control perspective, this robustness is desired—variation of enzyme levels arising from genetic regulation or post-translation modification should not give rise to catastrophic divergence of the cellular state. This robustness is also favorable for evolutionary or in vitro metabolic engineering, in that changing the nature of the phase space by mutagenic kinetic parameter variation will not lead to lethal cellular phenotypes. Nevertheless, given the complexity of biochemical regulation and chemical dynamics, we expect some surprises as biochemical models grow in fidelity, high-performance simulation and advanced analytical tools become available, and cross-disciplinary fertilization occurs between biochemists and mathematicians with interests in system dynamics.
Simulation of broadly sampled model concentrations and subsequent trajectory end-point analysis showed correlation patterns consistent with the topology of the model metabolic network. This approach was found to be useful in identifying certain relationships, such as tight coupling of stromal metabolism, relative convergence values between classes of simulations (high and low starch, low and high ATP and orthophosphate), and sensitivity of internal metabolite concentrations (steady-state maltose concentration dependence on arabinogalactan and glucose levels in the cytosol). Although computational studies of large-scale kinetic systems of the complexity found in cells is still in its infancy, the dual contemporary interests in parallel and data-intensive computing is opening the door to discovering unforeseen behaviors and patterns in biochemical networks. The work here has only touched on the full content of even this small metabolic model—simply exploring the appropriate cellular context by varying bath metabolite pool sizes, and potential multiplicity of fixed points by varying initial internal metabolite concentrations, generates a substantial quantity of data requiring significant analysis effort. Nevertheless, bringing metabolic engineering on par with traditional engineering disciplines will require thorough quantitative understanding of both system dynamics, and the effects of parametric variability beyond values that nature provides. This transformation will be facilitated by further development and adaptation of analytical and visualization methods for biochemical systems analysis.
Conclusions
Construction and characterization of a kinetically detailed model of starch metabolism shows that β-amylase activity is the limiting factor in saccharide production under conditions of high glucose demand, using best estimates for kinetic parameters and enzyme levels. Sensitivity analyses and sampling of internal and external metabolite concentrations and clustering analysis of fixed-time simulation endpoints showed that soluble starch levels are the main determinant of debranched starch and maltooligomer levels in the chloroplast stroma, but that transport reactions partially decouple the cytosolic chemical subsystem directing carbon flow to downstream sinks. The most tightly converged end points illustrate a role for the metabolically coupled arabinogalactan/glucosylated arabinogalactan pair and cytosolic glucose levels in determining steady state maltose levels. No evidence for multistationarity was found. The model and explorations described highlight areas in starch metabolism for deeper study and experimental testing, as well as potential opportunities for methodological advancement.
Methods
Model Formulation: Nomenclature of Metabolites, Enzymes, Transporters, and Parameters
Compound abbreviations are defined in Tables 1 and 2. The intracellular compartment in which a compound or enzyme resides is denoted by a two-letter suffix preceded by the underscore sign, with "_CY" denoting cytosolic and "_CS" a chloroplast stromal species. Where ionization is possible, pools of ionizable species containing all the biologically occurring ionized and un-ionized forms are appended with a "tot" subscript. For example, the pool of phosphate in the cytosol is represented as Pitot_CY. For polymeric starch, when a single residue of the polymer—the starch glucosyl unit—constitutes a separate model entity, the residue identity is represented as GlcStarch_CS. The aggregate pool of linear linkage groups released from solubilized starch by the action of the debranching enzyme is assigned the abbreviation Starchdb_CS. The enzymes are usually represented using their Enzyme Commission (EC) numbers, such that the enzyme names consist of the prefix "ec_" followed by the EC number with the dots substituted with underscores. Thus, the chloroplastic form of the disproportionating enzyme 1 DPE1 with EC number 2.4.1.25 is therefore represented as ec_2_4_1_25_CS.
Kinetic parameters are generally referred to with appropriate formatting in the text, e.g., β-amylase

for the turnover number of β-amylase acting on starch as a substrate. For figure labels, an alternative nomenclature was used for simplicity in formatting. Thus, β-amylase

is referred to as "betaAmylase_Gn_kcat". Differing parameters for alternative substrates are denoted by superscripted parentheticals, so the kcat parameters for starch (Gn) and maltopentaose (G5) degradation by β-amylase are denoted by

and

, respectively. The names of the enzyme kinetic parameters and equilibrium constants for the cytosolic disproportionation catalyzed by DPE2 all start with the locus tag for this enzyme in Arabidopsis thaliana, AT2G40840, rather than the KEGG [44] reaction identifier.
To treat transport reactions between compartments of different volumes consistently, all reaction rate equations carry the appropriate volumetric factors in the model (see Additional File 2). Thus, each rate-of-change is calculated as a mass rate-of-change rather than a concentration rate-of-change, consistent with the SBML standard [45]. However, we have excluded these factors in the Tables to be more consistent with standard biochemical nomenclature.
Model Formulation: Biochemical Processes
Simulation Framework and Methodology: Model instantiation and simulation
The starch degradation model was expressed in Systems Biology Markup Language (SBML) [45] and input into our metabolic simulation software framework, the High-Performance Systems Biology Toolkit (HiPer SBTK) [52]. The time evolution of metabolite concentrations and fluxes was simulated, and the possible space of rate and binding parameters sampled. Biologically feasible concentrations of internal metabolites and fixed concentrations of external metabolites, enzymes, transporters and inhibitors were imposed, then the ODE system integrated. Sensitivities of steady-state internal metabolite concentrations to enzyme concentrations and kinetic parameter values were then computed. Additionally, the structure of the dynamical space was explored by sampling initial concentrations of internal metabolites given a fixed set of enzyme and inhibitor concentrations and kinetic parameter values, and evaluating the distance between steady states so achieved.
A reference system was defined by starting from a best estimate of biologically relevant metabolite, enzyme, transporter and inhibitor concentrations (Tables 1 and 2). This model was integrated for 107 virtual seconds to a convergence of 1.6 × 10-13 (μM/s) μM-1. Response coefficients [31]

of the internal metabolite steady-state concentrations S i with respect to the kinetic and binding parameters and fixed enzyme and transporter protein concentrations p j were calculated. In addition, "parameter-perturbed" and "enzyme-perturbed" systems were modeled by decreasing

and

10-fold relative to the reference model in the former case, and increasing β-amylase concentration two-fold and the maltose exporter concentration ten-fold in the latter. Integrations of the parameter-and enzyme-perturbed models converged to 1.5 × 10-16 and 5.2 × 10-12 (μM/s) μM-1, respectively.
Additional File 3 contains the integration timecourse for the reference model, close-up of debranched stromal starch evolution, and a graphical summary of the response coefficients and norms for the 8 states detailed in Table 3.
Analysis of States from Varying External or Initial Internal Metabolite Concentrations
To evaluate both the existence of multiple stationary states within individual dynamic systems, and the effects of external metabolite concentrations on the fixed point(s) of the modeled biochemical network, 6 external and 8 initial internal metabolite concentrations were sampled at two values, and in each of the 214 cases integrated as described above. Each ODE integration was run for 107 virtual seconds, and convergence of each trajectory quantified as
where [S i ] is the concentration of metabolite i, and C carries units of (μM/s) μM-1. Final metabolite vectors at convergence cutoffs of 10-2 and 10-8 were clustered by the k-means algorithm (as implemented in the SciPy package). Each row of the data matrix comprised a final point in the logarithm of metabolite concentration space. The variance of each column was normalized to 1.0, then the data clustered with a seed cluster estimate of 64 (26, for two sampled fixed concentrations of six external metabolites). Cluster centroid distances were checked to be greater than the sum of their respective cluster standard deviations. Establishing unit variance for the most tightly converged metabolite vectors was problematic, and so data in this case were clustered sequentially in the direct space of concentrations, using a distance threshold of 10-8 μM. For this latter case, a cluster could be defined by the position of the first point added, rather than the centroid, due to the relatively tight bunching observed.
Authors' information
AN is a research associate in the Computational Science Center at the National Renewable Energy Laboratory (NREL) with research interests including mathematical biology and theoretical immunology. His current explorations include metabolome representation and expression for potential biofuel-producing organisms, enzymatic hydrolysis of biomass particles containing multiple polysaccharide types, flux balance analysis, and modeling regulatory networks using data-mining, bioinformatics analysis and correlation of multiple types of high-throughput "omics" data.
ML is a research associate in the Computational Science Center at NREL. His research interests are numerical search, high performance computing (HPC) and uncertainty quantification. In addition to supporting systems biology, Monte is also working on exploring more efficient building designs using parallel computing.
PG is a senior scientist in the Computational Science Center at NREL. His research interests center on the application of mathematics and HPC to renewable energy challenges, particularly optimizations involving expensive simulations. In addition to developing kinetic simulation software for HPC, he studies multi-scale device simulation and optimization and high-throughput materials screening, inverse material design by electronic structure data mining and optimization, and computational battery modeling.
CHC is a senior scientist in the Computational Science Center at NREL. His research focuses on systems biochemistry and computational chemistry from molecular to cellular scales. His current projects touch on dynamical properties of chemical and biochemical systems, electron and energy transfer, and homogeneous transition metal catalysis.
Declarations
Acknowledgements
This work was supported by the U.S. Department of Energy's Office of Science (DOE-SC) through the Scientific Discovery through Advanced Computing (SciDAC) program, the Office of Biological and Environmental Research, and the Office of Advanced Scientific Computing Research under contract number DE-AC36-08GO28308.
Authors' Affiliations
(1)
Computational Sciences Center, National Renewable Energy Laboratory, Golden, USA
Copyright
© Nag et al; licensee BioMed Central Ltd. 2011
This article is published under license to BioMed Central Ltd. This is an Open Access article distributed under the terms of the Creative Commons Attribution License (http://creativecommons.org/licenses/by/2.0), which permits unrestricted use, distribution, and reproduction in any medium, provided the original work is properly cited.