A strategy to study pathway cross-talks of cells under repetitive exposure to stimuli
BMC Systems Biology
2012
6(Suppl 3):S6
Published: 17 December 2012
Abstract
Background
Cells are subject to fluctuating and multiple stimuli in their natural environment. The signaling pathways often crosstalk to each other and give rise to complex nonlinear dynamics. Specifically repetitive exposure of a cell to a same stimulus sometime leads to augmented cellular responses. Examples are amplified proinflammatory responses of innate immune cells pretreated with a sub-threshold then a high dose of endotoxin or cytokine stimulation. This phenomenon, called priming effect in the literature, has important pathological and clinical significances.
Results
In a previous study, we enumerated possible mechanisms for priming using a three-node network model. The analysis uncovered three mechanisms. Based on the results, in this work we developed a straightforward procedure to identify molecular candidates contributing to the priming effect and the corresponding mechanisms. The procedure involves time course measurements, e.g., gene expression levels, or protein activities under low, high, and low + high dose of stimulant, then computational analysis of the dynamics patterns, and identification of functional roles in the context of the regulatory network. We applied the procedure to a set of published microarray data on interferon-γ-mediated priming effect of human macrophages. The analysis identified a number of network motifs possibly contributing to Interferon-γ priming. A further detailed mathematical model analysis further reveals how combination of different mechanisms leads to the priming effect.
Conclusions
One may perform systematic screening using the proposed procedure combining with high throughput measurements, at both transcriptome and proteome levels. It is applicable to various priming phenomena.
Keywords
Priming Effect
Propose Analyze Procedure
High Dose Stimulation
Background
A cell needs to constantly sense and response to various signals from both external and internal environments. The requirement on generating appropriate response to specific signals forces cells to develop a complex signaling network that often involves multiple highly intertwined signaling pathways [1–3]. It becomes increasingly clear that pathway cross-talks play critical roles in cellular signaling and decision making process [4]. For example, cross-talks may increase the nonlinearity in the signaling network, resulting in various synergistic and antagonistic effects in cellular responses [5–8]. A nonlinear response refers to the cellular response to multiple different stimuli, or repetitive stimulus that is not simply the sum of responses to each individual stimulus. Cells in vivo are constantly exposed to a variety of stimulus with fluctuating concentration. Therefore it is of great importance to study how cells utilize complex pathway cross-talks to generate appropriate response or make correct decision to multiple or repetitive stimulus. Pharmaceutically, it is also a common treatment strategy to use combinations of multiple drugs simultaneously in order to generate synergistic effect [8, 9]. Therefore, the nonlinear phenomena due to pathway cross-talks have important physiological and clinical significances.
In this work we focus on cellular priming effect (also called preconditioning and sensitization) which refers to a well-observed phenomenon that after being treated with a seemingly negligible concentration of stimulus, a cell may launch amplified responses upon a second exposure to the same stimulus at higher concentration [
10
–
12
]. The priming effect reflects the nonlinear characteristics of the system in that the cellular response to repetitive stimuli is stronger than the sum of that to individual low dose and high dose stimulation. Since the cellular response to the low dose stimulation is negligible, in experimental practice one usually approximates the above sum by the cellular response under the high dose stimulation only. Two such examples are lipopolysaccharide-mediated (LPS) and Interferon-γ-mediated (IFN-γ) priming effects observed in innate immune cells such as monocytes and macrophages [
11
,
13
]. For example, LPS is the pathogen-associated molecular pattern (PAMP) expressed on the outer membrane of gram-negative bacteria. Several
in vitro
studies have reported that low dose LPS (e.g., 0.05-1 µg/L) can prime macrophages for an augmented pro-inflammatory cytokine production under high dose LPS (10-100 µg/L) [
10
,
12
–
15
]. Clinically, evidence relates this LPS-mediated priming phenomenon to low-grade metabolic endotoxemia, which is defined as an elevated but physiological LPS concentration in the blood, resulting in a higher incidence of insulin resistance, diabetes and atherosclerosis [
16
–
21
]. Similarly, a sub-activating dose of IFN-γ (e.g., 0.05-0.15 µg/L) is able to prime macrophages for an enhanced activity of signal transducer and activator of transcription 1 (STAT1) under an activating dose of IFN-γ (e.g., 0.5-5 µg/L) (Figure
1A
). As a consequence, the expression of a number of genes regulated by STAT1 are also increased, including IFN regulatory factor 1 (IRF-1) and inducible protein-10 (IP-10). Since IFN-γ plays a crucial role in interfering viral replications and promoting apoptosis of infected cells, abnormality in IFN-γ production can lead to severe consequences in the immune system [
22
]. The sensitization of IFN-γ signaling also correlates with several immune system malfunctions and diseases, such as rheumatoid arthritis, hepatitis and multiple sclerosis [
22
–
24
]. Hu et al., first investigated the molecular mechanisms of IFN-γ-mediated priming effect and reasoned that an elevated expression of STAT1 by low dose pretreatment was responsible for the induction of priming effect [
11
]. However, other molecular mechanisms may also exist.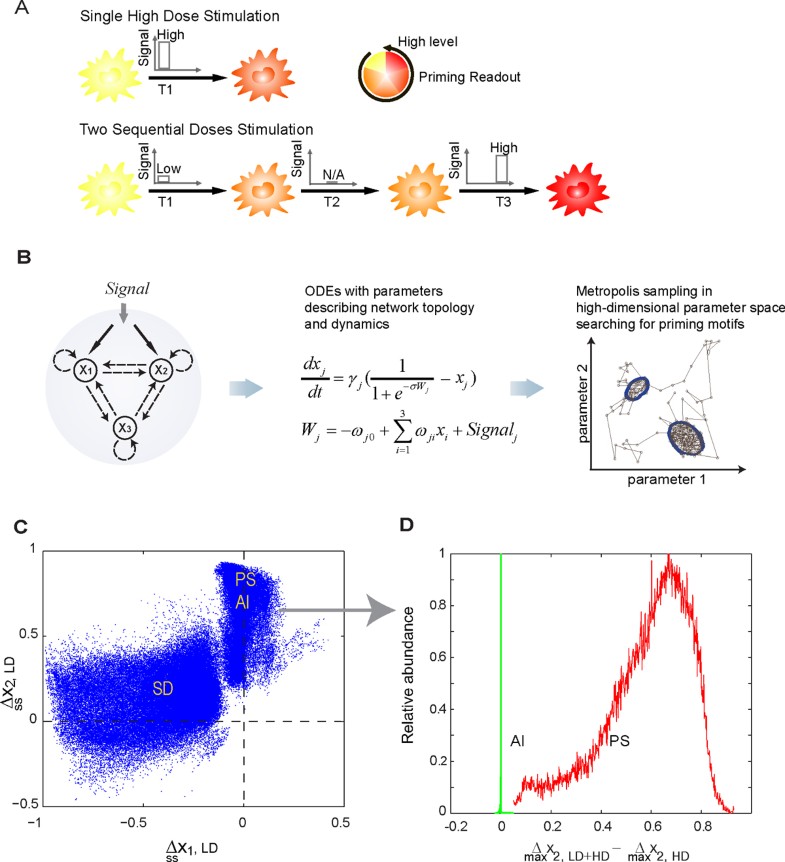 In the previous study, we applied a computational analysis to enumerate all possible network motifs that are able to induce priming effect in a generic three-node regulatory network. Strikingly, we found that the in silico discovered priming motifs naturally fall into three priming mechanisms. Based on the finding, the main purpose of this study is to design and apply a general combined experiment and computation strategy to search for molecular candidates contributing to the priming effect for a given stimulus. The remaining part of the paper is organized as follows. First we summarize the main results of our first study, and outline the strategy. Then we demonstrate how to apply the strategy to analyze a set of published microarray data on IFN-γ-mediated priming effect. Next we show further analysis on a detailed ordinary differential equation based model.
Conclusion
Molecules within a cell interact with each other and form a large interconnected network. Consequently cellular information seldom propagates linearly through a single pathway. The priming effect, which widely studied using immune cells, is such an example. Based on our previous in silico studies [25], in this work we proposed a generic procedure to identify possible molecular candidates contributing to the priming effect through combined experimental time course measurement, subsequent data analysis and computational modeling. We demonstrated the procedure with high throughput microarray and other data on interferon-γ induced priming effects. This procedure is generally applicable to other similar problems. Especially it is of great significance to examine the generality and the specificity of the observed priming effects, in terms of stimulant and cell types. One may perform systematic screening using the proposed procedure combining with high throughput measurements, at both transcriptome and proteome levels.
Methods
Microarray data processing
The microarray data were downloaded from Gene Expression Omnibus (GEO, accession number: GDS1365). The data record the expression profile of approximately 12,000 gene probes with 3 independent pools. This is the only dataset we could find from GEO that include systematic time course measurement under either single dose or sequential stimulations (Control, HD 3hr, HD 24hr, LD Control, LD+HD 3hr, LD+HD 24hr. LD: 0.15 µg/L IFN-γ, HD: 5 µg/L IFN-γ).
In order to analyze the gene expression pattern, we first filtered out genes that contain no "Present Call" in all three independent pools. Genes without differential expression (by fold change < 2) under all of the following conditions were also filtered out: LD vs Control, HD (3hr) vs Control, HD (24hr) vs Control, LD+HD (3hr) vs Control and LD+HD (24hr) vs Control. All Differential expression was statistically analyzed by Welch's t-test with FDR correction. The threshold of p-value is set to be 0.05.
Network construction with the IPA database
We used the commercial database IPA® (@Ingenuity) to query the molecular interactions among interested genes and products. IPA® assembles the signaling/regulatory network on a literature basis. Database query was restricted to immune cells and immune cell lines in Mus musculus or Homo sapiens. Interaction type was chosen to be either direct or indirect (i.e., interaction with intermediates). Prediction on potential priming candidates was made by comparing the priming motifs shown in Figure 2 and the signaling/regulatory networks constructed by IPA®.
Detailed modeling with ordinary differential equations
We used a mathematic model adapted from Yamada et al. [31] to simulate the dynamics of Jak/STAT pathway in macrophages under different stimulation scenarios. Hu et al. have reported that increased expression of STAT1 induced by the first dose of IFN-γ treatment was responsible for sensitization of Jak/STAT1 pathway [11], we therefore added two additional reactions to the original model: STAT1 transcription triggered by IFN-γ and STAT1 translation. In addition, we introduced two reactions describing IRF-1 transcription and translation. Adding these two reactions allows us to exam the expression behavior of downstream gene IRF-1 for priming effects. As it is unclear how IFN-γ affects STAT1 expression, we proposed that an unknown intermediate × transduces the signal from IFN-γ to STAT1 gene.
As shown in additional file 3 and 4, our model includes 36 variables and 50 parameters. Most of the rate equations are presented using Mass-action kinetics. Several equations presenting gene transcription are denoted using Michaelis-Menten kinetics. We employed the same initial conditions for Jak, IFN-γ receptor, PPX, PPN and SHP-2 as in the work of Yamada et al. Other initial conditions are set to be the steady-state values achieved given zero IFN-γ signal. These ODEs are solved using standard ODE solver in Matlab. In our simulation, macrophages were primed with 0.15 µg/L of IFN-γ for 3 days, after which cells were washed for 10 minutes with fresh medium and re-stimulated with 5 µg/L IFN-γ for 2 days [11]. The total STAT1 and SOCS1 proteins under repetitive two stimulations and single high dose of IFN-γ treatment were analyzed. In addition, phosphorylated STAT1 dimer and IRF-1 were examined as readouts to quantify the level of priming effect [31].
Abbreviations
LPS:

lipopolysaccharide
IFN-γ:

interferon-gamma
Jak:

Janus kinase
STAT1:

signal transducer and activator of transcription 1
IRF-1:

interferon regulatory factor 1
IP-10:

interferon gamma-induced protein 10
TLR4:

Toll-like receptor 4
LD:

low dose
HD:

high dose
AI:

activator induction
PS:

pathway synergy
SD:

suppressor deactivation
SOCS1:

suppressor of cytokine signaling 1
TNFα:

tumor necrosis factor-alpha
IL-6:

interleukin-6
IL-15:

interleukin-15
SH2:

Src homology 2
STAT1*D:

phosphorylated STAT1 dimer
PPX:

unidentified phosphatase in the cytoplasm
PPN:

nuclear phosphatase
SHP-2:

SH2 domain-containing tyrosine phosphatase 2
IFNR:

interferon-γ receptor
RJ:

IFNR-Jak complex
IFNRJ:

IFN-γ-IFNR-Jak complex
IFNRJ2:

IFN-γ-IFNR-Jak complex dimer
IFNRJ2*:

IFN-γ-IFNR-Jak complex phosphorylated dimer
STAT1c:

cytoplasmic STAT1
STAT1n:

nuclear STAT1
STAT1c*:

phosphorylated cytoplasmic STAT1
STAT1n*:

phosphorylated nuclear STAT1
STAT1n*Dn:

phosphorylated nuclear STAT1 dimer
STAT1n*Dc:

phosphorylated cytoplasmic STAT1 dimer.
Declarations
Acknowledgement
We thank Drs Xiaoyu Hu and Roderick Jensen for helpful discussions. This work was supported in part by the National Science Foundation (DMS-0969417), and by the National Institute of Allergy and Infectious Diseases (AI099120-01).
This article has been published as part of BMC Systems Biology Volume 6 Supplement 3, 2012: Proceedings of The International Conference on Intelligent Biology and Medicine (ICIBM) - Systems Biology. The full contents of the supplement are available online at http://www.biomedcentral.com/bmcsystbiol/supplements/6/S3.
Authors' Affiliations
(1)
Department of Biological Sciences, Virginia Tech, Blacksburg, USA
(2)
Interdisciplinary PhD Program of Genetics, Bioinformatics and Computational Biology, Virginia Tech, Blacksburg, USA
Copyright
© Fu et al.; licensee BioMed Central Ltd. 2012
This article is published under license to BioMed Central Ltd. This is an open access article distributed under the terms of the Creative Commons Attribution License (http://creativecommons.org/licenses/by/2.0), which permits unrestricted use, distribution, and reproduction in any medium, provided the original work is properly cited.