Research article
Open Access
Rule–based regulatory and metabolic model for Quorum sensing in P. aeruginosa
BMC Systems Biology
2013
7:81
Received: 28 January 2013
Accepted: 9 August 2013
Published: 21 August 2013
Abstract
Background
In the pathogen P. aeruginosa, the formation of virulence factors is regulated via Quorum sensing signaling pathways. Due to the increasing number of strains that are resistant to antibiotics, there is a high interest to develop novel antiinfectives. In the combat of resistant bacteria, selective blockade of the bacterial cell–to–cell communication (Quorum sensing) has gained special interest as anti–virulence strategy. Here, we modeled the las, rhl, and pqs Quorum sensing systems by a multi–level logical approach to analyze how enzyme inhibitors and receptor antagonists effect the formation of autoinducers and virulence factors.
Results
Our rule–based simulations fulfill the behavior expected from literature considering the external level of autoinducers. In the presence of PqsBCD inhibitors, the external HHQ and PQS levels are indeed clearly reduced. The magnitude of this effect strongly depends on the inhibition level. However, it seems that the pyocyanin pathway is incomplete.
Conclusions
To match experimental observations we suggest a modified network topology in which PqsE and PqsR acts as receptors and an autoinducer as ligand that up–regulate pyocyanin in a concerted manner. While the PQS biosynthesis is more appropriate as target to inhibit the HHQ and PQS formation, blocking the receptor PqsR that regulates the biosynthesis reduces the pyocyanin level stronger.
Keywords
Quorum sensingMulti–level logical approachBoolean networkGene–regulatory networkInhibitor Pseudomonas aeruginosa pqs system
Background
Quorum sensing (QS) describes how the communication between bacteria is established. Thus, the regulation of genes is adapted to cell population density through the activity of a combined regulatory and metabolic network. In P. aeruginosa, QS is involved in the formation of biofilms and in the production of a large number of virulence factors, such as elastase, rhamnolipids, and pyocyanin. These virulence factors are responsible e.g. for tissue damage and disruption of tight junctions. P. aeruginosa usually infects patients with immune system deficiencies. Since an increasing number of infecting strains are resistant to most current antibiotics, there is a large interest in developing novel antibacterial strategies. It has been suggested that selectively targeting the QS machinery by signaling molecule inhibitors may be advantageous over antibiotics that target central metabolism or DNA replication with respect to the development of resistance mutations because the former strategies have no impact on bacterial viability delay [1, 2].
Figure
1
gives an overview of the QS of
P. aeruginosa
[
3
–
6
]. The QS network consists of three systems termed
las
,
rhl
, and
pqs
that are organized hierarchically (references for the individual reactions are given in Additional file
1
: Table S1 and Additional file
2
: Table S2). In the
las
system (colored in blue), the synthase LasI is responsible for the biosynthesis of the autoinducer
N
–3–oxododecanoyl–homoserine lactone (AI–1) that binds to the receptor LasR. This AI–1:LasR complex (C1) up–regulates the transcription of LasI as well as of RsaL that blocks the transcription of LasI [
7
–
9
]. Furthermore, the
las
system initiates both other QS systems. Likewise, the
rhl
system (colored in green) contains a positive feedback loop that leads to a rapid increase of autoinducer concentration involving the second autoinducer
N
–butyryl–homoserine lactone (AI–2), the receptor RhlR, their complex AI–2:RhlR (C2), and the synthase RhlI [
10
]. Whereas AI–1 is able to bind to RhlR (complex C4), AI–2 does not bind to LasR [
11
]. The global activator GacA up–regulates the receptors LasR and RhlR of the first and second QS system, whereas the activator Vfr only up–regulates LasR [
12
,
13
]. Finally, the
rhl
system activates the transcription of RhlAB and RhlC that are required to form rhamnolipids [
14
–
16
].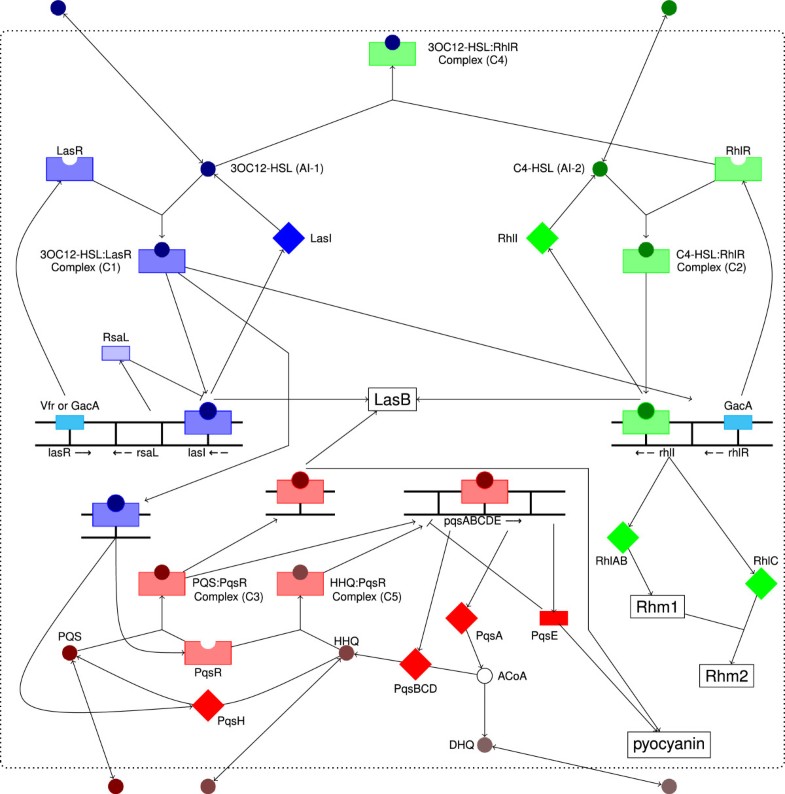 The pqs system (in Figure 1 colored in red) uses the Pseudomonas quinolone signal (PQS) that is synthesized from HHQ by the enzyme PqsH. Both HHQ and PQS are able to form complexes with the receptor PqsR (in the following denoted as C5 and C3) that regulate many genes, such as the biosynthesis operon pqsA–E[17, 18]. As first step, the enzyme PqsA produces anthraniloyl–CoA using anthranilic acid. Then, PqsD forms HHQ from ACoA and β–ketodecanoic acid or its bioactivated thioesters [19]. The enzymes PqsB and PqsC are also required to synthesize HHQ whereby their rule is not completely understood [20, 21]. Finally, PqsE acts as negative regulator of the pqsA–E operon [20]. In this study, we do not include further regulators related to the QS machinery. For example, it was shown that QscR represses the transcription of lasI[22] and VqsR negatively regulates the expression of qscR[23].
The dynamic behavior of cellular regulatory networks can be analyzed with a wide range of theoretical approaches: Boolean networks, Kauffman networks, probabilistic Boolean networks, dynamic Bayesian networks, Petri Nets, as well as differential equation models [24–26]. Differential equation models have the advantage of enabling a quantitative analysis. However, for many biochemical reactions the actual rate constants are unknown. Therefore, a Boolean model was used, e.g. to understand the FA/BRCA pathway [27]. A generalized logical formalism with multi–levels was applied to the Gap–gene System in Drosophila[28] and to analyze the cell cycle of budding yeast [29].
The dynamic behavior of the QS systems was modeled so far either as simple feedback loop or considering the Pseudomonas las and rhl systems using ordinary as well as partial differential equations [30, 31] or regarding the lux system of Vibrio fischeri applying so–called P systems [32]. Anguige et al. included a LasR degradation drug in their differential equation approach of the las system [33]. Furthermore, the development of biofilms was studied using the las system [34] or a 3D growth model of a self–producing signaling molecule including inhibition [35].
In this work, we implemented a multi–level logical approach and compared the influence of enzyme inhibitors and that of receptor antagonists on the formation of autoinducers and virulence factors. Here, different levels of inhibition were considered. Additionally, we analyzed the topology of the network. For this purpose, we modeled the QS in P. aeruginosa comprising the las, rhl, and pqs systems as well as the virulence factors elastase, rhamnolipids, and pyocyanin [36, 37].
Methods
We aimed to adopt a robust formalism that is as independent of parameters as much as possible and that generates easily interpretable results. Since a pure Boolean model is a drastic simplification that does not allow to realize the three hierarchical layered QS systems, we implemented a logical model with multi–level variables. Figure
1
illustrates the connectivity of the three QS systems as a pathway diagram, and Figure
2
shows the same network in a topology suitable for generalized Boolean networks.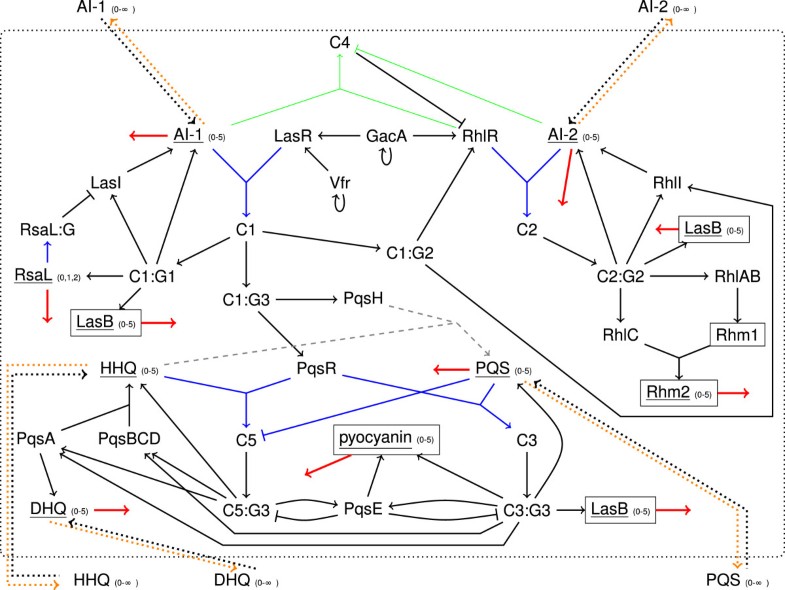 Computational analysis
In this multi–level formalism each node can adopt several possible states (see Additional file
3
: Table S3). An overview of the updating scheme and work flow is given in Figure
3
. We consider a certain number of cells that share the same environment, which means that the external autoinducer concentrations are equal to each cell. Usually, the simulation starts with a single cell. In the results section, we only discuss the results for this first cell. During exponential growth, i.e. before completing six cell divisions, a cell divides into two cells after every 60 time steps. The simulations are iterated until time step 600. Each new cell is initialized in the same way as the first cell and has a delay time of ten steps during which only transport processes are possible. Thus, in this model, the first cell represents a biological cell at the end of the exponential growth phase.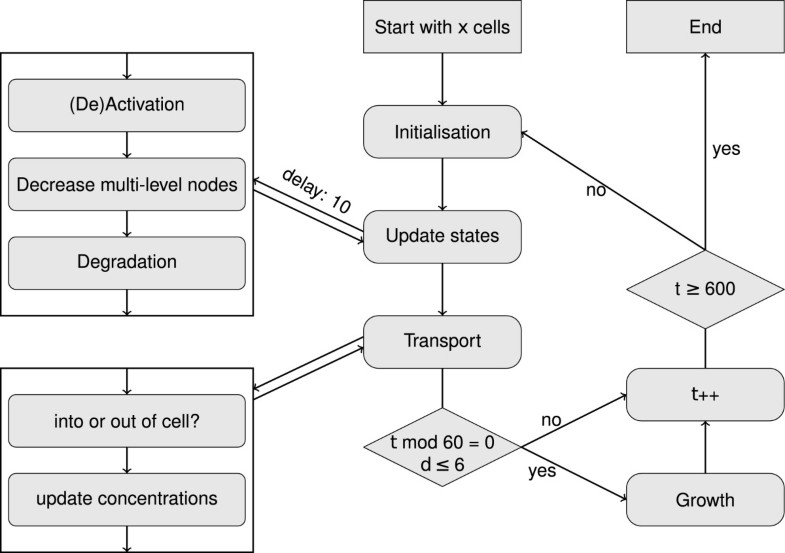 In a single cell, the states of each node are updated according to a synchronous scheme. This means that at each time step, first the states of all (including Boolean and multi–level) nodes are activated or deactivated according to logical analysis considering all connected edges and the states of the attached nodes. The new state
x
of node
i
at the next time step
t
+1 is then determined according to equation (
1
),
whereby W=(w i j ) is a weighting matrix and contains all relations between the nodes. Its entry w i j is when node j is one of l nodes that are together required to activate node i. If node j deactivates node i then w i j is −k where k is the number of reactions that activate node i. Otherwise, w i j is zero. In contrast to some other Boolean models, the second case implies that one inhibiting reaction overrules the activating reactions of node i. Also, a node that is not explicitly activated at a certain time step is inactive. As our network only included deactivating nodes in cases where there is a good evidence that they inhibit certain activations, the weighting scheme makes sure that deactivations are stronger than activations. As the concentration of the autoinducers must reach a certain threshold ε to start the positive feedback loop, some reactions in our model are only activated if a critical threshold of certain metabolites is exceeded. Function K controls that the state of every node j that is related to node i has reached the required threshold at time t. Function H rounds the weighted sum to an integer valued output. For multi–level nodes with more than two possible states, i.e. autoinducers, RsaL, and virulence factors the level at the current time step x i (t) is added via function G. Function M ensures that no node adopts a higher value than its maximum possible value. The explicit forms of the functions M, H, K, and G are given in Additional file 4.
After updating all nodes, the states of multi–level nodes are decreased by the number of reactions in which they were used. Let us assume, that for example, HHQ forms a complex with PqsR and HHQ is additionally required to yield PQS. Then, in this step the level of HHQ is decreased by two. Those multi–level nodes are subject to a further reaction that decreases the state value after every 20 time steps to account for degradation (see Section Choice of parameters). This degradation is realized equally for all multi–level nodes independent of their maximum possible states. A time step represents either the whole formation of a protein including transcription and translation or a faster enzymatic reaction. Hence, a degradation happens infrequently. However, a node has a relatively small number of possible states, such that a single degradation process consumes a comparably large part of its concentration. For example, in the case of RsaL a degradation decreases the level by two–thirds. Transport reactions (dotted lines in Figure 2) are neither considered in the logical updating scheme nor in the decreasing step afterwards. Additionally, we included some random reactions for processes that take place either infrequently or very slowly in comparison to the other processes, for example, the transformation of HHQ to PQS [18]. For this, we used a random reaction that happens about every fourth step. For simplicity, the enzymes PqsB, PqsC, and PqsD are considered as one node.
The communication between different cells is based on the exchange of the signaling molecules. For this, we modeled a simple transport process that occurs after updating all states inside the cells. When the internal concentration of an autoinducer is higher than the transport threshold, it is transported out of the cell except for the case where the external concentration relative to the number of cells is higher than the internal concentration. Otherwise, for external levels larger than zero, an autoinducer is transported into the cell. In the case that there is no autoinducer outside, there is also no transport. We do not distinguish between diffusion and efflux pumps or active transports and apply usually a transport threshold of three, i.e. if the autoinducer concentration is high.
Knock–out mutants, enzyme inhibitors and receptor antagonists
Besides the wild type also knock–out mutants and inhibitors were considered. For such mutants (PqsR
−
, PqsA
−
–PqsBCD
−
, PqsE
−
, PqsE
−
–PqsR
−
, PqsE
−
–PqsA
−
–PqsBCD
−
) all respective formation edges were removed. Conversely, inhibitors (PqsR antagonist, PqsBCD inhibitor) block a certain fraction of the target. Therefore, inhibition of the target was set to happen with a certain inhibition level that indicates at what percentage the target is blocked (see Figure
4
). An inhibitor is initialized as being active, but the time when the inhibitor blocks its target is chosen randomly.

Result and discussion
We constructed a combined regulatory and metabolic network for the three QS systems in P. aeruginosa. The realization as a dynamic rule–based computational model also enabled us to study the effects of gene knock–outs and those of enzyme inhibitors as well as receptor antagonists.
Conclusions
We have introduced a novel rule–based logical model for QS in P. aeruginosa. The model incorporates the key steps of bacterial cells leading to the synthesis of autoinducer molecules and virulence factors. Despite its simplicity, the model enables almost quantitative predictions about the effect of inhibitors of PQS biosynthesis and antagonists of their corresponding receptor PqsR. Also, one can easily investigate the effect of reviewed network topologies. We were able to identify PqsR and PqsE as a key region of the network where the predicted effects of pyocyanin production deviate from experiment. We suggest additional regulatory interactions that can be validated experimentally. In the future, this approach can serve as basis for further integrating the effect of random mutations in various parts of the network.
Declarations
Acknowledgements
We thank Dr. Tihamér Geyer and Dr. Michael Hutter for discussions and careful reading of the manuscript.
Authors' Affiliations
(1)
Center for Bioinformatics, Saarland University, Saarbrücken, Germany
(2)
Helmholtz Institute for Pharmaceutical Research Saarland (HIPS), Saarbrücken, Germany
(3)
Pharmaceutical and Medicinal Chemistry, Saarland University, Saarbrücken, Germany
Copyright
© Schaadt et al.; licensee BioMed Central Ltd. 2013
This article is published under license to BioMed Central Ltd. This is an Open Access article distributed under the terms of the Creative Commons Attribution License (http://creativecommons.org/licenses/by/2.0), which permits unrestricted use, distribution, and reproduction in any medium, provided the original work is properly cited.