Research Article
Open Access
A computational model of PKD and CERT interactions at the trans-Golgi network of mammalian cells
BMC Systems Biology
2015
9:9
Received: 15 September 2014
Accepted: 26 January 2015
Published: 26 February 2015
Abstract
Background
In mammalian cells protein-lipid interactions at the trans-Golgi network (TGN) determine the formation of vesicles, which transfer secretory proteins to the cellular membrane. This process is regulated by a complex molecular network including protein kinase D (PKD), which is directly involved in the fission of transport vesicles, and its interaction with the ceramide transfer protein CERT that transports ceramide from the endoplasmic reticulum to the TGN.
Results
Here we present a novel quantitative kinetic model for the interactions of the key players PKD, phosphatidylinositol 4-kinase III beta (PI4KIII β) and CERT at the TGN membranes. We use sampling-based Bayesian analysis and perturbation experiments for model calibration and validation.
Conclusions
Our quantitative predictions of absolute molecular concentrations and reaction fluxes have major biological implications: Model comparison provides evidence that PKD and CERT interact in a cooperative manner to regulate ceramide transfer. Furthermore, we identify active PKD to be the dominant regulator of the network, especially of CERT-mediated ceramide transfer.
Keywords
Computational modelPKDCERTBayesian inferenceTrans-golgi network
Background
All transmembrane proteins and soluble proteins that are secreted from a cell into the extracellular space generally pass through the endoplasmic reticulum (ER) and Golgi complex (GC). In mammalian cells the GC constitutes a highly ordered organelle composed of cisternal stacks, the main function of which is the modification of proteins and sorting to their distinct membrane localizations [1]. Cargo is received from the ER at the cis-Golgi complex, traverses the medial Golgi stacks, then reaches the trans-Golgi side where vesicles bud off from the trans-Golgi network (TGN) [2,3]. The formation of these vesicles is driven by a complex interaction of proteins and lipids and is still only partly understood. One of the key players of this network is protein kinase D, which comprises a family of three closely related serine-threonine kinases (PKD1, PKD2 and PKD3). PKD has an established role in the regulation of constitutive but also regulated vesicular transport processes at the TGN [4].
In the following, we shortly describe the molecular interaction network of PKD at the TGN (Figure
1
and reviewed in [
5
,
6
]). The first TGN-localized PKD substrate identified was PI4KIII
β
whose phosphorylation on serine 294 increased the activity of the lipid kinase, resulting in the enhanced production of its substrate PI4P [
7
]. This phosphorylated lipid is especially important in defining Golgi membrane identity and providing a local signaling platform to which several PI4P-binding proteins are recruited, including the ceramide transfer protein CERT [
8
,
9
].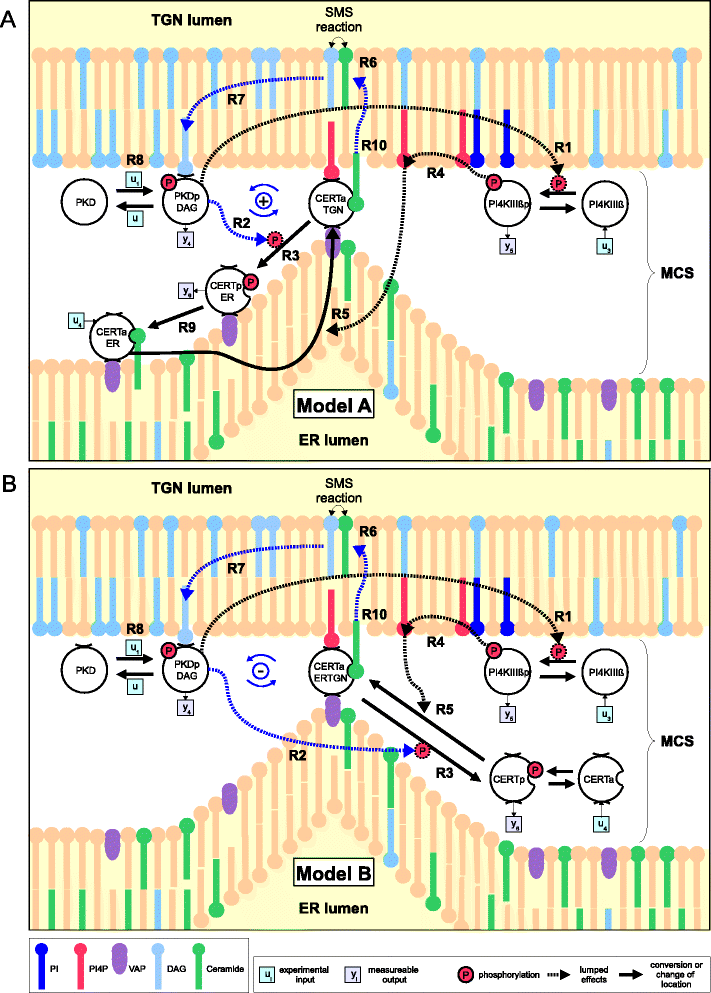 Ceramide is produced at the ER and then transported to the TGN in a non-vesicular manner by CERT, which is recruited by the ER-resident membrane protein VAP [10-12]. The mechanistic understanding is that CERT takes up a ceramide molecule into its START domain, which forms a hydrophobic pocket, followed by the release of ceramide at the TGN membrane [13]. This transport is thought to occur at so-called membrane contact sites (MCS) where the ER and the TGN come into close contact [12]. At the TGN, sphingomyelin synthases (SMS) catalyze the conversion of ceramide and phosphatidylcholine (PC) to sphingomyelin (SM) and diacylglycerol (DAG) [14-16]. DAG fulfills several central functions at the TGN by activating novel PKC isoforms which phosphorylate and activate PKD, by recruiting and activating PKD, and by directly impacting membrane curvature involved in the process of vesicle formation [3,17-19]. CERT, in turn, is phosphorylated by PKD at serine 132 [20], which serves as a priming site for multiple phosphorylations by CKI γ2 in the serine rich (SR) motif [21]. This hyperphosphorylation of CERT negatively affects its affinity for PI4P and induces a conformational change that inhibits START domain function [22]. At the ER, CERT is dephosphorylated by PP2C ε [23], enhancing the interaction of CERT with the Golgi membranes and also with VAP [22]. Thereby, the proteins PKD, PI4KIII β and CERT are involved in a complex scenario of interrelated feedback loops [20]. Despite the knowledge on the qualitative effects of phosphorylation on CERT membrane binding and function, it is currently still unclear how this complex molecular interaction network impacts the efficacy of ceramide transport at ER-Golgi MCS.
Only few studies have attempted to address aspects of TGN function by mathematical modeling. The existing models describe mechanisms for vesicle kinetics, membrane physics, and feedback in the SMS reaction [24-27]. Thus far, no quantitative model exists that describes the kinetics of key protein interactions at the TGN important for secretory transport. Such a quantitative dynamic model would contribute to an increased understanding of molecule interactions and organelle function and is therefore valuable to basic research. In addition, such a model has broader relevance, as the vesicular transport from the TGN to the plasma membrane drives the polarized migration of cancer cells. A further application are biotechnological interventions in the secretory pathway targeting the optimization of the production of therapeutic proteins in mammalian cells [28].
Here, we use mathematical modeling and perturbation experiments to address how the feedback loops within the PKD-CERT network interact to coordinate ceramide transport. We present a quantitative dynamical model for the molecular interactions at the TGN that is based on chemical reaction kinetics. Biochemical time series experiments after perturbation of the system and absolute protein quantification measurements are used for model calibration. As the information in the data is not sufficient to identify all model parameters uniquely, we use statistical Bayesian approaches, which are computationally demanding but particularly tailored to deal with this problem [29-31].
Our calibrated model is able to capture dynamic interactions between PKD, PI4KIII β and CERT on an average cellular level. Furthermore, validation experiments confirm that we are able to reliably predict different perturbation scenarios. Our model-based analysis thus provides insight into the regulatory network of key components underlying ceramide transfer at ER-Golgi MCS.
Methods
Plasmids and reagents
Expression plasmids encoding Flag-tagged CERT as well as EGFP-tagged CERT, PI4KIII β, and PKD2 are described elsewhere [7,20]. The antibodies specific for PKD1 autophosphorylation at serine 910, phosphorylated serine 294 in PI4KIII β and phosphorylated serine 132 in CERT have been described elsewhere [7,32,33]. Commercially available antibodies used were as follows: anti-GFP mouse monoclonal (Roche Diagnostics), anti-PI4KIII β rabbit polyclonal (Millipore), anti-CERT rabbit polyclonal antibody (Bethyl Laboratories), anti-PKD2 rabbit polyclonal antibody (Cell Signaling), anti-Flag M2 mouse monoclonal antibody (Sigma-Aldrich), anti- α-tubulin mouse monoclonal antibody (Millipore). Recombinant purified GFP and GST-PI4KIII β were obtained from Vector Laboratories and Life technologies, respectively.
Cell culture
HEK293T cells were maintained in RPMI 1640 medium supplemented with 10% FCS. For transient transfections, 3·105 HEK293T cells were seeded per well of a 6-well plate. The next day, cells were transfected with 2 μg of plasmid DNA using TransIT293 (Mirus Bio Corporation, Madison, WI) according to the manufacturer's instructions and grown for 24 hours. Treatment of cells with kbNB142-70 (Tocris) and PDBu (Sigma-Aldrich) was at 10 μM and 1 μM, respectively.
Protein extraction of cells
Whole cell extracts were obtained by solubilizing cells in lysis buffer (20 mM Tris pH 7.4, 150 mM NaCl, 1% Triton X-100, 1 mM EDTA, 1 mM ethylene glycol tetraacetic acid (EGTA), plus Complete protease inhibitors and PhosSTOP (Roche Diagnostics)). Lysates were clarified by centrifugation at 16,000g for 15 min.
Western blotting
Proteins were separated on a precast 4-12% Bis-Tris polyacrylamide gel (Life Technologies) and blotted onto nitrocellulose membranes (Pall, Dreieich, Germany). After blocking with 0.5% blocking reagent (Roche Diagnostics), filters were probed with specific antibodies. Proteins were visualized with IRdye-coupled secondary antibodies on a Odyssey scanner followed by analysis with Odyssey software (LI-COR Biosciences).
Image data quantification
Blots have been scanned with the LI-COR ODYSSEE Infrared imaging system. Chanel gain was set to intensity value 5, software gain was varied from 3 to 8 depending on the antibody in use. Gain information is contained on all attached image files. The '*.tif' image data was exported with the LI-COR software. For quantification a MATLAB 2011b script and the software's image analysis toolbox has been used. The script follows recent findings of densitometry research [34] like individual lane background correction and a unified sample tool geometry of one third of average signal width. The image analysis script can be supplied by the authors upon request.
Software
All calculations are performed using MATLAB R2011b scripts. Models are implemented using MATLAB toolboxes SBtoolbox2 and SBPD package [35]. The ODE solvers embedded in the toolboxes are adopted from the SUNDIALS suite [36]. Relative and absolute solver accuracy has been set to 10−8. All MATLAB scripts are available from the authors upon request.
Bayesian inference strategy
Here we give a short overview of the implemented Bayesian inference strategy, for a more theoretical introduction in ODE modeling and Bayesian inference we refer to Section Background in the supplementary text see Additional file 1. We first perform several repeated minimizations using a bounded local minimization strategy with uniformly sampled initial conditions to gain a set of maximum a posteriori parameters estimates on a logarithmic scale. We then create a log uniform prior distribution for the Bayesian inference centered several orders of magnitude around the best found values (see Additional file 1: Section 1.2). Three repeated runs of a customized version of the parallel tempering MCMC algorithm presented in [37] are performed using ten temperature levels. In each run half a million samples are drawn from the posterior distribution for all temperatures, using MCMC starting values drawn from the best found parameter values from the initial optimizations. Negative results for non-convergence are successfully tested for all sampling runs based on intra-inter-chain variance [38]. A representative parameter subsample (Additional file 2) is used to generate the model predictions. Validation data has not been used for model calibration. Bayes Factors for model comparisons (and their uncertainties) have been calculated for each of the three independent runs via thermodynamic integration [37].
Discussion
In this study we present for the first time a quantitative dynamic model describing the phosphorylation-dependent CERT-mediated regulation of ceramide transfer between ER and Golgi membranes. Our model comprises the complex interrelated feedback loops of interdependent TGN-localized protein and lipid kinases on the activity of the lipid transfer protein CERT. For model calibration we used statistical sampling-based Bayesian inference techniques, which yield beside point estimates also information about uncertainties in terms of probability distributions. Our computational model was able to reproduce the kinetic response of the molecular interaction network comprising PKD, PI4KIII β and CERT in terms of phosphorylation states to a set of different perturbation experiments (Figures 3 and 4). Furthermore, our model reliably predicted the behavior to new perturbations, which were experimentally verified, validating the predictive power of the model.
Using Bayesian model comparison techniques, we were able to rank model variants that differ in the impact of phosphorylation of CERT at the SR motif regarding its ceramide transfer activity. In model A (Figure 1), which is supported by our study, PKD-mediated phosphorylation of CERT constitutes an overall positive feedback loop between CERT transfer activity and PKD activity. By contrast, in model B, this feedback has a negative effect on CERT-mediated ceramide transfer. Our results thus suggest that CERT and PKD interact in a cooperative rather than a competitive manner to regulate ceramide transfer activity. An experiment that helped to distinguish between the two models was the ectopic expression of PIKIII β, followed by the measurement of the phosphorylation and thus activation state of PKD (Figure 4D). Model A was able to mimic the experimentally observed early increase in PKD phosphorylation, which was not the case for model B. In the latter model this is due to an immediate buffering of this positive effect by the strong negative feedback on CERT mediated ceramide transfer via PKD phosphorylation.
Although energy-consuming, the circular reaction scheme has the advantage that it can rapidly respond to changes at the level of the ER or Golgi to either accelerate or attenuate lipid metabolic pathways required for vesicle formation at the TGN. Indeed, our model predicts a high responsiveness for all regulations in the endogenous system to changes in the regulator concentrations.
Additionally, we predicted protein amounts and their phosphorylation states, as well as fluxes between these states and strengths of regulatory effects within the entire molecular network for the endogenous system (Figure 5). Predicted absolute protein amounts were in good agreement with corresponding measurements (Figure 2). In HEK293T cells, PI4KIII β is the most abundant protein with about 1 million molecules per cell, followed by PKD, while the average amount of CERT molecules per cell is about one order of magnitude lower. Moreover, our model predicts that the majority of both the PKD and PI4KIII β molecules are present in an inactive unphosphorylated state, while most CERT molecules are unphosphorylated and thus transfer-active. Unfortunately, there is currently limited literature about absolute protein abundances in HEK293T pathways, making a direct comparison of our quantification results difficult. However, a recent study of the Wnt pathway in HEK293T cells reports an average abundance of 1.6·105 copies per cell for these signaling molecules [45]. This is in the same order of magnitude as our average abundance of the key proteins for the endogenous system, which we estimated to be 7·105 copies per cell.
Our simulations furthermore suggest that PKD has a strong regulatory effect on CERT transfer activity, while, in turn, PKD activity is only modestly affected by the amount of ceramide that is delivered to the TGN via CERT, rendering PKD a key regulator of the whole network state (Figure 6). This also suggests that at the TGN, the DAG pool produced as a consequence of CERT-mediated lipid transfer plays a minor role in PKD recruitment and/or activation. Therefore, alternative pathways, such as the hydrolysis of PI(4,5)P 2 by PLC β3 [46] or dephosphorylation of phosphatidic acid by lipid-phosphate phosphatases [26,47] most likely provide DAG to locally regulate PKD at the TGN membranes.
One limitation of our current model is its calibration using data derived from ectopic expression experiments. The predictions made for the behavior of the endogenous system thus contain large uncertainties. However, early PKD responses and absolute protein measurements were obtained in minimally perturbed cells. The model is currently calibrated with data from HEK293T cells since this cell line is well suited for experimental interventions like transfections with expression constructs. However, multiple interactions in our model have also been identified in other mammalian epithelial cell lines like HeLa cells, and structural homology in the regulation of the TGN has been observed [4,18].
An important issue in Bayesian learning approaches is the impact of the prior distribution on the results. Since there was limited quantitative literature data that could directly be included into our model, we decided to work with a rather conservative approach. We used log uniform prior distributions for all parameters, which cover a wide range of orders of magnitude. Bounds were taken from the literature whenever available, such as for example in case of protein half lifes or protein amounts [48,49]. In addition, we took initial parameter optimization runs into account to set sufficiently conservative estimates for upper and lower bounds. Thus our priors are rather uninformative. Since the data contains quite some information about the model, as can be seen by the model fits, we believe that our results are not dominated by the prior distributions. However, as it is usually the case with Bayesian inference, we are aware that the results depend on the parametrization and thus might look different when using uniform priors after a transformation of the parameters.
In the future, our model is not only useful to predict perturbations at the protein level, but can also serve as a starting point to investigate further molecular interactions of interest via suitable model extensions. First, by combining the model developed here with a previous model describing the regulation of the SMS1 reaction at the TGN [27], it will be possible to predict lipid synthesis and transfer rates in vivo, which are difficult to measure experimentally.
Second, experimental results described in [22] provide ideas for further extensions regarding CERT transport activity. While our model is qualitatively able to reproduce the observed decrease in ceramide transport of a CERT-10E mutant, which mimics the hyperphosphorylated state, capturing the behavior of the S132A mutant that cannot be phosphorylated at the SRM, would require structural extensions. Furthermore, it was reported that the amount of sphingomyelin in the plasma membrane affects CERT activity via the regulation of its phosphorylation state, thereby constituting a negative feedback mechanism in cellular lipid homeostasis. Interestingly, phosphorylation at an additional site, namely serine 315, via a still unknown kinase was recently reported to enhance the affinity of CERT for VAP at the ER, thereby upregulating ER to Golgi trafficking of ceramide [50]. The post-translational modification of CERT by phosphorylation thus appears to be a central general mechanism by which ceramide transfer at MCS is regulated.
Third, alternative metabolic pathways that contribute to local DAG generation at the TGN membranes can be integrated into our model, enabling the study of the dynamic behavior of PKD activation and/or recruitment [51].
Finally, it will be interesting to integrate into our model additional proteins such as the sterol transfer protein OSBP. Similar to CERT, OSBP contains an FFAT motif and a PH domain which target the protein to ER and Golgi membranes, respectively [13]. Importantly, OSBP is also regulated by PKD-mediated phosphorylation and is thought to stabilize CERT localization at MCS, thereby coordinating sphingomyelin synthesis with sterol metabolism [52].
Conclusions
In sum, our computational analysis of ceramide transport between the ER and Golgi membranes reveals the cooperativity between PKD and CERT and identifies PKD as the critical regulator in the system. Based on these findings and its further implications, we believe that our quantitative computational model constitutes a valuable contribution towards the holistic mechanistic understanding of the molecular network supporting Golgi secretory function.
Availability of supporting data
The data sets supporting the results of this article are included within additional files.
Abbreviations
TGN:

trans-Golgi network
ER:

Endoplasmic reticulum
MCS:

Membrane contact site
PKD:

Protein kinase D
PI4KIII β :

Phosphatidylinositol 4-kinase III beta
CERT:

Ceramide transfer protein
PI4P:

Phosphatidyl-4-phosphate
SMS:

Sphingomyelin synthase
PC:

Phosphatidylcholine
SM:

Sphingomyelin
DAG:

Diacylglycerol
VAP:

Vesicle associated membrane associated protein
PP2C ε :

Protein phosphatase 2C epsilon
CKI γ2:

Casein kinase I gamma-2
START:

Steroidogenic acute regulatory protein
FFAT:

Two phenylalanine in an acidic tract
HEK293T:

Human embryonic kidney cells 293
PDBu:

Phorbol 12,13-dibutyrate
Wnt:

Wingless int
PI(4,5)P 2 :

Phosphatidylinositol 4,5-bisphosphate
PLC β3:

Phospholipase C beta 3
OSBP:

Oxysterol-binding protein
MCMC:

Markov Chain Monte Carlo
Declarations
Acknowledgements
We want to thank Thomas Hamm for important preliminary literature research throughout his diploma thesis. We also want to thank Gisela Link for important feedback to our experimental procedures. All authors acknowledge financial support from the German Research Foundation (DFG) (GZ:RA 1840/1-1). Furthermore, the authors NR and PW would like to thank the German Research Foundation (DFG) for financial support of the project within the Cluster of Excellence in Simulation Technology (EXC 310/2) at the University of Stuttgart.
Authors' Affiliations
(1)
Institute for Systems Theory and Automatic Control, University of Stuttgart, Stuttgart, Germany
(2)
Institute of Cell Biology and Immunology, University of Stuttgart, Stuttgart, Germany
Copyright
© Weber et al.; licensee BioMed Central. 2015
This is an Open Access article distributed under the terms of the Creative Commons Attribution License (http://creativecommons.org/licenses/by/4.0), which permits unrestricted use, distribution, and reproduction in any medium, provided the original work is properly credited. The Creative Commons Public Domain Dedication waiver (http://creativecommons.org/publicdomain/zero/1.0/) applies to the data made available in this article, unless otherwise stated.