Research article

Open Access
In silico evaluation and exploration of antibiotic tuberculosis treatment regimens
BMC Systems Biology
2015
9:79
Received: 23 April 2015
Accepted: 19 October 2015
Published: 14 November 2015
Abstract
Background
Improvement in tuberculosis treatment regimens requires selection of antibiotics and dosing schedules from a large design space of possibilities. Incomplete knowledge of antibiotic and host immune dynamics in tuberculosis granulomas impacts clinical trial design and success, and variations among clinical trials hamper side-by-side comparison of regimens. Our objective is to systematically evaluate the efficacy of isoniazid and rifampin regimens, and identify modifications to these antibiotics that improve treatment outcomes.
Results
We pair a spatio-temporal computational model of host immunity with pharmacokinetic and pharmacodynamic data on isoniazid and rifampin. The model is calibrated to plasma pharmacokinetic and granuloma bacterial load data from non-human primate models of tuberculosis and to tissue and granuloma measurements of isoniazid and rifampin in rabbit granulomas. We predict the efficacy of regimens containing different doses and frequencies of isoniazid and rifampin. We predict impacts of pharmacokinetic/pharmacodynamic modifications on antibiotic efficacy. We demonstrate that suboptimal antibiotic concentrations within granulomas lead to poor performance of intermittent regimens compared to daily regimens. Improvements from dose and frequency changes are limited by inherent antibiotic properties, and we propose that changes in intracellular accumulation ratios and antimicrobial activity would lead to the most significant improvements in treatment outcomes. Results suggest that an increased risk of drug resistance in fully intermittent as compared to daily regimens arises from higher bacterial population levels early during treatment.
Conclusions
Our systems pharmacology approach complements efforts to accelerate tuberculosis therapeutic development.
Keywords
Computational model
Pharmacokinetic/Pharmacodynamic
Isoniazid
Rifampin
Tissue distribution
Background
Pulmonary tuberculosis (TB) results from Mycobacterium tuberculosis (Mtb) infection. TB is treatable, but remains a significant public health problem worldwide [1]. Lengthy treatment, requiring at least 6 months of chemotherapy with multiple antibiotics, contributes to patient non-compliance, relapse, drug-resistance, and toxicity, creating an urgent need for shorter regimens and less frequent dosing [2–5]. New approaches are desperately needed for improving TB treatment [6] and include both designing new treatment regimens and developing new antibiotics.
Current regimen design is largely based on efficacy data in mouse models and has not led to dramatic improvements to standard protocols [7]. New regimen design is difficult due to limited understanding of basic mechanisms driving clinical outcomes [7] and because standardized, side-by-side comparisons between treatment regimens are lacking [8–10]. New anti-TB antibiotics are being developed, but it is difficult to predict clinical efficacy based on in vitro experiments or even pre-clinical efficacy data as illustrated by disappointing results from recent clinical trials [11–13].
Though it is known that sufficient exposure of bacteria to antibiotics is key to effective TB treatment, dynamics of antibiotics and Mtb at sites of infection, i.e. within granulomas, remain largely unknown and difficult to assess. Granulomas are dense, roughly spherical, complex immunological structures that form upon Mtb infection. Granulomas isolate and control Mtb as well as provide a niche for its persistence. These structures complicate treatment since antibiotic penetration into granulomas is often heterogeneous, and bacteria develop phenotypic tolerance to antibiotics inside granulomas [14].
New antibiotics and regimens must be designed based on a strong pharmacokinetic (PK)-pharmacodynamic (PD) rationale, mindful of the complexities facing antibiotic penetration into and activity within granulomas [
2
]. Here we show how systems pharmacology can help narrow the design space of new antibiotic regimens and anti-TB antibiotics. We use our established computational model that integrates spatio-temporal dynamics of host immunity (granuloma formation and function [
15
–
19
]), PK (in plasma and in lung tissue) and PD [
20
] (Fig.
1a
). Our approach draws from data in animal studies of TB that exhibit human-like pathology [
21
]. We use this model to generate a repository of
in silico
granulomas and then "treat" these granulomas with isoniazid (INH) and rifampin (RIF), alone and in combination. We compare current regimens in a side-by-side analysis and, unique to using a computational model, we are able to isolate mechanisms of antibiotic penetration and activity that lead granulomas to sterilization. Further, we propose new antibiotic regimens and antibiotic property modifications that could greatly improve TB treatment.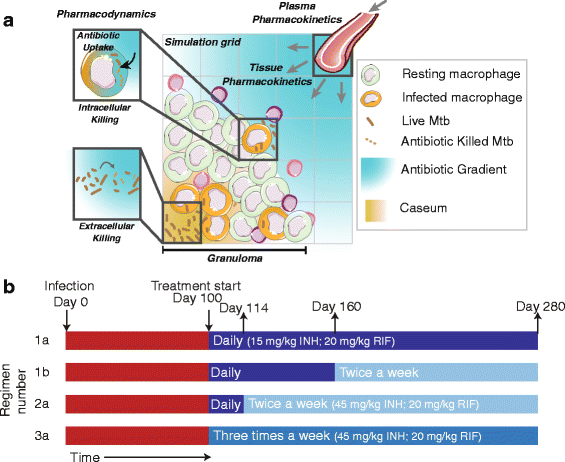 Conclusions
TB remains one of the leading infectious diseases worldwide [35]. Experimental studies in appropriate animal models are costly and difficult, and computational models are ideal for generating and testing hypotheses. We evaluate TB treatment using our computational model that integrates host immune dynamics, plasma PK, tissue PK, PD and bacterial dynamics and is calibrated to animal models of TB. The model is well-suited to study TB treatment in the complex granuloma environment, which is difficult to accomplish clinically or in the laboratory.
There is clinical evidence for improved patient compliance and effective treatment of active TB with intermittent regimens [36]. However, direct efficacy comparisons between daily and intermittent regimens are scarce, and existing reports do not agree on the clinical differences between daily and intermittent regimens [34, 37, 38]. Our simulated granulomas do not suffer from cohort-to-cohort variability, which often limits comparison of clinical trials. Our side-by-side comparison of regimens indicates that intermittent INH and RIF regimens have an increased risk of treatment failure and prolonged time to sterilization as compared to daily regimens. We can use the computational model to quickly and systematically test a large number of regimens and quantify improvements that are achievable, acknowledging two major obstacles: drug toxicity associated with increased cumulative exposure to antibiotics, and patient compliance and implementation issues associated with directly observed treatment. While more than double the current dose of RIF is well tolerated in most patients [32, 39], increases in INH exposure are only well-tolerated in patients with fast INH plasma clearance rates [33]. It is increasingly appreciated that antibiotic levels may have an important impact on TB treatment outcomes and emergence of drug resistance [40, 41]. This is particularly true for the rifamycins, as demonstrated in multiple clinical studies of 'high-dose' RIF or rifapentine [32, 42]. Increasing dosing frequency can aggravate patient compliance issues, unless an increase in dosing frequency can lead to a significant reduction in treatment duration. Implementation of higher dosing frequencies places increased strain on patients that need to have their dosing observed. However, such stresses could be alleviated by training home supervisors [43] or community members [44] to facilitate DOT. Ultimately, TB treatment is an optimization challenge spanning multiple biological, social and epidemiological scales.
Furthermore, is it more desirable to improve drug penetration or potency? We have shown that antibiotic efficacy is the result of a complex interplay between a variety of PK and PD properties including effective concentrations (C50), tissue distribution and drug uptake by host cells, and we have quantified the impact of each property. Our results confirm that over-reliance on potency rather than PK and PD at the site of infection should be avoided [2]. Antibiotic limitations are functions of physico-chemical properties that can be dialed-in by medicinal chemistry, to some extent [45]. For example, QSAR-based design has made significant strides toward rational design of INH derivatives [46, 47], but is almost exclusively focused on lowering MIC [46–48]. A systematic evaluation of the penetration of new drug candidates to the site of action most relevant for their sterilizing activity will undoubtedly help shorten TB treatment and minimize the number of agents required to achieve a sterile cure [45]. We move toward such systematic evaluation by predicting where INH and RIF are limited in the path from blood to lesion to bacterium [2]. Our approach can provide structure and direction to medicinal chemistry efforts and early drug discovery programs.
How antibiotic and bacterial dynamics in the granuloma contribute to the global rise in antibiotic resistant TB, remains unclear. There is a knowledge gap between in vitro studies of drug-resistance and clinical observations. Using our model, we offer the first time ability to predict both spatial and temporal risks of resistance in granulomas for different regimens, and can move toward designing desperately needed treatment regimens minimizing drug resistance. In vivo studies of drug resistance in NHP models of TB are difficult due to low bacterial numbers per granuloma. In vitro resistance studies incorporating PK [28] could be integrated into a next-generation model, shedding light on the contribution of unintentional monotherapy (e.g. in non-replicating bacterial populations where INH performs poorly) to drug resistance development. TB treatment could move beyond traditional antibiotic treatment to include immune-modulation and targeted drug delivery [49, 50], and we have begun to explore those possibilities with our computational model [18, 51].
Our computational approach, particularly when expanded to include additional antibiotics such as bedaquiline, can form part of the international collaborative effort to determine which antibiotics and combinations should be advanced to phase 2 and 3 clinical trials [10] and inform strategies to include immune-modulators in TB treatment [49]. As efforts to shorten treatment regimens beyond the current 6 months have failed in clinical trial stage [7, 11–13], our method provides a straightforward way to understand reasons for inferiority of shorter regimens [7], and to explore new combinations and strategies in silico, increasing the probability of clinical trial success.
Abbreviations
TB:

Tuberculosis
Mtb:

Mycobacterium tuberculosis
PK:

Pharmacokinetics
PD:

Pharmacodynamics
INH:

Isoniazid
RIF:

Rifampin
NHP:

Non-human primate
AUC:

Area under the concentration curve
Ts:

Time to sterilization
TOI:

Treatment outcome index
d.p.i:

Days post infection
CFU:

Colony forming units
Declarations
Acknowledgments
This work was supported by the National Institutes of Health (grant numbers R01 AI111967-01 to VD, R01 HL106804 to DEK, R01 EB012579 to DEK and JJL, and R01 HL 110811 to DEK and JJL). Computational resources include the National Energy Research Scientific Computing Center, supported by the Office of Science of the U.S. Department of Energy Contract No. DE-AC02-05CH11231; Open Science Grid, supported by NSF and the U.S. Department of Energy's Office of Science; Extreme Science and Engineering Discovery Environment (XSEDE), supported by NSF grant no. ACI-1053575. Thanks to P. Wolberg and J. Waliga for technical and computational support, and to Dr. J. Flynn for discussions.
Open AccessThis article is distributed under the terms of the Creative Commons Attribution 4.0 International License (http://creativecommons.org/licenses/by/4.0/), which permits unrestricted use, distribution, and reproduction in any medium, provided you give appropriate credit to the original author(s) and the source, provide a link to the Creative Commons license, and indicate if changes were made. The Creative Commons Public Domain Dedication waiver (http://creativecommons.org/publicdomain/zero/1.0/) applies to the data made available in this article, unless otherwise stated.
Authors' Affiliations
(1)
Department of Chemical Engineering, University of Michigan, Ann Arbor, USA
(2)
Department of Microbiology and Immunology, University of Michigan Medical School, Ann Arbor, USA
(3)
Public Health Research Institute and New Jersey Medical School, Rutgers, The State University of New Jersey, Newark, USA