Research Article
Open Access
A mathematical model of mechanotransduction reveals how mechanical memory regulates mesenchymal stem cell fate decisions
BMC Systems Biology
BMC series – open, inclusive and trusted
2017
11:55
Received: 24 November 2016
Accepted: 26 April 2017
Published: 16 May 2017
Abstract
Background
Mechanical and biophysical properties of the cellular microenvironment regulate cell fate decisions. Mesenchymal stem cell (MSC) fate is influenced by past mechanical dosing (memory), but the mechanisms underlying this process have not yet been well defined. We have yet to understand how memory affects specific cell fate decisions, such as the differentiation of MSCs into neurons, adipocytes, myocytes, and osteoblasts.
Results
We study a minimal gene regulatory network permissive of multi-lineage MSC differentiation into four cell fates. We present a continuous model that is able to describe the cell fate transitions that occur during differentiation, and analyze its dynamics with tools from multistability, bifurcation, and cell fate landscape analysis, and via stochastic simulation. Whereas experimentally, memory has only been observed during osteogenic differentiation, this model predicts that memory regions can exist for each of the four MSC-derived cell lineages. We can predict the substrate stiffness ranges over which memory drives differentiation; these are directly testable in an experimental setting. Furthermore, we quantitatively predict how substrate stiffness and culture duration co-regulate the fate of a stem cell, and we find that the feedbacks from the differentiating MSC onto its substrate are critical to preserve mechanical memory. Strikingly, we show that re-seeding MSCs onto a sufficiently soft substrate increases the number of cell fates accessible.
Conclusions
Control of MSC differentiation is crucial for the success of much-lauded regenerative therapies based on MSCs. We have predicted new memory regions that will directly impact this control, and have quantified the size of the memory region for osteoblasts, as well as the co-regulatory effects on cell fates of substrate stiffness and culture duration. Taken together, these results can be used to develop novel strategies to better control the fates of MSCs in vitro and following transplantation.
Keywords
Mesenchymal stem cellECM YAP/TAZ Cell fate decisionStiffness sensingMemoryBistabilityNonlinear dynamicsMathematical modeling
Background
Changes in cellular state can be regulated by mechanical signals from the cellular microenvironment, such as the local extracellular matrix (ECM) stiffness [1–4]. Recent studies into mechanotransduction have demonstrated that cells sense and integrate mechanical cues from the ECM, causing transcriptional changes to occur and influencing cell fate decisions [1–3, 5]. Mesenchymal stem cells (MSCs) are controlled by signals from the ECM and exhibit a wide range of differential gene expression patterns [1, 6]. The mechanisms governing how MSCs sense the surrounding ECM, and the myriad other factors affecting MSC fate, including interactions with proteins and ligands, tethering, and porosity, remain incompletely defined [3, 7]. Further understanding of how differentiation cues are mediated by mechanical stimuli will help to facilitate new biomaterial design, cell-based therapeutics, and engineered tissue constructs for use in regenerative medicine.
The signals arising at the stem cell/substrate interface are complex and dynamic [
7
], however it has been shown that stiffness alone is enough to direct MSC differentiation [
3
,
4
]. MSCs undergo neurogenic or adipogenic differentiation on soft substrates (<1 kPa), and myogenic or osteogenic differentiation on stiff substrates (>10 kPa) [
1
,
5
] (Fig.
1
). Upon further study, more complex differentiation patterns emerge. For example, it has been observed that cells cultured for a period of time on stiff substrates, such as standard tissue culture polystyrene (TCPS) plates, differentiate into osteogenic lineage cells even after being transferred from the stiff to a softer substrate [
8
]. Seeding MSCs on a phototunable substrate demonstrates that osteogenic patterns of gene expression persist even after decreasing the stiffness of the substrate [
8
]. This "mechanical memory": the ability of MSCs to remember previous physical stimuli depends on both culture time and substrate stiffness (depicted in Fig.
1
).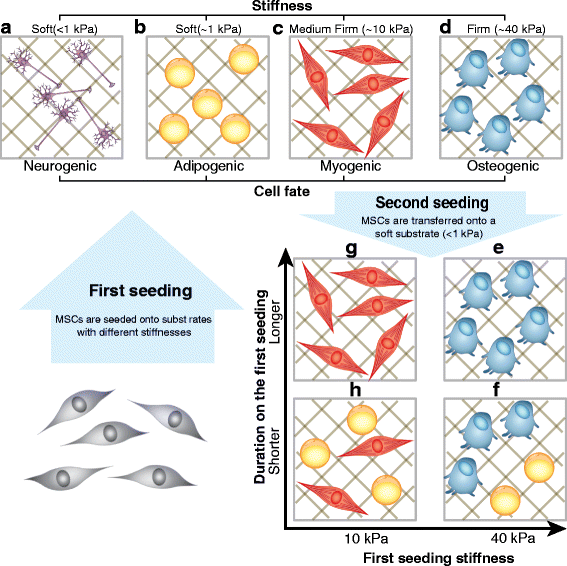 Due to mechanical memory, MSC differentiation in vitro can yield unpredictable (and undesirable) results. Mechanical memory also makes it very difficult to perform certain in vitro assays reliably, for example on extremely soft or stiff substrates, or assays with very long or short incubation periods. Such extreme culture conditions are nonetheless important to assess in order to fully elucidate the relationship between MSC fate and substrate stiffness [9]. In addition to the impracticality of performing short (i.e. seconds) or long (i.e. months) incubation experiments, experimental knock-downs of key genes involved in mechanotransduction, such as Yes-associated protein (YAP), can be lethal or highly toxic in vitro and in vivo [10, 11]. There is thus a need for in silico studies to simulate culture conditions and to map the MSC fate predictions to experimental results describing mechanically induced cell differentiation.
Several mathematical models of mechanotransduction have been built to describe cell differentiation directed by external mechanical stimuli [12, 13]. These include, for example, analysis of the role of YAP/TAZ, the transcriptional factors YAP and transcriptional co-activator with PDZ-binding motif (TAZ), in mechanosensing [14], and models that aim to predict cell differentiation during bone healing [12, 15, 16]. Mousavi et al. developed a 3D mechanosensing computational model to illustrate that matrix stiffness can regulate MSC fates. Their simulation results of MSC differentiation in response to substrate stiffness are in agreement with published experimental observations [13]. Burke et al. built a computational model to test whether substrate stiffness and oxygen tension regulate stem cell differentiation during fracture healing [12]. Their model predicted the presence of major processes involved with fracture healing, including cartilaginous bridging, endosteal and periosteal bony bridging, and bone remodeling, using parameters related to cell proliferation, oxygen tension, and substrate stiffness. However, these models are limited in that the effects of regulatory factors were not considered [12–16]. Furthermore, these studies used different models to represent different experimental observations. Hence it is difficult to describe the overall cell state space and to study the transitions between cell fates [12–16]. Thus, there is a need for a dynamic mathematical model, which can stimulate a continuous range of stiffness values and their associated cell fates.
Here we present a mathematical model of MSC differentiation controlled by the following set of core mechanisms (Fig.
2
and Table
1
) [
1
,
6
,
9
]. The MSCs sense the stiffness of their environment directly via their adhesion to the substrate. The transcriptional factors
YAP
and
TAZ
mediate the signal via their interaction with downstream genes involved in cell differentiation.
TUBB3
, a gene encoding Tubulin beta-3 chain tightly correlated with a neurogenic cell fate is expressed when MSCs receive stimuli from a soft stiffness environment (<1 kPa) [
1
].
PPARG
, peroxisome proliferator-activated receptor gamma, encodes an adipogenic marker and has been shown to be turned on in soft stiffness environments (~1 kPa) [
6
].
MYOD1
, myogenic differentiation 1, a myogenic gene turned on in medium-stiff environments (~10 kPa), encodes key factors regulating muscle differentiation [
1
].
RUNX2
, runt-related transcription factor 2, an osteogenic gene which is upregulated in high stiffness environments (~40 kPa), is a key transcriptional factor involved in osteoblast differentiation [
1
] (Fig.
1
). We use this set of four lineage-specific genes in our model to minimally describe the transcriptional changes observed during MSC differentiation into four distinct cell fates under the influence of mechanical stimuli mediated by
YAP/TAZ
signaling.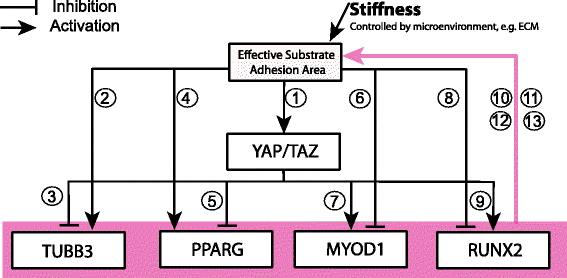 Table 1
The references of regulatory interactions in the network
| Index of Arrows | Interactions | References |
| --- | --- | --- |
| 1 | YAP/TAZ is identified as mechanical sensors and mediators. | |
| 3 | The inhibition of TUBB3 can be attenuated by YAP depletion. | Alarcon, C et al. 2009 [65] |
| 5 | PPARG can be bound to TAZ, which results in transcription inhibitions from the aP2 promoter. | Hong, J.H. et al, 2006.[21] |
| 7 | TAZ functions as an enhancer of MYOD-mediated myogenic differentiation. | Jeong, H. et al, 2010. [66] |
| 9 | RUNX2 has binding domain to TAZ for osteocalcin expression. | |
| 10,11,12,13 | Increased cell spreading results in higher stiffness sensitivity via increased binding of integrins to the ECM. | Halder G et al, 2012. Sun Y et al, 2012. Bernabe B P et al, 2016. [6, 17, 67] |
| 2,4,6,8 | These arrows are necessary for the dynamics of TUBB3, PPARG, MYOD1, and RUNX2 on all possible stiffness environment since TUBB3, PPARG, MYOD1, and RUNX2 are expressed only on the super soft stiffness (< 1 kPa), the soft stiffness (~1 kPa), the medium stiffness (~10 kPa), and the high stiffness (~40 kPa) environment respectively. | |
Based on the proposed regulatory network structure (Fig. 2), we simulate gene expression dynamics under different mechanical dosings. Each in silico experiment describes MSCs cultured in two passages: a first seeding and a second seeding. The substrate stiffness for the first seeding and the duration of the first seeding are particularly important in cell fate determination of MSCs. We also discover an important role for the second seeding stiffness through our simulation studies. Crucially, this two-seeding setup permits mechanical memory to be observed and studied. We assess when cell fates are determined not only by the current substrate stiffness but also by past exposure and find that a memory region exists for each of the four MSC-derived cell lineages studied. Our model demonstrates that stiffness-based MSC differentiation results from non-cooperative regulation of representative genes. Moreover, we show that lowering the second seeding stiffness of MSCs leads to a more diverse palette of MSC fates.
Discussion
Mesenchymal stem cell fate can be controlled by mechanical dosing [1]. Mechanical memory (past mechanical dosing) also affects stem cell fate, particularly when the initial substrate is stiff [8], it is difficult however to experimentally test the effects of mechanical memory over a wide range of culture conditions. Here we have presented a mathematical model that allows such tests to be performed, producing several striking predictions. We first assessed whether the model is able to recapitulate experimental studies, and find that it does agree with evidence showing MSC differentiation into neurons or adipocytes on softer substrates, and myocytes or osteoblasts on stiffer substrates. We then analyzed model behavior over longer timescales, and found that a mechanical memory region exists for each of these MSC-derived cell lineages, with substantial variation in the memory stiffness range for each cell fate. Previously, a memory region has only been observed during osteogenic differentiation, and even then, only qualitative assessment of its behavior was made. We are able to provide bounds on the substrate stiffness ranges permissive of memory effects for all four lineages.
Upon re-seeding MSCs onto a second substrate, the stem cells differentiate according to mechanical memory under certain conditions. We predict that (in addition to the stiffness of the first substrate) the duration of the first seeding also directly influences stem cell memory. By changing only the duration of the initial seeding we can directly influence cell fate. The number of fates accessible to the MSC can also be controlled by the final seeding stiffness. Landscape analysis demonstrates that, for a constant first seeding stiffness and duration, a higher second seeding stiffness limits the number of MSC fates accessible, and that a sufficiently low final seeding stiffness is permissive of differentiation into all four cell fates. We also found that the feedback loop connecting lineage-specific genes to the effective surface adhesion area is critical for the mechanical memory of MSC differentiation. This might be due to integrin—substrate binding, or morphological changes that occur upon differentiation [1, 3, 7, 17].
As well as their direct relevance for in vitro studies, our model predictions also have important implications for the design of regenerative therapeutics. A major challenge here is lack of precision in cell fate control following transplantation. A better understanding of the relationship between mechanical conditions, culture duration, and stem cell fates is needed. By defining the substrate stiffness limits that regulate MSC fates, this study provides means to design experimental protocols that constrain cells to be confined within fate boundaries, thus avoiding differentiation towards an undesirable fate [47–50]. Mechanical memory could be employed advantageously here, e.g. by preconditioning MSCs via mechanical dosing. An improved understanding of the MSC mechanotransduction pathway will also affect our ability to control multipotency, and should enable us to better culture undifferentiated MSCs in vitro.
In order to study additional effects of the mechanotransduction pathway on stem cell fate, a model that describes a larger regulatory network is needed. Cell-cell interactions have not yet been incorporated into our model, although there is a large body of work detailing the importance of the microenvironment (i.e. the effects of cell-cell interactions and of the niche) on stem cell differentiation [30, 51]. In addition, we have chosen a small set of four lineage-specific genes in order to minimize the size of the model's parameter space. Clearly a greater number of genes are involved in the regulation of MSC fate; without a description of this larger transcriptional network we will not be able to describe nuances of mechanically-induced MSC fate dynamics. However, we believe that the dynamics – and the attractors corresponding to differentiated cell states observed here constitute core pathway mechanisms that would still underlie cell fate decisions in a larger network.
Conclusions
In this study we sought to investigate the mechanisms of control exerted via mechanical forces upon mesenchymal stem cells during culture and differentiation. Simulations of the gene expression dynamics under different mechanical dosing conditions have led to several predictions. We found that non-cooperative gene regulation is the most plausible mechanism to describe MSC differentiation and we predict that mechanical memory is a general mechanism affecting all of the MSC-derived lineages in this model. We found that the duration of the initial culture and the substrate stiffness during this initial culture are particularly crucial in determining the MSC fates. In addition, we were able to show that a lower final-seeding substrate stiffness permitted a greater number of MSC fates.
Through careful analysis, the ever-expanding body of high-throughput transcriptomic data will enable the study of ever-more complex gene networks. Both the MSC fate transcriptional network structure and the dynamics of the network need to be inferred from data. Spatial interactions, e.g. arising from niche-mediated effects on MSCs, may necessitate a move towards a suitable model framework such as partial differential equations or cell-based (e.g. Cellular Potts) models. Once a clearer picture emerges, it will be possible to extend our model with the incorporation of relevant new signaling interactions. In doing so, we hope to provide further insight into the complex networks of regulation underpinning mesenchymal stem cell fate.
Abbreviations
ECM:

Extracellular matrix
MSC:

Mesenchymal stem cell
MYOD1:

Myogenic Differentiation 1
ODE:

Ordinary differential equation
PPARG:

Peroxisome proliferator-activated receptor gamma
RUNX2:

Runt-related transcription factor 2
SAA:

Effective stiffness adhesion area
SDE:

Stochastic differential equation
TAZ:

Transcriptional coactivator with PDZ-binding motif
TCPS:

Tissue culture polystyrene
TUBB3:

The gene encode Tubulin beta-3 chain
YAP:

Yes-associated protein
Declarations
Acknowledgements
Not applicable.
Funding
QN was partially supported by NSF grants DMS1161621, and DMS1562176, and NIH grants P50GM076516, R01GM107264, and R01NS095355. WZ was partially supported by the NIH grant 1DP2CA195763.
Availability of data and materials
The dataset supporting the conclusions of this article is included within the article and its Additional file 1.
Authors' contributions
The overall work was conceived and designed by TP, LL, WZ and QN. Simulations and implementations of the model were carried out by TP. Data analysis was performed by TP, LL, ALM, CWW, WZ, and QN. TP and LL wrote the first draft of the manuscript, and TP, LL, ALM, CWW, WZ, and QN together finalized the manuscript. All authors have read and approved the final version of the manuscript.
Competing interests
The authors declare that they have no competing interests.
Consent for publication
Not applicable.
Ethics approval and consent to participate
Not applicable.
Publisher's Note
Springer Nature remains neutral with regard to jurisdictional claims in published maps and institutional affiliations.
Open AccessThis article is distributed under the terms of the Creative Commons Attribution 4.0 International License (http://creativecommons.org/licenses/by/4.0/), which permits unrestricted use, distribution, and reproduction in any medium, provided you give appropriate credit to the original author(s) and the source, provide a link to the Creative Commons license, and indicate if changes were made. The Creative Commons Public Domain Dedication waiver (http://creativecommons.org/publicdomain/zero/1.0/) applies to the data made available in this article, unless otherwise stated.
Authors' Affiliations
(1)
Department of Mathematics, Center for Complex Biological Systems, and Center for Mathematical and Computational Biology, University of California, Irvine, USA
(2)
Department of Pharmaceutical Sciences, Department of Biomedical Engineering, Department of Biological Chemistry, Sue and Bill Gross Stem Cell Research Center, Chao Family Comprehensive Cancer Center & Edwards Life sciences Center for Advanced Cardiovascular Technology, University of California, Irvine, USA