Methodology article

Open Access
Exploiting the pathway structure of metabolism to reveal high-order epistasis
BMC Systems Biology
2008
2:40
Received: 05 December 2007
Accepted: 30 April 2008
Published: 30 April 2008
Abstract
Background
Biological robustness results from redundant pathways that achieve an essential objective, e.g. the production of biomass. As a consequence, the biological roles of many genes can only be revealed through multiple knockouts that identify a set of genes as essential for a given function. The identification of such "epistatic" essential relationships between network components is critical for the understanding and eventual manipulation of robust systems-level phenotypes.
Results
We introduce and apply a network-based approach for genome-scale metabolic knockout design. We apply this method to uncover over 11,000 minimal knockouts for biomass production in an in silico genome-scale model of E. coli. A large majority of these "essential sets" contain 5 or more reactions, and thus represent complex epistatic relationships between components of the E. coli metabolic network.
Conclusion
The complex minimal biomass knockouts discovered with our approach illuminate robust essential systems-level roles for reactions in the E. coli metabolic network. Unlike previous approaches, our method yields results regarding high-order epistatic relationships and is applicable at the genome-scale.
Keywords
Metabolic NetworkMixed Integer Linear ProgrammingBiomass ComponentExtreme PathwayTableau Algorithm
Background
The complexity of biological systems arises from the highly parallel and epistatic relationships between their components. Determination of the systems level role of biological components has been classically approached through the study and characterization of knockout phenotypes. However, the robustness of biological systems obscures the role of most individual components, which are redundant and seemingly "dispensible". The role of such robust modules can only be revealed through multiple knockout of complex essential sets [1, 2].
This property of complex biological systems is particularly true for small-molecule metabolism, which is governed by an intricate and highly robust network of biochemical reactions that leaves most single knockouts without a discernible in vivo or in silico phenotype. A recent study by Deutscher et al. employs in silico multiple knockout analysis to reveal novel essential roles for reactions in the yeast metabolic network [1]. These results indicate the presence of "deep" epistatic relationships between large sets of network components that manifest only with multiple knockouts. They suggest that systematic probing of such complex "essential reaction sets" can establish novel links between reactions and systems level functions.
Interest in epistasis between biological network components is motivated by practical considerations. Firstly, the emergence of microbial resistance motivates the search for new antibiotics. Systems biology can inform this search through "rational" identification of multivalent pharmaceutical targets via a functional analysis of biological network robustness. Secondly, higher order interactions detected in in silico network models can help suggest "epistatic" candidate gene combinations for genomic association studies linking genotype to phenotype (e.g. human disease). Derivation of such interactions from a functional network model is one important way systems biology could impact applied genomics.
Current approaches to in silico analysis of essentiality and epistasis in metabolism employ flux balance analysis (FBA), a linear programming (LP) based approach that optimizes biomass production subject to a given combination of capacity constraints on reactions [3]. Applying a "brute force LP" approach, one can exhaustively test all combinations of single, double, triple etc. in silico mutants. This approach, though applicable to analysis of low-order (≤ 4) knockout combinations, is untenable for higher-order mutant combinations [1]. For example, a network of 1000 reactions would require over 1014 linear programs to exhaustively test all possible quintuple-knockout combinations.
A more "elegant" approach for probing essentiality in metabolic networks is the minimal cut set (MCS) algorithm of Klamt and Gilles [4]. This algorithm employs the elementary modes (EM) of a metabolic network to uncover minimal cut sets, or minimal sets of reactions whose knockout disables a particular objective reaction. Underlying the MCS algorithm is the principle that a minimal cut set R for an objective reaction j is a minimal set of reactions that intersects all j-containing EM [5]. As a result, MCS can be enumerated for a network through the simple identification of "minimal hitting sets" for j-containing EM [6]. The main limitation of the MCS algorithm is the intractability of EM calculation for large networks (i.e. larger than 300 reactions) given current computing resources and algorithms. This limitation renders the Klamt and Gilles method inapplicable to genome-scale models.
In this paper, we demonstrate a scalable approach for uncovering high-order epistatic relationships between components of large metabolic networks. Our method is based on the analysis of pathway fragments, which arise as the extreme pathways of a submatrix of the stoichiometry matrix formed by taking a subset of its rows. Alternatively stated, pathway fragments are flux configurations that place only a subset of species in the system at steady state. Pathway fragments naturally emerge in the intermediate steps of the tableau algorithm for elementary mode computation [7], and are thus obtainable for a network of any size. By employing properties of the feasible flux cone, we show how knockouts, or cut sets, for an objective reaction j can be constructed by enumerating minimal hitting sets for j-containing pathway fragments. Though the resulting cut sets are not guaranteed to be minimal, they can be reduced to minimality via a second LP based step. As we show, this method offers a practical and high-yield approach for MCS computation and the study of epistasis in genome-scale metabolic networks.
We demonstrate the applicability of this approach to a genome scale metabolic model of E. coli, iJR904 [8]. We use our method to calculate over 11,000 MCS for biomass production. This greatly exceeds the yield of LP-based brute force and random knockout approaches in identifying such complex "essential sets". Our results represent high order epistatic relationships between components of E. coli metabolism and illuminate essential systems level roles of reactions in highly redundant and robust E. coli subnetworks.
Results and Discussion
Network-based approach yields 11,706 complex essential sets in E. coli
To test our approach, we examined failure modes for rich media biomass production in the E. coli IJR904 genome-scale metabolic network model. In rich media, all extracellular nutrients are made available, resulting in many redundant pathways for biomass biosynthesis. This redundancy makes biomass production very difficult to suppress via single or double knockouts.
Our network based analysis approach found 11,706 MCS for biomass production in rich media. These MCS target 36 of 49 biomass components and employ 355 of the 1324 possible non-sink reactions in the
E. coli
network. As shown in Figure
2
, most of these 11,706 essential sets have high cardinality (> 5 reactions). The vast majority (11343) of the MCS carry out a precise "surgical strike" on biomass production, targeting the synthesis of only a single component. Biomass components most often targeted by these MCS are L-threonine (10655 MCS), dTTP (297 MCS), 5-methyl-THF (216 MCS), FAD (197 MCS), and dGTP (190 MCS). All 11,706 MCS and their biomass targets are included as Supplementary Data [see Additional File
1
.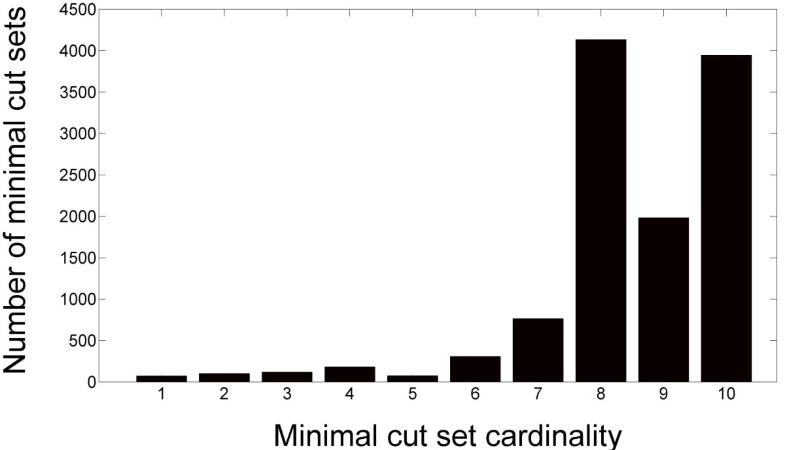 Essential sets reveal epistasis between diverse E. coli subsystems
The original model annotation of
E. coli
iJR904 groups reactions into 30 "subsystems" [
8
]. The MCS obtained from network analysis span 23 of these 30 reaction subsystems in the
E. coli
metabolic network. Superimposition of the MCS on the subsystem reaction classification yields 58 unique "subsystem signatures", which are shown in Figure
3
. Analyzing these signatures shows that only 289 of the MCS discovered with our approach target a single subsystem, while the vast majority (10838) target three or four subsystems. The most prevalent (7720 MCS) of these multivalent subsystem signatures target the combination of "Cell Envelope Biosynthesis", "Threonine and Lysine Metabolism", "Alternate Carbon Metabolism", and "Extracellular transport". MCS with such signatures clearly represent complex interactions between functionally disparate and parallel portions of the
E. coli
metabolic network.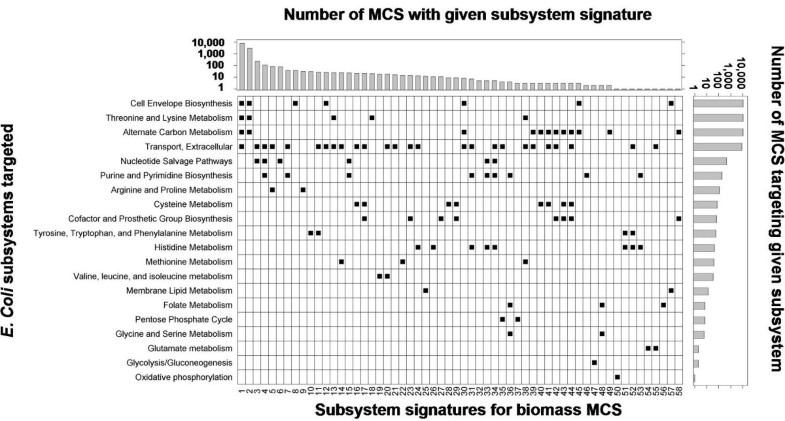 NetKO efficiently uncovers complex interactions in E. coli metabolic network
To demonstrate the utility of NetKO, we benchmarked it against two standard in silico metabolic knockout analysis approaches: brute-force LP and random knockout. For brute-force LP, we tested all single and double knockouts. In our random knockout approach, we sampled 250,000 random reaction sets of cardinality 10. For each such set, we determined whether its knockout cut the production of biomass and reduced it to minimality with respect to biomass production (via Reduce).
Comparing the results (Table
1
) we found that
NetKO
was able to yield a larger number of MCS that targeted more reactions in the network than either brute force or random knockout approaches. Table
1
shows that our network-based genome-scale knockout design yielded over 50 times as many MCS as both brute-force and random KO approaches. Furthermore, MCS obtained using our network-based approach implicate a larger number of reactions as
k
< 10-essential for biomass production for rich media
E. coli
. Though we employ different cardinality limits for the network based (
k
≤ 10) and brute force (
k
≤ 2) approaches in this benchmark, we note that these results reflect a similar order of magnitude of LP operations (115,243 vs 487,671), resulting in higher return for a similar expenditure of computational resources. In comparison to the random approach, which also tests reaction sets of cardinality 10, we note that
NetKO
employs two orders of magnitude fewer linear programs than a random knockout approach (113,989 vs 7,221,149) while yielding many more high-order interactions.
Table 1
Benchmarking Results
| Property | Brute-force LP (k = 2) | Random KO + Reduce (k = 10) | NetKO (k = 10) |
| --- | --- | --- | --- |
| Number of MCS found | 215 | 223 | 11,706 |
| Highest Cardinality MCS Obtained | 2 | 3 | 10 |
| Reactions included in at least one MCS | 263 | 235 | 355 |
| Number of biomass components targeted | 38 | 41 | 36 |
| Number of linear programming steps | 487,670 | 7,221,149 | 113,989 |
Comparison of brute KO and NetKO results show that in many ways the two approaches are complementary (Table 1). For example, NetKO is not guaranteed to find all cut sets of a given cardinality: it misses 99 of the 215 MCS found with brute-force LP. Furthermore, MCS obtained using brute-force LP cover an alternate set of reactions and biomass components than MCS discovered using NetKO. This occurs because NetKO is biased towards finding high-cardinality MCS. Though the number of reactions belonging to Brute-force LP and NetKO derived MCS are the same, we note that NetKO establishes k < 10-essential roles for 184 E. coli reactions that have no 1- or 2- essential role in biomass production. The differences in biomass targets also reflect the fact that brute force LP is biased towards biomass components targeted by low-cardinality cut sets (e.g. LPS). Because of these differences, one can use "brute force LP" results to determine general network properties regarding the rate of interaction between genes for a given degree of epistasis k [2], which cannot be gleaned from the results of NetKO. Conversely, unlike brute force LP, one can use NetKO to uncover very high-order epistatic relationships for robust network functions.
Our random KO results demonstrate quite strikingly how difficult it is to find high order MCS in the E. coli metabolic network (Table 1). Though many (52%) of the 250,000 random reaction sets of size 10 cut biomass production, all of these cut sets are built from a relatively small number (223) of size 1 to 3 MCS. The rarity of high cardinality MCS in these results is a testament to the efficacy of NetKO in exploiting network structure for knockout design. Additionally, the difference between the size of these cut sets and the size of MCS they contain shows why it is so expensive (requiring over 7 million LP's) to reduce these random high-cardinality cut sets to minimality. In contrast, cut sets generated through pathway fragment analysis in NetKO are much closer to minimality, requiring much fewer LP's in the Reduce computational step.
Minimal cut sets targeting L-threonine reveal a robust 41 reaction biosynthetic subnetwork
In E. coli iJR904, L-threonine production is invulnerable to all single or double knockouts. However, NetKO discovers 10655 MCS that target the production of this amino acid: all but 10 of these L-threonine targeting MCS employ more than 5 reactions, and 9725 involve 8 or more reactions.
Interestingly, these 10655 genome-scale MCS arise exclusively from a 41 reaction subnetwork of
E. coli
, which is depicted in Figure
4
. Furthermore, only 7 of the reactions in this subnetwork (ASAD, ASPK, DAPabc, HSDy, METabc, 26dap-M and met-L nutrient fluxes) have 1- or 2-essential roles in rich media biomass production; however, low cardinality MCS containing these reactions target peptidoglycan and L-methionine rather than L-threonine production. Our MCS results thus rigorously establish novel systems-level roles for all 41 of these reactions. These results link the systems-level process of L-threonine production in
E. coli
to the functioning of a highly parallelized biosynthetic subnetwork. Epistasis between components of this subnetwork only become apparent through the analysis of high-order knockouts. The L-threonine subnetwork shown in Figure
4
is composed of reactions from the 'Alternate Carbon Metabolism', 'Cell Envelope Biosynthesis', 'Putative Transporters', 'Threonine and Lysine Metabolism', and 'Transport, Extracellular' subsystems. Though it is responsible for a large number of MCS, this subnetwork can be easily understood as the convergence of several pathways linking extracellular carbon sources, cell membrane components, amino acids, and other intracellular species to L-threonine. As we show below, analysis of these pathways yields biochemically intuitive rationale for why these reaction subsets emerge as biomass MCS.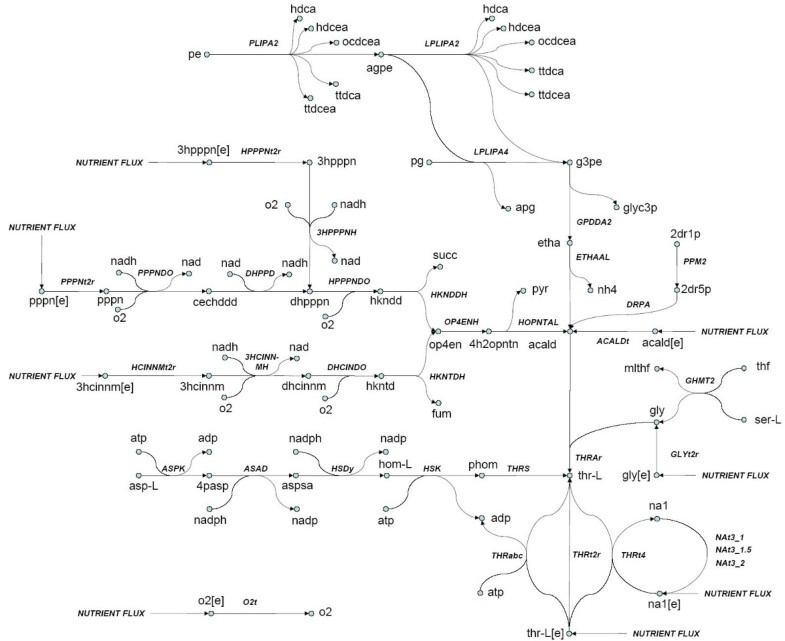 Table 2
List of Abbreviations
| Abbreviation | Full Name | Abbreviation | Full Name |
| --- | --- | --- | --- |
| 2dr1p | 2-Deoxy-D-ribose 1-phosphate | agpe_EC | acyl-glycerophospoethanolamine (E. coli) ** |
| 2dr5p | 2-Deoxy-D-ribose 5-phosphate | apg_EC | acyl phosphatidylglycerol (E. coli) ** |
| 3HCINNMH | 3-hydroxycinnamate hydroxylase | asp-L | L-Aspartate |
| 3HPPPNH | 3-(3-hydroxy-phenyl)propionate hydroxylase | aspsa | L-Aspartate 4-semialdehyde |
| 3hcinnm | 3-hydroxycinnamic acid | atp | ATP |
| 3hcinnm [e] | 3-hydroxycinnamic acid (Extracellular) | cechddd | cis-3-(3-carboxyethyl)-3,5-cyclohexadiene-1,2-diol |
| 3hpppn | 3-(3-hydroxy-phenyl)propionate | dhcinnm | 2,3-dihydroxicinnamic acid |
| 3hpppn [e] | 3-(3-hydroxy-phenyl)propionate (Extracellular) | dhpppn | 3-(2,3-Dihydroxyphenyl)propanoate |
| 4h2opntn | 4-Hydroxy-2-oxopentanoate | etha | Ethanolamine |
| 4pasp | 4-Phospho-L-aspartate | fum | Fumarate |
| ACALDt | acetaldehyde reversible transport | g3p | Glyceraldehyde 3-phosphate |
| ASAD | aspartate-semialdehyde dehydrogenase | g3pe | sn-Glycero-3-phosphoethanolamine |
| ASPK | aspartate kinase | gly | Glycine |
| DHCINDO | 2,3-dihydroxycinnamate 1,2-dioxygenase | glyc3p | Glycerol 3-phosphate |
| DHPPD | 2,3-dihydroxyphenylpropionate dehydrogenase | h | H+ |
| DRPA | deoxyribose-phosphate aldolase | h2o | H2O |
| ETHAAL | Ethanolamine ammonia-lyase | h [e] | H+ (Extracellular) |
| GPDDA2 | Glycerophosphodiester phosphodiesterase | hdca | Hexadecanoate (n-C16:0) |
| HCINNMt2r | 3-hydroxycinnamic acid transport | hdcea | hexadecenoate (n-C16:1) |
| HKNDDH | 2-hydroxy-6-ketonona-2,4-dienedioic acid hydrolase | hkndd | 2-Hydroxy-6-oxonona-2,4-diene-1,9-dioate |
| HKNTDH | 2-hydroxy-6-ketononotrienedioate hydrolase | hkntd | 2-hydroxy-6-ketononatrienedioate |
| HOPNTAL | 4-hydroxy-2-oxopentanoate aldolase | hom-L | L-Homoserine |
| HPPPNDO | 2,3-dihydroxypheylpropionate 1,2-dioxygenase | na1 | Sodium |
| HPPPNt2r | 3-(3-hydroxyphenyl)propionate transport | na1 [e] | Sodium (Extracellular) |
| HSDy | homoserine dehydrogenase (NADPH) | nad | Nicotinamide adenine dinucleotide |
| HSK | homoserine kinase | nadh | Nicotinamide adenine dinucleotide – reduced |
| LPLIPA2 | Lysophospholipase L (acyl-glycerophosphoethanolamine) | nadp | Nicotinamide adenine dinucleotide phosphate |
| LPLIPA4 | Lysophospholipase L (acyl transfer to phosphatidylglycerol) | nadph | Nicotinamide adenine dinucleotide phosphate – reduced |
| NAt3_1 | sodium proton antiporter (H:NA is 1:1) | nh4 | ammonium |
| NAt3_1.5 | sodium proton antiporter (H:NA is 1.5) | o2 | O2 |
| NAt3_2 | sodium proton antiporter (H:NA is 2) | o2 [e] | O2 (Extracellular) |
| O2t | o2 transport (diffusion) | ocdcea | octadecenoate (n-C18:1) |
| OP4ENH | 2-oxopent-4-enoate hydratase | op4en | 2-Oxopent-4-enoate |
| PLIPA2 | Phosphlipase A (phosphatidylethanolamine) | pe_EC | Phosphatidylethanolamine (Ecoli) ** |
| PPM2 | phosphopentomutase 2 (deoxyribose) | pg_EC | Phospatidylglycerol (Ecoli) ** |
| PPPNDO | Phenylpropanoate Dioxygenase | phom | O-Phospho-L-homoserine |
| PPPNt2r | 3-phenylpropionate transport | pi | Phosphate |
| THRAr | Threonine Aldolase | pppn | Phenylpropanoate |
| THRS | threonine synthase | pppn [e] | Phenylpropanoate (Extracellular) |
| THRabc | L-threonine transport via ABC system | pyr | Pyruvate |
| THRt2r | L-threonine reversible transport via proton symport | succ | Succinate |
| THRt4 | L-threonine via sodium symport | thr-L | L-Threonine |
| acald | Acetaldehyde | thr-L [e] | L-Threonine (Extracellular) |
| acald [e] | Acetaldehyde (Extracellular) | ttdca | tetradecanoate (n-C14:0) |
| adp | ADP | ttdcea | tetradecenoate (n-C14:1) |
The simplest of the 10655 L-threonine targeting MCS discovered using our approach consist of reactions immediately upstream of L-threonine in this subnetwork. As shown in Figure 4, the most direct sources of L-threonine in the intracellular environment are three transport reactions that couple the influx of L-threonine to the import of sodium (THRt4), the import of proton (THRt2r), and the hydrolysis of ATP (THRabc). L-threonine is also synthesized from L-aspartate via a pathway that employs L-homoserine as an intermediate. The third major source of L-threonine is via the threonine aldolase reaction (THRAr), whose substrates are acetaldehyde and glycine.
The most intuitive of these MCS consists of the three L-threonine transporters (THRt4, THRt2r, THRabc) in combination with threonine synthetase (THRS) and threonine aldolase (THRAr). Variants of this MCS replace THRS with aspartate-semialdehyde dehydrogenase (ASAD), homoserine kinase (HSK), homoserine kinase (HSK), or aspartate kinase (ASPK). A second set of variants replaces the three L-threonine transporters with the L-threonine nutrient flux. 5 MCS apply an interesting variation upon this theme by replacing the sodium dependent THRabc transporter with either the sodium nutrient flux or inhibition of the three sodium proton antiporters (NAt3_2, NAt3_1.5, NAt3_1). Because of their minimality, the knockout of any subset of these MCS will allow L-threonine production to be maintained in this silico strain. For example, knockout of L-threonine transport and threonine-aldolase will allow L-threonine to be produced from L-aspartate via the pathway shown in the bottom left of Figure 4. Alternatively stated, the minimality of these cut sets attests to the fact that the wild type in silico can employ any one of these parallel pathways for L-threonine biosynthesis.
A large number of MCS discovered using our approach target L-threonine biosynthesis by disabling pathways upstream of acetaldehyde. As shown in Figure 4, acetaldehyde is directly brought into the cell from the nutrient media via a transport reaction. Acetaldehyde is also supplied by the breakdown of phosphatidylethanolamine and phosphatidylglycerol, which are cell membrane components. Acetaldehyde is also formed from extracellular phenylpropanoate, 3-(3-hydroxy-phenyl)propionate, and 3-hydroxycinnamic acid, which are substrates for the synthesis of intracellular 2-Oxopent-4-enoate. The latter is transformed into acetaldehyde via 2-oxopent-4-enoate hydratase (OP4ENH) and 4-hydroxy-2-oxopentanoate aldolase (HOPNTAL), producing pyruvate as a byproduct. Another source of acetaldehyde is via the breakdown of deoxyribose sugars via the reactions deoxyribose phosphate aldolase (DRPA) and phosphopentomutase 2 (PPM2). The more complex L-threonine targeting MCS replace the THRAr reaction in the simple MCS described above with a combination of the reactions responsible for acetaldehyde biosynthesis. One such combination is DRPA, HOPNTAL, ACALDt, and ethanolamine ammonia-lyase (ETHAAL). A variation of this MCS interchanges ETHAAL in the latter combination with Phospholipase A2 (PLIPA2). Another combination replaces HOPNTAL with the combination of phenylpropanoate, 3-(3-hydroxy-phenyl)propionate, and 3-hydroxycinnamic acid transporters. 160 MCS target L-threonine production through a unique mechanism that involves the repression of the oxygen nutrient flux. Like the MCS discussed in the previous paragraph, these sets include reactions that involve acetaldehyde formation from cell membrane phospholipids, ribose sugar breakdown, and acetaldehyde transport. However unlike the previously described sets, these MCS exploit the oxygen-dependence of the pathways facilitating acetaldehyde production from extracellular phenylpropanoate, 3-(3-hydroxy-phenyl)propionate, and 3-hydroxycinnamic acid. As shown in Figure 4, the reactions 3-(3-hydroxy-phenyl)propionate hydroxylase (3HPPPNH), Phenylpropanoate Dioxygenase (PPPNDO), 3-hydroxycinnamate hydroxylase (3HCINNMH), 2,3-dihydroxycinnamate 1,2-dioxygenase (DHCINDO), and 2,3-dihydroxyphenylpropionate 1,2-dioxygenase (HPPPNDO) all depend on the presence of oxygen as a substrate.
The L-threonine subnetwork described in this section demonstrates a biologically intuitive pathway-like structure. The ease with this network can be understood testifies to the ability of NetKO to unravel the link between network components and systems-level functions. We further note that unlike manual pathway annotations, this subnetwork is derived purely through the analysis of flux dynamics in the genome-scale metabolic model. As a result, it serves as a rigorous and objective distillation of E. coli iJR904's behavior with respect to a particular function, i.e. L-threonine production.
Applications
Drug design
MCS for essential metabolic objectives (e.g. biomass) represent potential targets for drug development. Though the model employed in this study represents a non-pathogenic strain of E. coli, there are numerous genome-scale metabolic reconstructions of pathogenic microbes in which such an approach could be used to reveal drug targets. Such organisms include S. aureus, H. pylori, and B. anthracis [16–19]. Furthermore, high-order MCS could be applied to models of human metabolic networks to define novel anti-proliferative chemotherapeutic regimens [20].
Epistatic candidate gene models for genetic association
MCS correspond to subsets of genes whose perturbation or knockout is predicted to effect a network-level phenotype. Such a gene subset provides a reasonable "epistatic" candidate hypothesis for a genetic association study that explore links between genotype and phenotype, e.g. for human disease. Current approaches to whole genome association studies employ a unsupervised approach that test all possible loci for association with a phenotype. Given the high dimensionality of genotypic (e.g. SNP) data, these studies are limited by computational resources and statistical power to searching for binary gene-gene interactions. A "systems-based candidate-gene" approach based on NetKO could provide a powerful approach to apply "a posteriori" biological knowledge to study the role of epistasis in disease. Namely, one could employ NetKO to generate hypothesis in the form of MCS on a given pathway model and test such hypotheses against genotype-phenotype data.
Elucidating systems-level roles of reactions in metabolism
MCS discovered using our approach cluster into subnetworks that link individual reactions to their systems-level roles. In contrast to the daunting complexity of the entire metabolic network, these subnetworks have an intuitive pathway structure that can be understood by simple inspection. The close dual relationship between the failure and function of of metabolism has been previously outlined by Klamt [5]. This dual relationship suggests that these local pathways are likely "projections" of genome-scale extreme pathways/elementary modes onto these important reaction subsets. This hypothesis could be verified by applying the method of Urbanczik and Wagner to compute generators for the projection of the flux cone K onto these reaction subsets [21].
Many of our MCS reveal essential roles for reactions whose function is normally obscured by metabolic network redundancy. Deutscher et al. refer to this generalized concept of essentiality as "k-robustness" in their investigations of multiple knockouts in yeast metabolism [1]. Each complex MCS of cardinality k identified by our approach is conceptually equivalent to Deutscher et al.'s "essential set". High cardinality MCS represents an instance of a higher-order genetic or biochemical interaction between several reactions, enzymes, and genes that is mediated by the metabolic network. Similar to the results of Deutscher et al., we find that application of this generalized notion of essentiality significantly increases the number of E. coli reactions that can be thought of as participating in "essential processes" (as defined by biomass production).
The use of a genome-scale model to find essential links between genes and systems-level processes exemplifies a novel "network-based" approach to functional gene annotation. Shlomi et al. show that such an approach may be better equipped to capture functional features such as condition-dependence when compared to traditional structured vocabulary-based annotation schemes like Gene Ontology [22]. NetKO provides a powerful tool for this kind of annotation by helping uncover functional links that are normally buried by redundant pathways.
Iterative model building and refinement
Our approach can be applied in an iterative model building protocol that combines in vivo experiment and in silico analysis.
One specific application of NetKO is the simple validation of model completeness and accuracy on the genome-scale. A more profound application is to unravel the systems-level roles of individual reactions, in particular those participating in robust and redundant network functions.
Fundamentally, each MCS can be understood to suggest several important in vivo model validation experiments. The first corresponds to the knockout of that MCS and the subsequent lethality prediction. If the in vivo knockout fails to be lethal, then this suggests that either there is additional redundancy in the pathway structure of the network or the specific biomass target of that MCS is non-essential for growth [9]. Once an MCS is verified as being in vivo lethal, an interesting set of experiments can be performed that test the contributions of individual reactions to the function disabled by a given MCS. To do so, one would design knockouts that disable all but one of the reactions in that MCS. Such a perturbation would "pinch" the network, allowing only extreme pathways that utilize the remaining reaction in that MCS. As a result, the flux through that reaction would be predicted to become a simple linear multiple of the growth rate (determined only by the steady state intracellular concentration of the target biomass component and its fractional contribution to biomass).
For example, the cysteine transporter (CYSabc), taurine transporter (TAURabc), biotin synthase (BTS2), and the sulfate transporter (SULabc) form an MCS for biomass by targeting L-cysteine production. Knockout of CYSabc, TAURabc, and BTS2 would be predicted by this network model to force all fluxes destined for L-cysteine production through the sulfate transporter (SULabc). According to the model, the rate of uptake of sulfate in this triple knockout will be in direct proportion to the flux through the L-cysteine sink, which corresponds to the growth-mediated dilution of L-cysteine and its consumption by protein synthesis. Such a discrete "pinching" experiment would determine whether the sulfate transporter is sufficient to sustain L-cysteine production. Extension of such an experimental paradigm to analyze further subsets of complex MCS at intermediate levels of inhibition could be used to quantitatively identify the "marginal" contributions of individual reactions/pathways to systems-level functions.
Improving MCS yield
NetKO discovers valid genome-scale MCS using only partial information regarding metabolic network dynamics. However, because it only employs partial information, it is not guaranteed to find all MCS for a given objective. For example, despite detecting many high-order interactions, our approach fails to detect nearly half of the cardinality k ≤ 2 MCS. Furthermore, the biomass targeting MCS that we find utilize only 355 of the potential 1324 reactions in the model. Though this may suggest that the remaining reactions in the network participate only in highly redundant (i.e. k > 10-robust) network functions, it is also likely that our approach fails to find a significant number of k ≤ 10 MCS.
As mentioned earlier in the paper, the yield of our method depends directly on the "quality" of pathway fragments generated from the application of the tableau algorithm to the stoichiometric matrix. Specifically, the number of reactions belonging to a biomass-targeting MCS identified by our approach corresponds to the number of reactions that share a pathway fragment with a biomass sink. Improving the reaction "span" of these biomass-containing pathway fragments would increase the number of reactions employed by biomass-targeting MCS as well as the total yield of MCS.
One approach for improving the yield of MCS would be to achieve additional incremental improvement in the progress of the tableau algorithm. Each iteration of the tableau algorithm processes the steady state requirements of another metabolite in the network, and thus "learns" more about the constraints imposed by network structure. By applying more raw computational power in the form of memory and processor speed, one could achieve several more iterations that would link more reactions to the collection of biomass-containing pathway fragments. In addition, one could apply high performance computing employing a parallel out-of-core approach to achieve additional progress [23]. Though such approaches have been investigated in the past with the goal of completing the entire extreme pathway computation for a genome-scale metabolic network, our approach offers an incentive for performance-improving modifications that achieve even incremental progress in the tableau algorithm.
A more finessed approach for improving MCS yield may be to use an alternative metabolite "traversal" strategy for the tableau algorithm. In our implementation, we use a "local greedy optimization" strategy that chooses the "cheapest" next metabolite using a generic evaluation of each metabolite's "cost" [15]. Though this approach may be optimal for achieving total progress in the algorithm (i.e. with respect to iterations), it may not be the best approach of generating MCS for a particular metabolic objective. A simple approach to maximize the number of cut sets is to ensure that the pathway fragment algorithm traverses the substrates of the objective reaction of interest. In the case of the biomass reaction, it may not be computationally feasible to generate a pathway fragment collection that traverses all substrates simultaneously, but one may compute cut sets for individual biomass components through separate pathway fragment runs. More generally one would like to guide the tableau algorithm from the out set to choose metabolites that expand the number of reactions that share a pathway fragment with the objective reaction (e.g. a biomass component). One way of achieving this is to look for "bridging" species at each iteration that link a reaction that shares pathway fragments with the objective reaction and a second reaction that does not. We are currently investigating such approaches.
Alternative approaches
Our approach is not the first attempt at "rational" genome-scale knockout design. Maranas and colleagues have previously applied mixed integer linear programming (MILP) to design mutants that improve byproduct yield or identify "minimal reaction sets" that are capable of sustaining a given biomass optimum [24, 25]. These applications of MILP approaches differ fundamentally from the knockout design problem approached in this paper. Unlike the computation of minimal reaction sets, which corresponds to finding a maximal number of reaction deletions that allow biomass production to be sustained, the computation of MCS corresponds to finding a minimal number of reaction deletions that cause biomass production to be abolished.
Though a precedent does not exist, MCS discovery could potentially be formulated as a MILP. Such a MILP would employ as its objective the minimization of the number of deleted reactions that abolish biomass production. Once an MCS is found as the solution of the MILP, additional MCS could be discovered through the execution of successive MILPs that incorporate additional constraints to prevent the rediscovery of previous optima. Such an approach is promising, however requires further investigation to address at least two major concerns: Firstly, MILPs are NP-complete, and thus scale poorly with the dimension of the search space, i.e. the number of reactions. Secondly, repeated addition of constraints to discover alternative optima may increase the "stiffness" of successive MILPs as further MCS are sought. As a result, it is a priori unclear that a MILP-based MCS algorithm would be able to generate as many MCS as our network based approach.
Conclusion
We have introduced and applied a network-based method for genome-scale knockout design. Our approach identifies high-order essential epistatic interactions that are normally obscured by metabolic network redundancy. These interactions cluster along interesting and physiologically important subnetworks that allow systems-level roles of individual reactions to be precisely and intuitively captured. Our method provides a plethora of predictions that can readily translate into informative in vivo knockout experiments in E. coli. These experiments could be used for iterative model building and functional annotation of genes. Future applications of our network based knockout design approach includes analysis of the metabolic networks of pathogenic organisms and generation of epistatic candidate models for genome-wide association studies.
Declarations
Acknowledgements
We would like to thank Adam Halasz and Steffen Klamt for insightful correspondences. For a portion of this work, Marcin Imielinski was supported by the NIH/NIGMS MSTP Training Grant (NIH 5T32GM007170-32).
Authors' Affiliations
(1)
Center for Applied Genomics, Children's Hospital of Philadelphia, Philadelphia, USA
(2)
MD/PhD Program, University of Pennsylvania School of Medicine, Philadelphia, USA
(3)
Bioinformatics Graduate Program, Boston University, Brookline, USA
Copyright
© Imielinski and Belta; licensee BioMed Central Ltd. 2008
This article is published under license to BioMed Central Ltd. This is an Open Access article distributed under the terms of the Creative Commons Attribution License (http://creativecommons.org/licenses/by/2.0), which permits unrestricted use, distribution, and reproduction in any medium, provided the original work is properly cited.