Research article

Open Access
Human synthetic lethal inference as potential anti-cancer target gene detection
BMC Systems Biology
2009
3:116
Received: 24 February 2009
Accepted: 16 December 2009
Published: 16 December 2009
Abstract
Background
Two genes are called synthetic lethal (SL) if mutation of either alone is not lethal, but mutation of both leads to death or a significant decrease in organism's fitness. The detection of SL gene pairs constitutes a promising alternative for anti-cancer therapy. As cancer cells exhibit a large number of mutations, the identification of these mutated genes' SL partners may provide specific anti-cancer drug candidates, with minor perturbations to the healthy cells. Since existent SL data is mainly restricted to yeast screenings, the road towards human SL candidates is limited to inference methods.
Results
In the present work, we use phylogenetic analysis and database manipulation (BioGRID for interactions, Ensembl and NCBI for homology, Gene Ontology for GO attributes) in order to reconstruct the phylogenetically-inferred SL gene network for human. In addition, available data on cancer mutated genes (COSMIC and Cancer Gene Census databases) as well as on existent approved drugs (DrugBank database) supports our selection of cancer-therapy candidates.
Conclusions
Our work provides a complementary alternative to the current methods for drug discovering and gene target identification in anti-cancer research. Novel SL screening analysis and the use of highly curated databases would contribute to improve the results of this methodology.
Keywords
Bortezomib
Essential Gene
Fanconi Anemia
Anaplastic Large Cell Lymphoma
Synthetic Lethal
Background
High-throughput analyses have provided a tremendous boost to massive drug screening [1]. However, these improved techniques are still blind to biological or structural knowledge. In this sense, chemogenomics provides a complementary strategy for a rational screening that includes structural information of chemical compounds for gene targets [2, 3]. Computational approaches in this so-called virtual screening allow the matching of compounds to their specific gene-product targets, completing the experimental screening [4]. However, the computational approach is still limited by the huge combinatorics represented by the chemical space of possibilities associated to the compounds and their possible targets. As a consequence, all these experimental and computational approaches require the use of the cumulative biological knowledge. For this purpose, database integration into an ontological organization of the current biological knowledge has been suggested as a way to reduce the combinatorics either in virtual or experimental screenings [5]. The work presented here belongs to this last framework, intended as a tool for identifying potential targets for anti-cancer therapy. Cancer is a heterogeneous disease with numerous causes and typologies [6]. One of the essential traits of cancer progression is the underlying high mutational capacity of tumor cells [7–9], having as a consequence the rapid adaptive capacity of the disease. It has been suggested that these ingredients define cancer progression as a Darwinian micro-evolutionary process [10]. As a consequence, cancer cells which have lost essential genes by a mutation are eliminated from the tumor population. Therefore, it is expected that essential genes are conserved in cancer. Under this perspective, targeting essential genes in anti-cancer therapy could kill malignant cells, but might result to be lethal for healthy cells too. This is the case of the anti-proliferative drugs that also damage high turnover tissues, such as epithelium.
The problems reported from the failure of most single-target drug treatments [11] suggest that a new perspective is needed. In this context, a different conceptual framework related with synthetic lethality has been suggested for anti-cancer research [12–14]. Two genes are called synthetic lethal (SL) if mutation of either alone is not lethal, but mutation of both leads to death or a significant decrease in organism's fitness. According to screening methodology, two main types of mutations are considered: amorphic and hypormorphic mutations. The former causes a complete loss of gene function, while the latter refers to a mutation leading to a decreased activity in the respective gene function [15]. In genome-wide screenings of genetic interactions, hypomorphs are associated to essential genes such that the decrease of the gene expression does not result in inviable organisms [16].
The rationale of synthetic lethality offers new insights on selective anti-cancer therapy design by exploiting the existence of SL partners of mutated (cancer-related) genes [
12
,
17
,
18
]. Accordingly, given a mutated gene causing function deletion (amorphic mutation) or function decrease (hypomorphic mutation) in a cancer cell, an attack using specific drugs to block the activity of one of its SL partners would cause a lethal condition in such tumor cells. Meanwhile, only minor damage in healthy cells would be expected, constituting thus a selective anti-cancer therapy (see Figure
1
). And thus, this approximation can help to overcome a dramatic limitation in drug design.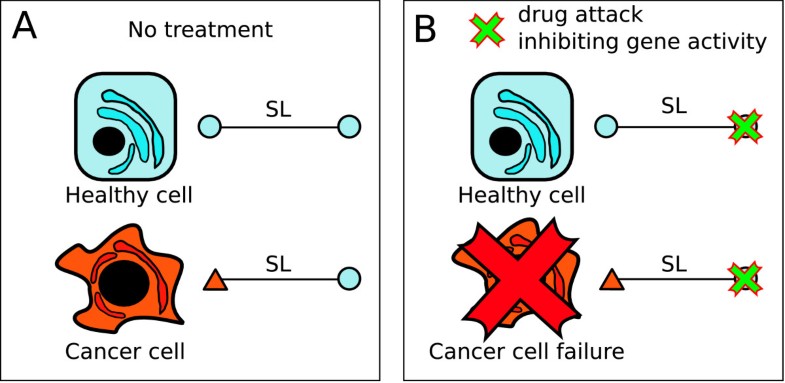 Another relevant aspect in drug screening is that one drug is tested only for a specific disease and related pathologies. Given a SL pair of genes as described above, one cancer mutated and the other non-mutated, conceptually it is possible that an already approved and even commercialized drug might block the activity of the non-mutated gene product. Therefore, SL-partner screening has a special interest for gene-target identification but also for drug repositioning, i.e, the discovering of novel uses for old drugs [19].
Unfortunately, large-scale screenings of SL gene pairs have been performed only in yeast [20–23] and, to a significantly smaller degree, in C. elegans [24–26] and in other model organisms. To overcome this limitation, we propose the use of the phylogenetic inference of SL genes from yeast to human for pharmacological purposes.
Synthetic lethal screens in yeast have been used to identify genes involved in cell polarity, secretion, DNA repair and cell cycle [27, 28]. Due to the high conservation of genome integrity and cell-cycle related genes from yeast to higher organisms and their close relation with cancer disease [29], massive screenings of yeast SL interactions can provide a valuable information for SL inference applied to novel cancer therapy search. We emphasize though that the aim of this work is not to provide a general inference method of SL network from one organism to another. Instead, it adds to the rationale of drug design by supplying a candidate-list of human gene pairs, potentially SL, that could constitute the basis for future pharmacological testing. Additionally, network thinking has provided an excellent framework for the study of very large genetic systems. In particular, gene-disease [30, 31], gene-target [32] and synthetic-lethal [23, 33, 34] network representations have contributed to the understanding of these systems as a whole. Following this approach, we integrate the information in a network framework from several databases in order to provide supporting evidence for candidates' reliability.
Methods
Our identification of potential anti-cancer gene targets proceeds through the integration of the biological information originating from different databases. Figure
2
illustrates the methodology for the data-collection process and for the selection of potential anti-cancer gene targets. The yeast SL network was constructed from the yeast SL interaction list available from BioGRID database [
35
]. In this network, nodes represent genes and the link between them indicates a SL interaction, i.e. when both are simultaneously mutated, a lethal condition is satisfied. The phylogenetic inference from yeast to human genes was obtained from the Ensembl database noteEnsembl:
http://ftp.ensembl.org/pub/current_emf/ensembl_compara/homologies
, March 3
rd
, 2008. The yeast-genes list belonging to SL network was contrasted with this database. The inferred human SL network (in short iHSLN) is then obtained by introducing the yeast SL interactions on their human phylogenetically-conserved counterparts, that is their orthologs (see also [
36
]). Subsequently, as we detail below, the resulting network was filtered by different biological databases for public use: 1) COSMIC and Cancer Gene Census, 2) Gene ontology and Gene ontology annotation (GO and GOA) and 3) DrugBank database.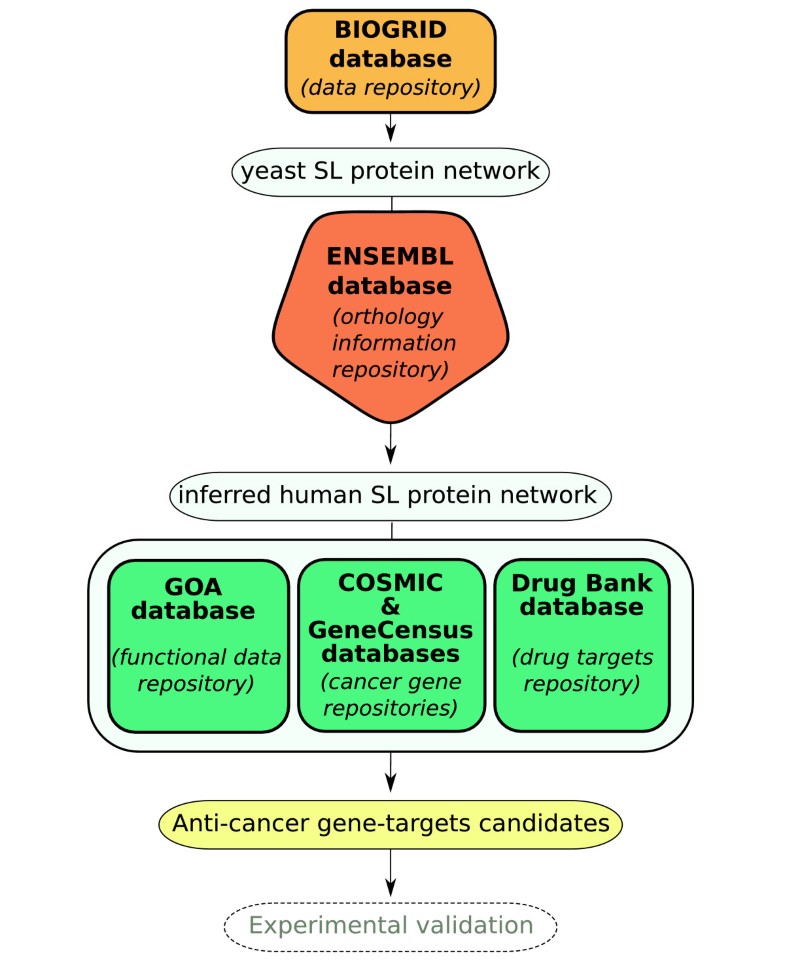 Results
The iHSLN
Yeast SL network is a graph of 2383 nodes and 12707 links. This network is an extension of the SL network constructed by [28], who remarked that SL interactions yield a giant component with a non-random topology of small-world characteristics.
According to Ensembl database, phylogenetic inference revealed that 52% of yeast SL nodes (1253 of 2383 SL yeast genes) has at least one putative human ortholog (see Figure 5).
Previous analysis of global genomic homology between species estimated that the coverage between
S. cerevisiae
and
H. sapiens
is about 20% [
44
]. The higher percentage observed from the set of the yeast SL genes compared with the global coverage may suggest a possible conservation for SL proteins. However, it is also worth noting that a criterion for gene selection in SL screenings is precisely a high conservation along evolution, and this could be the cause of the high proportion of inferred human genes in the SL set. From the above-mentioned 1253 genes, only 1078 genes have a SL partner, that is those genes among the 1253 that have SL partners without any human ortholog are eliminated (Additional file
2
). The final human SL network presented a set of 1002 nodes and 2847 links (Figure
6
and Additional files
4
and
5
), where almost all the nodes formed a giant component (933 nodes) with a non-random topology. Considering yeast-to-human inference relations, the nodes in the human network resulted from 766
one-to-one
homology cases, 64 human nodes are composed of 138 genes due to the
n-to-one
cases, and 170 nodes are formed of 386 genes due to
one-to-m
relations (more precisely, 148 nodes include gene of similar biological function, while 21 nodes contain genes with heterogeneous functionality). Only 2 nodes came from 2
n-to-m
situations. We mention that 1.5% (43 nodes) of the links in the human network were autolinks (see Figure
4B
for explanation). This is a result of the
n-to-one
cases, as among these
n
yeast genes some may be SL partners. This is an artifact of the human SL network. These autolinks in the iHSLN are not eliminated from our network, as the discussion concerning these nodes as candidates needs to be addressed with caution. We stress once more that in our subsequent analysis we refer to nodes rather than to simple genes, as a node may contain several genes.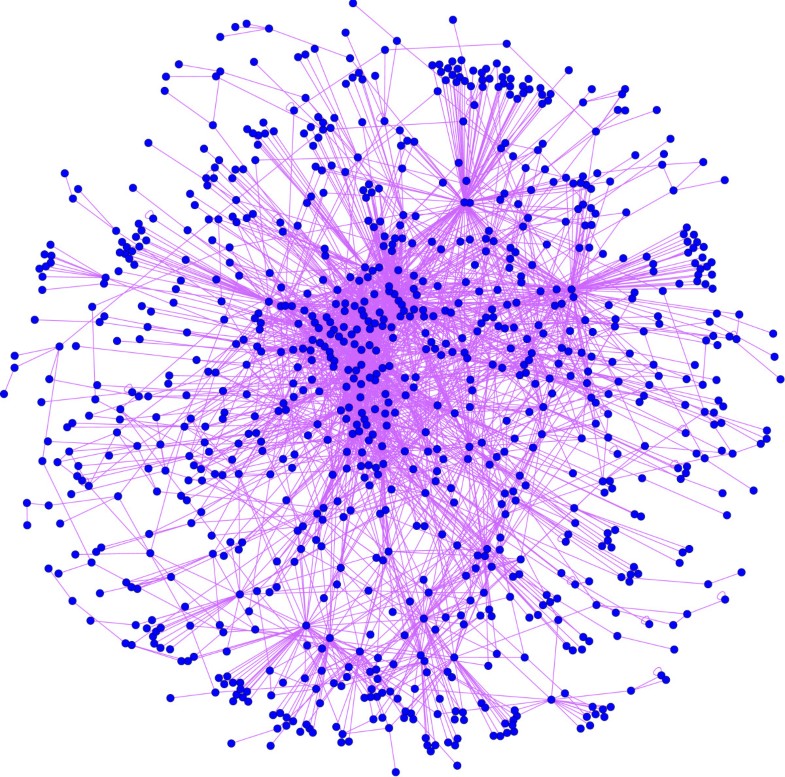 Statistical analysis of biological-function representation in iHSLN indicated a marked significant overabundance (P-value
≪
0.05) of genes related to genome integrity and cell cycle among others (see Table
1
). This fact is explained by the enrichment of genes related to DNA integrity functions due to the selection criterion applied to yeast SL screenings, enrichment that holds in iHSLN too by the high conservation of these genes. As previously pointed out, such conserved functions in iHSLN are closely related to cancer disease providing a valuable set of potential SL candidates for humans.
Table 1
Statistical analysis of iHSLN biological functions.
| GO term - Biological function | P-value | % of genes in iHSLN | % of genes in GOA |
| --- | --- | --- | --- |
| DNA replication | 5.20 E-28 | 6.8 | 40.9 |
| DNA repair | 4.93 E-24 | 7.4 | 27.7 |
| Response to DNA damage stimulus | 4.00 E-23 | 8.1 | 24.9 |
| RNA processing | 4.56 E-15 | 8.7 | 17.9 |
| Cell cycle | 2.50 E-13 | 9.8 | 15.7 |
| Proteasomal protein catabolic process | 1.10 E-8 | 24.0 | 30 |
| Golgi vesicle transport | 1.70 E-8 | 25.0 | 28.4 |
Obtaining potential cancer-related SL targets
Discussion
By the present study we propose a methodology for providing liable candidates for future experimental validation as drug targets for anti-cancer therapy. The methodology is based on the existence of synthetic-lethal relation between pairs of genes: two genes are synthetically lethal if their simultaneous mutation leads to inviable organism, while their separate mutation has no substantial effect on the organism's fitness. As conceptualized by previous works [17, 18], we used here the extensive experimental data on yeast in order to extend the knowledge to the human genome, and more precisely to anti-cancer therapy.
The rationale behind such approach is that, assuming that there are specific mutations for cancer cells, the identification and artificial mutation (drug action) of their SL partners would result in the death of cancerous cells alone. The mutations would affect also healthy cells, but would not drastically injure them. The combination of different biological databases provides potential filters for reducing the number of false positives. In this work a gene is considered cancer-related if it belongs to COSMIC or Cancer Gene Census databases. This implies certain limitations to our study since it depends on the accuracy and completeness of these databases. In this context, the better annotation of the used database, the more reliable the results. One example of that is the case of CDC42-PPP6C SL pair and the use of secramine drug resulting from a literature search but not from the current DrugBank version.
We have commented that cancer-cancer SL interactions could be interpreted as false positives as we do not expect them to occur in the same cell. We consider that the proof of this statement is an interesting working hypothesis to be tested in future research. Such a future research would aim at providing a quantitative estimation about the likelihood of observing a double mutation in tumor cells as it results from the data analysis. A supporting evidence of this hypothesis would be that SL cancer-related gene pairs are less likely to be observed in the double-mutation dataset. In spite of being related to the current work, we consider such a study to be outside the aim of the current work directed at introducing the potential of this methodology.
In addition, false positives can result also from the long evolutionary distance and different architectures between yeast and human genomes. At this point, the evolutionary conservation of SL pairs is controversial [29, 73–75], even though a recent study inclines the balance towards a significant conservation of synthetic lethal interactions between eukaryotes [75]. In addition, the existence of conserved SL associated to particular functions [29, 74, 76] is promising evidence for the inference methodology presented here. Even though not all yeast SL pairs are expected to be conserved in distant organisms, those associated to essential functions have a higher conservation probability. The identification of only a few of such partners could constitute alone an invaluable information in the strategy of drug design.
As Lawrence Loeb stated with his mutator-phenotype scenario for cancer evolution [7, 9, 77], some genetic instability but not too much is required for cancer progression. An illustrative example, the BUB1-TUBB* SL pair, is closely related with the strategy of forcing instability in order to kill cancer cells. It is reasonable to assume that an attack to tubulins by drugs in tumors where BUB1 appears mutated may drift the tumor population towards extinction by exceeding the limits of mutation tolerance. In this particular case, we speculate that treatments with vinca alkaloids should be more efficient in those cancers where BUB1 is mutated. Analogously, our results reveal the suitability of an attack to MMS19 helicase component when CDC73 is mutated. As argued by [78], compensatory helicase-dependent DNA repair pathways may represent a suitable target for anti-cancer therapy strategies that are designed to introduce DNA damage to tumors with pre-existing defined DNA repair deficiencies. In this context, we provide among our candidates the FEN1-BLM pair and the already confirmed MUS81-BLM [45], both suggested by [78] as potential targets in cancer therapy. However, other anti-cancer strategies such as the attack to protein degradation function by blocking PSMB2 proteasome component has been also uncovered by the presented methodology. In this case, our result suggests that this therapy should be more efficient in tumors where PPP6C is mutated.
Conclusions
We have proposed by the present study a tool for phylogenetic inference of candidates for future experimental validation as drug targets in anti-cancer therapy. Once more, we stress that we do not argue in favor of a methodology of SL-genes inference across distant species, as it has been already discussed in the literature to be a controversial step [73, 75]. Rather our study has a pharmacological utility and constitutes an alternative for massive drug screenings. In addition, the arguments brought forward in favor of the proposed candidates above justify their consideration for future experimental validation.
Furthermore, we provide an additional file on the results discussed above in order to foster the bioinformatic and pharmacological communities towards further analysis of this methodology.
Abbreviations
SL:

Synthetic Lethal
iHSLN:

inferred Human Synthetic Lethal Network
YSLN:

Yeast Synthetic Lethal Network
GO:

Gene Ontology
HGNC:

HUGO gene nomenclature committee.
Declarations
Acknowledgements
This work was supported by the EU 6th Framework projects SYNLET (NEST-043312, AM and NCP) and ComplexDis (NEST-043241, CRC), NIH (CA 113004, RVS) and Santa Fe Institute (RVS). We are grateful to Bernd Mayer for inspiring this work, and to the SYNLET consortium for useful discussions. We also thank Nuria Lopez Bigas, Jordi Mestres Lopez, Miguel Angel Medina Torres and Josep Conde Colom for providing expertise and advice on this subject.
Authors' Affiliations
(1)
ICREA-Complex Systems Lab, Universitat Pompeu Fabra. Parc de Recerca Biomedica de Barcelona, Barcelona, Spain
(2)
Santa Fe Institute, Santa Fe, USA
Copyright
© Conde-Pueyo et al; licensee BioMed Central Ltd. 2009
This article is published under license to BioMed Central Ltd. This is an Open Access article distributed under the terms of the Creative Commons Attribution License (http://creativecommons.org/licenses/by/2.0), which permits unrestricted use, distribution, and reproduction in any medium, provided the original work is properly cited.