Research article
Open Access
A dynamic network of transcription in LPS-treated human subjects
BMC Systems Biology
2009
3:78
Received: 27 October 2008
Accepted: 28 July 2009
Published: 28 July 2009
Abstract
Background
Understanding the transcriptional regulatory networks that map out the coordinated dynamic responses of signaling proteins, transcription factors and target genes over time would represent a significant advance in the application of genome wide expression analysis. The primary challenge is monitoring transcription factor activities over time, which is not yet available at the large scale. Instead, there have been several developments to estimate activities computationally. For example, Network Component Analysis (NCA) is an approach that can predict transcription factor activities over time as well as the relative regulatory influence of factors on each target gene.
Results
In this study, we analyzed a gene expression data set in blood leukocytes from human subjects administered with lipopolysaccharide (LPS), a prototypical inflammatory challenge, in the context of a reconstructed regulatory network including 10 transcription factors, 99 target genes and 149 regulatory interactions. We found that the computationally estimated activities were well correlated to their coordinated action. Furthermore, we found that clustering the genes in the context of regulatory influences greatly facilitated interpretation of the expression data, as clusters of gene expression corresponded to the activity of specific factors or more interestingly, factor combinations which suggest coordinated regulation of gene expression. The resulting clusters were therefore more biologically meaningful, and also led to identification of additional genes under the same regulation.
Conclusion
Using NCA, we were able to build a network that accounted for between 8–11% genes in the known transcriptional response to LPS in humans. The dynamic network illustrated changes of transcription factor activities and gene expressions as well as interactions of signaling proteins, transcription factors and target genes.
Keywords
Transcription Factor ActivityRegulatory InfluenceTranscriptional Regulatory NetworkConnectivity MatrixStrength Matrix
Background
An achievement that would have a major impact on our understanding of transcriptional regulatory networks would be to map out the coordinated dynamic responses of signaling proteins, transcription factors and target genes over time. The primary challenges to such an effort are development of high-throughput technologies to measure transcription factor activities at the genome-scale, and computational tools to interpret the data and predict the structure and dynamics of the underlying networks.
Recent development of high-throughput technologies has enabled large-scale measurements of biological signals related to transcription, such as the expression of target genes and the activities of transcription factors. For target gene expression, microarrays measure the expression levels of thousands of genes simultaneously [1–3]. However, efforts to broadly assess transcription factor activities on a genome wide scale are much more limited. Technologies such as chromatin immunoprecipitation-on-a-chip can identify all of the DNA binding sites occupied by a single transcription factor for a given condition [4, 5]. Flow cytometry can also be used to determine transcription factor activities by labeling active factors with fluorescently labeled antibodies [6], but throughput is limited by the number of available antibodies and colors. As yet, there is no transcription factor-focused equivalent of the gene expression array, which would enable monitoring of all transcription factor activities at a time. Such technology would be critical to generating a complete dynamic network of transcription empirically.
To compensate for this inability to assay transcription factor activity at the large scale, there have been several efforts to infer regulatory networks computationally [7]. One of these approaches, called Network Component Analysis (NCA), is a method for determining both activities and regulatory influence for a set of transcription factors with known target genes [8]. NCA has been successfully applied in several areas. It was used to identify previously unnoticed oscillatory activity patterns in the yeast cell cycle [8], as well as to generate a predicted activation time course of catabolite repressor protein in Escherichia coli, which was verified experimentally [9]. More recently, NCA was used to predict activities of important transcription factors like sterol regulatory element-binding proteins and peroxisome proliferative-activated receptors in a mouse knockout model of human glycerol kinase deficiency [10, 11]. In parallel, several studies have expanded and strengthened NCA as a computational tool [12–14].
In eukaryotic systems, inflammation and activation of innate immunity are fundamental host responses to microbial invasion and endogenous danger signals. Blood leukocytes contribute to this inflammatory response, and exposure to a prototypical stimulus such as LPS leads first to changes in gene expression, then production of cytokines which are secreted and cause secondary transcriptional and other responses [15]. In previous work, we and others generated a set of gene expression profiles from human subjects over 24 hours following the intravenous administration of bacterial endotoxin LPS [16]. Experimental endotoxicosis produces in the previously healthy individual a transient but significant systemic inflammatory response, characterized by fever, tachycardia, malaise, and a hepatic acute phase response. Administration of endotoxin is presumed to model the early inflammatory changes associated with a microbial invasion, sepsis and the systemic inflammatory response syndrome [17]. We used this data to determine important clusters of genes involved in the early inflammatory response, as well as to depict the temporal changes in gene expression as inflammation resolved over the first twenty-four hours. In this study, we calculated transcription factor activities and regulatory influences in the above dataset using NCA, and interpreted the results to develop a dynamic network of transcription events following experimental endotoxicosis in humans.
Results and Discussion
Our approach follows the schematic in Figure
1
. NCA requires two inputs: a set of gene expression profiles and a pre-defined regulatory network, which is a matrix that contains initial estimates of the influence each transcription factor on the target genes. The original gene expression data set is obtained from Calvano
et al
[
16
], in which peripheral blood leukocytes were obtained from four different individuals prior to and at five time points after injection with endotoxin, 24 profiles in total.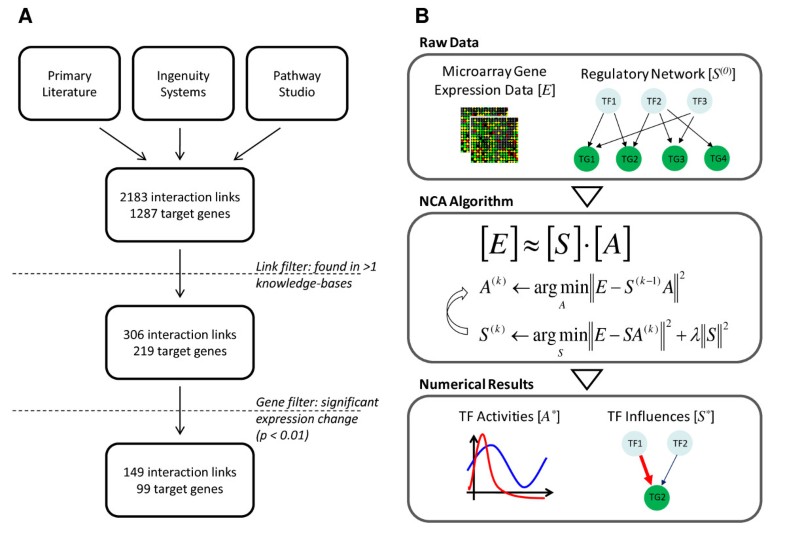 To define a regulatory network which could account for a significant percentage of the gene expression response, we identified a set of key transcription factors previously known to be involved in the LPS response, together with a set of known target genes for these factors. Ten transcription factors were chosen for our study (listed here by gene name for continuity). NFKB1 (encoding p50/p105), RELA (encoding p65) and IRF3 were chosen as factors involved in the primary response to endotoxin. Endotoxin binding to Toll-like receptors (TLR) leads to activation of NF-κB dimers, among which p65:p50 is common [18]. LPS stimulation also induces IRF3 activation through TLR4 [19]. These transcription factors induce expression of several cytokines which can further activate a secondary transcription response through factors such as STAT1, 3 and 6 [15, 20]. CREB1 is activated by LPS through the p38 kinase-SAPK2 pathway [21]. It is known that LPS activates AP-1 complexes consisting of FOS, JUN, JUNB and JUND [22]. Among these factors, JUN and FOS were chosen for our model. The role of MYC in inflammation response is poorly understood [23]; however, many genes connected to MYC showed significant changes in their expression levels in the original study and so we included it as well [16].
To identify established regulatory interactions between these transcription factors and target genes, we relied largely on the primary literature [15, 16, 20, 22, 24–28] (Figure 1A). However, two knowledge-bases were also used: Ingenuity Systems http://www.ingenuity.com and Pathway Studio [29]. Both the Ingenuity and Pathway Studio knowledge-bases consist of regulatory relationships parsed from MEDLINE abstracts; the Ingenuity knowledge-base also includes information from manually-curated peer-reviewed publications. For our ten transcription factors, this strategy resulted in a list of 1,287 target genes, with 2,183 interactions between transcription factors and target genes. To reconcile differences in these different sources of regulatory network information (literature, Ingenuity, Pathway Studio), we only included an interaction in our network if it could be identified in two out of the three resources. This filtering process reduced our list to 219 target genes regulated by 306 interactions with the ten transcription factors. To focus on the most useful expression information, we only considered target genes for which expression changed significantly over time (p-value < 0.01).
The network for the inflammatory response finally included 10 transcription factors, 99 target genes and 149 regulatory relations. This network can be represented in matrix form, with a density of ~15%, or 149 relations/(10 factors × 99 targets). In contrast, the expected density of a genome-wide regulatory relationship matrix, given our current state of knowledge about human transcriptional regulation would be about 0.1% (~20,000 relations in Ingenuity Systems and Pathway Studio databases, ~1,000 transcription factors and ~20,000 target genes). Our network density is therefore relatively high, reflecting the comparatively high level of research interest in this system.
We estimated the activation of the transcription factors in our network over time using NCA (Figure 1B). NCA decomposes a matrix containing gene expression values (E) into a matrix which represents the influence of a transcription factor on a target gene (strength matrix S) and a matrix which contains the transcription factor activities (activity matrix A) [8]. We found that both outputs of NCA – predicted factor activities A and regulatory influences S – have added additional insights to gene expression data where the underlying regulatory network structure is partially known.
Conclusion
The overall goal of this work was to build a dynamic network of transcription events following endotoxin administration from the time course response by global gene expression in peripheral blood leukocytes. From the expression profiles, we were able to predict the activities of ten transcription factors over time, as well as the regulatory strength a given transcription factor exerted on its target genes using NCA. Taken together, the activities often exhibited a high degree of correlation, both between factors and also between a factor's activity and its gene expression profile.
We also found that the regulatory strength matrix can be clustered to determine groups of genes which are not only co-expressed, but also co-regulated. Importantly, new and biologically relevant clusters were determined, suggesting that clustering by this approach is potentially more meaningful than methods which do not incorporate regulatory network information. Identification of these clusters also led us to identify many additional putative interactions between transcription factors and target genes not included in the known network, and most importantly, enabled us to describe and visualize the activation of regulatory proteins and target genes over time.
Certain limitations in both the available expression data as well as NCA itself could be addressed to make this approach more powerful. Gene expression analyses obtained from whole blood leukocyte samples provide an integrated signal from different leukocyte populations which are difficult to deconvolute, and so using a single cell population would be advantageous, such as could be obtained using cell sorting or other methods. Additionally, the number of transcription factors which can be used in NCA is approximately the number of expression profiles in the data set, and so a greater number of expression profiles – obtained at best shortly after the endotoxin administration – would also have been useful. Finally, NCA's scaling property, which makes it difficult to predict the direction of transcription factor activity, as well as NCA's current inability to incorporate time course information from the data set are important limitations to the method. Some approaches that may overcome these challenges include recent studies in which transcription factor activities were estimated using ordinary differential equation [45] or probabilistic models [51, 52] of time course data. Future work might therefore focus on combining NCA with such efforts.
Notwithstanding these limitations, we were able to reconstruct the dynamics of endotoxin-dependent transcription in human peripheral blood leukocytes using the above results. This included identifying the activity of ten transcription factors regulating expression of ninety-nine genes. We also were able to identify additional genes that could be included in our model, notably 36 which had less initial evidence, but were substantiated by our predictions. Given that there were 1,215 genes with significant changes in gene expression for which regulatory relations were known, we were therefore able to capture between 8% (= 99 initial model genes/1,215 genes with significant expression changes and known regulatory relations) and 11% (99 + 36 additional genes = 135/1,215) of the explainable response. Furthermore, we were also able to identify new target genes based on the average gene expression profile of significant clusters, which could expand the scope of our temporal network still further. With a larger network reconstruction and data set specifically designed for use with NCA, it might be possible to move toward a near-complete characterization of dynamic transcription responses.
Methods
Data preprocessing and statistical analysis
To process our gene expression dataset prior to NCA, the log2 ratio of post-injection time points to the pre-injection time point was calculated. The significance of expression changes was then tested using one-way ANOVA, where the null hypothesis was that average gene expression levels were the same for each time point. We selected genes for our model if the ANOVA p-value was less than 0.01. Among 18,398 genes in the dataset, 5,518 genes were determined to be induced or repressed significantly. 1,215 of the genes that experienced a significant change in expression also had information about their regulation in the knowledge-bases we used.
Network component analysis
NCA was developed by James Liao and colleagues [
8
]. Briefly, NCA models the expression of a gene as a linear combination of the activity of each transcription factor that controls the expression of the gene. Using this framework, NCA can estimate transcription factor activity and regulatory influence from a given regulatory network and a set of gene expression data. We followed the established method for generalized NCA, using a regularization factor of 0.8 to regulate the strength matrix
S
[
13
]. One important modification we made in our implementation of NCA was to normalize the transcription factor activity matrix. At each iteration step, A was normalized so that the norm of each row was 1. The S matrix was then also scaled as follows:
where S•jand Aj•represent the j th column of S or row of A, respectively. This normalization stabilizes the calculation by preventing too large or too small values of A, but has no effect on the overall results due to NCA's scaling property [8].
Hierarchical clustering on adjusted strength matrix
Having determined
S
using NCA, we wanted to use it for clustering genes. The first step was to enable comparison of transcription factor strengths to each other. A main challenge in such a comparison is that because of the scaling property of NCA [
8
],
S
ij
and
A
jk
are not unique solutions. However, the product
S
ij
A
jk
is unique. Therefore, in order to enable clustering of the regulatory influences, we generated an adjusted strength matrix which is constant regardless of strength and activity. This matrix is calculated as follows:
where <,> represents the inner product of two vectors. We used hierarchical clustering to divide the adjusted strength matrix into meaningful clusters using angle cosine as the distance metric.
The dominant transcription factors associated with each cluster can be readily determined visually in this case. However, we also used a computational method to identify these dominant factors. This was accomplished by calculating a contribution factor for each transcription factor in a cluster. The contribution factor of transcription factor j for cluster C was calculated as the fraction of influence a given transcription factor imposed on the cluster with respect to the total influence of all L transcription factors, as follows:
Transcription factors for which the contribution factor was larger than 0.2 were chosen as dominant transcription factors of the cluster.
Declarations
Acknowledgements
This work was funded by the NIH through the Inflammation and the Host Response to Injury research project (U54-GM62119), as well as a K99/R00 award to MWC (CA125994-01A1). We thank Jonathan Karr and Robert Winfield for critical reading of the manuscript. The following is a list of participating investigators of the Inflammation and the Host Response to Injury research project: Henry V. Baker, Ulysses GJ. Balis, Paul E. Bankey, Timothy R. Billiar, Bernard H. Brownstein, Steven E. Calvano, David G. Camp II, Irshad H. Chaudry, J. Perren Cobb, Joseph Cuschieri, Ronald W. Davis, Asit K. De, Celeste C. Finnerty, Bradley Freeman, Richard L. Gamelli, Nicole S. Gibran, Brian G. Harbrecht, Douglas L. Hayden, Laura Hennessy, David N. Herndon, Marc G. Jeschke, Jeffrey L. Johnson, Matthew B. Klein, James A. Lederer, Stephen F. Lowry, Ronald V. Maier, John A. Mannick, Philip H. Mason, Grace P. McDonald-Smith, Carol L. Miller-Graziano, Michael N. Mindrinos, Joseph P. Minei, Lyle L. Moldawer, Ernest E. Moore, Avery B. Nathens, Grant E. O'Keefe, Laurence G. Rahme, Daniel G. Remick, David A. Schoenfeld, Michael B. Shapiro, Geoffrey M. Silver, Richard D. Smith, John D. Storey, Robert Tibshirani, Ronald G. Tompkins, Mehmet Toner, H. Shaw Warren, Michael A. West, Rebbecca P. Wilson, Wenzhong Xiao.
Authors' Affiliations
(1)
Stanford Genome Technology Center, Palo Alto, USA
(2)
Department of Electrical Engineering, University, Stanford, USA
(3)
Department of Bioengineering, Stanford University, Stanford, USA
(4)
Department of Surgery, University of Florida, Gainesville, USA
Copyright
© Seok et al; licensee BioMed Central Ltd. 2009
This article is published under license to BioMed Central Ltd. This is an Open Access article distributed under the terms of the Creative Commons Attribution License (http://creativecommons.org/licenses/by/2.0), which permits unrestricted use, distribution, and reproduction in any medium, provided the original work is properly cited.