Research article
Open Access
Inferring modules from human protein interactome classes
BMC Systems Biology
2010
4:102
Received: 11 November 2009
Accepted: 23 July 2010
Published: 23 July 2010
Abstract
Background
The integration of protein-protein interaction networks derived from high-throughput screening approaches and complementary sources is a key topic in systems biology. Although integration of protein interaction data is conventionally performed, the effects of this procedure on the result of network analyses has not been examined yet. In particular, in order to optimize the fusion of heterogeneous interaction datasets, it is crucial to consider not only their degree of coverage and accuracy, but also their mutual dependencies and additional salient features.
Results
We examined this issue based on the analysis of modules detected by network clustering methods applied to both integrated and individual (disaggregated) data sources, which we call interactome classes. Due to class diversity, we deal with variable dependencies of data features arising from structural specificities and biases, but also from possible overlaps. Since highly connected regions of the human interactome may point to potential protein complexes, we have focused on the concept of modularity, and elucidated the detection power of module extraction algorithms by independent validations based on GO, MIPS and KEGG. From the combination of protein interactions with gene expressions, a confidence scoring scheme has been proposed before proceeding via GO with further classification in permanent and transient modules.
Conclusions
Disaggregated interactomes are shown to be informative for inferring modularity, thus contributing to perform an effective integrative analysis. Validation of the extracted modules by multiple annotation allows for the assessment of confidence measures assigned to the modules in a protein pathway context. Notably, the proposed multilayer confidence scheme can be used for network calibration by enabling a transition from unweighted to weighted interactomes based on biological evidence.
Keywords
Module SizeConnectivity DegreeClique SizeTransient ComplexHuman Interactome
Background
Networks are complex structures endowed with both statistical and topological properties ([1, 2]). Biological networks, and protein-protein interaction networks (PPIN) in particular, require both theory and algorithms to describe complex mechanisms and relationships. Ideally, these networks can be assumed to represent snapshots depicted by connectivity maps observed at particular times. Through a sequence of such maps, we could verify how the network connectivity changes over time, and thus conceive a topological model for interpreting the dynamics and conducting inference by the built-in predictive power.
When time changes cannot be monitored, the available static pictures limit the potential for global interactome analysis. Despite this limitation, there has been a great interest in analyzing topological features of networks in order to cluster proteins into groups, assign functions to uncharacterized proteins, study their similarities, and establish reliability of the interactions. However, due to the impact of relatively low ratios between true and false positives and negatives, it is hard to accomplish those tasks before filtering interactome signals from noise.
Notably, comparative method evaluations ([3, 4]) have been proposed to extract clusters of densely connected proteins which might indicate protein complexes or functional modules. The meaning of these two entities is distinct in biological terms (see [5] and [6] for an extended discussion). We refer to a protein complex (e.g. transcription factors, histones, polymerases, etc.) as a molecular machine consisting of multiple proteins (and possibly nucleic acids and other molecules) that bind at the same place and time. In contrast, a functional module (e.g. signaling pathways) represents a set of proteins (and other molecules) that controlor perform a particular cellular function but not necessarily at the same time and place, and thus may not form a macromolecular complex.
However, it is often hard to distinguish between these two structures by relying only on PPIN, as in general the analyzed protein interactions do not have temporal and spatial information. Nevertheless, since PPIN represent undirected binary or weighted graphs, several graph-based inference approaches have been successfully employed to detect modularity. The majority of such approaches evaluate interactome topological features, and typical examples are node degree and clustering coefficient, both based on the levels of connectivity of each node.
Both global and local connectivity can be explored by these methods, depending on the kind interactome analysis to be performed. The results may vary, as methods are based on different principles. For instance, the two main contributions to our work come from the application of two algorithms, CFinder ([7, 8]) and MCODE [9]. Interestingly, they deal with network modularity through similar topological instruments, but achieve quite different outcomes; therefore, we based our analysis on them, while also evaluating other methods.
In parallel, a substantial heterogeneity of human interactome datasets has been generated depending on the underlying methods of identifying and characterizing protein interactions. Besides high-throughput approaches ([10–12]), in particular the curation of literature ([13–15]) and the provision of computational predictions ([16–18]) have allowed for the mapping of the human interactome.
Despite the impressive size of PPIN produced by the different approaches, their overall coverage remains limited. A general procedure to increase the coverage level is the integration of different interaction maps. However, recent analyses [19] have revealed that the class of integrated PPIN may display distinct functional characteristics and topological features. This evidence suggests that the analysis of integrated maps could be compromised by the heterogeneity which is fused into them, ending up with diverging modular maps.
To assess this possibility, we have defined integrated and also individual PPIN classes; as the latter have a source-specific characterization, they in turn generate disaggregated interactome datasets. In particular, datasets have been constructed from literature, orthology, and high-throughput experiments in an attempt to assess the variability of the modularity maps caused by the underlying source of interaction data. We have thus retrieved modules by various methods and from each interactome class, including the integrated one, and finally compared them by multiple validations.
A comparative evaluation of human protein interactome classes suggests that a scoring system should be available. We have proposed a confidence scoring method based on several sequential steps. Using gene expression data and gene annotation, we assigned initial confidence scores to PPIN modules. In order to calibrate the initial scores, information from GO http://www.geneontology.org/, MIPS (http://mips.helmholtz-muenchen.de/proj/ppi/, and KEGG http://www.genome.jp/kegg/) was subsequently utilized. Overall, the combined use of interactome classes, network clustering methods and additional multiomic sources allows for better characterization of the modularity map, and for an assessment of the influence of integration and disaggregation on the detected and validated modules.
The integrative approach requires specific tools for both analysis and validation, and is based on a qualitative and quantitative representation of a compilation of information from diverse biological sources. Specifically, we have focussed on how disaggregated and integrated interactome classes influence and characterize the detected modules. In addition, we addressed two related questions: Do clustering algorithms determine modularity maps? To what extent is the overlap or separation of modules induced by inherent data complexity or by capacity of the method to partition the data?
There are limitations in the current practice of interactome modularity detection and representation, and two main factors condition the analysis: the choice of the modularity-finding algorithm, and the choice of the interactome dataset with the related biological sources. In this article we provided evidence that quantifies the existing discrepancies between methods whose performance is comparatively evaluated over different interactome datasets. Simultaneous evaluation of both interactome methods and data may provide valuable guidance on the overall interpretability of modularity and likely lead to improved inference methods and models. The paper is organized in such way that module extraction algorithms are first introduced, then the structure of the available datasets is presented, and finally the results of a data integration approach are illustrated.
Results and Discussion
Given the list of methodological steps previously described, we first report numerical outcomes and then proceed with the assessment of our results based on each performed validation.
Numerical Evidence
The retrieved modules indicate that CFinder has identified 2333 modules (named as "communities"), which are mostly based on 3- and 4- cliques (k = 3 - 355; k = 4 - 200). MCODE has instead generated 389 modules (named as "cores", where a "2-core" is for a clique size of 2, thus the least stringent choice in terms of connectivity which is accounted for). Results for varying ranges of k have also been reported for both methods, and the algorithmic details and parameters explained in Materials and Methods of the Appendix.
Although not exhaustive, this comparative evaluation is useful to define the inherent resolution power of each method, and elucidate the specific modularity associated to each interactome class. The modules result dependent on both methods and data, and can be compared in terms of resolution and distributional aspects. In particular, MCODE and CFinder represent quite far extremes in the resolution range allowed by the examined data, while both greedy and stochastic learning approaches stand in between these extremes and thus depict only intermediate modularity maps.
Consequently, we have corroborated the analysis by investigating the resolution at which the modules are detected by each method and each dataset (evidence from two datasets has been reported in Figure
2
, and from other datasets as supporting information). With regard to the number of retrieved modules in each interactome class, MaxMod converges to MCODE (except for HTP), probably due to the underlying hierarchical structure present in both schemes. The inherent modularity can remain partially latent when the MaxMod method is applied to protein interactions. Thus, a small number of final modules can be found, but mainly due to the module merging effects rather than biological structure. As a result, more sparsity implies lack of detection power for small and intermediate module sizes, whose overlaps are instead observed with CFinder.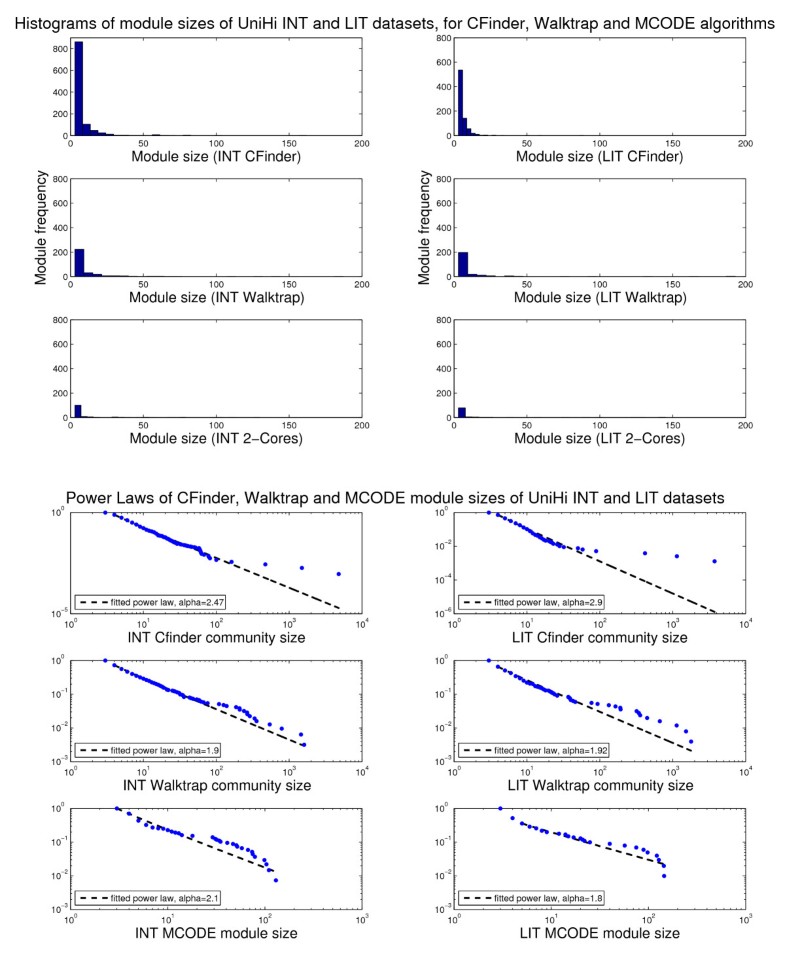 We have then provided evidence for the distribution of module sizes by the histograms obtained from the frequency with which each module size appears. As a result of its overlapping structure, CFinder covers the interactome resolution spectrum of module sizes to the highest degree, thus exploring more extensively the inherent module heterogeneity. Through a RW-based search, a distributional change can be observed, but we still found that the resolution spectrum remained comprised between those of MCODE and CFinder. Furthermore, in Figure 2 we have combined the resolution evidence for both the Int-PI and the Lit-PI datasets with the corresponding power laws, given that from x drawn from a certain probability distribution p(x), a power law is observed when p(x) ∝ x-α with α the scaling parameter [54].
Scoring Calibration
We verified (see Additional file 1) that modules ranking at the top 5 positions confirmed after calibration their pre-assigned confidence levels (overall, 18 rank places are taken by High Confidence modules, 9 by Low Confidence modules and only 3 by Medium Confidence modules, but the latter were marginally present and even missing in MCODE). We could thus conclude that the initial scoring system was quite robust, but could be refined by calibration through multiple validations. With regard to the interactome classes, we observed that the top 5 ranks involved equally all the classes (10 each), and with marginal prevalence for Int-PI in CFinder and for Ortho-PI in MCODE.
We found that the best overlap scores were uniformly distributed among modules according to their pre-assigned confidence levels, while interactome classes had an impact depending on the method. On average, for CFinder the Lit-PI modules scored 0.7 - 0.8 (computed as min-max indexed values), while the other two classes scored 0.3 - 0.5, and for MCODE the Int-PI scored around 0.9 (but only one module was annotated) and the other two classes scored 0.3 - 0.5, with Lit-PI closer to the higher limit. Overall, we found evidence confirming the goodness of our initially assigned confidence levels, and additionally observed method's sensitivity when averaging overlap scores over interactome classes.
In examining the FDR-corrected p-values in pathways, we noticed that just a few cases could be quantified, while we observed that the participation degree of each module to intra-modular or inter-modular dynamics was clearly induced by the methods. CFinder determined evidence of cross-talks in several cases and with both dense and sparse modules, but regardless the interactome class or the pre-assigned confidence levels. MCODE instead showed only for the Lit-PI class evidence of inter-modularity through dense modules, while Ortho-PI appeared just cohesive.
The calibration approach applied to the initial scoring system provided therefore additional evidence by looking at GO p-values, but also at overlap scores and pathway analysis, which were not previously included. In particular, the analysis across the interactome classes revealed dependence on methods of the overlap scores (where the Lit-PI overperforms in CFinder), and of both intra-modular and inter-modular dynamics (where the Lit-PI overperforms in MCODE, this time). It is the sparsity degreee of modular maps produced by the methods which suggests how to interpret these findings. MCODE allows for a coarse simplified analysis of cross-talks compared to CFinder, and emphasizes the relevance of interactome classes in particular. Instead, the presence of high overlapping degree in CFinder appears to mask the differential impact of classes. Thus, based on the resolution spectrum allowed by the modularity method and depending on the induced sparsity of the map, the interactome classes may have a relevant or a marginal role.
Confidence schemes (see [59–61]) usually address the problem of selecting reliable interactions by intersecting multiple high-throughput data (omic) sets. Weights can be assigned to the interactions, and they represent confidence levels that rank the proteins by their likelihood of belonging to a certain annotated complex or functional module. Estimates of the chance that a protein-target set association exists are in general obtained as the fraction of sampled networks that include a path connecting the candidate protein to the set.
In general, the confidence level thus reflects a belief about the likelihood of a biological module. In particular, determining confidence for protein interactions depends on assigning a reliability measure to the observed measurements, or to predictions. Thus, confidence scores are formulated according to the type of experiment, or according to a combination of features like functional similarity, expression correlation, co-essentiality, over which the predictions have been formed.
Our scoring approach is semi-quantitative, and calibrates confidence measures obtained by thresholding through validations conducted across multiple biological sources. As a result of filtering interactions and modules by confidence levels, the heterogeneity of modularity maps that depends on both methods and interactome datasets may be reduced according to a better control of the uncertainty levels. For instance, the suggested scoring yields an empty MCODE Medium Confidence module set, while the noisier HTP modules are missing.
Conclusions
We have applied popular graph mining methods, in particular CFinder and MCODE, to different classes of human protein interactomes, and extensively evaluated their induced modularity maps. Both MCODE and CFinder are deterministic methods based on node connectivity and cliquishness. We have then validated the extracted modules by integrating the annotation of known MIPS complexes, GO categories and pathways. The proposed multilayer analysis has thus involved protein pathway explorations through modules with assigned confidence measures.
We have achieved three main results. First, by verifying that interactome disaggregation reveals useful information on modularity, we emphasized the fact that in some cases annotation can be performed with no reference to the integrated dataset, which is usually the starting point of most analysis.
Second, our approach defines a scoring mechanism from protein interactions to modules which might lead to a novel network design because the scoring is usually performed at the beginning, for instance at the experimental phase, and not a posteriori (during in silico biological validation) as we suggest. Notably, this leads to a network calibration strategy aimed to possibly shift an un weighted network to a weighted one through biological validation evidences that are incrementally evaluated and combined.
Assigning confidence scores computationally and not at the experimental stage allows the application of a large variety of possible schemes. Here, we pursued a simple data-driven approach corroborated by multiple validations instead of a more complex model-oriented approach. Our choice offers the advantage that it does not assume a specified model for the data with its implicit risks, but can be adapted to the quality of interaction data derived from experiments, databases or computational predictions. This simple procedure turned out to be an effective strategy that might help to improve the reliability of PPIN.
Last, as we have implemented an approach for combining protein interactions with gene expressions, we have found modules which are more consistent than those obtained by using only the topology of the network itself, and then refined their validation with reference to permanent versus transient modules, together with other proposals (e.g. overlap scores, pathway enrichment). Future work is going to be devoted to further calibration of the thresholding step in a data-adaptive way, and to tune it to a better elucidation of the interaction-expression interplay.
Regarding the initial questions, the main issue is about the influence of data integration and/or disaggregation on modules. From a quantitative standpoint, we demonstrated that protein complex detection benefits from interactome disaggregation. We have reported evidence of well-defined modules which have been distinctly detected within disaggregated datasets, and have compared our approach with STRING through its variety of evidences accounting for different information sources.
We presented examples where our class separation was matched by comparable evidences leading thus to similar validation performance under both the Int-PI and Lit-PI datasets. Inference on the qualitative characterization of the various different modules indicates replication effects in CFinder, i.e. two disaggregated datasets appear similarly informative, and nesting effects in MCODE, i.e. similar biological evidence persists at both the integrated and the disaggregated levels. This outcome might depend only in part on the number of modules that each method is producing; thus, their structural features (redundancy versus sparsity) seem to reasonably explain the different performances.
Another question referred to modularity dependence on algorithms. Overall, we noted that MCODE produced less modules than CFinder in every dataset which was considered. In particular, MCODE has generated only a few modules (from 11 modules in HTP-PI to 141 modules in Ortho-PI), thus tending to perform sub-optimally with regard to the global resolution at which the interaction dynamics occur. Instead, the module overlapping evidence by CFinder has been more emphasized (from 61 modules in HTP-PI to 1096 modules in Int-PI), despite substantial module specificity in the disaggregated interactomes. The related distributional aspects have been also examined by inspection of the resolution of module sizes and their associated power laws.
Then, we have explored module overlapping and separation effects, and their data-driven or method-driven nature. Together with MCODE and CFinder, which effectively represent coarse-to-fine coverage of modularity maps, we have implemented a deterministic method (MaxMod) and a stochastic algorithm (Walktrap) to allow for variation of the resolution spectrum. The results ranged from a minimum of 129 modules by MaxMod and 151 modules by Walktrap for HTP-PI, to a maximum of 211 modules by MaxMod for Ortho-PI and 314 modules by Walktrap for Int-PI). Overall, the insertion of both greedy and stochastic learning features allowed a reduction of the resolution distance exhibited by the previous methods, but performed (especially MaxMod) more similarly to MCODE, thus still inducing sparsity to a certain extent.
Overall, despite some kind of sparsity-redundancy trade-off that is inherent to the module extraction method, protein complexes can be distinctly characterized based on disaggregated interactomes. A closer look at the interactomes is thus recommended, as protein associations may find stronger or weaker justification in relation to the specific sources used to measure them and build the datasets. The proposed multilayer approach offers insights on how the specific interactome datasets may determine the performance of modularity detection algorithms, and suggests strategies to refine their biological validation.
Appendix
Other Supporting Information
Table
10
is for the CFinder community structure, and Table
11
reports on MaxMod and Walktrap convergence results. The Additional file
7
: Supplemental Table S12 reports the core structure for
k
= 2 and each dataset, while the CFinder structure appears in the Additional file
8
. Last, a protein labelling file for all datasets is provided in the Additional file
9
: Supplemental Table S13. Figure
9
, Figure
10
, Figure
11
and Figure
12
refer to module-specific pathways. Then, Figure
13
and Figure
14
and Ortho-based comparisons with STRING in Figure
15
complete the examples reported in the main text relatively to confidence scoring methods. Figure
16
is about the distribution of module sizes for residual datasets, while Figure
17
shows the corresponding power laws. Figure
18
reports a sketch of our global confidence scoring system explained indetail in the main text. The Additional file
10
is for specifying the p-values computed in the examples, and the Additional file
11
reports the communities produced by the
Walktrap
algorithm.
Table 11
Modularity values
| | MaxMod maximal modularity | Walktrap maximal modularity |
| --- | --- | --- |
| Int-PI | 0.4631 | 0.4176 |
| Lit-PI | 0.5074 | 0.4632 |
| Ortho-PI | 0.7181 | 0.6899 |
| HTP-PI | 0.6215 | 0.2600 |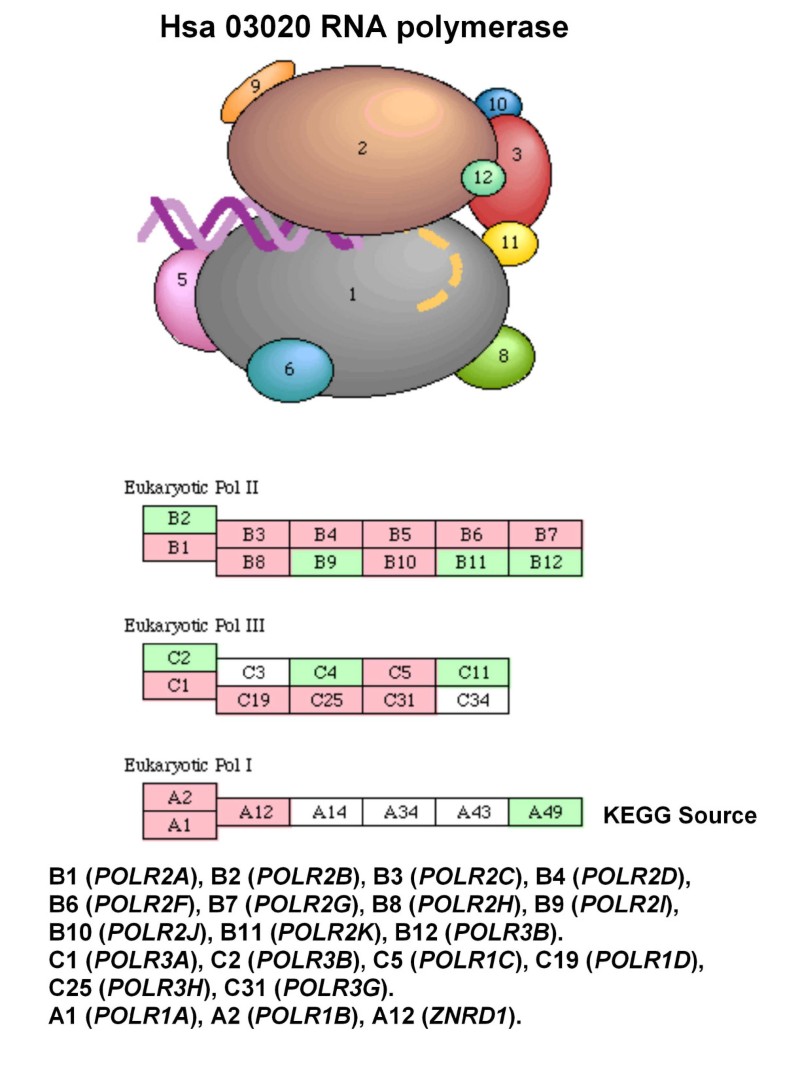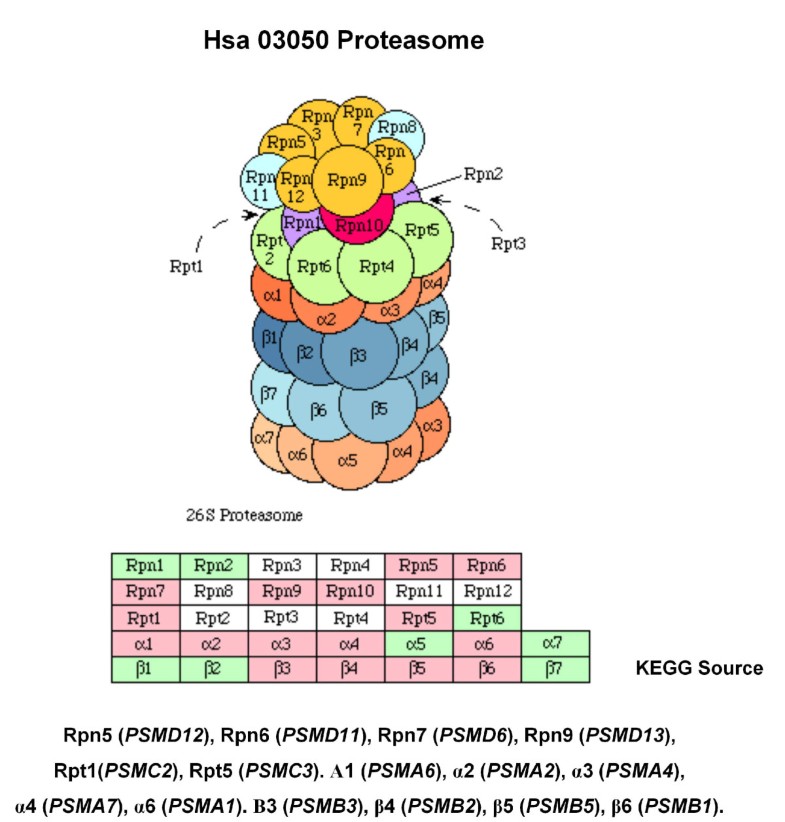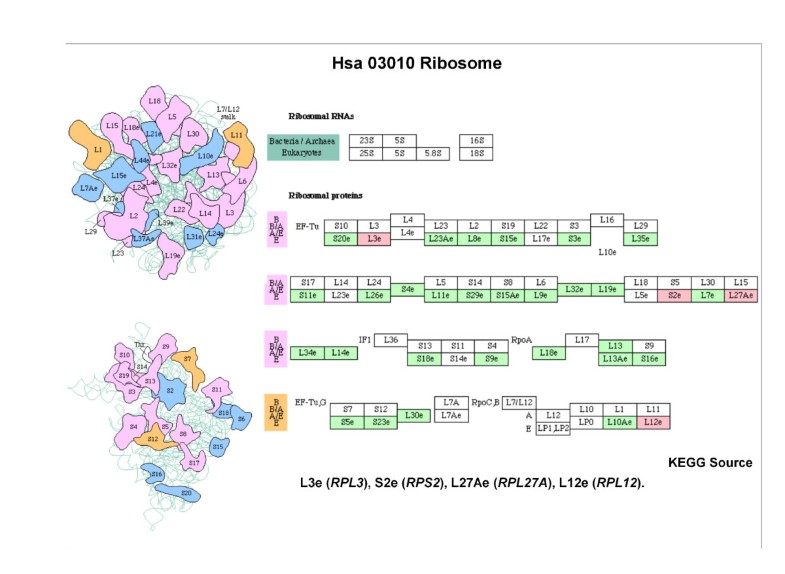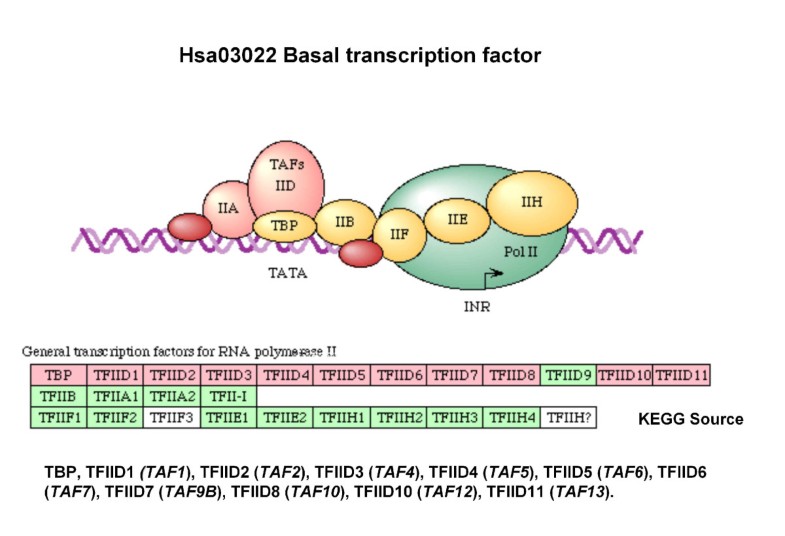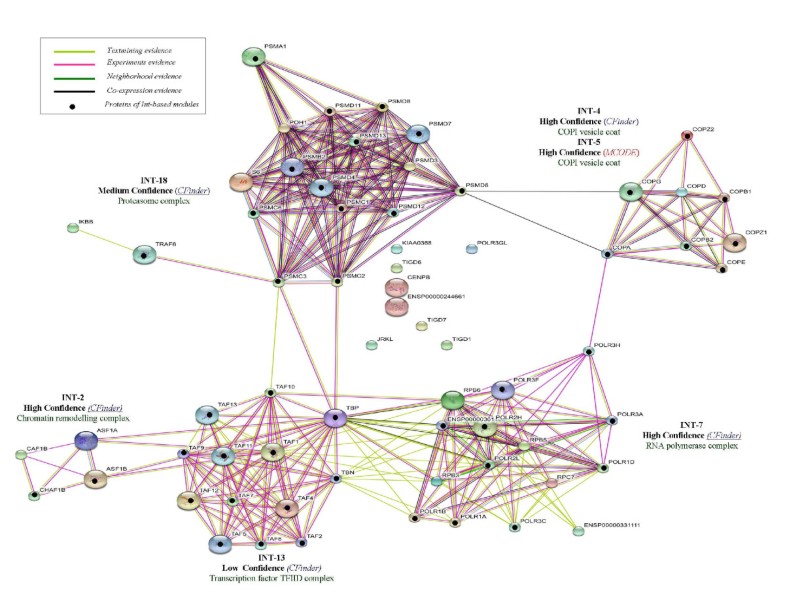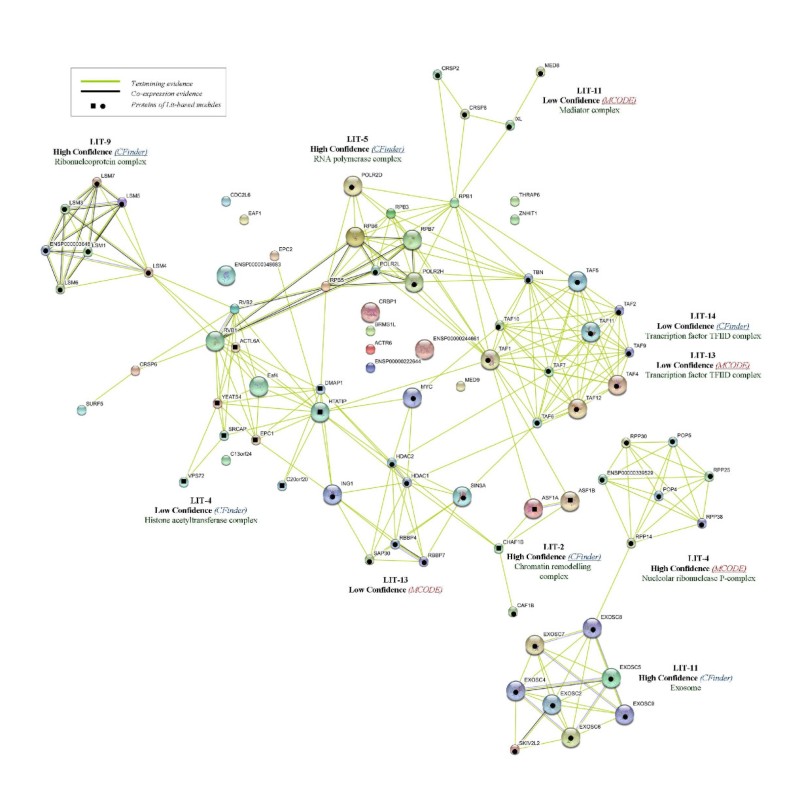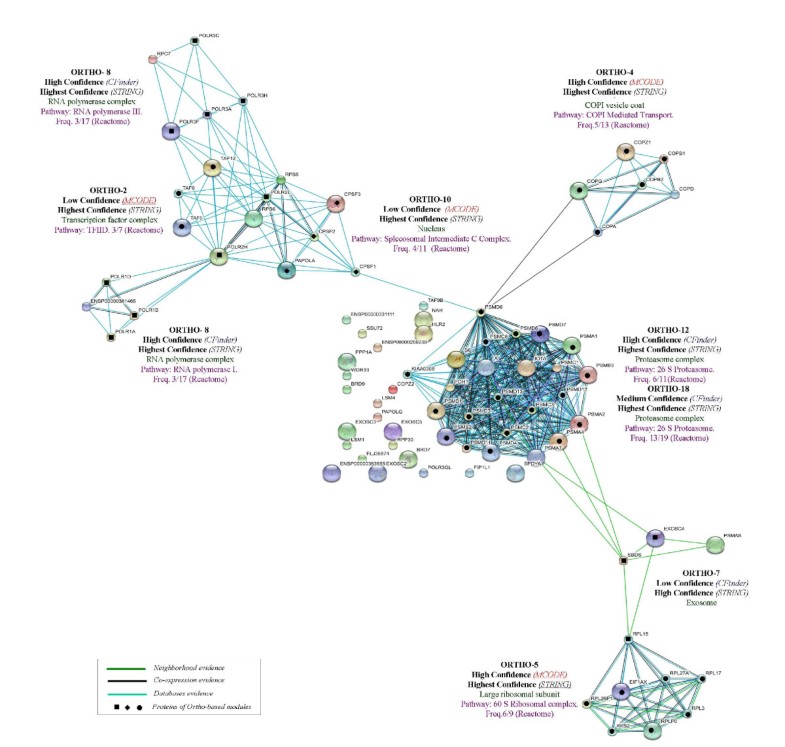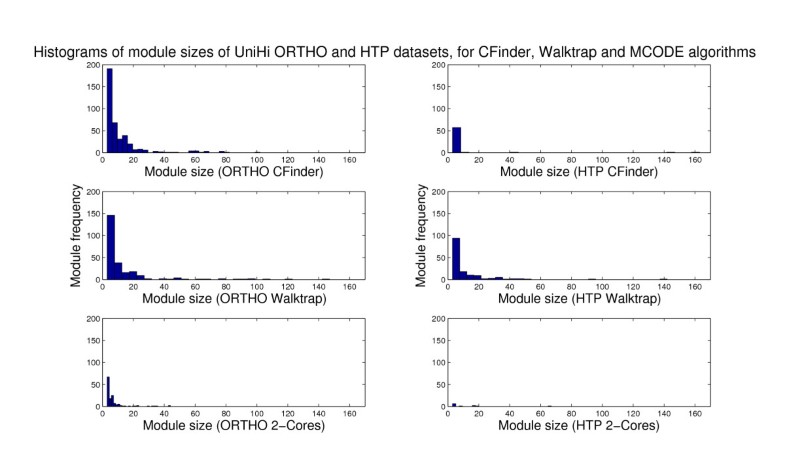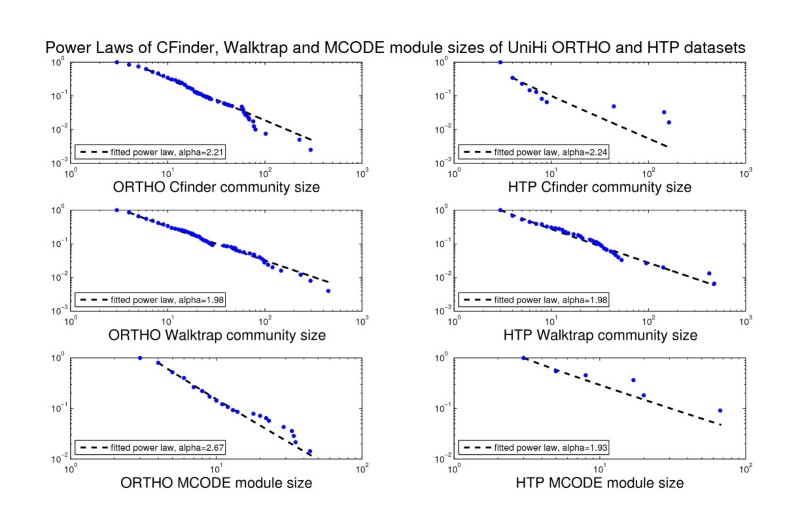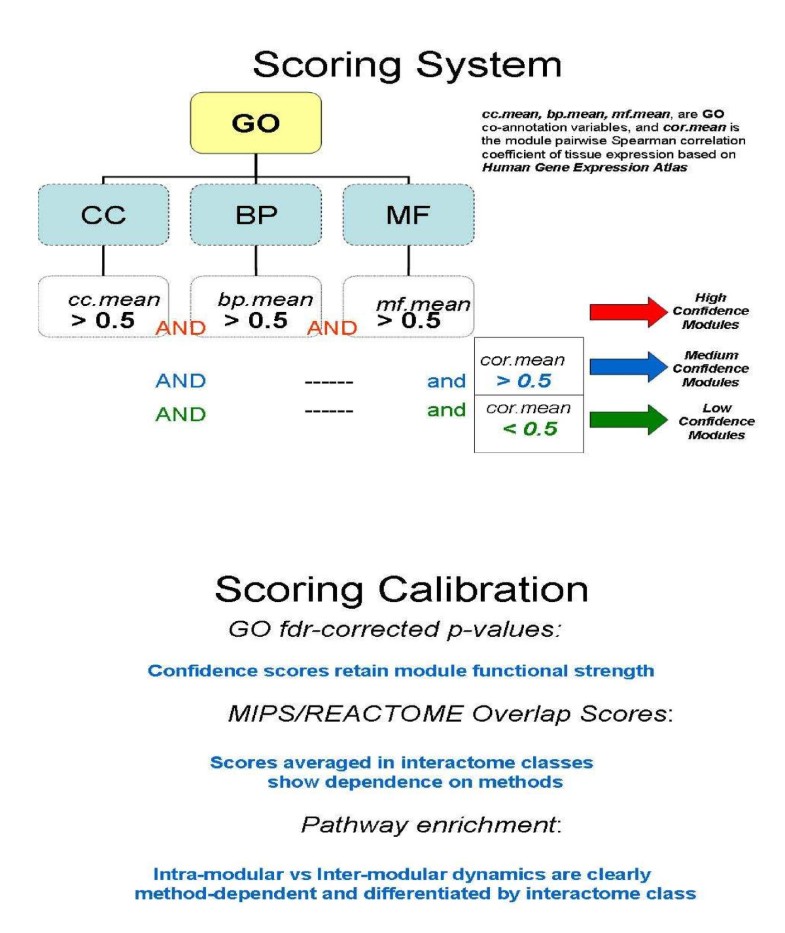 Acknowledgements
EM, AT and EC thank CRS4 and Sardegna Ricerche. The work by MF and GC was supported by the SFB 618 grant of the DFG. MF aknowledges support by the FCT (IBB/CBME, LA). Four anonymous referees contributed to substantial improvements of the paper. We thank our colleagues, Lance Liotta, Emanuel Petricoin, and Alejandro Giorgetti for comments, and Chiara Rotondi, who checked the general spelling.
List of abbreviations
We used the following abbreviations:

PPIN: protein-protein interaction networks
MAXMOD:

maximization of modularity
LIT-PI:

literature-based interactome
ORTHO-PI:

orthology-based interactome
HTP-PI:

high-throughput interactome
INT-PI:

integrated interactome
RW:

random walk.
Authors' Affiliations
(1)
CRS4 Bioinformatics Laboratory - Technology Park of Sardinia, Pula (Cagliari), Sardinia, Italy
(2)
Institute for Theoretical Biology - Humboldt University, Berlin, Germany
(3)
Max-Delbrück Center for Molecular Medicine, Berlin, Germany
(4)
Centre of Molecular and Structural Biomedicine - Universidade do Algarve, Faro, Portugal
References
Costa LdF, Rodrigues FA, Cristino AS: Complex networks: the key to systems biology. Genetics and Molecular Biology. 2008, 31 (3): 10.1590/S1415-47572008000400001.Google Scholar
Dorogovtsev SN, Goltsev AV, Mendes JFF: Critical phenomena in complex networks. Reviews of Modern Physics. 2008, 80: 1275-10.1103/RevModPhys.80.1275.View ArticleGoogle Scholar
Brohee S, van Helden J: Evaluation of clustering algorithms for protein-protein interaction networks. BMC Bioinformatics. 2006, 7 (488): 1-19.Google Scholar
Itzkovitz S, Milo R, Kashtan N, Ziv G, Alon U: Subgraphs in random networks. Physical Review E. 2003, 68: 026127-10.1103/PhysRevE.68.026127.View ArticleGoogle Scholar
Spirin V, Mirny LA: Protein complexes and functional modules in molecular networks. Proceedings of the National Academy of Sciences of the United States of America. 2003, 100: 12123-12128. 10.1073/pnas.2032324100PubMed CentralView ArticlePubMedGoogle Scholar
Bork P, Jensen LJ, von Mering C, Ramani AK, Lee I, Marcotte EM: Protein interaction networks from yeast to human. Current Opinion in Structural Biology. 2004, 14: 292-299. 10.1016/j.sbi.2004.05.003View ArticlePubMedGoogle Scholar
Palla G, Deranyi I, Farkas I, Vicsek T: Uncovering the overlapping community structure of complex networks in nature and society. Nature. 2005, 435 (7043): 814-8. 10.1038/nature03607View ArticlePubMedGoogle Scholar
Adamcsek B, Palla G, Farkas IJ, Derenyi I, Vicsek T: CFinder: locating cliques and overlapping modules in biological networks. Bioinformatics. 2006, 22 (8): 1021-1023. 10.1093/bioinformatics/btl039View ArticlePubMedGoogle Scholar
Bader GD, Hogue CW: An automated method for finding molecular complexes in large protein interaction networks. BMC Bioinformatics. 2003, 4 (2): 1-27.Google Scholar
Ewing RM, Chu P, Elisma F, Li H, Taylor P, Climie S, McBroom-Cerajewski L, Robinson M, O'Connor L, Li M, Taylor R, Dharsee M, Ho Y, Heilbut A, Moore L, Zhang S, Ornatsky O, Bukhman YV, Ethier M, Sheng Y, Vasilescu J, Abu-Farha M, Lambert JP, Duewel HS, Stewart II, Kuehl B, Hogue K, Colwill K, Gladwish K, Muskat B, Kinach R, Adams SL, Moran MF, Morin GB, Topaloglou T, Figeys D: Large-scale mapping of human protein-protein interactions by mass spectrometry. Molecular Systems Biology. 2007, 3 (89): 1-17.Google Scholar
Rual JF, Venkatesan K, Hao T, Hirozane-Kishikawa T, Dricot A, Li N, Berriz GF, Gibbons FD, Dreze M, Ayivi-Guedehoussou N, Klitgord N, Simon C, Boxem M, Milstein S, Rosenberg J, Goldberg DS, Zhang LV, Wong SL, Franklin G, Li S, Albala JS, Lim J, Fraughton C, Llamosas E, Cevik S, Bex C, Lamesch P, Sikorski RS, Vandenhaute J, Zoghbi HY, Smolyar A, Bosak S, Sequerra R, Doucette-Stamm L, Cusick ME, Hill DE, Roth FP, Vidal M: Towards a proteome-scale map of the human protein-protein interaction network. Nature. 2005, 437: 1173-1178. 10.1038/nature04209View ArticlePubMedGoogle Scholar
Stelzl U, Worm U, Lalowski M, Haenig C, Brembeck FH, Goehler H, Stroedicke M, Zenkner M, Schoenherr A, Koeppen S, Timm J, Mintzlaff S, Abraham C, Bock N, Kietzmann S, Goedde A, Toksoz E, Droege A, Krobitsch S, Korn B, Birchmeier W, Lehrach H, Wanker EE: A human protein-protein interaction network: a resource for annotating the proteome. Cell. 2005, 122 (6): 957-968. 10.1016/j.cell.2005.08.029View ArticlePubMedGoogle Scholar
Bader GD, Donaldson I, Wolting C, Ouellette BF, Pawson T, Hogue CW: BIND - The biomolecular interaction network database. Nucleic Acids Research. 2001, 29: 242-245. 10.1093/nar/29.1.242PubMed CentralView ArticlePubMedGoogle Scholar
Peri S, Navarro JD, Amanchy R, Kristiansen TZ, Jonnalagadda CK, Surendranath V, Niranjan V, Muthusamy B, Gandhi TK, Gronborg M, Ibarrola N, Deshpande N, Shanker K, Shivashankar HN, Rashmi BP, Ramya MA, Zhao Z, Chandrika KN, Padma N, Harsha HC, Yatish AJ, Kavitha MP, Menezes M, Choudhury DR, Suresh S, Ghosh N, Saravana R, Chandran S, Krishna S, Joy M, Anand SK, Madavan V, Joseph A, Wong GW, Schiemann WP, Constantinescu SN, Huang L, Khosravi-Far R, Steen H, Tewari M, Ghaffari S, Blobe GC, Dang CV, Garcia JG, Pevsner J, Jensen ON, Roepstorff P, Deshpande KS, Chinnaiyan AM, Hamosh A, Chakravarti A, Pandey A: Development of human protein reference database as an initial platform for approaching systems biology in humans. Genome Research. 2003, 13: 2363-2371. 10.1101/gr.1680803PubMed CentralView ArticlePubMedGoogle Scholar
Ramani AK, Bunescu RC, Mooney RJ, Marcotte EM: Consolidating the set of known human protein-proteininteractions in prepration for large-scale mapping of the human interactome. Genome Biology. 2005, 6 (R40):Google Scholar
Lehner B, Fraser AG: A first-draft human protein-interaction map. Genome Biology. 2004, 5: R63- 10.1186/gb-2004-5-9-r63PubMed CentralView ArticlePubMedGoogle Scholar
Brown KR, Jurisica I: Online predicted human interaction database. Bioinformatics. 2005, 21: 2076-2082. 10.1093/bioinformatics/bti273View ArticlePubMedGoogle Scholar
McDowall MD, Scott MS, Barton GJ: PIPs: human protein-protein interaction prediction database. Nucleic Acids Research. 2009, 37: D651-D656. 10.1093/nar/gkn870PubMed CentralView ArticlePubMedGoogle Scholar
Chaurasia G, Tschaut A, Russ J, Herzel H: Functional and transcriptional coherency of modules in the human protein interaction network. Journal of Integrative Bioinformatics. 2007, 4 (3): 76-Google Scholar
Gavin AC, Aloy P, Grandi P, Krause R, Boesche M, Marzioch M, Rau C, Jensen LJ, Bastuck S, Dumpelfeld B, Edelmann A, Heurtier MA, Hoffman V, Hoefert C, Klein K, Hudak M, Michon AM, Schelder M, Schirle M, Remor M, Rudi T, Hooper S, Bauer A, Bouwmeester T, Casari G, Drewes G, Neubauer G, Rick JM, Kuster B, Bork P, Russell RB, Superti-Furga G: Proteome survey reveals modularity of the yeast cell machinery. Nature. 2006, 440: 631-636. 10.1038/nature04532View ArticlePubMedGoogle Scholar
Krogan NJ, Cagney G, Yu H, Zhong G, Guo X, Ignatchenko A, Li J, Pu S, Datta N, Tikuisis A, Punna T, Peregrin-Alvarez JM, Zhang X, Paccanaro A, Bray JE, Sheung A, Beattie B, Richards DP, Canadien V, Lalev A, Mena F, Wong P, Starostine A, Canete MM, Vlasblom J, Wu S, Orsi C, Collins SR, Chandran S, Haw R, Rilstone JJ, Gandi K, Thompson NJ, Musso G, St Onge P, Ghanny S, Lam MH, Butland G, Altaf-Ul AM, Kanaya S, Shilatifard A, O'Shea E, Weissman JS, Ingles CJ, Hughes TR, Parkinson J, Gerstein M, Wodak SJ, Emili A, F GJ: Global landscape of protein complexes in the yeast Saccharomyces Cerevisiae. Nature. 2006, 30 (440): 637-643. 10.1038/nature04670.View ArticleGoogle Scholar
Hart GT, Ramani AK, Marcotte EM: How complete are current yeast and human protein-interaction networks?. Genome Biology. 2006, 7 (11): 120- 10.1186/gb-2006-7-11-120PubMed CentralView ArticlePubMedGoogle Scholar
Kashtan N, Alon U: Fromthe Cover: Spontaneous evolution ofmodularity and network motifs. Proceedings of the National Academy of Sciences of the United States of America. 2005, 102: 13773-13778. 10.1073/pnas.0503610102PubMed CentralView ArticlePubMedGoogle Scholar
Chaurasia G, Iqbal Y, Hanig C, Herzel H, Wanker E, Futschik E: UniHI: an entry gate to the human protein interactome. Nucleic Acids Research. 2007, DB (D): 590-594. 10.1093/nar/gkl817.View ArticleGoogle Scholar
Dezso Z, Oltvai ZN, Barabasi AL: Bioinformatics analysis of experimentally determined protein complexes in the Yeast Saccharomyces Cerevisiae. Genome Research. 2003, 13: 2450-2454. 10.1101/gr.1073603PubMed CentralView ArticlePubMedGoogle Scholar
Maraziotis IA, Dimitrakopoulou K, Bezerianos A: An in silico method for detecting overlapping functional modules from composite biological networks. BMC Systems Biology. 2008, 2 (93):Google Scholar
Chaurasia G, Iqbal Y, Hanig C, Herzel H, Wanker EE, Futschik ME: Flexible web-based integration of distributed large-scale human protein interaction maps. Journal of Integrative Bioinformatics. 2007, 4 (3):Google Scholar
Missiuro PV, Liu K, Zou L, Ross BC, Zhao G, Liu JS, Ge H: Information flow analysis of interactome networks. PLos Computational Biology. 2009, 5 (4): e1000350- 10.1371/journal.pcbi.1000350PubMed CentralView ArticlePubMedGoogle Scholar
Hartwell LH, Hopfield JJ, Leibler S, Murray AW: From molecular to modular cell biology. Nature. 1999, 402: c47-c52. 10.1038/35011540View ArticlePubMedGoogle Scholar
Clauset A: Finding local community structure in networks. Physical Review E. 2005, 72: 026132-10.1103/PhysRevE.72.026132.View ArticleGoogle Scholar
Fortunato S, Barthelemy M: Resolution limit in community detection. Proceedings of the National Academy of Sciences of the United States of America. 2007, 104: 36-41. 10.1073/pnas.0605965104PubMed CentralView ArticlePubMedGoogle Scholar
Roswall M, Bergstrom CT: An information-theoretic framework for resolving community structure in complex networks. Proceedings of the National Academy of Sciences of the United States of America. 2007, 104 (18): 7327-7331. 10.1073/pnas.0611034104View ArticleGoogle Scholar
Sales-Pardo M, Guimera' R, Moreira AA, Amaral AN: Extracting the hierarchical organization of complex systems. Proceedings of the National Academy of Sciences of the United States of America. 2007, 104 (39): 15224-15229. 10.1073/pnas.0703740104PubMed CentralView ArticlePubMedGoogle Scholar
Han JD, Bertin N, Hao T, Goldberg DS, Berriz GF, Zhang LV, Dupuy D, Walhout AJ, Cusick ME, Roth FP, Vidal M: Evidence for dynamically organized modularity in the yeast protein-protein interaction network. Nature. 2004, 430: 88-93. 10.1038/nature02555View ArticlePubMedGoogle Scholar
Yu H, Greenbaum D, Lu HX, Zhu X, Gerstein M: Genomic analysis of essentiality within protein networks. Trends in Genetics. 2004, 20 (6): 227-231. 10.1016/j.tig.2004.04.008View ArticlePubMedGoogle Scholar
Jeong H, Mason SP, Barabasi AL, Oltvai ZN: Lethality and centrality in protein networks. Nature. 2001, 411: 41-42. 10.1038/35075138View ArticlePubMedGoogle Scholar
He X, Zhang J: Why do hubs tend to be essential in protein networks?. PLoS Genetics. 2006, 2 (6): e88- 10.1371/journal.pgen.0020088PubMed CentralView ArticlePubMedGoogle Scholar
Zotenko E, Mestre J, O'Leary DP, Przytycka TM: Why do hubs in the yeast protein interaction network tend to be essential: reexamining the connection between the network topology and essentiality. PLoS Computational Biology. 2008, 4 (8): e1000140- 10.1371/journal.pcbi.1000140PubMed CentralView ArticlePubMedGoogle Scholar
Clauset A, Newman MEJ, Moore C: Finding community structure in very large networks. Physical Review E. 2004, 70: 066111-10.1103/PhysRevE.70.066111.View ArticleGoogle Scholar
Newman MEJ, Girvan M: Finding and evaluating community structure in networks. Physical Review E. 2004, 69: 026113-10.1103/PhysRevE.69.026113.View ArticleGoogle Scholar
Newman MEJ: Modularity and community structure in networks. Proceedings of the National Academy of Sciences of the United States of America. 2006, 103 (23): 8577-8582. 10.1073/pnas.0601602103PubMed CentralView ArticlePubMedGoogle Scholar
Costa LdF, Rodrigues FA, Travieso G, Villas Boas PR: Characterization of complex networks: a survey of measurements. Advances in Physics. 2007, 56: 167-242. 10.1080/00018730601170527.View ArticleGoogle Scholar
Pons P, Latapy M: Computing communities in large networks using random walks. Journal of Graph Algorithms and Applications. 2006, 10 (2): 191-218.View ArticleGoogle Scholar
Good BH, Montjoye YA, Clauset A: The performance of modularity maximization in practical contexts. Physical Review E. 2010, 81: 046106-10.1103/PhysRevE.81.046106.View ArticleGoogle Scholar
Marras E, Travaglione A, Capobianco E: Sub-modular resolution analysis by network mixture models. Statistical Applications in Genetics and Molecular Biology. 2010, 9: 19-10.2202/1544-6115.1523.View ArticleGoogle Scholar
Futschik ME, Chaurasia G, Herzel H: Comparison of human protein-protein interaction maps. Bioinformatics. 2007, 23 (5): 605-611. 10.1093/bioinformatics/btl683View ArticlePubMedGoogle Scholar
Huh WK, Falvo JV, Gerke LC, Carroll AS, Howson RW, Weissman JS, O'Shea EK: Global analysis of protein localization in budding yeast. Nature. 2003, 425 (6959): 686-91. 10.1038/nature02026View ArticlePubMedGoogle Scholar
Sprinzak E, Altuvia Y, Margalit H: Characterization and prediction of protein-protein interations within and between complexes. Proceedings of the National Academy of Sciences of the United States of America. 2006, 103 (40): 14718-14723. 10.1073/pnas.0603352103PubMed CentralView ArticlePubMedGoogle Scholar
Ruepp A, Brauner B, Dunger-Kaltenbach I, Frishman G, Montrone C, Stransky M, Waegele B, Schmidt T, Doudieu ON, Stumpflen V, Mewes HW: CORUM: the comprehensive resource of mammalian protein complexes. Nucleic Acids Research. 2008, 36 (DB): D646-50.PubMed CentralPubMedGoogle Scholar
Sun CH, Kim MS, Han Y, Yi GS: COFECO: composite function annotation enriched by protein complex data. Nucleic Acids Research. 2009, 37 (2): W350-W355. 10.1093/nar/gkp331PubMed CentralView ArticlePubMedGoogle Scholar
Pinkert S, Schultz J, Reichardt J: Protein interaction networks - More than mere modules. PLoS Computational Biology. 2010, 6: e1000659- 10.1371/journal.pcbi.1000659PubMed CentralView ArticlePubMedGoogle Scholar
Baeza-Yates R, Ribeiro-Neto B: Modern Information Retrieval. 1999, New York: ACM Press, Addison Wesley,Google Scholar
Chua HN, Ning K, Sung WK, Leong HW, Wong L: Using indirect protein-protein interactions for protein complex prediction. Journal of Bioinformatics and Computational Biology. 2008, 6 (3): 435-466. 10.1142/S0219720008003497View ArticlePubMedGoogle Scholar
Clauset A, Shalizi CR: Power-law distributions in empirical data. SIAM Review. 2009, 51: 661-703. 10.1137/070710111. [ArXiv:0706.1062],View ArticleGoogle Scholar
Kanehisa M, Goto S, Kawashima S, Okuno Y, Hattori M: The KEGG resource for deciphering the genome. Nucleic Acids Research. 2004, DB1 (32): 277-80. 10.1093/nar/gkh063.View ArticleGoogle Scholar
Jansen R, Greenbaum D, Gerstein M: Relating whole-genome expression data with protein-protein interactions. Genome Research. 2002, 12: 37-46. 10.1101/gr.205602PubMed CentralView ArticlePubMedGoogle Scholar
de Lichtenberg U, Jensen LJ, Brunak S, Bork P: Dynamic complex formation during the yeast cell cycle. Science. 2005, 307: 724-727. 10.1126/science.1105103View ArticlePubMedGoogle Scholar
Jensen LJ, Kuhn M, Stark M, Chaffron S, Creevey C, Muller J, Doerks T, Julien P, Roth A, Simonovic M, Bork P, von Mering C: STRING 8 - a global view on proteins and their functional interactions in 630 organisms. Nucleic Acids Research. 2008, 1 (5):Google Scholar
Bader JS, Chaudhuri A, Rothberg JM, Chant J: Gaining confidence in high-throughput protein interaction networks. Nature Biotechnology. 2004, 22: 78-85. 10.1038/nbt924View ArticlePubMedGoogle Scholar
Sulthram S, Shlomi T, Ruppin E, Sharan R, Ideker T: A direct comparison of protein interaction confidence assignment schemes. BMC Bioinformatics. 2006, 26 (7): 360-10.1186/1471-2105-7-360.View ArticleGoogle Scholar
Dittrich MT: Identifying functional modules in protein-protein interaction networks: an integrated exact approach. Bioinformatics. 2008, 24: i223-i231. 10.1093/bioinformatics/btn161PubMed CentralView ArticlePubMedGoogle Scholar
Cusick ME, Yu H, Smolyar A, Venkatesan K, Carvunis AR, Simonis N, Rual JF, Borick H, Braun P, Dreze M, Vandenhaute J, Yazaki J, Hill DE, Ecker JR, Roth FP: Literature-curated protein interaction datasets. Nature Methods. 2009, 6: 39-46. 10.1038/nmeth.1284PubMed CentralView ArticlePubMedGoogle Scholar
Flake GW, Lawrence S, Giles CL, Coetzee FM: Self-organization of theWeb and identification of communities. IEEE Computer. 2002, 35: 66-71.View ArticleGoogle Scholar
Goldberg AV: Finding a maximum density subgraph. UCB/CSD, UC Berkeley, CA. 1984, 84: [Technical report],Google Scholar
Watts DJ, Strogatz SH: Collective dynamics of "small-world" networks. Nature. 1998, 393: 440-442. 10.1038/30918View ArticlePubMedGoogle Scholar
Newman MEJ: Detecting community structure in networks. European Physical Journal B. 2004, 38: 321-330. 10.1140/epjb/e2004-00124-y.View ArticleGoogle Scholar
Newman MEJ: Fast algorithm for detecting community structure in networks. Physical Review E. 2004, 69: 066133-10.1103/PhysRevE.69.066133.View ArticleGoogle Scholar
Copyright
© Marras et al; licensee BioMed Central Ltd. 2010
This article is published under license to BioMed Central Ltd. This is an Open Access article distributed under the terms of the Creative Commons Attribution License (http://creativecommons.org/licenses/by/2.0), which permits unrestricted use, distribution, and reproduction in any medium, provided the original work is properly cited.