Research article
Open Access
Regulation patterns in signaling networks of cancer
BMC Systems Biology
2010
4:162
Received: 20 January 2010
Accepted: 26 November 2010
Published: 26 November 2010
Abstract
Background
Formation of cellular malignancy results from the disruption of fine tuned signaling homeostasis for proliferation, accompanied by mal-functional signals for differentiation, cell cycle and apoptosis. We wanted to observe central signaling characteristics on a global view of malignant cells which have evolved to selfishness and independence in comparison to their non-malignant counterparts that fulfill well defined tasks in their sample.
Results
We investigated the regulation of signaling networks with twenty microarray datasets from eleven different tumor types and their corresponding non-malignant tissue samples. Proteins were represented by their coding genes and regulatory distances were defined by correlating the gene-regulation between neighboring proteins in the network (high correlation = small distance). In cancer cells we observed shorter pathways, larger extension of the networks, a lower signaling frequency of central proteins and links and a higher information content of the network. Proteins of high signaling frequency were enriched with cancer mutations. These proteins showed motifs of regulatory integration in normal cells which was disrupted in tumor cells.
Conclusion
Our global analysis revealed a distinct formation of signaling-regulation in cancer cells when compared to cells of normal samples. From these cancer-specific regulation patterns novel signaling motifs are proposed.
Keywords
Acute Myeloid LeukemiaShort PathEsophageal Squamous Cell CarcinomaCancer SampleCluster Coefficient
Background
Endogenous signal transduction in cancer cells is systematically disturbed to redirect the cellular decisions from differentiation and apoptosis to proliferation and, later, invasion [1]. Cancer cells acquire their malignancy through accumulation of advantageous gene mutations by which the necessary steps to malignancy are obtained [2]. These selfish adaptations to independence can be described as a result from an evolutionary process of diversity and selection [3]. We were interested to observe the resulting cellular signal transduction on a global view. Experimental high throughput methods such as gene expression profiling with microarrays enable investigating the pathogenic function of tumors on a mesoscopic level. Large-scale gene expression profiles were successfully used to predict clinical outcome [4, 5] and improved risk estimation [6]. However these studies didn't relate genes and their expression to a functional context. To gain an understanding on a systems view, gene expression can be mapped onto cellular networks. Several studies have been reported that used gene expression data from microarrays to describe specific characteristics of signaling networks in cancer. Discriminative components of a protein-protein interaction network were identified by comparing gene expression patterns of metastatic and non-metastatic tumors in breast cancer and suited as risk markers for metastasis of breast cancer [7]. New genetic mediators for prostate cancer were found with networks that were reversely engineered from gene expression profiles [8]. Besides this, insights into evolutionary principles were gained by the analysis of gene expression profiles. Gene expression differences were used to define phylogenetic relationships of several Drosophila species [9] and a molecular clock for primates [10]. Furthermore, the regulation of signaling in yeast was investigated on a global scale to observe regulatory adaptation to the cellular environment. Yeast responded to exogenous signals by shorter regulatory cascades to enable fast signal propagation [11].
The aim of our work was to detect characteristic signaling properties of cancer cells on a global scale. We compared the regulation of signaling pathways in cancer with normal cells and mapped gene expression data of tumors and their corresponding non-malignant ("normal") samples onto a comprehensive protein-protein-interaction network. For inferring regulation-principles in cellular signal transduction, we used a graph searching algorithm that tracked pathways with the highest correlation in regulation. We investigated twenty tumor-datasets comprising acute myeloid leukemia, esophageal squamos cell-, lung adeno- and renal clear cell carcinoma, breast-, cervical-, head-and-neck-, oral-tongue-, pancreas- and prostate cancer, and vulva interstitial neoplasia. The investigated tumors showed shorter pathways, but a larger extension of the network. The tumors displayed lower frequency of central proteins and links and a higher information entropy (Shannon's information content) in their network. These findings were embedded into a novel signal-regulation motif which was observed considerably more often in normal cells when compared to tumor cells (Figure
1
). Similar to the study of Cui and co-workers [
12
], central proteins (hubs) were enriched with cancer mutations. We observed that these proteins showed higher regulation-integrity in the normal samples whereas the tumor samples showed motifs of regulatory maintenance of the neighbors of hubs.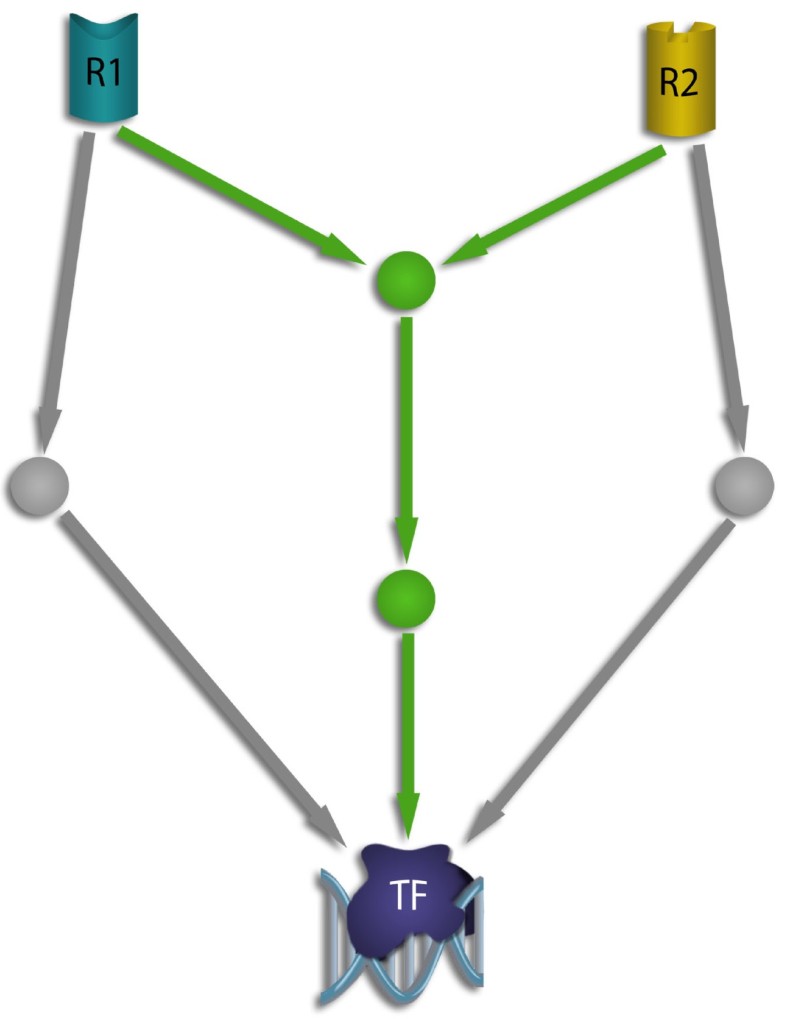 Discussion
We investigated network properties of cancer signaling by looking at co-regulation patterns of genes for different cancer types. We analyzed the general regulatory behavior of correlating gene expression samples of one tumor type and study, rather than analyzing the regulatory behavior of single patients. For this, we calculated a gene to gene distance metric for all samples (patients) of normal and cancerous tissues. The networks of the investigated tumors showed distinctive mechanisms in the regulation of signal transduction when compared to normal cells and had shorter path lengths. Luscombe and co-workers analyzed the dynamics of regulatory networks in yeast [11]. In comparison to endogenously caused changes, they discovered a different topological adaptation of the network when yeast responded to environmental changes. For having quick responses, yeast reacted to environmental changes (nutrition depletion, stress response) by short regulatory cascades. Our investigated cancer cells showed a similar tendency as yeast under stress at which fine tuned endogenous homeostasis is of minor importance. Interestingly, for yeast, Luscombe et al. discovered a higher frequency of hubs for stress responses whereas we discovered that the tumors used hubs less frequently. Cells of normal sample had a more centralized network to regulate signals via common nodes and links. This was reflected by a smaller network, higher frequency of hubs, lower entropy and a higher number of our signaling motif in which the number of pathway-pairs with common links was counted. This makes sense, as fine-tuning and integrating diverse signals need to be coordinately transferred to the respective transcriptional response which is substantial for fine grained signaling homeostasis of normal cells to co-ordinate their signals in accordance to their cellular community in the tissue. Degenerated tumor cells do not need this any more. In turn, the tumors showed a higher connectedness of the whole network which may strengthen their independency of exogenic perturbations.
Similar to Cui and co-workers [12], we observed with our model that cancer specific mutations occur distinctively more often at hubs for signal transduction. Such a mutation can cause a loss of function. This is beneficial for the cancer if the protein gets insensitive to upstream-signals and fires constitutively an oncogenic signal as e.g. the ABL-BCR fusion protein in chronic myelogenous leukemia [19]. If the protein acts as a tumor suppressor, a complete loss of function is beneficial for oncogenesis. In both scenarios, the regulation for signaling homeostasis of the local network environment is detached from this mal-functional protein and a coordinated regulation between the environment and this protein is not necessary any more. We observed this by counting distinctively less integration-motifs in tumors (motif A in Figure 4). Interestingly, tumors seem to sustain the original signals between the environment. We observed this by higher counts of the disruption motif in tumors which reflects the disruption of co-regulation of the hub, but maintained regulation between the neighbors of the hubs (motif B in Figure 4). Even though tumors may exhibit de-regulation of mal-functional hubs with their neighbors, such a maintained co-regulation of their neighbors gives evidence that bypass regulations are still necessary. Ma'ayan and co-workers observed an accumulation of feedback and feed-forward loops at such hubs [20] which supports this idea. Tumors need to maintain the direct signal of e.g. a feed-forward loop which is necessary for the effect of the constitutive signal of an oncogenic hub (Figure 4C). Such oncogenic signaling motifs may have implications to drug therapy. If an oncogenic hub is treated (as e.g. ABL-BCR with imatinib [19]) resistance can occur by mutations of the target protein which reduce the affinity of the drug to the target. A combined therapy may avoid this evolvement by additionally blocking the signaling-maintenance of the neighbors. In addition, we found that the observed cancer networks showed higher error tolerance against directed attacks of hub removals. Hence, some maintenance signals may not only support cancer mutated hubs but also pave the way for the signaling network to get independent of them, specifically for proteins of cancer mutated genes with loss-of-function. It is challenging but highly relevant to shed light into these effects experimentally with cell lines exhibiting drug resistances at such hubs. We analyzed networks based on cohorts of patients and used the correlation of expression between gene pairs for the whole cohorts. This approach does not allow the analysis of a single sample and therefore can't be employed for diagnosis of a single patient, but rather for the analysis of tumor subgroups. It may be worthwhile developing distance metrics of gene pairs for single samples with which the investigated topology features can be employed supporting diagnosis.
We proposed a novel comparative signaling-motif for malignant signaling-regulation which sums up our findings (Figure 1). There have been elaborated studies on network motifs [21]. Our comparative cancer motif is different from these motifs in that it shows signaling-regulation in cancer reflecting less centralized formation. The comparative cancer motif agrees with our findings of non-integration (motif A, Figure 4) but signaling-maintenance (motif B, Figure 4) of proteins with higher involvement in signal propagation.
Conclusion
We analyzed network models that based on correlation of gene expression between interacting proteins which enabled us to track basic principles of signaling by its regulation. The malignant signaling networks showed more diverse signaling pathways (average number of nodes in the networks of tumor: 3324, and normal tissue: 2973, P = 2.3E-03, Figure 2), shorter pathways (average path-length for cancer: 4.58, and normal: 5.50, P = 3.82E-05, Figure 2), the networks were less centralized (average clustering-coefficient of cancer: 0.118, and normal tissue: 0.125, P = 4.20E-04) and less dependent on hubs (average increase of network-diameter after hub-removal, for cancer: 1.59, and normal tissue: 1.64, P = 0.021). The cancer networks indicated signaling maintenance and increased error tolerance to punctual attacks even at hubs which makes cancer treatment at specific targets challenging.
Methods
The general workflow of our approach is outlined in Figure
5
. To investigate if our network features showed a statistically significant difference we performed paired Wilcoxon tests. We set the significance level to P ≤ 0.05 and considered all p-values below this threshold as statistically significant.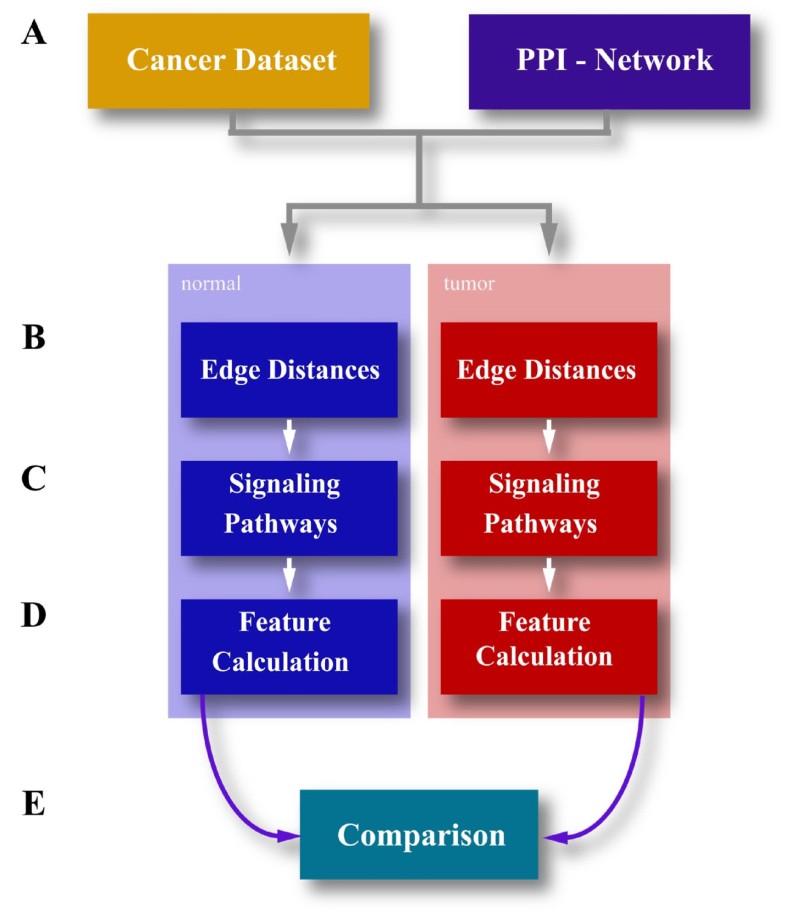 Acknowledgements
We thank Tim Beissbarth for his suggestions for the statistical analysis, and Tobias Bauer for technical support. This work was funded by the Helmholtz Alliance on Systems Biology of Signaling in Cancer, the Nationales Genom-Forschungs-Netz (NGFN+) for the project ENGINE and the Helmholtz International Graduate School for Cancer Research at the German Cancer Research Center.
Authors' Affiliations
(1)
Department of Bioinformatics and Functional Genomics, Institute of Pharmacy and Molecular Biotechnology, Bioquant, University of Heidelberg, Heidelberg, Germany
(2)
Department of Theoretical Bioinformatics, German Cancer Research Center (DKFZ), Heidelberg, Germany
Copyright
© Schramm et al; licensee BioMed Central Ltd. 2010
This article is published under license to BioMed Central Ltd. This is an Open Access article distributed under the terms of the Creative Commons Attribution License (http://creativecommons.org/licenses/by/2.0), which permits unrestricted use, distribution, and reproduction in any medium, provided the original work is properly cited.