Research article
Open Access
Analysing GCN4 translational control in yeast by stochastic chemical kinetics modelling and simulation
BMC Systems Biology
2011
5:131
Received: 25 March 2011
Accepted: 18 August 2011
Published: 18 August 2011
Abstract
Background
The yeast Saccharomyces cerevisiae responds to amino acid starvation by inducing the transcription factor Gcn4. This is mainly mediated via a translational control mechanism dependent upon the translation initiation eIF2·GTP·Met-tRNAiMet ternary complex, and the four short upstream open reading frames (uORFs) in its 5' mRNA leader. These uORFs act to attenuate GCN4 mRNA translation under normal conditions. During amino acid starvation, levels of ternary complex are reduced. This overcomes the GCN4 translation attenuation effect via a scanning/reinitiation control mechanism dependent upon uORF spacing.
Results
Using published experimental data, we have developed and validated a probabilistic formulation of GCN4 translation using the Chemical Master Equation (Model 1). Model 1 explains GCN4 translation's nonlinear dependency upon uORF placements, and predicts that an as yet unidentified factor, which was proposed to regulate GCN4 translation under some conditions, only has pronounced effects upon GCN4 translation when intercistronic distances are unnaturally short. A simpler Model 2 that does not include this unidentified factor could well represent the regulation of a natural GCN4 mRNA. Using parameter values optimised for this algebraic Model 2, we performed stochastic simulations by Gillespie algorithm to investigate the distribution of ribosomes in different sections of GCN4 mRNA under distinct conditions. Our simulations demonstrated that ribosomal loading in the 5'-untranslated region is mainly determined by the ratio between the rates of 5'-initiation and ribosome scanning, but was not significantly affected by rate of ternary complex binding. Importantly, the translation rate for codons starved of cognate tRNAs is predicted to be the most significant contributor to the changes in ribosomal loading in the coding region under repressing and derepressing conditions.
Conclusions
Our integrated probabilistic Models 1 and 2 explained GCN4 translation and helped to elucidate the role of a yet unidentified factor. The ensuing stochastic simulations evaluated different factors that may impact on the translation of GCN4 mRNA, and integrated translation status with ribosomal density.
Keywords
mRNA translation GCN4 Gillespie algorithmstochastic model
Background
Reprogramming gene expression is an important means for cells to adapt to environmental changes. In eukaryotes, gene expression is regulated at multiple levels, including transcription, RNA splicing and translation. Translational control mechanisms, particularly acting at the level of translation initiation, can be a primary point of regulation for certain genes. The yeast GCN4 gene is one such example. It encodes a transcription factor that regulates expression of genes encoding amino acid biosynthetic (and other) enzymes. As such, it plays a central role in the amino acid starvation or GCN response [1, 2].
GCN4
mRNA translation is regulated through an unusually long 5'-leader region (591 nucleotides in length), which contains four short upstream open reading frames (uORFs) (Figure
1A
) [
2
]. While uORFs in 5' leaders can frequently attenuate translation of the downstream open reading frame, some allow ribosomes to resume scanning following uORF translation. This is dependent on the nature of a roughly 15-nucleotide long sequence immediately downstream of the uORF stop codon [
2
].
GCN4
uORF1 and uORF2 have this property, and are relatively weak barriers that allow nearly half of the ribosomes to remain on the
GCN4
mRNA after their translation, while uORF3 and uORF4 are more inhibitory, causing nearly all of the ribosomes to disassociate from the
GCN4
mRNA after their translation [
2
]. A recent study further suggests that after uORF1 translation, the ribosome dissociation from the mRNA is prevented by a mechanism involving eIF3 interaction with the mRNA [
3
].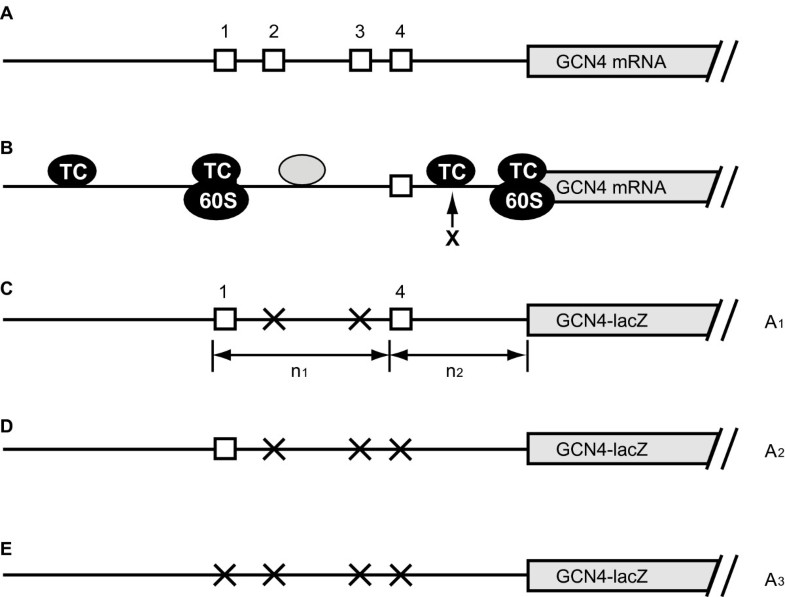 At the beginning of GCN4 mRNA translation, a 43S ribosomal subunit, incorporating an eIF2·GTP·Met-tRNAiMet ternary complex (TC), scans from the 5' end of the mRNA to initiate translation at uORF1. Following uORF1 translation termination, about half of the 40S subunits remain on the mRNA and resume scanning. When amino acids are abundant, the concentration of ternary complex is relatively high, these scanning 40S ribosomal subunits efficiently re-acquire ternary complex after uORF1 translation, forming active 48S preinitiation complexes. These 48S complexes reinitiate (i.e. recognise and subsequently translate) at downstream uORFs 3 and 4, which have 3' sequence contexts that promote ribosome release. This restricts the supply of ribosomes to the main GCN4 ORF and attenuates its translation. Hence, Gcn4 protein production is low under amino acid replete conditions (Figure 1B).
When yeast cells are starved of amino acids, phosphorylation of eIF2 by the Gcn2 kinase causes a reduced abundance of eIF2· GTP [2], and a consequential reduction in the concentration of ternary complex. 40S subunits scanning downstream of uORF1 have a reduced chance of re-acquiring ternary complex. Instead, 40S subunits frequently re-associate with eIF2·GTP·Met-tRNAiMet, only when scanning has progressed past uORFs 3 and 4, but before the main GCN4 AUG codon. The translation of the main GCN4 ORF under starvation conditions elevates Gcn4 synthesis by about 34-fold, which leads to the activation of amino acid biosynthetic genes [4].
It was reported that
GCN4
mutants lacking uORF2 and uORF3 displayed essentially normal
GCN4
translational behaviour [
2
]. This is because those ribosomes blocked by uORF2 and uORF3 would be blocked instead by uORF4, if those two uORFs were removed. For the sake of simplicity, only uORF1 and uORF4 are considered in the rest of our discussions in this paper. The structure of such a
GCN4
mRNA is depicted in Figure
2
.

uORF spacing, and its effect on ternary complex re-acquisition, is thus central to the GCN4 translational control mechanism. Intuitively, given a constant scanning speed, the time it takes for a 40S subunit to reach uORF4 from uORF1 should scale linearly with the corresponding intercistronic distance between uORF1 and uORF4. Naively, one would assume that the proportion of ribosomes that translate uORF4 is linearly dependent upon this distance, since the 40S subunits have more time to bind the ternary complex. However, it was found that this proportion depends nonlinearly upon the intercistronic distance [4]. This unexplained observation motivated our use in this study of mathematical modelling of this stochastic process as an important tool to analyse the GCN4 control. Naturally, we chose to use a stochastic theoretical framework to address these issues.
Previous work from the Hinnebusch laboratory on how unnaturally short intercistronic distances between the upstream and main ORFs affect the rate of reinitiation at the main GCN4 ORF has implicated an additional unidentified factor (Factor X) in the recognition of the GCN4 start site (Figure 1B) [4]. This factor is not required for uORF4 start codon selection. In contrast to ternary complex, its levels are low when amino acids are replete, and its levels are high under amino acid starvation conditions. This factor can help explain the difference in translational behaviours of uORF4 and the main GCN4 ORF under repressing and derepressing conditions. Factor X could be an unknown protein, or an identified initiation factor that is involved in start codon selection (see Discussion for more details). In this study, probabilistic modelling was used to evaluate how Factor X affects translation of GCN4 mRNA with different intercistronic distances.
Our aim in this paper has been to develop a quantitative understanding of GCN4 mRNA translational control, taking into account stochastic effects, and to use that model to understand some hitherto unexplained experimental observations. Previously we reported a simple probabilistic model of GCN4 mRNA translation [5]. Here, we constructed a comprehensive probabilistic model that encompasses more mechanistic details based on Chemical Master Equation (Model 1). This approach gives the model a rigorous theoretical basis. This model was simplified to form a probabilistic Model 2. We used Model 2 to estimate ternary complex levels under repressing (replete) and derepressing (starvation) conditions. Based on these values, we developed a stochastic model (Model 3) to include the effects of steric hindrance caused by scanning ribosomes. Using the Gillespie algorithm, we performed stochastic simulations to investigate how translation of GCN4 mRNA is affected by different parameters, including 5'-loading of ribosomes and the scanning rate.
Discussion
Factor X identity
Our modelling has provided insights into the identity of the cryptic Factor X, which was predicted to be one of the eukaryotic initiation factors involved in start codon selection, such as eIF1 or eIF5 [4]. Factor X is needed for GCN4 start codon selection, but is dispensable for uORF4 reinitiation. Model 1 predicts that the rate of Factor X binding increases under derepressing conditions. This could be explained either by an increase in eIF levels or by an increase in their rates of association with the translation initiation complex under derepressing conditions. However, the absolute abundance of eIFs does not change under repressing and derepressing conditions [20]. This prompted us to investigate the second possibility. A recent study suggests that eIF's bind the 40S ribosomal subunit cooperatively, such that the binding of one factor enhances the affinity of the initiation complex for other factors [9, 21, 22]. In addition, an intermediate eIF· eIF· eIF5 complex may be important for TC recruitment [23, 24]. Our model of general mRNA translation in yeast suggests that the level of eIF1· eIF3· eIF5 complex increases about 20-fold during histidine starvation (derepressing conditions) [25]. It is likely that this complex binds the 40S subunit faster than the individual eIFs, thereby mimicking an increased eIF5 level that was proposed by Grant and coworkers [4]. Hence, an increase in the level of the eIF1· eIF3· eIF5 complex formation, and the subsequent enhancement of eIF association with the 40S subunit, might explain the impact of Factor X upon translation.
For the sake of parameter identifiability, the binding of TC was assumed to be independent of Factor X in Model 1. Nevertheless, it would be interesting to investigate the cooperative effects using the model. In addition, if Factor X is indeed the eIF1· eIF3· eIF5 complex, this assumption will not hold due to the cooperation in factor binding. Including such cooperative effects will perhaps affect the quantitative predictions to certain degree but will not change the results qualitatively. On the other hand, a recent study from the Asano group suggests that Factor X might be an mRNA helicase such as Ded1 or Dhp1 [26]. If this is the case, its binding to the ribosome (or mRNA ahead of it) can be considered as independent of TC binding.
GCN4 Regulation by ternary complex
Models 1 and 2 suggested that a decrease in ternary complex levels leads to a gradual increase in GCN4 mRNA translation (Figure 5). In other words, the dependence of GCN4 translation upon ternary complex levels reflects analogue-type behaviour rather than an on-off switch. The structure of equations 22 and 23 in Model 2 clearly demonstrates that this relationship is endowed by nature of the stochastic regulation and is independent of kinetic parameter values. The ternary complex binding rate under the derepressing conditions that we extracted from published experimental data [4] was estimated to be 0.168 nt/s (i.e. 0.56% of 30 nt/s; Table 1). This was close to the optimal ternary complex binding rate for GCN4 mRNA derepression (Figure 5). However, the 3-AT condition under which Grant and colleagues performed their experiments could be viewed as artificial in that it caused more severe amino acid starvation than natural starvation conditions, leading to lower ternary complex levels than for natural starvation. Hence, translation of GCN4 mRNA operates at much higher ternary complex levels in response to natural amino acid starvations, where the relationship between the two is more linear (e.g. the region between 0.5 to 0.7 s-1 in Figure 5A and 5B). Such dependence of GCN4 translation on ternary complex levels is perhaps advantageous. On one hand, GCN4 is a master transcription factor that remodels nearly a quarter of gene expression in yeast [1]. Such a linear relationship at relatively high ternary complex levels allows incremental increases in GCN4 expression in response to natural starvation, without generating a disproportionate amount of such potent factor. On the other hand, it also allows the cell to mount a higher degree of GCN4 derepression in response to more severe conditions such as 3-AT treatment.
In vivo translational status of GCN4 mRNA
Our modelling has also provided insights into the observed increase in ribosome loading that occurs on the GCN4 mRNA following amino acid starvation. The existing experimental data are unable to distinguish whether this increase in ribosome loading is due to a higher 5'-initiation rate or to a decrease in ribosome scanning [12]. However, these two conditions would have different outcomes in terms of absolute Gcn4 protein production rates (i.e. the higher 5'-initiation rate has roughly 3-fold higher effect than the lower ribosome scanning). In their study of the relationship between intercistronic distance and GCN4 translation, Grant et al. [4] inactivated all uORFs preceding the main GCN4 ORF by point mutation and measured the activity of the GCN4-lacZ constructs in both gcn and gcd mutants. Under derepressing conditions, the GCN4-lacZ activities were roughly the same in gcn cells (where GCN4 translation is constitutively repressed) and in gcd mutants (where GCN4 translation is constitutively derepressed). Their data indicate that the rates of 5'-initiation are comparable in gcn and gcd cells [4]. However, the histidine analogue 3-AT elicits more severe amino acid starvation than is mimicked by gcd mutations. This is because, in addition to reducing ternary complex levels (like gcd mutations), 3-AT also reduces the levels of charged histidyl-tRNA by inhibiting histidine biosynthesis. Consistently, 3-AT is known to generate a strong protein synthesis defect, as reported in a recent study by Asano's group [27]. Yet, without experimental evidence, we cannot rule out a possible change in 5'-initiation rates during amino acid starvation. To meet this challenge, we require systematic assays of ribosome density combined with measurements of GCN4 translation rates.
Genome-wide analyses of ribosome densities have become possible through the combination of deep RNA sequencing technologies and ribosome profiling [28]. This powerful technology, which is capable of mapping ribosomes on mRNAs with single codon resolution, has provided direct confirmation of the translation of the uORFs in the GCN4 mRNA as well as the translational up-regulation of the main GCN4 ORF following amino acid starvation. Unexpectedly, increased translation of the GCN4 5'-leader region was also observed under these conditions [28] suggesting that additional aspects of GCN4 translational regulation remain to be elucidated. While our models do not reflect these as yet uncharacterised aspects of GCN4 translation, they have provided new insights into GCN4 translational regulation. Furthermore, while not all uORF-containing mRNAs are regulated using the same mechanisms as GCN4 [29–31], our models provide a useful platform for predictive studies on the translational regulation of other uORF-containing mRNAs.
Conclusions
In summary, a diversity of modelling platforms was used in this study to probe the principles governing control of GCN4 at the translational level, and to probe the contributions made by different soluble translation factors to the control mechanism. The predictions of the models employed were validated by comparison with experimental data, and all reproduced the dependence of GCN4 translation on varying ternary complex levels, a crucial feature of GCN4 regulation.
Overall, the study revealed that the natural intercistronic distances in the GCN4 mRNA are sufficiently long to allow a scanning ribosome to acquire Factor X even when the levels of this factor are low. This suggested that Factor X is largely not a relevant factor in the translational regulation of GCN4 with natural intercistronic distances. Deployment of a stochastic model with awareness of steric interactions between ribosomes (queuing effects) revealed that changes in histidine codon translation rate, rather than alterations in ternary complex acquisition, was the key factor governing increases in ribosome loading on the GCN4 ORF under amino acid starvation conditions. Thus, via mathematical modelling and simulation, we have revealed novel features of GCN4 regulation, an important paradigm of eukaryotic translational control.
Declarations
Acknowledgements
We thank Prof. Katsura Asano (Kansas State University) for his valuable discussions.
Funding. TY gratefully acknowledges the support of a 6h Century Studentship (University of Aberdeen) and an ORSAS studentship (Scottish Funding Council). TY, MCR, GMC and AB are supported by the CRISP project (Combinatorial Responses In Stress Pathways) funded by the BBSRC (BB/F00513X/1) under the Systems Approaches to Biological Research (SABR) Initiative. MCR acknowledges the financial support from SULSA and BBSRC (BB/F00513/X1, BB/G010722). This work was supported by BBSRC grants to IS (BB/F019084/1 and BB/G010722/1).
Authors' Affiliations
(1)
School of Natural and Computing Sciences, University of Aberdeen, Institute of Complex System and Mathematical Biology, Aberdeen, UK
(2)
School of Medical Sciences, University of Aberdeen, Institute of Medical Sciences, Aberdeen, UK
(3)
Computing Science Department, School of Natural and Computing Sciences, University of Aberdeen, Aberdeen, UK
(4)
AstraZeneca, Macclesfield, UK
Copyright
© You et al; licensee BioMed Central Ltd. 2011
This article is published under license to BioMed Central Ltd. This is an Open Access article distributed under the terms of the Creative Commons Attribution License (http://creativecommons.org/licenses/by/2.0), which permits unrestricted use, distribution, and reproduction in any medium, provided the original work is properly cited.