Research article
Open Access
Integrative network analysis reveals active microRNAs and their functions in gastric cancer
BMC Systems Biology
2011
5:99
Received: 6 March 2011
Accepted: 26 June 2011
Published: 26 June 2011
Abstract
Background
MicroRNAs (miRNAs) are a class of endogenous, small and highly conserved noncoding RNAs that control gene expression either by degradation of target mRNAs or by inhibition of protein translation. They play important roles in cancer progression. A single miRNA can provoke a chain reaction and further affect protein interaction network (PIN). Therefore, we developed a novel integrative approach to identify the functional roles and the regulated PIN of oncomirs.
Results
We integrated the expression profiles of miRNA and mRNA with the human PIN to reveal miRNA-regulated PIN in specific biological conditions. The potential functions of miRNAs were determined by functional enrichment analysis and the activities of miRNA-regulated PINs were evaluated by the co-expression of protein-protein interactions (PPIs). The function of a specific miRNA, miR-148a, was further examined by clinical data analysis and cell-based experiments. We uncovered several miRNA-regulated networks which were enriched with functions related to cancer progression. One miRNA, miR-148a, was identified and its function is to decrease tumor proliferation and metastasis through its regulated PIN. Furthermore, we found that miR-148a could reduce the invasiveness, migratory and adhesive activities of gastric tumor cells. Most importantly, elevated miR-148a level in gastric cancer tissues was strongly correlated with distant metastasis, organ and peritoneal invasion and reduced survival rate.
Conclusions
This study provides a novel method to identify active oncomirs and their potential functions in gastric cancer progression. The present data suggest that miR-148a could be a potential prognostic biomarker of gastric cancer and function as a tumor suppressor through repressing the activity of its regulated PIN.
Keywords
Gastric CancerGastric Cancer CellProtein Interaction NetworkHuman Protein Reference DatabaseEnrich Biological Process
Background
MicroRNAs are small non-coding, single stranded RNA of ~22 nucleotides in length that are abundantly found in eukaryotic cells [1]. The complementarity is between seed regions of mature miRNAs and their target messengers, enabling miRNA-mRNA interactions to occur. These interactions are crucial for post-transcriptional regulation of target gene expression by obstructing the mRNA translation or stability in the cytoplasm, and depend on both the expression levels of miRNAs and target mRNAs [2, 3]. Some miRNAs are reported as oncomirs which could function as either oncogenes or tumor suppressors [4]. For example, miR-21 decreased tumor suppressor Pdcd4 expression and promoted invasion, intravasation and metastasis in colorectal cancer [5]. MiR-21 also regulated PTEN-dependent pathway and affected cell growth, migration and invasion of hepatocellular cancer [6]. Moreover, miR-21 and miR-155 were significantly associated with cancer metastasis and patients with higher miR-21 or miR-155 expression levels had worse survival [7]. MiR-155 was found to be up-regulated during innate immune response and autoimmune disorders as well as in various malignancies. In addition, miR-155 targeted tumor suppressor WEE1 homolog-S. pombe (WEE1) and caused gene alternation required for cancer development and progression [8]. On the other hand, let-7 decreased cell proliferation and migration of glioblastoma and reduced tumor size in xenograft model [9]. Let-7 prevented early cancer progression through suppressing embryonic gene high mobility group, A2 (HMGA2) expression [10]. Metastatic gastric cancer cells secreted let-7 via exosomes into the extracellular environment to maintain their oncogenesis [11].
Recently, many reports showed that they successfully identified miRNA targets using miRNA expression profiles [12, 13]. Huang et al. used RNA expression data to identify 1597 high-confidence target predictions for 104 human miRNAs and further verified let-7b was down-regulated in retinoblastoma and CDC25A and BCL7A were targets of let-7b using qRT-PCR and microarray profile. Li et al. combined sequence complementarity, miRNA expression level, and protein abundance to identify miRNA targets for elevating their predictions. They also found that translational repression of targets by miRNAs was dominant mechanism in miRNA regulation. Moreover, sequence-based computational methods have been broadly used to predict putative miRNA targets [14], and can reach pretty good prediction rate, including cancer-related miRNAs [15, 16]. Previous report has also indicated that computational prediction should take into account the expression profiles of both miRNA and mRNA [3]. Therefore, the development of an integrative approach that incorporated expression data to facilitate the identification of condition-specific targets of miRNAs becomes increasingly important.
MicroRNA can obstruct the translation of mRNA, thereby directly affecting protein abundance [15, 16] and PINs [17, 18]. For example, Yu et al. analyzed correlations between transcription factors (TFs) and miRNAs and further discovered that different regulatory networks formed by miRNA and TFs were involved in different biological functions [17]. Additionally, Liang et al. found global correlation between miRNA repression and protein-protein interactions and elucidated the related biological processes of miRNA-regulated PINs [18]. PINs are sets of interactions formed by two physically interacting proteins, which are fundamental to most biological processes [19]. With the accumulation of PPI data, it is becoming increasingly possible to understand the architecture and function of the cellular network by computational approaches [20, 21]. Recently, we characterized the global properties of miRNA regulation in human PIN and proposed possible mechanisms of how these miRNAs regulate PINs [22]. Additionally, previous studies have demonstrated that miRNAs can affect specific biological functions which are involved in tumorigenesis and cancer progression through the regulation of a small number of genes within biological networks, such as PINs [23, 24]. Thus, assessing how miRNAs affect PINs could facilitate the discovery of potential miRNA-related networks and allow the characterization of associated biological functions.
In this study, we proposed an integrative analysis which suggested that miRNA-regulated PINs could be identified based on the combination of down-regulated miRNAs and up-regulated mRNAs. The procedure for miRNA-regulated PIN identification and analysis is illustrated in Figure
1
. We subsequently showed that the networks that were modulated by these down-regulated miRNAs in tumors tended to be activated in gastric cancer. Among these was the miR-148a-regulated PIN, which was involved in metastasis-related biological processes that were associated with tumor suppression. In particular, miR-148a was shown to inhibit tumor invasion, migration, adhesion and cell growth, and prolonged patient survival. These findings suggest that miR-148a is not only a potential prognostic marker that can be used for the detection of human gastric cancer, but it can also suppress gastric cancer progression through the regulation of its associated network.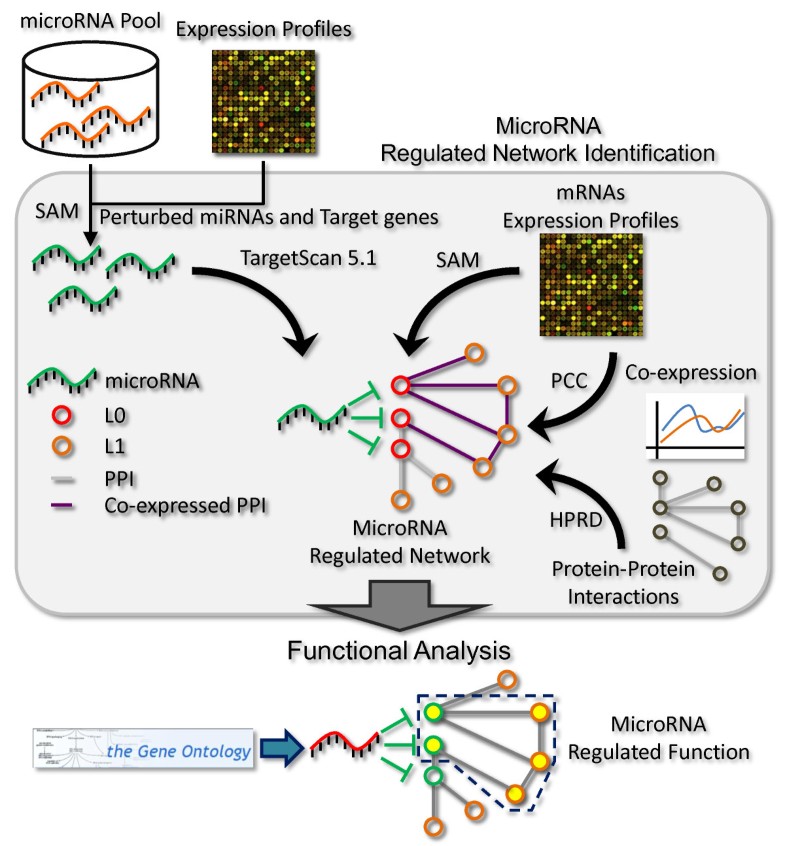 Discussion
MiRNAs are known to function as gene silencers and their expression profiles have been reported to be negatively correlated with those of their target genes [25]. In particular, up-regulated target genes were found to be specific targets of down-regulated miRNAs in gastric cancer. In order to reveal the possible roles that these miRNAs play in gastric cancer, the predicted target genes of miRNAs were analyzed within the human PIN and it was shown that a stronger functional correlation existed for miRNA targets that were linked to specific PPI partners than for miRNA targets alone. Thus, this method provides us to understand the biological functions of miRNAs.
To find out the miRNA-regulated PINs in gastric cancer, the expression profiles of miRNAs were integrated and analyzed within the human PIN. Twenty three down-regulated miRNA-regulated PINs were identified based on their up-regulated target genes in gastric cancer. Among these, sixteen PINs were activated. The results suggest that repressing these miRNAs in gastric cancer can activate their regulated PINs. This may be due to miRNA-mediated regulation of pivot genes, such as hubs [22], or differentially expressed genes in the biological networks. Therefore, we suggest that these 16 down-regulated miRNAs act as oncomirs and function as tumor suppressors. Additionally, these 16 oncomirs were associated with increased tumor suppression potential and increased survival rates compared with the 7 remaining down-regulated miRNAs, suggesting that these oncomirs can be effective markers for the diagnosis and prognosis of gastric cancer.
Among 16 down-regulated miRNAs, we found that the miR-148a is down-regulated in gastric cancer and its regulated PIN was associated with tumor metastasis-related functions, such as integrin-mediated signaling, cell-matrix adhesion, wound healing and blood coagulation. These findings were validated by over-expressing miR-148a in AGS, SC-M1 and MKN-45 gastric cancer cell lines. While miR-148a over-expression led to a significant reduction in the invasive, migratory, adhesiveness and growth properties of gastric cancer cells, miR-148a inhibitor-treated tumor cells enhanced these effects. Lujambio et al. found miR-148a inhibited metastasis formation in xenograft models [36] and Chen et al. showed that expression level of miR-148a in human gastric cancer was significantly lower than that in their matched nontumor adjacent tissues [37]. These results support our findings, miR-148a regulates malignant progression in gastric cancer. Additionally, patients with high miR-148a expression levels exhibited a significantly better overall survival rate than those with low miR-148a levels, suggesting that miR-148a might function as a tumor suppressor and could potentially serve as a diagnostic and prognostic marker for gastric cancer.
We next ascertained whether miR-148a-mediated down-regulation of PAI-1, VAV2, ITGA5, and ITGB8 expression resulted in the inhibition of malignant progression of tumor cells. These genes were identified as up-regulated targets of miR-148a within its regulated PIN and have been reported to have a high oncogenic potential and are associated with aggressive tumor cell phenotypes [26–33]. Herein, we showed that their expression levels were reduced in response to miR-148a over-expression but elevated in response to anti-miR-148a inhibitor treatment. Overall, these results suggest that miR-148a influences the tumor progression-related biological functions of cancer cells by regulating a small subset of cancer-relevant genes within its regulated PIN.
Conclusions
In conclusion, a novel integrative network-based approach was used to demonstrate the dynamic and conditional nature of miRNA-regulated gene expression and to discover the potential functions of these miRNAs in gastric cancer. Furthermore, this approach facilitated the identification of 16 activated oncomir-regulated PINs which might be used as possible diagnostic and prognostic markers of gastric cancer. In particular, miR-148a was identified as a potential prognostic marker in gastric cancer patients, with the ability to function as a tumor suppressor through its regulated PIN. This study not only provides an insight into the miRNA-regulated PINs that are involved in the pathogenesis of gastric cancer; it also shows that a network-based approach can be used to identify novel diagnostic and prognostic markers of disease.
Methods
Expression Profiles of MiRNAs and mRNAs
The mRNA expression profiles of gastric cancer were retrieved from Gene Expression Omnibus (GEO), accession number GSE13911 [38]. The miRNA expression profiles were obtained from 22 paired tumor and non-tumor specimens of gastric cancer patients who underwent curative gastrectomy at National Taiwan University Hospital (Taipei, Taiwan) between 2001 and 2006. Gastric cancer and normal tissues from these patients were collected at the National Taiwan University Hospital after receiving patient written informed consent. The protocol was approved by the local ethics committees, National Taiwan University Hospital. We have submitted the miRNA microarray data to the GEO database and the series record is GSE28700. All the human tissue samples have been approved and human subject confidentiality has been protected by the Institute Review Board (IRB, 9261700703). The characteristics of these tissue specimens are described in Methods in Additional file 1.
MiRNA-regulated PIN Identification and Analysis
The procedure for miRNA-regulated PIN identification and analysis is illustrated in Figure 1. For identifying the miRNA-regulated PINs, significantly differentially expressed miRNAs and genes were determined by Significance Analysis of Microarrays (SAM) [39] (delta of 5 and fold change of 2), implemented in MultiExperiment Viewer (MeV) v4.5.1 [40]. As we applied this cutoff, we could control the false discovery rate was less than 0.00001% (evaluated by SAM). Finally, only 23 significantly down-regulated miRNAs and no significantly up-regulated miRNAs were found. The regulated network of each miRNA consists of its significantly up/down-regulated target genes and their interacting partners in the human PIN. The putative target genes of miRNAs were obtained from TargetScan 5.1 [41], and the human PIN was from Human Protein Reference Database (HPRD) [42]. The enrichment of co-expressed PPIs (CePPIs) involved in the network was used to evaluate the activation state of miRNA-regulated PINs in tumor and normal tissues (see Methods in Additional File 1). MicroRNA-regulated biological functions were predicted by functional enrichment analyses of their regulated PINs (see Methods in Additional File 1).
Cell Culture and Authentication of Cell Lines
Human gastric cancer AGS, SC-M1 and MKN-45 cells were obtained from the cell line databank in National Taiwan University Hospital in 2008 and have been tested and authenticated in our laboratory on a monthly basis. These cells were last tested by morphology check using microscope and mycoplasma detection using Hoechst 33258 in March 2010. These cells were maintained in RPMI-1640 medium supplemented with 10% fetal bovine serum (FBS; Invitrogen, Carlsbad, California, U.S.A) and cultured at 37°C in an atmosphere of 5% CO2.
qRT-PCR for MiRNA Expression
Total RNA from 62 paired tumor and normal tissues was obtained using Trizol (Invitrogen) and the mirVana miRNA isolation kit (Applied Biosystems, California, U.S.A.) for miRNA detection.
Invasion Assays Using Boyden Chamber Assays
Cells were transfected with a miR-148a precursor and a miR-148a inhibitor. After 24 hr, invasion assays were performed with modified Boyden chambers containing filter inserts (pore size, 8 μm) coated with Matrigel (35 μg, BD Biosciences) based on previously described methods [43].
Wound Healing Assay
Cell monolayers were wounded after transfection for 48 hr by scratching with a 200 μl pipette tip. Debris was removed by washing and the scratched cells were incubated for 24 hr. Distances between wound edges were measured at five different locations under × 20 magnification by a microscope and analyzed using Metamorph version 7.0 software.
Cell Adhesion Assay
Adhesion assays were performed using Matrigel coated 96-well plates that were incubated at 37°C for 1 hr. Details are described in Methods in Additional File 1.
Cell Proliferation Assay
Cell growth was measured in real-time using the xCELLigence system (Roche Applied Science and ACEA Biosciences). 7.5 × 103 cells were seeded in each well of an E-plate 16 (Roche Applied Science and ACEA Biosciences) and incubated at 37°C for 48 hr. After incubation, cells were transfected with a miR-148a precursor and inhibitor and the growth of living cells were monitored in real-time.
Additional information regarding details of individual experimental procedures can be found in the Additional files submitted along with the main manuscript.
Declarations
Acknowledgements
C.W.T. and C.C.L. share first authorship. We thank Technology Commons, College of Life Science, National Taiwan University, the Second Core Lab and Department of Medical Research of National Taiwan University Hospital for providing technical assistance. This work was supported by grants from the National Taiwan University Hospital (NTUH-95A06), the Department of Industrial Technology, Ministry of Economic Affairs (95-EC-17-A-19S1-016), NTU Frontier and Innovative Research Projects (99R70437), National Science Council of Taiwan (NSC-96-2314-B-002-027, 96-2311-B-002-018, 97-2311-B-002-010-MY3, 99-2621-B-010-001-MY3, and 99-2621-B-002-005-MY3) and National Health Research Institutes (NHRI-EX98-9819PI). We thank Uni-edit for editing the manuscript.
Authors' Affiliations
(1)
Department of Life Science, Institute of Molecular and Cellular Biology, National Taiwan University, Taipei, Taiwan
(2)
Institute of Molecular and Cellular Biology and , National Taiwan University, Taipei, Taiwan
(3)
Institute of Biomedical Informatics and Center for Systems and Synthetic Biology, National Yang-Ming University, Taipei, Taiwan
(4)
Angiogenesis Research Center, National Taiwan University, Taipei, Taiwan
(5)
Department of Surgery, National Taiwan University Hospital and College of Medicine, Taipei, Taiwan
Copyright
© Tseng et al; licensee BioMed Central Ltd. 2011
This article is published under license to BioMed Central Ltd. This is an Open Access article distributed under the terms of the Creative Commons Attribution License (http://creativecommons.org/licenses/by/2.0), which permits unrestricted use, distribution, and reproduction in any medium, provided the original work is properly cited.