Research article
Open Access
Clarifying off-target effects for torcetrapib using network pharmacology and reverse docking approach
BMC Systems Biology
2012
6:152
Received: 31 July 2012
Accepted: 4 December 2012
Published: 10 December 2012
Abstract
Background
Torcetrapib, a cholesteryl ester transfer protein (CETP) inhibitor which raises high-density lipoprotein (HDL) cholesterol and reduces low-density lipoprotein (LDL) cholesterol level, has been documented to increase mortality and cardiac events associated with adverse effects. However, it is still unclear the underlying mechanisms of the off-target effects of torcetrapib.
Results
In the present study, we developed a systems biology approach by combining a human reassembled signaling network with the publicly available microarray gene expression data to provide unique insights into the off-target adverse effects for torcetrapib. Cytoscape with three plugins including BisoGenet, NetworkAnalyzer and ClusterONE was utilized to establish a context-specific drug-gene interaction network. The DAVID functional annotation tool was applied for gene ontology (GO) analysis, while pathway enrichment analysis was clustered by ToppFun. Furthermore, potential off-targets of torcetrapib were predicted by a reverse docking approach. In general, 10503 nodes were retrieved from the integrative signaling network and 47660 inter-connected relations were obtained from the BisoGenet plugin. In addition, 388 significantly up-regulated genes were detected by Significance Analysis of Microarray (SAM) in adrenal carcinoma cells treated with torcetrapib. After constructing the human signaling network, the over-expressed microarray genes were mapped to illustrate the context-specific network. Subsequently, three conspicuous gene regulatory networks (GRNs) modules were unearthed, which contributed to the off-target effects of torcetrapib. GO analysis reflected dramatically over-represented biological processes associated with torcetrapib including activation of cell death, apoptosis and regulation of RNA metabolic process. Enriched signaling pathways uncovered that IL-2 Receptor Beta Chain in T cell Activation, Platelet-Derived Growth Factor Receptor (PDGFR) beta signaling pathway, IL2-mediated signaling events, ErbB signaling pathway and signaling events mediated by Hepatocyte Growth Factor Receptor (HGFR, c-Met) might play decisive characters in the adverse cardiovascular effects associated with torcetrapib. Finally, a reverse docking algorithm in silico between torcetrapib and transmembrane receptors was conducted to identify the potential off-targets. This screening was carried out based on the enriched signaling network analysis.
Conclusions
Our study provided unique insights into the biological processes of torcetrapib-associated off-target adverse effects in a systems biology visual angle. In particular, we highlighted the importance of PDGFR, HGFR, IL-2 Receptor and ErbB1tyrosine kinase might be direct off-targets, which were highly related to the unfavorable adverse effects of torcetrapib and worthy of further experimental validation.
Keywords
Hepatocyte Growth FactorCholesteryl Ester Transfer ProteinTorcetrapibCholesteryl Ester Transfer Protein InhibitorErbB Signaling Pathway
Background
Cardiovascular disease remains to be the most unexceptional cause of morbidity over the past few years in spite of the usage of hydroxymethylglutaryl coenzyme A (HMG CoA) reductase inhibitors (statins) that lower low-density lipoprotein (LDL) cholesterol [1]. Elevated LDL or lowered high-density lipoprotein (HDL) cholesterol level is a crucial risk factor for cardiovascular ailments [2, 3]. Accordingly, raising HDL induced by cholesteryl ester transfer protein (CETP) inhibition is an attractive tactic for anti-atherosclerosis, which may reduce the residual risk of cardiovascular events [4].
Torcetrapib (Figure
1
), a CETP inhibitor firstly proposed by Pfizer Inc., had been characterized to suppress the exchange of HDL and triglyceride-rich lipoprotein in patients with hyperlipidemia, which resulted in the elevation of HDL in the peripheral circulatory system [
5
]. However, torcetrapib was found to be associated with incremental mortality and cardiovascular event risk, including activated aldosterone system and induced hypertension in the ILLUMINATE trial [
6
]. Off-target effects occurred via inhibition of a kinase not intended to be targets for drugs. So far, the detailed mechanisms underlying the off-target adverse effects of torcetrapib are quite limited and remain obscure.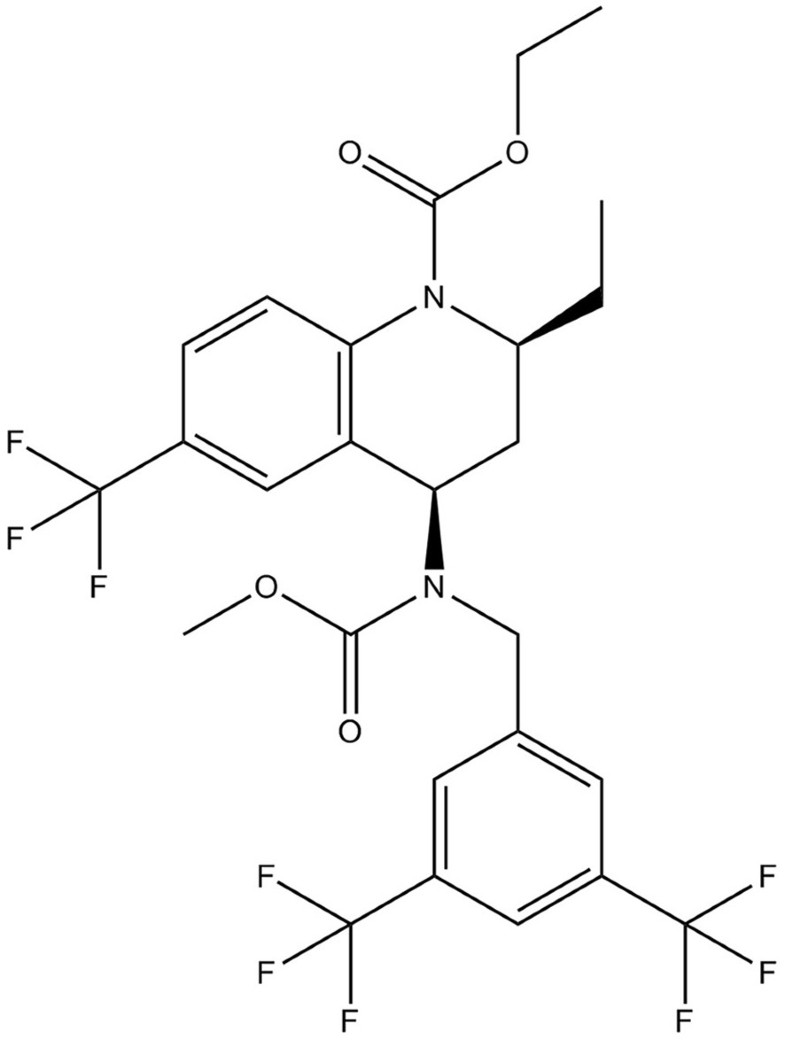 With the rapid development of high-throughput screen (HTS) technology such as microarray, the superiority of systems biology and network pharmacology gradually embodied [7, 8]. Reconstructing networks of biological organism through integrating diverse sources are crucial for comprehending biological processes associated with pathema. Computational biology provides profitable patronage to address the scientific suspense through pragmatic modeling and theoretical exploration, which furnish a brand-new network poly-pharmacology approach for drug identification and discovery [9]. Based on systems biology, it affords a rewarding assistance to improve drug potency and forecast the unwanted off-target effects at a higher efficiency and lower attrition, especially for a new generation of known drugs [10]. In addition, as a crucial technology in drug discovery, reverse docking approach also revealed a prominent performance in understanding the basis of a drug and receptors which provided benignant avails in drug target identification [11].
To better expound the unfavorable adverse reactions of torcetrapib, a novel network systems approach was proposed by integrating high quality manually curated data with microarray gene expression profiling into a context-specific network, which allowed us to explicate the off-target adverse effects of torcetrapib in a different angle. Detailed illustrations are as follows.
Results and discussion
Although statins had been well characterized as the best studied contemporary cardiovascular therapies over the past few years, the optimal approach to LDL reduction remained to be controversial. Meanwhile, the prejudice of low levels of HDL cholesterol in cardiovascular system became increasingly prominent, which had a tight consanguinity with myocardial infarction and death from coronary heart disease (CHD). Thus, strategies targeting HDL had been a therapeutic tactic for anti-atherosclerosis. As a novel CETP inhibitor, torcetrapib had been recognized as one of the auspicious foremost candidates for elevating HDL. However, owing to its high risk of mortality, torcetrapib experienced the battle of "Waterloo", which overshadowed the entire prospect of anti-cholesterol drugs.
With the speedy development of bioinformatics, organization of knowledge on drug, disease and target inaugurated a brand-new era in drug target identification and discovery. Network pharmacology comprehended the complexity of biological processes by integrating network biology and poly-pharmacological perspective to create predictive models [12]. Network reconstruction and integration of aberrant genes involved in drugs could uncover the capital gene regulatory networks (GRNs) modules which led to the dysfunction of regular biological systems.
After integrating HPRD (Human Protein Reference Database, http://www.hprd.org/) with a manually curated human signaling network acquired from Cui et al. [13], the over-expressed microarray data originated from human adrenal carcinoma cells treated with torcetrapib were mapped to construct the context-specific network. Cytoscape (http://www.cytoscape.org/), an open source package for visualizing complex networks and integrating diverse types of resources, is an indispensable platform for bioinformatics, social network analysis and network pharmacology [14]. The drug-gene interaction network of torcetrapib was established utilizing three plugins, including BisoGenet [15], NetworkAnalyzer and ClusterONE [16]. Molecular relations (protein-protein and protein/DNA interactions) were connected based on SysBiomics platform (http://biomine.cigb.edu.cu/sysbiomics/). GRNs communities, which reflected the situation of torcetrapib-associated over-expressed genes, were detected in MCODE algorithm. The DAVID functional annotation tool (http://david.abcc.ncifcrf.gov/) [17, 18] and ToppFun web server (http://toppgene.cchmc.org/enrichment.jsp) [19] were employed freely to identify the significantly-represented biological processes and the enriched signaling pathways, respectively.
An in silico drug target reverse searching method was applied for screening potential off-targets of torcetrapib. Reverse docking, a flexible ligand-receptors inverse docking program, conducted computer-automated search of potential targets of a small molecule by docking it to a cavity of each receptor. To optimize docking parameter, an accurate docking module in Discovery Studio (version 2.5, Accelrys) named CDOCKER was employed. The cavity of each protein was derived from the three dimensional structures of Protein Data Bank (PDB, http://www.rcsb.org/) based on the enriched pathways. Proteins with high binding affinity with torcetrapib were considered to be the most potential direct off-targets.
Conclusions
A whole genomic drug-gene interaction network based on the integrative manually curated signaling network and microarray profiles was established to explicate the potential off-target effects for torcetrapib. Totally, three momentous GRNs modules which might have a close relationship with the unwanted effects of torcetrapib were mined. Meanwhile, enriched analysis was carried out and certain significant enriched pathways were detected, which had been reported to have a definite correlation with cardiovascular maladjustment. In particular, we highlighted the importance of IL-2 Receptor Beta Chain in T cell Activation, PDGFR-beta signaling pathway, IL2-mediated signaling events, ErbB signaling pathway and signaling events mediated by HGFR (c-Met) and revealed that PDGFR, HGFR, IL-2 Receptor and ErbB1tyrosine kinase were direct off-targets for torcetrapib.
Taken together, these findings suggested that the network off-target effects prediction methods in silico were profitable for illustrating the relationship between drug and disease related off-targets for interventions. However, due to the false positive connection and noises in the reassembled network, the predictive model in this study was still far more completed. We proposed that our study on the off-target effects of torcetrapib based on network pharmacology will provide beneficial insights for further experimental validations.
Methods
Microarray data analysis
The microarray gene expression profiling associated with torcetrapib was acquired from the National Center for Biotechnology Information (NCBI) Gene Expression Omnibus (GEO, http://www.ncbi.nlm.nih.gov/geo/) database under the accession number GDS3556 [50]. This data set was derived from a study on H295 adrenal carcinoma cells treated with blank solvent, AngII and torcetrapib. Analysis of differently expression gene was performed by Significance Analysis of Microarray (SAM) [51]. If the fold change>1.2 and False Discovery Rate (FDR)<0.05, gene expression was considered significantly different.
Human signaling network construction
To establish a comprehensive human signaling network, we manually curated the cellular signaling molecules which integrated diverse pathways resources including BioCarta, literature-mined network, Cancer Cell Map [13] and HPRD. An open source platform for complex network analysis and visualization named Cytoscape was freely utilized to assemble the drug-gene interaction network [14]. Molecular inter-relations in the integrative network were added using BisoGenet plugin from various databases including BIND, HPRD, MINT, DPI, BIOGRID and INTACT [15].
Functional enrichment analysis
Functional enrichment analysis was applied to identify primary biological processes, which provided clues to the underlying molecular mechanisms related to the adverse effects of torcetrapib. Significant clustering of genes was mined by MCODE algorithm [16]. All GRNs modules were classified by DAVID functional annotation tool [17, 18] to perform GO analysis on the basis of "GOTERM_BP_FAT", whilst pathway enrichment analysis was clustered by ToppFun [19].
Ligand preparation
Chemical structures of all ligands utilized in reverse docking protocol were generated by CambridgeSoft ChemOffice 2008. Ligands were prepared by adding charges, hydrogen and applying force field in Discovery Studio environment. Energy was also minimized with ChARMm force field before performing docking. The random conformations search of torcetrapib was conducted utilizing a high temperature simulated annealing dynamics scheme. Ligands were heated to 700 K in 2000 steps, followed by annealing to 300 K in 5000 steps. Ten random conformations were generated and a final minimization was introduced to each docking poses.
Receptor preparation
The three dimensional structures of proteins were obtained from PDB, which contains information about experimentally-determined structures of proteins, nucleic acids and complex assemblies. Drug targets were downloaded with high resolution and without mutation or missing residues around the active site. Ligands, oligomeric chains, water molecules or solvent were spilt from proteins. All proteins were remedied through the "Prepare Protein" command in Discovery Studio protocols, which added hydrogen, fixed the missing side chains, corrected connectivity or bond orders and adjusted residue protonation states to PH 7.0.
Binding site analysis
For binding site identification, a ligand-based approach was used for identifying the potential binding sites via "Define and Edit Binding Site" tool in Discovery Studio. Ligand-based similarity search method, a strategy utilizing compounds that are known to bind to the desired targets to identify the targets of other compounds with similar properties, is an indispensable technology that is gaining increasing usage in drug discovery. In the present study, search was performed on the global surface of the protein by similarity and substructure searching [52], and the automatic identification of binding sphere was considered as highly significant.
Targets prediction
A reverse docking algorithm, the opposite of a "direct" docking approach, was conducted by CDOCKER to hunt for potential targets of torcetrapib based on the enriched signaling pathways. CDOCKER, an implementation protocol in Discovery Studio environment, is a grid-based simulated annealing (several cycles) docking method through CHARMm force field docking tool [53]. Docking was performed using the default setting, which can avoid a potential reduction in docking accuracy.
Declarations
Acknowledgements
This work was supported by the National Natural Science Foundation of China (No. 91129727, 81020108031, 30973558, 30901815, 30901803, 81270049), the Major Specialized Research Fund from the Ministry of Science and Technology in China (No. 2009ZX09103-144, No. 2009ZX09301-010) and Research Fund from Ministry of Education of China (111 Projects No.B07001).
Authors' Affiliations
(1)
State Key Laboratory of Natural and Biomimetic Drugs, Department of Pharmacology, School of Basic Medical Sciences, Peking University and Institute of System Biomedicine, Peking University, Beijing, China
(2)
Department of Cardiology, Peking University People's Hospital, Beijing, China
(3)
Department of Pharmacy, Xi'an Children's Hospital, Xi'an, China
Copyright
© Fan et al.; licensee BioMed Central Ltd. 2012
This article is published under license to BioMed Central Ltd. This is an Open Access article distributed under the terms of the Creative Commons Attribution License (http://creativecommons.org/licenses/by/2.0), which permits unrestricted use, distribution, and reproduction in any medium, provided the original work is properly cited.