Research article

Open Access
A network perspective on metabolic inconsistency
BMC Systems Biology
2012
6:41
Received: 16 November 2011
Accepted: 14 April 2012
Published: 14 May 2012
Abstract
Background
Integrating gene expression profiles and metabolic pathways under different experimental conditions is essential for understanding the coherence of these two layers of cellular organization. The network character of metabolic systems can be instrumental in developing concepts of agreement between expression data and pathways. A network-driven interpretation of gene expression data has the potential of suggesting novel classifiers for pathological cellular states and of contributing to a general theoretical understanding of gene regulation.
Results
Here, we analyze the coherence of gene expression patterns and a reconstruction of human metabolism, using consistency scores obtained from network and constraint-based analysis methods. We find a surprisingly strong correlation between the two measures, demonstrating that a substantial part of inconsistencies between metabolic processes and gene expression can be understood from a network perspective alone. Prompted by this finding, we investigate the topological context of the individual biochemical reactions responsible for the observed inconsistencies. On this basis, we are able to separate the differential contributions that bear physiological information about the system, from the unspecific contributions that unravel gaps in the metabolic reconstruction. We demonstrate the biological potential of our network-driven approach by analyzing transcriptome profiles of aldosterone producing adenomas that have been obtained from a cohort of Primary Aldosteronism patients. We unravel systematics in the data that could not have been resolved by conventional microarray data analysis. In particular, we discover two distinct metabolic states in the adenoma expression patterns.
Conclusions
The methodology presented here can help understand metabolic inconsistencies from a network perspective. It thus serves as a mediator between the topology of metabolic systems and their dynamical function. Finally, we demonstrate how physiologically relevant insights into the structure and dynamics of metabolic networks can be obtained using this novel approach.
Keywords
Adenoma
Aldosterone
Primary Aldosteronism
Flux Balance Analysis
Metabolic Reconstruction
Background
Genomic knowledge allows compiling an inventory of an organism's enzymes and thus the subsequent reconstruction[1] and simulation of its metabolic system[2] using constraint-based modeling (CBM) techniques[3]. Compensating the lack of detailed information on the systems parameters, e.g., enzyme kinetics, gene regulation etc., CBM has proven to be a valuable tool for genome-scale system analysis. For example, flux balance analysis (FBA)[4] has been used to predict with high accuracy the lethality of gene deletions in unicellular organisms by taking only the metabolic system's stoichiometry, the assumption of optimal growth (implicit gene regulation), and a specified growth medium into account (see e.g.[5], for a study involving Escherichia coli or[6], for a study involving Saccharomyces cerevisiae).
Duarte et al.[7], published a genome-scale representation of human metabolism based on genomic, bibliographic, and biochemical information. In contrast to metabolic representations of unicellular organisms, the following caveats play a role in the modeling of multicellular reconstructions, in general, and in particular for the human system[8]: (i) it is difficult to define environmental conditions for a multicellular system, (ii) usually not enough information is available about the cell-type specificity of human metabolic pathways, and (iii) cellular objectives, a prerequisite for flux balance analysis, are hard to define and validate. The precision of CBM predictions increase with the availability and accuracy of constraints, as they aid narrowing down the potential solution space to the biologically meaningful system states. Thus, integrating experimental data can help overcome the previously mentioned limitations.
In the present work, we will integrate human transcriptome data from a cohort of healthy controls and aldosterone producing adenomas (APA) of adrenal glands from primary aldosteronism (PAL) patients[9] with the metabolic reconstruction Human Recon 1[7]. Primary aldosteronism is a common form of hypertension with hypokalemia and suppressed renin-angiotensin system caused by autonomous aldosterone production. This data, among other data sets covered in the supporting information, will serve us to demonstrate how the metabolic contextualization dramatically increases the resolution of our perception of the data.
Approach
Different approaches to the incorporation of experimental data into CBM have been proposed[
8
,
10
–
13
] (see Supporting Information Additional file
1
: Text S1 for a summary). The GIMME (Gene Inactivity Moderated by Metabolism and Expression) algorithm, proposed by Becker and Palsson[
14
], maintains flux through a proposed metabolic objective (similar to FBA) by simultaneously punishing flux through unexpressed reactions. A threshold on the transcriptome data is used for expression classification purposes (see Figure
1
a and c). The sum of fluxes through unexpressed reactions is termed inconsistency (
I
) and is minimized during the GIMME optimization. Thus, the inconsistency
I
gives, on the one hand, an estimate of the quality of the computed flux distribution, and measures, on the other hand, the coherence of the objective and the experimental data (see Materials and Methods and Supporting Information Additional file
1
: Text S1). We chose GIMME over other methods for our analysis as (i) the threshold parameter used for determining gene presence-absence patterns is of particular interest to our study, and (ii) the inconsistency measure suits our approach of quantifying the discrepancy of the measured transcript levels to a given cellular objective, e.g., aldosterone or ATP production.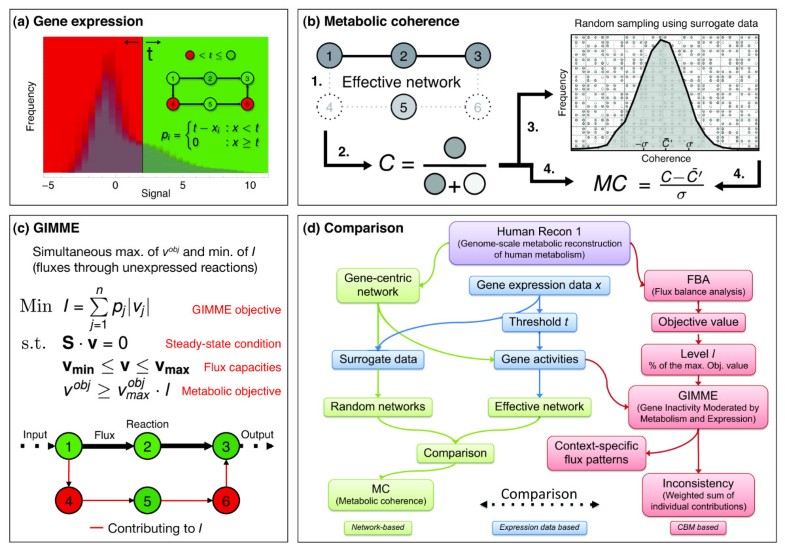 We will compare the inconsistency I to the metabolic coherence (MC) introduced previously[15], which is a purely topological quantity that measures the fragmentation of effective metabolic gene networks (see Figure1b). The coherence of metabolic gene network topology and expression patterns is quantified as follows (see also Materials and Methods): in order to extract effective subnetworks, we map genes with expression values above threshold directly onto a metabolic gene network of human metabolism. Then, we compute the ratio of connected nodes and overall nodes in the effective subnetwork. This ratio is then converted into a z-score, by using a random distribution of expression changes as a null model (effectively choosing the same amount of affected nodes). This z-score is our metabolic coherence (MC), which measures the amount of network coherence between gene expression profiles and metabolic pathways.
The comparison between these two indices is interesting, as they highlight different properties of the network dynamics. The inconsistency index I, on the one hand, measures the level of disagreement between expression data and anticipated network dynamics. The MC index, on the other hand, measures the amount of coordinated (connected) expressed reaction structure, which can only be observed after contextualization of the expression data.
Figure1d shows a flow diagram that describes the structure and necessary steps of our comparative analysis. Based on this quantitative comparison, we will conduct a topological characterization of the individual contributions to I and show that valuable information can be extracted from them.
Discussion
There is an ongoing interest in the generic[19] and network-based[20] properties of metabolic systems, though discussions of metabolic systems from a network perspective have frequently been criticized and are prone to artifacts, when one attempts to biologically interpret the observed topological properties. Table1 on the other hand shows, how a topological perspective can help guide the biological interpretation of experimental data and constraint-based analysis results. Classifying metabolic inconsistencies from a topological perspective allowed us to think of such inconsistencies in terms of bottlenecks, paths and branching ratios, etc. As an extension to this work we would like to formalize our approach in the future.
Comparing the contribution strengths of individual reactions among the different sample categories (control, LIG, HIG) revealed unspecific contributions to the inconsistency, as well as a group of reactions that differentially contribute in a specific fashion. We constructed a methodological framework for the topological classification of the inconsistency contributions. Therefore, topological markers were developed for the characterization of both, specific and unspecific contributions, thus enabling a thorough understanding of the context-specific flux-activity results. It turned out, that on the one hand, the specific contributions cast light on an unforeseen diversity of alterations in the physiology of adrenal gland adenomas and, on the other hand, the unspecific contributions provide entry points for the iterative refinement of the metabolic reconstruction.
Conclusion
We have presented a sequence of three results on the network-mediated correspondence between gene expression patterns and metabolic systems: (1) We have shown the general agreement between GIMME[14] and a purely topological method from[15], both of them capable to detect distinct physiological behaviors in the adrenal gland tumors. (2) We have extended the GIMME approach by moving from the inconsistency score to the inconsistency vector that contains the various contributions to the metabolic inconsistency. (3) We have been able to formulate biological hypotheses for these vector components based on comparison with network topology.
Methods
An extended "Methods" section is provided in the Supporting Information.
Declarations
Acknowledgements
The authors wish to thank Pr. H. Lefebvre and Dr. E. Louiset (University Hospital and University of Rouen, France) for kindly providing tissue samples from control adrenal glands, and Pr. PF. Plouin (Hôpital Européen George Pompidou, Paris, France) and the COMETE network for providing adrenal tumor samples. Furthermore, the authors would like to thank Martin Sigurdsson for providing us with the growth medium conditions.
This work was supported in part by PHRC grant AOM 06 179 and by grants from INSERM and Ministère Délégué à la Recherche et des Nouvelles Technologies for the COMETE Network. This work was furthermore funded by the Agence Nationale pour la Recherche (ANR Physio 2007, No.: 013-01, to: MCZ, AB), the Fondation pour la Recherche sur l'Hypertension Artérielle (AO 2007, to: MCZ, AB), and the Genopole Evry (to: AB), and by Deutsche Forschungsgemeinschaft (grant HU-937/8-1 to MTH) JFGD is a recipient of a CoNaCyT Ph.D. fellowship from the Mexican government (No.: 207676/302245). NS was supported by a Jacobs University scholarship. All authors have read and approved the manuscript.
Authors' Affiliations
(1)
School of Engineering and Science, Jacobs University Bremen, Bremen, Germany
(2)
Institut des Hautes Études Scientifiques — Centre National de la Recherche Scientifique, Bures-sur-Yvette, France
(3)
LPTMC CNRS UMR 7600, Université Pierre et Marie Curie-Paris 6, France
(4)
Vaccine Research Institute, INSERM U955, Institut Mondor de Recherche Biomédicale, Université Paris-Est Créteil, Créteil, France
(5)
INSERM, U970, Paris Cardiovascular Research Center, Paris, France
(6)
University Paris Descartes, Paris, France
Copyright
© Sonnenschein et al.; licensee BioMed Central Ltd. 2012
This article is published under license to BioMed Central Ltd. This is an Open Access article distributed under the terms of the Creative Commons Attribution License (http://creativecommons.org/licenses/by/2.0), which permits unrestricted use, distribution, and reproduction in any medium, provided the original work is properly cited.