High precision alignment of cryo-electron subtomograms through gradient-based parallel optimization
BMC Systems Biology
2012
6(Suppl 1):S18
Abstract
Background
Cryo-electron tomography emerges as an important component for structural system biology. It not only allows the structural characterization of macromolecular complexes, but also the detection of their cellular localizations in near living conditions. However, the method is hampered by low resolution, missing data and low signal-to-noise ratio (SNR). To overcome some of these difficulties and enhance the nominal resolution one can align and average a large set of subtomograms. Existing methods for obtaining the optimal alignments are mostly based on an exhaustive scanning of all but discrete relative rigid transformations (i.e. rotations and translations) of one subtomogram with respect to the other.
Results
In this paper, we propose gradient-guided alignment methods based on two popular subtomogram similarity measures, a real space as well as a Fourier-space constrained score. We also propose a stochastic parallel refinement method that increases significantly the efficiency for the simultaneous refinement of a set of alignment candidates. We estimate that our stochastic parallel refinement is on average about 20 to 40 fold faster in comparison to the standard independent refinement approach. Results on simulated data of model complexes and experimental structures of protein complexes show that even for highly distorted subtomograms and with only a small number of very sparsely distributed initial alignment seeds, our combined methods can accurately recover true transformations with a substantially higher precision than the scanning based alignment methods.
Conclusions
Our methods increase significantly the efficiency and accuracy for subtomogram alignments, which is a key factor for the systematic classification of macromolecular complexes in cryo-electron tomograms of whole cells.
Keywords
Modulation Transfer FunctionDissimilarity MeasureMacromolecular ComplexAlignment ErrorRigid Transformation
Introduction
Cryo-electron tomography emerges as an important component for structural system biology approaches [1, 2]. Cryo-electron tomograms of whole cells essentially contain information on the systems level about the abundance, spatial distributions and orientations of all large macromolecular complexes at a given time point in a cell [3–9]. However, detecting these complexes in cryo-electron tomograms is a challenging task due to low signal-to-noise ratio (SNR), distortions and low non-isotropic resolution (> 4 nm) of the tomograms [6]. Therefore traditional image registration methods [10], developed for images at low distortion levels, usually cannot be directly applied to alignment of subtomograms. One strategy to enhance the nominal resolution of the detected density maps of individual complexes is to segment the tomogram into a large number of single complex subtomograms, which are then classified into similar objects by a pair-wise comparison. After subtomogram classification averaging of the aligned subtomograms in each class reveals the shapes of macromolecular complexes in each class at an increased SNR, which can then be assigned to the corresponding positions in the whole cell tomogram.
Subtomogram alignment and classification methods [6, 11–26] are key to such processes and have been applied to several complexes, including membrane-bound complexes [27, 28]. However, due to the potentially large number of subto-mograms in whole cell tomograms alignment protocols must not only be precise but also computationally efficient. Existing alignment methods are typically based on the exhaustive sampling over a discrete set of rigid transformations of one subtomogram with respect to a second. The optimal alignment is then detected using the dissimilarity measure between both subtomograms [11–13]. However, due to the heavy computational cost, the exhaustive rotational search can only sample a limited number of angles. Moreover the typically applied Fast Fourier Transform (FFT) based translational alignment can only approximate best translations at the resolution of the unit voxels. To enhance computational efficiency an approximate alignment method has been proposed to generate alignment candidates based on a fast translation-invariant rotational search [14, 15]. Then a local refinement was used starting from the alignment candidates close to the optimal solution. However, the full potential of using only local refinements on very sparsely distributed starting candidates has not been investigated yet. In this paper, we propose an efficient gradient-guided alignment method based on two popular subtomogram dissimilarity scores. In addition, we design a stochastic parallel framework that significantly speeds up the simultaneous refinement of multiple alignment candidates.
We demonstrate on realistically simulated data of models and real macromolecular structures that for highly distorted subtomograms, even given a small number of evenly sampled initial angles with a large interval of 60° or 45°, our method can accurately recover true transformation with very high precision.
Methods
Here we provide a gradient-guided refinement framework for subtomogram alignment that minimizes a dissimilarity score as defined by the squared sum of the differences between a parameter fixed function and a function whose parameters are optimized. We consider two types of dissimilarity scores for subtomogram alignments, which both incorporate missing wedge corrections: A real space constrained dissimilarity score (Section 2.2) and a Fourier space constrained dissimilarity score (Section 2.4). In addition, we adapt our refinement protocol also to the case where the rotational search is restricted to only certain axis of rotations, for instance when the search is constrained to rotations around a membrane surface normal when membrane bound complexes are aligned (Section 2.5). In principle, it is beneficial to refine independently each of the candidate solutions from an exhaustive rotational scanning, however this is computationally expensive and not feasible for large scale subtomogram classifications, which is necessary in whole cell tomography. We therefore provide also a stochastic parallel refinement framework (Section 2.3) to efficiently reduce the total number of refinement steps.
Results
We test our methods on phantom models and actual structures of protein complexes.
Pairwise alignment of subtomograms from phantom models
To assess the general performance, 100 pairs of subtomograms with randomly placed phantom models were generated for different SNR levels and tilt angle ranges (Figure 2(b)). Our stochastic parallel refinement method is tested using both the RCS and FCS dissimilarity scores. We use following termination criterion for the optimization: tregress ≤ 0.001 and nmax_iter = 1000. We test our approach with respect to two factors. First, the average alignment error obtained from the refinement and second, the number of iterative steps that are needed to determine the optimal solution.
Our method therefore allows substantially larger sampling interval while maintaining a high accuracy in subtomogram alignment.
When the information about the orientation of the membrane surface normal is included in the search process, the alignment accuracy increases significantly for subtomograms at high distortion levels. Without surface normal information, the alignment fails for subtomograms at very low SNR of 0.1, resulting in average angluar alignment errors of at least 10°. With surface normal information, the average anglular alignment errors are less than 6° even for subtomograms generated from a small tilt angle range of ±50°.
Pairwise alignment of subtomograms from real macromolecular complexes
A whole cell cryo-electron tomogram consists of instances of macromolecular complexes of different types. In principle, these instances can be segmented into individual subtomograms and classified after pairwise alignments. Therefore, subtomogram alignment and classification is fundamental for successful structural systems biology analysis of complexes using whole cell tomograms. In this section, we test our methods on subtomograms of four macromolecular complexes obtained from the Protein Data Bank (PDB id 1KP8, 2GHO, 1W6T, 1YG6). The density map of each complex is calculated from its atomic structure by applying a low pass filter at 4 nm resolution using the PDB2VOL program of the Situs 2.0 package [34] and voxel spacing of 1 nm. The resulting density maps are used to simulate 20 subtomograms for each randomly placed macromolecular complex, at SNR 0.5 and tilt angle range ±60° (Section 2.6).
We perform all pairwise alignments between all 80 subtomograms with sampling of 60° rotational angle intervals. After alignment the resulting dissimilarity score matrix for subtomogram classification is significantly improved in comparison to the dissimilarity score matrix generated from the initial starting structures (Figure
6(a)
).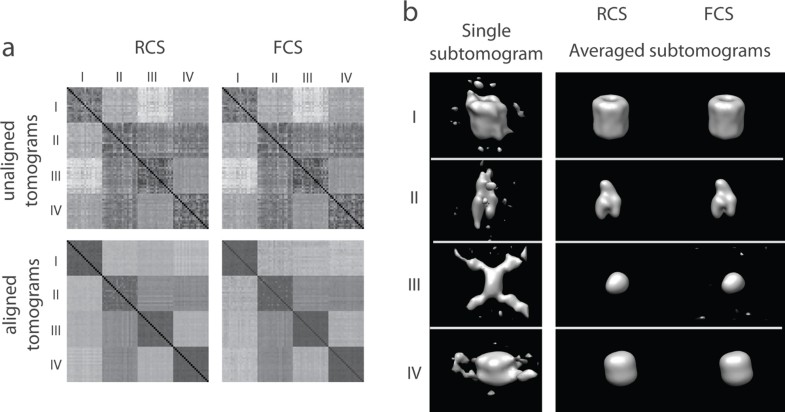 After classification and alignment, the resulting averaged tomograms are very similar to the original density maps. The distortions, as evident in the individual subtomograms are greatly reduced after averaging (Figure 6(b)).
Conclusion
In this paper, we have proposed a new gradient-based method for high precision subtomogram alignments. Combined with the RCS and FCS scores, this method can achieve significantly lower alignment errors in comparison to an exhaustive sampling method. We show that this accuracy can already be reached with only a relatively small number of sampled candidate orientations, for example at rotational intervals of 60° and 45°. The improvement in performance when using rotational intervals of 45° instead of 45° intervals is only marginal, indicating that 60° intervals are already sufficient for most alignments. We further extended the method to a special case when the alignment search is constrained to rotations around a single axis. For instance, alignment of membrane bound complexes allow the rotational search to be restricted to rotations around an axis parallel to a surface normal. This constrained alignment can achieve even higher alignment precision and is more robust to distortions in subtomograms, even when only 6 to 8 initial rotation angle candidates are used.
The RCS and FCS scores both have certain advantages. In contrast to FCS the RCS score takes into account the contrast difference between subtomograms. On the other hand, the FCS score has closed form partial derivatives with respect to the translation parameters, therefore introducing less numerical instability in the gradient refinement process. Moreover it is more efficiently computed because a smaller number of computational intensive rigid transform operations are needed.
Moreover, we have proposed a very efficient stochastic parallel refinement method, which is able to find the global optimum with only a small fraction of iterations in comparison to the independent sampling and refinement with the same sampling angle intervals. Together, these improvements increase significantly the efficiency and accuracy for subtomogram alignments, which is a key factor for the systematic classification of macromolecular complexes in cryo-electron tomograms of whole cells.
Declarations
Acknowledgements
The authors would like to thank Dr. Martin Beck and Dr. Kay Gruenwald for providing valuable suggestions and tomography simulation code. This work is supported by the Human Frontier Science Program grant RGY0079/2009-C to F.A., Alfred P. Sloan Research foundation grant to F.A.; NIH grant 1R01GM096089 and 2U54RR022220 to F.A.; NSF grant CAREER 1150287 to F.A.. F.A. is a Pew Scholar in Biomedical Sciences, supported by the Pew Charitable Trusts.
This article has been published as part of BMC Systems Biology Volume 6 Supplement 1, 2012: Selected articles from The 5th IEEE International Conference on Systems Biology (ISB 2011). The full contents of the supplement are available online at http://www.biomedcentral.com/bmcsystbiol/supplements/6/S1.
Authors' Affiliations
(1)
Program in Molecular and Computational Biology, University of Southern California, Los Angeles, USA
Copyright
© Xu and Alber; licensee BioMed Central Ltd. 2012
This article is published under license to BioMed Central Ltd. This is an Open Access article distributed under the terms of the Creative Commons Attribution License (http://creativecommons.org/licenses/by/2.0), which permits unrestricted use, distribution, and reproduction in any medium, provided the original work is properly cited.