Research article

Open Access
Network signatures link hepatic effects of anti-diabetic interventions with systemic disease parameters
BMC Systems Biology
2014
8:108
Received: 29 April 2014
Accepted: 29 August 2014
Published: 11 September 2014
Abstract
Background
Multifactorial diseases such as type 2 diabetes mellitus (T2DM), are driven by a complex network of interconnected mechanisms that translate to a diverse range of complications at the physiological level. To optimally treat T2DM, pharmacological interventions should, ideally, target key nodes in this network that act as determinants of disease progression.
Results
We set out to discover key nodes in molecular networks based on the hepatic transcriptome dataset from a preclinical study in obese LDLR-/- mice recently published by Radonjic et al. Here, we focus on comparing efficacy of anti-diabetic dietary (DLI) and two drug treatments, namely PPARA agonist fenofibrate and LXR agonist T0901317. By combining knowledge-based and data-driven networks with a random walks based algorithm, we extracted network signatures that link the DLI and two drug interventions to dyslipidemia-related disease parameters.
Conclusions
This study identified specific and prioritized sets of key nodes in hepatic molecular networks underlying T2DM, uncovering pathways that are to be modulated by targeted T2DM drug interventions in order to modulate the complex disease phenotype.
Keywords
Network biologyType II diabetes mellitusMetabolic healthTranscriptomicsSystems biology
Background
To improve our understanding and ability to intervene with complex multifactorial diseases such as type 2 diabetes mellitus (T2DM) it is important to investigate the molecular networks underlying the biological system and elucidate which and how interactions within this system contribute to pathology [1]. This will enable discovery of novel therapeutic pathways that trigger a specific cascade of processes underlying pathology development and subsequently optimally target a wide range of disease parameters. This is a challenging task, since disease networks are large and complex, involving many disease-driving processes which are in turn composed of tens of thousands interconnected components (e.g. genes, proteins, metabolites) and hundreds of thousands possible functional interactions [2].
Large-scale experiments and curation efforts provide a large map of possible molecular pathways, protein interactions and transcription factor targets [3]-[7]. Such networks have been shown to provide mechanistic insights and identify key regulators in various disease settings. For example, integration of different experimental data types with interaction networks revealed the Epidermal Growth Factor signaling system as a regulator of the extracellular environment [8] and using network analysis a central role of AMPK and energy homeostasis impairment in Alzheimer's disease was identified [9]. In addition, context-specific networks can be generated based on high-throughput datasets such as transcriptomics [10], proteomics [11] and metabolomics [12]. Data-driven network reconstruction methods, such as Weighted Gene Co-expression Analysis [13] can be used to extract co-regulated network modules that reduce dimensionality and identify biologically relevant patterns in the data. These methods have proven to be of value in complex diseases, from defining a network-based inflammation signature common across diseases [14], to elucidating molecular mechanisms underlying autism in brain [15]. To condense useful information out of these large networks, it is necessary to prioritize and extract parts of this network that are most relevant in the context of disease development or response to interventions. Such network signatures aid design of novel, evidence-based therapies by discovering and prioritizing key intervention targets, improving understanding of underlying mechanisms, and can serve as biomarkers for efficacy of interventions [16]-[20].
Current drug treatments to intervene with type 2 diabetes mellitus (T2DM) are considered insufficient [21], and novel interventions are being developed to improve treatment efficacy across the range of T2DM-related complications. A recent preclinical study on anti-diabetic treatments in LDLR-/- mice (ADT study) [22] provides a model to investigate the mechanisms underlying T2DM-associated disease parameters, such as risk factors (e.g. plasma glucose and insulin levels) and complications (e.g. atherosclerosis). This study compared the efficacy of ten anti-diabetic drugs and dietary life style intervention (DLI) on the course of the disease by extensive histological, molecular and biochemical phenotyping. This showed that DLI had a supreme successful effect, reverting nearly all T2DM risk factors and complications to the healthy level. Most drug interventions reduced hyperglycemia but T2DM-associated complications were not improved or, in case of fenofibrate and T0901317, were even aggravated [22]. This suggests that underlying molecular networks affected by DLI are key to successfully resolving disease phenotype while targeting hepatic transcription factors PPARA (fenofibrate) or LXR (T0901317) influence downstream molecular networks in a suboptimal way leading to both beneficial and undesirable phenotypic effects. With this in mind, we used the hepatic transcriptome dataset associated with these three interventions in the ADT study to infer molecular paths that should be either mimicked or circumvented when designing improved interventions.
Our analysis extracted network signatures that link hepatic effects of anti-diabetic interventions with systemic disease parameters using a combination of data-driven and knowledge-based network analysis. This provides a ranking of nodes in the underlying complex regulatory network whose transcriptional regulation is most strongly linked to specific disease parameters. The network signatures allow mechanistic insights into hepatic processes that drive dyslipidemia-associated T2DM phenotypes, place selected genes in functional context of different intervention effects and highlight them as potential novel drug targets.
Results
To identify network signatures that define transcriptionally regulated paths linking anti-diabetic intervention targets with changes in type 2 diabetes mellitus (T2DM) disease parameters, we applied network analysis on the ADT study [
22
] which includes both extensive phenotyping of systemic disease parameters as well as hepatic transcriptome measurements. We included 16 measured disease parameters consisting of parameters relevant for insulin resistance (plasma glucose and insulin, QUICKI index), body and organ weights (adipose depots, kidney, liver, heart, and total body weight), atherosclerotic lesion area, plasma cholesterol, and plasma and liver triglycerides. Five experimental groups from the ADT study have been included in our analysis: the chow and high-fat diet (HFD) groups, serving as reference for health and disease state, the dietary lifestyle intervention (DLI) representing successful intervention, and two drug intervention groups (fenofibrate and T0901317, targeting hepatic transcription factors PPARA and LXR, respectively). The following network analysis has been applied to the ADT dataset (Figure
1
): 1) Co-expression modules identification and selection, 2) Extension of co-expression modules with different knowledge-based networks to provide a wider biological context and to include intervention targets, 3) Creation of intervention-specific networks by filtering the reference network for differentially expressed genes (DEGs) and 4) extraction of the most relevant paths linking intervention targets with disease parameters. The following sections describe the results of each step.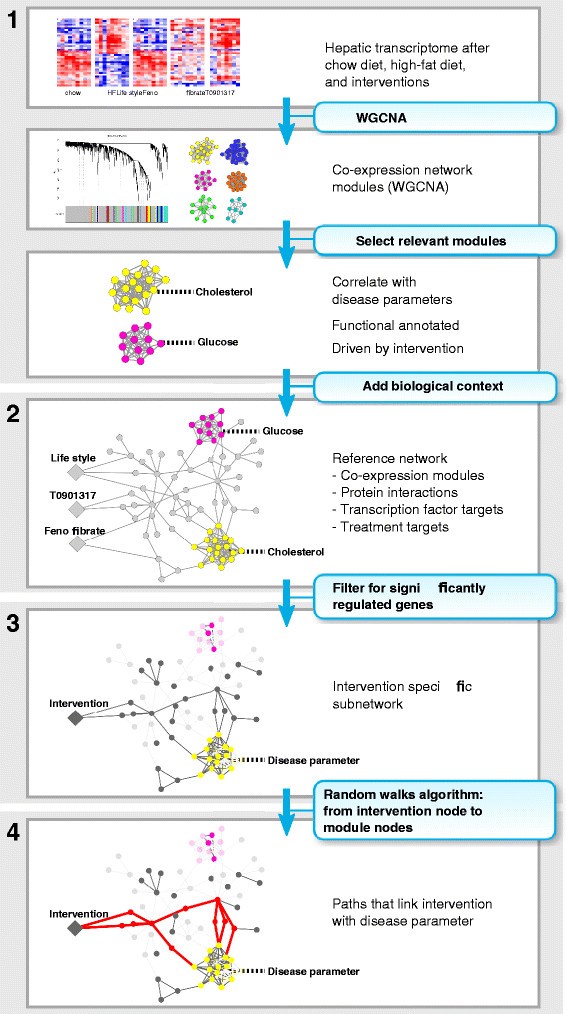 Discussion
Treatment of complex diseases requires control of the underlying network of molecular processes that translates in a diverse range of complications at the physiological level. For example, in type 2 diabetes mellitus (T2DM) it is not sufficient to solely improve hyperglycemia, as this does not significantly reduce risk for cardiovascular complications [27]. Therefore, it is crucial to study disease in light of the full complexity of the underlying network of interconnected mechanisms contributing to pathology [1]. Here we propose a network-based solution to find hepatic molecular signatures that play a key role in the effect of interventions on different pathologies. By combining a series of network analysis approaches on a hepatic transcriptomics dataset from the preclinical study in an LDLr-/- mouse model fed high fat diet, we discovered and functionally annotated gene co-expression network modules associated with anti-diabetic interventions. We then extracted network signatures representing most critical molecular paths that link the interventions with dyslipidemia-related parameters. The resulting network signatures highlight a panel of ranked-by-relevance, functionally related nodes that may be used either as intervention targets or as biomarkers for determining likelihood of success for novel anti-diabetic interventions.
We integrated different interactions resources, including protein-protein interactions, canonical pathways, and transcription factor targets, to embed the co-expression modules in a larger reference network. This combination of data-driven co-expression networks and knowledge-based functional interactions allowed us to make optimal use of the specific strengths of both approaches: analyze molecular data within the framework of available knowledge to interpret the patterns identified in the data (knowledge-based), but still allowing inclusion of novel interactions not described before (data-driven). By filtering the resulting networks for genes affected by intervention, we were able to extract context-specific networks that were highly enriched for genes genetically linked to T2DM. We exploited the underlying topology of these networks using a subgraph extraction method to further prioritize interactions in the network based on their relevance in connecting known intervention targets with the co-expression modules. Together, our network biology approach provides both a high-level view on patterns in the data by identifying network modules and zooms in to the molecular level by prioritizing the most relevant nodes and interactions to identify putative targets that may aid improved therapy development.
Currently, the network analysis as described here makes use of undirected networks, limiting the analysis to identification of associations rather than cascades of regulatory events that lead to changes in disease parameters. Firstly, the co-expression network analysis identifies associations rather than causal links between molecular changes and disease parameters, so it cannot be determined whether the identified modules are directly driven by intervention or an indirect association. To overcome this problem, causal networks could be derived from studies combining genetic variation with gene expression [18], however to our knowledge no such studies are available in context of anti-diabetic interventions. Secondly, in this workflow different types of interactions are combined, some of which result from high-throughput experiments (protein-protein interactions) or prediction algorithms, which may be less specific and lack directionality. Nevertheless, we chose to include these to provide sufficient coverage, since limiting on a single interaction resource or including only curated and directed interactions would drastically reduce the network size and introduce bias to existing knowledge rather than discovery of novel findings. With current initiatives in pathway and network curation [3],[4],[28] the availability of directed interactions is expected to grow. Since the random walks algorithm we used here can incorporate network directionality, it will be straightforward to include this information in future analyses when sufficient coverage can be obtained with directed networks. Furthermore, when studies measuring tissue-specific regulatory elements [29] and context-specific interactions [30] become abundant, this analysis can be further improved by using this interaction information directly, rather than inferring edge specificity through the connecting nodes.
Despite the evident improvement of glycemic status by all three interventions [22], we found a strong correlation of hepatic transcriptional mechanisms only with dyslipidemia related disease parameters, but not with dysglycemia. This suggests that hepatic mechanisms predominantly determine dyslipidemic phenotypes, as hepatic target activation is rather associated with dyslipidemia than with dysglycemia related disease parameters. The observed improvement in dysglycemia may instead be controlled by organs other than liver. For example, fenofibrate has been shown to influence insulin sensitivity in muscle [31] and adipose tissue [32], and T0901317 can modulate insulin secretion by pancreatic beta cells [33]. This emphasizes the importance of a systems-level understanding of interventions, which requires mapping molecular networks across multiple organs instead of focusing on the apparent target organ of the intervention. The co-expression modules were functionally annotated to processes related to lipid metabolism, and inflammation and immune response, revealing that these hepatic processes are strongly linked to systemic effects on dyslipidemia in the studied interventions. In particular, one module showed a notably high enrichment in immune and inflammation related transcripts. The presence of upregulated macrophage markers and genes expressed specifically in immune cells indicated that this module may represent mRNA measurements of macrophage origin. We found that this module exhibits a distinct pattern between interventions, where nearly all genes were downregulated by DLI but upregulated by T0901317 intervention. This provides a key hepatic signature linked to improvement or detoriation of dyslipidemia related parameters by DLI and T0901317 intervention.
The network signatures resulting from this analysis provide ranking scores for genes based on their relevance in mediating the effect that each intervention has on disease parameters. By using a random walks based algorithm we were able to encode the structure of the underlying transcriptionally regulated networks in this ranking. The importance of each node is scored according to the centrality of its position along the paths connecting intervention targets with the co-expression modules. We showed that this network-based approach outperforms ranking by differential expression alone. Based on these signatures, we propose genes which have a key role in linking interventions and disease parameter. Genes with a high relevance score unique in the DLI signature, but not for the drug interventions (Fasn, Axl, Fgf21, Gpd2, Cyp17a1, Pkm, Fastkd5), may point to putative targets for improved interventions mimicking the mechanisms underlying DLI. Notably, the gene products of two of these genes are already under investigation as therapeutic targets. Fgf21, encoding for Fibroblast growth factor 21, is currently being investigated as novel therapeutic agent for T2DM [34],[35], and the anti-diabetic properties of the fatty acid synthase (Fasn) inhibitor platensimycin have recently been demonstrated in a mouse model [36]. Interestingly, Axl, encoding for the AXL receptor tyrosine kinase, was found to induce T2DM after overexpression in transgenic mice [37]. In addition, we highlighted a possible key role in cross-talk between inflammatory and metabolic processes (Sdc2, Sdc3, Anxa2) in context of the DLI intervention. Both Sdc2 and Sdc3 encode for syndecans which function as co-receptors in various growth factors signaling pathways and play a role in inflammation as well as lipid metabolism [38]. The therapeutic relevance of this finding may reside in their potential use in uncoupling the inflammation component from metabolic dysfunction which is known to play a critical role in T2DM [39]. In addition to a network based ranking of genes, the network signatures provide visualization that reveal the underlying interactions among the top ranked nodes. This facilitates interpreting mechanisms and substantiating evidence by putting the genes in context of existing knowledge underlying each interaction. Such integration of resources allows for optimal utilization of ever-growing body of publicly available knowledge and data to address research problems of specific interest.
Conclusions
In summary, by combining data- and prior knowledge-driven networks, correlation analysis, functional annotation and random walks based network analysis, we identified relevance-ranked hepatic network signatures underlying effects of different anti-diabetic interventions on dyslipidemia-related disease parameters. We propose that the DLI network signature may serve as a template for defining new or better intervention targets that mediate global positive effects of this intervention. In turn, network signatures of the two drugs assist in further specification of optimal intervention targets, as these possibly correlate to adverse effects and as such should be avoided.
Authors contributions
Conceived the study: TK and MR. Performed the data analysis: TK. Interpretation of results: MR, TK, LV, AJvG and BvO. Wrote the manuscript: TK, MR. Extensive reviewing and editing of the manuscript: LV, AJvG, BvO. All authors have read and approved the final manuscript.
Declarations
Acknowledgements
The authors would like to thank Peter Wielinga for generating and providing the experimental data used in this study, and Ivana Bobeldijk-Pastorova for project support. This work was funded by a TNO enabling technology program: Enabling Technology Systems Biology (ETSB). The funder had no role in study design, data collection and analysis, decision to publish, or preparation of the manuscript.
Authors' Affiliations
(1)
TNO, Research Group Microbiology & Systems Biology, Zeist, The Netherlands
(2)
Department of Laboratory Medicine, Radboud University Nijmegen Medical Center, Nijmegen, The Netherlands
(3)
Faculty of Physics, Mathematics and Informatics, Radboud University Nijmegen, Nijmegen, The Netherlands
(4)
, Utrecht, The Netherlands
Copyright
© Kelder et al.; licensee BioMed Central Ltd. 2014
This article is published under license to BioMed Central Ltd. This is an Open Access article distributed under the terms of the Creative Commons Attribution License (http://creativecommons.org/licenses/by/4.0), which permits unrestricted use, distribution, and reproduction in any medium, provided the original work is properly credited. The Creative Commons Public Domain Dedication waiver (http://creativecommons.org/publicdomain/zero/1.0/) applies to the data made available in this article, unless otherwise stated.