Research article

Open Access
13C metabolic flux analysis shows that resistin impairs the metabolic response to insulin in L6E9 myotubes
BMC Systems Biology
2014
8:109
Received: 12 May 2014
Accepted: 29 August 2014
Published: 14 September 2014
Abstract
Background
It has been suggested that the adipokine resistin links obesity and insulin resistance, although how resistin acts on muscle metabolism is controversial. We aimed to quantitatively analyse the effects of resistin on the glucose metabolic flux profile and on insulin response in L6E9 myotubes at the metabolic level using a tracer-based metabolomic approach and our in-house developed software, Isodyn.
Results
Resistin significantly increased glucose uptake and glycolysis, altering pyruvate utilisation by the cell. In the presence of resistin, insulin only slightly increased glucose uptake and glycolysis, and did not alter the flux profile around pyruvate induced by resistin. Resistin prevented the increase in gene expression in pyruvate dehydrogenase-E1 and the sharp decrease in gene expression in cytosolic phosphoenolpyruvate carboxykinase-1 induced by insulin.
Conclusions
These data suggest that resistin impairs the metabolic activation of insulin. This impairment cannot be explained by the activity of a single enzyme, but instead due to reorganisation of the whole metabolic flux distribution.
Keywords
Resistin
Insulin resistance
Glucose metabolism
Fluxomics
Bioinformatics
Tracer-based metabolomics
Background
Obesity is increasing to epidemic proportions [1],[2], starting from young ages [3],[4], and is associated with an increase in the prevalence of type-2 diabetes mellitus (T2DM) throughout the world [2],[5]. In recent years, active participation of immune cells in obesity and T2DM has become evident [6],[7]. This chronic activation of the innate immune system can lead to insulin resistance (IR), impaired tolerance to glucose and, eventually, T2DM [8],[9].
Adipose tissue produces a vast array of adipocyte-derived factors ("adipokines"s) that regulate the metabolism, inflammation and body mass [10],[11]. One of these adipokines, resistin, belongs to a family of cysteine-rich proteins shown to be involved in inflammation and altered insulin sensitivity in rodents [12],[13]. Resistin is produced from adipose tissue in rodents whereas, in humans, it is secreted by the mononuclear lymphocytes and stromal cells within adipose tissue [14],[15]. Studies in humanised resistin mice suggest that, even though the site of resistin production differs between species, human resistin exacerbates inflammation in white adipose tissue and contributes to IR, thereby impairing its normal effects [16],[17].
IR is defined as the genetic or learned inability of target tissues to respond normally to the action of circulating hormones. It has been described in skeletal muscle but also in liver and adipose tissues [18]. Some studies have shown that resistin affects glucose transport and insulin-stimulated oxidation of glucose in L6 skeletal muscle cells [19]-[22]. It also decreases the uptake and oxidation of long-chain fatty acids [23] and glycogen synthase kinase-3-γ, as well as insulin-stimulated insulin receptor substrate-1 (IRS-1) tyrosine phosphorylation [19],[22] in the same cell line. Furthermore, high levels of resistin in rats leads to IR involving impaired insulin signalling in skeletal muscle, liver and adipose tissues, resulting in glucose intolerance, hyperinsulinemia and hypertriglyceridemia [24]. These observations link resistin in muscle-cell metabolism to IR.
Changes in the metabolome (i.e., the whole set of metabolites) have been described as the "ultimate" response of an organism to various events, such as genetic alterations as well as disease-based or environmental influences [25]. However, the metabolome is dynamic and metabolites are transformed continuously in the cell. Comprehensive characterisation of the metabolic networks and their functional states requires quantitative knowledge of intracellular metabolic fluxes. These intracellular fluxes can be quantified by analysing incorporation of labelled substrates in metabolic products using appropriate bioinformatic tools [26].
Skeletal muscle is considered to be the main tissue involved in the maintenance of glucose homeostasis because its contribution to glucose uptake is≈75% of the total contribution of peripheral tissues [27], and it is the main tissue responsible for insulin-dependent glucose use. Also, pyruvate homeostasis-related fluxes in skeletal muscle play a critical part in glucose homeostasis [28]-[32]. A better understanding of how these fluxes work together in muscle cells is needed to understand this process.
The aim of the present study was to examine the effect of resistin on the central carbon metabolic network of rat skeletal muscle cells, and to ascertain how resistin alters the response of muscle cells to insulin at the metabolic level. We used [1,2-13C2]-glucose as a tracer, analysed isotopomer distributions by gas cromatography (GC) coupled with mass spectrometry (MS), and quantified metabolic fluxes using Isodyn software [26],[33]-[36]. In the model of the glucose metabolic network in skeletal muscle we included the glycolytic pathway and pentose phosphate pathway (PPP). Pyruvate dehydrogenase complex (PDC)-, phosphoenolpyruvate carboxykinase (PEPCK)- and pyruvate carboxylase (PC)-catalysed reactions were also included to account for pyruvate homeostasis-related fluxes. Resistin-induced alterations in the profile of metabolic fluxes of rat skeletal muscle cells were identified, and were complemented by analyses of the expression of certain genes.
The study presented here offers a wider vision than previously published of the metabolic reorganisation that resistin induces in rat skeletal muscle cells and in the metabolic response of these cells to insulin. Our observations provide new data for a more precise understanding of the effect of resistin on metabolic-network adaptations of skeletal muscle cells, and help to explain the role of resistin in the IR described in myocytes. Our work reveals the importance of tackling the study of complex biological systems from a systems-biology point of view to fully understand multifactorial diseases and identify new therapeutic targets.
Results
For analyses of the effect of resistin on glucose metabolism and on the metabolic response of muscle cells to insulin, L6E9 myotubes were pretreated for 8 h with or without resistin (100 nM). After preincubation, myotubes were incubated for a further 6 h with glucose (10 mM) that was 50% enriched in [1,2-13C2]-glucose in the absence or presence of 100 nM insulin and in the continued presence or absence of resistin.
After 6 h of incubation, glucose consumption, lactate production, intracellular levels of glycogen and glucose-6-phosphate (G6P) were determined (Table
1
), as were the mass-isotopomer distributions in glucose and lactate from the incubation medium, as well as glycogen glucose and ribose isolated from RNA in cell pellets (Table
2
). Analyses of the obtained data by Isodyn determined the distribution of the metabolic flux profile of L6E9 myotubes under various incubation conditions (Table
3
). Figure
1
summarises the qualitative changes in metabolites and fluxes.
Table 1
Biochemical parameters in L6E9 myotubes after different incubations with resistin and/or insulin
Incubation condition

Ins-

Ins+

Res-

Res+

Res-

Res+

Glucose consumption (mM)

0.50±0.04

0.61±0.06*

0.78±0.03**

0.70±0.09

Lactate production (mM)

0.48±0.01

0.56±0.02**

0.75±0.06**

0.79±0.02†

Glycogen (µg glucose/mg prot)

9.88±1.99

9.97±0.98

11.34±0.59

11.62±1.21

Glucose-6-phosphate (nmol/mg prot)

0.92±0.14

1.44±0.28

2.30±0.29**

2.10±0.19†
Table 2
Mass isotopomer distribution of lactate, glycogen and ribose after incubations with resistin and/or insulin
Mass isotopomer distributions (%)

Incubation condition

Ins-

Ins+

Res-

Res+

Res-

Res+

Lactate

m0

88.56±0.98

88.74±0.25

87.68±0.22

87.63±0.17

m1

0.70±0.34

0.48±0.11

0.63±0.06

0.52±0.14

m2

10.53±0.30

10.85±0.15

11.69±0.05*

11.78±0.11

m3

0.21±0.63

0.07±0.18

0.00±0.11

0.07±0.13

Glycogen

m0

67.28±0.65

69.20±1.41

65.14±1.08

64.48±0.45

m1

0.29±0.03

0.36±0.14

0.96±0.10

0.84±0.10

m2

31.78±0.74

29.91±1.02

33.20±1.18

33.78±0.76

m3

0.53±0.19

0.43±0.28

0.43±0.07

0.60±0.20

m4

0.00±0.02

0.00±0.06

0.17±0.05

0.15±0.02

Ribose

m0

96.13±0.55

94.28±0.76

94.47±0.48

92.83±1.18

m1

1.34±0.23

1.45±0.11

2.56±0.14

2.97±0.15

m2

0.68±0.19

1.14±0.16*

1.18±0.09*

1.40±0.23

m3

1.17±0.63

1.56±0.58

0.87±0.17

1.14±0.32

m4

0.50±0.44

1.17±0.22*

0.61±0.14

1.17±0.41
Table 3
Metabolic fluxes adjusted by Isodyn for different incubation conditions
Metabolic fluxes (nmol.mL-1.min-1)

Incubation condition

Ins -

Ins +

Flux num

Flux reaction

Res -

Res +

Res -

Res +

Median

[min-max]

Median

[min-max]

Median

[min-max]

Median

[min-max]

0

Glucose phosphorylation

1.500

[1.500-1.500]

1.700**

[1.700-1.700]

2.300**

[2.300-2.300]

1.975††

[1.975-1.975]

Glycolytic and PPP fluxes:

1

Phosphofructokinase

1.674

[1.442-3.004]

2.018

[1.679-2.586]

2.664*

[2.537-2.670]

1.907

[1.874-1.919]

2

Oxidative branch of PPP

0.199

[0.196-0.199]

0.200

[0.198-0.200]

0.248**

[0.246-0.298]

0.198

[0.192-0.199]

3

Pyruvate kinase

3.078

[3.026-3.262]

3.582

[2.644-4.126]

4.671**

[4.573-4.873]

4.337

[4.087-4.468]

Glycogen-related fluxes:

4

Glycogen phosphorylase

0.038

[0.034-0.052]

0.034

[0.024-0.066]

0.043

[0.037-0.046]

0.032

[0.029-0.035]

5

Glycogen synthase

0.040

[0.036-0.053]

0.035

[0.024-0.067]

0.050

[0.043-0.058]

0.038

[0.034-0.040]

Pyruvate homeostasis-related fluxes:

6

Pyruvate dehydrogenase complex

1.511

[1.421-1.843]

2.354**

[2.118-2.363]

2.479*

[1.785-2.987]

2.125

[1.575-2.494]

7

Pyruvate carboxylase

0.200

[0.113-0.291]

0.117

[0.027-0.201]

0.197

[0.155-0.254]

0.031

[0.028-0.055]

8

Lactate dehydrogenase

1.366

[1.292-1.451]

1.511

[1.446-1.654]

2.033**

[1.620-2.738]

2.192††

[1.722-2.739]

9

Pyruvate cycling

0.228

[0.200-0.377]

0.474

[0.222-0.884]

0.296

[0.264-0.389]

0.538

[0.303-0.594]

Tricarboxylic acid cycle fluxes:

10

Citrate synthase

0.022

[0.019-0.386]

0.012

[0.001-0.023]

0.099

[0.022-0.172]

0.009

[0.002-0.037]

11

Citrate ->Malate

0.035

[0.032-0.462]

0.072

[0.050-0.400]

0.185

[0.110-0.298]

0.370

[0.082-0.395]

12

Malate ->OAA

0.640

[0.481-2.088]

1.152

[0.453-3.104]

1.509

[0.780-2.413]

2.078

[0.477-3.095]

13

OAA -> Malate

0.605

[0.446-1.776]

1.080

[0.294-2.800]

1.324

[0.668-2.115]

1.708

[0.336-2.773]

14

Acetyl-CoA output

1.489

[1.313-1.625]

2.344**

[2.114-2.355]

2.380**

[1.760-2.851]

2.116

[1.565-2.485]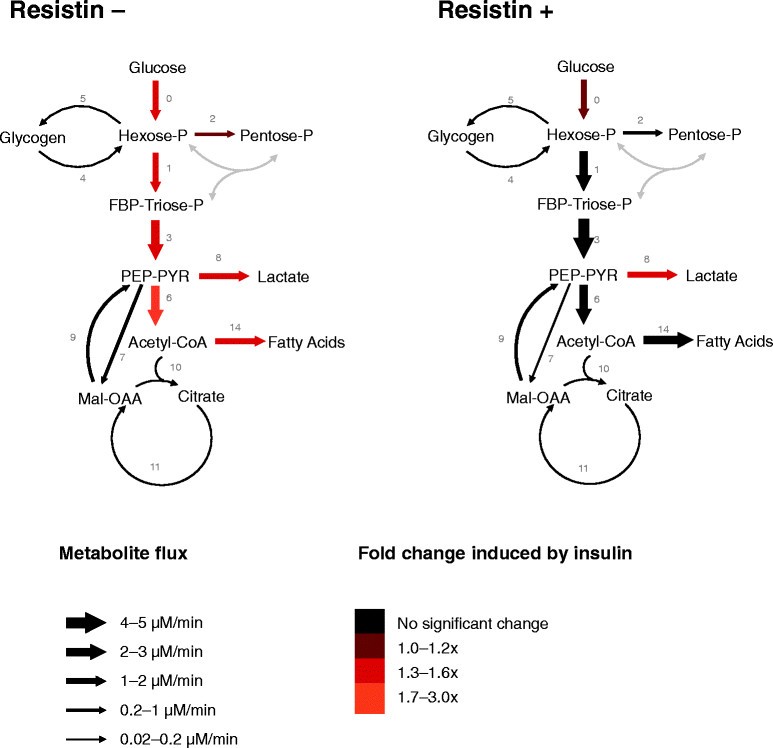 Discussion
After the discovery of several adipocyte-secreted molecules (including lipid metabolites and adipokines), adipocytes were recognized as part of endocrine tissue [9],[11],[37]. These molecules enable adipocytes to communicate with other tissues and organs, and to regulate: the metabolism of lipids and glucose; energy balance; insulin action; cell proliferation. Resistin was identified as an adipokine, and it was suggested that it might link obesity and IR [12],[13]. However, the role of resistin in the pathophysiology of IR in humans and animals, and how it acts in muscle, liver and fat, is controversial [15],[16].
Here, we investigated the effect of resistin on basal and insulin-stimulated glucose metabolism in L6E9 rat myotubes. We used tracer-based metabolomics and our in-house Isodyn software to analyse quantitatively metabolic flux distribution in this cell line under different incubation conditions. The response to insulin and other hormone stimuli in L6E9 cells is similar to that observed in skeletal muscle in vivo[38]. Hence, L6E9 cells are considered to be suitable models for analyses of the effect of resistin on glucose metabolism and on the metabolic response of muscle cells to insulin.
Analyses with Isodyn data provided an overview of the central carbon metabolism of L6E9 skeletal muscle cells. Analyses were undertaken assuming a metabolic steady state (though not assuming an isotopic steady state), and rapid mixing of isotopic isomers of the same metabolite throughout different intracellular compartments. Incubation with a large excess of glucose ensured the required glucose uptake throughout the incubation. The other conditions of incubation did not change, so the assumption of a metabolic steady state seemed reasonable. Rapid mixing of isotopic isomers of the same species throughout the cell is accepted for analyses of data of stable isotopes [39]. Fitting of experimental data in the framework of these assumptions suggested a set of metabolic fluxes underlying the measured distributions of isotopic isomers.
The effect of insulin on L6E9 myotubes increases glycolysis, PPP, and incorporation of pyruvate to the TCA cycle through PDC and fatty-acid synthesis
Our results suggested that L6E9 myotubes were highly glycolytic, with active synthesis and degradation of glycogen, and showed TCA-cycle activity and acetyl-CoA output. Oxidative PPP was weakly active in this cell type. Furthermore, use of the same tools revealed that insulin activated the uptake and phosphorylation of glucose, glycolysis and lactate production, the oxidative branch of the PPP, pyruvate incorporation towards the TCA cycle and increased acetyl-CoA output (which is used for fatty-acid synthesis). We observed that insulin altered the ratio between PDC and PC fluxes by increasing the PDC flux through an increase of levels of Pdha1 and decrease of Pdk2 and Pdk4 mRNA. The effects of insulin on the metabolic flux distribution of L6E9 myotubes reported in the present study correlate with the known activation of PDC by profound suppression of Pdk4 expression in skeletal muscle [40], inhibition of expression of the Pck1 gene, and the increase in glucose uptake and lactate production observed using other approaches [38],[41].
The effect of resistin on L6E9 myotubes increases glycolysis and fatty-acid synthesis and alters the ratio between PDC and PC, tilting it towards direct incorporation of pyruvate through PDC
Our results revealed that, in the absence of insulin, resistin activated glucose phosphorylation and the glycolytic pathway. Also, resistin did not affect the glycogen content in skeletal muscle. Even though enrichment of the glycogen label (reflected in the m2 values of the glycogen molecule) was not significantly different to the control condition, the tendency was for glycogen-related fluxes to be lower, a result that was in accordance with other works [22]. Furthermore, our approach showed that, even though many of the TCA-cycle fluxes remained unchanged, the ratio between the PDC and PC fluxes was significantly altered, effectively increasing the incorporation of pyruvate through PDC into mitochondria (as suggested by the reduction observed in levels of Pdk4 mRNA). PC activity is finely regulated by mechanisms such as allosteric activation by acetyl carnitine, which was not tested in this study. The acetyl-CoA output for fatty-acid synthesis was also increased after resistin treatment, which would explain the higher flux towards the TCA cycle.
The effect of resistin impairs normal insulin metabolic actions
We showed that resistin affects the normal metabolic response of L6E9 myotubes to insulin. Thus, the increase in glucose uptake and glycolytic flux induced by insulin was lower than that observed in resistin-treated myotubes. These results are in accordance with those published by other authors for L6 muscle cells [19],[21],[22]. Resistin treatment, however, did not affect the insulin-stimulated content and recycling of glycogen.
Moreover, in resistin-treated cells, insulin did not increase the PDC flux. After resistin treatment, levels of Pdk2 mRNA and Pdk4 mRNA were lower, accompanied with a reduction in levels of Pdha1 mRNA. The reduction in expression of the main enzyme and key regulators of its activity resulted in a null net effect on the final flux. The ratio between the PDC and PC fluxes was also altered, showing reduction in the PC anaplerotic entrance into the cycle.
Fluxes through the TCA cycle and acetyl-CoA output fluxes were not increased, but instead maintained or reduced, by insulin in resistin-treated cells. This lack of metabolic activation in response to insulin can be explained by the slight decrease observed in glucose uptake and the increase of lactate dehydrogenase flux directed to lactate production, which impaired the increase in the levels of glycolytic intermediates that could be metabolized through other metabolic pathways. Our results provide mechanistic explanations for the observations of Palanivel and co-workers [22], who reported that the insulin-stimulated oxidation of glucose via the TCA cycle was reduced by resistin, and that this reduction would compromise oxidative respiration in the cell.
Conclusions
Several studies have identified positive correlations between resistin levels and IR in vivo[24] and in vitro[19]-[22]. Overall, our results showed that resistin significantly alters glucose metabolism in L6E9 myotubes and their response to insulin. Of the whole set of metabolic changes induced by resistin in L6E9 myotubes, the imbalance in PDC and PC fluxes as well as the higher acetyl-CoA output flux for fatty-acid synthesis and other metabolic processes should be emphasized. Resistin impairs the normal metabolism of insulin, and the metabolism is directed to try to maintain the imbalance between the PDC and PC fluxes. In this way, L6E9 reduces TCA-cycle fluxes and acetyl-CoA output fluxes, which leads to an important metabolic imbalance in the central carbon metabolic pathways of L6E9 myotubes.
It has been reported that IR in skeletal muscle, liver and adipose tissue is usually accompanied by glucose intolerance and hypertriglyceridemia [24]. In this way, our results showed the importance of the balance of PDC and PC in glucose metabolism.
Our results support the idea that metabolic disorders such as T2DM are caused by complex multi-molecular interactions that cannot be explained readily by an alteration in expression of a single gene or gene product, or even alteration of a single enzymatic cascade. The robustness of results obtained on the effects of insulin on L6E9 metabolism found by combining tracer-based metabolomic data and flux analyses using Isodyn showed that this approach is a suitable tool to study the effects of hormones on the central carbon metabolism network in myocytes.
Authors' contributions
SG, SM, FS, AZ, PR and MC conceived and designed the research. SG, SM, AM, RH, FS, AT and YD undertook the experiments. SG, SM, VS, AM, RH, FS, AT, YD and MC analysed data. SG, SM, AM, VS, JC, AZ, PR, and MC interpreted the results of the experiments. SG, SM, JC, AM, RH, FS, AT, YD and PR prepared the figures. SG, SM, AM, VS, PR and MC drafted the manuscript. SG, SM, AM, VS, JC, AZ, PR and MC edited and revised the manuscript. All authors read and approved the final manuscript.
Abbreviations
2-DG:

2-deoxy-D-[2,6-3H]-glucose
G6P:

Glucose-6-phosphate
GP:

Glycogen phosphorylase
GS:

Glycogen synthase
IR:

Insulin resistance
PC:

Pyruvate carboxylase
PDC:

Pyruvate dehydrogenase complex
PEP:

Phosphoenolpyruvate
PEPCK:

Phosphoenolpyruvate carboxykinase
PPP:

Pentose phosphate pathway
T2DM:

Type-2 diabetes mellitus
TCA:

Tricarboxylic acid
Declarations
Acknowledgements
This study was supported by European Union-funded project ETHERPATHS (FP7-KBBE-222639) and from Agència de Gestió d'Ajuts Universitaris i de Recerca (AGAUR)-Generalitat de Catalunya (2014SGR1017 and 2006ITT-10007). MC aknowledges the support received through the prize "ICREA Academia" for excellence in research, funded by ICREA foundation-Generalitat de Catalunya. We also thank Region Midi-Pyrenees for financial support of this work.
Authors' Affiliations
(1)
Department of Biochemistry and Molecular Biology, Faculty of Biology, Universitat de Barcelona, Barcelona, Spain
(2)
Institute of Biomedicine of Universitat de Barcelona (IBUB) and CSIC-Associated Unit, Barcelona, Spain
(3)
Institut National de la Santé et de la Recherche Médicale (INSERM), UMR, Toulouse, France
(4)
Université Toulouse III Paul-Sabatier, Institut des Maladies Métaboliques et Cardiovasculaires (12MC), Equipe, France
(5)
Animal Cell Technology Group, Biotechnology Research Institute, National Research Council Canada, Montreal, Canada
(6)
Institute for Research in Biomedicine (IRB Barcelona) and CIBER of Diabetes and Associated Metabolic Diseases (CIBERDEM), Barcelona, Spain
Copyright
© Guzmán et al.; licensee BioMed Central Ltd. 2014
This article is published under license to BioMed Central Ltd. This is an Open Access article distributed under the terms of the Creative Commons Attribution License (http://creativecommons.org/licenses/by/4.0), which permits unrestricted use, distribution, and reproduction in any medium, provided the original work is properly credited. The Creative Commons Public Domain Dedication waiver (http://creativecommons.org/publicdomain/zero/1.0/) applies to the data made available in this article, unless otherwise stated.