Research article

Open Access
Integrating transcriptional and protein interaction networks to prioritize condition-specific master regulators
BMC Systems Biology
2015
9:80
Received: 23 July 2015
Accepted: 3 November 2015
Published: 14 November 2015
Abstract
Background
Genome-wide libraries of yeast deletion strains have been used to screen for genes that drive phenotypes such as stress response. A surprising observation emerging from these studies is that the genes with the largest changes in mRNA expression during a state transition are not those that drive that transition. Here, we show that integrating gene expression data with context-independent protein interaction networks can help prioritize master regulators that drive biological phenotypes.
Results
Genes essential for survival had previously been shown to exhibit high centrality in protein interaction networks. However, the set of genes that drive growth in any specific condition is highly context-dependent. We inferred regulatory networks from gene expression data and transcription factor binding motifs in Saccharomyces cerevisiae, and found that high-degree nodes in regulatory networks are enriched for transcription factors that drive the corresponding phenotypes. We then found that using a metric combining protein interaction and transcriptional networks improved the enrichment for drivers in many of the contexts we examined. We applied this principle to a dataset of gene expression in normal human fibroblasts expressing a panel of viral oncogenes. We integrated regulatory interactions inferred from this data with a database of yeast two-hybrid protein interactions and ranked 571 human transcription factors by their combined network score. The ranked list was significantly enriched in known cancer genes that could not be found by standard differential expression or enrichment analyses.
Conclusions
There has been increasing recognition that network-based approaches can provide insight into critical cellular elements that help define phenotypic state. Our analysis suggests that no one network, based on a single data type, captures the full spectrum of interactions. Greater insight can instead be gained by exploring multiple independent networks and by choosing an appropriate metric on each network. Moreover we can improve our ability to rank phenotypic drivers by combining the information from individual networks. We propose that such integrative network analysis could be used to combine clinical gene expression data with interaction databases to prioritize patient- and disease-specific therapeutic targets.
Keywords
Network modeling
Gene regulation
Regulatory networks
Protein interaction networks
Cancer
Background
The sequencing of the yeast genome in the 1990s provided a catalog of genes, most of which were of unknown function. To functionally characterize the many newly discovered protein-coding genes, a genome-wide library was constructed of single gene deleted yeast strains, representing 96 % of all open reading frames [1]. This library was first used to screen for growth under stressful conditions such as high osmotic pressure, non-optimal glucose sources, or high pH, leading to the identification of distinct sets of driver genes responsible for growth under each of these conditions. Expression profiling of the same conditions revealed that the overlap between driver genes and differentially expressed genes was small and statistically insignificant [1–6]. This showed that the genes transcriptionally activated by a perturbation are not the same genes that drive phenotypic changes in response to that perturbation.
Systematic genome-wide deletion screens are now becoming possible in mammalian cells through the use of technologies such as TALENs and CRISPR-Cas9 [7–10]. However, it is infeasible to carry out such screens for every condition, drug, disease and patient. Characterizing multiple genetic perturbations would become exponentially complicated. As a consequence, such screens often fail to provide insight into why some genes are important and others are not. What is needed is a principled way to build models of driver genes in the context of their biological interactions.
Gene expression analysis, using expression arrays or RNA-sequencing, is the most widely used method to assay differences in cellular state between phenotypes. Robust statistics have been introduced to detect differential expression [11]. Clustering genes and looking for common binding sites upstream of their promoters can help identify transcription factors responsible for gene expression changes [12]. The Dynamic Regulatory Events Miner (DREM) is an example of a tool that searches for transcriptional regulators. DREM uses time-series expression data and physical interactions to find bifurcations in expression levels and the transcription factors responsible for them [13].
Network inference methods attempt to find coordinated patterns of expression, including the interactions between transcription factors (TFs) and genes. These methods are based on a wide variety of metrics, like pairwise correlation, linear regression, mutual information, classifiers and ordinary differential equations. Since TFs often act nonlinearly, through cooperativity or oligomerization, mutual information can perform better than linear models at detecting network interactions. Conditional mutual information has been used to infer more complex regulatory schemes [14, 15]. However, the most successful network inference methods combine the results of many algorithms or integrate information from sources other than gene expression [16]. A method called PANDA (Passing Attributes between Networks for Data Assimilation) explicitly models the activity of regulators and promoters by combining sequence motif data with gene expression through use of a message-passing algorithm [17]. The result of applying network inference methods is typically represented as a graph where the nodes represent the genes and the edges between them represent the presence of an interaction with likelihood above a specified threshold. The network edges can either be undirected, as in the case of a correlation based network, or directed, as in gene regulatory networks such as those produced by PANDA, where edges point from the regulator to their targets.
Protein-protein interaction (PPI) networks are used to represent physical binding events measured between protein pairs. In graphical representation, each node represents a protein and edges connect proteins that physically bind each other. The topology of PPI networks has been shown to reflect some properties of biological systems. The highly connected nodes, or high-degree "hubs," in the yeast PPI network are enriched in essential genes that are lethal if deleted [18]. PPI networks have also been shown to possess a "community structure" that groups together proteins that interact more often with each other, and these communities are associated with common functions or biological processes [19]. It has been shown that disease genes are located close to each other in the human PPI network, and disease module proximity can be correlated with disease comorbidity [20, 21].
The problem with physical interaction networks is that they are difficult to measure in phenotype-specific contexts, so the PPI networks reflect an aggregate of likely networks, not accounting for whether proteins are expressed together in individual samples or disease states. In contrast, sequencing and gene expression profiling are flexible technologies allowing individual conditions or cellular states to be independently sampled. The networks inferred from sequence or expression data can thus carry information specific to the conditions of the experiment. However, fewer studies have examined how the topology of context-dependent networks can provide insight into critical genes driving individual phenotypes [22].
Here, we describe the construction and structural analysis of context-dependent and –independent networks in
Saccharomyces cerevisiae
and
Homo sapiens
, and the role of phenotypic drivers in these networks (Fig.
1
). In yeast, we first analyzed data from an experiment designed to measure the transcriptional response of yeast to rapamycin, an antifungal drug that targets the Target of Rapamycin (TOR) pathway. We then investigated six other common stress perturbations in yeast: menadione, dithiothreitol (DTT), hydrogen peroxide, heat shock, diamide, and sorbitol. We found that the driver genes specific to each condition are often enriched among the central nodes of the transcriptional and protein interaction networks, and that combining the two networks increases the power to find drivers.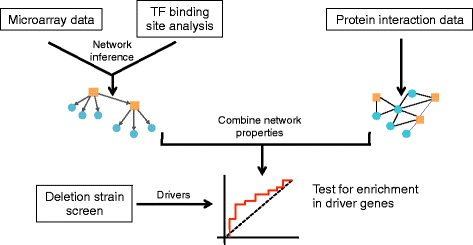 In humans, we performed a similar analysis on gene expression data from primary human fibroblasts perturbed by viral oncogenes, and looked for drivers of the viral-transformed phenotypes. We found that an integrative network analysis was able to enrich for cancer drivers that were not differentially expressed in the dataset. This suggests that combining data types to infer networks, and examining the structure of the resulting network, is a fruitful pipeline for analysis of transcriptional data.
Conclusions
Gene expression analysis has been widely used to assay how biological systems respond to a variety of perturbations, including environmental stresses and drug treatments. In particular, gene expression profiling is used to characterize tissue samples from patients with diseases of complex origin. These profiles are analyzed to identify genes perturbed by the disease and to potentially discover new biomarkers. However, genome-wide screens and expression profiling in yeast have established that the most differentially expressed genes are not the same genes that drive the response to a perturbation. Therefore, it remains a challenge to prioritize drivers of complex phenotypes, such as disease and drug response, using gene expression data.
Most genes do not work in isolation but rather function together in pathways and complexes. They form a network of molecular interactions whose activity and dynamics determine the biological processes that are deployed in response to changes in the environment. Thus, a natural alternative to studying differential gene expression is to examine the underlying gene interaction networks and their structure to extract features that drive phenotypic transitions. Analysis of protein-protein interaction networks has found that highly connected "hub" nodes are significantly enriched in the essential genes that are necessary for survival. We found that the regulators that drive the response to rapamycin or other yeast stress conditions also have higher degree in the PPI network than expected by chance. However, the PPI network is measured under normal growth conditions and thus represents a context-independent pool of all possible interactions between proteins. Master regulators, on the other hand, are highly dependent on the context and the exact perturbation under study. Therefore, more data is necessary to determine which high-degree proteins are important for mediating the cellular response to any particular condition.
We addressed this challenge by using gene expression data to build context-specific regulatory networks. To test the generality of our approach, we used two different algorithms to integrate gene expression data with transcription factor binding sites in order to infer realistic models of regulation. We used GMIT to compute conditional mutual information between a target gene and the potential regulators that have binding sites in the promoter of that gene, and PANDA to apply message-passing to find the best-fit model for TF and target gene activity, and their interactions. We hypothesized that the regulators that drive response to environmental perturbations would have high degree in this network. Applying this analysis to rapamycin response in yeast, we observed that driver TFs indeed have higher degree than expected by chance. However, the highest-degree nodes are not drivers but instead tend to be either essential for normal growth or widely active regulators that partner with RNA polymerases and are involved in housekeeping processes. This suggests that when a cell is perturbed, it activates specific functional pathways in tandem with more general activators or repressors that modulate the landscape of transcription. The former are associated with the response to that particular perturbation, whereas the latter lead to sweeping patterns of expression that dominate differential expression patterns. As a corollary, though the true drivers have significantly higher degree on average, the degree alone is not enough to enrich for the true phenotypic drivers in regulatory networks with high specificity.
We next asked whether combining transcriptional networks with the protein-protein interaction data could improve the detection of drivers. We reasoned that the two data types could complement each other, because protein interactions and gene regulation are inherently distinct processes but both significantly contribute to the functioning of the cell. We first noted that the degree distributions of the two networks are very different. The regulatory networks we inferred were generally smaller and had less of the "heavy tail" characteristic of scale-free networks. In other words, they did not have as many nodes with extremely high degree. The protein interaction networks were larger and had more high-degree hubs. Instead of directly combining the degrees in the two networks, we first ranked the nodes by their degree in each network separately, and then computed the average of the ranks. Similar to nonparametric statistical tests like the Wilcoxon rank-sum test, this procedure ensures that the score is not dependent on the exact forms of the degree distributions.
We applied this combined PPI and transcriptional network score to compute the enrichment in drivers in the response of yeast to rapamycin. The combined score was able to better prioritize drivers, especially at the top of the list of ranked TFs. This was because the regulators that control specific functions downstream of the TOR pathway had more protein interactions than the hub TFs that activate general stress response or other basic cellular programs. We next applied the combined network score to other yeast conditions. In the cases where the regulatory network alone was enriched in drivers (menadione, DTT and diamide), we again found that combining it with the PPI data improved our ability to prioritize driver TFs.
We wondered whether this principle could be applied to human biology. We used gene expression profiles derived from primary human fibroblasts expressing a variety of viral oncogenes, and applied both GMIT and PANDA to build viral oncogene-associated regulatory networks. We found that established cancer master regulators, as annotated in the Sanger Cancer Gene Census, tended to have higher degree in this network than expected by chance. However, the highest-degree nodes in the network comprised a cancer gene "desert" and were not enriched in drivers. We then integrated the regulatory networks with the human yeast two-hybrid interactome using our combined network score. In the case of the GMIT network, integrating it with the Y2H degree increased enrichment among the top 10 % of the TFs, whereas for the PANDA network, the enrichment was increased among the top 5 % of the TFs and the significance of the overall TF ranking increased as well. In particular, the combined PANDA and Y2H network score boosted the number of cancer genes at the top of the ranked list of regulators. Six of the ten most highly ranked regulators have strong evidence in the literature of causal links to carcinogenesis, angiogenesis, and metastasis.
In the case of rapamycin in yeast, we found that combining differential expression with protein interactions could produce the same level of enrichment in drivers as using the transcriptional network. In contrast, in the human dataset, the combination of differential expression and PPI degree was not as effective as the combined network score. This could be due to differences in the complexity of regulatory networks in yeast and humans. A multilayered regulatory system, like that of humans, could result in more complicated TF activity patterns that require analysis beyond simply comparing mRNA expression levels. The network metric may therefore be more widely applicable as it captures the effects of genes that do not change in expression but serve as links between genes that do.
Overall, we found the best enrichment and specificity for drivers by using a combined network score that prioritizes TFs that regulate many target genes and also physically interact with many proteins. One simple reason for this may be that integrating the two data types helps to buffer against the noise and variation in each network. The most robust signal remains after being filtered through the two independent datasets. However, another possible interpretation is that the high degree in the protein interaction network represents more activity in the signaling pathways of the cell, and high degree in the transcriptional network means a TF has more gene targets and can affect functional processes through the regulation of gene modules. The drivers ranked higher by the combined network metric may tend to significantly interact with both protein and mRNA regulation in the cell.
We delved deeper into how the protein interaction network data helps to prioritize driver TFs. We first used heatmaps to visualize the ranks of driver TFs in each network individually, and in the combined network score (see Figs.
7
and
8
and Supplementary Text in Additional file
1
). Inspecting the heatmaps, we observed that there are two types of driver TFs that end up being highly ranked by the combined network score. The first class of TFs already have a high rank in either the transcriptional or protein interaction network, and therefore are still highly ranked in the combined score. The second class of drivers has a more moderate degree in both the transcriptional and protein interaction networks, but their score in the combined network score is even higher than each individual rank, leading to an overall increase in the specificity and enrichment of drivers at the top of the list. This second group of drivers represents the power of combining the network degrees.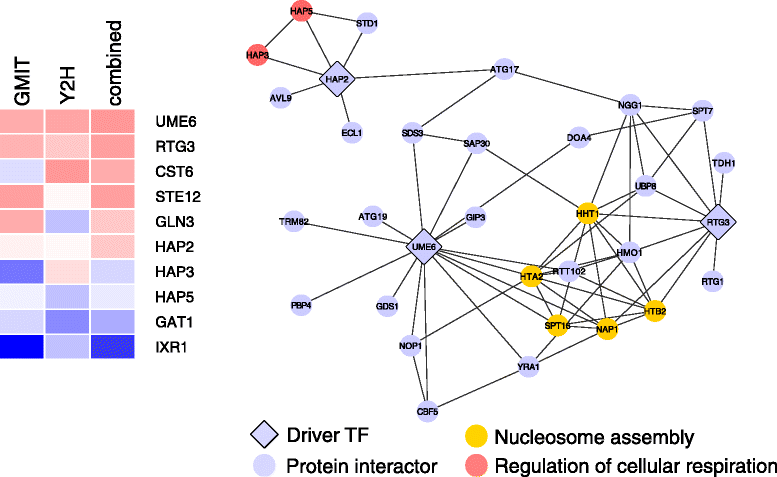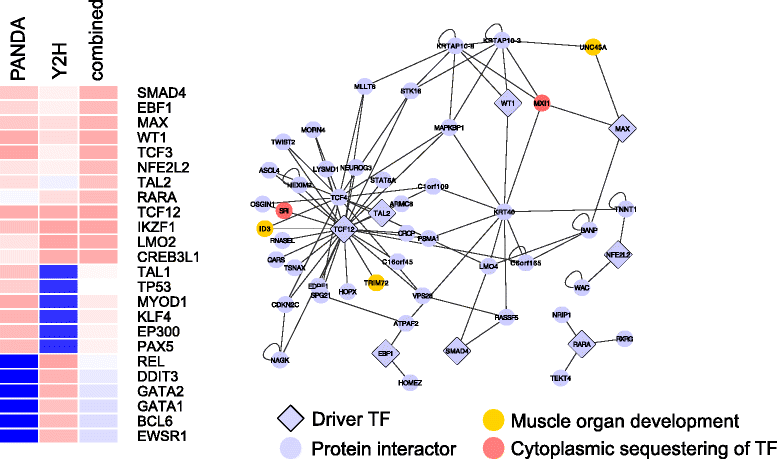 We examined the protein interactors of this second group of drivers to better understand the biological processes that contribute to the increased enrichment in the combined network score (see Additional files 1 and 5 for more details). We found that many of the interactors are involved in chromatin assembly and histone modification. For example, RSC3 is a member of a chromatin-remodeling complex and interacts with YAP1, a driver of menadione response. The rapamycin driver RTG3 interacts with the histones HHT1, HTA2, and HTB2. Another commonly enriched function involves nuclear transport and TF localization, including CRM1, which exports mRNA and protein from the nucleus and interacts with YAP1, or SRI, a human protein that can bind calcium and translocate to the cytoplasm and regulate the activity of calcium channels. In the human network, we also found a significant enrichment for developmental signaling pathways, exemplified by proteins like ID3 and UNC45A, which are involved in cell differentiation and proliferation, and which interact with the cancer drivers MAX and TCF12 respectively.
Taken together, these observations suggest that the combined network score prioritizes TFs that regulate functional gene modules and are also highly regulated themselves at the protein level, either by nuclear translocation, chromatin modification partners, competitive binding, or signaling pathways. Thus they constitute flexible channels by which condition-dependent signals are transmitted through the protein interaction network to the transcriptional network. This suggests a general principle for biological networks: that the nodes responsible for biological state transitions tend to have the highest rate of information flowing through them, as signals are transmitted from the environment through the molecular networks and to the final response (or phenotype) of the cell. Such an organizing principle could be applied to integrate other types of networks as well, like those constructed using metabolomic or phosphoproteomic data.
This also suggests that therapeutic interventions ought to target highly regulated nodes in disease-associated networks. Transcriptional networks could be constructed from gene expression profiles of patients, and combined with protein interaction databases and other information from the literature to prioritize regulators that are driving the disease, and to identify potential therapeutic strategies that target these pathways. We believe that further development of principled techniques for network integration and analysis would be beneficial for interpreting biomedical data and finding the elements that drive biological states and diseases.
Availability of supporting data
Abbreviations
TF:

Transcription factor
DREM:

Dynamic Regulatory Events Miner
PANDA:

Passing Attributes between Networks for Data Assimilation
PPI:

Protein-protein interaction
TOR:

Target of rapamycin
DTT:

dithiothreitol
RMA:

Robust multi-array average
LIMMA:

Linear models for microarray data
GO:

Gene Ontology
ROC:

Receiver-operator characteristic
BH:

Benjamini-Hochberg
GMIT:

Global Mutual Information Test
BioGRID:

Biological General Repository for Interaction Datasets
AUC:

Area under curve
KS:

Kolmogorov-Smirnov
TAP-MS:

Tandem affinity purification followed by mass spectrometry
GFP:

Green fluorescent protein
OR:

Odds ratio
HCC:

Hepatocellular carcinoma
ORF:

Open reading frame
Declarations
Acknowledgements
This study was supported by NIH grant K25 HG006031 to MP and R01 HL111759 to JQ. We thank Kimberly Glass and John Platig for discussions.
Open AccessThis article is distributed under the terms of the Creative Commons Attribution 4.0 International License (http://creativecommons.org/licenses/by/4.0/), which permits unrestricted use, distribution, and reproduction in any medium, provided you give appropriate credit to the original author(s) and the source, provide a link to the Creative Commons license, and indicate if changes were made. The Creative Commons Public Domain Dedication waiver (http://creativecommons.org/publicdomain/zero/1.0/) applies to the data made available in this article, unless otherwise stated.
Authors' Affiliations
(1)
Department of Biostatistics and Computational Biology, Dana-Farber Cancer Institute, Boston, USA
(2)
Department of Medicine, Harvard Medical School, Boston, USA
(3)
Department of Biostatistics, Harvard School of Public Health, Boston, USA
Copyright
© Padi and Quackenbush. 2015