Research article

Open Access
A systems biology framework for modeling metabolic enzyme inhibition of Mycobacterium tuberculosis
BMC Systems Biology
2009
3:92
Received: 5 April 2009
Accepted: 15 September 2009
Published: 15 September 2009
Abstract
Background
Because metabolism is fundamental in sustaining microbial life, drugs that target pathogen-specific metabolic enzymes and pathways can be very effective. In particular, the metabolic challenges faced by intracellular pathogens, such as Mycobacterium tuberculosis, residing in the infected host provide novel opportunities for therapeutic intervention.
Results
We developed a mathematical framework to simulate the effects on the growth of a pathogen when enzymes in its metabolic pathways are inhibited. Combining detailed models of enzyme kinetics, a complete metabolic network description as modeled by flux balance analysis, and a dynamic cell population growth model, we quantitatively modeled and predicted the dose-response of the 3-nitropropionate inhibitor on the growth of M. tuberculosis in a medium whose carbon source was restricted to fatty acids, and that of the 5'-O-(N-salicylsulfamoyl) adenosine inhibitor in a medium with low-iron concentration.
Conclusion
The predicted results quantitatively reproduced the experimentally measured dose-response curves, ranging over three orders of magnitude in inhibitor concentration. Thus, by allowing for detailed specifications of the underlying enzymatic kinetics, metabolic reactions/constraints, and growth media, our model captured the essential chemical and biological factors that determine the effects of drug inhibition on in vitro growth of M. tuberculosis cells.
Keywords
Metabolic NetworkFlux Balance AnalysisBiomass Growth RatePopulation Growth ModelSubstrate Uptake Rate
Background
System-level networks of biological processes and functions allow us to draw inferences about the phenotype of an organism that cannot be made by considering each of its individual components [1–4]. In particular, metabolic networks are made up of hundreds to thousands of distinct but interconnected chemical reactions, each processing particular metabolites in different locations of the cell that, taken together, ultimately allow the cell to function and grow [5]. The metabolic network of an organism is assembled, through automated and manual procedures [6, 7], based on known chemical reactions collected from genome annotation databases, such as the Kyoto Encyclopedia of Genes and Genomes [8]. Currently, assemblies of metabolic networks are available for several bacterial species [9–13], yeast [14], and humans [15].
Several quantitative approaches have been developed to study different aspects of metabolic networks [16, 17]. Kinetic models comprised of explicit sets of reactants and reactions can be constructed and solved via ordinary differential equations (ODEs), provided the rate constants for each reaction are known. Kinetic models are typically restricted to a selected set of reactions used to study, for example, metabolism in human red blood cells [18], core components of the anaerobic metabolism in Escherichia coli [19], and the relation between single nucleotide polymorphisms and anemia [20]. Kinetics of inhibiting enzymes can be incorporated into such models [21]. However, due to the limited number of reactions modeled, only parts of the metabolic network can be taken into account and the whole organism's response (i.e., its phenotype) to the inhibitor cannot be modeled. In more comprehensive studies of the entire metabolic network of organisms for which kinetic information of all reactions is not available, flux balance analysis (FBA) can be used to obtain the optimal steady-state reaction flux distribution and the organism's growth rate under constraints imposed on the directions of the reactions, stoichiometry, and maximal transport fluxes [22]. FBA can predict experimentally determined cellular growth rates in different media [10–12, 23–25] and identify genes, which, when removed, prevent cellular growth [10, 11, 14, 26–29]. Going beyond steady-state conditions of the traditional FBA, cell growth dynamics can be taken into account in a dynamic flux balance model [25, 30]. Such dynamic flux balance models provide a link between temporal changes of nutrient concentrations in a given medium and cell growth, as nutrients are consumed by the cell. Because these conditions are typically encountered in experimental studies of bacterial growth, dynamic flux balance models provide an important mechanism for understanding and representing experimental observations.
Enzyme inhibition kinetics, FBA of metabolic networks, and cell growth dynamics have each been studied separately before. Moreover, enzyme inhibition kinetics has been incorporated into a portion of a metabolic network [21], and FBA of a metabolic network has been combined with cell growth dynamics [30]. However, integration of all three components has not been attempted before. Here, we present a framework that links together all these three components - enzyme inhibition kinetics, FBA of a metabolic network, and cell growth dynamics - to model the growth inhibition of Mycobacterium tuberculosis, the causative agent of tuberculosis (TB).
TB is a major infectious disease in the world with over 9.2 million new cases and 1.7 million deaths in 2006, and it is estimated that one-third of the human population is infected with the disease [31]. Mycobacteria are aerobic organisms classified as acid-fast Gram-positive bacteria due to their lack of an outer cell membrane. They are a relatively slowly dividing organism compared with other bacteria. Most treatments for tuberculosis directly interfere with mycobacteria-specific physiology [32]. M. tuberculosis is a prototrophic and metabolically flexible organism capable of surviving in a variety of environments. Bacteria that reach the lung alveoli are internalized by resident macrophages, where they are able to replicate in modified vacuoles [33–35]. At the onset of adaptive immunity, activated macrophages keep the infection under control, but the bacteria are not eliminated, and a state of chronic persistence is established [36]. Survival under such conditions requires metabolically active bacteria capable of producing counter-immune effectors [34, 37, 38].
Worldwide efforts to eliminate TB are confronting many obstacles, including drug-resistant pathogens, compliance with complicated drug regimens, and compromised immune systems associated with human immunodeficiency syndrome or acquired immunodeficiency syndrome [39]. Partly to address these issues, renewed efforts have begun in developing drugs that target the intracellular metabolism of M. tuberculosis, for example, by analyzing metabolic pathways to identify potential drug targets that selectively affect M. tuberculosis [40]. Importantly, using the sequenced genome of M. tuberculosis [41] together with literature data on known metabolic reactions, extensive metabolic network reconstructions have been carried out for this organism [42, 43]. Analyses of these networks based on FBA reveal that they contain sufficient information to predict growth rates and identify genes that are essential for the growth of M. tuberculosis in select media [42, 43].
Novel drug design approaches against M. tuberculosis metabolism exploit the unique and harsh conditions that the pathogen is exposed to in the host environment. After entering a host, pathogens are confronted with a nutrient-poor environment and are often restricted to utilizing fatty acids as their main carbon source [32, 38]. This is accomplished by activation of the glyoxylate shunt pathway and the methylcitrate cycle [44, 45]. Consequently, the ability to inhibit key reactions of these two pathways makes 3-nitropropionate (3-NP) an effective inhibitor for the in vitro growth of M. tuberculosis in fatty acid media as well as for its in vivo growth in mouse macrophage cells [46]. In addition to presenting a limited carbon source, the host environment is also deficient in iron, another nutritional requirement for the invading pathogen. Free iron is strictly controlled in the host environment via host iron-binding proteins, such as human transferrin, as a way to defend against bacterial infections [47]. Thus, many pathogens synthesize siderophores, chemicals with very high affinity for iron, to wrestle iron away from the host [48]. For M. tuberculosis, mycobactin is the necessary siderophore required for growth in macrophages and media containing low concentrations of iron [49]. Therefore, the biosynthesis of mycobactin [50] and the regulation of this iron uptake mechanism [51, 52] have been extensively studied as a potential drug target. This led to the discovery that 5'-O-(N-salicylsulfamoyl) adenosine (sAMS) can function as an inhibitor to M. tuberculosis via its ability to inhibit mycobactin synthesis [53].
Here we developed a mathematical framework in which enzyme inhibition kinetics, metabolic network simulation, and cell growth dynamics are considered together to produce a system that is able to quantitatively model drug inhibition of cell growth. We separately simulated the effects of two metabolic inhibitors, 3-NP and sAMS, on the growth of M. tuberculosis cells, using an in vitro media model designed to mimic the limited nutritional environment in a host cell. The predicted dose-response curves quantitatively reproduced the observed experimental data, indicating that the developed modular framework was capable of capturing the effects of metabolic inhibitors on bacterial cell growth.
Methods
The mathematical framework needed to map the amount of drug to the collective growth response of the M. tuberculosis bacterium required that we connect enzyme inhibition kinetics, metabolic network modeling, and bacterial population growth models. If these components could be modeled and verified by experimental data, we could create a computational system to quantitatively predict how metabolic inhibitors affect bacterial growth. Here, we present the framework that allowed us to generate and reproduce the dose-response curves of two metabolic inhibitors generated from two independent experimental studies.
The mathematical framework provides the connection between a) how a particular inhibitor affects the flux(es) of one or more metabolic reactions [Inhibition Model] (the affected reactions are referred to as target reactions), b) how the change in the metabolite flow or flux of the target reactions decreases the growth rate of the organism [Metabolic Network], and, finally, c) how the reduced growth rate results in an effective lower bacterial cell concentration [Population Growth Model]. Figure
1
schematically shows these three components and how they connect to and depend on each other. With the models specified and connected as outlined in Figure
1
, the computational procedure only depends on the inhibitor concentration and the initial substrate and cell concentrations in the medium under which the organism was grown to calculate the subsequent bacterial cell concentration. The details specifying the internal workings of each model are given below.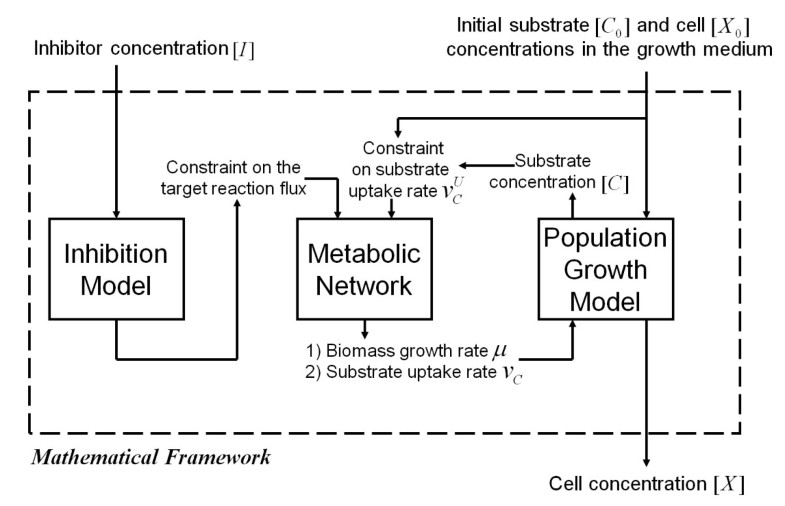 Results
Modeling cell growth inhibition by 3-NP
Modeling cell growth inhibition by sAMS
Discussion
We developed a mathematical framework connecting kinetic models of enzyme inhibition with metabolic network analysis and a population growth model. The three components correspond to the three major steps through which a metabolic inhibitor affects bacterial growth. First, the inhibition model describes how the particular inhibitor affects the enzyme kinetics and the flux(es) of one or more metabolic reactions. Second, the metabolic network analysis connects the changes in the affected metabolite flux(es) to the growth rate of the organism. Finally, the population growth model takes the altered growth rate and converts it to an effective bacterial cell concentration. This framework allowed us to quantitatively simulate the effect of two distinct metabolic inhibitors on in vitro bacterial growth under different nutritional conditions.
We applied this framework to model the effect of two separate metabolic inhibitors, 3-NP and sAMS, on the growth of M. tuberculosis cells on propionate medium and on iron-deficient GAST medium, respectively. Both reactions affected by these two inhibitors are required for the survival of the pathogen in the host environment and could potentially become important therapeutic targets. 3-NP inhibits key reactions in the glyoxylate shunt and the methylcitrate cycle, effectively blocking the utilization of fatty acids, the major carbon source of M. tuberculosis in the host environment [45, 46]. sAMS inhibits the synthesis of mycobactin, which is required for iron uptake of M. tuberculosis within an iron-deficient host environment [53]. Our model was capable of quantitatively reproducing the experimentally determined dose-response curves for both inhibitors. Thus, with the proposed mathematical framework, we could analyze the studied system under conditions matching the experimental protocols as they relate to metabolism. We accounted for the underlying kinetics of the inhibition, how this was translated via the metabolic network analysis to metabolite flow and biomass accumulation, and to the growth of the cell population that was used as the experimental readout for drug inhibition. We noted, however, that certain cellular processes or responses that impact drug action in the cell, for example, adaptive responses in the form of altered gene expression of metabolic enzyme and activated drug efflux transport, were not accounted for in the proposed modeling scheme. These processes may play important roles and may need to be accounted for when modeling inhibitor effects of other than those of 3-NP and sAMS.
In this work, the mathematical framework was used to model an inhibitor's effect on cellular growth of a pathogen in different in vitro environments designed to duplicate aspects of the nutritional conditions encountered in the host. However, intracellular pathogens have complex interactions with their hosts [32] and the conclusions drawn from an in vitro environment may not be operative in the in vivo host environment [66]. The current models in our framework could be coupled to other models that, in turn, determine the medium content by simulating the metabolic nutrients available in a human macrophage cell. Such an embedding of the current modeling framework within other schemes could be used to add further biological complexity to the existing computational platform. Enzyme activity could be further coupled to a gene expression model to modulate protein/enzyme function according to microarray gene expression data [67]. The implementation of additional models is only limited by the availability of experimental data with which to perform rigorous parameter testing and prediction validation.
For the two inhibitors studied, the essentiality of the protein targets was a necessary condition. Essentiality of a gene can be imparted by the network itself or any other condition that alters of restricts the flux of metabolites in the network. Thus, some genes become essential only under specific nutritional conditions, while others may become essential when one or more nonessential genes are knocked out. It is also possible to envision certain scenarios where drugs affecting parts of the metabolic network induce essentiality to uninhibited enzymes in the network. Quantitative models, such as the one developed here, could be used to rapidly investigate such conditions and assist future experimental studies. For example, using our framework, we suggested that 3-NP was effective in fatty acid medium but not in glucose medium (data not shown), which was supported by experimental observations [46]. In addition to the two inhibitors examined in this study, our calculations also suggested that the inhibitor targeting protein TrpD (a drug target discussed in [42]) will only be effective when tryptophan is absent from the medium (data not shown). This observation calls for further experimental verification.
The current work introduces a systems biology approach using enzyme kinetics, metabolic networks, and population growth models that is capable of capturing the essential chemical and biological variability of the system under study. This enabled us to simulate and understand the underlying chemical and biological factors that give rise to the experimental observables, in this case growth inhibition of M. tuberculosis cells. Our results suggest that this type of inclusive modeling approach would be valuable in proposing new experimental studies by extending, combining, and exploring novel chemical and biological inhibition concepts.
Conclusion
We implemented a systems biology framework, which combines detailed models of enzyme kinetics, a complete metabolic network analysis, and a cell population growth model, to represent and understand cellular growth inhibition in response to drugs. We used this mathematical framework to simulate two separate inhibition mechanisms for the growth of M. tuberculosis cells in an in vitro environment, which was modeled to represent the nutritional challenges encountered in a host cell. We calculated dose-response curves corresponding to the cellular growth versus drug concentration for the growth in a medium whose carbon source was restricted to fatty acids and was infused with varying concentrations of the 3-NP inhibitor. Similarly, we obtained dose-response curves for cells grown in medium with low-iron concentration and exposed to different amounts of the sAMS inhibitor. These results quantitatively reproduced experimentally measured dose-response curves, ranging over three orders of magnitude in inhibitor concentration. The ability of the proposed models to capture in vitro drug inhibition confirms that relevant features of intracellular metabolism of M. tuberculosis can be modeled by a metabolic network-based framework.
Declarations
Acknowledgements
The authors were supported, in part, by the Military Operational Medicine Research Area Directorate of the U.S. Army Medical Research and Materiel Command, Ft. Detrick, Maryland. This effort was supported by the U.S. Army's Network Science Initiative. The opinions or assertions contained herein are the private views of the authors and are not to be construed as official or as reflecting the views of the U.S. Army or of the U.S. Department of Defense. This paper has been approved for public release with unlimited distribution.
Authors' Affiliations
(1)
Biotechnology HPC Software Applications Institute, Telemedicine and Advanced Technology Research Center, U.S. Army Medical Research and Materiel Command, Ft. Detrick, USA
Copyright
© Fang et al; licensee BioMed Central Ltd. 2009
This article is published under license to BioMed Central Ltd. This is an Open Access article distributed under the terms of the Creative Commons Attribution License (http://creativecommons.org/licenses/by/2.0), which permits unrestricted use, distribution, and reproduction in any medium, provided the original work is properly cited.