Research article

Open Access
A yeast's eye view of mammalian reproduction: cross-species gene co-expression in meiotic prophase
BMC Systems Biology
2010
4:125
Received: 16 February 2010
Accepted: 6 September 2010
Published: 6 September 2010
Abstract
Background
Meiotic prophase is a critical stage in sexual reproduction. Aberrant chromosome recombination during this stage is a leading cause of human miscarriages and birth defects. However, due to the experimental intractability of mammalian gonads, only a very limited number of meiotic genes have been characterized. Here we aim to identify novel meiotic genes important in human reproduction through computational mining of cross-species and cross-sex time-series expression data from budding yeast, mouse postnatal testis, mouse embryonic ovary, and human fetal ovary.
Results
Orthologous gene pairs were ranked by order statistics according to their co-expression profiles across species, allowing us to infer conserved meiotic genes despite obvious differences in cellular synchronicity and composition in organisms. We demonstrated that conserved co-expression networks could successfully recover known meiotic genes, including homologous recombination genes, chromatin cohesion genes, and genes regulating meiotic entry. We also showed that conserved co-expression pairs exhibit functional connections, as evidenced by the annotation similarity in Gene Ontology and overlap with physical interactions. More importantly, we predicted six new meiotic genes through their co-expression linkages with known meiotic genes, and subsequently used the genetically more amenable yeast system for experimental validation. The deletion mutants of all six genes showed sporulation defects, equivalent to a 100% validation rate.
Conclusions
We identified evolutionarily conserved gene modules in meiotic prophase by integrating cross-species and cross-sex expression profiles from budding yeast, mouse, and human. Our co-expression linkage analyses confirmed known meiotic genes and identified several novel genes that might be critical players in meiosis in multiple species. These results demonstrate that our approach is highly efficient to discover evolutionarily conserved novel meiotic genes, and yeast can serve as a valuable model system for investigating mammalian meiotic prophase.
Keywords
Semantic SimilarityMeiotic RecombinationYeast GeneMeiotic ProphaseMaximal Signal Intensity
Background
Meiosis is essential for sexual reproduction in eukaryotes. It is a conserved process in which diploid cells undergo one round of DNA replication followed by two rounds of chromosome segregation to produce haploid cells. Meiosis I separates homologous chromosomes, while meiosis II is similar to mitosis, involving separation of sister chromatids to form haploid cells. Meiosis I and II are, in turn, each divided into four stages: prophase, metaphase, anaphase, and telophase [1].
General chromosome behavior during meiosis is conserved in a range of organisms from unicellular budding yeast to multi-cellular mammals [
1
,
2
]. However, the time frame required for each meiotic stage varies greatly by sex and species (Figure
1
). Budding yeast with heterozygosity at the mating-type locus can finish meiosis in hours under a nutrient-depleted environment [
3
–
5
]. Whereas in mammals, germ cells in gonads may take from days to decades to accomplish meiosis with the support of neighboring somatic cells through hormonal cues [
6
–
9
]. Male meiosis occurs continuously and asynchronously from puberty. However, the first wave of spermatogenesis proceeds in a relatively synchronous fashion, which provides the perfect time to investigate genetic control in male meiosis [
7
,
8
]. In females, the entire oogonial population initiates meiosis synchronously in fetal ovaries and becomes arrested near the end of prophase I before birth. A small cohort of arrested oocytes then resumes meiosis during each ovulation after puberty [
6
,
9
–
11
]. Therefore, prophase I is the most synchronized stage of female meiosis.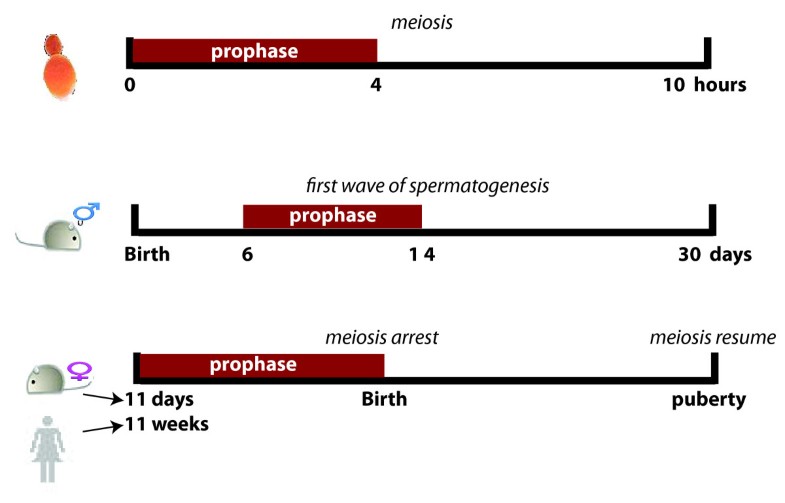 The important function of meiosis is to employ recombination to generate genetic diversity in offspring. This process happens during meiotic prophase I (abbreviated as meiotic prophase in the rest of the paper). Each pair of homologous chromosomes aligns together, allowing genetic recombination to occur between non-sister chromatids. The exchanged DNA fragments result in new genetic combinations within chromosomes that will be passed to haploid cells [2]. Recombination errors cause mis-segregation of chromosomes and the production of aneuploid gametes, which are associated with human birth defects and miscarriages. Indeed, alterations in maternal meiotic recombination are an important contributor to both autosomal and sex chromosome trisomies in humans [12]. Many genes involved in meiotic prophase have been characterized in yeast [1]. But comparatively few mammalian genes are known to be involved in this process, and are mainly identified through gene targeting in mice and chromosomal analysis in patients with fertility disorders. Preliminary studies suggest that humans follow the yeast paradigm, with the early appearance of recombination and cohesion proteins during prophase [13, 14].
The recent availability of reproductive tissue-specific expression profiles for humans and mice allows us to monitor gene co-expression and predict plausible new meiotic genes that are important in human reproduction [6–9, 15, 16]. However, the analyses have been mainly limited to simple clustering of expression profiles, which could pinpoint many meiotic gene candidates. Moreover, in vivo mammalian genetics is time-consuming to validate candidate meiotic genes. Here we propose to use budding yeast as a model system with which to identify conserved meiotic genes by applying an order statistics ranking method. Previous computational efforts have demonstrated the feasibility of identifying evolutionarily conserved functional modules through the mining of gene co-expressions, protein interactions, or phenotypes across species [17–19]. Stuart et al described the use of gene co-expression and metagenes to identify conserved genetic modules in humans, flies, worms, and yeast [19]. In this study, we conducted cross-species and cross-sex inferences to identify conserved co-expressed genes in meiotic prophase from time-series expression profiles in yeast, mice, and humans. We identified known meiotic genes from co-expression networks and predicted candidate meiotic genes from co-expression linkages with known meiotic genes. Several novel meiotic genes were subsequently validated in the tractable yeast system. We also examined conserved co-expression pairs using enriched genomic information in yeast. Our approach yielded novel genes during the critical meiotic prophase of sexual reproduction and provided insights into the molecular events leading to human reproductive defects.
Discussion
Meiotic prophase is a critical stage in determining reproductive success, as errors in meiotic initiation and recombination can lead to chromosome mis-segregation. In fact, defects in meiotic chromosome segregation are the leading cause of miscarriages and one of the leading causes of birth defects in humans [1]. Identification of germ-cell-specific meiotic genes in multicellular organisms is a complex task because gonads contain distinct types of cells, of which only a fraction are germ cells. Because human gonads are an intractable experimental system, human meiosis has mainly been investigated using traditional in vivo mouse genetics, which is time-consuming and difficult to scale up. Only a limited number of mammalian meiotic genes have been characterized; for this reason, it is important to be able to predict novel meiotic genes in mammals.
In this study, we assembled cross-species and cross-sex whole-genome expression profiles on meiotic prophase in yeast, mouse embryonic ovary, mouse postnatal testis, and human fetal ovary. We found significant enrichment of known meiotic genes in co-expression networks, suggesting the feasibility of our approach for inferring conserved meiotic genes in multiple species and between sexes. Indeed, conservation of co-expression between species improved the identification of mammalian meiosis genes. We further characterized co-expression pairs and demonstrated that they are functionally related. Most top-ranked co-expression genes are highly expressed, particularly in mammals. From co-expression networks, we identified genes important to the meiotic process in both yeast and mammals. Our results show that major recombination and cohesion proteins are conserved across species. We also identified mammalian orthologs of yeast meiotic genes RIM11 and RIM15 as candidates that might regulate meiotic entry in mammals. Co-expression links enabled us to infer roles for genes not previously found to function during the meiotic process. We experimentally validated six predicted meiotic genes using a genetically tractable yeast system, all of which exhibited sporulation defects. The mammalian orthologs of these new meiotic genes can be further tested using a mouse system. In contrast to the simple clustering of meiosis expression profiles which could pinpoint many meiotic gene candidates [6–9, 15, 16], our method quantifies conserved co-expression with P-values in four networks, which allows us to prioritize candidate genes and interactions for experimental testing.
We focused on validating candidate genes showing co-expression links with known meiotic genes. This criterion is likely to yield a high validation rate. Our future direction will include testing conserved co-expression metagene pairs common to multiple networks. This would very likely increase the list of candidate genes that function during conserved meiotic process. In our study, we used microarray profiles of testes and ovaries that closely represent in vivo germ cell gene expression. A complementary approach is to use expression data from isolated germ cells; such data is only available in males [8, 15]. Although sorted germ cell samples removed most somatic cells, their expression patterns may have changed dramatically from in vivo status. The microarray studies use in our analysis were not particularly designed to capture transcriptional changes in meiotic prophase except for the data on human fetal ovary [6]. The yeast experiments covered the entire sporulation process [5], while the mouse experiments captured the developmental process of the murine embryonic gonad and the first wave of spermatogenesis in postnatal testis [8, 9]. Therefore, only limited time points were included to describe meiotic prophase. Our approach will likely become more valuable for the identification of novel genes when expression data are available to capture detailed transcriptional changes during meiotic prophase. This will enable us to better understand the genetic controls that regulate meiotic entry and progression in this critical developmental stage.
Conclusions
We constructed conserved co-expression networks for meiotic prophase by integrating cross-species and cross-sex expression profiles from budding yeast, mouse, and human. The co-expression links in the networks confirmed known meiotic genes and identified several novel genes that might be critical players in meiosis in multiple species. Indeed, the conserved co-expression approach improved the identification of mammalian meiotic genes. Six candidate genes were subsequently validated in the yeast and all showed sporulation defects. These results suggest our approach is highly efficient to identify evolutionarily conserved gene modules and novel genes in meiotic prophase.
Methods
Metagene construction
Pairwise ortholog groups of yeast, mouse, and human were downloaded from Inparanoid, a database of eukaryotic orthologs [52]. Only seed orthologs found through a reciprocal best match between two genomes were kept for metagene construction. Three types of metagenes were obtained by identifying orthologs conserved either across all three species (YMH) or only between two species (YM, YH) (Table 1). Three metagene types are mutually exclusive. Most metagenes contain a single gene from each organism. Each gene was assigned to only one metagene.
Microarray expression profiles
Four time-series microarray studies were selected to investigate global gene expression of meiotic prophase in yeast, mouse postnatal testis (GSE12769), mouse embryonic ovary (GSE6916), and human fetal ovary (GSE15431) [5, 6, 8, 9]. These experiments all used the Affymetrix microarray platform. For the yeast experiment, gene expression was monitored using aliquots of SK1 cells at 0, 1, 2, 3, 4, 6, 8 and 10 hours after transfer of cells to sporulation medium [5]. For microarray profiling of the first wave of spermatogenesis, duplicate testis samples were obtained from postnatal mice at ages of 0, 3, 6, 8, 10, 14, 18, 20, 30, 35, and 56 days postpartum [8]. For female mice, duplicate samples of embryonic ovaries were collected at 11.5, 12.5, 14.5, 16.5, and 18.5 days of postcoitum [9]. For female humans, ovaries from fetuses at 9.1, 9.6, 11, 12, 12.9, 13.6, 13.9, 14.4, 16.1, 16.4, 16.9, 17.1, and 18.1 weeks of gestation were obtained; each time-point was represented by one fetus sample except there were three samples at 9.6 weeks, two at 13.6 weeks and two at 16.9 weeks [6]. Although the human female microarray captures the timeframe of meiotic prophase, the yeast and male mouse microarrays cover the entire meiosis, and the female mouse experiment was designed to capture the development of the murine embryonic ovary. To consistently identify changes in gene expression during meiotic prophase, only time points within meiotic prophase were considered in our analysis (0-4 hours for yeast, 6-14 days postpartum for mouse postnatal testis, 11-14 days postcoitum for mouse embryonic ovary, 9-18 weeks gestation for human fetal ovary).
Microarray data were normalized to the mean or median of each array, as described in the original papers [5, 6, 8, 9]. For human and mouse experiments, unique probes that map to the same gene were averaged to obtain the gene signal intensity. If unique probes do not exist for a gene, we averaged signal intensity of probes with a "_a" suffix. Duplicate samples at each time point were averaged. The maximal signal intensity over the course of prophase was identified for each gene in each microarray. We used this signal intensity to define gene expression levels. The top 90% of highly expressed genes in each array were used to calculate Pearson correlations of gene pairs, while the bottom 10% of lowly expressed genes were removed from further study. This prevented the introduction of very lowly expressed genes into the conserved co-expression network. We did this because Pearson correlations measure similarity of gene expression rather than absolute levels, and lowly expressed gene profiles are often dominated by noise.
Conserved gene co-expression networks
Pearson correlations, , were calculated for gene pairs belonging to metagenes across the prophase time points in each microarray. Here x and y are expression data vectors of length n for two genes, and are means, and s x and s y are standard deviations. If a metagene contains more than one gene in a species, Pearson correlations for metagene pairs were computed by averaging multiple gene-gene Pearson correlations. Otherwise, Pearson correlations for metagene pairs are the same as correlations for gene pairs. Metagene pairs in the same species were ranked by their Pearson correlations. Then each metagene pair was associated with a rank ratio, r, which was the rank divided by the total number of metagene pairs in a species s. We computed the P-value for each metagene pair across a total of n species from the joint cumulative distribution of an n- dimensional order statistics [19]: , where r1 < r2 ... < r n . This P-value quantifies the evolutionarily conserved co-expression of metagene pairs. Metagene pairs with P-values greater than a threshold can be connected to form conserved co-expression networks.
Hierarchical clustering for identifying conserved co-expression
An alternative to our approach is to cluster Pearson correlation matrix to identify conserved co-expression. Pearson correlation of metagene pairs was calculated for each species. The pairwise correlation matrices for different species can be merged into a consensus correlation matrix by taking the minimum correlation for each metagene pair. The resulting consensus matrix was converted into a dissimilarity matrix and subjected to average linkage hierarchical clustering algorithms. The dynamic tree cut method was applied to define branches as co-expression modules (minClusterSize = 40) [53]. Order statistics and hierarchical clustering perform similarly in identifying known meiotic genes (Additional file 1, Table S5). The advantage of order statistics over hierarchical clustering is that it defines pairwise gene co-expression thus can prioritize genes for experimental testing.
GO term enrichment
Significantly shared GO terms are used to describe common functions of a query gene set. To determine whether any GO terms are enriched in a query gene list at a frequency greater than that would be expected by chance, we calculated the probability from a hypergeometric distribution: where C(j, k) is the combinatorial factor j!/k!(j-k)!. In this equation, t is the total number of genes in a network, n is the number of genes in the network that are annotated by a GO term, m is the number of genes in a query list (for example, genes in top-100 metagene pairs), and k is the number of genes in that list which are annotated by the GO term.
GO semantic similarity
The method to calculate GO semantic similarity was described in the reference [23]. Specifically, each node in the GO tree is associated with a probability, p(c), representing the chance a concept occurs on the node or any of its children. Thus the probability increases as we move up toward the root of GO tree, where the probability is 1. To calculate the semantic similarity for a pair of genes, the minimal p(c) of parental nodes shared by two genes will be identified. The similarity score is defined as the negative log10 of the minimal p(c). Because each gene pair is associated with a semantic similarity score, the averaged GO semantic similarity is the mean of similarity scores of a group of gene pairs. The averaged GO semantic similarity can be used to quantify the overall functional association of a group of gene pairs.
Yeast sporulation assays
Wild-type yeast strain BY4743 and homozygous diploid deletion strains on the BY4743 background (isogenic to the strain S288c) were patched onto a GNA pre-sporulation plate. The GNA plate was incubated at 30°C overnight. Cells were transferred to the sporulation medium and incubated on a shaker at 25°C for 5 days [24]. Approximately 0.1OD cells were fixed with 70% ethanol for 30 minutes. Samples were washed with PBS twice, and then stained with 2uM Hoechst 33342 (H1399 Invitrogen) at room temperature for 30 minutes. Cells containing tetranucleate, trinucleate, binucleate, and mononucleate were counted from a total of 300 cells for each strain using a Zeiss 510 Meta multiphoton confocal microscope.
Declarations
Acknowledgements
The authors would like to acknowledge Terry Hassold, Patricia Hunt, Michael Griswold, and Christopher Small for helpful discussions, and Lizhong Yang for providing time-series expression profiles on mouse postnatal testis, mouse embryonic ovary, and human fetal ovary. The authors also wish to thank Xuewen Pan for providing homozygous diploid yeast deletion strains. This work was supported by a Washington State University start-up grant to PY.
Authors' Affiliations
(1)
School of Molecular Biosciences, Washington State University, Pullman, USA
(2)
Center for Reproductive Biology, Washington State University, Pullman, USA
(3)
Department of Statistics, Washington State University, Pullman, USA
Copyright
© Li et al; licensee BioMed Central Ltd. 2010
This article is published under license to BioMed Central Ltd. This is an Open Access article distributed under the terms of the Creative Commons Attribution License (http://creativecommons.org/licenses/by/2.0), which permits unrestricted use, distribution, and reproduction in any medium, provided the original work is properly cited.