Methodology article
Open Access
Automated characterization of cell shape changes during amoeboid motility by skeletonization
BMC Systems Biology
2010
4:33
Received: 22 October 2009
Accepted: 24 March 2010
Published: 24 March 2010
Abstract
Background
The ability of a cell to change shape is crucial for the proper function of many cellular processes, including cell migration. One type of cell migration, referred to as amoeboid motility, involves alternating cycles of morphological expansion and retraction. Traditionally, this process has been characterized by a number of parameters providing global information about shape changes, which are insufficient to distinguish phenotypes based on local pseudopodial activities that typify amoeboid motility.
Results
We developed a method that automatically detects and characterizes pseudopodial behavior of cells. The method uses skeletonization, a technique from morphological image processing to reduce a shape into a series of connected lines. It involves a series of automatic algorithms including image segmentation, boundary smoothing, skeletonization and branch pruning, and takes into account the cell shape changes between successive frames to detect protrusion and retraction activities. In addition, the activities are clustered into different groups, each representing the protruding and retracting history of an individual pseudopod.
Conclusions
We illustrate the algorithms on movies of chemotaxing Dictyostelium cells and show that our method makes it possible to capture the spatial and temporal dynamics as well as the stochastic features of the pseudopodial behavior. Thus, the method provides a powerful tool for investigating amoeboid motility.
Keywords
Medial AxisLocal CurvatureState PersistenceCell Shape ChangeDictyostelium Cell
Background
The ability of a cell to change shape is crucial for the proper function of many cellular processes, including cell migration. For example, cells of the immune system move in response to pathogen infections by crawling, which involves cycles of protrusions and contractions that deform the entire cell shape [1]. Traditionally, cell motility has been characterized by a number of different parameters [2]. Some, such as velocity, directional persistence and chemotactic index, are determined by the position of the centroid of the cell. Others, including perimeter, area, roundness and body orientation, describe cellular morphology as the cell migrates. These parameters primarily provide global information about motility-induced cell shape changes. Though they can be used to distinguish between strains, they may be insufficient to distinguish phenotypes based on pseudopodial protrusions and retractions, which typify amoeboid motility.
Recently, there has been much interest in developing means for processing microscopic images of motile cells and acquiring local morphological information automatically or semi-automatically [
2
–
7
]. Here we describe a series of automated methods used to characterize both local morphological changes and statistical features during amoeboid locomotion based on the
skeleton
of a planar shape [
8
]. Skeletonization, also known as the medial axis transform, is a technique in image processing used to reduce a binary shape into a series of connected lines - the skeleton - that roughly maintains the form of the shape (Figure
1A
). This thin-line representation of shape has attracted considerable attention [
9
,
10
]. For example, skeletons have been used to measure the lengths and numbers of junctions of tubule complexes in in-vitro angiogenesis assays and to analyze neuronal structures [
11
]. Part of the technique's attraction is that skeletons of elongated shape patterns, which are frequently observed in many organisms and biological structures, appear to be close to those perceived by humans [
12
]. Furthermore, the skeleton facilitates shape analysis and uses less data than the original shape. Though skeletonization has long been used to analyze images in cell biology [
9
,
10
], it has not been applied to track dynamic information about cellular shape.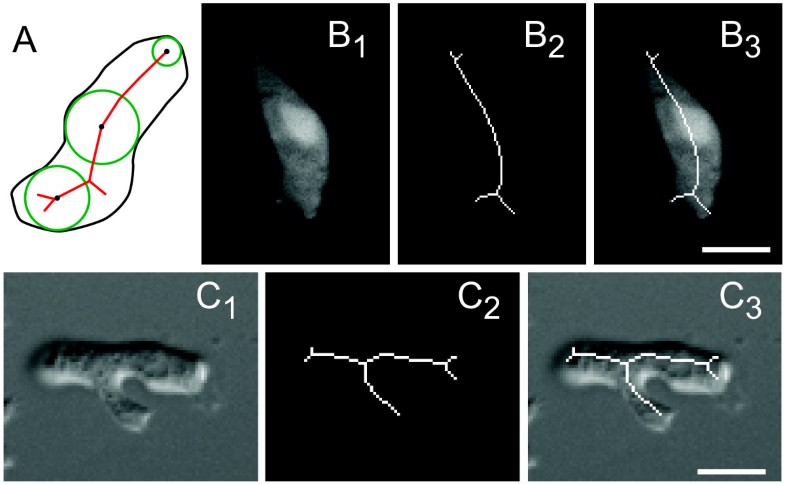 We demonstrate that the skeleton can be used to identify pseudopods of moving cells in microscopic images. Moreover, the time-varying evolution of the skeleton can be used to capture the dynamic nature of the pseudopodial protrusions and retractions. We emphasize that the primary goal of this article is not to suggest mechanisms of directed cell motility, but to provide a useful computational tool to analyze amoeboid motility behavior, thus to facilitate the understanding of specific mechanisms in different studies.
Results
Our method consists of a number of separate steps which we describe here individually.
Discussion
Amoeboid motility is a complex cellular process driven by highly-organized cytoskeletal dynamics involving alternating cycles of pseudopodial protrusions and retractions.
In some cases, the subtle differences in motility between different strains may only be revealed by comparison of pseudopod dynamics. However, because of the highly stochastic fluctuations in the behavior of pseudopods, large data sets may be necessary, making manual detection, identification and quantification impractical. In this study we presented an automated method based on skeletonization that detects and characterizes pseudopodial behavior of cells. These algorithms have been illustrated on movies of chemotactic Dictyostelium cells.
Several methods for detecting pseudopods automatically or semi-automatically in microscopic cell movies have been proposed previously. In the 3D Dynamic Image Analysis System (3D-DIAS, Soll Technologies), pseudopods are identified based on manual identification of the "nonparticulate" cytoplasm using DIC images [2, 7]. In addition to being completely automatic, our proposed method has the advantage that only shape information is needed, thus allowing one to apply this to fluorescent images, making correlation studies like those of Figure 8 possible. Moreover, though all of our examples are illustrated in 2D images, the skeletonization technique can be easily expanded to 3D shapes. Other applications for 3D skeletons have been proposed [36–38].
Pseudopodial activities have also been identified by approximating the local curvature of the boundary using a closed polygon formed from a chain of nodes [4]. This form of detection may depend on the magnification, image quality, as well as sampling density. In contrast, the skeletonization technique uses topological and geometrical information from the whole shape, and takes into account not only the local curvature, but also its relationship to the complete path of the membrane, thus allowing great flexibility in applications.
Related research, based on level set methods, tracks the evolution of virtual markers to determine the spatial and temporal dynamics of a region of interest on the cell membrane [3]. In general, this method requires high resolution imaging in both space and time to deliver topologically consistent solutions. In contrast, our method does not need special boundary markers and can be applied to a relatively broader range of resolutions.
For accurate pseudopod detection, the time resolution of the movies should not be too low, so that a considerable part of the cell body overlaps from frame to frame. The valid range should be decided by the size and speed of the specific cell types of interest. In our case, cells move at ~10 μm/min, and the average length of the cell is 10 μm. The minimal frame rate we use is 10 s/frame, which is equivalent to a distance of ~1/6 of their body length between successive frames. At the same time, the spatial resolution must be selected so that desired pseudopodia activities can be identified at least by eye. The spatial resolution for most of our movies is either ~0.3 μm/pixel when using a 40× objective, or ~0.2 μm/pixel when using a 60× objective. The lower the resolution, the more shape features are lost during imaging, and fewer pseudopodial activities, especially subtle ones, can be captured. This will cause a general problem for all detection method, including manual counting. Other parameters in Table 1 are chosen to minimize the discrepancy between results obtained using the automated method and manual observations of pseudopodial activity. These work well with different cell strains, frame rates and magnifications. However, when tracking significantly different cell movements, other parameters may need to be selected.
One possible drawback of relying on topological information is that skeletonization sometimes cannot detect protrusions with bleb-like structures, since the local curvature at these structures is relatively low compared to typical activities. This problem may also exist in other automated methods based on local curvature calculations. However, in most of our studies, bleb-like structures occur rarely and do not influence the results statistically. For example, there is only one bleb in 101 s in the movie [Additional file 1] at time 59 s, which seems to be a short-lived pseudopod but is missed by the algorithm. Other than the blebs, we do not find shape structures that consistently cause the method to fail in the movies of Dictyostelium cells we analyzed. Attempts have been made to characterize the extension of pseudopodia by amoeboid cells in the absence of external cues as well as in shallow gradient of chemoattractant, based on the assumption that spatial differences in chemoattractant receptor occupancy gives rise to biases in the direction of pseudopod extensions [4, 28].
However, other studies suggest that the bias might come from pseudopod retractions [27]. Here, we view pseudopodial behavior as a dynamic process that includes both protrusions and retractions, and modeled this dynamic behavior using an autoregressive model - in which the state at a given time depends on the historical activities - for each pseudopod. Our results are consistent with models that suggest that, for a Dictyostelium control cell moving in a shallow gradient, a considerable fraction of pseudopods experience both protrusion and retraction, and they tend to retract back when shifting far away from the right direction (Figure 5I). At the same time, the consistent protruding pseudopods may play a more important role in leading the movement of the cell centroid compared to other pseudopods (Figure 5G).
Published results show a discrepancy regarding the production rate of pseudopods, with manual counting reporting less pseudopods than methods that record pseudopods automatically. Our data illustrates that these differences can be attributed to a counting bias. In manual techniques, only the most prominent and persistent protruding activities are identified as pseudopods, whereas automatic methods are able to detect smaller protrusions and retractions. Thus, our method can be applied to quantify both the dominant deformations as well as subtler dynamic perturbations of shape. Our results suggest a higher ratio of "de novo" pseudopods relative to those from splitting during chemotaxis in shallow gradients, compared to previous published results (Additional file 2, [27, 32]). We conjecture that this also comes from the fact that not all meaningful boundary activities are captured in these analyses. We note that for cells chemotaxing to a micropipette, the fraction of pseudopods arising from splitting is even lower (Table 3).
By using the cross correlation method to analyze the molecular drivers of protrusions and retractions, we find that dynacortin, as a marker of F-actin, colocalizes with protrusion activities, consistent with the notion that actin polymerization drives protrusions. On the other hand, myosin-II is depleted from the front of the cells, and is enriched at the sides of cells. As myosin-II contributes ~20-30% to cortical viscoelasticity and to cortical tension [39], the localized myosin-II modulated increase in cortical tension at the side of cells may thus help to inhibit lateral pseudopods, as previously suggested [40, 41]. This argues that myosin-II has a substantial role in enabling of a polarized morphology seen in cells.
Conclusions
In this article we propose an automated method to characterize cell shape changes during amoeboid motility. Based on the skeletonization technique, this method makes full use of both the global and local information of cell shape to detect and track pseudopodial protrusions and retractions, and correlates them with molecular localizations. Using the proposed method, the pseudopodial behavior for single cells can be described, the discrepancies among different strains can be disclosed, and the distinct roles of molecules in driving membrane deformation can be revealed. Thus, it provides a powerful tool to investigate amoeboid motility.
Appendix
A. Image segmentation
We design three different approaches to segment cell areas, according to the imaging techniques used to acquire a specific microscopic movie.
Fluorescence microscopy allows for good contrast between the bright, but of possibly heterogeneous intensity, cell and the dark background. Initial segmentation is achieved by selecting an adaptive threshold intensity that lies between those of the background and cell.
The intensity differences in phase-contrast images come from the anisotropic properties of the medium through which the light travels. Pixel intensities inside the cell are noisy because of the numerous compartments distributed there. Outside the cell, the intensities are considerably smoother. However, a phase ring can be usually observed around the cell periphery, which blurs the boundary and makes the segmentation difficult. To obtain an accurate cell boundary in a phase-contrast image, a deblurring step using the Lucy-Richardson method [42] is first used to remove the phase ring. Next, gradient mappings of the pixel intensity are generated. High gradients are seen in regions where the cell has considerable topological changes and low gradients are seen at the background. Segmentation is achieved by connecting disparate areas using morphological operations [43–45].
In DIC images, because of the existence of a prism-induced shear direction in the image, bright and dark edges coexist on the cell boundary, but little contrast is observed between these edges [46]. Thus, direct methods, either edge detection algorithms or region segmentations, cannot give satisfactory results for cell-shape analysis. A line integration method (line integrated DIC, or LID) has been proposed to transform DIC images to pseudo-fluorescent images [47]. However, this technique can give rise to stripes as a result of the integration of random noise [48]. Deconvolution and/or the Hilbert transform can be used to correct these images, but neither technique avoids introducing distortions in the shape of the cell. Instead, we use a total variation-based approach, in which an optimal image is found by minimizing an energy function defined by the observed image and the properties of the restored image [49]. Two algorithms: one using texture extraction after LID and the other using denoising before LID, are found to be effective and to give similar results [50]. We note that after LID, the pseudo-fluorescent image of the cell will be slightly shifted in the prism-induced shear direction when compared to the cell boundary perceived by human eyes (Figure 1C). However, since this is a constant offset everywhere, it does not affect cell shape or the other variables computed during skeletonization.
B. Boundary smoothing
The algorithm contains four steps:
1. Segment the image to get the initial boundary;
2. Sample from the initial boundary to get a group of control points for the construction of a B-spline curve, which defines an initial shape estimate and a template in the shape-space;
3. Search for the feature points along the boundary of the initial shape in the normal directions;
4. Use recursive least-square estimation to compute optimal control points according to the positions of the feature points and construct the resultant B-spline curve that fits the boundary best.
As illustrated in Figure 2D, boundary smoothing can eliminate part of spurious branches from the skeleton. We note that splines are appropriate for smoothing as long as the prominent features of a shape are retained. In Figure 2C, the spline faithfully represents the two spots with high local curvatures at the bottom, thus it would not influence the skeletonization results in spite of the missing of small details. However, if a cell has a lot of spiky structures, such as the shape of a fibroblast, and these structures represent the main features of the shape, the smoothing process might be inappropriate as well as unnecessary.
C. First and second order differences
Let
d
t
be the measured data point (spatial position or angle value) at time
t
. Similarly,

and

are the measurements at time
t-
Δ
t
2
and
t+
Δ
t
1
, respectively. We define two measurements describing how data changes over time. The first
represents the second order difference. These serve as analogues for the first and second time-derivatives, respectively, of the function d t . Thus, the first order difference measures how much the data value changes, and the second order difference measures how much the rate of changes varies over time.
We define a cost function, used in the tracking algorithm that penalizes large changes in both these measures, weighed by constants α and 1-α:
Minimizing the first order difference corresponds to the assumption that changes in spatial position and angle in activities of the same pseudopod from one frame to the next are much smaller than the distance between two different pseudopods. On the other hand, minimizing the second order difference corresponds to the assumption that whenever the position or angle of the activity changes, the rate of change tends to be constant.
Because computing the second order difference for an activity requires three time points, if only two are available, the cost function uses only the first order difference.
D. Strains used
wt: dynhp Ax2:Rep orf+ (HS1000):: pLD1A15SN:dynacortin RNAi
wt: control Ax2:Rep orf+ (HS1000):: pLD1A15SN
wt: tsuA- Ax3 ΔtsuA::pJK1:PHcrac-GFP
wt: control Ax3::pJK1:PHcrac-GFP
myoII: GFPmyoII, mCherry dynacortin mhcA (HS1):: pBIG:GFP-myosin-II; pDRH:mCherry-dynacortin
Declarations
Acknowledgements
We are grateful to N. Andrew and R. H. Insall for providing us the movie in Additional file 1. We also thank members of the Devreotes, Robinson and Iglesias Labs for many helpful discussions. This work was supported in part by grants from the NIH, GM71920 (PAI), GM66817 (DNR), GM28007 (PND), GM34933 (PND), and the NSF 0621740 (PAI).
Authors' Affiliations
(1)
Department of Electrical and Computer Engineering, Johns Hopkins University, Baltimore, USA
(2)
Department of Cell Biology, Johns Hopkins University School of Medicine, Baltimore, USA
Copyright
© Xiong et al; licensee BioMed Central Ltd. 2010
This article is published under license to BioMed Central Ltd. This is an Open Access article distributed under the terms of the Creative Commons Attribution License (http://creativecommons.org/licenses/by/2.0), which permits unrestricted use, distribution, and reproduction in any medium, provided the original work is properly cited.