Research article

Open Access
Identifying co-targets to fight drug resistance based on a random walk model
BMC Systems Biology
2012
6:5
Received: 29 September 2011
Accepted: 19 January 2012
Published: 19 January 2012
Abstract
Background
Drug resistance has now posed more severe and emergent threats to human health and infectious disease treatment. However, wet-lab approaches alone to counter drug resistance have so far still achieved limited success due to less knowledge about the underlying mechanisms of drug resistance. Our approach apply a heuristic search algorithm in order to extract active network under drug treatment and use a random walk model to identify potential co-targets for effective antibacterial drugs.
Results
We use interactome network of Mycobacterium tuberculosis and gene expression data which are treated with two kinds of antibiotic, Isoniazid and Ethionamide as our test data. Our analysis shows that the active drug-treated networks are associated with the trigger of fatty acid metabolism and synthesis and nicotinamide adenine dinucleotide (NADH)-related processes and those results are consistent with the recent experimental findings. Efflux pumps processes appear to be the major mechanisms of resistance but SOS response is significantly up-regulation under Isoniazid treatment. We also successfully identify the potential co-targets with literature confirmed evidences which are related to the glycine-rich membrane, adenosine triphosphate energy and cell wall processes.
Conclusions
With gene expression and interactome data supported, our study points out possible pathways leading to the emergence of drug resistance under drug treatment. We develop a computational workflow for giving new insights to bacterial drug resistance which can be gained by a systematic and global analysis of the bacterial regulation network. Our study also discovers the potential co-targets with good properties in biological and graph theory aspects to overcome the problem of drug resistance.
Keywords
Drug Resistance
Active Network
Protein Interaction Network
Random Walk Model
Heuristic Function
Background
Drug resistance has been posing an emergent threat to human health and infectious disease treatment. Drug resistance is a natural survival mechanism for bacteria when the cell is exposed to drug exposure. Mycobacterium tuberculosis (Mtb) remained to be one of the leading and widely spread killer infectious diseases. In 2008, estimated 390000-510000 cases of multidrug resistant Mtb recorded in WHO 2010 and this problem is worsened significantly by the emergence of drug resistance under clinical drug used. Up to now, methods employed to tackle the problem of drug resistance are rather arbitrary. Several wet-lab experiments and clinical decisions like rotation of antibiotic combinations, identification of new targets and chemical entities that may be less mutable are being explored to counter this problem by inhibiting the resistance mechanism [1]. However, those strategies are still not effective enough and have so far achieved limited success due to limited knowledge about how the resistance mechanisms are triggered in bacteria upon antibiotic drug treatment [2].
The gene expression depended upon the mechanism of action of the drug in the cell as a consequence of the action through metabolic and regulatory adjustments or triggering drug resistance more explicitly [3]. The high-throughput of microarray technology has led to explosion of data concerning the expression levels of the genes but most of statistical methods such as fold change and t-test identify genes with significant changes. However, based solely on the patterns of variations in terms of the increase or decrease in the expression levels of individual genes, it is in general hard to know the related processes involved in the mechanisms of the drug response and resistance.
Due to the increasing availability of protein interaction networks, network-based analysis provides an opportunity to discover an active (significant) network. The network provides a systems-level view of how genes and their products interact within the cell and explain the biological actions under specific condition. However, one weakness of the protein-protein interaction data is that it contains no information about the conditions under which the interactions may take place which means it is not a real snapshot of the interactions in vivo, but a union of the interactions activated under various conditions. Except protein interaction network supported, the network will be much more biologically insightful if the expression data is incorporated with them. Recently some various network-based approaches [4–8] based on protein interaction networks have obtained much better performance than traditional statistical approaches only based on the gene expression values. They first applied a scoring scheme to evaluate an active level of the network based on the gene expression of each gene or its interactions. In the second step, a search procedure is implemented to find the node connected in a sub-network has a highest score and to form a maximum-scoring sub-network. Due to this kind of the problem is NP-hard, several heuristic or approximate methods such as simulated annealing, locally greedy search and mathematical programming methods were proposed. Ideker et al. first formulated the problem of the active pathway detection, where the scoring function is given by a summation function of all genes' differentially expressed p-value within the sub-networks [9]. Dittrich et al. used an additive function of p-values based on a mixture model [10]. Breitling et al. proposed a method to score active sub-networks in terms of genes' order of their differential expression significance [11]. Sohler et al. searched for active networks by spanning the networks with a given set of seed proteins [7]. Such approaches as the vertex-based methods usually do not further select the active interaction relationships among the identified proteins. However, taking all the interactions among those 'active' proteins detected by those methods is inadequate, because under a particular condition, only a part of the interactions may be active. Guo et al. proposed a novel edge-based scoring to extract an active sub-network related to some investigated gene expression profiles under specific condition [12]. Han et al. calculated the average Pearson correlation coefficients between the hubs and their neighbors in the protein interaction networks [13]. Zhao proposed an integer linear programming (ILP) model to find the signal pathways by utilizing both protein interactions and microarray data [14]. Some edge-based scoring methods use statistical measures such as Pearson correlation coefficient for analyzing the pair relationships which do not work well in the small set of the microarray data and could be also unsuitable to explore true relationships because they are overly sensitive to the expression values.
With the availability of high throughput microarray data and interactome network, it is feasible to address the issue of drug resistance from the system's perspective. Wu et al. integrated those two kinds of the information to present a novel network-based approach to identify effective combination of drugs by comparing the sub-network affected by individual drugs [15]. Typically, the target of a drug inhibits the pathogen or arrests its growth but the resistant machinery is established via certain pathways. A recent idea is to counter the drug resistance that called a "co-target" instead of being the ancillary or secondary targets that have a critical physiological function for the survival of a cell and it helps a primary drug to inhibit the resistance mechanism [2]. Thus, a co-target could be either essential or non-essential but it is necessary to have a strong influence in the resistance network. Raman and Chandra formulated the problem of identifying a co-target as a search for the shortest paths obtained from the bacteria protein interaction network and calculated the "betweenness" attribute of genes to identify the potential co-target based on the gene expression values [2]. Although the shortest path analysis may yield a higher coverage than observed directly neighbors locally from the protein interaction data, this approach considers only a single length which ignores the potential contribution of the other paths with longer length. Due to the small world property of biological network, the shortest path length in a biological network is typically very small and most of the time there will be additional "relatedness" between two gene nodes [16, 17]. However, the shortest paths are the only routes of drug resistance and there are some "back-up" ways to make the robustness of the mechanism in bacteria [18]. Without any essential pathways related to the mechanism of drug resistance, Ayati et al. applied balanced network bipartition method to discover the co-targets which separate interaction network into disconnected pieces to effectively disrupt the survival of a bacterium when it has multiple pathways to trigger the drug resistance [18]. However, all of them simply take all the interactions in the public database as the edges and did not take the active interactions under antibiotic drug treatment into consideration.
We apply a computational approach that uses both gene expression data and interactome network to identify the active networks under antibiotic drug treatment. Then, we apply a random walk model to discover co-targets that are highly likely to affect the genes related to the mechanisms of the drug resistance through the main and back-up paths.
Methods
The overall workflow of our methods consists six steps which is shown in Figure
1
. We use interactome network from STRING database in step 1 and assign weight values to the interactions based on the confidence scores and gene expression values from antibiotic drug treatment and control samples in step 2. We present an A* heuristic search method to identify the active networks under antibiotic drug treatment in step 3 and then classify different functional drug resistance pathways using known annotated curated resistance proteins [
19
] in step 4. We apply random walk method to discover potential co-targets in step 5 and 6.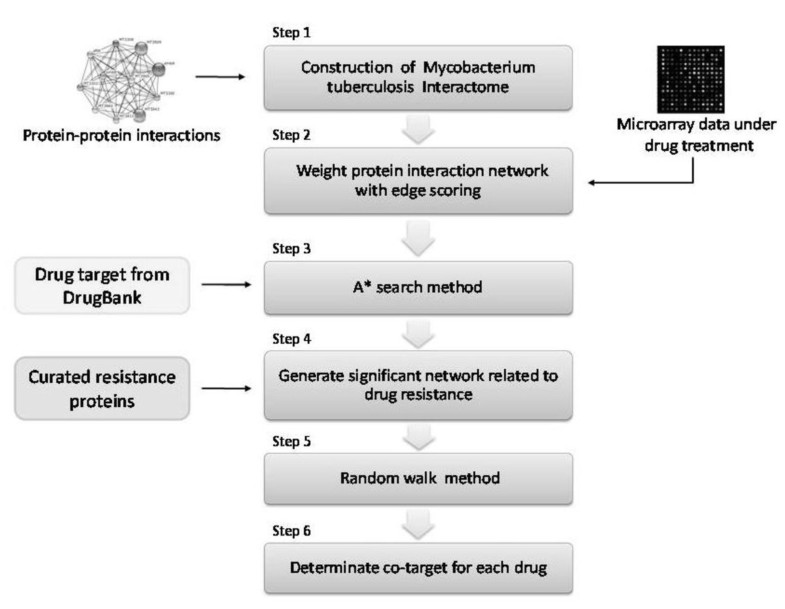 Results and Discussion
Our interactome networks of Mtb H37Rv extracted from STRING database which contains 3764 proteins with 179920 undirected interactions among them. We extract microarray data from Gene Expression Omnibus (GEO) at NCBI with accession number GSE1642 [29] which contains the most frequently used drugs for the treatment of Mtb, Isoniazid (INH) and Ethionamide (ETA). INH is a first-line drug used worldwide to treat Mtb and ETA is a second line drug. In the experiments, H37Rv treated with 0.2 mg/mL and 0.4 mg/mL INH (in 1 μL/mL EtOH) for 6 h with MIC (0.02 μg/mL) and control cells treated with equivalent amount of EtOH for 6 h. H37Rv also treated with 12 μg/mL and 40 μg/mL ETA with MIC (0.5 μg/mL). It must be noted that it is possible that the high concentration may lead to abnormal expression but there may be also a higher probability to develop drug resistance [2]. INH is known to be an inhibitor of mycolic acid biosynthesis (MAP) and ETA is a structural analog of INH that is also thought to inhibit the same biosynthesis. The MAP model contains 219 reactions and 197 metabolites, mediated through 28 proteins based on the complete and accurate with annotations from the latest literature [30]. After mapping to the microarray data, we use 21 proteins as source nodes for A* search to extract active networks.
Conclusions
To tackle the problem from a drug resistance perspective, it is essential to understand the molecular mechanisms by which bacteria acquire drug resistance using a network-based approach. We develop a computational workflow for giving new insights to bacterial drug resistance which can be gained by a systems-level analysis of bacterial resistance networks. In our approach, we utilize information on STRING database and expression data to construct a weighted network and to decipher the active networks related to drug resistance using A* search method. We discover that genes in both INH and ETA active networks would facilitate survival related to trigger the processes in cell wall, fatty acid metabolism and synthesis, and NADH-related processes. Efflux pumps appear to be the major mechanisms of resistance under INH and ETA drug treatment in Mtb and SOS response is significant involved in INH active network. Several correlations for the predicted resistance paths corresponding to the experimental data are available in literature suggesting that information flows through the identified routes are probable and biologically significant.
We globally identify the potential co-targets which have higher probabilities to affect the genes related to the drug resistance mechanism through the main and back-up paths using our random walk model. Those co-targets related to lipo-rich membrane, ATP energy and cell wall-related processes for countering drug resistance. Knowledge of the active networks under drug treatment help us address more systematic and novel ways to discover the potential co-targets with good properties in biological and graph theory aspects for overcoming the problem of drug resistance. It is important to bear in mind that studies on a theoretically derived network may have some limitations due to missing out some important interactions have not been identified. In the future, the genome of the drug-resistant strain and non-drug-resistant strain can be compared to identify genes which also worth considering as significant feature for co-targets in the sequence level. Inhibition of the primary target and the co-target simultaneously seems to be a feasible and novel way to overcome the problem of drug resistance for other diseases.
Declarations
Acknowledgements
This research is partially supported by the Bioresources Collection and Research Center of Linko Chang Gung Memorial Hospital and National Tsing Hua University of Taiwan R. O. C. under the grant number 98N2424E1.
Authors' Affiliations
(1)
Department of Computer Science, National Tsing Hua University, HsinChu, Taiwan
(2)
Institute of Information Systems and Applications, National Tsing Hua University, HsinChu, Taiwan
Copyright
© Chen et al; licensee BioMed Central Ltd. 2012
This article is published under license to BioMed Central Ltd. This is an Open Access article distributed under the terms of the Creative Commons Attribution License (http://creativecommons.org/licenses/by/2.0), which permits unrestricted use, distribution, and reproduction in any medium, provided the original work is properly cited.