Research article
Open Access
A kinetic model for RNA-interference of focal adhesions
BMC Systems Biology
2013
7:2
Received: 21 July 2012
Accepted: 21 December 2012
Published: 12 January 2013
Abstract
Background
Focal adhesions are integrin-based cell-matrix contacts that transduce and integrate mechanical and biochemical cues from the environment. They develop from smaller and more numerous focal complexes under the influence of mechanical force and are key elements for many physiological and disease-related processes, including wound healing and metastasis. More than 150 different proteins localize to focal adhesions and have been systematically classified in the adhesome project (http://www.adhesome.org). First RNAi-screens have been performed for focal adhesions and the effect of knockdown of many of these components on the number, size, shape and location of focal adhesions has been reported.
Results
We have developed a kinetic model for RNA interference of focal adhesions which represents some of its main elements: a spatially layered structure, signaling through the small GTPases Rac and Rho, and maturation from focal complexes to focal adhesions under force. The response to force is described by two complementary scenarios corresponding to slip and catch bond behavior, respectively. Using estimated and literature values for the model parameters, three time scales of the dynamics of RNAi-influenced focal adhesions are identified: a sub-minute time scale for the assembly of focal complexes, a sub-hour time scale for the maturation to focal adhesions, and a time scale of days that controls the siRNA-mediated knockdown. Our model shows bistability between states dominated by focal complexes and focal adhesions, respectively. Catch bonding strongly extends the range of stability of the state dominated by focal adhesions. A sensitivity analysis predicts that knockdown of focal adhesion components is more efficient for focal adhesions with slip bonds or if the system is in a state dominated by focal complexes. Knockdown of Rho leads to an increase of focal complexes.
Conclusions
The suggested model provides a kinetic description of the effect of RNA-interference of focal adhesions. Its predictions are in good agreement with known experimental results and can now guide the design of RNAi-experiments. In the future, it can be extended to include more components of the adhesome. It also could be extended by spatial aspects, for example by the differential activation of the Rac- and Rho-pathways in different parts of the cell.
Keywords
Cell-matrix adhesionFocal adhesionsRNA interferenceRac/Rho signaling pathwaysDynamic modelParameter estimationTimescalesBifurcation analysisSensitivity analysis
Background
Cells adhere to flat surfaces through focal adhesions, which are integrin-based contacts between the cell and the extracellular matrix[1–3]. Focal adhesions consist of more than 150 proteins with about 700 interactions[4, 5]. Collectively they are known as the adhesome[6]. These proteins have been systematically classified in the adhesome project, which is accessible at www.adhesome.org. Many of the identified molecules are related to signaling[7], including signaling through the small GTPases Rac and Rho to the actin cytoskeleton. While Rho controls focal adhesion assembly and the concomitant formation of contractile stress fibers in the actin cytoskeleton[8], Rac was identified to be foremost responsible for the polymerization of an actin lamellipodium at a protruding cell edge and thus for the formation of nascent adhesions and focal complexes which typically assemble behind the protruding edge[9]. The main isoforms are RhoA and Rac1. GTPases are further regulated by guanine exchange factors (GEFs) and GTPase-activating proteins (GAPs). For the whole Rho-family, more than 130 different GEFs and GAPs have been reported[10]. The pathways of Rac and Rho have been modeled before in different contexts, for example circular dorsal ruffles[11], stress fiber contraction[12], membrane protrusion[13] or stress fiber alignment[14]. Rac is mainly acting through WAVE and Arp2/3 to activate polymerization of actin into dendritic networks required for protrusion. Rho promotes actin polymerization via the formin mDia1 and at the same time promotes myosin II contractility through ROCK and MLCP[15]. In general it is believed that Rac and Rho mutually inhibit each other[16–18], although recent data indicates a more complicated situation depending on the detailed temporal and spatial coordination of Rac and Rho within the cell[19].
Focal adhesions are not only signaling hubs, they also provide the mechanical linkage between the extracellular matrix and the actin cytoskeleton. For this purpose, they contain a large range of different connector proteins, including talin, vinculin, paxillin, and
α
-actinin. The spatial structure of focal adhesions has been extensively studied with fluorescence microscopy[
20
,
21
], revealing a layered structure dictated by the interplay of flat substrate and plasma membrane. The integrin layer is anchored in the extracellular matrix and therefore relatively immobile. The actin layer moves from the cell periphery towards the cell center driven by actin polymerization at the leading edge and myosin II contractility closer to the cell body. The connector layer moves backwards with the actin cytoskeleton, albeit with a reduced speed due to the effective friction with the underlying integrin layer. Although a more detailed picture of the spatial organization is still missing, recent advances with cryoEM[
22
], iPALM[
23
,
24
] and dual objective STORM[
25
] provide increasing insight. A schematic sketch of the situation of interest is given in Figure
1
.

Focal adhesions are the result of a complex maturation process, which is strongly related to the overall spatial coordination in an adherent cell[26]. Nascent adhesions are thought to nucleate by integrin clustering underneath the lamellipodium, which is a relatively narrow region (1-3 μ m) at the cell periphery characterized by fast retrograde flow (≈25 nm/s) of rapidly polymerizing dendritic actin[27–29]. Towards the cell center, these nascent adhesions grow into focal complexes (FXs), which are sub-micron and typically round adhesions. Distal to the cell periphery, the lamellipodium gives way to the lamella, a relatively extended region characterized by more condensed actin structures, most prominently actin bundles contracted by myosin II motors[30]. Here the retrograde flow speed is reduced to ≈ 2 nm/s[28]. At the lamellipodium-lamella boundary, focal complexes either decay or become stabilized into mature focal adhesions (FAs)[31, 32], which are micron-sized adhesion contacts typically elongated in the direction of the cell body.
The maturation of FXs into FAs has been shown to depend on the presence of physical force[33–37]. It is also strongly related to changes in molecular composition, in particular the recruitment of connector proteins such as vinculin and paxillin[38]. The correlation between force and maturation can be measured experimentally using traction force microscopy[34, 39–41] and suggests that molecular checkpoints exist that ensure that FAs are only assembled if strong attachment is achieved. In 1978 Bell proposed that the rupture rate of a molecular bond under force is proportional to, where F is the force acting on this bond and F0 an internal force scale of the order of pico-Newtons[42]. Thus, a higher force leads to a shorter lifetime. Bonds that follow this law have been termed slip bonds. It was believed that in general receptor-ligands pairs are slip bonds, although it has been pointed out that theoretically bond dissociation might also decrease under force[43]. During the last decade, several such catch bonds have been identified[44–46]. Most importantly in our context, the integrin-fibronectin bond has been shown to behave as catch bond[47]. This molecular feature might has evolved as part of the stabilization response of matrix adhesions under force. Because matrix adhesions are expected to consist of a mixture of different types of bonds, the two extreme scenarios would be pure slip bond versus pure catch bond behavior. Depending on their exact molecular composition, it is conceivable that adhesion clusters in different cell types, under different culture conditions and at different times of the maturation process behave more like slip bond or more like catch bond systems.
Focal adhesions are not only important for cell adhesion, but also for cell migration, division, and fate. Being essential for cell migration, they are key elements for many physiological and disease-related processes, including wound healing[48] and metastasis[49]. Recently they have been argued to be essential also for development[50] and stem cell differentiation[51]. There is a large range of possible mechanosensitive processes being involved at focal adhesions, including stress-sensitive ion channels, force-induced opening of cryptic binding sites and large-scale reorganization of the adhesions. For a systems level understanding of focal adhesions, it is mandatory to develop systematic procedures to assess the role of the different adhesome components.
One technique capable of such a systems level approach is the systematic use of RNA-interference (RNAi)[52–54]. In recent years RNAi-screens have become a standard tool in systems biology, as it allows us to dissect complex processes such as migration[55], division[56, 57], or infection[58–60] in regard to the underlying molecular processes. The basic principle of RNAi is the following. Double stranded small interfering RNA (siRNA), which has a length of 21-23 nucleotides, is added to the cell using a variety of methods, for example by microinjection, electroporation or viral gene transfer[54]. During the following assembly of the RNA Induced Silencing Complex (RISC), the siRNA is separated into two strands, the guide strand and the passenger strand. The passenger strand is not needed any more and is degraded, whereas the guide strand is loaded onto the RISC complex. The siRNA-RISC complex then binds to the complementary target messenger RNA (mRNA). The bound target mRNA is degraded and released from the siRNA-RISC complex, which can then again bind other mRNA. The degraded mRNA can no longer be translated into proteins, and thus, the concentration of the protein is reduced in the cell. Until the maximum knockdown is achieved it typically takes 24-72 hours[61]. The stability of the knockdown depends mostly on the stability of the protein but also on factors like cell division rate or the degradation rate of the used siRNA. Therefore, the period of maximal knockdown can vary considerably.
First siRNA-screens have also been conducted for focal adhesions. In[62] numerous morphological features of cells and focal adhesions were analyzed and quantified for multiple siRNA. Here, it was suggested that several gene knockdowns caused similar effects and that many of the morphological features are strongly correlated. Recently a follow-up screen[63] highlighted the effect of specific knockdowns on the cell polarization response together with changes in focal adhesion formation and cell traction force. The authors suggest that both cell contractility and mechanosensing through focal adhesions are controlled by molecular checkpoints that regulate cell polarization.
In order to systematically and quantitatively understand the experimental results with their often counterintuitive relations, theoretical models for focal adhesions are required. In the literature several models for the force-mediated dynamics of focal adhesions have been proposed[32, 64–69]. However, very few models make a connection to the molecular composition as revealed by the adhesome project. The compositional aspects of focal adhesions are represented best by kinetic models with a sufficiently large number of species. Such a model is the clutch model by Macdonald et al.[70]. In that model the focal adhesion is reduced to a three component model modeling the layered structure of the focal adhesions, representing integrin, actin, and a connector molecule that might be identified with e.g. talin. The temporal maturation of FXs into FAs is represented by modeling a hierarchical assembly in which these components successively assemble into a larger complex, which finally gets activated by force. For our purpose, such an approach is ideal to be expanded to include the effect of RNAi. However, because the clutch model focuses on the assembly aspect of focal adhesions, for a more comprehensive approach it has to be extended to include also the effect of signaling at focal adhesions.
Different models have been suggested to model the effect of RNAi. A very global view has been introduced by Bartlett & Davis, who published a model that consists of twelve ordinary differential equations[71]. They give a detailed description of not only the mRNA concentration and the protein concentration, but also take into account phenomena like extracellular transport, cellular uptake, cell division, and the subsequent reduction in siRNA concentration. Parameters were taken from the literature or were estimated. Their model has been verified by comparing the model's results with a variety of in vitro data from the knockdown of luciferase. Apart from this global approach, several models have been suggested which focus on the core function of RNAi. Recently a systematic comparison of such model approaches has been conducted by Cuccato et al.[72]. They compared four of these coarse-grained models[73–75] with experiments conducted at human embryonic kidney cells. Fitting the models' parameters to the experimental data suggested that the model originally proposed by Khanin & Vinciotti[74] fits best. This model is a purely phenomenological one that is based on a standard Hill-type kinetic model. A special feature of this model is that it saturates for high siRNA concentrations, which reflects the experimental findings by Cuccato et al. The most probable explanation for this effect is that the RISC-complexes (and/or other RNAi-associated complexes) are saturated with siRNA[76].
Here we introduce a kinetic model based on the clutch model by Macdonald et al.[70] which allows us to address many of the central questions related to RNAi of focal adhesions. We extend the original model to also describe translation and degradation of proteins, signaling to the actin cytoskeleton, and the detailed effect of force. Our paper is structured as follows. We first explain the model in the Methods section. In the Results and discussion section we discuss the dynamics of the system and the effect of RNAi on focal adhesions. With an analysis of the system dynamics we highlight the three different time scales present in the system. We then discuss more specific applications and extensions of our model. Finally a sensitivity analysis of the model enables us to pinpoint the effects of different knockdowns. We end with a short conclusion and with an outlook to possible future extensions of our model, especially in regard to spatial organization.
Methods
Model definition
In Figure
2
we schematically depict the suggested model. The three main design principles have been implemented. First focal adhesions are assembled in a hierarchical way. The proteins are translated from the mRNA and afterwards form intermediate complexes in a first assembly step before a second step leads to focal complexes. Second focal adhesions mature under force, which is accounted for by introducing a species for focal complexes (ACI) and one for mature focal adhesions (ACI#). Third the regulation of the assembly of both focal adhesions and focal complexes by the Rac/Rho pathways and their mutual inhibition is included.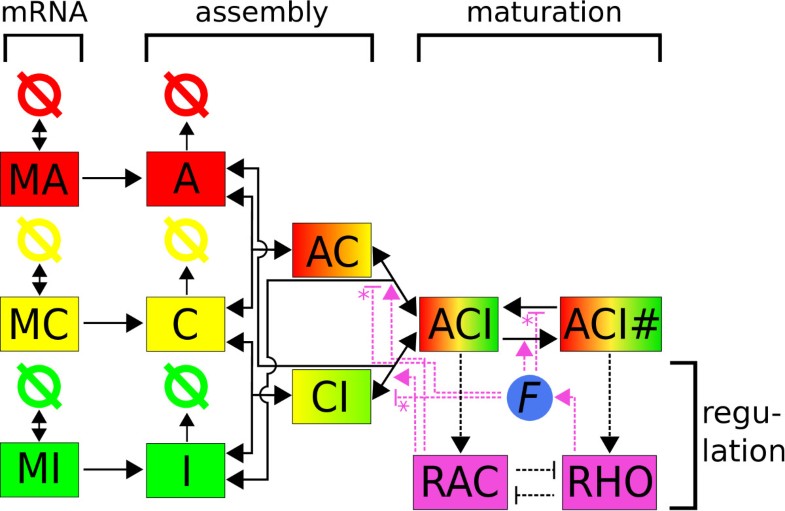 Mathematically this scheme corresponds to twelve ordinary differential equations that will be explained in detail below. Due to the use of ordinary differential equations, we have no explicit spatial resolution, however, our choice of species and reactions includes an implicit spatial assembly order (layer-like structure) and mirrors the spatial segregation of focal complexes and focal adhesions. Modeling spatial processes with ordinary differential equations has been used successfully before, mainly in the context of compartment models. Examples in the context of cell adhesion are the original clutch model for focal adhesions[70] and a model focussing on the effect of Rac and Rho on focal complexes and focal adhesions[14].
Each differential equation in our model describes the dynamic behavior of one species. These species are: MA - messenger RNA for actin, MC - messenger RNA for the so called connector complex, which represents all proteins that are located between actin and integrin in the focal adhesion (most prominently talin), MI - messenger RNA for integrin, A - actin, C - connector complex, I - integrin, AC - complex where the connector complex is bound to actin, CI - complex where the connector complex is bound to integrin, ACI - full complex (focal complex), ACI# - mature full complex (focal adhesion), RAC - active Rac concentration, RHO - active Rho concentration. Apart from the mRNA part and the Rac/Rho regulation steps, we use mass action kinetics throughout our model.
Initial conditions, parametrization and implementation
As will be reported in the results section, our model shows bistability between two states which are dominated by focal complexes and focal adhesions, respectively. Because these two states are stabilized by the Rac and Rho signaling parts, respectively, in the following we work with two sets of initial conditions (ICs) reflecting these two states. The Rac-IC has 1.0 for [ACI] and [RAC] while the Rho-IC has 1.0 for [ACI#] and [RHO]. If we include the RNA-part, [MA], [MC], and [MI] are initially set to 0.5. The initial concentrations of all other species will be set to zero.
For a complex kinetic model as presented here, it is difficult to completely explore parameter space and therefore the informed use of parameter values is crucial for model predictions. Macdonald et al. determined some of the parameter sets used in[
70
] based on a literature search. Afterwards these sets were sampled in steps of power of ten for each parameter to determine which of those parameter sets fit with experimental results[
20
,
21
]. In this way, a total of around 150 reasonable parameter sets was identified. Here we employ a slightly different strategy. First we have chosen three of these parameter sets by comparison with the experiments from[
20
], which suggested that in CHO cells the connector complex proteins are bound to actin about 30% of the measurement time. In our model, this corresponds to [ AC]/[ C
t
o
t
a
l
]= [ AC]/([ C]+[ AC]+[ CI]+[ ACI]+[ ACI
#
]) being around 0.3[
70
]. Checking for results in this order of magnitude, we arrived at the three parameter sets given in the appendix. In order to explore a larger part of parameter space, we then interpolated 300 data sets with a power law:
where q is a parameter that runs from 0 to 1, g1 is the value of a parameter from parameter set 1, and g2 is the value of the same parameter from set 2. g(q) is then the value of this parameter in an interpolated parameter set, determined by the value of q. Because the parameter sets from[70] did not result in the experimentally observed time scale for the dynamics of focal adhesion assembly (30-60 minutes according to[85]), we also modified the time scales of our reversible reactions (multiplication of both parameters with the same factor does not change the steady state).
All mRNA degradation rate constants were set to the same value for simplicity. Production and degradation rates were chosen as to achieve a typical concentration of 1. Protein translation rates were determined in a similar manner. Motivated by experimental observations, for the maximum degradation rate
d
we chose the value such that a final knockdown level of about 20% of the original mRNA concentration is achieved. A full siRNA mediated knockdown usually reaches its maximum efficiency after about 48 hours[
61
] and then keeps this low level for several days to weeks[
71
]. Thus, the time scale of the RNAi part of the model should be set to this time scale. Protein translation is a relatively fast process. In eukaryotic cells, translation of talin for example takes about 15-20 minutes at body temperature[
86
]. Thus, the knockdown time scale must be set by the additional degradation term caused by the siRNA presence. As explained above, there are many biological processes taking part in this knockdown which are not modeled in detail here, like siRNA-uptake or transport processes within the cell. We take care of this effect by introducing a hyperbolic time dependence for the siRNA-concentration:
The parameter rsiRNA is chosen such that the steady state is reached approximately two days after beginning of siRNA-treatment.
The parameters for the Rho and Rac activation processes are chosen to be 1 for βRAC, βRHO, KRAC, and KRHO, a choice that has been made before for Rac/Rho systems[87, 88]. The feedback gain ν is also set to 1. For the Hill coefficients we take γRAC = γRHO = 4 in order to achieve a sharp transition. In order to keep our model simple and reflecting the lack of information on the exact processes that lead to the activation of Rac and Rho at focal complexes and focal adhesions, we also set the remaining coupling parameters κRAC and κRAC to 1.
We used Mathematica (Wolfram Research Inc., Champaign, Il, USA, http://www.wolfram.com) to solve the system of twelve ordinary differential equations (ODE). The ODE system was numerically solved and the values for concentrations at t = 999999 were taken as steady state values. To ensure steady state, we compared with the values at t = 500000 and checked the summation theorem of the metabolic control analysis (see section Sensitivity analysis). All data plots were made with Mathematica.
Conclusions
In this paper we have presented a kinetic model to describe the effect of RNAi on focal adhesions. To this end we have combined model elements for siRNA mediated knockdown, focal adhesion assembly, force generation and regulation. We have successfully parametrized our model as to reproduce the three basic time scales relevant in this context, namely a sub-minute time scale for focal complex assembly, a sub-hour time scale for the adaptation of the focal adhesions to the changed environmental conditions, and a much longer time scale that is given by the time it takes the RNAi to be at its maximum level (roughly 48 hours).
Mechanical force plays different roles at focal adhesions. On the one hand, it physically disrupts focal adhesions, while on the other hand, it leads to a reinforcement effect. The second effect strongly depends on Rho-signaling. During recent years, it has been shown that stabilization of focal adhesions is also achieved by the peculiar property of some molecular bonds to become more stable under force (catch bonds). To explore the consequences of this feature, throughout the paper we have explored both a traditional slip bond model and a catch bond model. Our results strongly depend on these models, thus proving the importance of choosing the correct dissociation model under force.
Our first important result is that the system is bistable, with the two possible states differing in being either low or high in the amount of focal adhesions. Because these states are stabilized by the two positive feedback loops from the Rac- and Rho-pathways, we have called them Rac- and Rho-states. The typical initial conditions leading to these states are called Rac- and Rho-ICs. In general, the Rac-state is less stable and also more susceptible to RNA-interference. In contrast, the Rho-state is quite stable and also more robust in regard to RNA-interference, especially in the catch bond model. This main feature of our model is in line with the general view of the Rac-Rho-system leading to different and mutually exclusive cellular phenotypes[10].
A sensitivity analysis was used to systematically investigate the effect of RNAi over a large range of parameter sets. Independent of using Rac-IC versus Rho-IC or slip versus catch bond models, we found that a knockdown of integrins would be most efficient. However, because integrins are essential for proper cell function, it is more realistic to knock down the connector component, which we found to yield the second strongest effects on focal adhesions. We found that for Rho-IC in general the absolute concentration control coefficients were considerably smaller than for Rac-IC, especially in the catch bond case, in agreement with our earlier conclusion that the Rho-state is more stable than the Rac-state.
Our model now allows us to predict the effect of RNAi on focal adhesions, thus being a potentially very useful tool to guide corresponding experiments. For a given cellular system of interest, one first has to identify a parameter set for our model which best corresponds to the experimental system. Using explicit integration or the sensitivity analysis, one then could predict the most efficient strategy to knockdown specific features of the system, for example focal complexes or focal adhesions. Using the examples of Rho and calpain with its effects on talin and kindlin, we have shown how our model can be adjusted to more specific situations of interest.
One important aspect emerging from our model is the role of initial conditions. Bistability leads to the effect that the choice of initial conditions becomes important. Throughout this work we have therefore distinguished between Rac- and Rho-ICs. A practical consequence of this finding is that in experiments one has to differ between setups in which knockdown has been performed after or before the last plating step. Because spreading (like migration) corresponds to the Rac-state, while mature adhesion corresponds to the Rho-state, a knockdown during mature adhesion might have much less effect than a knockdown before replating after trypsination. In the future our model can be used to pursue this aspect further and to investigate whether there is a difference in the results between the two fundamentally different ways to implement a knockdown.
There are several limitations to our model which might be addressed in future work. In order to establish the appropriate conceptual basis for our system of interest, we have focused on three generic protein components, thus neglecting further known details of the complex composition of focal adhesions. In the future, the model could be complemented by more detailed models for the hierarchical structure of adhesion contacts, for example the interplay between integrins, talin, vinculin and the actin cytoskeleton. For actin, a more detailed modelling might introduce different species to account for its different functional contexts (monomeric in the cytoplasm, dendritic in the lamellipodium and bundled in the lamella). Then the model might also be extended by a more explicit model for actin polymerization, including species representing formins or Arp2/3.
Another major limitation is the restriction to a kinetic approach, assuming a well-mixed system. Although our model represents the layered nature of adhesions and the segregation into focal complexes and focal adhesions, it does not represent their complex spatial coordination. Our approach does not account for the number, spatial distribution, size or shape of the adhesion sites, but only makes statements on the average phenotype expected for different conditions, including knockdowns. Future work is required to include the spatial dimension, either by using partial differential equations or particle-based simulations. In the future, our approach might be combined with detailed spatial models for the localization, size, and shape of adhesion sites[101, 102].
To conclude, our work introduces a flexible modeling framework for cell-matrix adhesions which represents many of their biochemical and physical features as they are currently known. It is especially suited to study the effect of RNA-interference and makes specific predictions about its effectiveness. Thus, it is an ideal starting point to guide and analyze corresponding experiments.
Appendix
The basic parameter sets (PS) used in the model are listed in Table
1
.
Table 1
Basic parameter sets (PS) used in the model
Focal adhesion parameters

Parameter

PS1

PS2

PS3

Source

α A

10000

1000

10

[70], this paper

δ A

1

100

1

[70], this paper

α I

100

1000

100

[70], this paper

δ I

100

100

100

[70], this paper

α AC

0.1

0.01

100

[70], this paper

δ AC

10

10

10

[70], this paper

α CI

10

10000

0.01

[70], this paper

δ CI

100

10

100

[70], this paper

τ ACI

10

10

10

this paper

ε

0.001

0.001

0.001

this paper

χ

0.001

0.001

0.001

this paper

σ

1.0

1.0

1.0

this paper

RNAi parameters

Parameter

PS1

PS2

PS3

Source

k MA

17.3

17.3

17.3

this paper

k MC

17.3

17.3

17.3

this paper

k MI

17.3

17.3

17.3

this paper

d MA

17.3

17.3

17.3

this paper

d MC

17.3

17.3

17.3

this paper

d MI

17.3

17.3

17.3

this paper

k T,A

2.07681

0.735221

1.03706

this paper

k T,C

2.07437

0.0206286

1.03476

this paper

k T,I

2.59193

0.652918

2.08517

this paper

d A

10

10

10

this paper

d C

10

10

10

this paper

d I

10

10

10

this paper

d

60.0

60.0

60.0

this paper

[siRNA]MAX

1.0

1.0

1.0

this paper

r siRNA

10−4

10−4

10−4

this paper

Γ

0.1

0.1

0.1

this paper

h

4.5

4.5

4.5

[72]

Rac & Rho parameters

Parameter

PS1

PS2

PS3

Source

κ RAC

1.0

1.0

1.0

this paper

κ RHO

1.0

1.0

1.0

this paper

β RAC

1.0

1.0

1.0

[87, 88]

β RHO

1.0

1.0

1.0

[87, 88]

K RAC

1.0

1.0

1.0

[87, 88]

K RHO

1.0

1.0

1.0

[87, 88]

γ RAC

4

4

4

this paper

γ RHO

4

4

4

this paper

v

1.0

1.0

1.0

this paper

ρ RAC

1.0

1.0

1.0

this paper

ρ RHO

1.0

1.0

1.0

this paper
Abbreviations
FX:

Focal complex
FA:

Focal adhesion
RNAi:

RNA interference
A:

Actin
C:

Connector complex
I:

Integrin
AC:

Actin-connector complex
CI:

Connector-integrin complex
ACI:

Full complex
ACI#:

Mature full complex
Rac-IC:

Rac initial conditions (ACI(0)=Rac(0)=1, ACI#(0)=Rho(0)=0)
Rho-IC:

Rho initial conditions (ACI(0)=Rac(0)=0, ACI#(0)=Rho(0)=1)
Z:

Additional regulatory species
Declarations
Acknowledgements
This work was supported by the BMBF-program MechanoSys (grant number 0315501C). USS is a member of the Heidelberg cluster of excellence CellNetworks. We thank Holger Erfle and Vytaute Starkuviene for a critical reading of an early version of the manuscript and Benny Geiger for helpful discussions.
Authors' Affiliations
(1)
BioQuant, Heidelberg University, Heidelberg, Germany
(2)
Institute for Theoretical Physics, Heidelberg, Germany
Copyright
© Hoffmann and Schwarz; licensee BioMed Central Ltd. 2013
This article is published under license to BioMed Central Ltd. This is an Open Access article distributed under the terms of the Creative Commons Attribution License (http://creativecommons.org/licenses/by/2.0), which permits unrestricted use, distribution, and reproduction in any medium, provided the original work is properly cited.