Research article

Open Access
Post-translational regulation enables robust p53 regulation
BMC Systems Biology
2013
7:83
Received: 24 August 2012
Accepted: 23 August 2013
Published: 30 August 2013
Abstract
Background
The tumor suppressor protein p53 plays important roles in DNA damage repair, cell cycle arrest and apoptosis. Due to its critical functions, the level of p53 is tightly regulated by a negative feedback mechanism to increase its tolerance towards fluctuations and disturbances. Interestingly, the p53 level is controlled by post-translational regulation rather than transcriptional regulation in this feedback mechanism.
Results
We analyzed the dynamics of this feedback to understand whether post-translational regulation provides any advantages over transcriptional regulation in regard to disturbance rejection. When a disturbance happens, even though negative feedback reduces the steady-state error, it can cause a system to become less stable and transiently overshoots, which may erroneously trigger downstream reactions. Therefore, the system needs to balance the trade-off between steady-state and transient errors. Feedback control and adaptive estimation theories revealed that post-translational regulation achieves a better trade-off than transcriptional regulation, contributing to a more steady level of p53 under the influence of noise and disturbances. Furthermore, post-translational regulation enables cells to respond more promptly to stress conditions with consistent amplitude. However, for better disturbance rejection, the p53- Mdm2 negative feedback has to pay a price of higher stochastic noise.
Conclusions
Our analyses suggest that the p53-Mdm2 feedback favors regulatory mechanisms that provide the optimal trade-offs for dynamic control.
Keywords
Feedback control theoryp53-Mdm2 feedback loopRobustnessDisturbance rejection
Background
Gene networks are constantly subject to noise or fluctuations, which originate from variations in transcription, translation, and environmental conditions. The stochastic nature of gene networks has been the focus of many studies (reviewed in [1, 2]). There are at least three types of fluctuations that affect gene network dynamics: 1) intrinsic noise or fast fluctuations, 2) extrinsic noise or slow fluctuations, and 3) periodic DNA replication-dependent oscillations [3]. Intrinsic noise arises from the inherent randomness during transcription and translation, key processes for gene expression [4]. Extrinsic noise arises from the factors that universally affect the expression of all genes in a given cell, such as variations in the number of RNA polymerase, ribosome, etc. [1, 2]. The third type of fluctuation is due to periodic DNA replication in growing and dividing cells [3].
Nevertheless, gene networks are usually able to perform their regulatory functions under the influence of such disturbances [5], which provokes the question: How do they manage to achieve this remarkable robustness? In control theory, it is known that feedback, a situation in which two (or more) dynamical sub-systems are connected in a way that their dynamics are coupled, can make a system resilient towards disturbances [6, 7]. A well-known example of feedback in the context of gene networks is negative auto-regulation, in which a transcription factor represses the transcription of its own gene and reduces the effects of noise exerted on the transcription process [8–10].
Another example is the p53-Mdm2 negative feedback, in which p53 transcriptionally activates Mdm2, an E3 ubiquitin ligase, while Mdm2 targets p53 for degradation (Figure
1
A) [
11
]. As one of the most studied tumor suppressor proteins [
12
,
13
], p53 plays a key role in repairing DNA damage, arresting cell cycle and, when damage is beyond repair, activating apoptosis (programmed cell death) [
14
,
15
]. Therefore, it is important for the cell to regulate p53 robustly, because disturbances may trigger unwanted cell cycle arrest or apoptosis. We have previously shown that the p53-Mdm2 negative feedback can reject disturbances and improve robustness under normal (non-stressed) conditions [
16
]. Intuitively, the negative feedback tries to compensate for changes in the p53 level, so that the impact of any disturbances is offset or at least attenuated.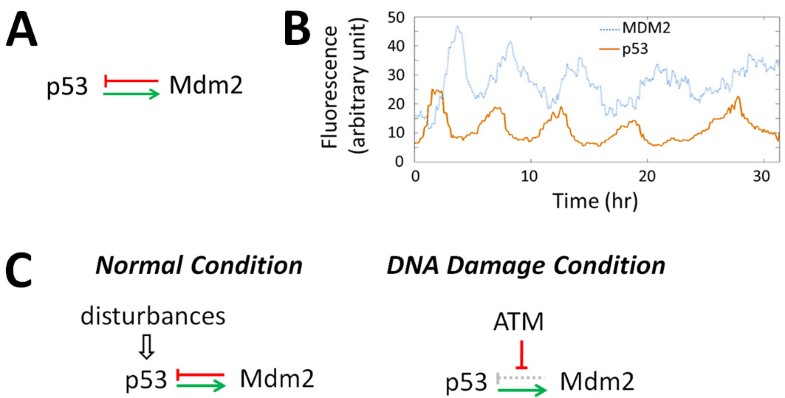 The feedback is suppressed to stop disturbance rejection during DNA-damage. Within minutes of exposure to DNA-damaging agents (UV, X-rays, etc.), the p53 protein level increases rapidly without any significant change in the p53 mRNA level, for p53 is stabilized and no longer degraded by Mdm2 at the normal rate [17, 18]. The suppression of the feedback and the stoppage of disturbance rejection allow external factors such as ATM to modulate p53 in response to stress [19, 20], which can result in pulses or sustained oscillation of p53 [21] (Figure 1B). Therefore, the feedback mechanism is adaptive – under normal conditions the feedback rejects disturbance to maintain a low steady level of p53 whereas upon DNA damage, the feedback is inactivated to allow pulses or oscillation [16] (Figure 1C).
Interestingly, even though the negative feedback is stronger in normal conditions to reject disturbances, it is well known that feedback can also cause instability, which leads to transient fluctuation (overshoot) and oscillation [7]. Both the strength and the delay of a negative feedback can contribute to instability. As previous measurements showed, the transcriptional regulation of Mdm2 by p53 has a noticeable delay [21] (Figure 1B). Therefore, to maintain a steady p53 level in normal conditions, the p53-Mdm2 feedback faces a dilemma: the stronger the feedback is to reject disturbances at the steady state, the more likely the feedback will become unstable and cause transient or sustained fluctuations. The feedback has to carefully balance the trade-off between steady-state and transient errors for disturbance rejection [22].
Does the p53-Mdm2 feedback adopt any strategy to optimize this trade-off? It is intriguing that in this negative feedback loop Mdm2 downregulates p53 through a post-translational mechanism (protein degradation), which is not as energy efficient as transcriptional repression because p53 is being produced and actively degraded simultaneously. However, post-translational regulation has distinct dynamic properties and is relatively faster than transcriptional regulation, so it is conceivable that post-translational regulations provides an advantage over transcriptional regulation in terms of the robustness-stability trade-off despite its less energy efficiency. To test this hypothesis, we used techniques from feedback control and adaptive estimation theories to analyze the p53-Mdm2 feedback loop.
Conclusions
In summary, our analyses indicate that cells maintain robust p53 levels and reject disturbances by simultaneously producing and degrading p53, even though this process is more energy intensive. Within the p53-Mdm2 negative feedback loop, post-translational suppression of p53 by Mdm2 achieves a better trade-off between steady-state and transient errors than transcriptional suppression, which potentially explains why the former has been experimentally observed in the cell. Furthermore, post-translational suppression enables p53 to respond faster to stress conditions with a more predictable level shift. Understanding these nuances allows us to appreciate the complexity of regulatory networks, which will potentially lead to better therapeutics.
Besides ubiquitination, p53 activity is also heavily regulated by phosphorylation and nucleocytoplasmic shuttling [32–35]. Interestingly, these post-translational processes provide similar beneficial tradeoff between steady-state errors and overshoot, while being faster and less energy intensive than protein degradation. It is probably not a coincidence then that p53 has multiple phosphorylation sites and is shuttled alongside Mdm2 between nucleus and cytoplasm. Therefore, protein degradation is only one of several post-translational mechanisms that enhance the robustness of the system.
Increasing degradation rather than reducing production might be a common strategy evolved by biological systems for robustness. For example, hematopoietic stem cells continuously go through apoptosis [36], which seems energy-inefficient and futile as the protein degradation we discussed. However, our analysis would suggest that regulating apoptosis rather than cell division may enable the stem cell population to become more robust to disturbances and respond faster to changes. The fact that biological systems employ mechanisms for robustness at many different levels raises an interesting question - how does robustness at each level contribute to the overall robustness of the whole system? Undoubtedly challenging, attempts to answer this question will help unravel the underlying design principles of complex biological systems.
Methods
Computational methods
Ordinary differential and difference equations were used for physics-based modeling of the p53-Mdm2 feedback loop (see Additional file 1 for the derivation of the p53-Mdm2 discrete-time model from underlying physics). Parameter ranges of the discrete-time model were estimated using the Normalized Least Mean Squares (NLMS) method detailed in Additional file 1. The experimental data [21] and MATLAB (Mathworks, USA) codes are provided as (Additional files 1, 2, 3, 4 and 5). Steady-state and transient error analysis was performed using Laplace and Z-domain analysis (see Additional file 1 for steady-state error analysis using the discrete-time model). The Monte Carlo method and MATLAB Robust Control Toolbox (Mathworks, USA) were used for the estimation-based robustness analysis (see Additional file 6).
Image extraction and fluorescence quantification
285 Image frames were extracted from the video file [21] and the fluorescence quantification of p53 and Mdm2 was carried out using the LabVIEW Vision Assistant 2010 (National Instruments, USA). We manually marked the location of each cell nucleus in each frame and 285 data points were obtained for each protein.
Declarations
Acknowledgements
This work was supported by National Institutes of Health grant R01GM95990 and National Science Foundation grants NSF 1137269, CCF-1011918 and CCF-0942936.
Authors' Affiliations
(1)
School of Electrical and Computer Engineering, Cornell University, Ithaca, USA
(2)
Department of Electrical Engineering, University of California, Los Angeles, USA
(3)
School of Mechanical and Aerospace Engineering, Cornell University, Ithaca, USA
Copyright
© Shin et al.; licensee BioMed Central Ltd. 2013
This article is published under license to BioMed Central Ltd. This is an Open Access article distributed under the terms of the Creative Commons Attribution License (http://creativecommons.org/licenses/by/2.0), which permits unrestricted use, distribution, and reproduction in any medium, provided the original work is properly cited.