Research article
Open Access
Essential operating principles for tumor spheroid growth
BMC Systems Biology
2008
2:110
Received: 15 July 2008
Accepted: 23 December 2008
Published: 23 December 2008
Abstract
Background
Our objective was to discover in silico axioms that are plausible representations of the operating principles realized during characteristic growth of EMT6/Ro mouse mammary tumor spheroids in culture. To reach that objective we engineered and iteratively falsified an agent-based analogue of EMT6 spheroid growth. EMT6 spheroids display consistent and predictable growth characteristics, implying that individual cell behaviors are tightly controlled and regulated. An approach to understanding how individual cell behaviors contribute to system behaviors is to discover a set of principles that enable abstract agents to exhibit closely analogous behaviors using only information available in an agent's immediate environment. We listed key attributes of EMT6 spheroid growth, which became our behavioral targets. Included were the development of a necrotic core surrounded by quiescent and proliferating cells, and growth data at two distinct levels of nutrient.
Results
We then created an analogue made up of quasi-autonomous software agents and an abstract environment in which they could operate. The system was designed so that upon execution it could mimic EMT6 cells forming spheroids in culture. Each agent used an identical set of axiomatic operating principles. In sequence, we used the list of targeted attributes to falsify and revise these axioms, until the analogue exhibited behaviors and attributes that were within prespecified ranges of those targeted, thereby achieving a level of validation.
Conclusion
The finalized analogue required nine axioms. We posit that the validated analogue's operating principles are reasonable representations of those utilized by EMT6/Ro cells during tumor spheroid development.
Keywords
Empty SpaceOperating PrincipleQuiescent CellTumor SpheroidHigh Nutrient Level
Background
Extensive study of EMT6/Ro (hereafter EMT6) multicellular tumor spheroids grown in culture has provided useful insight into important aspects of tumor growth and tumor cell culture models. The behaviors of EMT6 cells in culture fall reliably within narrow ranges, as if cell behavior and thus the underlying mechanisms are tightly choreographed. Those actions can be thought of as being constrained and guided by a set of genetically specified biological operating principles. Can we discover and attribute a small, robust set of operating principles that combine to create the system level phenomena that characterize EMT6 growth in vitro? How can we represent and challenge those operating principles? What organization of the subcellular molecular biology enables the operating principles to emerge, and be sustained at the cellular level? Before addressing the last question, we need answers to the first two, which has been the objective of this project.
An approach to understanding how individual cell behaviors can contribute to a diverse set of system level attributes is to discover a set of simple yet sufficient principles that enable abstract, cell mimetic agents, using only locally available information, to exhibit behaviors closely analogous to cells in culture. For this context, we define a biological operating principle to be an abstract, inferential representation of an action within a reliably behaved cell system. To discover these principles, we created a quasi-autonomous computer analogue comprised of individual cell mimetic agents (
CELLS
) that adhered to a common, small set of axiomatic operating principles. We use axiom as commonly defined [
1
] and to emphasize that the analogue, unlike EMT6 cells in cultures, is a formal mathematical system and its execution is a form of deduction from the axioms within the analogue. Hereafter, we use
AXIOM
to emphasize that we refer only to the computational analogue. An
AXIOM
specified a behavior that depended on the local environment perceived by the
CELL
, given its internal state. Individual
AXIOMS
were implementations of in silico, axiomatic operating principles. Each axiomatic operating principle was derived from a postulated
in vitro
counterpart as described in Methods. The combined actions of an expanding population of
CELLS
, each adhering to the same set of operating principles, were sufficient to produce unique systemic behaviors. The system underwent several rounds of iterative refinement and parameter tuning. When measured, the resulting behaviors provided a set of systemic attributes that matched observed
in vitro
attributes closely for two different growth conditions. Once that was achieved, we could postulate that the axiomatic operating principles may have
in vitro
counterparts, as illustrated in Fig.
1
. To date, such principles have been arrived at piecemeal by induction following experimentation. Experimental cell biology has been successful at discovering isolated cell level operating principles, but progress has been slow in providing a unified understanding of autonomous cellular behavior. We anticipated that iterative analogue refinement would lead to improved insight into cell level operating principles and plausible mappings to their biological counterparts. Even though the EMT6 cell line is tumor-derived, because it has proven stable and exhibits reliable behaviors, for the purposes of this research, we can treat EMT6 cells as being in a healthy, not diseased state.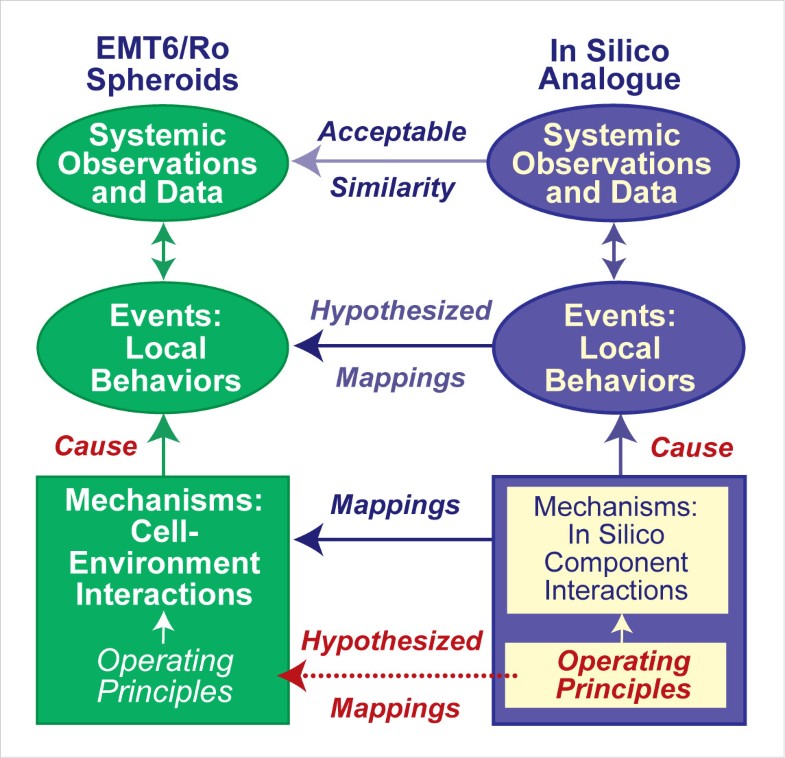 Efforts to model tumor spheroid growth characteristics (see [2], two recent reviews [3, 4], and references therein) have been extensive, informative, and successful. However, no one has proposed a cohesive set of cell level operating principles. Only recently has it become feasible to design and instantiate quasi-autonomous, cell mimetic analogues, [5–7] capable of exhibiting a rich phenotype of their own. The focus of most modeling and simulation efforts has not been in that direction. It has been primarily to provide precise, mostly mathematical descriptions of growth dynamics in terms of measured biochemical and physical factors combined with detailed descriptions of essential cell processes. The resulting models have been successful in explaining the time course and limits of spheroid growth in terms of nutrient depletion [8], increased acidity near the spheroid's center [9], and the dynamics of tumor spheroid metabolism [10]. Jiang et al. combined these features into a comprehensive model that separately considered each cell and spanned three levels of mechanistic resolution [2]. Other modeling efforts such as [11, 12] have used hybrid mathematical and individual based approaches that have shown initially promising qualitative results.
The objective of this project has been different: we aimed to discover a somewhat minimalist set of essential axiomatic operating principles that would enable the system level growth characteristics produced by
CELLS
to match a targeted set of tumor spheroid growth attributes, based on measures of similarity. Given that constraint, we identified nine axiomatic operating principles. To narrow the scope and to achieve one of the key targeted attributes, we insisted that
CELLS
only acquire and use information available locally. We designed the system so that systemic properties were a consequence of only local
CELL
interactions. We made it easy to revise
CELL AXIOMS
so that we could sequentially expand the set of targeted attributes achieved. The targeted attributes achieved (Table
1
) include those that are most characteristic of
in vitro
tumor spheroid growth: development of a stable size; a three-layered structure that maps to outer, proliferating cells and a core of inner, necrotic cells, with quiescent cells in between; the ability of cells to shed; and realistic growth curves under two different growth conditions. To achieve the targeted attributes, it was not necessary to simulate the release of growth inhibitory substances.
Table 1
Targeted attributes.
| Attribute | Description |
| --- | --- |
| 1 | Cells consume resources, change state, proliferate, lose adhesion, die, shed, and move. |
| 2 | Cells proliferate throughout the duration of growth of the EMT6 spheroid. |
| 3 | Cells behave autonomously and locally. |
| 4 | The EMT6 spheroid develops an inner necrotic core, a middle quiescent layer, and an outer proliferating layer. |
| 5 | The EMT6 spheroid initially grows exponentially, then linearly, and then stabilizes. |
| 6 | The EMT6 spheroid has different growth characteristics at different levels of nutrient. |
| 7 | Necrosis onset occurs when the EMT6 spheroid has an area of roughly 0.2 mm2 at high nutrient and 0.02 mm2 at low nutrient. |
| 8 | The viable rim has a width of roughly 240 μm at high nutrient and 60 μm at low nutrient. |
| 9 | The measured initial doubling times are roughly 22 hours at high nutrient and 26 hours at low nutrient. |
| 10 | The mean error percentage between EMT6 spheroid and SMS growth is within 15% at high and low nutrient levels. |
A cohesive set of operating principles (as distinct from isolated principles) can provide a framework into which more detailed, subcellular and molecular level information can be connected directly to system level phenotype. The plan was to work backward from a targeted set of in vitro observations of EMT6 cell and spheroid phenomena to a plausible set of analogue AXIOMS, which would be necessary and sufficient to generate in silico counterparts of the targeted phenomena. With that vision, this project has been motivated by three expectations: 1) Understanding hypothesized mechanisms in vitro would be facilitated by successfully building and studying analogous mechanisms in silico. 2) Achieving and refining validated analogues would offer a scientific, experimental approach to discovering and studying cohesive sets of operating principles. 3) Knowledge of axiomatic operating principles would facilitate exploration of their biological counterparts. This article reports on the design and implementation of the analogue, and the results of its execution.
Results
To distinguish clearly in silico components and processes from corresponding components and processes within EMT6, we use
SMALL CAPS
when referring to the former. Variable names are in
italics
, and each is defined in the order it is introduced. C
ELL
growth leads to formation of Simulated M
ULTICELLULAR
Spheroids (SMS). Measurements of SMS attributes during execution mimic characteristics of EMT6 spheroid growth. Figure
2
shows an example qualitative measurement of the SMS as a two dimensional cross-section. It shows that SMS displayed the characteristic layered structure of EMT6 spheroids. The
PROLIFERATING
layer appears thicker than is often seen in EMT6 spheroids, but note that while the majority of
CELLS
in the
VIABLE
rim are in the
PROLIFERATING
state, only the
CELLS
on the outer layer of the SMS are actively creating new
CELLS
. Figure
3
shows that SMS growth curves were similar to reported EMT6 spheroid growth curves when
CELLS
used the parameters listed in Table
2
and the nine axiomatic operating principles listed in Table
3
. A
XIOM
application was rigid in the sense that when a precondition was met, the appropriate
AXIOM
was always applied. A
XIOMS
7 and 9 were stochastic. During a simulation cycle, a
CELL
could subsequently apply more than one
AXIOM
, such as 1, 4, 7, and 9 for a
PROLIFERATING CELL
or 3 and 5 for a
NECROTIC CELL
.
Table 2
Parameter names, values, units and sources.
| Parameter | In silico value | In vitro value | Source |
| --- | --- | --- | --- |
| Proliferating NUTRIENT critical level (proNut) | 3.0 × 10-3 | 3.0 × 10-19 mol/μm3 | Tuned parameter |
| Quiescent NUTRIENT critical level (quiNut) | 8.0 × 10-4 | 8.0 × 10-20 mol/μm3 | Tuned parameter |
| Proliferating CELL'S NUTRIENT uptake (proConsumeRate) | 5.0 × 10-4/SEC | 5.0 × 10-17 mol/(cell s) | [17] |
| Quiescent CELL'S NUTRIENT uptake (quiConsumeRate) | 1.0 × 10-4/SEC | 1.0 × 10-17 mol/(cell s) | Tuned parameter |
| Delay before dead CELL is removed (removeDelay) | 3.6 × 104 SEC | 1.8 × 104 s | [35] |
| Movement bias (moveEmptyBias) | 1.0 | -- | Tuned parameter |
| Delay between CELL creation events (prolifDelay) | 800 SEC | 800 s | Tuned parameter |
| Proliferation bias (proBias) | 2.25 | -- | Tuned parameter |
| NUTRIENT diffusivity (diffusionRate) | 0.28* | 105 μm2/s | [17] |
| Initial NUTRIENT concentration (initialVal) | 0.165 or 0.008 | 16.5 mM or 0.8 mM | [27] |
| Time step | 1.0 SEC | 1.0 s | Calculated |
| CELL diameter | 1 grid space | 10 μm | [26] |
| Average cell cycle** | ~4.24 × 104 SEC | ~4.24 × 104 s | Calculated |
| Average time of removal after cell death** | 1.8 × 104 SEC | 1.8 × 104 s | Calculated |
| AXIOM | Environment | Action | Parameters used | In vitro source |
| --- | --- | --- | --- | --- |
| 1 | NUTRIENT > proNut | Switch to PROLIFERATING state | proNut | Cell quiescence is regulated by the glucose and oxygen supply [19]. |
| 2 | NUTRIENT <quiNut | Switch to NECROTIC state | quiNut | Cell death is regulated by the glucose and oxygen supply [19]. |
| 3 | quiNut <NUTRIENT <proNut | Switch to QUIESCENT state | proNut, quiNut | Cell quiescence is regulated by the glucose and oxygen supply [19]. |
| 4 | State = PROLIFERATING or QUIESCENT | Consume NUTRIENT equal to proConsumeRate or quiConsumeRate | proConsumeRate, quiConsumeRate | Cells consume oxygen and glucose at varied levels [17]. |
| 5 | State = NECROTIC; removeCounter < 0 | Remove CELL | removeDelay | Necrotic cells eventually break up and are consumed [35]. |
| 6 | Inside CELL adjacent to empty space | Move into empty space | | Cells move and mix with other cells within the spheroid [18]. |
| 7 | Outside CELL adjacent to empty space | Move into empty space with prob. pm | moveEmptyBias | Cells move and mix with other cells within the spheroid [18]. |
| 8 | Outside CELL with 0 neighbors | Randomly move in space | | Cells can be shed from the exterior of the spheroid [21]. |
| 9 | State = PROLIFERATING; prolifCounter < 0; CELL has empty neighbors | Create new CELL with prob. pb | prolifDelay, proBias | Cells create new cells within the SMS, causing it to increase in size [19]. |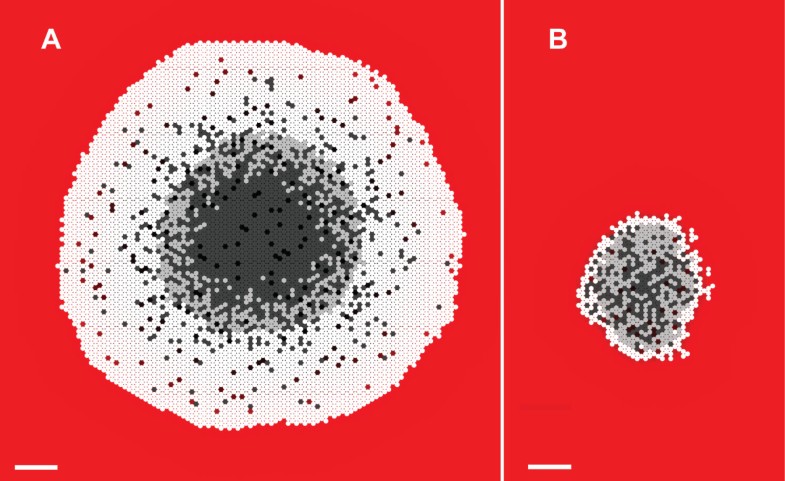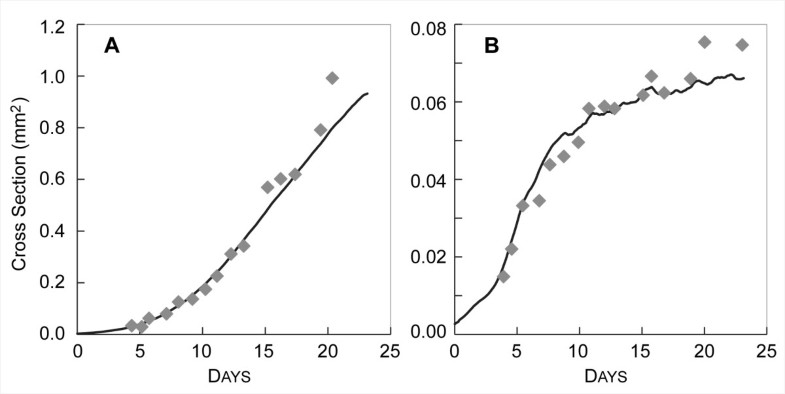 Discussion
SMS events and mechanisms were not intended to be exact replicas of the actual physical or chemical events ongoing in vitro during EMT6 spheroid growth. Nor were predictions of specific events part of the intended SMS use. Rather, the intent behind our method has been, given a set of EMT6 spheroid attributes, to discover SMS computational mechanisms that might map logically and intuitively to in vitro counterparts. This has been accomplished by exploring the inverse map from phenomena to mechanism. The primary functional unit of an SMS – a CELL – does map 1:1 to an EMT6 cell. Because an EMT6 cell is autonomous, we designed SMS CELLS to be quasi-autonomous. SMS CELLS currently have no internal components. As atomic software objects, they needed operating principles to function. Most of the principles that cause an EMT6 cell to act in a particular way when faced with specific circumstances in culture were unknown. Consequently, we needed to discover and implement operating principles that each SMS would use, evaluate those mechanisms through simulation and observation, and modify them based on the results. Following [5, 7], CELL operating principles were formulated as AXIOMS. Their specifications were tightly guided by available knowledge of EMT6 behaviors in culture [17–20]. By iteratively following the diagram in Fig. 1, we narrowed and refined early candidate AXIOMS to nine. These AXIOMS were refined further so that measures of SMS growth characteristics would match prespecified, iteratively expanded, targeted sets of EMT6 spheroid growth characteristics according to specific similarity measures. Having achieved that objective, we suggest that the resulting SMS operating principles (Table 3) can stand as an abstract representation of EMT6 operating principles under comparable growth conditions. We posit that the larger the targeted set of EMT6 attributes satisfactorily matched, the more realistic the mapping between SMS and EMT6 operating principles.
It is significant that within a simulation cycle one CELL can apply more than one AXIOM. This reflects the complexity inherent in even the simplest interpretation of a biological system. The amount of nutrients or growth factors in the environment, for example, can be independent of whether a cell is surrounded by other cells or isolated.
Use of AXIOM 8 in combination with the others resulted in an extreme degree of contact inhibition: CELLS that were surrounded by other CELLS did not create new CELLS. That was a purposeful simplification. Nevertheless, the targeted attributes were achieved. The evidence indicates that some cell proliferation does occur throughout EMT6 spheroids [14], but that the frequency decreases dramatically with distance from the surface. If those observations were to be added to the list of targeted attributes, it would falsify the current SMS. Validation against that expanded attribute set would require increasing SMS complexity, possibly revising, as well as extending the list of AXIOMS. Relative to the current SMS, the fraction of CELL creation events occurring at the surface would be reduced and counterbalanced by division events occurring elsewhere. Because SMS components are quasi-autonomous, when the current set of targeted attributes is expanded one at a time, it is relatively straightforward to revise an SMS to match each new, expanded set. We achieved the targeted attributes using an SMS CELL that exists in three states. When the attribute list is expanded (even to include pathological attributes of drug treatments), it is straightforward to add new CELL states that possess different axiomatic operating principles.
The current set of abstract, axiomatic operating principles is believed to be the source of the discrepancy between in silico and in vitro growth at high NUTRIENT (Fig. 3). The SMS can be parameterized so that simulated growth more closely matches the higher NUTRIENT data (not shown), but at the expense of achieving a much poorer match to the low NUTRIENT data. Note that the differences in growth properties at low and high concentrations of oxygen and glucose are more extreme for the referent data than is seen with other available sets of growth data, such as the data used by [2]. Achieving a tighter match would require adding more detail.
Whereas Freyer and Sutherland described the inhibitory actions of a tumor extract on proliferating cells [19], they did not separate the components to identify the source of inhibition. LaRue et al. [14] observed cyclin-dependent kinase inhibitors that are associated with cell-cycle arrest, but they did not demonstrate a causative role. Researchers have speculated that a factor in spheroid growth stabilization may be cell inhibition caused by some material being released from necrotic cells [14, 19]. We did not include such an attribute among those targeted, in part because it had not been confirmed. Nevertheless, the current SMS successfully produced stable spheroids without the production and action of such a factor, effectively establishing that one is not required for growth stabilization at biologically realistic SMS parameter settings. Of course, we cannot conclude from this in silico evidence that a necrotic inhibitor is absent in vitro. It is instead evidence that EMT6 spheroid growth stabilization need not require the presence of such an inhibitor. It is also useful to contrast the modeling approach used here with that used by [21, 22]. Longo et al., having achieved some degree of satisfaction about the mechanisms implemented, focused on replication and prediction of referent results from particular AXIOMS in an exploration of the forward map from generator to phenomenon. Our approach focused on discovering appropriate AXIOMS, such as the need for a potential inhibitor or a particular arrangement of neighboring components, and which were necessary and/or sufficient. We relied on falsification to select from the plausible generators.
CELLS that experienced a high STRESS were likely to move to reduce STRESS, while CELLS experiencing low STRESS were likely to proliferate and create more CELLS. As shown in Fig. 5, some large SMS destabilized during long-term growth. We determined that this behavior was caused by the probabilistic, local nature of the STRESS based movement and proliferation algorithms. At small SMS sizes, all deviations from the minimum-STRESS, convex curvatures are corrected by the movement and proliferation algorithms within a small number of simulation cycles. For much larger sizes, however, local curvature can be within the variability of the STRESS algorithm, yet the shape that emerges can be non-circular and irregular. That is because all AXIOM preconditions used only local information. When SMS are very large, the surface adjacent to every surface CELL can be relatively flat (the CELLS are experiencing low STRESS), yet the overall SMS can be non-circular. If needed, the effect could be minimized in several ways, all of which would require increasing SMS complexity. The simplest for the current SMS design would be to enable sharing information about each CELL'S current STRESS with a larger cluster of neighbors.
Although other models have not explicitly controlled spheroid shape, they have nevertheless done so implicitly. For example, by placing an adhesion term in their models, Schaller et al. and Jiang et al. caused CELLS to cling together, thus minimizing surface irregularities [2, 6]. In fact, Schallar et al. noticed differences in overall shape when they used different values for the adhesion parameter. Anderson et al. found that changing the EXTRACELLULAR MATRIX structure in a simulated model of tumor invasion produced dramatic differences in tumor morphology [23]. Our analogue did not initially contain a mechanism to control SMS shape, but we found that the analogue could not mimic the targeted attributes without one. Although the SMS did not explicitly define and implement cellular adhesion like [2, 6], stress based movement and proliferation produced a similar effect.
Conclusion
We presented an idea: under the conditions of EMT6 spheroid growth in culture, molecular cell biology manifests at the cell level in what can described as a small set of operating principles that are responsible for the characteristic in vitro phenotypic attributes. We anticipated needing to identify and understand the operating principles in order to better understand how specific, detailed subcellular events may be linked to attributes of systemic EMT6 spheroid growth. Our method and approach are diagrammed in Fig. 1. We designed, refined, and tuned quasi-autonomous software components that, upon execution, formed abstract SMS analogues. We showed that measures of SMS behaviors during simulated growth were similar to available wet-lab data using a quantitative similarity measure. We submit that SMS mechanisms, with emphasis on the explicit AXIOMS, may stand as a plausible, abstract hypothesis for what was observed during those EMT6 spheroid growth experiments.
A future challenge will be to build a parallel system in which each (or some) atomic CELL component and its operating principles are replaced with a composite CELL object containing a set of interacting components intended to map to modular components within EMT6 cells. During INTRACELLULAR interaction, specific internal components would each use a portion of the same local environment information to act on other internal components such that actions are essentially identical to the current SMS events. The resulting growth characteristics would be indistinguishable from those described herein. The two systems could be iteratively advanced in parallel as new information and data were added to the set of targeted attributes. Using cross-model validation in that way is expected to provide a systematic strategy to answer the third of the three questions posed in the Introduction. What organization of modular and molecular biological details enables operating principles to emerge, and be sustained at the cell level?
Declarations
Acknowledgements
We thank Teddy Lam, Sunwoo Park, Sean HJ Kim, Li Yan, Jonathan Tang, and Shahab Sheikh-Bahaei for useful discussion and for providing valuable feedback. Virginia Platt's assistance and support was invaluable for the completion of this research. We also thank Roberto Chignola and James Freyer for assistance in answering queries regarding tumor spheroid biology. Previous SMS versions were presented at the 2007 International Conference on Computer Applications in Industry and Engineering (CAINE 2007), San Francisco, CA, November 7–9, 2007 and the 2007 International Conference on Complexity in Acute Illness (ICCAI), Long Beach, CA, October 5–7, 2007. This work was supported in part by a Fellowship to JAE provided by the CDH Research Foundation.
Authors' Affiliations
(1)
UCSF/UC Berkeley Joint Graduate Group in Bioengineering, University of California, San Francisco, USA
(2)
The Department of Bioengineering and Therapeutic Sciences, University of California, San Francisco, USA
References
Webster's Third New International Dictionary, Unabridged. 2002, Springfield, MA: Merriam-WebsterGoogle Scholar
Jiang Y, Pjesivac-Grbovic J, Cantrell C, Freyer J: A multiscale model for avascular tumor growth. Biophys J. 2005, 89: 3884-3894. 10.1529/biophysj.105.060640PubMed CentralView ArticlePubMedGoogle Scholar
Roose T, Chapman SJ, Maini PK: Mathematical models of avascular cancer. SIAM Review. 2007, 49: 179-208. 10.1137/S0036144504446291.View ArticleGoogle Scholar
Araujo RP, McElwain DLS: A history of the study of solid tumour growth: the contribution of mathematical modelling. Bull Math Biol. 2004, 66: 1039-1091. 10.1016/j.bulm.2003.11.002View ArticlePubMedGoogle Scholar
Grant MR, Mostov KE, Tlsty TD, Hunt CA: Simulating properties of in vitro epithelial cell morphogenesis. PLoS Comput Biol. 2006, 2 (10): e129- 10.1371/journal.pcbi.0020129PubMed CentralView ArticlePubMedGoogle Scholar
Schaller G, Meyer-Hermann M: Multicellular tumor spheroid in an off-lattice Voronoi-Delaunay cell model. Phys Rev E Stat Nonlin Soft Matter Phys. 2005, 71: 051910-View ArticlePubMedGoogle Scholar
Tang J, Ley K, Hunt CA: Dynamics of in silico leukocyte rolling, activation, and adhesion. BMC Systems Biology. 2007, 1: 14- 10.1186/1752-0509-1-14PubMed CentralView ArticlePubMedGoogle Scholar
Burton AC: Rate of growth of solid tumours as a problem of diffusion. Growth. 1966, 30: 157-176.PubMedGoogle Scholar
Casciari JJ, Sotirchos SV, Sutherland RM: Mathematical modelling of microenvironment and growth in EMT6/Ro multicellular tumour spheroids. Cell Prolif. 1992, 25: 1-22. 10.1111/j.1365-2184.1992.tb01433.xView ArticlePubMedGoogle Scholar
Chignola R, Milotti E: A phenomenological approach to the simulation of metabolism and proliferation dynamics of large tumour cell populations. Phys Biol. 2005, 2: 8-22. 10.1088/1478-3967/2/1/002View ArticlePubMedGoogle Scholar
Kim Y, Stolarska M, Othmer HG: A hybrid model for tumor spheroid growth in vitro I: theoretical development and early results. Math Models Methods Appl Sci. 2007, 17: 1773-1798. 10.1142/S0218202507002479.View ArticleGoogle Scholar
Galle J, Loeffler M, Drasdo D: Modeling the effect of deregulated proliferation and apoptosis on the growth dynamics of epithelial cell populations in vitro. Biophys J. 2005, 88: 62-75. 10.1529/biophysj.104.041459PubMed CentralView ArticlePubMedGoogle Scholar
Freyer JP, Sutherland RM: Regulation of growth saturation and development of necrosis in EMT6/Ro multicellular spheroids by the glucose and oxygen supply. Cancer Res. 1986, 46: 3504-3512.PubMedGoogle Scholar
LaRue KEA, Khalil M, Freyer JP: Microenvironmental regulation of proliferation in multicellular spheroids is mediated through differential expression of cyclin-dependent kinase inhibitors. Cancer Res. 2004, 64: 1621-1631. 10.1158/0008-5472.CAN-2902-2View ArticlePubMedGoogle Scholar
Gompertz B: On the Nature of the Function Expressive of the Law of Human Mortality, and on a New Mode of Determining the Value of Life Contingencies. Philosophical Transactions of the Royal Society of London. 1825, 115: 513-583. 10.1098/rstl.1825.0026.View ArticleGoogle Scholar
Chignola R, Schenetti A, Andrighetto G, Chiesa E, Foroni R, Sartoris S, Tridente G, Liberati D: Forecasting the growth of multicell tumour spheroids: implications for the dynamic growth of solid tumours. Cell Prolif. 2000, 33: 219-229. 10.1046/j.1365-2184.2000.00174.xView ArticlePubMedGoogle Scholar
Casciari JJ, Sotirchos SV, Sutherland RM: Variations in tumor cell growth rates and metabolism with oxygen concentration, glucose concentration, and extracellular pH. J Cell Physiol. 1992, 151: V386-394. 10.1002/jcp.1041510220.View ArticleGoogle Scholar
Dorie MJ, Kallman RF, Rapachhietta DF, Van Antwerp D, Huang YR: Migration and internalization of cells and polystyrene microspheres in tumor cell spheroids. Exp Cell Res. 1982, 141: 201-209. 10.1016/0014-4827(82)90082-9View ArticlePubMedGoogle Scholar
Freyer JP: Role of necrosis in regulating the growth saturation of multicellular spheroids. Cancer Res. 1988, 48: 2432-2439.PubMedGoogle Scholar
Landry J, Freyer JP, Sutherland RM: Shedding of mitotic cells from the surface of multicell spheroids during growth. J Cell Physiol. 1981, 106: 23-32. 10.1002/jcp.1041060104View ArticlePubMedGoogle Scholar
Longo D, Peirce SM, Skalak TC, Davidson L, Marsden M, Dzamba B, DeSimone DW: Multicellular computer simulation of morphogenesis: blastocoel roof thinning and matrix assembly in Xenopus laevis. Dev Biol. 2004, 271: 210-222. 10.1016/j.ydbio.2004.03.021View ArticlePubMedGoogle Scholar
Delsanto PP, Condat CA, Pugno N, Gliozzi AS, Griffa M: A multilevel approach to cancer growth modeling. J Theor Biol. 2008, 250: 16-24. 10.1016/j.jtbi.2007.09.023View ArticlePubMedGoogle Scholar
Anderson ARA, Weaver AM, Cummings PT, Quaranta V: Tumor morphology and phenotypic evolution driven by selective pressure from the microenvironment. Cell. 2006, 127: 905-915. 10.1016/j.cell.2006.09.042View ArticlePubMedGoogle Scholar
Sutherland RM, Durand RE: Radiation response of multicell spheroids – an in vitro tumour model. Curr Top Radiat Res Q. 1976, 11: 87-139.PubMedGoogle Scholar
Freyer JP, Sutherland RM: Selective dissociation and characterization of cells from different regions of multicell tumor spheroids. Cancer Res. 1980, 40: 3956-3965.PubMedGoogle Scholar
Freyer JP, Sutherland RM: A reduction in the in situ rates of oxygen and glucose consumption of cells in EMT6/Ro spheroids during growth. J Cell Physiol. 1985, 124: 516-524. 10.1002/jcp.1041240323View ArticlePubMedGoogle Scholar
Freyer JP, Sutherland RM: Proliferative and clonogenic heterogeneity of cells from EMT6/Ro multicellular spheroids induced by the glucose and oxygen supply. Cancer Res. 1986, 46: 3513-3520.PubMedGoogle Scholar
Leaf C: Why we're losing the war on cancer (and how to win it). Fortune. 2004, 149: 76-82. 84–6, 88PubMedGoogle Scholar
Wartenberg M, Acker H: Quantitative recording of vitality patterns in living multicellular spheroids by confocal microscopy. Micron. 1995, 26: 395-404. 10.1016/0968-4328(95)00009-7View ArticlePubMedGoogle Scholar
Luke S, Balan GC, Panait LA, Paus S: MASON: a Java multiagent simulation library. Proceedings of Agent. Edited by: Sallach DL, Macal C. 2003, 49-64. http://cs.gmu.edu/~eclab/projects/mason/papers/Agent2003Presentation.pdfGoogle Scholar
Fisher J, Henzinger TA: Executable cell biology. Nat Biotech. 2007, 25: 1239-1249. 10.1038/nbt1356.View ArticleGoogle Scholar
Hunt CA, Ropella GEP, Park S, Engelberg JA: Dichotomies between computational and mathematical models. Nat Biotech. 2008, 26: 737-738. 10.1038/nbt0708-737.View ArticleGoogle Scholar
Christley S, Alber MS, Newman SA: Patterns of mesenchymal condensation in a multiscale, discrete stochastic model. PLoS Comp Biol. 2007, 3 (4): e76-10.1371/journal.pcbi.0030076.View ArticleGoogle Scholar
Yan L, Ropella GEP, Park S, Roberts MS, Hunt CA: Modeling and simulation of hepatic drug disposition using a physiologically based, multi-agent in silico liver. Pharm Res. 2008, 25: 1023-1036. 10.1007/s11095-007-9494-yView ArticlePubMedGoogle Scholar
Harris LK, Keogh RJ, Wareing M, Baker PN, Cartwright JE, Aplin JD, Whitley GSJ: Invasive trophoblasts stimulate vascular smooth muscle cell apoptosis by a fas ligand-dependent mechanism. Am J Pathol. 2006, 169: 1863-1874. 10.2353/ajpath.2006.060265PubMed CentralView ArticlePubMedGoogle Scholar
Walker DC, Southgate J, Hill G, Holcombe M, Hose DR, Wood SM, Neil SM, Smallwood RH: The epitheliome: agent-based modelling of the social behaviour of cells. Biosystems. 2004, 76: 89-100. 10.1016/j.biosystems.2004.05.025View ArticlePubMedGoogle Scholar
Ermentrout GB, Edelstein-Keshet L: Cellular automata approaches to biological modeling. J Theor Biol. 1993, 160: 97-133. 10.1006/jtbi.1993.1007View ArticlePubMedGoogle Scholar
Dormann S, Deutsch A: Modeling of self-organized avascular tumor growth with a hybrid cellular automaton. In Silico Biol. 2002, 2: 393-406.PubMedGoogle Scholar
Rejniak KA: A single-cell approach in modeling the dynamics of tumor microregions. Math Biosc Eng. 2005, 2: 643-655.View ArticleGoogle Scholar
Witten TA, Sander LM: Diffusion-limited aggregation, a kinetic critical phenomenon. Phys Rev Lett. 1981, 47: 1400-1403. 10.1103/PhysRevLett.47.1400.View ArticleGoogle Scholar
Engelberg JA, Hunt CA: A local mechanism generates saturation in an in silico model of in vitro multicellular tumor spheroid growth. J Crit Care. 2007, 22: 331-10.1016/j.jcrc.2007.10.002.View ArticleGoogle Scholar
Copyright
© Engelberg et al; licensee BioMed Central Ltd. 2008
This article is published under license to BioMed Central Ltd. This is an Open Access article distributed under the terms of the Creative Commons Attribution License (http://creativecommons.org/licenses/by/2.0), which permits unrestricted use, distribution, and reproduction in any medium, provided the original work is properly cited.