Research article
Open Access
Systems approach to investigating host-pathogen interactions in infections with the biothreat agent Francisella. Constraints-based model of Francisella tularensis
BMC Systems Biology
2010
4:118
Received: 6 November 2009
Accepted: 23 August 2010
Published: 23 August 2010
Abstract
Background
Francisella tularensis is a prototypic example of a pathogen for which few experimental datasets exist, but for which copious high-throughout data are becoming available because of its re-emerging significance as biothreat agent. The virulence of Francisella tularensis depends on its growth capabilities within a defined environmental niche of the host cell.
Results
We reconstructed the metabolism of Francisella as a stoichiometric matrix. This systems biology approach demonstrated that changes in carbohydrate utilization and amino acid metabolism play a pivotal role in growth, acid resistance, and energy homeostasis during infection with Francisella. We also show how varying the expression of certain metabolic genes in different environments efficiently controls the metabolic capacity of F. tularensis. Selective gene-expression analysis showed modulation of sugar catabolism by switching from oxidative metabolism (TCA cycle) in the initial stages of infection to fatty acid oxidation and gluconeogenesis later on. Computational analysis with constraints derived from experimental data revealed a limited set of metabolic genes that are operational during infection.
Conclusions
This integrated systems approach provides an important tool to understand the pathogenesis of an ill-characterized biothreat agent and to identify potential novel drug targets when rapid target identification is required should such microbes be intentionally released or become epidemic.
Keywords
Metabolic NetworkPentose Phosphate PathwayAICARFlux Balance AnalysisRobustness Analysis
Background
Emerging or re-emerging infectious agents are rarely subject of extensive preceding experimental investigations by sheer implication of their definition, as they would, for example, exist for model pathogens such as Salmonella. Even when their potential for global pandemics or for being used as biothreat agents is recognized, in-depth data cannot be easily generated in a timely fashion. While high-throughput data such as full genome sequences, microarray gene expression profiles, or proteomic data can be obtained quite efficiently for the pathogen in question, the context for proper interpretation of such data is often missing. One such case is represented by Francisella tularensis, the causative agent of tularemia [1]. This pathogen is highly infectious and can cause fatal systemic disease after inhalation of as little as 10 organisms. This extremely low infectious dose, ease of transmission via the aerosol route, and previous attempts to weaponize this microbe have led to its recognition as a biothreat agent [2]. Extensive research over the last years in the field of tularemia after the full potential of Francisella had been recognized has been focused on vaccine development, virulence factors, and whole genomic sequencing of Francisella isolates. There are few data sets for the physiological characterization of this bacterium during infection. Its central metabolic pathways still remain largely uncharacterized. However, growth of Francisella within macrophages or other potential host cells depends on its ability to utilize available nutrients and exploit this niche by presumably having to adjust its metabolism [1]. This is critical for the success of Francisella as an intracellular pathogen. At the same time, critical bacterial metabolic pathways represent the most likely targets for novel antibacterial strategies. In this setting computational systems biology approaches may facilitate the integration of high-throughput data, exclude redundant possibilities, and suggest novel hypotheses.
Constraints-based systems analysis after reconstruction of genome scale metabolic networks has emerged as a suitable tool for such tasks [3]. This type of reconstruction allows the evaluation of metabolic networks through flux balance and variability analysis, in silico gene deletion analysis, robustness analysis, and the successive application of other suitable constraints. Such analysis has already been implemented for organisms from all the three classes (archae, bacteria and eukaryotes) including E. coli [4], Salmonella [5], Haemophilus [6], Saccharomyces [7], and Leishmania [8]. For these organisms, large traditional and high-throughput experimental datasets were available. Here we employ this approach for Francisella tularensis with the goal of providing a framework for the integration of existing high-throughput data that might be used for interrogating pathogenesis and for identifying novel antibacterial targets.
Discussion
Metabolism of the pathogen during infection of its host is one of the most fundamental aspects of the host-pathogen relationship. Emphasis on mechanisms and survival strategies aimed at evading the immune responses of the host often ignore that the host cell determines the habitat for the pathogen by limiting concentrations of certain nutrients and other essential metabolic factors. The pathogenicity of F. tularensis has been linked to the ability of the pathogen to escape from the phagosome and replicate in the cytosol [46]. Little is known about central metabolic, amino acid, fatty acid, and nucleotide pathways used by F. tularensis during infection. This is the first comprehensive study that uses a systems biology approach to define the metabolic capacity of an experimentally ill-characterized pathogen, F. tularensis, in multiple environments including the macrophage cell. In this study we designed an in silico strain i RS605 of Francisella tularensis LVS and used it to probe the functional state of the cell.
Francisella represents a pathogen with limited experimental datasets and has recently garnered increased attention because of its potential as a biothreat agent. Our systems approach presented here illustrates how constraints-based computational analysis can be used under these circumstances in an efficient way to provide an analysis of the pathogen's metabolic potential during infection and provide a framework for integration of high-throughput datasets. Such an approach is an important testing ground when novel therapeutics or vaccines have to be developed for an emerging pathogen for which initially only high-throughput data such as genomic and transcriptomic data are available.
Francisella has a reduced genome although about a quarter of its genome codes for metabolic functions. Only the penultimate or final steps of many metabolic pathways, such as those of amino acid biosynthesis, are maintained in the pathogen. It has a broad range of host specificity, which suggests that its metabolism is specifically tailored to exploit conserved eukaryotic metabolic niches. Thus there may have been a certain selection pressure during the evolution of Francisella to select or preserve enzymes with a broader specificity and subsequently reduce genome size and still be an inimitable intracellular pathogen. This is supported by flux balance analysis of i RS605, which demonstrates very stringent growth requirements, and by in silico gene deletion analysis, which predicts a high number of 105 condition-independent single essential genes.
Experimental single gene deletion assays have become a principal established tool for studying cell behaviour [5, 47, 18]. Such experiments, however, are not trivial for class A biothreat agents or for uncharacterized novel pathogens, for which genetic tools and suitable screening assays are not readily available. At the same time, gene deletion data are essential for understanding pathogenesis and, more importantly, for identifying potential targets for antibacterial intervention. Our studies here demonstrate how a genome-scale metabolic reconstruction can very efficiently generate a list of lethal single gene deletions using appropriate constraints. The distribution of essential genes into functional categories shows that most belong to amino acid (22%) and nucleotide (21%) metabolism. The other functional categories that feature in this list include fatty acid/lipid metabolism (12%), cell wall synthesis (19%), cofactor biosynthesis (18%), and extracellular transporters (4%). Only 4% of genes involved in carbohydrate metabolism (all part of the reductive pentose phosphate pathway branch) were identified as essential for the survival of Francisella. The significance of amino acid metabolism is also supported by our experimental data that demonstrate that all amino acids in Chamberlain media are consumed in the presence of a carbon source. Asparagine, tryptophan and glutamine synthase genes are essential probably because only their precursors are available to Francisella in the host cell. Amino acid decarboxylases may coordinate pH homeostasis along with their corresponding antiporter. Nucleotide metabolism genes are indeed critical to the survival of the pathogen with PRPP being supplied by the pentose phosphate pathway. The production of several intermediates in purine and pyrimidine synthesis is essential and suggests a role as substrates for other networked pathways. Interconversion of nucleotide kinases is important since all the four nucleotide kinases are predicted to be essential. Several fatty acid genes are also essential and suggest the use of fatty acids as gluconeogenic substrates. Combined with limited validation by transcriptomic profiling as presented in this study this approach can thus generate testable hypotheses. These will have to be validated by further experimentation, but our approach significantly reduces the possible solution space. We have also illustrated this approach by highlighting how the in silico analysis of pH homeostasis affects the metabolism and subsequently growth of Francisella, which correlates well with observed experimental results.
In silico
analysis of iRS605 can be used to identify nodes in metabolic networks that act as potential controllers of overall metabolism. One such example is AICAR. The adenylyosuccinate lyase gene that catalyzes its formation, is a condition independent lethal gene, essential for survival. Robustness analysis showed that flux through the adenylosuccinate lyase and AICAR formyltransferase genes need to be in equilibrium for optimum growth (production and consumption of AICAR must be at steady state). AICAR is a known allosteric regulator of several enzymes in carbohydrate and amino acid metabolic pathways [
48
]. AICAR is also known to stimulate beta-oxidation and drive the equilibrium of FBP towards gluconeogenesis. Fatty acid utilization for gluconeogenesis during infection is also supported by increased AICAR synthesis, which is known to stimulate beta-oxidation. mRNA transcript data in Chamberlain media supplemented with glycerol and glucose also suggest an accumulation of AICAR as a regulator of fructose bis phosphatase
(fbp)
gene in
Francisella
. Thus, the predicted accumulation of AICAR in the macrophage suggests a role as a potential master regulator during infection. Such hypotheses are not readily intuitive and further demonstrate the usefulness of a systems biology approach (Figure
7
).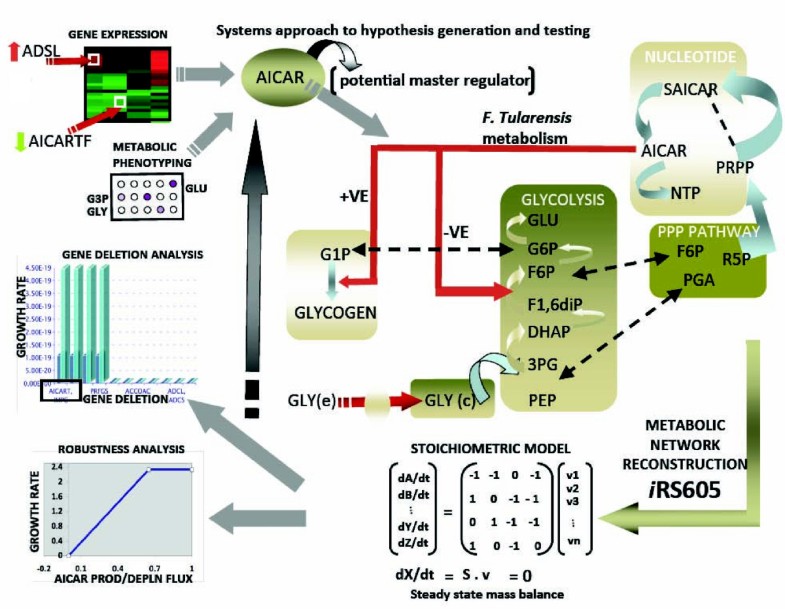 Our in silico analysis was able to demonstrate that Francisella undergoes changes of its metabolism when it enters its host. Flux variability analysis determines all possible alternate routes for growth of a bacterium that are necessary under specific conditions. i RS605 would thus be able to achieve this objective with a smaller reactome in nutrient rich conditions than in a minimal medium in silico. The common reactome of Francisella during infection and during growth on Chamberlain medium with glucose (Additional file 1 [S5]) is comprised of genes required for growth and macromolecule formation including nucleotides and fatty acids. The microbe tends to utilize preferentially specific amino acids for energy and fatty acids as gluconeogenic substrates rather than relying on carbohydrate sources like glucose and fructose during infection. These predictions have been validated by selective quantitative gene expression profiling as discussed earlier. The significance of these findings remains to be further elucidated, especially in conjunction with further research as to what particular metabolic niche the host provides and how it might deal with intracellular pathogens by restricting the availability of certain nutrients. Previous metabolic analysis of the model pathogen Salmonella [5], which displays greater variability of its metabolic pathways during intracellular growth, revealed alternate functional pathways that are operational during infection. Models and data for both organisms, however, demonstrate a robust limited set of reactions required for intracellular proliferation. Thus, a systems biology approach as presented here reduces the possible solution space for novel antibacterial targets.
Constraints-based modeling approaches have now been used for a variety of prokaryotic and eukaryotic organisms, but usually for those with a significant body of experimental data. In most of these cases the modeling efforts could predict experimental findings with some accuracy and correlated with prevailing hypotheses about pathogenesis. In Mycobacterium tuberculosis constraints-based modeling was also used to predict potential targets for antibacterial therapy in the mycolic acid pathways, which has always been the main attention of antituberculous research [49]. The challenge in pathogens which have not been extensively studied but which may gain rapid notoriety due to intentional release into the population or due to sudden unanticipated epidemic spread, is the rapid identification of Achilles heels that can be exploited for intervention. Our studies here demonstrate that constraints-based modeling might significantly aid such efforts.
Conclusions
We have presented here the reconstruction of a genome-scale metabolic model for the biothreat agent Francisella tularensis (i RS605). This model has been validated by legacy data, experimental phenotypic arrays, selective determination of metabolites, and growth profiles on defined minimal media. We demonstrated an accuracy of almost 80% in predicting growth and virulence phenotypes.
Analysis of the model showed significant changes of metabolism during Francisella's intracellular growth in its host cell, the macrophage. This was evident in a switch from oxidative metabolism (TCA cycle) in the initial stages of infection to glycolysis, fatty acid oxidation, and gluconeogenesis during the later stages. Computational analysis also demonstrated a limited set of metabolic genes that are likely to be operational during infection. These findings were corroborated by quantitative gene-expression profiling of selected genes that code for key metabolic enzymes. Prediction of synthetic lethals also identified a set of potential drug targets.
We have thus demonstrated how such an integrated systems approach can be used for pathogens with limited extended datasets to elucidate key metabolic processes during pathogenesis and identify potential novel drug targets.
Methods
Metabolic Reconstruction
Reconstruction and model development of the metabolic network followed established methods [5, 3]. The reconstruction process and the contents of the i RS605 are summarized in Additional file 1 [S1]. The reconstruction process was done using SimPheny™ (Genomatica, Inc., San Diego, CA), a platform for cellular model development, which includes an interface for references, annotation, and confidence levels of annotation. The sequence based genome annotation of F. tularensis subsp. holarctica ( GenBank Accesion AM233362.1) was downloaded and served as the framework for the initial draft of reconstruction. Charge and elementally balanced reactions were added individually based on this annotation and legacy data when available. Biohealthbase and FranTCyc were used as ancillary tools. Following the initial reconstruction, the gaps were evaluated individually by searching for direct evidence in the literature for their metabolism. Due to the relative paucity of literature for F. tularensis, many of these gaps could not be filled. Legacy data in the form of primary articles, review articles, and textbooks were employed in addition to the database resources during the reconstruction and model building phases. If an annotation was made to an ORF that supplemented the annotation found in the genome file or that led to additional functional assignments, this was noted in the reaction database for the model in Simpheny. Also, high sequence homology of an ORF in the LVS strain, compared to genes in other species of francisella with strong experimental evidence were included in the model. A comprehensive map of i RS605 metabolic network was visualized by creating a map of the network organized by lumped subsystems of metabolism. After the debugging process, when the cell could grow (i.e. produce biomass) on different media, the remaining intracellular gaps were evaluated by searching the literature for evidence of metabolic reactions involving that particular metabolite in different species of the bacterium. If no evidence of transport or biochemical transformations of the metabolite in F. tularensis was found, no additional reactions or transporters were added.
Biomass Composition and Reaction
A reaction that represents biomass production is included in the model to account for the drain of precursors and macromolecular building blocks into biomass. Biomass was represented as a linear combination of all the macromolecular components (lipid, glycogen, lipopolysaccharide, and peptidoglycan) or monomers of macromolecules (amino acids and nucleotides). Amino acid and fatty acid composition were experimentally measured (data not shown) using standard methods [5]. The relative fatty acid composition was used to specify the average fatty acid content on the phospholipds and diacylglyerol. F. tularensis data from the literature was then used to determine the amount of lipids (and their phospholipid composition), lipopolysaccharide, peptidoglycan, and glycogen. The stoichiometric ratios of all the components in biomass are given in the non-gene associated reaction in Additional Files.
The growth associated ATP maintenance was calculated using data from Figure 4 and Flux Balance Analaysis (FBA). The measured fluxes were set as constraints and FBA was used to calculate the maximal amount of ATP that could be generated. The resulting ATP production reflects the amount required for growth and maintenance, additional to the ATP required for precursor biosynthesis. When the maximal ATP production rate is plotted against growth rate, the intercept gives the maintenance coefficient (in mmol h-1 gDW-1: 95), and the slope gives the amount of ATP (in mmol gDW-1) required for assembly. The high ATP value is indicative of less energetically efficient pathway usage. The model will always use the reactions that give the highest P/O ratio. If the organism uses instead, a less energetic enzyme systems, then the ATP terms would be lower because of a forced lower P/O ratio. This is similar to organisms like Lactobacillus and Shewanella species (Jennifer Reed, unpublished results). The biomass reaction thus represents the weighted combination of components forming the dry weight of the cell and the amount of ATP hydrolysis, needed for energy during growth and cellular maintenance as discussed.
Constraint-based modeling
The reconstructed metabolic network was represented by a stoichiometric matrix, S (m × n), where m is the number of metabolites and n is the number of reactions. Reactions within the network were mass balanced such that Sv = 0, where v was a steady-state flux vector. Additional constraints (like media composition, gene expression data) on each reaction had the form i vi ßi, where i and ßi represented the lower and upper limits, respectively. i was set to zero for irreversible reactions, whereas ßi was set to measured uptake rates for transport reactions or the Vmax of the corresponding enzymes.
The biomass reaction thus represents the weighted combination of components forming the dry weight of the cell and the amount of ATP hydrolysis, needed for energy during growth and cellular maintenance as discussed elsewhere.
Flux Balance Analysis
Fluxes through metabolic reactions across the network can be calculated using flux balance analysis (FBA). With FBA, the biological system is assumed to be at steady-state so that all intracellular metabolite concentrations and fluxes are assumed to be constant. The steady-state assumption makes it possible to compare the simulation results directly to data obtained from cells growing at a fixed growth rate. FBA is formulated as an optimization problem, where constraints are imposed that limit flux values (steady-state mass balance constraints and upper and lower bounds for fluxes based on thermodynamics and substrate uptake constraints). These constraints define the range of values that fluxes can take. An objective function is also used to compare flux distributions (v) that satisfy all the constraints in order to find optimal flux distributions. Flux through the biomass production reaction has successfully been used as an objective function for E. coli (along with other objective functions) [50] and was also used for FBA performed in this study. Thus, FBA predicts an optimal growth yield and a flux distribution(s), which correspond to this maximal growth yield. Alternate optimal solutions exist, and flux variability analysis was additionally used to identify the ranges individual fluxes can take while still achieving the maximal growth yield. Reaction flux, is measured in mmol/h/g (dry weight), and the growth rate was reported in units of 1/h. Ammonia exchange fluxes were estimated using flux balance analysis. The effect of various other parameters on ammonium flux was calculated using robustness analysis. The objective of the model (in silico cell) was growth and the constraints were set to represent the environmental conditions and the flux through the ammonium exchange reaction was calculated using linear optimization at steady state.
Robustness Analysis
Robustness analysis is performed by varying a particular flux through a pre-defined range and recalculating the objective function. The slope of the curve describes the sensitivity of the objective function on that particular flux (over the specified range of values). The flux through several reactions in the metabolic network was varied and the growth rate was calculated.
In silico constraints and media composition
Two different environments were used to provide constraints for simulations: (i) Chamberlain minimal medium (contains 13 amino acids in addition to salts, phosphate, sulfate, ammonium minerals) with a variable carbon source [11]; (ii) host-cell nutrient environment (representing nutrient conditions inside a host-cell during infection). While the host-cell nutrient environment was difficult to ascertain, it was based on an extensive literature review to identify a possible composition [5]. Details of all simulated media conditions are provided in Additional file 1 [S3]. Additional file 1 [S1] shows how media composition is represented as exchange fluxes to use as constraints in the model. For simulation of aerobic growth, the following external metabolites were allowed to freely enter and leave the network: phosphate, ammonium, sulfate, water, oxygen, and proton. All metabolites that were not media components (potential products) were only allowed to leave the system.
Growth and Infection Experiments
F. tularensis LVS strain was used for all experiments. LVS was grown in Chamberlain media. Chamberlain media was supplemented with 4 mg/ml of the following sugars: glucose, glycerol, fructose, arabinose, ribose, and xylose. All in vitro growth experiments were done in an incubator shaker at 37°C and 150 rpm. Samples were withdrawn every 2 hours and the optical density (OD) measured. OD was correlated to dry weight using a previously determined calibration curve (y = 0.74 ×). Samples were further syringe filtered and centrifuged in order to obtain supernatants for HPLC analysis. Infection of the macrophage-like cell line RAW264.7 was performed as described previously [51].
HPLC Analysis
Organic acid and sugar analysis was done using an ion exchange Aminex 87H+ column (Biorad). A 5 mM Sulfuric acid mobile phase at a flow rate of 0.5 ml/min at 65°C was used for separation. Both UV and RI (refractive index) detector were employed. Small molecules were quantified using previously determined calibration curves.
Amino acid analysis was performed using a Waters AccQTag column. Samples were derivatized using the kit and the protocol recommended to form a 6-aminoquinolyl-N-hydroxysuccinimidyl carbamate derivative of the amino acid. The derivatized amino acids were then separated and detected using the C18 reverse phase AccQ-Tag column, with a flow rate of 1 ml/min at 37°C using a 12.5 mM sodium phosphate: Acetonitrile mobile phase with a previously published gradient profile. UV detection was employed and the amino acids were quantified using previously determined calibration curves.
Metabolic phenotyping
Metabolic profiling was performed using GN2 plates. (Biolog, Inc). Protocols provided by the manufacturer were followed. For experiments determining the effect of growth state on metabolic phenotype, Francisella was harvested at different growth phases. Early exponential phase was defined in Francisella by an optical density (OD) of 0.32 AU, while ODs of 0.45 AU and 1.2 AU defined mid logarithmic and stationary phase cells.
Quantitative Gene expression using GeXP™
Infection of the macrophage like cell line (RAW246.7) was carried out as described [51]. RNA was purified from harvested bacterial cells using the protocol from RNeasy Kit (QIAGEN) and quantitated using UV detection at 260 nm and 280 nm. The GenomeLab™ GeXP Genetic Analysis System (Beckman) was used for quantitative gene expression analysis of the selected metabolic transcriptome of F. tularensis. GeXP employs eXpress Profiling (XP-PCR), a patented technology for multiplex gene expression profiling analysis by which up to 30 genes can be easily multiplexed in the same reaction. We used a protocol that comes with GeXP Reagent kits that involved five basic steps: 1) Primer design; 2) cDNAsynthesis; 3) PCR; 4) Separation on the GenomeLab GeXP Genetic Analysis System; 5) Fragment Analysis and Expression Profiling. The data was then analyzed using the GeXP analysis proprietary software (Beckman, Inc.), Excel (Microsoft, Inc.) and Matlab (Mathworks, Inc.). Primers were designed using proprietary software provided by Beckman (Additional file 1 [S7]).
Declarations
Acknowledgements
We thank Avellino Texiera for valuable suggestions on amino acid analysis using HPLC. We also thank Jennifer Reed for comments on biomass composition and other insights during the metabolic reconstruction process. This research was in part funded by TMTI0049_09_RD_T.
Authors' Affiliations
(1)
Department of Medicine, Mount Sinai School of Medicine, New York, USA
(2)
National Chemical Laboratory, Pune, India
Copyright
© Raghunathan et al; licensee BioMed Central Ltd. 2010
This article is published under license to BioMed Central Ltd. This is an Open Access article distributed under the terms of the Creative Commons Attribution License (http://creativecommons.org/licenses/by/2.0), which permits unrestricted use, distribution, and reproduction in any medium, provided the original work is properly cited.