Research article

Open Access
Systems biology approach to identify transcriptome reprogramming and candidate microRNA targets during the progression of polycystic kidney disease
BMC Systems Biology
2011
5:56
Received: 13 January 2011
Accepted: 25 April 2011
Published: 25 April 2011
Abstract
Background
Autosomal dominant polycystic kidney disease (ADPKD) is characterized by cyst formation throughout the kidney parenchyma. It is caused by mutations in either of two genes, PKD1 and PKD2. Mice that lack functional Pkd1 (Pkd1 -/- ), develop rapidly progressive cystic disease during embryogenesis, and serve as a model to study human ADPKD. Genome wide transcriptome reprogramming and the possible roles of micro-RNAs (miRNAs) that affect the initiation and progression of cyst formation in the Pkd1 -/- have yet to be studied. miRNAs are small, regulatory non-coding RNAs, implicated in a wide spectrum of biological processes. Their expression levels are altered in several diseases including kidney cancer, diabetic nephropathy and PKD.
Results
We examined the molecular pathways that modulate renal cyst formation and growth in the Pkd1 -/- model by performing global gene-expression profiling in embryonic kidneys at days 14.5 and 17.5. Gene Ontology and gene set enrichment analysis were used to identify overrepresented signaling pathways in Pkd1 -/- kidneys. We found dysregulation of developmental, metabolic, and signaling pathways (e.g. Wnt, calcium, TGF-β and MAPK) in Pkd1 -/- kidneys. Using a comparative transcriptomics approach, we determined similarities and differences with human ADPKD: ~50% overlap at the pathway level among the mis-regulated pathways was observed. By using computational approaches (TargetScan, miRanda, microT and miRDB), we then predicted miRNAs that were suggested to target the differentially expressed mRNAs. Differential expressions of 9 candidate miRNAs, miRs-10a, -30a-5p, -96, -126-5p, -182, -200a, -204, -429 and -488, and 16 genes were confirmed by qPCR. In addition, 14 candidate miRNA:mRNA reciprocal interactions were predicted. Several of the highly regulated genes and pathways were predicted as targets of miRNAs.
Conclusions
We have described global transcriptional reprogramming during the progression of PKD in the Pkd1 -/- model. We propose a model for the cascade of signaling events involved in cyst formation and growth. Our results suggest that several miRNAs may be involved in regulating signaling pathways in ADPKD. We further describe novel putative miRNA:mRNA signatures in ADPKD, which will provide additional insights into the pathogenesis of this common genetic disease in humans.
Keywords
Gene Ontology
Cyst Formation
Autosomal Dominant Polycystic Kidney Disease
Cystic Kidney
GPCR Signaling
Background
Autosomal dominant polycystic kidney disease (ADPKD) is characterized by fluid-filled cysts that are thought to result from abnormal cell proliferation and deregulated apoptosis, increased secretion of fluids into the tubular lumen, irregular cell-matrix interactions, and defective cellular polarity [1, 2]. Thus, normal parenchyma is replaced by a cystic epithelium and fibrotic tissue [3]. Genetic mutations in PKD1 (encoding polycystin 1; PC-1) are responsible for majority of cases of ADPKD, the remainder are due to loss of PKD2 (encoding polycystin 2; PC-2). Loss of PC-1 or PC2 expression results in disruption of intracellular Ca2+ levels, which may lead to abnormal proliferation of tubule epithelial cells [4–7]. Additionally, the involvement of PC-1 in various pathways related to proliferation, such as G-protein signaling, Wnt signaling, AP-1, and cell cycle arrest has been reported [8–12]. However, the manner in which these diverse pathways are integrated into cellular circuitry and regulated during progression of ADPKD is not well studied.
MicroRNAs (miRNAs) are small endogenous non-protein encoding RNAs that post-transcriptionally modulate gene expression by binding to the 3'UTR of target mRNAs [13]. They are involved in many biological processes including cell differentiation, cell proliferation, cell mobility and apoptosis [14] and are associated with many diseases including cancer, hypertension, diabetes, and kidney dysfunction [15]. For example, Kato et al reported a role for miR-192 in diabetic nephropathy [16]. Also, over-expression of the miR-17-92 cluster may play a role in renal cell carcinoma [17]. Further, the importance of miRNAs that are expressed in kidney is supported by mouse knockout studies [18–21]. For example, eliminating Dicer, a key enzyme in miRNA biogenesis, from podocytes, a cell type required for the formation of the size exclusion barrier in the glomerulus, results in progressive loss of podocyte function [20, 21]. Some studies have also suggested a role for miRNAs in ADPKD [22–24].
The Pkd1 -/- mouse model develops cystic disease caused by mutation of the same gene responsible for the majority of human ADPKD, and provides a system to study the pathogenesis of ADPKD [25]. However, a systematic, large-scale study, elucidating global changes in gene expression during disease progression in the Pkd1 -/- mouse model has yet to be reported. Using the Pkd1 -/- model to study the pathogenesis of ADPKD offers the ability to compare gene expression in pre-diseased and diseased kidneys. In the current investigation, we (1) use the Pkd1 -/- model to explore the transcriptional changes that occur in ADPKD on a whole genome scale, (2) undertake a comparative transcriptomics approach to determine similarities and differences with human ADPKD, and (3) investigate whether these changes might be related to changes in miRNA expression. We systemically predicted the possible miRNAs that may be associated with the changes in mRNA expression levels during disease progression that were determined by gene expression microarray analysis. We predicted miRNAs that could target signaling pathways in ADPKD. Our results suggest that several miRNAs may be involved in regulating the genetic switches in ADPKD. We further describe several miRNAs and putative miRNA-mRNA signatures, which were previously not reported in ADPKD.
Discussion
In the current investigation, we have attempted to uncover the gene expression signatures associated with the initiation and progression of ADPKD, to decipher the signal transduction pathways associated with these changes in gene expression, and to explore the potential role of miRNAs in effecting these gene expression and signal transduction differences between normal and PKD kidneys. We used a combinatorial approach involving microarrays, data mining and prediction of target miRNAs to profile changes in gene expression during progression of ADPKD, integrate various signaling pathways and present a possible cellular signaling circuitry in PKD (Figure
10
). In parallel to the mRNA expression profiling, we also determined the changes in expression of several miRNAs that were computationally identified for their probable roles in ADPKD, thus allowing us to predict several miRNA-mRNA reciprocal interactions. By comparing our datasets with those available for human ADPKD, we found common mis-regulated pathways in the developmental and signaling pathways. Identification of commonly regulated pathways and genes between mice and humans is essential for designing effective therapeutics, as these genes/pathways would be targets for pharmacological intervention in humans with PKD.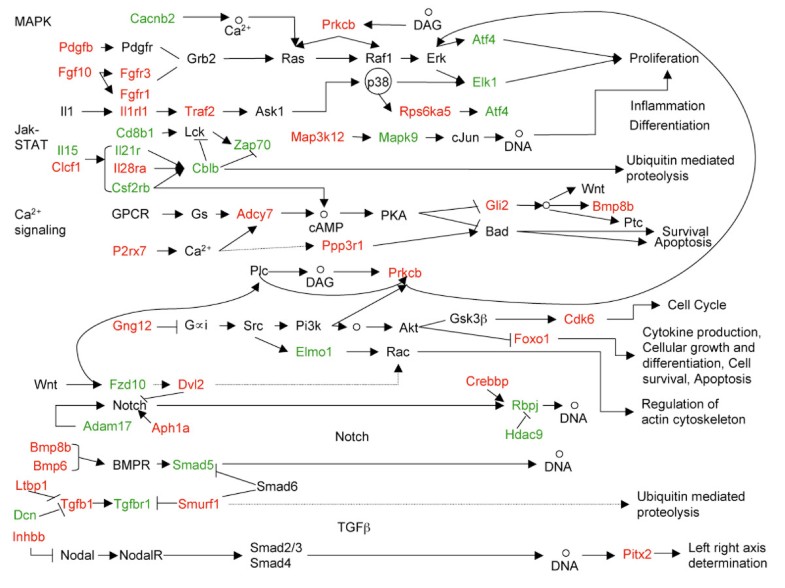 Conclusion
We have attempted to reveal the molecular players of PKD in a Pkd1 -/- mouse model. Taken together, our study suggests the presence of complex layers of regulation in ADPKD. Our microarray data revealed genes that specifically changed during disease condition. Further we identified genes related to pre-cystic stages and cyst progression. Our model suggests a cascade of signaling events involving up-regulation of canonical- and down-regulation of non-canonical- Wnt signaling that may result in decreased intracellular Ca2+ concentration, resulting in an increase of intracellular cAMP levels that in turn stimulates MAPK/ERK signaling leading to proliferation, followed by increased Jak-STAT signaling and inflammation (Figure 10), ultimately leading to renal failure. Further, we determined gene expression signatures common between the Pkd1 -/- mouse model and human ADPKD. These could be used as prognostic markers of disease progression in PKD. Moreover, we add various new components including Alg6, Hdac9 and several miRNAs to the regulatory layers of ADPKD. We predicted that several of the differentially regulated genes are miRNA targets and miRs-10a, -30a-5p, -96, -126-5p, -182, -200a, -204, -429, and -488 may be important players in cellular signalling events leading to PKD. Furthermore, it is interesting to note that these miRNAs have not been previously reported in PKD. It has been proposed that a single miRNA can target more than hundred genes and one gene can be the target of several miRNAs [69, 70]. A future challenge will be to systemically identify all of the miRNAs affecting, and regulated by, the dysregulated cell signalling pathways in ADPKD. Extensive functional analyses of these miRNAs and their target genes by performing knockout and over-expression studies, individually and in combination, are likely to open up new avenues for PKD research.
Declarations
Acknowledgements
This work was supported by a National Institutes of Health/National Institutes of Diabetes and Digestive and Kidney Diseases grant to JAK. Drs. Pandey and Kreidberg acknowledge the support from P50 DK074030-01. SQ acknowledges support form the American Heart Association Founders Affiliate. JH was supported by Kidney Research Scientist Core Education and National Training Program (KRESCENT) postdoctoral fellowships and was a Fellow of the Pediatric Scientist Development Program (supported by the March of Dimes, Pediatric Chairs of Canada, and the SickKids Foundation). We thank Dr. Meredith Seamon for critically reading the manuscript. There is no conflict of interest for any of the authors of this paper.
Authors' Affiliations
(1)
Department of Medicine, Children's Hospital Boston; Department of Pediatrics, Harvard Medical School, Boston, USA
(2)
Division of Nephrology, Department of Pediatrics, University of Pittsburg School of Medicine, Pittsburg, USA
(3)
Department of Medicine, Brigham and Women's Hospital and Department of Medicine, Harvard Medical School, Boston, USA
(4)
Harvard Stem Cell Institute, Cambridge, USA
Copyright
© Pandey et al; licensee BioMed Central Ltd. 2011
This article is published under license to BioMed Central Ltd. This is an Open Access article distributed under the terms of the Creative Commons Attribution License (http://creativecommons.org/licenses/by/2.0), which permits unrestricted use, distribution, and reproduction in any medium, provided the original work is properly cited.