Research article

Open Access
Exploring the metabolic network of the epidemic pathogen Burkholderia cenocepacia J2315 via genome-scale reconstruction
BMC Systems Biology
2011
5:83
Received: 18 November 2010
Accepted: 25 May 2011
Published: 25 May 2011
Abstract
Background
Burkholderia cenocepacia is a threatening nosocomial epidemic pathogen in patients with cystic fibrosis (CF) or a compromised immune system. Its high level of antibiotic resistance is an increasing concern in treatments against its infection. Strain B. cenocepacia J2315 is the most infectious isolate from CF patients. There is a strong demand to reconstruct a genome-scale metabolic network of B. cenocepacia J2315 to systematically analyze its metabolic capabilities and its virulence traits, and to search for potential clinical therapy targets.
Results
We reconstructed the genome-scale metabolic network of B. cenocepacia J2315. An iterative reconstruction process led to the establishment of a robust model, i KF1028, which accounts for 1,028 genes, 859 internal reactions, and 834 metabolites. The model i KF1028 captures important metabolic capabilities of B. cenocepacia J2315 with a particular focus on the biosyntheses of key metabolic virulence factors to assist in understanding the mechanism of disease infection and identifying potential drug targets. The model was tested through BIOLOG assays. Based on the model, the genome annotation of B. cenocepacia J2315 was refined and 24 genes were properly re-annotated. Gene and enzyme essentiality were analyzed to provide further insights into the genome function and architecture. A total of 45 essential enzymes were identified as potential therapeutic targets.
Conclusions
As the first genome-scale metabolic network of B. cenocepacia J2315, i KF1028 allows a systematic study of the metabolic properties of B. cenocepacia and its key metabolic virulence factors affecting the CF community. The model can be used as a discovery tool to design novel drugs against diseases caused by this notorious pathogen.
Keywords
Cystic Fibrosis
Metabolic Network
Cystic Fibrosis Patient
Quorum Sense
Essential Gene
Background
Burkholderia cenocepacia is a Gram-negative opportunistic pathogen and formerly Genomovar III of Burkholderia cepacia complex (Bcc). The Bcc comprises at least 17 taxonomically related species [1–3], which have developed diverse niches from the natural environment [4] and humans as they have emerged as pathogens in patients with cystic fibrosis (CF), chronic granulomatous disease, and in immunocompromised individuals [5]. B. cenocepacia is the dominant Bcc species in patients with CF, accounting for between 50% and 80% of the infection cases [5]. It also causes many instances of non-CF clinical infections, such as for cancer patients [6, 7]. As a representative isolate for the spread of an epidemic CF strain, B. cenocepacia J2315 belongs to a clonal lineage known as ET12, which is of increased transmissibility and dominates fatal infections among CF patients in the United Kingdom and Canada [8–12]. B. cenocepacia J2315 is notorious for its high resistance to the majority of clinically useful antimicrobial agents [6, 13], including antimicrobial peptides [14, 15]. Yet the mechanisms of host infection and drug resistance remain mostly unknown.
The genome of B. cenocepacia J2315 has been sequenced and recently annotated [13]. It is one of the largest Gram-negative genomes consisting of three circular chromosomes with 3.8, 3.2 and 0.8 million base pairs (Mb) respectively and a plasmid. Its complex genome encodes a broad range of metabolic capabilities, and numerous virulence and drug resistance functions that allow it to survive under a variety of conditions and invade immunocompromised individuals. It is vital to develop a systems-level metabolic model for this opportunistic human pathogen to explore and gain insights into its versatile metabolic capability and disease-causing mechanism, and eventually aid in finding potential clinical therapeutic targets. The genome-scale metabolic reconstruction enables integration of genomic information with metabolic activities observed in phenotypic experiments and other "omics" measurements to elicit hidden biological knowledge that would have been otherwise difficult to obtain.
In this study, we presented the manually curated genome-scale metabolic network of B. cenocepacia J2315, named as i KF1028, which accounts for the major metabolic pathways for the synthesis of each component of biomass and for the degradation of common biologically important carbon sources. Syntheses pathways for key virulence factors highly associated with metabolism were particularly emphasized and reconstructed. The in silico model was validated by performing BIOLOG substrate utilization assays, which can test the ability of a microorganism to oxidize various substrates simultaneously [16]. Model-driven analysis and discoveries, including refinement of gene annotation, and gene and enzyme essentiality, were carried out to define the architecture of the genome-wide metabolic and transport network and assist the identification of potential drug targets. Model i KF1028 provides researchers a framework to explore and understand the global metabolism of B. cenocepacia J2315 and its key metabolic virulence factors affecting CF patients upon infection. It allows a broad spectrum of basic and practical applications, especially the application for drug design which may open new doors for anti-infection strategies.
Conclusions
In this study, we reconstructed the first manually curated genome-scale metabolic network of B. cenocepacia J2315, a Gram-negative pathogen for CF patients. An iterative reconstruction process led to the establishment of the model, termed i KF1028, which captures the important metabolic capabilities and biosynthesis of key metabolic virulence factors. The model i KF1028 shows its predictive potential when compared with BIOLOG assays. Model-driven analyses on gene annotation refinement and identification of gene and enzyme essentiality analyses are helpful to understand the genome and discover promising novel drug targets. Through careful investigation, we proposed 45 enzymes that catalyze reactions predicted to be essential for growth with priority to be considered as drug targets. The model will keep being further validated and improved with experimentally determined biomass composition, large-scale gene deletion experimental data, proteome, and metabolome data, as they become available for B. cenocepacia. The model herein developed provides a valuable tool to explore the metabolic space of B. cenocepacia, to describe its metabolic wiring under a range of conditions, to pinpoint possible targets and to generate testable hypotheses. Taken together, our study underlined the value of the model i KF1028 as a framework to systematically study the metabolic capabilities of B. cenocepacia and its metabolic virulence factors affecting the CF community.
Methods
Reconstruction of the metabolic network
The reconstruction process for
B. cenocepacia
J2315 is illustrated in Figure
5
. The process followed the procedure described previously [
81
]. The reconstruction was carried out on ToBiN (Toolbox for Biochemical Networks,
http://www.lifewizz.com
), which was first mentioned in the paper [
82
]. ToBiN is a modular platform for metabolic modelling and the structural analysis of networks. It consists of a collection of open-source computational tools. Sets of reactions can be uploaded in the platform via a web interface, merged with already existing sets, and the resulting stoichiometric matrix is then processed by the server as a FBA problem. The linear solver that ToBiN used is the Clp (Coin-or linear programming), an open-source linear programming solver written in C++ and is part of the COIN-OR (Computational Infrastructure for Operations Research) project (
http://www.coin-or.org
). The platform works in a similar way as the COBRA toolbox with the main difference that, by being web-based, it permits users to adopt a more efficient and collaborative workflow.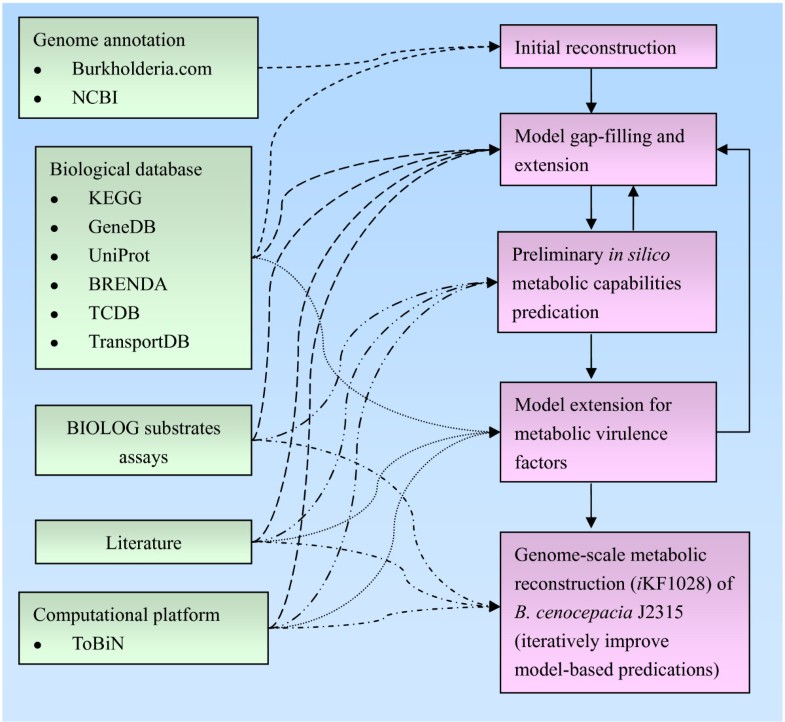 An initial draft reconstruction was derived from the annotated genome of Burkholderia cenocepacia J2315 available at the Burkholderia Genome Database (http://www.burkholderia.com). To link annotated genes to proteins and proteins to reactions, biological databases such as KEGG, GeneDB, UniProt, BRENDA, Transport Classification Database (TCDB), and TransportDB were used [83–88]. Manual curations were performed to establish gene-protein-reaction (GPR) associations, which connect genetic data to reactions in the metabolic network and allow for subsequent exploration of metabolic phenotypes using genetic perturbations.
After the initial reconstruction was generated, gaps in metabolic pathways necessary to produce biomass components and key virulence factors were filled by cautious literature mining, BIOLOG substrates utilization assays, and BLAST searches on homology and protein sequence similarity analyses [89, 90]. The genome annotation was refined as consequence of the gap-filling and model extension process.
Flux Balance Analysis (FBA) was carried out throughout this study to explore the metabolic capabilities of i KF1028 under various environments. In addition to minimal medium, synthetic cystic fibrosis medium (SCFM) representing the physical living environment during CF infection was simulated in silico to investigate the metabolic flux distribution in a CF-like condition.
Biomass composition
The biomass composition in the genome-scale metabolic model of
B. cenocepacia
J2315 was adapted by selecting the well-studied biomass composition of
E. coli
as a template [
91
], since there's no experimental data available about the biomass composition of
B. cenocepacia
. However, the amount of metabolic precursors to formulate the cellular component was specific to
B. cenocepacia
according to previous study [
20
]. Moreover, the relative fatty acid composition of the lipids required for growth was based on data specific to
B. cenocepacia
[
63
,
64
,
92
,
93
] and listed in Table
6
. Further details are provided in the supplemental material [Additional file
5
].
Table 6
Amino lipid composition of B. cenocepacia J2315
Fatty acid

PE

PG

CLPN

OL

Saturated

16:0

+

+

+

ND

Unsaturated

16:1

+

+

+

ND

18:1

+

+

+

+

Hydoxy

14:0 3OH

ND

ND

ND

+

16:0 3OH

ND

ND

ND

+

Cyclopropane

17:0 CYC

+

+

+

ND

19:0 CYC

+

+

+

ND
Flux balance analysis
Flux balance analysis (FBA) is an algorithm based on linear programming (LP) and on the assumption that the represented metabolic network is in steady-state (i.e. all the intracellular metabolite concentrations are constant). Being a LP problem, FBA also requires the selection of an objective function and of whether the value for that same function should be maximized or minimized. FBA is usually used to compute the optimal growth yield (the maximized objective function) based on the assumption that the evolutionary fitness of the organism depends on growth alone and, consequently, the implicit regulatory mechanism are organized to permit the theoretical maximal growth. If the system of equations (stoichiometric matrix which represents the metabolic network) is feasible, the algorithm generates an optimal flux distribution for that same network, taking into account the imposed thermodynamic constraints (reaction directionality) and limits on substrate uptake rates. The mathematical description is as follows:
Where S is a stoichiometric matrix containing i rows representing metabolites and j columns representing reactions, v is a vector of all reaction fluxes, vmin and vmax are imposed lower and upper bounds on flux v j respectively, and c T is a vector of coefficients for each reaction that is to be maximized.
In silico media composition
Two different living environments were simulated in silico for strain J2315: M9 minimal medium [94], which contains PO43-, SO42-, NH4+, H+, Fe2+, K+, Mg2+, Na+, H2O, and thiamine, with glucose or other BIOLOG substrates as sole carbon source; and synthetic CF sputum medium (SCFM) [95] representing the nutrient conditions inside a host-cell during CF infection. Details of the simulated SCFM composition are provided in the supplemental material [Additional file 6].
BIOLOG assay
To validate the model and estimate the metabolic capabilities of strain J2315, BIOLOG assay was performed by using various carbon sources for strain cultivation [16]. The BIOLOG assay was carried out in triplicates using Biolog GN2 MicroPlates (Biolog, Inc.), which can test the ability of a microorganism to oxidize a panel of 95 different carbon sources simultaneously. The procedure for using the MicroPlates was according to the manufacturer's specification. The strain J2315 was obtained from DSMZ GmbH (DSMZ 16553, equivalent to LMG 16656 as which strain J2315 has been deposited in the BCCM/LMG Bacteria Collection). The strain was cultured overnight in CASO agar plate. Then the bacteria were swabbed from the plate surface and suspended in GN/GP inoculating fluid (Biolog, Inc.) and 150 μl of the suspension was transferred to each well of the GN2 MicroPlate. The MicroPlates were incubated at 30°C for 48 hours and were read by a microplate reader at 24 and 48 hours and analyzed with the Biolog MicroLog3 4.20 software (Biolog, Inc.). A comparison between the BIOLOG results and in silico predictions is provided in the supplemental material. [Additional file 3]
Gene and enzyme essentiality
FBA can be used to interpret genetic modification, such as gene deletion and enzyme inhibition, and subsequently make comprehensive in silico predictions on gene and enzyme essentiality [96]. To assess the essentiality of a gene, its GPR is checked for a unique relation with the associated reaction(s). If the gene is necessary to the reaction, the reaction flux will be constrained to zero and a solution for the maximal growth yield is searched. The deleted gene is predicated to be essential if, as consequence of that added constraint, the value of the objective function (growth yield) changes to zero. The deletion of every gene accounted in the model was simulated for growth on minimal medium with glucose as sole carbon source, and on SCFM. Similarly, an enzyme is considered essential if, by constraining to zero the flux on every associated reaction that has no alternative means of catalysis, the value for the growth yield changes to zero. The essentiality of every enzyme accounted in the model was analysed for growth on SCFM.
Declarations
Acknowledgements and Funding
We acknowledge funding from the European Union (Projects PROBACTYS: Grant No. 29104 and MICROME: No. 222886), the National Basic Research Program of China (973 Program) (Grant No. 2011CBA00802) from the Ministry of Science and Technology of the People's Republic of China, the Project for Young Scientists Fund, Institute of Psychology, Chinese Academy of Sciences (Grant No. O9CX115011), and Portuguese Fundação para a Ciência e Tecnologia (Project METAGUT; Grant No. ERA-PTG/SAU/0003/2008).
Authors' Affiliations
(1)
Key Laboratory of Mental Health, Institute of Psychology, Chinese Academy of Sciences, Beijing, China
(2)
College of Biological Sciences, China Agricultural University, Beijing, China
(3)
Systems and Synthetic Biology Group, Helmholtz Center for Infection Research (HZI), Braunschweig, Germany
(4)
Graduate University of Chinese Academy of Sciences, Beijing, China
(5)
Lifewizz Lda, Porto, Portugal
(6)
Systems and Synthetic Biology, Wageningen University, Wageningen, The Netherlands
Copyright
© Fang et al; licensee BioMed Central Ltd. 2011
This article is published under license to BioMed Central Ltd. This is an Open Access article distributed under the terms of the Creative Commons Attribution License (http://creativecommons.org/licenses/by/2.0), which permits unrestricted use, distribution, and reproduction in any medium, provided the original work is properly cited.