Supervised maximum-likelihood weighting of composite protein networks for complex prediction
BMC Systems Biology
2012
6(Suppl 2):S13
Published: 12 December 2012
Abstract
Background
Protein complexes participate in many important cellular functions, so finding the set of existent complexes is essential for understanding the organization and regulation of processes in the cell. With the availability of large amounts of high-throughput protein-protein interaction (PPI) data, many algorithms have been proposed to discover protein complexes from PPI networks. However, such approaches are hindered by the high rate of noise in high-throughput PPI data, including spurious and missing interactions. Furthermore, many transient interactions are detected between proteins that are not from the same complex, while not all proteins from the same complex may actually interact. As a result, predicted complexes often do not match true complexes well, and many true complexes go undetected.
Results
We address these challenges by integrating PPI data with other heterogeneous data sources to construct a composite protein network, and using a supervised maximum-likelihood approach to weight each edge based on its posterior probability of belonging to a complex. We then use six different clustering algorithms, and an aggregative clustering strategy, to discover complexes in the weighted network. We test our method on Saccharomyces cerevisiae and Homo sapiens, and show that complex discovery is improved: compared to previously proposed supervised and unsupervised weighting approaches, our method recalls more known complexes, achieves higher precision at all recall levels, and generates novel complexes of greater functional similarity. Furthermore, our maximum-likelihood approach allows learned parameters to be used to visualize and evaluate the evidence of novel predictions, aiding human judgment of their credibility.
Conclusions
Our approach integrates multiple data sources with supervised learning to create a weighted composite protein network, and uses six clustering algorithms with an aggregative clustering strategy to discover novel complexes. We show improved performance over previous approaches in terms of precision, recall, and number and quality of novel predictions. We present and visualize two novel predicted complexes in yeast and human, and find external evidence supporting these predictions.
Keywords
Area Under CurveProtein PairWeighting ApproachHuman ComplexHeterogeneous Data Source
Background
Protein complexes participate in many important cellular functions, so finding the set of existent complexes is essential for understanding the mechanism, organization, and regulation of processes in the cell. Since protein complexes are groups of interacting proteins, many methods have been proposed to discover complexes from protein-protein interaction (PPI) data, which has been made available in large amounts by high-throughput experimental techniques. Typically, complexes are predicted based on topological characteristics in the PPI network. For example, many approaches search for regions of high density or connectivity [1–5]. Other approaches further incorporate subgraph diameters of known complexes [6], and core-attachment models of connected clusters [7, 8]. Qi et al. used a set of topological features including density, degree, edge weight, and graph eigenvalues, with a supervised naive-Bayes approach to learn these feature parameters from training complexes [9].
The performance of these complex discovery algorithms is reliant on the quality of the protein interaction data, which is often associated with substantial numbers of spuriously-detected interactions (false positives) and missing interactions (false negatives). Furthermore, many protein pairs that actually do interact with each other are not located in the same complex, for example, protein pairs that bind temporarily to perform a function. We refer to such interactions as transient interactions. Finally, not all proteins in the same complex may interact with each other, making its PPI subgraph far from complete. Figure
1
provides an illustrative example of these challenges. The mitochondrial cytochrome bc1 complex is a well-known complex involved in the electron-transport chain in the mitochondrial inner membrane. In
Saccharomyces cerevisiae
(yeast), this complex is composed of ten proteins. Figure
1
shows the PPI subgraph around these ten proteins, using PPI data obtained from BioGRID [
10
], IntAct [
11
] and MINT [
12
]. Nineteen PPIs (out of a possible 45) were detected between these ten proteins; the rest remain undetected, likely due to the difficulty of detecting interactions between membrane proteins, or because not all proteins in this complex interact with each other. 145 extraneous interactions were detected between the proteins from this complex and 94 proteins outside the complex. While some of these extraneous interactions might be spuriously detected, others constitute transient interactions. Five proteins likely involved in such transient interactions are shown: NAB2 and UBI4 are involved in mRNA polyadenylation and protein ubiquitination respectively, and bind to many proteins to perform their functions; PET9, SHY1, and COX1 are mitochondrial membrane proteins that are also involved in the electron-transport chain, and interact with proteins of the complex, although they are not part of it. The density of the complex is lost amidst the noise of the extraneous interactions, making the discovery of this complex from PPI data extremely difficult: none of the six complex discovery algorithms we use in this paper successfully detected it.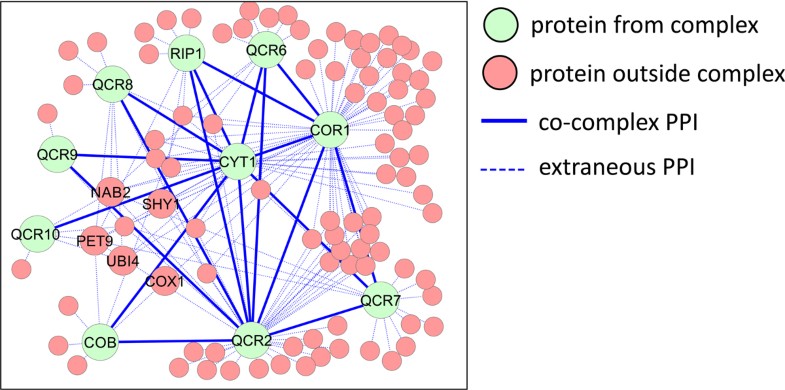 Many algorithms have been developed to assess the reliability of high-throughput protein interactions [13–15] or predict new protein interactions [16–19], using various information such as gene sequences, annotations, interacting domains, 3D structures, experimental repeatability, or topological characteristics of PPI networks. These approaches have been shown to be effective in reducing false positives or false negatives. In our previous work [3], we have shown that using the topology of the PPI network to weight interactions, remove unreliable interactions, and posit new interactions improves the performance of several complex discovery algorithms. While such approaches are effective in reducing the impact of spuriously-detected and missing interactions, they do not directly address transient interactions and non-interacting complex proteins.
Researchers have also proposed integrating heterogeneous data sources with supervised approaches to predict co-complex protein pairs (protein pairs that belong to the same complex), using a reference set of training complexes. Data integration leverages on the fact that diverse data sources other than PPI can also reveal co-complex relationships, while a supervised approach targeted at predicting co-complex protein pairs can be trained to discriminate between actual co-complex interactions and spuriously-detected or transient interactions. Qiu and Noble [20] integrated PPI, protein sequences, gene expression, interologs, and functional information, to train kernel-based models, and achieved high classification accuracy in predicting co-complex protein pairs. However, they did not apply or test their method on reconstructing and predicting complexes. Wang et al.[4] integrated PPI, gene expression, localization annotations, and transmembrane features, and applied a boosting method to predict co-complex protein pairs. They showed that this approach, combined with their proposed clustering method HACO, achieved higher sensitivity in recovering reference complexes compared to unsupervised approaches. However, they did not explore how well their classification approach works when used in conjunction with other clustering methods: while sensitivity was improved, many reference complexes were still unable to be predicted in part due to limitations of HACO, thus raising the question of whether other clustering methods may also see an improvement when used with their co-complex predictions. Furthermore, these approaches directly produce co-complex affinity scores between protein pairs, without providing measurements of the predictive strengths of the different data sources, nor how the different score values of each data source indicate co-complex relationships. In our view, this is important when integrating different data sources: while using PPI for complex prediction is biologically reasonable because proteins in a complex interact and bind with each other, using other data sources such as sequences, expression, or literature co-occurrence is not as biologically intuitive, even if they do reveal co-complex relationships. Providing a measurement of how these data sources contribute to co-complex predictions allows human judgment of the validity and credibility of predicted novel complexes.
We propose a method to address these challenges of complex discovery: first, the PPI network is integrated with other heterogeneous data sources that specify relationships between proteins, such as functional association and co-occurrence in literature, to form an expanded, composite network. Next, each edge is weighted based on its posterior probability of belonging to a protein complex, using a naive-Bayes maximum-likelihood model learned from a set of training complexes. A complex discovery algorithm can then be used on this weighted composite network to predict protein complexes. Our method offers several advantages over current unsupervised or non-integrative weighting approaches. First, a composite protein network constructed from multiple data sources is more likely to have denser subgraphs for protein complexes, as it not only reduces the number of missing interactions, but also adds edges between non-interacting proteins from the same complex, because such proteins are likely to be related in ways other than by physical interactions. Second, learning a model from training complexes not only provides a powerful method to assess the reliability of interactions, but also allows the discrimination between transient and co-complex interactions. Third, utilizing multiple data sources to assess the reliability of interactions is likely to be more accurate than using just PPI data.
Our choice of a naive-Bayes maximum-likelihood model also offers several advantages over other supervised data-integration approaches. Firstly our model is transparent, in that learned parameters can be validated and analyzed, for example to reveal the predictive strengths of the different data sources. Furthermore, for a predicted complex, the learned parameters can then be used to visualize the component evidences from the different data sources, allowing human judgment of the credibility of the prediction. Second, maximum-likelihood models are known to be robust and have low variance, even when few training samples are available. Although we describe our experiments using yeast and human, this is important when we apply our approach to less-studied organisms with fewer known complexes available for training. Finally, we utilize different clustering algorithms as well as a simple aggregative clustering strategy to evaluate the performance of our method, and show that we improve the performance of complex prediction compared to other weighting methods.
Methods
Building the composite network
Heterogeneous data sources are combined to build the composite network. Each data source provides a list of scored protein pairs: for each pair of proteins (u, v) with score s, u is related to v with score s, according to that data source. For both yeast and human, the following data sources are used:
• PPI data is obtained by taking the union of physical interactions from BioGRID [10], IntAct [11] and MINT [12] (data from all three repositories downloaded in November 2011). Interactions are scored using a topological function, Iterative AdjustCD (with two iterations), which has been shown to improve the performance of complex discovery [3]. Iterative AdjustCD uses expectation maximization to score each interaction (u, v) based on the number of shared neighbors of u and v. Interactions between proteins that have no shared neighbors are regarded as unreliable and are discarded. Protein pairs that do not directly interact but have shared neighbors are also scored; such pairs with scores above 0.1 are added as new interactions, and are called Level 2 or L2-PPIs. We consider PPIs and L2-PPIs as two separate data sources.
• Predicted functional association data is obtained from the STRING database [21] (data downloaded in January 2012). STRING predicts each association between two proteins u and υ (or their respective genes) using the following evidence types: gene co-occurrence across genomes; gene fusion events; gene proximity in the genome; homology; coexpression; physical interactions; co-occurrence in literature; and orthologs of the latter five evidence types transferred from other organisms (STRING also includes evidence obtained from databases, which we discard as this may include co-complex relationships which we are trying to predict). Each evidence type is associated with quantitative information (e.g. the number of gene fusion events), which STRING maps to a confidence score of functional association based on co-occurrence in KEGG pathways. The confidence scores of the different evidence types are then combined probabilistically to give a final functional association score for (u, v). Only pairs with score greater than 0.5 are kept.
• Co-occurrence of proteins or genes in PubMed literature (data downloaded in January 2012). Each pair (
u, υ
) is scored by the Jaccard similarity of the sets of papers that
u
and
υ
appear in:
where A x is the set of PubMed papers that contain protein x. For yeast, that would be the papers that contain the gene name or open reading frame (ORF) ID of x as well as the word "cerevisiae"; for human that would be the papers that contain the gene name or Uniprot ID of x as well as the words "human" or "sapiens".
While there seems to be overlap between STRING's use of PPI and literature co-occurrence data with our use of them as separate data sources, note that STRING uses these data as only as component evidences for functional association and scores them accordingly. Thus we treat the STRING data as a representation of functional association between proteins, regardless of how this association was derived. Table
1
gives some summarizing statistics for these data sources.
Table 1
Statistics of data sources
YEAST

HUMAN

Data source

Description

# pairs

# distinct proteins

% complex edges

# pairs

# distinct proteins

% complex edges

PPI

Physical protein-protein interactions

106328

5429

5.8%

48098

6285

13.9%

L2-PPI

Level 2 PPI

181175

3987

1.1%

131705

7913

5.5%

STRING

Predicted functional association

175712

5964

5.7%

311435

14784

3.1%

PubMed

Literature co-occurrence

161213

5109

4.9%

91751

10659

4.3%

All

531800

6084

2.1%

522668

17264

3.4%
In the composite network, vertices represent proteins and edges represent relationships between proteins. The composite network has an edge between proteins u and v if and only if there is a relationship between u and v according to any of the data sources.
Edge-weighting by posterior probability
Next, each edge (u, v) is weighted based on its posterior probability of being a co-complex edge (i.e. both u and v are in the same complex), given the scores of the data source relationships between u and v.
We use a naive-Bayes maximum-likelihood model to derive the posterior probability. Each edge (
u, v
) between proteins
u
and
v
of the composite network is cast as a data instance. The set of features is the set of data sources, and for each instance (
u, v
), feature
F
has value
f
if proteins
u
and
υ
are related by data source
F
with score
f
. If
u
and
v
are not related by data source
F
, then feature
F
is given a score of 0. Using a reference set of protein complexes, each instance (
u, v
) in the training set is given a class label
co-complex
if both
u
and
υ
are in the same complex; otherwise its class label is
non-co-complex
Learning proceeds by two steps:
1.

Minimum description length (MDL) supervised discretization [22] is performed to discretize the features. MDL discretization recursively partitions the range of each feature to minimize the information entropy of the classes. If a feature cannot be discretized, that means it is not possible to find a partition that reduces the information entropy, so the feature is removed. Thus this step also serves as simple feature selection.

2.

The maximum-likelihood parameters are learned for the two classes

co-complex

and

non-co-complex

:
for each discretized value f of each feature F. n c is the number of edges with class label co-complex, is the number of edges with class label co-complex and whose feature F has value f, is the number of edges with class label non-co-complex, and is the number of edges with class label non-co-complex and whose feature F has value f
After learning the maximum-likelihood model, the weight for each edge
e
with feature values
F
1
=
f
1
,
F
2
=
f
2
, . . . is calculated as its posterior probability of being a co-complex edge:
where Z is a normalizing factor to ensure the probabilities sum to 1. Although the second last equality makes the assumption that the features are independent, naive-Bayes classifiers have been found to perform well even when this assumption is false [23]. Specifically, while the probability estimates are frequently inaccurate, their rank orders usually remain correct, so that edges with likelier co-complex feature values are assigned higher scores than edges with likelier non-co-complex feature values.
Complex discovery
After the composite network is weighted, the top k edges are used by a clustering algorithm to predict protein complexes. We use the following clustering algorithms in our study:
Markov Cluster Algorithm (MCL)[1] simulates stochastic flow to enhance the contrast between regions of strong and weak flow in the graph. The process converges to a partition with a set of high-flow regions (the clusters) separated by boundaries with no flow.
Restricted Neighborhood Search Clustering (RNSC)[2] is a local search algorithm that explores the solution space to minimize a cost function, calculated according to the number of intra-cluster and inter-cluster edges. RNSC first composes an initial random clustering, and then iteratively moves nodes between clusters to reduce the clustering's cost. It also makes diversification moves to avoid local minima. RNSC performs several runs, and reports the clustering from the best run.
IPCA[6] expands clusters from seeded vertices, based on rules that encode prior knowledge of the topological structure of protein complexes' PPI subgraphs. Whether a cluster is expanded to include a vertex is determined by the diameter of the resultant cluster and the connectivity between the vertex and the cluster.
Clustering by Maximal Cliques (CMC)[3] first generates all the maximal cliques from a given network, and then removes or merges highly overlapping clusters based on their inter-connectivity as follows. If the overlap between two maximal cliques exceeds a threshold overlap_thres, then CMC checks whether the inter-connectivity between the two cliques exceeds a second threshold merge_thres. If it does, then the two cliques are merged; otherwise, the clique with lower density is removed.
Hierarchical Agglomerative Clustering with Overlap (HACO)[4] first considers all vertices as individual clusters, then iteratively merges pairs of clusters with high connectivity between them. At each merge, the two constituting clusters are remembered; when the merged cluster A is later merged with another cluster B, it also tries to merge the remembered constituting clusters of A with the cluster B, and keeps the (possibly overlapping) resultant clusters if they are highly connected.
Clustering with Overlapping Neighborhood Expansion (ClusterONE)[5] greedily expands clusters from seeded vertices to maximize a cohesiveness function, which is based on the edge weights within a cluster and the edge weights connecting the cluster to the rest of the network. It then merges highly-overlapping clusters.
CMC, MCL, HACO, and ClusterONE are able to utilize edge weights in their input networks, whereas RNSC and IPCA do not; in this case, the selection of the top k edges provides less noisy networks as inputs to the algorithms.
CMC, MCL, and HACO utilize parameters whose optimal values are at least partly dependent on the input networks' distribution of edge weights. For example, given an input network with high edge weights, using CMC with too low a
merge_thres
produces too many clusters consisting of merged cliques. Thus, we run these algorithms with a range of values for their respective parameters, so as to obtain a more comprehensive picture of their performances across different weighting approaches. We run ClusterONE, RNSC, and IPCA with mostly default or recommended parameters. The parameter settings used in our experiments for the six clustering algorithms are given in Table
2
.
Table 2
Parameters for clustering algorithms
| Clustering algorithm | Parameter settings |
| --- | --- |
| CMC | min deg ratio = 1, min size = 4, overlap thres = 0.5, merge thres = 0.25 |
| | min deg ratio = 1, min size = 4, overlap thres = 0.5, merge thres = 0.5 |
| | min deg ratio = 1, min size = 4, overlap thres = 0.5, merge thres = 0.75 |
| HACO | -c c 1 -g 0.1 |
| | -c c 1 -g 0.3 |
| | c c 0.75 -g 0.1 |
| MCL | -I 2 |
| | -I 3 |
| | -I 4 |
| ClusterONE | -s 4 -d 0 |
| IPCA | -S4 -P2 -T0.4 |
| RNSC | -e10 -D50 -d10 -t20 -T3 |
For any cluster
C
produced by any of these clustering algorithms, we define its score as its weighted density:
We also use a simple voting-based aggregative strategy
COMBINED
, which takes the union of the clusters produced by the six algorithms above. If two or more clusters are found to be similar to each other, then only the cluster with the highest weighted density is kept, and its score is defined as its weighted density multiplied by the number of algorithms that produced the group of similar clusters; otherwise its score is its weighted density as usual. We define two clusters
C
and
D
to be similar if
Jaccard
(
C, D
) >= 0.75, where
Jaccard
(
C, D
) is the Jaccard similarity between the proteins contained in C and D:
where V X is the set of proteins contained in X.
Conclusion
In this paper, we introduce a maximum-likelihood supervised approach for weighting composite protein networks for predicting protein complexes, called SWC (Supervised Weighting of Composite networks). First, we construct a composite protein network using three heterogeneous data sources: PPI, predicted functional association, and co-occurrence in literature abstracts. Next, we weight each edge of the composite network based on its posterior probability of belonging to a protein complex, using a naive-Bayes maximum-likelihood model learned from a set of training complexes. The weighted composite network is then used by clustering algorithms to predict new complexes. We also propose a simple aggregative clustering strategy that combines clusters generated by multiple clustering algorithms, using simple voting. We evaluate our weighting scheme using six clustering algorithms, as well our aggregative clustering strategy, on the prediction of yeast and human complexes. We demonstrate that our proposed method outperforms a supervised data-integration approach using boosting, a predicted functional-association network from STRING, an unsupervised approach using a topological function to weight PPI networks, as well as a baseline approach using unweighted PPI networks: our approach predicts more correct complexes at higher precision levels, and generates more high-confidence novel complexes with similar or better semantic coherence. Using a few example complexes, we show that our approach increases the density of the complexes' subgraphs, and filters them to remove extraneous edges. Furthermore, our approach allows visualization of the evidence of predicted complexes, using learned likelihood parameters to express strengths of co-complex relationships of each data type. This aids human evaluation of the credibility of predicted complexes.
Finally, we present two novel predicted complexes: a four-protein yeast complex possibly involved in DNA metabolism and stress response, and a four-protein human complex possibly involved in transport processes. We show that these predictions appear credible from their evidences, being supported by diverse data sources with strong co-complexness. Indeed, a recent paper presents the predicted yeast complex as the Cul8-RING ubiquitin ligase complex, while the Uniprot database provides evidence that the predicted human complex may exist as a potassium channel complex.
SWC software package and data files are available at http://compbio.ddns.comp.nus.edu.sg/~cherny/SWC/.
Declarations
Acknowledgements
This work was supported in part by Singapore National Research Foundation grant NRF-G-CRP-2007-04-082(d) and a National University of Singapore NGS scholarship.
This article has been published as part of BMC Systems Biology Volume 6 Supplement 2, 2012: Proceedings of the 23rd International Conference on Genome Informatics (GIW 2012). The full contents of the supplement are available online at http://www.biomedcentral.com/bmcsystbiol/supplements/6/S2.
Authors' Affiliations
(1)
Graduate School for Integrative Sciences and Engineering, National University of Singapore, Singapore
(2)
School of Computing, National University of Singapore, Singapore
(3)
Institute for Infocomm Research, Singapore
Copyright
© Yong et al.; licensee BioMed Central Ltd. 2012
This article is published under license to BioMed Central Ltd. This is an open access article distributed under the terms of the Creative Commons Attribution License (http://creativecommons.org/licenses/by/2.0), which permits unrestricted use, distribution, and reproduction in any medium, provided the original work is properly cited.