Research article
Open Access
Modeling heterogeneous responsiveness of intrinsic apoptosis pathway
BMC Systems Biology
2013
7:65
Received: 19 December 2012
Accepted: 19 July 2013
Published: 23 July 2013
Abstract
Background
Apoptosis is a cell suicide mechanism that enables multicellular organisms to maintain homeostasis and to eliminate individual cells that threaten the organism's survival. Dependent on the type of stimulus, apoptosis can be propagated by extrinsic pathway or intrinsic pathway. The comprehensive understanding of the molecular mechanism of apoptotic signaling allows for development of mathematical models, aiming to elucidate dynamical and systems properties of apoptotic signaling networks. There have been extensive efforts in modeling deterministic apoptosis network accounting for average behavior of a population of cells. Cellular networks, however, are inherently stochastic and significant cell-to-cell variability in apoptosis response has been observed at single cell level.
Results
To address the inevitable randomness in the intrinsic apoptosis mechanism, we develop a theoretical and computational modeling framework of intrinsic apoptosis pathway at single-cell level, accounting for both deterministic and stochastic behavior. Our deterministic model, adapted from the well-accepted Fussenegger model, shows that an additional positive feedback between the executioner caspase and the initiator caspase plays a fundamental role in yielding the desired property of bistability. We then examine the impact of intrinsic fluctuations of biochemical reactions, viewed as intrinsic noise, and natural variation of protein concentrations, viewed as extrinsic noise, on behavior of the intrinsic apoptosis network. Histograms of the steady-state output at varying input levels show that the intrinsic noise could elicit a wider region of bistability over that of the deterministic model. However, the system stochasticity due to intrinsic fluctuations, such as the noise of steady-state response and the randomness of response delay, shows that the intrinsic noise in general is insufficient to produce significant cell-to-cell variations at physiologically relevant level of molecular numbers. Furthermore, the extrinsic noise represented by random variations of two key apoptotic proteins, namely Cytochrome C and inhibitor of apoptosis proteins (IAP), is modeled separately or in combination with intrinsic noise. The resultant stochasticity in the timing of intrinsic apoptosis response shows that the fluctuating protein variations can induce cell-to-cell stochastic variability at a quantitative level agreeing with experiments. Finally, simulations illustrate that the mean abundance of fluctuating IAP protein is positively correlated with the degree of cellular stochasticity of the intrinsic apoptosis pathway.
Conclusions
Our theoretical and computational study shows that the pronounced non-genetic heterogeneity in intrinsic apoptosis responses among individual cells plausibly arises from extrinsic rather than intrinsic origin of fluctuations. In addition, it predicts that the IAP protein could serve as a potential therapeutic target for suppression of the cell-to-cell variation in the intrinsic apoptosis responsiveness.
Keywords
Intrinsic apoptosis pathwayStochastic modelIntrinsic noiseExtrinsic noise
Background
Apoptosis, the major form of programmed cell death, is a conserved cell suicide process critical for the health and survival of multicellular organisms [1–3]. Apoptosis plays a fundamental role in animal development, by sculpting tissues and structures, as well as in tissue homeostasis, by regulating and maintaining balanced cell number [4–6]. Dysregulation of apoptosis is associated with various human diseases, ranging from developmental disorders, neurodegeneration to cancer [7, 8].
Apoptosis is regulated by two interrelated signaling pathways: the extrinsic or death-receptor pathway, and the intrinsic or mitochondrial pathway [
1
,
9
]. They converge on the execution pathway, mediated intracellularly by a cascade of cysteine proteases, termed caspases [
10
,
11
]. Caspases are specialized cysteine proteases found in animal cells as inactive procaspases (proenzymes). Through proteolytic cleavage, procaspases are activated to carry out its apoptotic mission. The intrinsic pathway begins with the release of Cytochrome C (CC) from mitochondria through membrane permeabilization [
12
], triggered by intracellular stress such as DNA damage and hypoxia [
9
] (Figure
1
A). Once CC translocates to the cytosol, it binds to apoptotic protease activating factor 1 (known as Apaf-1) to form a multimeric protein complex called the apoptosome. This apoptosome complex then activates the initiator procaspase, called procaspase-9. The activated caspase (caspase-9) cleaves the executioner procaspase (procaspase-3) to form active executioner/effector caspase (CEA), whereby the apoptotic response is irreversibly triggered [
11
]. Experiments have shown that the activation of effector caspases occurs in an all-or-none fashion, emphasizing the functional role of the apoptosis system as a molecular switch. In the past several years, advances in experimental skills have allowed the measurement of apoptosis dynamics in individual cells [
3
,
13
–
16
], confirming the switch-like dynamics, while revealing another feature of prominent stochasticity in the apoptotic responses at single-cell level.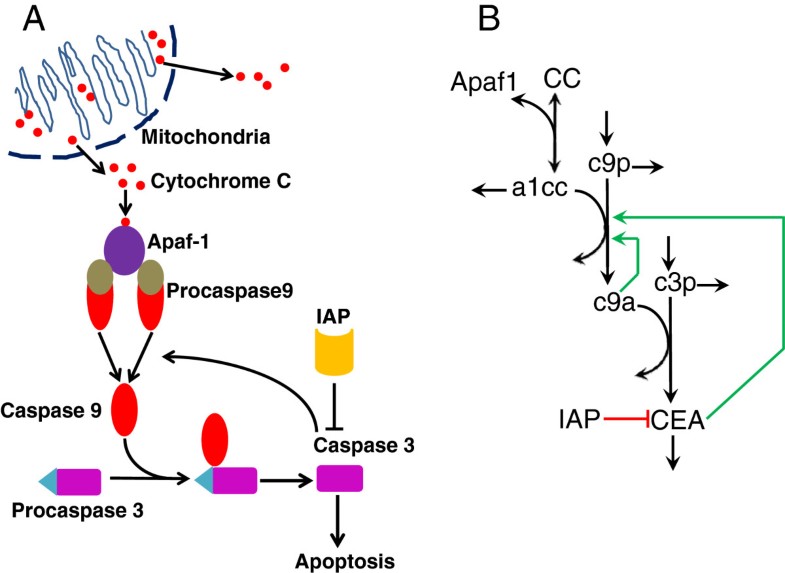 Since the key constituents and molecular interactions of apoptosis pathways have been experimentally identified, the approach of mathematical modeling and computer simulations have been employed extensively to help elucidate the complicated regulatory network and dynamic responsiveness related to apoptosis at average cellular population level [14, 15, 17–19]. Nevertheless, recent experiments at single-cell resolution have discovered noisy phenotypic diversity of apoptosis activity in that significant cell-to-cell heterogeneity of the dynamic apoptosis responses exist across a genetically-identical cell population [16]. Toward understanding such single-cell variability in apoptosis response, some theoretical efforts have been taken recently to model the stochastic response of receptor-mediated apoptotic pathway. The stochastic behavior of intrinsic apoptosis pathway, on the other hand, has been the subject of relatively little mathematical modeling to date. In this work, we will focus on addressing the intrinsic apoptosis pathway under stochastic perturbations by developing theoretical and computational models at single-cell level. The models will be exploited to investigate the heterogeneous behavior of intrinsic apoptosis network among individual cells.
Deterministic model based on ordinary differential equations (ODEs) is the most widely used mathematical approach to describe the molecular kinetics during cell death signaling. Fussenegger et al. developed a well-accepted ODE model that integrates components of the extrinsic as well as the intrinsic apoptosis pathways [20]. Qualitatively the Fussenegger model compares reasonably well with published experimental kinetics of caspase activation at average cell population level. Nevertheless, there is lack of understanding of the nonlinear stability and systems properties of this model, which hinders deeper understanding of the system behavior. For instance, studies have suggested that bistability is a key system feature for apoptotic signaling networks [15, 16, 21–23], which could achieve the all-or-none responses and in addition confer robustness to the apoptosis system [18, 24, 25]. It is unclear whether the Fussenegger model presents the property of bistability. Since then, there have been considerable theoretical efforts on modeling and systems analysis using ODE models of death-receptor mediated apoptosis [17, 18, 26, 27], mitochondria-mediated apoptosis [28, 29], or integrated extrinsic and intrinsic apoptosis pathways [15, 30–34].
The past few years have seen increasing efforts in stochastic modeling to address the heterogeneous apoptosis responses at single-cell level. Specifically, these efforts incorporate cellular noise perturbations into the apoptosis framework. Cellular noise is defined as stochastic fluctuations of biomolecular processes within and between cells. It can be divided into intrinsic noise and extrinsic noise [35, 36]. Intrinsic noise in genetically identical cells refers to random deviation of the molecular processes from their average deterministic kinetics within a cell, mostly due to probabilistic biochemical reactions associated with low copy number of molecular quantities [35, 37]. Extrinsic noise arises from global perturbation factors such as cellular environment and organelle distribution, which results in cell-to-cell variation in rate constants of biochemical reactions, expression levels of genes and proteins, and other parameters of biochemical processes [35, 38, 39]. Towards the analysis of cellular noise, several statistical measures of noise have been proposed to quantify the level of stochastic fluctuations of biomolecular processes [40–43]. Two measures of noise are commonly used to characterize the stationary averages and variances of random cellular components. In particular, noise strength can be quantified by Fano factor, which is defined as the steady-state variance over average and has a value of 1 for Poisson process. The Fano factor of an arbitrary stochastic system reveals deviations from Poissonian behavior [44–46]. A more standard and frequently used measure of cellular noise is the dimensionless coefficient of variation, which is defined as standard deviation divided by mean. It measures the inverse signal-to-noise ratio and has been widely employed to characterize intrinsic and extrinsic noises of gene and protein expression and their determining factors with respect to cellular network organization [36, 43, 47–52]. For the latter measure, the coefficient of variation squared may be alternatively used [53]. In this work, we use the coefficient of variation to quantify the noise of the random distribution of molecular components and stochastic cellular response time. In the aspect of mathematical modeling of noise in apoptosis pathway, several previous stochastic apoptosis models have taken into account of the intrinsic noise by either applying Gillespie's stochastic simulation algorithm to the ODE models or constructing Monte Carlo models from first principles [22–24, 54, 55]. With regard to modeling the impact of extrinsic noise on apoptosis pathway, there have been a few studies notably only on receptor-mediated apoptosis pathway [16, 56].
In this study, we attempt to develop mathematical and computational models of the intrinsic apoptosis pathway at single-cell level, and to identify plausible sources of non-genetic heterogeneity of apoptosis dynamics observed in a cell population using stochastic simulations. We start with a deterministic ODE model of intrinsic apoptosis pathway adapted from the Fussenegger model and find that bistability is missing. By adding positive feedback regulations that are supported by previous experimental evidences, we develop a model of intrinsic apoptosis pathway that functions as a bistable switch. We are particularly interested in understanding the stochastic behavior of this apoptosis switch under perturbation of intrinsic noise and/or extrinsic noise. Stochastic modeling and simulations of intrinsic apoptosis pathway indicate that noise could enhance robustness of the bistable switch. In addition, we show that intrinsic noise is not sufficient to induce the observed level of cell-to-cell variability of apoptosis response at biologically relevant level of molecular numbers, while the extrinsic noise of protein variations is plausibly the main source giving rise to the degree of heterogeneous responses of intrinsic apoptosis pathway between single cells.
Conclusions
The recently observed heterogeneous apoptosis phenotypes at single cell level have drawn increasing attention from researchers. Mathematical modeling and computer simulation provide an efficient approach to gain deep insight into the dynamic behavior of apoptosis network. This paper develops a theoretical and computational framework for single-cell stochastic modeling of the intrinsic apoptosis pathway. Using this modeling framework we explore the stochastic behavior of the intrinsic apoptosis response at single-cell level and seek to understand the plausible sources underlying the experimentally observed cell-to-cell variability of apoptosis response. We show that in the presence of noise, the bistable response of intrinsic apoptosis pathway can be more robust than its deterministic behavior. The coefficient of variation (CV) of the delayed timing of the activity of executioner caspase is utilized to quantify the stochasticity in the apoptosis dynamics. We find that the intrinsic noise can introduce significant cell-to-cell variability if the abundances of reacting biomolecules are relatively low. The level of cellular stochasticity solely due to intrinsic noise decreases dramatically to a negligible level of CV equal to ∼0.01 when the copy number of Cytochrome C is raised to 10,000, which is the amount suggested by a previous study. In addition, the extrinsic noise caused by the natural variations in protein concentrations of two key components in the intrinsic apoptosis pathway, Cytochrome C and the inhibitor of apoptosis (IAP) proteins, is also accounted for without or with intrinsic noise. Series of simulations indicate that the extrinsic noise is plausibly the major source of the cell-to-cell variability of intrinsic apoptosis response at high number of biomolecules. Furthermore, we find that the mean abundance of fluctuating IAP is positively correlated with the degree of cell-to-cell variability, thus making IAP a potential target for therapeutically suppressing the stochasticity of intrinsic apoptosis response across cell population in treating diseases such as cancer. In summary, this study based on our theoretical and computational models characterizes the behavior of the intrinsic apoptosis pathway under complex stochastic perturbations, and suggests that certain deterministic features, such as system bistability and IAP as potential therapy target, still remain in the presence of noise. Altogether, the work can enable us to gain deeper understanding toward the experimentally observed uncertainty in cellular decision making.
Declarations
Acknowledgements
The authors thank Dr. Zhenyu Xuan and Donald Moore for their helpful assistance in the use of the computer cluster at the Center for Systems Biology, and are grateful for the Start-up Fund from the University of Texas at Dallas.
Authors' Affiliations
(1)
Department of Bioengineering, The University of Texas at Dallas, Richardson, USA
Copyright
© Ooi and Ma; licensee BioMed Central Ltd. 2013
This article is published under license to BioMed Central Ltd. This is an Open Access article distributed under the terms of the Creative Commons Attribution License (http://creativecommons.org/licenses/by/2.0), which permits unrestricted use, distribution, and reproduction in any medium, provided the original work is properly cited.