Methodology article
Open Access
Exploring metabolism flexibility in complex organisms through quantitative study of precursor sets for system outputs
BMC Systems Biology
2014
8:8
Received: 16 April 2013
Accepted: 1 October 2013
Published: 23 January 2014
Abstract
Background
When studying metabolism at the organ level, a major challenge is to understand the matter exchanges between the input and output components of the system. For example, in nutrition, biochemical models have been developed to study the metabolism of the mammary gland in relation to the synthesis of milk components. These models were designed to account for the quantitative constraints observed on inputs and outputs of the system. In these models, a compatible flux distribution is first selected. Alternatively, an infinite family of compatible set of flux rates may have to be studied when the constraints raised by observations are insufficient to identify a single flux distribution. The precursors of output nutrients are traced back with analyses similar to the computation of yield rates. However, the computation of the quantitative contributions of precursors may lack precision, mainly because some precursors are involved in the composition of several nutrients and because some metabolites are cycled in loops.
Results
We formally modeled the quantitative allocation of input nutrients among the branches of the metabolic network (AIO). It corresponds to yield information which, if standardized across all the outputs of the system, allows a precise quantitative understanding of their precursors. By solving nonlinear optimization problems, we introduced a method to study the variability of AIO coefficients when parsing the space of flux distributions that are compatible with both model stoichiometry and experimental data. Applied to a model of the metabolism of the mammary gland, our method made it possible to distinguish the effects of different nutritional treatments, although it cannot be proved that the mammary gland optimizes a specific linear combination of flux variables, including those based on energy. Altogether, our study indicated that the mammary gland possesses considerable metabolic flexibility.
Conclusion
Our method enables to study the variability of a metabolic network with respect to efficiency (i.e. yield rates). It allows a quantitative comparison of the respective contributions of precursors to the production of a set of nutrients by a metabolic network, regardless of the choice of the flux distribution within the different branches of the network.
Keywords
Flux Balance AnalysisFlux distributions explorationYield variabilityNutritional model
Background
When studying metabolism, it is important to elucidate how fluxes are distributed among the different pathways of the metabolic network with respect to the available quantitative information about the system behavior. Several methods can be used to address this issue. The first approach consists of building a mechanistic description of transformations and identifying the regulations involved in the system. Continuous dynamical models are often used for this purpose, especially when time-series responses to different treatments are available to infer the dynamics of the network. Static approaches such as Petri net can also identify qualitative distributions of fluxes in a metabolic network [1], and their stochastic extensions can even take into account stoichiometric and kinetic information [2]. With a complementary approach, one can study a system at the functional level, based on the study of fluxes at steady states. This is the purpose of the Flux Balance Analysis (FBA) framework, which has evolved considerably over the past decades [3, 4]. With an FBA, the identification of external regulations is not necessary because it is assumed that the global behavior of the system can be modeled by optimizing linear combinations of selected fluxes (i.e. the objective function). Roughly, the methods developed in this field aim to explore a convex space of plausible flux distributions and to study the extreme flux distributions obtained when optimizing a linear objective function. It allows checking whether an extreme flux distribution is consistent with experimental data and to predict new experimental observations [5–8]. Nonetheless, the consistency of the solutions obtained by FBA depends on the quality of the constraints integrated in the model. To overcome this limitation, several extensions have been proposed in the literature. These extensions can be broken down into two parts. The first incorporates additional biological knowledge, such as reaction thermodynamics [9] or multioptimization [10]. The second is based on the use of FBA to globally analyze large-scale metabolic networks. For example, in flux variability analysis [11], the minimum and the maximum flux for each reaction in the network are computed under some (sub-)optimal conditions.
In this paper, our main purpose is to extend this framework to study the variability of a metabolic network at the level of efficiencies instead of fluxes. Indeed, when studying a metabolism at the organ level, a major challenge consists in comparing the efficiency, or yield rates, of two metabolic situations, i.e. the response to various input patterns. A typical example of such studies are those concerning animal nutrition, which aim to predict the quality and quantity of animal production (meat, fat, milk, etc.) in response to breeding factors. In this field, the energy and protein conversion efficiencies are derived from the study of the flux distribution of input nutrients between the different branches of the metabolic network [12]. More generally, although its definition depends on the field of application, the concept of efficiency is often linked to energy, mass growth and protein conversion [13–15]. However, the computing of efficiencies is prone to difficulties and errors, since it requires computing the quantities precursors sets which are required to explain the measured composition of outputs, although some of the internal products may be recycled within cycles [16]. With this goal, we defined the allocation of an input towards an output (with the abbreviation AIO) to be the proportion of a matter component (such as carbon) in a given input flux that is recovered in the selected output flux. Our definition is based on the choice of a material component, such as carbon or nitrogen, which allows a comparison of the contributions of input metabolites to the composition of output products. It can be seen as a yield rate, which is uniform among all the outputs of the system, allowing a precise understanding of the precursors used. As a first methodological contribution, we prove that AIO can be uniquely described and computed, even in the case when there are metabolic system cycles, by a matrix whose coefficients are nonlinear functions of the flux variables. Introducing nonlinearity in the definition of AIO cannot be avoided because of the presence of these cycles.
Studying the variability of AIO within a complete space of plausible flux distributions requires the solving of nonlinear optimization problems which are underdetermined in tangible applications. As a second methodological contribution, we have proposed efficient algorithms to compute lower and upper bounds for AIOs over the family of flux distributions which are compatible with both the system's stoichiometry and the experimental datasets, regardless of the choice of a flux distribution for the internal branches of the network. An important aspect is that when the metabolic network is provided with input-output data, the complete space of plausible distributions appears to have a relatively small size, and can therefore be studied with our method. Our framework is depicted in Figure
1
.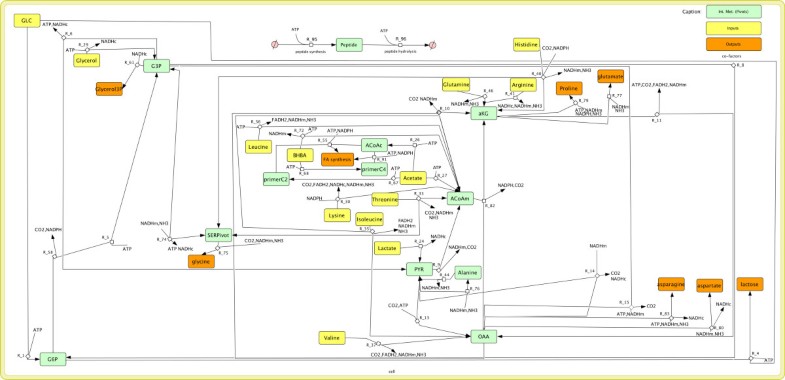 Our main example of application is related to milk production. In this context, several models have been introduced, in relation with the aforementioned classification of models. One class of small-size dynamical mechanistic models predicts the blood flow and input nutrients of the metabolic system (i.e. the mammary gland) [17, 18] or, alternatively, the nutrients produced by the metabolic system (in terms of milk composition) [19, 20]. Another class of models predicts the distribution (i.e. partitioning) of fluxes over the pathways from the input and output nutrients of the system [21, 22]. In the latter family, both dynamic and static approaches exist. Indeed, numerical models based on mass-action equations were initially proposed to describe the fluxes to and from individual metabolites, with different levels of description [21, 22]. To that goal, optimizers were used to determine a reasonable set of parameter estimates for the dynamical model of the system. Although such a set of parameter estimates is not unique. With a totally different approach, in another study, the main biochemical pathways in the different metabolisms were integrated in a generic stoichiometric model called the metabolic spreadsheet[15, 23]. Its structure was based on a restricted number of intermediary metabolites called carbon-chain pivots, which correspond to important cross-over points between metabolic pathways. This allowed the computation of the flux rates for all reactions, constrained by a general rule stating that there is no accumulation of intermediary metabolite of cofactors. A study of manual calculations performed with the metabolic spreadsheet showed that it works, in practice, by maximizing an objective function (ATP production) in a convex solution space [24]. Therefore, this model can be considered as an application of the Flux Balance Analysis framework [25].
Nonetheless, in this field of study, there has been little discussion on the impact of the choice of a single model among several (possibly infinitely many) reasonable models [14]. To investigate this issue in a more automatic way, we compared the aforementioned conventional models to the convex space of plausible flux distributions associated with steady states of a model of mammary gland metabolism, as computed in FBA. We checked the consistency of extreme flux distributions of nutrients with experimental data of the mammary gland and milk production, including the contribution of nutrient input-output and isotope balance studies [26, 27]. Based on our AIO computation framework, our analysis highlighted that the metabolic behavior of the mammary gland cannot be modeled by maximizing ATP production or by optimizing a linear combination of flux variables of the model of the mammary gland. In other words, although an infinite number of flux distributions are compatible with the data, none are extreme within the space of feasible models. Selecting any of these nonoptimal flux distributions to predict the system behavior appears difficult without additional experimentation.
To gain better understanding of the system response regardless of the choice of a flux distribution for the internal branches of the network, we applied our method to estimate the variability of AIO coefficients in our model and compared the effects of two different diets on mammary gland metabolism. Our results suggest that the bounds of AIO are sufficient to distinguish the effects of different nutritional treatments without selecting a flux distribution for the internal reactions of the metabolic network by any method - optimization of a linear combination of fluxes or a residual score. Overall, the complete study suggests considerable flexibility in mammary gland metabolism. It provides a view of the functioning of the system although its internal processes still cannot be clarified because of limitations on experimentation on large animals such as ruminants.
Results
We first investigated the set of flux distributions that are compatible with the stoichiometry of our mammary gland model (depicted in Figure
2
), without taking datasets into account. The model exhibited a large variability, since thousands of extreme pathways could be identified.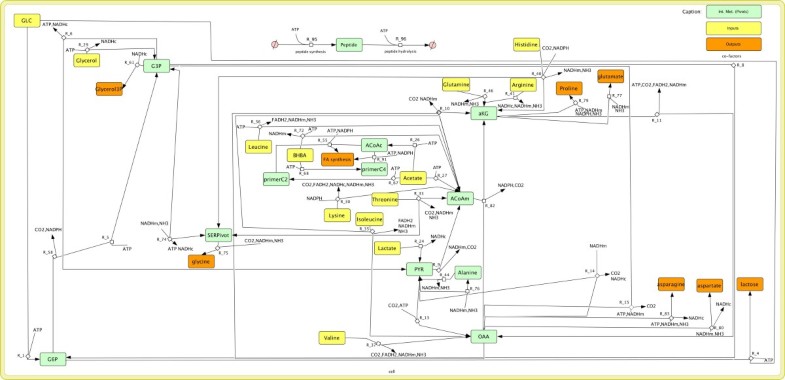 We then successively computed the set of flux distributions compatible with the model and the real datasets of lactation metabolism in dairy cows. The datasets are given in Table
1
. They include a control diet (Ctrl), a diet related to an increased protein supply through casein infusion into the duodenum (CN), and a complementary dataset (HB) previously used in a mechanistic model of the mammary metabolism [
21
]. For the three datasets, the set of plausible flux distributions – solutions to a linear system detailed in Eq. (
1
) – was an unbounded convex cone of dimension 5. In all cases, the solution spaces shared the same set of five independent variables. This suggests that there are five independent levels of variability within the system: peptide hydrolysis (
R
64
), NADPH oxidation (
R
19
), OAA →PYR (
R
14
), OAA →G3P (
R
15
) and G3P →G6P (
R
8
). Therefore, by including this dataset the model became a fairly small and constrained network. Nevertheless, it was not uniquely determined since there were still several degrees of freedom.
Table 1
Net uptake and milk component output of the mammary gland in three treatments
Input or output flux

(HB) [[21]]

mmol/h/ half udder

mmol/h/ half udder

mol/d/ udder

mmol/h/ half udder

v 2

Glucose input (1)

237

232

12.21

254

v 95

Glycerol input

5.84

5.74

0.033

0.69

v 96

Acetate input

510

462

18.42

384

v 97

BHBA input (2)

84

167

7.25

151

v 98

Lactate input

0

0

0.023

0.48

v 62

3C(n:m)-acycoA+glycerol-

32.96

39.11

1.52

31.67

3P →triglyceride (3) output (4)

Fatty acid output (synthezized) (5)

v 100

C(4:0)

10.08

11.59

0.46

9.48

v 101

C(6:0)

4.51

5.58

0.18

3.79

v 102

C(8:0)

2.23

2.87

0.10

2.06

v 103

C(10:0)

4.66

6.46

0.19

3.96

v 104

C(12:0)

4.23

6.12

0.17

3.56

v 105

C(14:0)

13.90

17.89

0.45

9.31

v 106

C(16:0)

18.82

21.44

0.64

13.40

v 99

Lactose output

73.80

83.52

3.81

79.28

Amino acids balance (6) i.e. entry or output

v 128

Alanine input

3.11

0

0.105

2.19

Alanine catabolism

v 121

Alanine output

0

3.26

0

0

Alanine synthesis

v 119

Arginine input

4.40

4.48

0.526

10.96

Arginine catabolism

v 134

Asparagine output

0

0

0.023

0.48

Asparagine synthesis

v 125

Aspartate output

3.43

4.13

0.247

5.15

Aspartate synthesis

v 122

Glutamate output

0.54

6.33

0.230

4.79

Glutamate synthesis

v 131

Clutamine input

1.22

1.79

0.072

1.50

Glutamine catabolism

v 120

Glycine output

4.98

3.44

0.248

5.17

Glycine synthesis

v 124

Proline output

10.65

10.99

0.670

13.96

Proline synthesis

v 136

Serine output (7)

7.21

7.50

0.090

1.88

Serine synthesis - Serine

used in other pathways

v 118

Histidine input

0.23

0

0

0

Histidine catabolism

v 113

Isoleucine input

2.19

3.57

1.518

31.63

Isoleucine catabolism

v 114

Leucine input

2.02

3.76

0

0

Leucine catabolism

v 108

Lysine input

2.68

3.58

0.191

3.98

Lysine catabolism

v 111

Threonine input

0.35

0

0

0

Threonine catabolism

v 115

Valine input

2.54

3.86

0.438

9.13

Valine catabolism

v 107

Peptide output (8)

124.5

150.0

7.2

149.17

Additional constraints

v 82

NADPH through ICDH pathways (9)

30%

30%

30%

30%

NADPH through Pentose Phosphate (9)

70%

70%

70%

70%

v 56=3v 62

C(n:m) →C(n:m)-acylCoA

98.87

117.32

4.56

95.00

FA primer from Acetate (10)

v 53

C(4:0)

0

0

0

0

v 54=v 90

C(6:0)

2.256

2.790

0.091

1.896

v 55=v 91

C(8:0)

1.113

1.437

0.050

1.031

v 51=v 52

C(10:0)

2.331

3.230

0.095

1.979

v 86=v 92

C(12:0)

2.116

3.061

0.086

1.781

v 87=v 93

C(14:0)

6.951

8.946

0.223

4.655

v 88=v 94

C(16:0)

9.410

10.719

0.322

6.698

Other constraints (11)

v 24

Lactate →Pyruvate

0

0

v 44

Alanine catabolism

0

v 76

Alanine synthesis

0

0

0

v 83

Asparagine synthesis

0

0

v 40

Histidine catabolism

0

0

0

v 36

Leucine catabolism

0

0

v 33

Threonine catabolism

0

0

0
Discussions
Analyzing the distribution of nutrients in a metabolic network to study the flexibility of a metabolism at the organ level
An important challenge in applicational fields of metabolism studies at the organ level is to understand how the components of inputs are transformed into some expected outputs, under some assumptions about the functioning of a system. To that end, great use is made of comparisons between yield rates describing the allocation of input nutrients within the set of outputs. Nonetheless, to allow a precise comparison of nutrients, these studies require insights on the distribution of matter components across the output of each reaction involved in the system. Such information may be provided by several experimental marking techniques (C 13 MFA) that make use of carbon isotopes [39]. Nonetheless, their application to mammals is challenging [40].
To elucidate how input nutrients are allocated among the output nutrients of a metabolic system despite experimental limitations, we have introduced novel methods which refine the flux balance analysis of a metabolic system related to an organ of a large animal. Our method can be seen as an extension of Flux Variability Analysis [11], where the emphasize is put on efficiency or yield rate variability rather than on flux variability.
As an example of application, we have studied the mammary metabolism in ruminants (dairy cows) [15, 23, 24]. Compared to the conventional models available, our stoichiometric model describes very precisely the variations of energy consumptions as ATP, allowing us to investigate some optimization hypotheses related to energy variations.
As a methodological innovation, we introduced a method to estimate the Allocation of Inputs in Outputs (AIO), that is, the ratio of transformation of each input nutrient into outputs, provided that we are given a flux distribution balancing the production and consumption of intermediary metabolites. Two AIO computations are possible: one may fix a linear combination of flux variable to optimize, leading to an extreme flux distribution (i.e. extreme pathways) whose allocations (AIO) are precisely computed with our method. Alternatively, we can reason with regard to the possibly infinite complete convex space of plausible flux distributions, in the spirit of FVA analysis, without solving the set of equations. In this case, our method estimates the minima and maxima of each allocation (AIO) coefficient within the complete space.
The latter point is where our main algorithmic innovation lies. Indeed, AIO coefficients are not linear with respect to the flux variables v. Therefore, they have no reason to be extremal for flux distributions corresponding to vertices, edges or faces of the simplex, unless the gradient of every component of the AIO is a nonzero function. Therefore, we have introduced two algorithms allowing us to compute the extremal values of AIO coefficients when the flux space is bounded. The fastest algorithm requires the exhibition of an analytic expression of the AIO matrix. If this is not possible, a local-search algorithm can be used. These algorithms can be used to check whether the extremal values are reached for flux distributions lying on the boundary of the simplex of plausible flux distributions.
This approach applied to a stoichiometry model taking ATP variations into account permitted a better understanding of ruminant mammary gland metabolism in comparison to previous studies based on similar models and datasets [22, 24]. For instance, we were able to characterize the differences in the effects of two treatments, such as the quantitative range of the proportion of glucose which is oxidized in CO2, or used for lactose synthesis. This information was derived from the carbon composition of each metabolite, expert knowledge which is easily accessible and is therefore compatible with the experimental limitations regarding mammals.
Optimization strategies within tissue or organs
Our study allowed us to revisit optimization-based hypotheses on the functioning of the mammary metabolism. We have provided evidence that flux distributions corresponding to an optimal production of energy (ATP) cannot describe appropriately the metabolism of the mammary gland, as would be the case for bacterial metabolisms, which tend to optimize biomass-related functions [5, 41]. The main reason is that the ATP balance is too large and variable among the responses to different treatments, confirming previous observations [31]. As a consequence, the underlying hypotheses used to drive previous studies of mammary metabolism have to be carefully reformulated [15, 21, 23].
As an alternative, we have hypothesized that ATP balance remains nonoptimal and almost constant in response to several treatments, and we have introduced in the model a recent estimation for this quantity [31]. Our goal was to check whether the observed responses to the system could be explained by the optimization of a linear combination of fluxes, that is, an extremal vertex of the simplex of plausible flux distributions. This hypothesis was rejected, first because it led to non-realistic orders of magnitude for some fluxes such as peptide hydrolysis, and second because the precursors of some components such as glucose were not biologically relevant [26, 27]. Notably, it was necessary to trace back the quantitative origin of the nutrients to complete this analysis and reject all extreme flux distributions, illustrating the advantage of the AIO approach.
Therefore, no optimization of a linear combination of flux variables could be found to uniquely describe the metabolism of the mammary gland, a multicellular organ, as an extreme flux distribution of our model. To overcome this limitation of FBA-inspired analyses at the mammalian tissue or organ level, we studied the variability of AIO coefficients by introducing the computation of min-max ranges of AIO. This led to a general overview of the effects of treatments without precluding any steady state internal behavior.
Benefits of studying the variability of the allocation of input in output (AIO) and future model refinements
The study of the variability of AIO, that is, intervals of allocation of nutrients, made it possible to distinguish the metabolism of the mammary gland in two different nutritional conditions corresponding to an increase in protein supply (Ctrl and CN). Notably, the intervals of allocation of glucose in CO2 and lactose were different in the two nutritional conditions, reflecting the mammary gland's metabolic flexibility. Nonetheless, several improvements can be made to the model.
First, the simplex of plausible distributions could be reduced by introducing knowledge currently available on the kinetic bounds for enzymatic activities, introduced in previous numerical models [21]. This may for instance prevent some non-constrained behaviors shown in Tables 6 and 7, such as the possible nonzero contribution of acetate and β-hydroxybutyrate (BHBA) carbon to lactose. The main issue in this area will be to aggregate the enzymatic knowledge to fit with the format of the reactions in the model, such as the reaction R 6 which transforms G3P to PYR under the regulation of five different enzymes, together with NAD+ and ATP availability. Therefore, proposing relevant maximal values requires the use of advanced methods for model reductions.
A second improvement of the model is dependent on the production of additional observations to clarify the set of possible behaviors of the system. Particularly, the contribution of acetate and β-hydroxybutyrate (BHBA) to lactose shown in Tables 6 and 7 remains questionable in ruminants since it suggests that the carbon of acetyl-COA could leave the TCA cycle of the mitochondria through the OAA → G3P pathway. This could be explained by the fact that the carbon allocation in the model did not take account of the carbon positions. However, one isotope model and one study of gluconeogenesis in man suggested that labeled carbon within glucose came from [2-14C]-acetate (through 14C-acetylCoA in TCA) [42, 43]. It remains challenging to obtain such precise information for large ruminants such as dairy cows. Nevertheless, the model could be improved by modeling with additional constraints the few items of knowledge we have on the flux distribution of positioned carbons.
The last improvement of the model consists of including constraints that do not correspond to rule-based metabolic equations. More precisely, in several numerical models, the effects of external fluxes were introduced to predict the response of the mammary gland in a consistent way [14, 17, 18]. Among external fluxes, we noticed the regulatory effect of long-chain fatty acids on the activity of enzymes involved in fatty acid synthesis, although the mechanisms are not clearly understood [44]. Although some extensions of the FBA formalism to dynamic regulation exist [45], the data availability was insufficient to apply the extensions in the model. Therefore, existing regulations of enzyme activities cannot be included directly in the stoichiometric model. To overcome this limitation, we plan to investigate the effects of external fluxes by introducing additional constraints in the model, to check whether the nutrient output in the milk can be predicted from the nutrient input.
Conclusion
We have introduced a method in the framework of flux-balance analysis of a metabolic network. As a main novelty, our approach allows studying the variability of efficiencies (or yield rates) of a metabolic model provided with input-output measurements. More precisely, our approach allows a quantitative estimation of the minimum and maximum proportions of the carbon quantity of each input nutrient which is recovered in each output component of the system. The main innovation is to propose a method which does not require determining the quantitative distribution of nutrients between the branches of the system. To that end, we have performed a parsing of the space of flux distributions which are compatible with both the model stoichiometry and input-output measurements.
This method was applied to study the response of the mammary gland to several treatments. It allowed us to distinguish two different metabolic responses of the system, corresponding to two nutritional situations and accurately reflecting metabolic flexibility. Overall, our method appears to be configured to study the variability of the yield rates of a metabolic system at the multicellular or organ level without making any hypothesis on the internal behavior of the system.
Availability of supporting data
Endnotes
a These functions are: v 8+v 19, v 8-v 19, v 14+v 19, v 14-v 19, v 15+v 19, v 15-v 19, v 64+v 19, v 64-v 19
b For instance, for the (Crtl) treatment, there is a distribution such that v 8<591 and v 13<266 are lower than the bounds introduced in [26, 27], while v 64/v 63=0.62<0.67 and glucose is the precursor for 90.79% of the lactose carbon
c All the computations were performed by using Matlab release 2011 on a Xeon E5645 multicore computer.
d These functions are: v 8+v 19, v 8+v 19-50 v 15, v 8-v 19-v 14, v 8-v 19-v 15, v 14+v 19, v 14+v 19-50 v 15, v 14-v 19, v 15+v 19, v 15-v 19, v 64+v 19, v 64+v 19-50 v 15, v 64-v 19-v 14, v 64-v 19-v 15.
e http://nutritionanalyzer.genouest.org/SupplementaryMaterial. The access to the pre-formatted model and datasets supporting the results is planned to be on request. A valid access is provided by: login : SuppMat; password : tamppuss
f Mathematically, these constraints can be derived as: 0.7v 82-0.3v 58=0; v 51-v 52=0; v 54-v 90=0; v 55-v 91=0; v 86-v 92=0; v 87-v 93=0; v 88-v 94=0; v 56-3v 62=0.
Declarations
Acknowledgements
Part of this program was supported by the French National Agency for Research (ANR-10-BLANC- 0218). The authors wish to thank Damien Eveillard for fruitful discussions.
Authors' Affiliations
(1)
IRISA UMR 6074, Université Rennes, Campus de Beaulieu, Campus de Beaulieu, France
(2)
CNRS, IRISA UMR 6074, Campus de Beaulieu, France
(3)
INRIA Campus de Beaulieu, Rennes Cedex, France
(4)
INRA, UMR1348 Pegase, Saint-Gilles, France
(5)
Agrocampus Ouest, UMR1348 Pegase, Rennes, France
(6)
LINA, UMR 6241, Université de Nantes, Nantes, France
Copyright
© Abdou-Arbi et al.; licensee BioMed Central Ltd. 2014
This article is published under license to BioMed Central Ltd. This is an Open Access article distributed under the terms of the Creative Commons Attribution License (http://creativecommons.org/licenses/by/2.0), which permits unrestricted use, distribution, and reproduction in any medium, provided the original work is properly cited.