Research article

Open Access
The role of TGF-β signaling and apoptosis in innate and adaptive immunity in zebrafish: a systems biology approach
BMC Systems Biology
2014
8:116
Received: 15 April 2014
Accepted: 3 October 2014
Published: 24 October 2014
Abstract
Background
The immune system is a key biological system present in vertebrates. Exposure to pathogens elicits various defensive immune mechanisms that protect the host from potential threats and harmful substances derived from pathogens such as parasites, bacteria, and viruses. The complex immune system of humans and many other vertebrates can be divided into two major categories: the innate and the adaptive immune systems. At present, analysis of the complex interactions between the two subsystems that regulate host defense and inflammatory responses remains challenging.
Results
Based on time-course microarray data following primary and secondary infection of zebrafish by Candida albicans, we constructed two intracellular protein–protein interaction (PPI) networks for primary and secondary responses of the host. 57 proteins and 341 PPIs were identified for primary infection while 90 proteins and 385 PPIs were identified for secondary infection. There were 20 proteins in common while 37 and 70 proteins specific to primary and secondary infection. By inspecting the hub proteins of each network and comparing significant changes in the number of linkages between the two PPI networks, we identified TGF-β signaling and apoptosis as two of the main functional modules involved in primary and secondary infection.
Smad7, a member of the inhibitor SMADs, was identified to be a key protein in TGF-β signaling involved in secondary infection only. Indeed, the Smad7-dependent feedback system is related to the TGF-β signaling pathway and the immune response, suggesting that Smad7 may be an important regulator of innate and adaptive immune responses in zebrafish. Furthermore, we found that apoptosis was differentially involved in the two infection phases; more specifically, whereas apoptosis was promoted in response to primary infection, it was inhibited during secondary infection.
Conclusions
Our initial in silico analyses pave the way for further investigation into the interesting roles played by the TGF-β signaling pathway and apoptosis in innate and adaptive immunity in zebrafish. Such insights could lead to therapeutic advances and improved drug design in the continual battle against infectious diseases.
Keywords
C. albicans
Zebrafish
Infection
Protein-protein interaction
Dynamic
Modeling
Immune
Adapt immune
Background
Immunity is the natural capability of the body to resist and defend against invasion by pathogenic microbes. In vertebrates, the immune system can generally be divided into two main categories: the innate immune system and the adaptive immune system [1]. The former is responsible for nonspecific immune responses and serves as the front line for rapid defense against foreign invading pathogens [2]. In contrast to the innate immune system, the adaptive immune system is composed of highly specialized systemic cells and defensive processes that are capable of preventing, or at least restricting, specific pathogen invasion. The most significant difference between the innate and adaptive response is that adaptive immunity results in the formation of immunological memory after an initial response to a specific pathogen, leading to an enhanced immune response upon subsequent exposure to the same pathogen.
The zebrafish (Danio rerio) has become a powerful model organism for biomedical research in recent years because if its high reproductive rate and low maintenance cost [3]. Indeed, the use of zebrafish to study immunity against infectious disease, including those due to bacterial or viral infections, is rapidly increasing [4],[5]. Importantly, zebrafish possesses both innate and adaptive immune systems, making it a particularly suitable model organism for investigating immune mechanisms in vertebrates and mammals [4].
Candida albicans, a fungal pathogen that grows as both yeast and filamentous forms, causes opportunistic oral and genital infections in humans [6]. Notably, the ability of C. albicans to adapt to diverse environmental changes, including fluctuations in temperature, nutrients, and pH levels, renders it relatively difficult to treat in hosts [7]. Thus, understanding how the zebrafish immune system responds to C. albicans infection is crucial to the development of novel therapeutic strategies against infectious diseases in humans.
The transforming growth factor-β (TGF-β) signaling pathway is essential in regulating the immune response to combat infection [8], and defective TGF-β signaling leads to several systemic autoimmune defects. In the canonical pathway, TGF-β signaling mediates its effect through the SMAD pathway [9]. Several studies have revealed that TGF-β signaling suppresses immune responses [8],[10],[11]. Conversely, however, immune cells can also promote TGF-β signaling [10]. Thus, the molecular mechanisms involved in the TGF-β signaling pathway, which regulates host tolerance as well as innate and adaptive immunity, are important areas for study. Nevertheless, the complex role of TGF-β signaling in maintaining the balance of the immune system remains poorly understood.
In this study, our main objective is to identify the key proteins or functional modules involved in the zebrafish immune response toward primary and secondary infection with C. albicans. By constructing two zebrafish intracellular PPI networks for primary and secondary infection, we seek to compare and identify the key proteins, molecular processes, and mechanisms between these two infection phases. In particular, we hope to elucidate the roles of TGF-β signaling in innate and adaptive immune responses.
Conclusion
Using dynamic modeling and time-course microarray data, we constructed intracellular PPI networks for primary and secondary infection of zebrafish with C. albicans. Using these PPI networks, we examined how immune responses in zebrafish are triggered against primary and secondary infection. We identified 341 and 359 intracellular PPIs in the intracellular PPI networks for primary and secondary infection, respectively. Hub proteins of each network were also identified.
By comparing the two constructed PPI networks, the ten proteins with the most significant changes in linkage between primary and secondary infection were determined. These proteins might play crucial roles in the immune response of zebrafish during infection; thus, the biological and molecular processes that these proteins play during primary and secondary infection were investigated.
TGF-β signaling and apoptosis were two of the main functional modules in primary and secondary infection. Smad7, an I-SMAD protein, was found to be important in TGF-β signaling in secondary infection only. Smad7 interferes with R-SMAD phosphorylation and thereby attenuates TGF-β signaling. Therefore, the role of Smad7 in secondary infection suggests that attenuated suppression of immune cells, which enables the adaptive immune response to defend against high-dose secondary infection. We also identified a feedback system that describes the relationship between TGF-β signaling and the immune response.
We discovered several crucial proteins (Casp2, Acvr1b, and Hsp90a.1) associated with apoptosis. As the most significant proteins in secondary infection were involved in the inhibition of apoptosis, the apoptotic process might an important mechanism in the zebrafish immune response against C. albicans, particularly during primary infection.
Our initial in silico analyses encourage further experimental investigation on the pertinent roles played by apoptosis in the innate and adaptive immune response of zebrafish. We believe that new insights revealed by our work may lead to therapeutic advances and improved design of drugs for the continuous battle against infectious diseases.
Methods
Zebrafish strain and maintenance
Male, wild-type AB strain zebrafish were used in the study. Zebrafish were adults approximately 9 months old and weighed 0.33–0.37 g. Fish were maintained in 10 L tanks at 28.5°C under a 14/10 h day/night cycle.
C. albicansstrain and growth conditions
The SC5314 strain of C. albicans was used in this study. A single colony from fresh YPD agar plates (1% yeast extract, 2% peptone, 2% dextrose, 1.5% agar) was inoculated into 5 ml YPD broth and then incubated with shaking at 180 rpm at 30°C for 24 h. Cells were harvested by centrifugation, washed once with sterile PBS or Hank's balanced salt solution (HBSS), and then resuspended in sterile PBS or HBSS. Suspensions of C. albicans cells were diluted with PBS or HBSS and then injected into zebrafish.
Infection and survival assay
Zebrafish were anesthetized by immersion in water containing 0.17 g/ml tricaine (Sigma, USA) and then intraperitoneally injected with 1 × 10
5
(primary infection) and 1 × 10
7
(secondary infection) colony-forming units (CFU) of
C. albicans
at day 0 and 14, respectively, by using a 26.5 gauge syringe (Hamilton Syringe 701 N). After infection, fish were immediately transferred to the tanks to recover immediately and kept in separate 10 L tanks maintained with daily water changes. The tanks were housed in an incubator with a 14/10-h day/night cycle at 28.5°C. The fish were closely monitored and mortality was determined every hour. The phenotypes of infected zebrafish, including bleeding, ulcer/lesion, and dropsy/abnormal swelling, were shown in Figure
10
.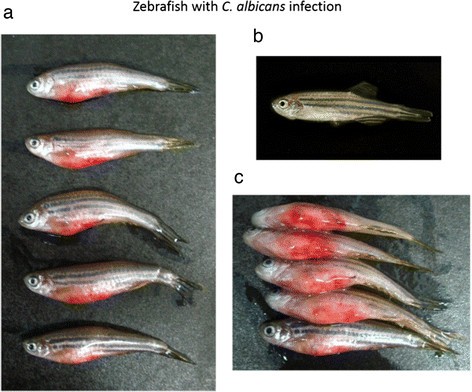 Purification of C. albicansand zebrafish RNA
C. albicans-infected zebrafish were immersed in Trizol reagent (Invitrogen, USA) and then ground in liquid nitrogen using a small mortar and pestle. The ground sample was then disrupted by using a MagNALyser System (Roche) with glass beads (cat. no. G8772-100G, Sigma), and then shaken at 5,000 rpm for 15 s. After phase separation by addition of chloroform, the total RNA was purified using an RNeasy Mini Kit (Qiagen, Germany). The purified RNA was quantified at an OD of 260 nm wavelength by using an ND-1000 spectrophotometer (Nanodrop Technology, USA) and the RNA quality was analyzed using a Bioanalyzer 2100 (Agilent Technologies, USA) with a RNA 6000 Nanolabchip kit (Agilent Technologies).
Microarray experiments
Total RNA (1 μg) was amplified using a Quick-Amp labeling kit (Agilent Technologies), and then labeled with Cy3 (CyDye, PerkinElmer, USA) during the in vitro transcription process. For the C. albicans and zebrafish arrays, 0.625 and 1.65 μg of Cy3 cRNA, respectively, were fragmented to an average size of approximately 50 to 100 nucleotides by incubation with fragmentation buffer at 60°C for 30 min. The fragmented and labeled cRNA was then hybridized to an oligomicroarray at 60°C for 17 h. The microarrays were washed, then dried by using a nitrogen gun, and then scanned for Cy3 at 535 nm by using an Agilent microarray scanner (Agilent Technologies, USA). Scanned images were analyzed by Feature Extraction 9.5.3 software (Agilent Technologies), and image analysis and normalization software were employed to quantify the signal and background intensities for each feature. Raw data were uploaded onto the NCBI GEO Database (The array data has been uploaded onto NCBI GEO database with accession number: GSE51603).
The time points of the time-course microarray data for the primary infection were 1, 2, 3, 6, and 14 days post-infection (dpi), and those for secondary infection were 14.2, 14.6, 14.12, 14.18, 15, 15.6, 15.12, and 15.18 dpi (Figure 2). Each time point consisted of two replicates with 10 zebrafish in each replica as well as the control group with comparable conditions.
While the microarray dataset presented in this manuscript was newly generated and first reported in this study, it is also a most recent report from a series of pathogen-host interaction studies completed by our research group. Routine validation assays, including histological analysis, have already been performed and reported previously to ensure the quality and reproducibility of our data (ex.[37]-[39]). In comparison with our published reports that were focusing on the primary infection, the results are highly consistent between the current study and our past findings.
Authors' contributions
Conceived and designed the experiments: YJC CYL. Performed the experiments: YJC CYL. Analyzed the data: CNL CL YCW FYL WPH BSC. Contributed reagents/materials/analysis tools: CL CNL YCW FYL BSC. Wrote the manuscript: CL CNL. All authors read and approved the final manuscript.
Declarations
Acknowledgement
The work was supported by the National Science Council of Taiwan, R.O.C. with funding number: NSC102-2745-E-007-001-ASP, NSC-100-2627-B-007-004 NSC100-2627-B-007-002 and NSC97-2627-B-007-006. The funders had no role in study design, data collection and analysis, decision to publish, or preparation of the manuscript.
Authors' Affiliations
(1)
Institute of Communication Engineering, National Tsing Hua University, Hsinchu, Taiwan
(2)
Department of Electrical Engineering, National Tsing Hua University, Hsinchu, Taiwan
(3)
Institute of Biomedical Informatics, National Yang-Ming University, Taipei, Taiwan
(4)
Department of Medical Science and Institute of Bioinformatics and Structural Biology, National Tsing Hua University, Hsinchu, Taiwan
(5)
Department of Life Science and Institute of Molecular and Cellular Biology, National Tsing Hua University, Hsinchu, Taiwan
(6)
Institute of Statistics, National Tsing Hua University, Hsinchu, Taiwan
Copyright
© Lin et al.; licensee BioMed Central Ltd. 2014
This article is published under license to BioMed Central Ltd. This is an Open Access article distributed under the terms of the Creative Commons Attribution License (http://creativecommons.org/licenses/by/4.0), which permits unrestricted use, distribution, and reproduction in any medium, provided the original work is properly credited. The Creative Commons Public Domain Dedication waiver (http://creativecommons.org/publicdomain/zero/1.0/) applies to the data made available in this article, unless otherwise stated.