Research article

Open Access
DGCA: A comprehensive R package for Differential Gene Correlation Analysis
BMC Systems Biology
BMC series – open, inclusive and trusted
2016
10:106
Received: 23 May 2016
Accepted: 3 November 2016
Published: 15 November 2016
Abstract
Background
Dissecting the regulatory relationships between genes is a critical step towards building accurate predictive models of biological systems. A powerful approach towards this end is to systematically study the differences in correlation between gene pairs in more than one distinct condition.
Results
In this study we develop an R package, DGCA (for Differential Gene Correlation Analysis), which offers a suite of tools for computing and analyzing differential correlations between gene pairs across multiple conditions. To minimize parametric assumptions, DGCA computes empirical p-values via permutation testing. To understand differential correlations at a systems level, DGCA performs higher-order analyses such as measuring the average difference in correlation and multiscale clustering analysis of differential correlation networks. Through a simulation study, we show that the straightforward z-score based method that DGCA employs significantly outperforms the existing alternative methods for calculating differential correlation. Application of DGCA to the TCGA RNA-seq data in breast cancer not only identifies key changes in the regulatory relationships between TP53 and PTEN and their target genes in the presence of inactivating mutations, but also reveals an immune-related differential correlation module that is specific to triple negative breast cancer (TNBC).
Conclusions
DGCA is an R package for systematically assessing the difference in gene-gene regulatory relationships under different conditions. This user-friendly, effective, and comprehensive software tool will greatly facilitate the application of differential correlation analysis in many biological studies and thus will help identification of novel signaling pathways, biomarkers, and targets in complex biological systems and diseases.
Keywords
Differential correlationDifferential coexpressionMultiscale clustering analysisR packageRNA-SeqTP53Breast cancerTriple negative breast cancer
Background
Over the past two decades, a wealth of high-dimensional biological data types have emerged including microarray, RNA-seq, proteomics, epigenomics, metabolomics, lipidomics, and many others [
1
,
2
]. A common use of these data is to gather and compare samples from multiple conditions, e.g., disease and non-diseased, in an attempt to identify molecular identifiers (e.g., probes, transcripts, genomic features, proteins, metabolites, lipids; henceforth, "genes") that distinguish between different conditions. Currently, the most common method of comparing samples from different conditions is differential expression analysis [
3
,
4
]. Recently, new methods for detecting differential co-expression or differential correlation analysis have emerged to gain insights into the difference in gene-gene relationships between various conditions of interest. Distinct from differential expression, differential correlation operates on the level of gene pairs rather than individual genes (Fig.
1
). Differential co-expression analysis can start with coexpressed gene modules or clusters based on the similarity of their gene expression in each condition using WGCNA [
5
] and MEGENA [
6
] and then computes module overlap statistics between conditions [
7
] or the average modular differential connectivity [
8
,
9
]. Alternative approaches including DICER [
10
], DINGO [
11
], CoXpress [
12
], SDC [
13
], DiffCoEx [
14
], GSCA [
15
], and GSNCA [
16
] were developed to identify differential co-expression relationships between conditions and gene modules in each condition simultaneously.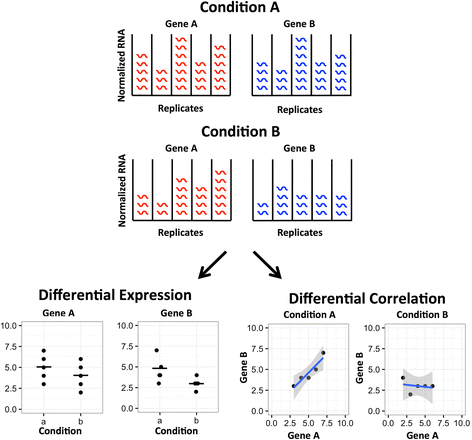 While differential coexpression analysis has proven useful in identifying significantly different modular connectivity patterns, differential correlation analysis of individual gene pairs is far more granular. As an example of such a differential correlation, RNA levels of the prostate cancer biomarker gene AMACR have been found to have positive correlation with the tumor suppressor gene PTEN in adjacent normal tissue samples, but not in prostate cancer tissue samples [17]. Multiple approaches for identifying differential correlation between individual gene pairs have been developed, including DiffCorr [18], EBcoexpress [19], and Discordant [20]. DiffCorr calculates correlations in each condition and uses the difference in z-transformed correlation coefficients to calculate p-values. EBcoexpress uses an empirical Bayesian approach and a nested expectation-maximization algorithm to estimate the posterior probability of differential correlation between gene pairs. Discordant fits a mixture distribution of correlation classes in each condition and uses an expectation-maximization algorithm to estimate the posterior probability of each differential correlation category [21].
In this manuscript, we introduce DGCA, an R package to identify differential correlations between gene pairs in multiple conditions. DGCA shares some features with existing approaches for identifying differential correlation. Like DiffCorr, DGCA transforms correlation coefficients to z-scores and uses differences in z-scores to calculate p-values of differential correlation between genes. Like Discordant, DGCA classifies differentially correlated gene pairs into the nine possible categories. However, DGCA differs from the existing differential correlation approaches in four key ways. First, DGCA calculates false discovery rate of differential correlations through non-parametric sample permutation. Second, DGCA can calculate the average difference in correlation between one gene and a gene set across two conditions. Third, DCGA integrates with MEGENA to perform multiscale clustering analysis of differential correlation networks to identify gene modules (clusters) and hub genes. Finally, DGCA provides comprehensive downstream functional analysis of differential correlation structures including visualization, gene ontology (GO) enrichment, and network tools.
To assess the performance of DGCA and the existing methods EBcoexpress and Discordant in identifying differentially correlated gene pairs, we designed and implemented a simulation study. Next, we applied DGCA to the breast cancer data from The Cancer Genome Atlas (TCGA) with and without p53 and PTEN coding mutations. We identified five genes with a significant change of correlation with TP53 in the p53-mutated samples, and two genes with a significant change of correlation with PTEN in the PTEN-mutated samples. We showed that each gene's differential correlation with TP53/PTEN between p53/PTEN wildtype and inactivated samples is uncorrelated with its differential expression in this data set. By evaluating differential correlations between the overall correlation matrices, DGCA allowed us to harness additional insights about the regulatory patterns among TP53's targets following p53 mutation. We further performed DGCA on the estrogen receptor-positive (ER+) and triple negative (TN) breast cancer subtypes in the TCGA breast cancer data and identified key gene ontology categories that differ in regulation between breast cancer subtypes. By integrating DGCA with the multiscale clustering approach MEGENA, we identified modules containing key hub genes that coordinate differential correlations between the two subtypes. We demonstrated that DGCA/MEGENA can better detect modules than the established approaches DICER and DiffCoEx in another simulation study. Furthermore, we showed that a majority of the modules detected by DGCA/MEGENA in the TCGA breast cancer data were not detected by DiffCoEx or DICER, while a majority of the modules detected by either DiffCoEx or DICER were uncovered by DGCA/MEGENA, revealing the novelty of our proposed module detection approach.
Discussion
The R package DGCA developed by this study is a powerful new tool for querying the regulatory relationship of gene pairs under different conditions. DGCA is applicable to a wide range of input data types, including microarray data, tissue-level or single-cell RNA-seq data, proteomic data, methylation data, and metabolomic data. In general, DGCA can be used to compare the correlations between features from both continuous- and count-based data types. Users input a gene expression matrix with gene identifiers in rows and samples in columns, a design matrix specifying which samples correspond to which conditions, and a vector specifying the conditions to be compared. In our differentially correlated gene pair simulation study, DGCA significantly outperformed EBcoexpress and Discordant in terms of accuracy and speed. When we applied DGCA to the RNA-seq data from the TCGA breast cancer samples with and without p53 mutations, we identified p53 pathway genes that had significant changes in correlation with TP53 between the p53-mutated samples and those without p53 mutations. We revealed that p53 mutations altered the correlation patterns between the p53-pathway genes. We also studied the effect of non-silent PTEN DNA coding mutations, and showed that these mutations led to differential correlation between PTEN and two genes that it has been found to interact with. In the future, we will examine additional genes such as MYC, KRAS, and ERBB2 in breast cancer and other cancers.
One of the limitations of our differential correlation approach to studying p53 mutations in breast cancer is that there is a wide variety in the functions of p53-mutations [53] and our approach averaged over many of them. As the sample size of the available data increases, it would be valuable to perform differential correlation on groups defined by individual p53 mutations or classes of p53 mutations. Given a larger sample size allowing for factorial analyses in differential correlation, it would also be interesting to consider both the effect of heterozygous deletions of the short arm of chromosome 17 that contain the p53 gene, which is often seen in combination with p53 coding mutations [77]. This would allow investigators to study whether TP53 gene dosage affects p53 activity, especially because some but not all p53 coding mutations are able to act in a dominant-negative manner [78]. Another factor we will consider in future studies is MDM2 gene amplification, which can also modulate the activity of p53 [54].
DGCA fits in well with the growing suite of tools available in the R statistical programming ecosystem for analyzing gene expression data, and can be used synergistically with a number of them. For example, as demonstrated empirically in this study, differential correlation is complementary to differential expression for discovering differences in gene expression between conditions. Differential correlation as a complement to differential expression is particularly apt in the case that the expression of a regulatory gene (e.g., a transcription factor) has its activity altered in one of the conditions without fully abrogating its expression, as is often the case for DNA mutations in tumor cells. However, differential correlation can be applied more broadly as well; for example, in discovering differences in the pathways that genes participate in between tissues and cell types. Differential correlation is also complementary to module detection approaches, such as MEGENA, as was shown in this manuscript through a comparison of estrogen receptor-positive breast cancer to triple-negative breast cancer. By using the finely-grained DGCA method, our approach was able to identify individual differential correlations between key gene pairs, and use them to create "bottom-up" differential correlation network modules. Further, differential correlation of individual gene pairs works particularly well downstream of higher-level module detection approaches, such as WGCNA, to perform "top-down" identification of modules with significant differential correlation. This is because parsing up the input gene expression matrix into smaller sets is often critical in order to make sense of the millions or even billions of gene pair combinations that can be analyzed in a typical RNA expression data set. In order to add further to the R programming gene expression analysis suite, future directions for improving DGCA include detection of linear changes in correlation across more than two conditions and integration with differential expression to define genes with differential wiring across conditions [79].
Aside from integration of DGCA and MEGENA, there are several alternative approaches available to identify modules of differentially correlated genes between conditions. One of the earliest studies to address this problem identified gene sets that led to the largest difference in an additive model that scored co-expression of genes in each condition [80]. This model-based approach allowed for an efficient search for gene sets that are co-expressed in one condition but not the other. A distinct approach called CoXpress first uses hierarchical clustering to identify groups of genes that are coexpressed across conditions, and then leverages sample permutations to measure whether each of these gene sets is significantly differentially coexpressed between conditions [12]. A separate approach called SDC (Subspace Differential Correlation) uses a biclustering approach to identify gene sets that are differentially coexpressed in subsets of each of two conditions [13]. DiffCoEx calculates dissimilarity scores between gene pairs in two or more conditions, and then uses leverages the WGCNA approach to identify modules based on this dissimilarity matrix [44]. An approach called DICER (Differential Correlation in Expression for meta-module Recovery) first calculates a probabilistic score for genewise differential correlation between conditions [10], and then performs hierarchical clustering on these differential correlation scores to identify modules of differential correlation, as well as meta-modules of modules that demonstrate differences in correlation across conditions. Another class of approaches also quantifies differential coexpression between conditions given an initial collection of gene sets, including Gene Set Co-expression Analysis (GSCA) [15] and Gene Sets Net Correlations Analysis (GSNCA) [16].
The module detection method described in this manuscript differs from all of these methods in that it does not set out solely to identify modules, but rather to identify individual gene pairs links with significant differentially correlations between conditions. Using this empirically identified set gene pairs, we demonstrated how integration with MEGENA, which has been previously shown to outperform alternatives in co-expression network construction [6], can be used to construct a planar filtered network and identify informative modules. This integration allows for visualization of the individual differential correlation links and their differential correlation classes, as well as the identification of hub genes within each module, which to the best of our knowledge none of the existing methods offer. Notably, DGCA is also complementary with several of the previously described approaches, since DGCA offers functions to calculate the average correlation difference across conditions within a module of genes, both averaging across all genes in the module and averaging across one gene compared to all other genes in the module.
We further sought to comprehensively assess the performance of the differential correlation modules identified by DGCA/MEGENA in comparison with the two most similar methods, DiffCoEx and DICER. First, in our simulation study for detecting differentially correlated modules, DGCA/MEGENA consistently outperformed DiffCoEx and DICER under the more general simulation settings, whereas DGCA/MEGENA has comparable performance with DiffCoEx and DICER under the more extreme circumstance in which a vast majority of gene pairs are differentially correlated. This result makes sense in light of the fact that DGCA/MEGENA adopts a "bottom-up" approach by first identifying differentially correlated gene pairs and then detecting modular structures, whereas DiffCoEx and DICER employ a "top-down" approach that relies more heavily on a consistent relationship between many gene pairs within a module across conditions. Therefore, DGCA/MEGENA works well under a wider range of circumstances where DiffCoEx and DICER miss many less densely connected modules. Next, we found that all three of the methods identified differential correlation modules that were significantly enriched for gene signatures related ER+ and triple-negative breast cancer subtypes, though DGCA/MEGENA and DICER identified the most relevant modules. A limitation of this analysis is that although enrichment of disease-relevant gene sets as a proxy for efficacy in different coexpression module detection has been used before [10], it is unclear whether a more sensitive approach to disease-associated module detection is necessarily better when considering the possibility of false positives. Therefore, the problem of optimal differential coexpression module detection on realistic biological data awaits future study, including the identification of a gold-standard data set to compare across methods in an unbiased and biologically meaningful way. However, DGCA/MEGENA identified the highest proportion of unique modules and this strongly suggests that DGCA/MEGENA does represent a novel method for differential correlation module detection. Thus, DGCA/MEGENA increases the diversity of options for this type of analysis.
As an important aspect of DGCA is the use of permutation samples to assess the statistical significance of differential correlations, we offer some guidelines for the use of this approach. It is important to distinguish between permutation analyses that use pooled empirical null distributions as opposed to analyses that use empirical null distributions from each gene or gene pair [81]. For pooled approaches, fewer permutations are needed because information is shared across gene pairs; for example, given a 10,000 gene data set and five permutations, the differential correlation of each actual gene pair is compared to 249,975,000 permuted gene pairs in order to estimate empirical null p-values. However, this vastly increases the memory footprint required for empirical p-value calculation and q-value estimation. Perhaps as a result, some investigators have used only one permutation of the data in such analyses [9]. If these memory constraints limit the number of permutations possible, we suggest that a reasonable approach is to repeat the analysis. For example, we repeated the ER+ vs TN breast cancer differential correlation analysis three times and found that the number of significantly identified differentially correlated gene pairs at both q < 0.05 and q < 0.01 were within acceptable limits (within 30% of one another) for the purpose of downstream analyses on gene sets. Although the above reasoning applies to cases with many gene pairs, heavy filtering of the input data and/or differential correlation calculations of only one gene compared to all others leads to far fewer empirical null statistics. For example, five permutations of the 295 gene pairs for the p53 differential correlation analysis would lead to only 1475 permuted gene pairs for use in estimating empirical null p-values, which is why we used more permutations (10,000) in this case. Non-pooled approaches are commonly used on the data sets with reduced dimensionality, such as the module level, or in our case, in the comparison of the average correlation of each gene compared to all other genes in two conditions. Non-pooled permutation approaches commonly use on the order of 100 or 1000 permutations [82, 83], and we use 1000 permutations to balance interpretability with computational efficiency. Notably, the number of permutations in non-pooled approaches delineates a clear lower bound on the empirical p-value that can be ascertained from the analysis. Overall, the number of permutations used in DGCA for pooled reference distributions depends on the total number of empirical gene pairs under consideration, while for non-pooled reference distributions it depends on the desired sensitivity of the lower bound of empirical p-values.
Conclusions
Despite the theoretical advantages of studying differences in the correlation of key gene pairs between conditions, differential coexpression or differential correlation is not yet widely utilized, partially due to the lack of effective and biology-oriented software packages that enable biological meaningful findings. Our R package, DGCA, provides a comprehensive and user-friendly tool for not only calculating differential correlation between two conditions but also performing a number of downstream functional analyses including categorization of differential correlations, identification of multiscale differential correlation clustering structures, detection of key differential correlation hubs, and enrichment tests of functional pathways in differential correlation categories and clusters. Our differentially correlated gene pair and module detection simulation studies show that DGCA and DGCA/MEGENA perform favorably compared to the existing alternative methods. Our application to breast cancer data demonstrates that DGCA is capable of unlocking novel insights into real biological problems. This user-friendly, effective, and comprehensive software tool will greatly facilitate the application of differential correlation analysis in many biological studies and thus will help identification of novel signaling pathways, biomarkers, and targets in complex biological systems and diseases.
Software and data availability
The DGCA R package will be available for download from CRAN (the Comprehensive R Archive Network, https://cran.r-project.org/), a repository of open-source software. Source code and other files are available at https://github.com/andymckenzie/DGCA.
Below is R code for using the DGCA package to analyze a subset of a publicly available single-cell RNA-seq data set.
Step 1. Load the DGCA R package. > library(DGCA)

Step 2. Read in the gene expression matrix. > data(darmanis)

Step 3. Read in the design matrix. > data(design_mat)

Step 4. Perform the basic differential correlation analysis for the gene RTN4 between oligodendrocytes and neurons. > dgca_res = ddcorAll(inputMat = darmanis, design = design_mat, compare = c("oligodendrocyte", "neuron"), adjust = "perm", nPerm = 10, splitSet = "RTN4")

Step 5. View the top 20 genes differentially correlated with RTN4 as well as their differential correlation statistics. > head(dgca_res, 20)

Step 6. Visualize the correlation in each condition between RTN4 and its top differentially correlated gene pair in this data set. > plotCors(inputMat = darmanis, design = design_mat, compare = c("oligodendrocyte", "neuron"), geneA = "RTN4", geneB = "COX6A1")

For a more detailed explanation about package usage, please read the R help documents or vignettes. > help(package = "DGCA"); vignette(package = "DGCA")

The Cancer Genome Atlas (TCGA) datasets supporting the conclusions of this article are available in the National Cancer Institute's Genomic Data Commons, https://gdc.cancer.gov/.
Abbreviations
DGCA:

Differential Gene Correlation Analysis (R package name)
dz:

Difference in z-scores
ER+:

Estrogen Receptor-Positive (breast cancer subtype)
FDR:

False discovery rate
GOC:

Gain of correlation
LOC:

Loss of correlation
p53:

tumor protein 53 protein isoform
TCGA:

The Cancer Genome Atlas
TN:

Triple Negative (breast cancer subtype)
TP53:

Tumor Protein P53 gene.
Declarations
Acknowledgements
Not applicable.
Funding
This work was supported by the grants F30AG052261 (to A.M.) from the NIH/National Institute on Aging (NIA, http://www.nia.nih.gov/), R01AG046170 (to B.Z.) from the NIH/National Institute on Aging (NIA, http://www.nia.nih.gov/), R01CA163772 (to B.Z.) from NIH/National Cancer Institute (NCI, http://www.cancer.gov/), and U01AI111598-01 (to B.Z.) from NIH/National Institute of Allergy and Infectious Diseases (NIAID, http://www.niaid.nih.gov/). The funders had no role in study design, data collection and analysis, decision to publish, or preparation of the manuscript.
Authors' contributions
AM and BZ designed and conceptualized the R package. AM wrote the R package and package vignette. AM designed and implemented the simulation studies. IK and AM applied DGCA to the TCGA breast cancer data. WS and AM used MEGENA to extend differential correlation gene pairs to the network level. MW contributed code and insight for data visualization. AM and BZ drafted and edited the manuscript. All authors read and approved the manuscript.
Competing interests
The authors declare that they have no competing interests.
Consent for publication
Not applicable.
Ethics approval and consent to participate
Not applicable.
Open AccessThis article is distributed under the terms of the Creative Commons Attribution 4.0 International License (http://creativecommons.org/licenses/by/4.0/), which permits unrestricted use, distribution, and reproduction in any medium, provided you give appropriate credit to the original author(s) and the source, provide a link to the Creative Commons license, and indicate if changes were made. The Creative Commons Public Domain Dedication waiver (http://creativecommons.org/publicdomain/zero/1.0/) applies to the data made available in this article, unless otherwise stated.
Authors' Affiliations
(1)
Department of Genetics and Genomic Sciences, Icahn School of Medicine at Mount Sinai, New York, USA
(2)
Icahn Institute of Genomics and Multiscale Biology, Icahn School of Medicine at Mount Sinai, New York, USA
(3)
Medical Scientist Training Program, Icahn School of Medicine at Mount Sinai, New York, USA
(4)
Department of Genetics & Genomic Sciences, Icahn School of Medicine at Mount Sinai, New York, USA