Integrating genetics and epigenetics in breast cancer: biological insights, experimental, computational methods and therapeutic potential
BMC Systems Biology
2015
9:62
Received: 14 May 2015
Accepted: 15 September 2015
Published: 21 September 2015
Abstract
Background
Development of human cancer can proceed through the accumulation of different genetic changes affecting the structure and function of the genome. Combined analyses of molecular data at multiple levels, such as DNA copy-number alteration, mRNA and miRNA expression, can clarify biological functions and pathways deregulated in cancer. The integrative methods that are used to investigate these data involve different fields, including biology, bioinformatics, and statistics.
Results
These methodologies are presented in this review, and their implementation in breast cancer is discussed with a focus on integration strategies. We report current applications, recent studies and interesting results leading to the identification of candidate biomarkers for diagnosis, prognosis, and therapy in breast cancer by using both individual and combined analyses.
Conclusion
This review presents a state of art of the role of different technologies in breast cancer based on the integration of genetics and epigenetics, and shares some issues related to the new opportunities and challenges offered by the application of such integrative approaches.
Keywords
Breast Cancer
miRNA Expression
Differentially Express
Decitabine
Copy Number Alteration
Introduction
Breast Cancer (BC) is the most common cancer in women and the second most common cause of cancer mortality among females [1]. Classification of BC is currently based on histological types and molecular subtypes in order to reflect the hormone-responsiveness of the tumour. The three most common histological types include invasive ductal carcinoma, ductal carcinoma in situ and invasive lobular carcinoma. The molecular subtypes of BC, which are based on the presence or absence of estrogen receptors (ER), progesterone receptors (PR), and human epidermal growth factor receptor-2 (HER2), include luminal A (ER+ and/or PR+; HER2–), luminal B (ER+ and/or PR+; HER2+), basal-like (ER–, PR–, and HER2–), and HER2-enriched (ER–, PR–, and HER2+) subtypes [2, 3]. This classification reflects the BC heterogeneity and the complexity of diagnosis, prognosis, and treatment of BC.
High-throughput approaches allow today a tumour to be investigated at multiple levels: (i) DNA with copy number alteration (CNA), ii) epigenetic alterations, specifically, DNA methylation, histone modifications and microRNA (miRNA) expression level alterations, and (iii) mRNA, with gene expression (GE) de-regulation. These high-throughput approaches redefined the different types of BC in terms of classification, showing the presence of only two BC profiles with different prognosis [4–6].
Development of human cancer can proceed through the accumulation of genetic and epigenetic changes affecting the structure and function of the genome. Several studies have reported that the epigenetic silencing of one allele may act in concert with an inactivating genetic alteration in the opposite allele, thus resulting in total allelic loss of the gene [7, 8]. Birgisdottir et al. [9] have reported hypermethylation and deletion of the BRCA1 promoter and suggested Knudson's two 'hits' in sporadic BC [9]. Li et al. [10] were focused on the expression of beclin 1 mRNA and they demonstrated that loss of heterozygosity and aberrant DNA methylation might be the possible reasons of the decreased expression of beclin 1 in the BC. In BC, a biallelic inactivation of the FHIT gene could be a consequence of epigenetic inactivation of both parental alleles, or epigenetic modification of one allele and deletion of the remaining allele [11].
In 2006, Feinberg et al. suggested that epigenetics and genetics should be combined or integrated in order to achieve better understanding of cancer [12]. A systems biology approach has been employed to explore the functional relationships among multidimensional "omics" technologies. This approach has been demonstrated to be important for addressing a patient to the optimal treatment in a personalized way, in order to improve the efficacy of the treatment for that patient [13].
This review refers to current studies of genetic and epigenetic changes associated with BC, focusing in particular on the processes controlled by CNA, epigenetic alterations (DNA methylation, histone modifications and miRNAs), and GE. Several approaches combining genetic and epigenetic data, in particular regarding CNA and miRNA deregulation, have been considered with the final purpose to identify new biomarkers for BC diagnosis and prognosis suitable to be translated into a clinical environment. Furthermore, experimental and computation methods used for the study and the analysis of these biomarkers are presented. We also discuss the biological insights and clinical impact from such analyses as well as the future challenges of these combination approaches.
Copy number alterations in BC
Epigenetic alterations in BC
DNA methylation and histone modifications
DNA methylation and histone modifications play a crucial role in the maintenance of cellular functions and identity. In particular, the main cellular networks affected by epigenetics are cell cycle, apoptosis, DNA repair, detoxification, inflammation, cell adhesion and invasion.
In cancer, the DNA methylation and histone modifications are perturbed, leading to significant changes in GE, which confer to the tumoral cells advantages in proliferation and maintenance of tumoral phenotype. For instance, the genomic inactivation of a tumor suppressor gene (p53, BRCA1,…) or the activation of an oncogene (i.e., Myc) contribute to the malignant transformation. Epigenetic changes differ from genetic changes mainly because they occur at a higher frequency than genetic changes, they are reversible upon treatment with pharmacological agents and occur at defined regions in a gene.
DNA methylation refers to the addition of a methyl group (−CH3) covalently to the base cytosine (C) in the dinucleotide 5′-CpG-3′. CpGs islands are in the promoter region of many genes [59, 60]. Most CpG dinucleotides in the human genome are methylated, and often leads to silencing of GE. The observation that CpGs islands of housekeeping genes are mainly unmethylated, and the methylation is associated with loss of GE led to the hypothesis that DNA methylation plays an important role in regulating GE [59, 60].
Figure
2
shows how DNA methylation affects GE. Methyl groups in the recognition elements of transcription factors inhibits the binding of transcription factors to DNA, thus resulting in reduced transcriptional activity.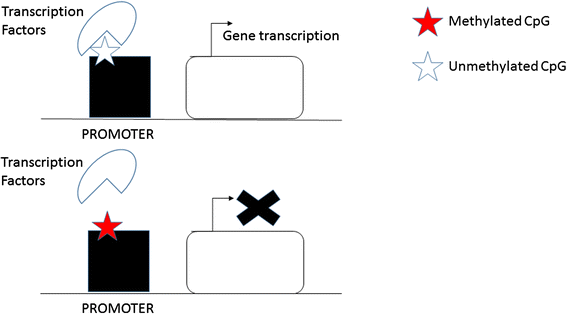 Histones are considered DNA-packaging protein components of chromatin, able to regulate chromatin dynamics. In fact they are subjected to several post-translational modifications, occurring at the amino-terminal end of the histone tail protruding from the surface of the nucleosome [61]. The modifications of histone tails, including lysine acetylation, lysine and arginine methylation, lysine ubiquitylation, phosphorylation, sumoylation, and ribosylation, can significantly affect the expression of genes in a dynamic manner [61]. The most studied histone epigenetic alterations are acetylation/deacetylation, and methylation/demethylation. In BC, abnormal histone modification and DNA hypermethylation are frequently associated to epigenetic silencing of tumor suppressor genes and genomic instability [62, 63].
microRNA deregulation in BC
Gene expression deregulation in BC
Copy number alterations and gene expression in BC
Biological insights
Several studies demonstrated that changes in DNA CN are translated into corresponding changes in GE [258, 259]. Although it is possible that changes in specific DNA sequences (i.e. centromeres or telomeres) can have directly negative consequences [260], the main responsible for the malignant phenotype has been proven to be the gene dosage hypothesis: alterations of gene copies change the expression levels of the involved gene [261].
Figure
4
shows the principle consequences of an altered gene dosage. Specifically, figure 4.1) shows: i) WT condition where a correct number and expression of A and B gives a correct production of C; ii) how the amplification/over expression of gene copies (e.g. B) can cause an increased dosage of a single gene (e.g. C), and iii) how a deletion/under expression of gene copies (e.g. B) can cause a decreased dosage of a single gene (e.g. C) [
261
]. Figure 4.2) shows how altered gene dosage can influence stoichiometry of protein complex DE that produces F. An amplification/over expression of protein D can inhibit the formation of protein complex DE, thus altering the pathway activity and the correct production of F. A deletion/under expression of protein D do not produce protein complex DE [
262
].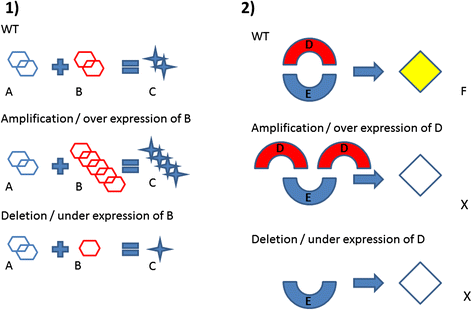 While useful information has been revealed by analysing GE profiles alone or CNA data alone, integrative analysis of CNA and GE data are necessary in order to have more information in gene characterization. Specifically, RNA data give information on genes that are up/down-regulated, but do not consider primary changes driving cancer from secondary modifications, such as proliferation and differentiation state. On the other hand, DNA data give information on amplifications and deletions that are drivers of cancer. Therefore, integrating DNA and RNA data can clarify genetic regulatory relationships in cancer cells [262]. It is interesting that transcriptional changes for 10–63 % of genes occur in amplified regions, and, for 14–62 % of genes, in regions of loss [263].
Several studies showed that gains (or losses) in DNA genomics have consequences in the expression levels of genes in the implicated regions, which are increases or decreased, respectively [264–266]. If we consider individual genes, the situation is more complicated. For instances, 14 % of down-regulated genes can appear within regions of DNA gain, while 9 % of up-regulated genes can occur in regions of DNA loss [266]. These findings suggest to take a particular attention in the integration of CNA and GE.
The Cancer Genome Atlas project [267] is generating multidimensional platforms including gene expression and CNA data for the same set of patients [263]. Although it is possible to perform analysis with unpaired data [263, 268, 269], the analysis is much more accurate when both types of data are available from the same patient. In this condition, the paired data analysis allows better statistical power and a reduction of false positives [270, 271].
Some studies have shown that integrating CNA information with GE data can often provide a powerful tool for identifying functionally relevant genes in cancer [e.g. 275–282]. Chen et al. [272] found a list of eighteen genes for which a strong correlation between CNA and GE exists, using signal-to-noise ratio (SNR). They found one particular gene, RUNX3, which is involved in the control of the in vitro invasive potential of MDA-MB-231.
Zhang et al. [273] identified an 81-gene prognostic CN signature that was found highly correlated with GE levels (Cox regression P < 0.05). This signature identified a subgroup of patients with increased probability of distant metastasis in an independent validation set of 113 patients.
Andre et al. [274] reported the level of mRNA expression, significantly correlated to the CAN, for VEGF, EGFR, and PTEN, using Algorithm Array CGH Expression integration tool (ACE-it). These genes could be targeted in triple-negative BC in clinical trials, and one of them, E2F3, can have a major role in a subset of triple-negative BC.
Hyman et al. [275] studied CNAs in 14 BC cell lines, and identified 270 differently expressed genes using signal-to-noise statistics (α value <0.05). 91 of the 270 genes represented hypothetical proteins or genes with no functional annotation, whereas 179 genes had available functional information.
Orsetti et al. [276] presented a study on CNA on chromosome 1, the prevalent target of genetic anomalies in BC, and the CNA consequences at the RNA expression level in BC. They identified 30 genes showing significant over-expression. A discriminating score was applied by comparing the expression levels of the subgroup of samples presenting amplification and the expression levels of the subgroup of samples without amplification.
Chin et al. [277] associated CNA and GE profiles of genes linked to poor treatment response. They identified 66 genes in these regions whose expression levels were correlated with CN, using Pearson's correlation (FDR < 0.01, Wilcoxon rank-sum test). Gene Ontology analyses of these genes showed that they are involved in nucleic acid metabolism, protein modification, signalling, and in the cell cycle and/or protein transport.
Chin SF et al. [278] evaluated genome-wide correlations between GE and CN by following an approach based on the Wilcoxon test. They showed strong statistical associations between either CN gain and over-expression (196 genes) or CN loss and under-expression (63 genes). Many well-known and potentially novel oncogenes and tumour suppressors were included in their analysis.
Table
7
reports a synthesis of the considered genes based on the integration of CNA and GE.
Computational methods
No experimental methods actually exist giving, in one single analysis, results about the integration of CNA and GE.
Computational integrative methodologies between CNA and GE include a two-step approach, and joint analysis. Figure
5a
) shows a two-step approach, combining the results from individual analysis of GE and CNA. Figure
5b
shows a joint analysis obtaining directly the final result from the integration of GE and CNA.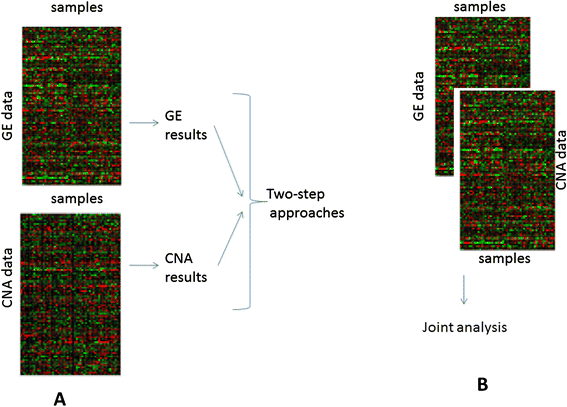 There are different statistical measures to assess the CNA and GE relationship in order to quantify gene dosage effect. They include, in two-steps approaches, both regression and correlation-based analysis.
Regression approaches model the dependence of RNA levels from DNA CN, and consider RNA levels as responses and DNA CN as predictors [279]. These methods can be divided into: 1) univariate linear regression models, proposed to model the associations between individual CN and GE probes [280], 2) multivariate linear regression models, integrating statistical power across multiple probes targeting adjacent genes or chromosomal positions [281], and 3) nonlinear regression models.
Most studies use linear regression models but regulatory mechanisms, contributing to gene expression changes (e.g. CNA, miRNA, DNA methylation), can give non linearity [282]. Non linear relationship between CNA and GE have been investigated by Solvang et al. [282], which focused on the identification of nonlinear relationships to explain the regulatory mechanisms of alteration of mRNA expressions in the cancer process.
Correlation-based approaches have been used to study the relationship between CNAs and GE. For each pair of co-measured data, a correlation matrix was estimated reflecting the strength of association [283]. Several studies have shown correlations between CNA and GE gene across samples e.g. [277]. Other studies, like Tsafrir et al. [284], identified a correlation along the genome by using filtered CNA and filtered GE. DR-Correlate [285], a modified version of the Ortiz-Estevez algorithm, [286] was used in a correlation-based analysis to examine the genome and to detect genes with high associations between CNA and GE. In order to improved correlation results, Schäfer et al. [287] replaced the sample means with the reference medians in the correlation test, while Lipson et al. [288] used a quantile-based analysis to obtain improved correlation coefficients.
Table
8
reports a synthesis of the considered two-step analyses and types.
Table 8
Two step approaches to quantify gene dosage effect
Joint analysis uses CNA and GE data as paired data entries and not as separate structures. The discrepancy between the sample size and the number of genes is a problem that can cause high noise. Techniques such as Singular value decomposition (SVD) or Principal Component Analysis (PCA) are the most popular ones for reducing the dimension of gene data [289, 290]. However, GE and CNA data are separately analysed using these methods.
The generalized singular value decomposition (GSVD) is a popular regression framework used in joint analysis. With the purpose to identify variation patterns between two biological inputs, Berger et al. [291] applied an iterative procedure based on the GSVD, projecting CNA/GSE data into different decomposition directions. GSVD was used in two BC cell lines and tumour datasets, thus obtaining gene subsets that were biologically validated.
Soneson et al. [292] applied PCA to reduce dimensions, and Canonical Correlation Analysis (CCA) to identify highly correlated CNA/GE pairs. Gonzalez et al. [293] implemented the regularized CCA to identify the correlation between paired datasets. iCluster is a method able to generate a single integrated cluster assignment based on a simultaneous inference analysis from multiple data types [294]. In BC, iCluster has been used to align concordant DNA CNA and gene GE changes, showing encouraging results [294].
Table
9
reports some software for the CNA and GE analysis and their method of integration type.
Table 9
Software for CNA and GE analysis
Integrating genetics and epigenetics in BC
The development of BC is mediated by the cooperation, directly or indirectly, between genetic and epigenetic alterations of the cell [300, 301].
Sarkar et al. suggested that the epigenetic changes act as the initiating signal in the development of cancer progenitor cells and a combination of all genetic changes which are differentially expressed in the various cancer subtypes, could act on the cell vulnerable to epigenetic alterations [301].
Epigenetic mechanisms are tightly linked to one another and make the overall gene regulation system. The miR-29 family, for example, including miR-29a, miR-29b, and miR-29c, is a miRNA that collaborates with other epigenetic mechanisms. The expression of miR-29b is regulated by both histone modification [302] and DNA methylation [303]. miR-7/miR-218 can regulate DNA methylation and histone modification status by decreasing homeobox B3 (HOXB3) expression [304].
However, while classical epigenetic mechanisms, such as histone modification and DNA methylation, regulate expression at the transcriptional level, miRNAs act at the posttranscriptional level.
Elucidating the basic mechanisms of post-transcriptional regulation of GE is essential to gain a full understanding of how GE is regulated at different levels, of the interplay between these mechanisms, and of the extensive contribution of post-transcriptional dysfunction in cancer.
An impressive number of papers have been published on miRNAs increasing the number of scientific challenges, and we focused on the studies and methods applied to the combination miRNAs-mRNA, CNAs-miRNAs, and GE-genetic alterations-miRNAs.
Integrated analysis of mRNA and miRNA in BC
Integrated analysis of CNA and miRNA in BC
Biological insights
Many miRNAs are frequently located at fragile sites of the genome, which are usually either amplified or deleted in human cancer [364]. The aberrant miRNA expression in BC, in part, is due to these genomic alternations.
Zhang and colleagues studied 283 known human miRNAs in BC and showed that 72.8 % of miRNAs are located in regions that reveal CNAs [365]. In a recent study, miRNAs were shown to be up-regulated in gain regions compared to copy-neutral regions in BC, although the effect on miRNA expression was not incisive [366]. Iorio et al. [129] compared BC CGH data with independent miRNA expression by miRNA microarrays, and demonstrated that 81.8 % of miRNAs increased expression level and showed high DNA CN, and that 60 % of miRNAs exhibit decreased expression level with loss of DNA CN.
Several miRNAs have been associated with cancers due to CNA, suggesting that miRNAs can act either as oncomiRs or oncosuppressor miRNA [
213
]. Figure
7
shows amplification of chromosomal regions of miRNAs encoding oncomiRs and leading to their up-regulation. OncomiRs can act silencing TSG thus making possible the development of cancer.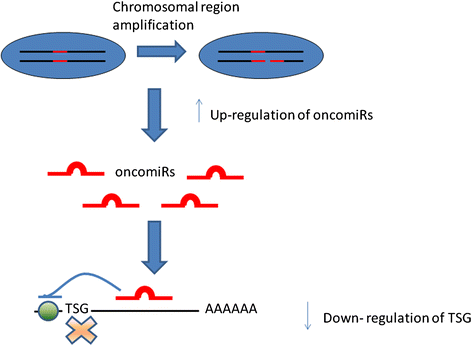 Biomarkers
The first miRNA found to act as a mammalian oncogene is polycistron miR-17-92, also known as OncomiR-1 because it was the first identified oncomiR [367]. It is located in chromosome 13 and has been found amplified in human BC [368]. It acts as an anti-apoptotic miR cluster by targeting intrinsic apoptotic protein Bim in B-cell lymphoma subtypes [369].
Other oncomiRs have been described since the first discovery. miR-21 is located in 3'UTR of VMP1 (vacuole membrane protein 1) gene at chromosome 17q23.2, a region amplified in BC and also in neuroblastomas, colon and lung cancers [370]. miR-151a-5p is located on 8q24.3, a genomic site frequently associated with gain in BC [371]. High expression of miR-151a-5p has been associated with gain, and functional experiments showed that over-expression induce cell proliferation and also increase the levels of p-AKT [372].
As for oncomiRs, also several miRNAs with oncosuppressor functions have been described. Figure
8
shows deletion of chromosome region of oncosuppressor miRNAs leading to their down-regulation. Down-regulation of oncosuppressor miRNAs results in up-expression of target oncogenes.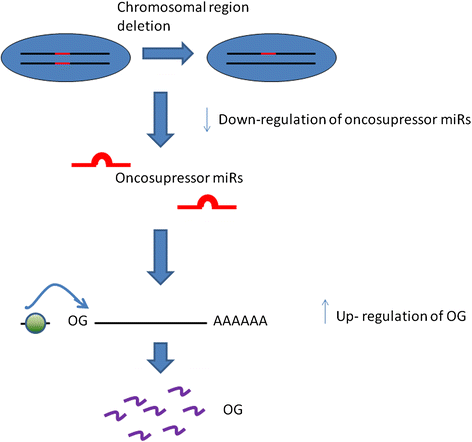 Chromosome 11 is frequently altered in BC and mirR-125b, that is located at 11q23-24, results one of the most frequently deleted regions [373]. In a study of Muller et al. [374], mir-320 has been found to be located in regions with DNA CN loss in BC. The predicted target of miR-320 is MECP2 which is up-regulated in BC and serves as an oncogene promoting cell proliferation. Genetic deletion could contribute to miR-100 down-regulation [375] inducing epithelial-mesenchymal transition.
In several cancer types, including BC, genomic deletion or loss of heterozygosis of the region of the miR-34a have been described [376]. miR-34a is highly expressed in normal tissues. Its expression level is under the control of the TS gene product p53 and it acts as a TS inducing cell cycle arrest in G1-phase, senescence and apoptosis [377].
Wang et al. [378] showed that CN deletion is an important mechanism leading to the down-regulation of expression of specific let-7 family members in BC. Also miR-33 expression was found to be strongly associated with the genomic alteration [128]. Furthermore, the expression of the cluster miR-145/miR-143 family, miRNA located on a region involved in several types of translocations and deletions, has been found reduced or absent in various types of cancers, including BC [152, 368].
Table
14
shows the principal oncomiRs and oncogenes with their alterations considered in this section.
Table 14
miRNAs altered obtained by the integration miRNA and CNA
| miRNA | Genetic alterations | Ref. |
| --- | --- | --- |
| miR-125b | Deletions | [373] |
| mir-320d | Deletions | [374] |
| let-7 g | Deletions | [378] |
| miR-34a | Deletions | [376] |
| miR-100 | Deletions | [375] |
| miR-145 | Deletions | [112] |
| miR-143 | Deletions | [112] |
| OncomiR-1 | Amplifications | [367] |
| miR-21 | Amplifications | [369] |
| miR-155 | Amplifications | [368] |
| miR-151a-5p | Amplifications | |
Networks
miRNAs that are silenced or amplified from CNA can have a cascade effect on the expression of different genes regulating entire pathways.
In the following paragraph, we give examples of important miRNAs that are altered in BC and of the consequences of their downregulation in the functional pathway.
Figure
9a
shows
miR-335
that suppresses BC metastasis by targeting
SOX4
and
Tenascin-C
which promote cancer cell migration, invasion and ultimately metastasis [
326
–
328
].
miR-335
is silenced through CN deletions [
328
].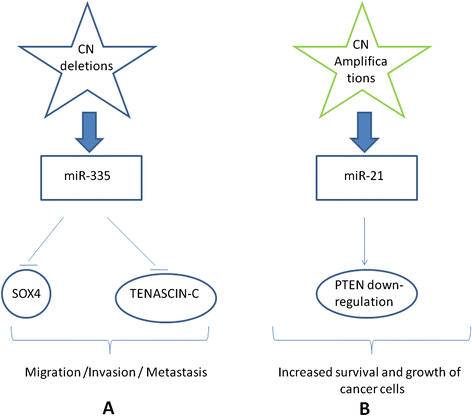 mir-320 is found to be located in regions with CN loss in BC. The predicted target of miR-320 is methyl CpG-binding protein 2 (MECP2), which is up-regulated in BC and is an oncogene promoting cell proliferation [374].
In a study of Volinia et al. [368] miR-21 was found as the only miRNA up-regulated in all six types of solid cancers (BC, colon, lung, prostate, stomach carcinomas and pancreas exocrine tumours). Figure 9b shows miR-21 network: it modulates gemcitabine-induced apoptosis by PTEN-dependent activation of PI 3-kinase and by activation of AKT/mTOR signalling [379]. Inhibition of this miRNA should result in cell death [370].
Computational methods
Several studies showed that miRNA levels are influenced by CNAs.
No-experimental methods are usually used for their integration. Individual studies from miRNA and CNA are combined with statistically and/or computational analysis.
de rinaldis et al. [380] analysed association between miRNA expression and CNAs in a large triple-negative BC data set. This association was evaluated using Spearman correlation. In addition, for each miRNA-encoding DNA locus identified as altered in any of the samples, a separate non-parametric Wilcoxon rank sum test was applied to measure differences in expression between samples with deletions and amplifications, compared to samples with no CNAs. 64 miRNAs were found with statistically significant miRNA-CNA correlation, showing an overall influence of genetic alterations (amplifications and deletions) on the expression of the miRNAs.
Aure et al. [372] investigated individual and combined effects of CN and methylation on miRNA expression in BC. They identified 70 miRNAs whose expression was associated with CNAs or methylation, or with both conditions. 24 miRNAs were associated mainly with CNAs, 22 miRNAs with methylation aberrations and 24 miRNAs with a combination of CN and methylation aberrations. In order to identify miRNAs associated with hypomethylation or amplification, each miRNA in each patient was allocated to one of the two groups 'altered' or 'non-altered' based on CNA and DNA methylation. A Wilcoxon rank-sum test was used for each miRNA to underlie whether the miRNA expression was significantly different in the two groups.
Srivastava et al. [381] showed that H2AX was negatively correlated with miR-24-2 and not in accordance with the CNA status, both in cell lines and in sporadic BC tissues. The authors tried to explain the possible mechanisms of such non concordant relationship between expression and number of gene copies based on specific miR regulation of expression. They discussed a role of miR-24-2 in guiding H2AFX GE in the background of the differential status of CNA.
Combination of gene expression, genetic alterations and miRNAs in BC
Fearon and Vogelstein [382] proposed that accumulation of genetic alterations could determine a malignant phenotype and accompany cancer progression. However, this theory does not explain the great heterogeneity of observed genetic alterations, even within homogeneous histological groups [12].
Normal cells evolve progressively to a neoplastic state, based on a multistep process to acquire the traits that enable them to become tumorigenic and ultimately malignant. Tumors are not only masses of proliferating cancer cells, but complex tissues composed of multiple distinct molecular types that participate in an interaction with one another [383, 384].
The transitions in the malignant cancer progression are dynamic and reversible steps between multiple phenotypic states (e.g. epithelial and mesenchymal phenotype) [385]. These reversible transitions are based on complex epigenetic regulatory mechanisms (e.g. the induction of changes in the modifications of chromatin-associated histones) during epithelial-mesenchymal transitions [385, 386].
Sarkar et al. [387] reported a review based on the role of epigenetic regulation in the steps from normal cell to cancer progenitor cells that, after growing, undergo an epithelial-mesenchymal transition. Epigenetic drugs could potentiate traditional therapeutics by inhibiting both the formation and growth of cancer progenitor cells [387].
We argue that tumour heterogeneity is due not only to a simple accumulation of genetic alterations but can be the cause of the combined effect of genetic and epigenetic alterations. Furthermore, Alfred Knudson [388] hypothesized that hereditary retinoblastoma involves two mutations, the first one in the germ line. Thus, non-hereditary retinoblastoma should be due to two somatic mutations, an hypothesis known as Knudson "two-hit" hypothesis. The two-hit hypothesis proposes that loss of a single functional allele, which may potentially results in expression of a truncated or mutated product, is insufficient to involve cellular functions.
Several studies support the validity of the "two hit theory" in BC. Meric-Bernstam et al. [389] applied this hypothesis in BC, and suggested that the second hit does not need to be a point of mutation or somatic loss, but it may be the epigenetic silencing of a gene.
Konishi et al. [390] showed that cell lines carrying one mutant and one normal copy of BRCA1 have a normal cell phenotype, and they are normal until the second allele is lost through somatic mutation or epigenetic silencing.
Genetic and epigenetic events are two complementary mechanisms that are involved in carcinogenesis. It is not clear at all how these mechanisms influence GE during tumorigenesis.
In BC, integration analysis of GE, genomic changes and miRNA expression was adopted in a limited number of studies (e.g. [397–399]). Eo et al. [391] proposed a pathway-based classification of BC which integrates data on DE genes, CNA and miRNA. Pathway information was incorporated in a condition-specific manner. A 215-gene signature was found from 327 tumours. By using an independent data set, this gene signature was validated.
Cancer Genome Atlas Network [392] analysed BC by genomic DNA CN arrays, DNA methylation, exome sequencing, messenger RNA arrays, microRNA sequencing and reverse-phase protein arrays. They found biomarkers for gene expression subtypes and the presence of four main BC classes.
Kristensen et al. [393] used an integrated approach to identify and classify BC according to the most deregulated pathways that provide the best predictive value with respect to prognosis, and identified key molecular and stromal signatures.
In a combined analysis of miRNA and mRNA expression data, Blenkiron et al. [128] found a number of miRNAs DE among molecular tumour subtypes. Furthermore, they found that changes in miRNA expression correlate with genomic loss or gain.
PARADIGM was tested using CN and mRNA expression data [394], as well as with the addition of methylation and miRNA expression data [393].
Cava et al. [5] assessed the potential of a new triple approach by integrating mRNA expression profile, CNAs, and miRNA expression levels to select a limited number of genomic BC biomarkers and to obtain a more accurate classification of BC grade.
CNAs have been demonstrated to be able also to identify genes DE between drug-sensitive and -resistant BC cells when integrated to GE and microRNA expression profiles.
Yamamoto et al. [395] focused on miRNAs and genes located on the genome-amplified and -deleted regions. These genes showed also an altered expression in GE profiles. The authors analysed MCF7 and a parental BC cell line drug-resistance MCF7-ADR. miR-505 was identified as a tumour suppressor, whose genomic region was found to be deleted in doxorubicin-resistant cells. Furthermore, miR-505 seems to be regulated by its predicted target Akt3 (an anti-apoptotic gene), by mRNA profiling coupled with downstream validation studies.
Discussion
Despite promising initial results about the possible clinical implications of GE profiling, a more recent source of concern has been that gene signatures derived from the various studies show little overlap and poor reproducibility. This can be explained, from one side, by the complexity of the human genome which provides that different genes can be indices of the same message with identical outcomes. From the other side, one explanation can be the use of different types of arrays (of different sample quality) and the different parameters considered for the data analysis. However, GE analysis measures mRNA expression, which, by the central dogma of molecular biology, results from the transcription of DNA. Specifically, GE analysis give information on DE genes among different conditions, but do not consider primary alterations of DNA from secondary effects of disease, such as, in the case of cancer, proliferation and differentiation state. On the other hand, studies of DNA CNA allow important indices to be derived as drivers of cancer. Therefore, integrating DNA and RNA data has been proposed to clarify genetic some regulatory relationships in cancer cells.
Since 2001, a new term "microRNA" was introduced into the scientific literature, challenging the central dogma of molecular biology. miRNAs are segments of RNA that are transcribed from DNA in a way similar to mRNA but they are not translated into proteins. In short, instead of producing a protein, miRNA can block mRNA directly. Evidences demonstrated that their deregulation is associated to several steps of cancer initiation and progression. However, we think that the association of miRNAs and their mRNA targets is a more favourable approach to study cell differentiation and cancer progression when compared with GE expression or miRNA profile alone. It is therefore of great concern for researchers to investigate how miRNA expression is linked to known BC markers. Several advantages can be envisaged by miRNA analysis: i) miRNAs are certainly more stable due to their small size when compared to long mRNAs [127], ii) miRNA expression levels can characterize the functional activity of the target gene while genes have to be translated to proteins to be biologically functional iii) miRNA-based therapeutics have the ability to target multiple genes.
Misregulation of genes with consequence disruption of the gene function is often induced by epigenetic and genetics events. The epigenetic silencing of one allele may act in concert with an inactivating genetic alteration in the opposite allele, thus resulting in a total allelic loss of the gene [7, 8]. From this viewpoint a gene subjected to a different possible alterations (such as CNAs and target of miRNAs) and that presents DE levels between two conditions is a "weak" point of DNA and could be a key element for cancer development. In our opinion each cancer should have a signature with the description of a specific set of alterations. Based on these observations, targeting specifically and simultaneously multiple pathways subjected to different alterations may confer a greater therapeutic efficacy.
We argue that useful information has been revealed by analysing GE profiles alone, CNA data alone but or miRNAs, however, in order to have complimentary information in gene characterization, an integrative analysis of CNA and GE data and miRNA is necessary.
However, integrative analyses have some limitations: the most fundamental challenge is dimensionally, considering that more levels in the analysis increase the computational time and the dimension of unknown parameters [396]. In addition, at every step, there are problems of compatibility of the data, such as normalization to the same scale, batch effects, and use of different platforms.
Large-scale integration is possible only for few projects worldwide, given the high cost for all analyses to be carried out simultaneously and on the entire data set.
In referring to current studies of genetic changes associated with BC, we focused in particular on the processes controlled by CNA. However, DNA changes include other genomic rearrangements, such as somatic point mutations.
The analysis of the genomes of 100 tumours revealed more than 7400 somatic point mutations in 21416 protein-coding genes [397]. These mutations affect many of the well-established cancer related genes, such as BRCA1, RB1, TP53, PTEN, AKT1, CDH1, GATA3, PI3KCA. These genes control apoptosis, proliferation and cell cycle, and transcription. Other somatic mutations affect genes involved in signal transduction (APC, KRAS, MAPK2K4, SMAD4, CASP8, CDKN1B…). Somatic mutation in three main genes (TP53, PI3KCA, and GATA3) shows more than 10 % incidence across all BC [397]. One of the most commonly mutated TSG in BC is P53 [398]. It is localized to chromosome 17p13 and its inactivation is important also in other cancer diseases. Several studies have investigated the predictive power of P53 for response to treatments and outcome of BC patients [399–401]. Bertheau et al. [401] reported that P53 base-pair substitutions are highly linked to specific BC molecular subtypes, being found in 26 % of luminal tumours (17 % of luminal A, 41 % of luminal B), in 50 % of HER2 amplified tumours, and in 88 % of basal-like carcinomas. The type of mutations changes according to the tumour subtype. Basal-like tumours present higher frequency of deletions. Furthermore, the authors found that non inflammatory locally advanced BC with mutated P53 has a higher rate of response to dose-dense doxorubicin–cyclophosphamide chemotherapy than TP53-WT tumours. As recently reported [402], P53 is at the centre of the hallmarks of cancer, supporting genomic stability, exerting anti-angiogenic effects, controlling tumour inflammation and immune response, and repressing metastases. In BC, mutations in BRCA1 and BRCA2 result in protein truncations as consequence of small insertions, deletions or nonsense mutations. Although BRCA1 and BCRA2 mutations are hereditary, these genes would also be involved in the development of sporadic BC. Compared with normal breast epithelium, many BCs have shown low levels of the BRCA1 mRNA [403, 404], while BRCA2 has been found the target of frequent loss of heterozygosity (LOH) in BC [405, 406].
Other omics data could be further integrated for a more inclusive analysis. Considering that proteins translate effects of CNAs into the biological functions of the cell, further studies could integrate protein-protein interactions networks with gene-gene co-expression networks. For example, by dissecting the protein-protein interaction network into disjoint sub networks, van den Akkerb et al. [407] found sub-population of genes by using pair wise GE correlation measures. The obtained genes were consistently found across different studies.
Also the DNA methylation could be integrated in a pathway analysis and could be combined with other biological data. Andrews et al. [408] integrated results from CNAs, GE profiling and methylation to identify differentially regulated pathways between a highly metastatic BC cell line and low metastatic parental cell line. Validation experiments confirmed that hypermethylated genes correlated with decreased expression in the metastatic, compared to the parental cell line.
Results generated from whole-genome analyses have been submitted in The Cancer Genome Atlas (TCGA) database, which includes CNAs, DNA methylation and GE profiles [409, 410]. These data might be used for integrative analyses of results generated from a single technology platform [411].
Conclusions
Integrating genetics and epigenetics in BC may offer a powerful approach for the identification of biomarkers with diagnostic, prognostic and therapeutic potential. The experimental and computational methods presented in this review can be used to guide researchers for these integration studies.
Abbreviations
BC:

Breast Cancer
CNA:

Copy number alteration
GE:

Gene expression
miRNA:

microRNA
ER:

Estrogen receptors
PR:

Progesterone receptors
HER2:

Human epidermal growth factor receptor-2
CN:

Copy number
WT:

Wild type
TSGs:

Tumor suppressor genes
OGs:

Oncogenes
LOH:

Loss of heterozygosity
FISH:

Fluorescence in situ hybridization technique
SNP:

Single nucleotide polymorphism
NGS:

Next generation sequencing
dChip:

DNA-Chip analyzer
HMM:

Hidden Markov model
CNAG:

Copy number analyser for GeneChip arrays
RMA:

Robust multichip average
EGFR :

Epidermal growth factor receptor
DE:

Differentially expressed
RT-PCR:

Real-time quantitative reverse transcription PCR
Declarations
Open AccessThis article is distributed under the terms of the Creative Commons Attribution 4.0 International License (http://creativecommons.org/licenses/by/4.0/), which permits unrestricted use, distribution, and reproduction in any medium, provided you give appropriate credit to the original author(s) and the source, provide a link to the Creative Commons license, and indicate if changes were made. The Creative Commons Public Domain Dedication waiver (http://creativecommons.org/publicdomain/zero/1.0/) applies to the data made available in this article, unless otherwise stated.
Authors' Affiliations
(1)
Institute of Molecular Bioimaging and Physiology (IBFM), National Research Council (CNR), Milan, Italy